Netanyahu, Putin meet to discuss Syria security
Welcome to the Greater Caspian Brief, where you will find the most important things you need to know about diplomacy, intelligence, military and economy of the Caspian 5, Central Asia and Caucasus. We appreciate ideas, reports, news and interesting articles. Send along to Caspian[at]moderndiplomacy.eu or on Twitter: @DGiannakopoulos
DIPLOMACY
Israeli Prime Minister Benjamin Netanyahu said in a meeting with Russian President Vladimir Putin on Thursday that he wants to "strengthen the security coordination between us so as to avoid mishaps, misunderstandings and unnecessary confrontations." Israel and Russia established a mechanism meant to coordinate between their air forces in Syria after Russia began carrying out airstrikes to help Syrian President Bashar Assad who has said his forces are battling Islamic militants and other "terrorists." Assad's government often refers to all opposition fighters as terrorists.
Israel is widely thought to have carried out a number of airstrikes that have targeted advanced weapons systems believed to be destined for the Lebanese Shiite Hezbollah militant group. Israel has also responded to fire into its territory emanating from Syria.
Obama meets with Arab nation leaders on security in Persian Gulf
President Barack Obama met Thursday with top officials from six Arab nations to discuss regional security issues in the Persian Gulf including the fight against the Islamic State militant group.The White House has said the summit meeting will include three sessions. One is aimed at fostering regional stability and another at counterterrorism efforts including efforts to defeat al-Qaida and Islamic State militants. A third session will focus on Iran, which Saudi Arabia and other Gulf states see as a destabilizing rival in the region.
The Gulf states are deeply skeptical of Obama's willingness to negotiate with Iran, and fear that last year's nuclear deal with the Islamic Republic will lead to a rebalancing of regional stances at their expense. Disputes over Iran were a major part of Obama's talks with Saudi King Salman on Wednesday.
President Zuma will lead state visit to Iran
The Presidency says the visit will serve to cement the strong fraternal relations between the two countries, which originated during the apartheid era when Iran "refused to oil the apartheid machinery and cut ties with apartheid South Africa". Mr Zuma will be accompanied by various cabinet ministers and a high-level business delegation. In 1994' with the advent of freedom and democracy in South Africa' Iran lifted all sanctions and the two countries re-established diplomatic ties. Since then' the two countries have enjoyed mutually beneficial' fraternal and strategic relations.
"The state visit of the president to Iran is an important structural catalyst in elevating bilateral and economic relations into a substantive strategic partnership and serves as evidence of the friendly relations between South Africa and the Islamic Republic of Iran, based on mutual respect'" said Presidency spokesman Bongani Majola.
Russia's multifaceted ties with Pakistan
Russian President Vladimir Putin has said that his country has been actively developing multifaceted relations with Pakistan, particularly in the fields of trade and counter-terrorism. He made these remarks in a meeting with Pakistan's Ambassador in Russia Qazi Khalilullah, who presented his letter of credence to the Russian President in Moscow. The Russian President also expressed satisfaction at the level of cooperation between the two countries in the United Nations, which was based on a shared commitment to international law and convergence of positions on many key global and regional issues.
Russia Urges Renewed Armenian-Azeri Peace Talks
Russia urged the parties to the Nagorno-Karabakh conflict to "reduce military risks" and resume peace talks as Russian Foreign Minister Sergey Lavrov headed to Yerevan on Thursday.
Lavrov will meet with President Serzh Sarkisian and Foreign Minister Edward Nalbandian on Friday more than two weeks after Moscow helped to stop the worst fighting around Karabakh since 1994. Russian Prime Minister Dmitry Medvedev sought to cement the shaky ceasefire when he visited Yerevan and Baku in the following days. Lavrov also met with Azerbaijani leaders in Baku in early April.
The Russian Foreign Ministry spokeswoman, Maria Zakharova, said both sides should now "show restraint" and strive for the "restoration of stability" in the conflict zone. "We strongly believe that the parties need to resume the negotiation process aimed at achieving a lasting and peaceful settlement," the RIA Novosti news agency quoted her as saying. They should also step up efforts to "lower military risks," she added.
UN Secretary General's visit to Armenia postponed
UN Secretary-General Ban Ki-moon's visit to the South Caucasus, including Armenia has been postponed, the Organization's office in Armenia said."The Secretary-General has a keen interest in the South Caucasus region so his visit will be rescheduled," Officer-in-Charge at UN Department of Public Information Armineh Haladjian said. It was earlier reported that Ban would arrive in Armenia on April 25 as part of his official visit to the South Caucasus countries.
INTELLIGENCE
Russia increased submarine patrols by 50 per cent around North Atlantic, raising NATO tensions
Russian attack submarines, the most in two decades, are prowling the coastlines of Scandinavia and Scotland, the Mediterranean Sea and the North Atlantic in what Western military officials say is a significantly increased presence aimed at contesting U.S. and NATO undersea dominance. Adm. Mark Ferguson, the U.S. Navy's top commander in Europe, said last fall that the intensity of Russian submarine patrols had risen by almost 50 per cent over the past year, citing public remarks by the Russian navy chief, Adm. Victor Chirkov. Analysts say that tempo has not changed since then.
Independent U.S. military analysts see the increased Russian submarine patrols as a legitimate challenge to the United States and NATO. Even short of tensions, there is the possibility of accidents and miscalculations. U.S. naval officials say that in the short term, the growing number of Russian submarines, with their ability to shadow Western vessels and European coastlines, will require more ships, planes and subs to monitor them.
Tajik Commander among 75 ISIL Members Killed in Deir Ezzur
75 ISIL members were killed and many more were wounded after a column of the terrorists found themselves in an ambush operation of the government forces in Deir Ezzur province. A field source said that a Syrian army unit, in cooperation with the engineering units, ambushed against the ISIL in a street in al-Sina'ah neighborhood in Deir Ezzur city and surprised them with landmines and bombs traps in the street. At least 75 Takfiri terrorists were killed and tens of others wounded, including foreign militants, in the bomb blasts, according to the source.
The source added that a senior ISIL commander who had jointed the terrorist group from Tajikistan was also among the dead.
MILITARY
NATO Must Stop Expansion in Eastern Europe if Seeks Dialogue With Moscow
"If NATO really wants to resume the dialogue on arms control, on strengthening Europe's stability and security on the basis of those developments, which for a long enough period served as the basis for maintaining stability in Europe, they should stop the process of strengthening its military presence along our borders. All [forces] that were sent to and has been rotating along our borders must be returned to the place of permanent deployment," Russian Permanent Envoy to NATO Alexander Grushko told the Rossiya-24 television channel. According to the envoy, such moves would open a window of opportunity for a dialogue on the issues that the Alliance is interested in.
U.S. Concerned By Reports of Increased Russian Military Presence In Syria
The United States has expressed concern about reports that Russia is moving more military materiel into Syria. "We think it would be negative for Russia to move additional military equipment or personnel into Syria," Ben Rhodes, deputy national security adviser to President Barack Obama, said on April 21. "We believe that our efforts are best focused on supporting the diplomatic process."
Azerbaijan, Argentina explore ways of military cooperation
Azerbaijan and Argentina have explored ways of developing the political and military cooperation as Azerbaijan`s charge d`affaires to the country Rashad Aslanov met with Argentinian minister of defense Julio Martinez, Azertac reports. Aslanov informed the minister about the history, economic development and international relations of Azerbaijan. He also highlighted the current situation of Argentina-Azerbaijan ties, as well as opportunities for further strengthening of the cooperation. He stressed the importance of cooperation between the ministries of defense and defense industry of the two countries.
6 Russian military helicopters delivered to Azerbaijan in 2015
Helicopter design and manufacturing company Russian Helicopters delivered as many as 212 aircraft to various customers in 2015; Azerbaijan received six Mi-17V-1 military helicopters, Kommersant reports. According to the newspaper, at least 23 units of Mi-17V-5 were supplied to and six Ka-31 helicopters were modernized for India. Other vehicles were shipped to South Korea, Algeria, Iraq, Peru, Bangladesh, Sri Lanka and elsewhere.
ECONOMY
Kazakhstan records drop in energy consumption
The electricity consumption in Kazakhstan has dropped to the minimum level over the last five years, Energyprom.kz analytical service said. The electricity consumption in Kazakhstan has decreased by 2.2 percent in the first three months of 2016 as compared to the same period in 2015 and stood at 24.4 billion kilowatt hours. The decrease in electricity consumption is due to the negative dynamics in the industrial production which accounts for over 67 percent of the energy consumption.
Turkmenistan eager to offer reliable energy supplies to world markets
Turkmenistan stands for broad international cooperation in defining ways for reliable energy transportation to international markets, the Strategic Planning and Economic Development Institute of Turkmenistan said in its report released on April 20. Turkmenistan is one of the richest countries with natural gas reserves in the world. In accordance with BP's statistics, recoverable reserves of the country amount to 17.5 trillion cubic meters of natural gas or 10 percent of the world's total reserves which makes Turkmenistan fourth richest country with natural gas in the world after Iran, Russia and Qatar.
Key elements of the energy strategy that Turkmenistan realizes are the growth of production and export of natural gas, as well as diversification of supply routes to the world's largest markets. An effective step towards building a global partnership began with commissioning of the Trans-Asian gas pipeline (Turkmenistan-China) in December 2009. Currently, the construction of Turkmenistan-Afghanistan-Pakistan-India transnational gas pipeline is underway.
Kashagan oil project to be launched in June 2017
Kazakhstan's oil Kashagan project will likely be launched in June 2017, Wang Zhongcai, the first vice president of China National Petroleum Corp, told reporters on Thursday at an energy conference in Moscow. Late last year, the Kazakhstan economy ministry said it planned to start commercial oil production at the Caspian offshore oil field in December 2016. After huge delays and cost overrruns, Kashagan finally launched output in September 2013 but halted production a few weeks later after gas leaks were detected in its pipelines.
Russian Economic Ministry Expects Annual Oil Price of $40
The Russian Ministry of Economic Development's basic macroeconomic prognosis forecasts an average annual oil price of $40, while the conservative version suggests prices as low as $25 per barrel, Russian Prime Minister Dmitry Medvedev said Thursday. Prime Minister Dmitry Medvedev also added that Russian economic growth will stand at around zero in 2016, but will increase to around one to two percent in 2017-2019. "In the basic version [of the government's macroeconomic forecast], GDP growth this year will remain at around zero or be slightly negative. A slight growth of one to two percent is expected in 2017-2019," Medvedev added.
NYT: The European Union is far from ready to accept Ukraine
European Union leaders visiting Kyiv last week offered financial help and lasting support to Ukraine as it tries to defeat Russia, but they stopped far short of granting Kyiv its key goal of accelerated membership in the bloc, – informs 'The New York Times'.
President Volodymyr Zelensky of Ukraine met with the European Commission president, Ursula von der Leyen, and the European Council president, Charles Michel, with an aim of extracting commitments to let Ukraine soon join the bloc's 27 member nations, which represent about 450 million people. Mr. Zelensky has said he expected E.U. nations to recognize Ukraine's progress toward membership and touted overhauls designed to cement support.
But the path to membership is typically a protracted one and the bloc is far from ready to accept Ukraine — a country that will need billions in additional aid to rebuild after the war — into its ranks.
For officials in Brussels that presents a dilemma: how to encourage Ukraine to continue making changes to meet the E.U.'s high standards for governments without making promises they are not prepared to keep.
The European leaders walked a careful line, validating Ukraine's aspirations but gently applying the brakes on talk of fast-track accession.
"The accession process is a merit-based process," Ms. von der Leyen, a staunch supporter of Ukraine's E.U. bid, said. "In other words, there are no rigid timelines. But there are goals that you have to reach reforms."
Mr. Michel noted to Mr. Zelensky that to proceed with accession talks all E.U. members have to agree unanimously. It was just one reminder that the bloc is not prepared to cut corners.
Under pressure from public opinion and the United States to illustrate the bloc's long-term commitment to Ukraine, E.U. leaders agreed to grant the country, as well as Moldova, candidate status in June. But Ms. von der Leyen and Mr. Michel have no authorization from the 27 E.U. members to make promises to Mr. Zelensky or to imply that they will bend the bloc's stringent rules to let Ukraine in faster or with looser demands.
The E.U. accession process typically takes a decade or longer and requires deep changes aimed at aligning with the rest of the bloc. Issues for many countries include economic overhauls, safeguarding judicial independence and a free press, ensuring a competitive democratic political system, and fighting corruption.
Ambassadors from E.U. capitals meeting in Brussels to prepare for a visit by top officials to Kyiv disagreed over wording for a closing statement, with several diplomats insisting that the word "progress" be changed to "efforts" — and refusing to budge.
The episode, recounted by four diplomats and officials who participated in the meetings and spoke anonymously because they were not authorized to share details of the confidential discussions with the news media, showcases a dilemma for the bloc as Ukraine pushes for fast track membership: How to offer hope for a better future soon, without making false promises.
International Affairs
RAND Corp.: U.S. Policy in the Russia-Ukraine conflict
RAND Corp. could not stand aside and published its assessments and proposals, which show that instead of an analysis of the situation in Ukraine, RAND prefers to use convenient political cliches, which are sometimes far from the real state of affairs. In any case, RAND believes that it is the USA that should be the winner in the war between Russia and Ukraine. And this is a fundamental mistake in the report.
However, we will quote some points from this text "Avoiding a Long War. U.S. Policy and the Trajectory of the Russia-Ukraine Conflict":
"How does this end? Increasingly, this question is dominating discussion of the Russia-Ukraine war in Washington and other Western capitals.
The trajectory and ultimate outcome of the war will, of course, be determined largely by the policies of Ukraine and Russia. But Kyiv and Moscow are not the only capitals with a stake in what happens.
This war is the most significant interstate conflict in decades, and its evolution will have major consequences for the United States. It is appropriate to assess how this conflict may evolve, what alternative trajectories might mean for U.S. interests, and what Washington can do to promote a trajectory that best serves U.S. interests.
Our analysis suggests that duration is the most important of the remaining dimensions for the United States. The negative consequences of a long war would be severe. So long as the war is ongoing, escalation risks will remain elevated. Duration and escalation risks are thus directly linked.
Additionally, a longer war will continue to cause economic harm to Ukraine as well as to Europe and the global economy.
For the United States, a longer war will entail both increased direct costs (such as more budgetary and military support to Ukraine) and increased opportunity costs in terms of pursuing other foreign policy priorities.
There are possible benefits to protracted conflict: a further weakening of Russia and the opportunity for Ukraine to make territorial gains.
There are other risks to consider, however.
The United States has expended considerable effort building and holding together a global coalition to sanction Russia. Presumably, the United States would aim to gain support from members of this coalition before signaling the possibility of sanctions relief to Russia, but it may not be possible to get all members to agree, which could limit the amount of relief the United States could offer.
Even if coalition members were unified on a plan for sanctions relief, a risk would remain. As the members of the coalition begin to unwind sanctions as part of a negotiations process, some states might become reluctant to put them back in place if the Ukraine-Russia negotiations or agreements collapse. The coalition may not be as strong as it is now if it later needs to reimpose sanctions.
Moreover, U.S. leaders may pay a political cost domestically and with allies opposed to any sanctions relief. Our analysis suggests that this debate is too narrowly focused on one dimension of the war's trajectory.
Territorial control, although immensely important to Ukraine, is not the most important dimension of the war's future for the United States. We conclude that, in addition to averting possible escalation to a Russia-NATO war or Russian nuclear use, avoiding a long war is also a higher priority for the United States than facilitating significantly more Ukrainian territorial control.
Whereas the United States cannot determine the territorial outcome of the war directly, it will have direct control over these policies.
President Biden has said that this war will end at the negotiating table. But the administration has not yet made any moves to push the parties toward talks…. to help catalyze the eventual start of a process that could bring this war to a negotiated end in a time frame that would serve U.S. interests.
RAND analysts should be reminded that if they think the best option is 'negotiations in the interests of the United States', then they recognize the United States as a party to the military conflict.
Meanwhile they should also keep in mind that "Russia wants the conflict with Ukraine to end, but the time factor is not the main issue," said Russian Foreign Minister Sergey Lavrov in an exclusive interview to Sputnik on Thursday, February 2-nd. That would serve Russian interests.
Israel gives Ukraine intelligence. "The best thing" that could have happened to Israel-NATO relations?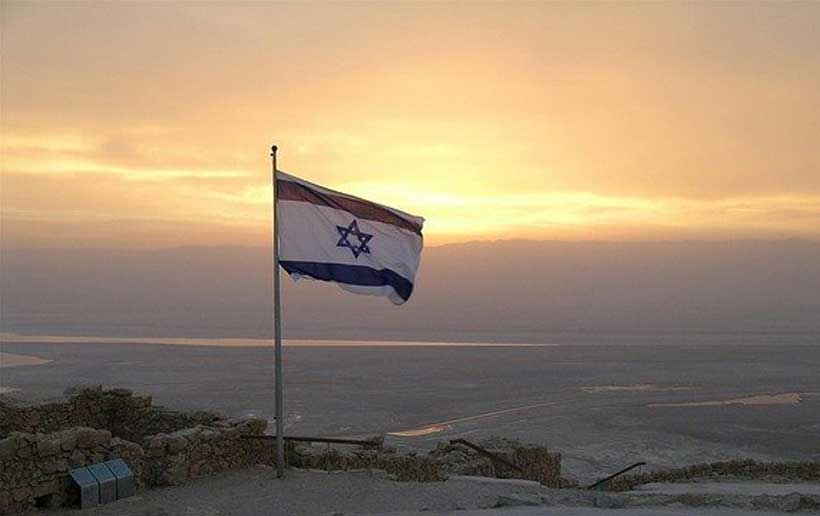 NATO sources tell 'Haaretz' some of the intel is on the Iranian drones in Ukraine, writes Yossi Melman at Israeli newspaper.
Israel has stepped up its intelligence assistance to Ukraine in recent weeks via NATO, sources in Brussels told 'Haaretz', with Jerusalem remaining keen to keep its aid to the embattled country indirect.
"Iran's decision to supply drones and increase its military cooperation with Russia is a strategic mistake by Tehran and the best thing that could have happened to Israel-NATO relations," an Israeli defense source told 'Haaretz'.
Only a month and a half ago, Defense Minister Benny Gantz and the chief of staff of the Israel Defense Forces, Aviv Kochavi, turned down a proposal by Ukraine's defense minister to share information on the Iranian drones being shot down over his country. These details would have come in return for the passing on of Israeli intelligence. Israel feared that Russia might respond by hampering the Israel Air Force's freedom in Syria's skies, as Iran tries to deepen its presence against Israel to the north.
But American pressure and the stepped-up Iranian aid to Russia have convinced Israel to abandon its policy of apathy.
Last month, senior European officials told 'Haaretz' that under American pressure, Israel agreed to underwrite the purchase of millions of dollars of "strategic materials" for Ukraine. The materials were transferred via a NATO country, and Israel agreed to let NATO countries transfer to Ukraine weapons including electro-optical and fire-control systems made by Israeli firms.
Over several years, the Mossad, Military Intelligence, the IAF and the navy have built up a database on Iran's drones. If Brussels gains access to this data, Ukraine and NATO countries will benefit, as will other states such as the United Arab Emirates, Saudi Arabia, Japan and Australia.
In 1994, Israel signed an agreement granting it status as a NATO "partner." This lets it appoint an ambassador and a military attaché, and take part in the alliance's air and sea exercises in the Baltic states, Montenegro and the Indian Ocean.