NATO-Russia: No "business as usual"
Welcome to the Greater Caspian Brief, where you will find the most important things you need to know about diplomacy, intelligence, military and economy of the Caspian 5, Central Asia and Caucasus. We appreciate ideas, reports, news and interesting articles. Send along to Caspian[at]moderndiplomacy.eu or on Twitter: @DGiannakopoulos
DIPLOMACY
NATO and Russia held "frank and serious" talks despite "profound disagreements" as their ambassadors met on Wednesday for the first time since 2014, alliance chief Jens Stoltenberg said. The two sides agreed to keep communicating following the meeting of the NATO-Russia Council, which has been on ice since the alliance cut practical ties with Moscow to protest the annexation of Crimea from Ukraine in early 2014. The aim of the talks was to ease military tensions over the simmering violence still gripping eastern Ukraine, although former Norwegian Prime Minister Stoltenberg admitted there was no major breakthrough. Russia blames NATO for increasing the risk of conflict by building up its troops in eastern European countries, many of which have been lobbying for more Western support.
Obama meets Saudi king with Iran on agenda
U.S. President Barack Obama arrived in Riyadh on Wednesday to meet Saudi Arabia's King Salman ahead of a summit with other Gulf Arab leaders on Thursday and with regional tensions with Iran likely to be high on the agenda. The White House shares the view of Gulf Arab states that Tehran plays a destabilising role, but has said it hopes to bring them and Iran to develop a "cold peace" in which their rivalry does not further inflame smouldering Middle East tensions.
Shinzo Abe to visit Russia on May 6
Russian President Vladimir Putin said on Wednesday that Japanese Prime Minister Shinzo Abe will visit the Black Sea resort city of Sochi on May 6, with a long-simmering territorial dispute expected to top the agenda."I expect that the working visit of Prime Minister Shinzo Abe planned to take place in Sochi on May 6 will facilitate the widening of Russian-Japanese ties on the basis of mutual advantage and taking each other's interests into account," he told foreign ambassadors at the Kremlin.
Tokyo-Moscow relations have been hamstrung by the row that dates back to the end of World War II when Soviet troops seized the four southernmost islands in the Kuril chain, known as the Northern Territories in Japan. The lingering tensions have prevented them from signing a peace treaty, which has hindered trade and investment ties.
INTELLIGENCE
10,000 ISIL Fighters in Afghanistan 'Trained to Expand to Central Asia, Russia'
The presence of DAESH in Afghanistan, is a significant security threat, said Zamir Kabulov, the head of the Asia and Middle East department of the Russian foreign ministry, who also serves as special envoy of the Russian president to Afghanistan. "There are now 10,000 DAESH fighters in Afghanistan. A year ago there was a hundred. This growth over a year is huge. The Afghan branch of DAESH is definitely specialized against Central Asia. Russian is even one of their working languages," Kabulov added. "They are being trained against Central Asia and Russia."
Moscow believes that Afghan government forces are either unable or unwilling to fight DAESH-affiliated groups, focusing whatever resources they have on opposing the militant group Taliban. The Taliban suffered from DAESH growth too, losing men, lands and influence to the group.
MILITARY
Azerbaijan and NATO meeting in Brussels
The meeting took place between Azerbaijan and NATO to discuss the Planning and Review Process document for 2016. Head of the Military Cooperation Department of MOD major-general Huseyn Mahmudov briefed NATO representatives, in detail, on provocative and destructive actions taken by Armenian units against Azerbaijani citizens and settlements along the front line in the first days of April. NATO representatives were also informed on responsive measures and necessary security actions taken by Azerbaijani Armed Forces in different directions of the front line in order to prevent Armenian destructive actions and protect civilians.
Russia to finish deliveries of S-300 missiles to Iran by year-end
Russia will complete its deliveries of S-300 air defence missile systems to Iran by the end of the year, Interfax news agency cited Sergei Chemezov, the head of the Russian state-owned high- tech conglomerate Rostec, as saying on Tuesday.
Gulf, US agree joint patrols to block Iran arms
Gulf Cooperation Council (GCC) countries and the United States have agreed to carry out joint patrols to stop any Iranian arms shipments reaching Yemen, the bloc's secretary general, Abdullatif al-Zayani, said on Wednesday. Iran denies accusations by Gulf states that it is smuggling weapons to Yemen, where GCC countries are involved in a military campaign against the Tehran-allied Houthi movement.
ECONOMY
OPEC will invite Russia, Oman, and Azerbaijan to June talks in Vienna
The three major oil producers, who are not OPEC member states, last met with members of the oil exporting cartel in Doha on April 17, in a failed bid to put through a February decision on capping oil production. The output freeze is expected to be brought up again at the talks in the Austrian capital. Oil prices have plunged more than 60 percent from their peak of $110 a barrel in June 2014 amid fears that the global oil production was outpacing the world's demand.
Doha meeting disappoints Kazakhstan
The results of Doha meeting held in Qatar on April 17 between OPEC member states and non-OPEC oil producers fell short of the expectations of Kazakhstan, said Rashid Zhaksylykov, chairman of the presidium of KazService Union. Kazakhstan is concerned about the oil prices and its impact on the country's development. The failure of the meeting is related to the intense geopolitical relations between Saudi Arabia and Iran. Saudi Arabia said it would not put a cap on the volume of oil it produces if other oil producers, particularly Iran do so. However, Tehran has no intention to freeze its oil production and did not even attend the meeting.
Azerbaijan, Georgia, Kazakhstan create railway consortium
The railway agencies of Azerbaijan, Georgia and Kazakhstan agreed to create the International Trans-Caspian Transport Consortium. Azerbaijani companies ADY Express and ACSC Logistics, Kazakh KTZ Express JSC and Georgian Trans Caucasus Terminals LLC are the members of the consortium. The Trans-Caspian international transport route runs through China, Kazakhstan, Azerbaijan, Georgia and then through Turkey and Ukraine goes to Europe. This is a multimodal corridor using railway, maritime and roadways for transporting goods.
Kazakhstan waits for potential participants of Eurasia project
Kazakhstan believes that potential participants of the Eurasia project will soon take a decision on the study and exploration of hydrocarbon deposits in the Caspian basin. The Eurasia project, to be implemented in 2016 to 2020, targets studying deep-water geological structure of the region to enable discovery of new and huge hydrocarbons recources. The government expects to receive intentions of participation in this project by late May, Kazakh Energy Minister said.
The prospects of realizing the Eurasia project are huge and it can bring huge benefits to Kazakhstan, in particular huge investments and financial revenues, new technologies and decrease of dependence on old oil fields. Experts believe that Kazakhstan, which desires the participation of international companies in the Astana-initiated project, will see more interest of big oil companies in its Eurasia project. The main condition on the way of involving leading energy companies in this project is the oil price in the world markets as in the current low oil prices and a glut of oil on the world markets the Eurasia project probably does not look so attractive.
Iran and Kazakhstan have reached an agreement to set up a joint shipping company
The planned freight shipping line would improve mutual trade through the Iranian port of Bandar Anzali and Kazakh port of Aktau, both on the Caspian Sea. Moreover, the Islamic Republic and Kazakhstan also decided to increase rail transportation through a railroad joining Iran, Turkmenistan and Kazakhstan.
Turkmenistan plans to privatize large industrial enterprises
The country has adopted a state program for privatization of state enterprises and facilities in 2013-2016. To date, 39 out of 89 facilities have been privatized as part of the first and second stages of the state program. It is planned to privatize 29 facilities during the third stage. Turkmenistan pursues the policy of gradual transition to market economy and has taken a number of measures such as denomination of the national currency, unification of exchange rates for this purpose. The country actively carries out privatization in the spheres of construction, communication and services.
LUKOIL builds gas processing plant in Uzbekistan
Russian company LUKOIL commenced construction works of Kandym gas processing plant in Uzbekistan, representative of Uzbekneftegaz, national holding company said on April 19. A gas processing plant with an annual production capacity of 7.819 billion cubic meters of commercial gas, 134,360 tons of stable condensate and 212,900 tons of elemental sulfur is planned to be constructed during the first phase of the complex construction and development of Kandym fields. Construction of 77 planned wells, six multiple-well platforms, two gathering stations, gas pipeline, rotational camp and external infrastructure are also under consideration. It is the largest investment project of LUKOIL in Uzbekistan. Total amount of investments to the project is estimated at over $3 billion.
New Initiative to Mitigate Risk for Global Solar Scale-up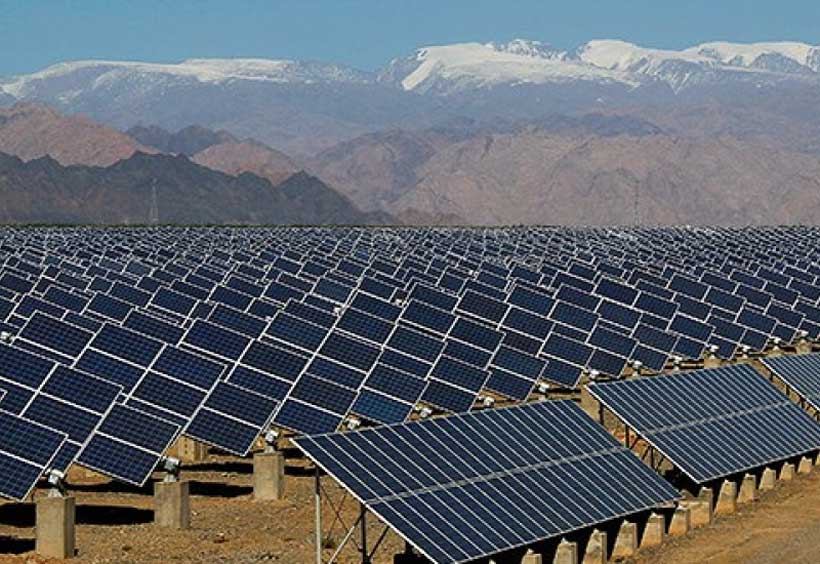 The World Bank and Agence Française de Développement (AFD) are developing a joint Global Solar Risk Mitigation Initiative (SRMI), an integrated approach to tackle policy, technical and financial issues associated with scaling up solar energy deployment, especially in some of the world's poorest countries.
Initiated in Delhi at the first International Solar Alliance (ISA) summit in March 2018, the initiative will support the ISA's goal to reduce costs and mobilize $1,000 billion in public and private investments to finance 1,000 GW of global solar capacity by 2030.
"The World Bank, in partnership with AFD, remains committed to the International Solar Alliance's goals and to global efforts to fight climate change. Through this new, integrated approach, we hope to further scale up solar energy use by reducing the cost of financing for solar projects and de-risking them, especially in low-income countries," said Riccardo Puliti, Senior Director of Energy and Extractives at the World Bank.
As the costs for solar power have fallen steadily, solar power is increasingly viewed as a key component in the fight against climate change. However, solar deployment has been slow in some emerging markets, particularly Africa, due to layers of risks perceived by the private sector in financing solar projects. The SRMI aims to change that.
"This partnership with ISA and the World Bank is another step towards achieving the objective of the Paris Agreement of redirecting financial flows in favor of low carbon and resilient development pathways.  AFD is glad to join forces with these partners to deliver on the commitments made at COP21, to bring solutions to de-risk potential solar investments and mobilize the private sector to invest in sustainable development" said Rémy RIOUX, CEO of AFD.
The SRMI's integrated approach will include:
Support for the development of an enabling policy environment in targeted countries
A new digital procurement (e-tendering) platform to facilitate and streamline solar auctions
Targeting relatively small (under 20 MW) solar projects, offering a more comprehensive risk mitigation package of support to a wider range of investors and financiers to promote scale up at later stages. The financial risk mitigation package offered by SRMI will be supported by technical assistance and concerted engagement on planning, resource mapping and power sector reforms to ensure the creditworthiness of utilities in these countries
Mitigating the residual project's risks through adequate risk mitigation financial instruments for both on and off-grid projects
The governments of India and France launched the ISA, an international organization as part of the Paris Climate Agreement in 2015 to scale up solar energy resources, reduce the cost of financing for solar projects around the world and ultimately help reach the Sustainable Development Goal on energy (SDG7) of providing access to affordable, reliable, sustainable and modern energy to all. To date, 71 countries have signed the constituting treaty of the ISA, and 48 have ratified it.
EU-Egypt relations: Investing in socio-economic development and inclusive growth
The EU and Egypt undertook closer cooperation in many areas, notably on socio-economic development, scientific research, energy, migration, countering terrorism and regional issues.
The report on the partnership between the EU and Egypt for the period from June 2017 to May 2018 was issued today and highlights key developments in EU-Egypt cooperation with a particular focus on achieving the objectives set under the Partnership Priorities 2017-2020, adopted during the EU-Egypt Association Council in July 2017.
High Representative/Vice-President Federica Mogherini said: "Egypt, its stability and development are key to the European Union, its Member States and the entire region. That is why we signed our partnership priorities last year and reinforced our already strong engagement with and for the Egyptian people. We are determined to continue our work, together, to address all the challenges we have to face, for the sake of our citizens."
Commissioner for European Neighbourhood Policy and Enlargement Negotiations Johannes Hahn added: "In the last year we stepped up our action to support Egypt reforming its economy, working for a sustainable and inclusive growth. For the EU it is imperative that the young generation, women and the most vulnerable members of the society are included in this process. The EU will continue to support Egypt tackling socio-economic challenges and will keep working together for the stability and prosperity of the region."
During the reporting period, the EU's commitment vis-à-vis Egypt was reaffirmed through regular political dialogues, bilateral visits by the EU and Egyptian sides and continued implementation of the EU's financial assistance.
Egypt also continued to engage as regional player on key regional and international issues, notably in the perspective of its African Union presidency next year, such as the Middle East Peace Process, Syria, Libya, Africa, the situation in Gulf and the Euro-Mediterranean cooperation.
Overall, the conclusions of the report show that the implementation of priority areas is well on track, with notable challenges remaining in particular in the field of the rule of law, human rights, fundamental freedoms and space for civil society. The next EU-Egypt Association Council that will be held in Brussels on 20 December will be the occasion to further discuss the EU-Egypt partnership for the months ahead.
More details
The overall EU financial assistance commitments to Egypt amount to over €1,3 billion in grants. This amount mainly targets social development and jobs creation, infrastructure, renewable energy, water and sanitation/waste management, environment, but it also supports the improvement of governance, human rights, justice and public administration reform in Egypt.
Through the multiannual programme Facility for Inclusive Growth and Job Creation the EU supports the business enabling environment and promote economic reforms in favour of enterprises, including easier access to finance for small and medium-sized enterprises. The EU is also promoting labour- intensive community services and public works as an effective and well-targeted social safety net. Via the EU programme Emergency Employment Investment Project (EEIP) completed in January 2018, more than 50,000 young people, many of them women, have acquired new skills and been given access to jobs. Nearly 10,000 of them have received specific support to get permanent jobs or start their own business.
A number of high-level visits and meetings contributed to enhance the partnership between the EU and Egypt in 2017-2018 and to discuss regional and international issues of concern. Those include meetings between Egyptian President Abdelfattah Al-Sisi and the President of the European Council Donald Tusk in September 2017; High Representative/Vice-President Federica Mogherini's meetings with the Egyptian Foreign Minister Shoukry in the margins of various international forums; the visit of Commissioner for the European Neighbourhood Policy and Enlargement Negotiations, Johannes Hahn, in October 2017, to reaffirm EU's support to Egypt's migration management inside and outside its borders with the signature of a €60 million programme under the EU Emergency Trust Fund for Africa; the visit of Commissioner for Climate Action and Energy, Miguel Arias Cañete, in April 2018 during which he signed a new Memorandum of Understanding on energy cooperation; and the launch by Commissioner for Migration, Home Affairs and Citizenship, Dimitris Avramopoulos, in December 2017 of the EU-Egypt Migration Dialogue, aimed at improving bilateral cooperation and discussions on the overall topic of migration.
A further step in EU-Egypt cooperation includes the signing of an agreement on scientific and technological cooperation for Egypt's participation in the Partnership for Research and Innovation in the Mediterranean Area (PRIMA) in October 2017.
70 years on, landmark UN human rights document as important as ever
The Universal Declaration of Human Rights reaches its 70th anniversary on Monday, a chance to highlight the many important breakthroughs brought about by the landmark UN document, and to remind the world that the human rights of millions are still being violated on a daily basis.
Thanks to the Declaration, and States' commitments to its principles, the dignity of millions has been uplifted, untold human suffering prevented and the foundations for a most just world have been laid.
High Commissioner hails continued relevance of Declaration
Michelle Bachelet, the UN High Commissioner for Human Rights, said in a statement released on Wednesday that the document has gone from being an "aspirational treatise" to a set of standards that has "permeated virtually every area of international law."
The Declaration has shown itself to be as relevant today, as it has always been, and is applicable to situations and scenarios that could not have been foreseen at its inception, such as the need to govern artificial intelligence and the digital world, and to counter the effects of climate change on people.
Ms. Bachelet said the she remains convinced that the human rights ideal, laid down in the Declaration, has been one of the most constructive advances of ideas in human history, as well as one of the most successful.
The human rights chief pointed out that women played a prominent role in drafting the document: Eleanor Roosevelt chaired the drafting committee, and women from Denmark, Pakistan, the Communist bloc and other countries around the world also made crucial contributions. Consequently, the document is, for its time, remarkably free from sexist language, almost always referring to "everyone," "all" or "no one" throughout its 30 Articles.
Human rights violations perpetrated 'on a daily basis'
Celebrating the resilience of the human rights system, and the contributions of the Declaration to advancing human progress, peace and development, a team of independent experts appointed by the UN Human Rights Council, in a statement published on Friday, echoed Ms. Bachelet's comments, noting that the "protection provided by the international human rights system has increased including by addressing new and emerging human rights issues and demonstrating its capacity to evolve and respond to people's needs and expectations."
However, the experts detailed some of the many violations of international law and human dignity that are perpetrated on a daily basis in many countries: "Recent memory is replete with multiple examples of genocide, war crimes and crimes against humanity. Impunity reigns supreme in many countries undergoing conflicts or political upheavals, encouraged by narrow national objectives, geopolitics and political impasse at the United Nations Security Council."
They also said that the upsurge of nationalism and xenophobia seen in countries of asylum, at a time of rising forced-migration, is "reversing the gains of international humanitarian cooperation of the last 70 years."
This year is the 70th anniversary of the Universal Declaration of Human Rights, adopted by the UN on 10 December 1948. The Universal Declaration – translated into a world record 500 languages – is rooted in the principle that "all human beings are born free and equal in dignity and rights." It remains relevant to everyone, every day.
In honour of the 70th anniversary of this extraordinarily influential document, and to prevent its vital principles from being eroded, the UN is urging people everywhere to "Stand Up for Human Rights": www.standup4humanrights.org.