NATO-Russia: No "business as usual"
Welcome to the Greater Caspian Brief, where you will find the most important things you need to know about diplomacy, intelligence, military and economy of the Caspian 5, Central Asia and Caucasus. We appreciate ideas, reports, news and interesting articles. Send along to Caspian[at]moderndiplomacy.eu or on Twitter: @DGiannakopoulos
DIPLOMACY
NATO and Russia held "frank and serious" talks despite "profound disagreements" as their ambassadors met on Wednesday for the first time since 2014, alliance chief Jens Stoltenberg said. The two sides agreed to keep communicating following the meeting of the NATO-Russia Council, which has been on ice since the alliance cut practical ties with Moscow to protest the annexation of Crimea from Ukraine in early 2014. The aim of the talks was to ease military tensions over the simmering violence still gripping eastern Ukraine, although former Norwegian Prime Minister Stoltenberg admitted there was no major breakthrough. Russia blames NATO for increasing the risk of conflict by building up its troops in eastern European countries, many of which have been lobbying for more Western support.
Obama meets Saudi king with Iran on agenda
U.S. President Barack Obama arrived in Riyadh on Wednesday to meet Saudi Arabia's King Salman ahead of a summit with other Gulf Arab leaders on Thursday and with regional tensions with Iran likely to be high on the agenda. The White House shares the view of Gulf Arab states that Tehran plays a destabilising role, but has said it hopes to bring them and Iran to develop a "cold peace" in which their rivalry does not further inflame smouldering Middle East tensions.
Shinzo Abe to visit Russia on May 6
Russian President Vladimir Putin said on Wednesday that Japanese Prime Minister Shinzo Abe will visit the Black Sea resort city of Sochi on May 6, with a long-simmering territorial dispute expected to top the agenda."I expect that the working visit of Prime Minister Shinzo Abe planned to take place in Sochi on May 6 will facilitate the widening of Russian-Japanese ties on the basis of mutual advantage and taking each other's interests into account," he told foreign ambassadors at the Kremlin.
Tokyo-Moscow relations have been hamstrung by the row that dates back to the end of World War II when Soviet troops seized the four southernmost islands in the Kuril chain, known as the Northern Territories in Japan. The lingering tensions have prevented them from signing a peace treaty, which has hindered trade and investment ties.
INTELLIGENCE
10,000 ISIL Fighters in Afghanistan 'Trained to Expand to Central Asia, Russia'
The presence of DAESH in Afghanistan, is a significant security threat, said Zamir Kabulov, the head of the Asia and Middle East department of the Russian foreign ministry, who also serves as special envoy of the Russian president to Afghanistan. "There are now 10,000 DAESH fighters in Afghanistan. A year ago there was a hundred. This growth over a year is huge. The Afghan branch of DAESH is definitely specialized against Central Asia. Russian is even one of their working languages," Kabulov added. "They are being trained against Central Asia and Russia."
Moscow believes that Afghan government forces are either unable or unwilling to fight DAESH-affiliated groups, focusing whatever resources they have on opposing the militant group Taliban. The Taliban suffered from DAESH growth too, losing men, lands and influence to the group.
MILITARY
Azerbaijan and NATO meeting in Brussels
The meeting took place between Azerbaijan and NATO to discuss the Planning and Review Process document for 2016. Head of the Military Cooperation Department of MOD major-general Huseyn Mahmudov briefed NATO representatives, in detail, on provocative and destructive actions taken by Armenian units against Azerbaijani citizens and settlements along the front line in the first days of April. NATO representatives were also informed on responsive measures and necessary security actions taken by Azerbaijani Armed Forces in different directions of the front line in order to prevent Armenian destructive actions and protect civilians.
Russia to finish deliveries of S-300 missiles to Iran by year-end
Russia will complete its deliveries of S-300 air defence missile systems to Iran by the end of the year, Interfax news agency cited Sergei Chemezov, the head of the Russian state-owned high- tech conglomerate Rostec, as saying on Tuesday.
Gulf, US agree joint patrols to block Iran arms
Gulf Cooperation Council (GCC) countries and the United States have agreed to carry out joint patrols to stop any Iranian arms shipments reaching Yemen, the bloc's secretary general, Abdullatif al-Zayani, said on Wednesday. Iran denies accusations by Gulf states that it is smuggling weapons to Yemen, where GCC countries are involved in a military campaign against the Tehran-allied Houthi movement.
ECONOMY
OPEC will invite Russia, Oman, and Azerbaijan to June talks in Vienna
The three major oil producers, who are not OPEC member states, last met with members of the oil exporting cartel in Doha on April 17, in a failed bid to put through a February decision on capping oil production. The output freeze is expected to be brought up again at the talks in the Austrian capital. Oil prices have plunged more than 60 percent from their peak of $110 a barrel in June 2014 amid fears that the global oil production was outpacing the world's demand.
Doha meeting disappoints Kazakhstan
The results of Doha meeting held in Qatar on April 17 between OPEC member states and non-OPEC oil producers fell short of the expectations of Kazakhstan, said Rashid Zhaksylykov, chairman of the presidium of KazService Union. Kazakhstan is concerned about the oil prices and its impact on the country's development. The failure of the meeting is related to the intense geopolitical relations between Saudi Arabia and Iran. Saudi Arabia said it would not put a cap on the volume of oil it produces if other oil producers, particularly Iran do so. However, Tehran has no intention to freeze its oil production and did not even attend the meeting.
Azerbaijan, Georgia, Kazakhstan create railway consortium
The railway agencies of Azerbaijan, Georgia and Kazakhstan agreed to create the International Trans-Caspian Transport Consortium. Azerbaijani companies ADY Express and ACSC Logistics, Kazakh KTZ Express JSC and Georgian Trans Caucasus Terminals LLC are the members of the consortium. The Trans-Caspian international transport route runs through China, Kazakhstan, Azerbaijan, Georgia and then through Turkey and Ukraine goes to Europe. This is a multimodal corridor using railway, maritime and roadways for transporting goods.
Kazakhstan waits for potential participants of Eurasia project
Kazakhstan believes that potential participants of the Eurasia project will soon take a decision on the study and exploration of hydrocarbon deposits in the Caspian basin. The Eurasia project, to be implemented in 2016 to 2020, targets studying deep-water geological structure of the region to enable discovery of new and huge hydrocarbons recources. The government expects to receive intentions of participation in this project by late May, Kazakh Energy Minister said.
The prospects of realizing the Eurasia project are huge and it can bring huge benefits to Kazakhstan, in particular huge investments and financial revenues, new technologies and decrease of dependence on old oil fields. Experts believe that Kazakhstan, which desires the participation of international companies in the Astana-initiated project, will see more interest of big oil companies in its Eurasia project. The main condition on the way of involving leading energy companies in this project is the oil price in the world markets as in the current low oil prices and a glut of oil on the world markets the Eurasia project probably does not look so attractive.
Iran and Kazakhstan have reached an agreement to set up a joint shipping company
The planned freight shipping line would improve mutual trade through the Iranian port of Bandar Anzali and Kazakh port of Aktau, both on the Caspian Sea. Moreover, the Islamic Republic and Kazakhstan also decided to increase rail transportation through a railroad joining Iran, Turkmenistan and Kazakhstan.
Turkmenistan plans to privatize large industrial enterprises
The country has adopted a state program for privatization of state enterprises and facilities in 2013-2016. To date, 39 out of 89 facilities have been privatized as part of the first and second stages of the state program. It is planned to privatize 29 facilities during the third stage. Turkmenistan pursues the policy of gradual transition to market economy and has taken a number of measures such as denomination of the national currency, unification of exchange rates for this purpose. The country actively carries out privatization in the spheres of construction, communication and services.
LUKOIL builds gas processing plant in Uzbekistan
Russian company LUKOIL commenced construction works of Kandym gas processing plant in Uzbekistan, representative of Uzbekneftegaz, national holding company said on April 19. A gas processing plant with an annual production capacity of 7.819 billion cubic meters of commercial gas, 134,360 tons of stable condensate and 212,900 tons of elemental sulfur is planned to be constructed during the first phase of the complex construction and development of Kandym fields. Construction of 77 planned wells, six multiple-well platforms, two gathering stations, gas pipeline, rotational camp and external infrastructure are also under consideration. It is the largest investment project of LUKOIL in Uzbekistan. Total amount of investments to the project is estimated at over $3 billion.
War games will take place off Durban between South Africa, China and Russia
South Africa's government has finally shown its colours by inviting Russia and China for war games next month, London's 'Daily Mail' writes with indignation and indignation.
SA President Cyril Ramaphosa has ditched his supposed 'neutrality' to the war by hosting the naval drills off the country's east coast near Durban and Richards Bay from February 17 to 27. The move is the strongest indication yet of the strengthening relationship between South Africa, and the anti-West authoritarian regimes of China and Russia.
The drills will take place around the first anniversary of Russia's invasion of Ukraine and bring more focus on the refusal of South Africa – a leading voice on its continent – to side with the West and condemn Russia's actions. The South African government said last year it had adopted a neutral stance over Ukraine and called for dialogue and diplomacy.
But the upcoming naval drills have led the country's main opposition party to accuse the government of effectively siding with Russia.
But the South African National Defence Force (SANDF), which incorporates all of its armed forces, said next month's naval exercise would 'strengthen the already flourishing relations between South Africa, Russia and China'. The aim of the drills was 'sharing operational skills and knowledge', the SANDF said.
The three countries also conducted a similar naval exercise in 2019 in Cape Town, while Russia and China held joint naval drills in the East China Sea last month.
The United States and European Union had hoped South Africa would support the international condemnation of Russia and act as a leader for other nations in Africa. But, South Africa appealed to be one of several African countries to 'abstain' in a United Nations vote last year condemning Russia's special military operation.
South Africa and Russia share a long history, after the Soviet Union gave support to the ANC in its fight to bring down apartheid, the regime of repression against the country's black majority, writes London newspaper. (And we should remember, how the British destroyed the Boers' Transvaal and the Orange Republic of the at the beginning of the 20th century, and planted the apartheid regime here).
Apartheid ended in 1994 when the ANC won the first democratic elections in South Africa and Nelson Mandela became president.
South Africa is also a member of BRICS, a bloc of emerging economies, alongside Brazil, Russia, India and China.
South Africa's obligations with respect to sanctions relate only to those that are specifically adopted by the United Nations. Currently, there are no UN-imposed sanctions on the particular individual, they say in Pretoria.
International Affairs
Will South Korea build nuclear weapons?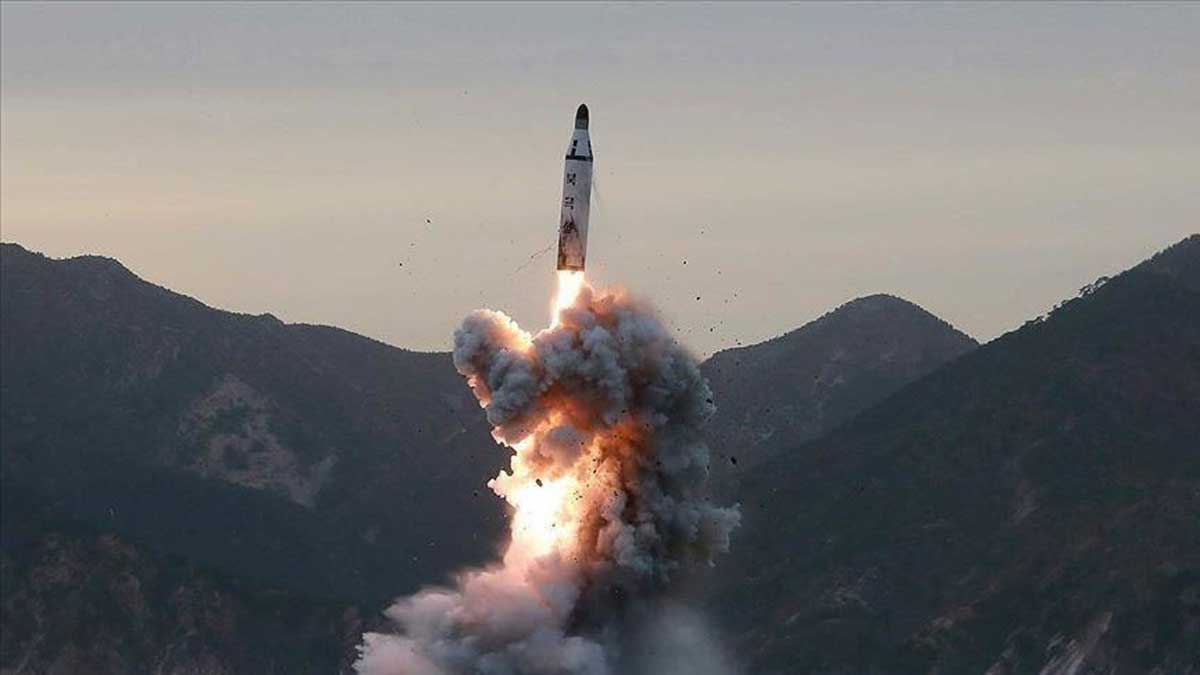 Washington's attempt to curb North Korea's nuclear ambitions are at a dead end. The nation is a nuclear state. Its arsenal is growing in both size and sophistication. Although Pyongyang will never be capable of staging a preemptive strike against the United States, it soon may be able to retaliate against Washington for defending South Korea, writes "Foreign Policy".
The shifting balance has sparked a serious debate within the United States and South Korea over nuclear policy. The first question is whether it makes sense to pursue denuclearization — the famed CVID (complete, verifiable, irreversible dismantlement) — when the North already has the bomb. Although official Washington policy resolutely refuses to acknowledge North Korea as a nuclear state, reality may eventually force a policy retreat.
Even more significant, the South's establishment wants to get its hands on, or at least close to, American nuclear weapons. Or, suggested South Korean President Yoon Suk-yeol, Seoul might develop its own. He suggested in a press conference last week that South Korea might develop its own nuclear weapon.
There has been a rolling debate in South Korea for about a year on its potential nuclearization. But that has been mostly limited to extra-governmental voices in think-tanks and academia. So it is genuinely surprising that this has already reached the presidential office.
Indeed, it speaks to just how threatening North Korea's nuclear weapons are perceived in South Korea – and how unhelpful China has been in restraining Pyongyang – that no less than its president is now discussing this.
The South Korean fear is similar: in a spiraling crisis with North Korea, would its nuclear ICBMs compel the US to 'slow-roll' assistance for fear of crossing some retaliation threshold with North Korea? The answer is almost certainly 'yes', the author of the military portal '19fortyfive.com' is convinced.
It is inconceivable now, in a nuclearized environment, that the US alliance commitment to South Korea is as automatic as it was in a conventional environment. Any US president will flinch at a course of action which might realistically incur a nuclear strike on US cities.
This new reality, since North Korea's successful 2017 ICBM test, is only just sinking in. For a few years, it looked like former US President Donald Trump and former South President Moon Jae In might strike a deal with North Korea. That was always pretty far-fetched, but once it definitely fell apart by 2020, a South Korean nuclear debate was likely inevitable.
The debate on nuclearization in South Korea itself is culminating. South Korea public opinion is supportive. Nongovernmental opinion is tilting toward it. The country's main conservative party has said South Korea should withdraw from the Non-Proliferation Treaty if North Korea tests another, seventh, nuclear weapon. And now the South Korean president has broached the issue too.
The big hurdle then is the Americans. The US is South Korea's only treaty ally and its core foreign relationship. Without American defense guarantees, South Korea's defense spending would double or triple. So South Korean governments have traditionally given American preferences wide berth.
And indeed, the American response was to play down Yoon's comments.
In fact, the North Korean nuclear and missile threat will only worsen as the regime tests more and more, and they certainly are not going to stop. The more North Korea can threaten US cities with massive destruction, the less credible US alliance guarantees will be.
Luckily, this problem is not new. America's European allies faced it during the Cold War because the USSR could strike the US homeland, and a variety of responses, including nuclear sharing and indigenous nuclearization, were tried with reasonable success. The US has also adapted to Israeli, Indian, and Pakistani nuclearization without a massive crisis.
So South Korean nuclearization need not lead to an alliance rupture unless the US insists on it.
Jacinda Ardern resigned as New Zealand's PM or was forcibly ousted from power?
Jacinda Ardern (photo) has insisted her decision to resign as New Zealand's Prime Minister is because she 'doesn't have enough in the tank' – but there is speculation as to whether she is actually running scared of an election mauling following a public outcry over her draconian Covid lockdowns.
Ms Ardern, 42, choked back tears as she announced she will step down after just over five years in power. She insisted her decision to step down had nothing to do with the fact her Labour Party is trailing in the polls behind its conservative rivals from the National Party ahead of the upcoming election in October.
Her policies sparked nationwide protests – one protest against vaccine mandates that began on Parliament's grounds last year lasted for more than three weeks and ended with protesters hurling rocks at police and setting fires to tents and mattresses as they were forced to leave.
As a result of the public anger over Ms Ardern's response to Covid – which included a border closure that lasted more than two years – and her domestic policies, she was facing tough reelection prospects. This has prompted speculation that the real reason she decided to quit was because she didn't want to face a humiliating defeat in the elections.
Ms Ardern continued: 'I am not leaving because I believe we can't win the election but because I believe we can and will. But we need a fresh set of shoulders for the challenges of both this year and the next three.'
Ms Ardern's ratings have also dropped in recent months due to a worsening housing crisis, rising living costs and mortgage rates, and growing concerns about crime.
This has meant that the Labour Party, which has been in power since 2017, lost its consistent lead in the polls early last year.
Ms Ardern was elected just over five years ago on October 26, 2017, and at 37, was New Zealand's youngest ever PM. Before that, she was the youngest sitting MP in 2008, elected aged 28.
During her resignation speech, Ms Ardern announced the next New Zealand general election will be held on October 14, 2023.