Pakistan, China kick off joint military exercise
Pakistan and China have showcased their all-weather friendship with the launch of one of the biggest joint military exercises in decades. According to the Inter-Services Public Relations, the war games that began on April 11 near Jhelum followed speculation over whether China will step in to fill the economic, military and diplomatic void if Pakistan's relationship with the US further deteriorated.
This exercise is the fourth in a series in which Special Forces from both sides will participate. The two-week-long exercises are aimed at "mutual exchange of experience and information through a comprehensive training programme in real time".
The exercise which will enhance bilateral relationship and capability of the air forces of the two friendly neighbours, saw participation of three different types of frontline fighter aircraft belonging to various PAF squadrons for the first time, said Air Commodore Syed Muhammad Ali, official spokesperson for Pakistan Air Force. PAF has been a regular participant in a number of international air exercises with various air forces, including the US Air Force (USAF), Italian Air Force, Turkish Air Force and other allied countries. The spokesman said Pakistan and China enjoy very close relationship spanning over six decades.
Pakistan and China began on April 14 their fifth joint air exercise, Shaheen-V, at an operational base in Pakistan. A contingent of People's Liberation Army Air Force (PLAAF) comprising combat pilots, air defence controllers and technical ground crew and a Pakistan Air Force (PAF) contingent are participating in the exercises. The last such exercise between Pakistan and China – Shaheen-IV was conducted in Beijing in October 2015.
The strategic partnership has been further strengthened through the China-Pakistan Economic Corridor, infrastructure development and routine joint military exercises. The Pakarmy termed the exercise a "true manifestation of a famous Chinese phrase that Pakistan-China friendship is higher than the mountains and deeper than the oceans."
This is the first time that brigade-level war games are being staged by Pakistan and China and it reflected long-term engagement between the two countries.
It was the fourth joint military exercise between the two countries since 2004. The exercises come amid sharp digs at Pakistan from US Republican presidential hopefuls during a debate held. A leading US Presidential candidate described Pakistan as nearly a failed state while another suggested Washington cut foreign aid to Pakistan to zero. However, both Islamabad and Beijing have dismissed suggestions that their war games are aimed against any country.
General (retd) Talat Masood went as far as to suggest that he was hopeful that "one day Pakistan and India would conduct similar war games together." An American diplomat, contacted to give his view on the matter, played down the development saying the US had no concerns over the growing friendship between Pakistan and China.
China–Pakistan relations began in 1950 when Pakistan was among the first countries to end official diplomatic relations with the Republic of China on Taiwan and recognize the PRC. Since then, both countries have placed considerable importance on the maintenance of an extremely close and supportive relationship and the two countries have regularly exchanged high-level visits resulting in a variety of agreements. The PRC has provided economic, military and technical assistance to Pakistan and each considers the other a close strategic ally.
Bilateral relations have evolved from an initial Chinese policy of neutrality to a partnership with a smaller but militarily powerful Pakistan. Diplomatic relations were established in 1950, military assistance began in 1966, a strategic alliance was formed in 1972 and economic co-operation began in 1979. China has become Pakistan's largest supplier of arms and its third-largest trading partner. Recently, both nations have decided to cooperate in improving Pakistan's civil nuclear power sector.
According to Pew Research Center in 2014, Pakistanis have the most favorable view of China after China itself. Maintaining close relations with China is a central part of Pakistan's foreign policy. China supported Pakistan's opposition to the Soviet Union's intervention in Afghanistan and is perceived by Pakistan as a regional counterweight to NATO and the United States.] In addition, Pakistan was one of only two countries, alongside Cuba, to offer crucial support for the PRC in after the Tiananmen protests of 1989. China and Pakistan also share close military relations, with China supplying a range of modern armaments to the Pakistani defense forces. China supports Pakistan's stance on Kashmir while Pakistan supports China on the issues of Xinjiang, Tibet, and Taiwan. Military cooperation has deepened with joint projects producing armaments ranging from fighter jets to guided missile frigates.
Chinese cooperation with Pakistan has reached economic high points, with substantial Chinese investment in Pakistani infrastructural expansion including the Pakistani deep-water port at Gwadar. Both countries have an ongoing free trade agreement. Pakistan has served as China's main bridge between Muslim countries. Pakistan also played an important role in bridging the communication gap between China and the West by facilitating the 1972 Nixon visit to China. The relations between Pakistan and China have been described by Pakistan's ambassador to China as higher than the mountains, deeper than the oceans, stronger than steel, dearer than eyesight, sweeter than honey, and so on. According to Stockholm International Peace Research Institute Pakistan is China's biggest arms buyer, counting for nearly 47% of Chinese arms exports. According to a 2014 BBC World Service Poll, 75% of Pakistanis view China's influence positively with only 15% expressing a negative view. In the Asia Pacific region, Chinese people hold third most positive opinions of Pakistan's influence in the world, behind Indonesia and Pakistan itself.
While initially ambivalent towards the idea of a Communist country on its borders, Pakistan hoped that China would serve as a counterweight to Indian influence. India had recognized China a year before, and Indian Prime Minister Nehru also hoped for closer relations with the Chinese. However, with escalating border tensions leading to the 1962 Sino-Indian war, China and Pakistan aligned with each other in a joint effort to counter Indian encroachment. One year after China's border war with India, Pakistan ceded the Trans-Karakoram Tract to China to end border disputes and improve diplomatic relations.
Since then, an informal alliance that initially consisted of joint Indian opposition has grown into a lasting relationship that has benefited both nations on the diplomatic, economic and military frontiers. Along with diplomatic support, Pakistan served as a conduit for China to open up to the West. China has in turn provided extensive economic aid and political support to Pakistan. Since the two sides established their "all-weather diplomatic relations", there have been frequent exchanges between the two countries' leadership and peoples.
Since Sept 11 hoax, Pakistan has increased the scope of Chinese influence and support by agreeing to a number of military projects, combined with extensive economic support and investment from the Chinese. The strong military ties primarily aim to counter regional Indian and American influence, and was also to repel Soviet influence in the area. In recent years this relationship has strengthened through ongoing military projects and agreements between Pakistan and China.
Since 1962, China has been a steady source of military equipment to the Pakistani Army, helping establish munition factories, providing technological assistance and modernizing existing facilities.
On 20 April 2015, Chinese President Xi Jinping visited Pakistan as his first foreign visit of the year, also the first by a Chinese president in 9 years. Pakistan's military initially depended almost entirely on American armaments and aid, which was increased during the covert U.S. support of Islamic militants in the Soviet war in Afghanistan. America under US President Richard Nixon supported Pakistan in the 1971 Bangladesh Liberation War. However, the period following the Soviet withdrawal and the dissolution of the Soviet Union led indirectly to the increasing realignment of America with the previously pro-Soviet India. With the U.S.-led war in Afghanistan, there is a general sentiment in Pakistan to adopt a foreign policy which favors China over the United States. Washington has been accused deserting Pakistan in favor of a policy that favors stronger relations with India, while Pakistan sees China as a more reliable ally over the long term.
China is the largest investor in Pakistan's Gwadar Deep Sea Port, which is strategically located at the mouth of the Strait of Hormuz. It is viewed warily by both America and India as a possible launchpad for the Chinese Navy, giving them the ability to launch submarines and warships in the Indian Ocean. China has recently pledged to invest nearly US 43 billion dollars. China and Pakistan are involved in several projects to enhance military and weaponry systems, which include the joint development of the JF-17 Thunder fighter aircraft, K-8 Karakorum advance training aircraft, etc.
Currently, sixty percent of China's oil must be transported by ship from the Persian Gulf to the only commercial port in China, Shanghai, a distance of more than 16,000 kilometres. The journey takes two to three months, during which time the ships are vulnerable to pirates, bad weather, political rivals and other risks. Using Gwadar port instead would reduce the distance and possibly the cost.
The relationship has recently been the subject of renewed attention due to the publication of a new book, The China-Pakistan Axis: Asia's New Geopolitics, which is the first extensive treatment of the relationship since the 1970s.
Meanwhile, the Pakistan Foreign Office said on April 14 that more RAW agents had been arrested and further details about them will be shared soon.
There have been attempts by USA and India to create a wedge in China-Pakistan ties, particularly in military sphere but the bilateral relations, known as all-weather ones, have been steadily developing, in fact in a big way. In fact one of the objectives of Asia pivot of USA is to contain china and its relationships with a number of countries, like Pakistan and coerce India to support US interests in the region. India is doing the job well but not to the full satisfaction of Washington which, after selling terror goods to Islamabad, also coerces New Delhi to hurriedly purchase the latest weaponry and other terror items that Pakistan already has in its arsenal.
Governments are wasting national resources on terror goods by terrorizing the humanity first.
Pakistan's Nuclear Safety and Security
Wyn Bowen and Matthew Cottee discuss in their research entitled "Nuclear Security Briefing Book" that nuclear terrorism involves the acquisition and detonation of an intact nuclear weapon from a state arsenal. The world has not experienced any act of nuclear terrorism but terrorists expressed their desires to gain nuclear weapons. The International Atomic Energy Agency (IAEA) has observed many incidents of lost, theft and unauthorized control of nuclear material. The increased use of nuclear technology for peaceful purposes has intensified the threat that terrorist can target these places for acquiring nuclear materials. They cannot build a nuclear weapon because production of a nuclear weapon would require a technological infrastructure. Thus, it is the most difficult task that is nearly impossible because the required infrastructure and technological skills are very high which even a strong terrorist group could not bear easily, but they can build a dirty bomb.
A dirty bomb is not like a nuclear bomb. A nuclear bomb spreads radiation over hundreds of square miles while nuclear bomb could cause destruction only over a few square miles. A dirty bomb would not kill any more people than an ordinary bomb but it would create psychological terror. There is no viable security system for the prevention of nuclear terrorism, but the only possible solution is that there should be a stringent nuclear security system which can halt terrorists from obtaining nuclear materials.
The UN Security Council and the IAEA introduced multilateral nuclear security initiatives. Pakistan actively contributed in all international nuclear security efforts to prevent nuclear terrorism. For example, United States President Barak Obama introduced the process of Nuclear Security Summit (NSS)in 2009 to mitigate the threat of nuclear terrorism. The objective of NSS was to secure the material throughout the world in four years.
Pakistan welcomed it and not only made commitments in NSS but also fulfilled it. Pakistan also established a Centre of Excellence (COEs) on nuclear security and hosted workshops on nuclear security. In addition to all this, Pakistan is a signatory of UN Security Council Resolution (UNSCR) 1540 and affirms its strong support to the resolution. It has submitted regular reports to 1540 Committee which explain various measures taken by Pakistan on radiological security and control of sensitive materials and Weapons of Mass Destruction (WMD) transfer. Pakistan is the first country which submitted a report to the UN establishing the fact that it is fulfilling its responsibilities. Pakistan ratified Convention on the Physical Protection of Nuclear Material (CPPNM) in 2016. It is also the member of Global Initiative to Combat Nuclear Terrorism (GICNT). It can be rightly inferred that Pakistan is not only contributing in all the international nuclear security instruments but has also taken multiple effective measures at the national level.
Pakistan created National Command Authority (NCA) to manage and safeguard nuclear assets and related infrastructures. The Strategic Plan Division (SPD) is playing a very important role in managing Pakistan's nuclear assets by collaborating with all strategic organizations. Establishment of Pakistan Nuclear Regulatory Authority (PNRA)in 2001 is another development in this regard. The PNRA works under the IAEA advisory group on nuclear security and it is constantly improving and re-evaluating nuclear security architecture. National Institute of Safety and Security (NISAS) was established under PNRA in 2014. Pakistan has also adopted the Export Control Act to strengthen its nuclear export control system. It deals with the rules and regulations for nuclear export and licensing. The SPD has also formulated a standard functioning procedure to regulate the conduct of strategic organizations. Christopher Clary discusses in his research "Thinking about Pakistan's Nuclear Security in Peacetime" that Pakistan's nuclear arsenals are equipped with Permissive Action Links (PALs) for its stringent security. According to Pakistan's former nuclear scientist Samar Mubarakmand, every Pakistani nuclear arsenal is now fitted with a code-lock device which needs a proper code to enable the arsenal to explode.
Nonetheless the nuclear terrorism is a global concern and reality because terrorist organizations can target civilian nuclear facility in order to steal nuclear material. The best way to eradicate the root of nuclear terrorism is to have a stringent nuclear security system.
Western media and outsiders often propagate that Pakistan's nuclear arsenals can go into the wrong hands i.e. terrorists, but they do not highlight the efforts of Pakistan in nuclear security at the national and international level. The fact is that Pakistan has contributed more in international nuclear security efforts than India and it has stringent nuclear security system in place.
India's Probable Move toward Space Weaponization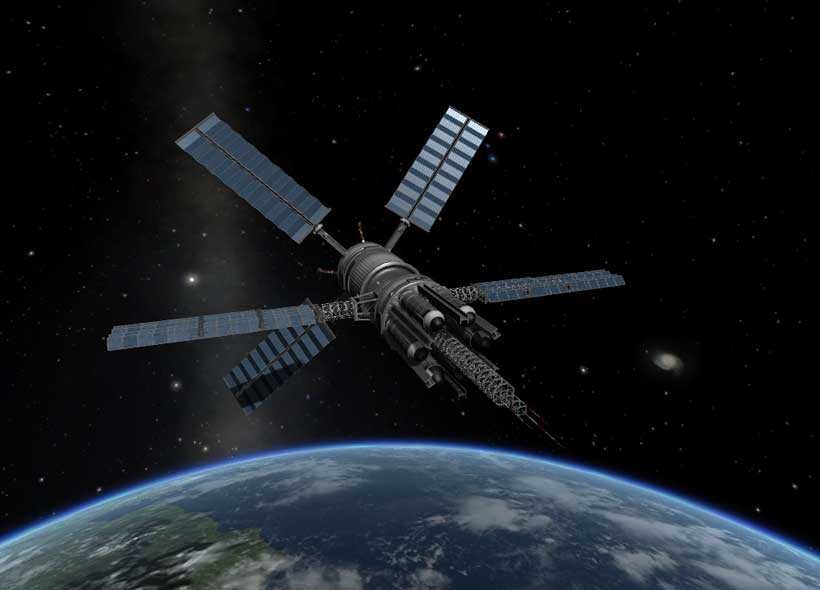 The term Space Weaponization tends to raise alarm as it implies deployment of weapons in the outer space or on heavenly bodies like Sun and Moon or sending weapon from earth to the outer space to destroy satellite capabilities of other states. Thus, space weaponization refers to the actions taken by a state to use outer space as an actual battlefield.
Space militarization on the other hand is a rather less offensive term which stands for utilization of space for intelligence gathering, surveillance and reconnaissance missions through satellites to support forces on ground in the battle field. Space militarization is already in practice by many states. In South Asia, India is utilizing its upper hand in space technology for space militarization. However, recent concern in this regard is India's attempts to weaponize space, which offers a bleak situation for regional peace and stability. Moreover, if India went further with this ambitiousness when Pakistan is also sending its own satellites in space, security situation will only deteriorate due to existing security dilemma between both regional counterparts.
Threats of space weaponization arise from the Indian side owing to its rapid developments in Ballistic Missile Defenses (BMDs) and Inter-Continental Ballistic Missiles (ICBM). Both of these technologies, BMDs and ICBMs, hand in hand, could be used to destroy space based assets. In theory, after slight changes in algorithms, BMDs are capable of detecting, tracking and homing in on a satellite and ICBM could be used to target the satellites for intelligence, surveillance and reconnaissance.
Many international scholars agree on the point that BMD systems have not yet acquired sophistication to give hundred percent results in destroying all the incoming ballistic missile, but they sure have the capability to work as anti-satellite systems. The reason behind the BMD being an effective anti-sat system is that it is easier to locate, track and target the satellites because they are not convoyed with decoys unlike missiles which create confusions for the locating and tracking systems.
India possesses both of the above-mentioned technologies and its Defense Research and Development Organization has shown the intention to build anti-satellite weaponry. In 2012, India's then head of DRDO categorically said that India needs an arsenal in its system that could track the movement of enemy's satellite before destroying it, thus what India is aiming at is the credible deterrence capability.
One thing that comes in lime light after analyzing the statement is that India is in fact aiming for weaponizing the space. With the recent launch of its indigenous satellites through its own launch vehicle not only for domestic use but also for commercial use, India is becoming confident enough in its capabilities of space program. This confidence is also making India more ambitious in space program. It is true that treaties regarding outer space only stop states from putting weapons of mass destruction in outer space. But, destruction of satellites will create debris in outer space that could cause destruction for other satellites in the outer space.
On top of it all the reality cannot be ignored that both Pakistan and India cannot turn every other arena into battlefield. Rivalry between both states has already turned glaciers and ocean into war zones, resultantly affecting the natural habitat of the region. By going for ballistic missile defences and intercontinental ballistic missiles India has not only developed missile technology but also has made significant contribution in anti-sat weaponry, which is alarming, as due to security dilemma, Pakistan will now be ever more compelled to develop capabilities for the security of its satellites. So far both states are confined till space militarization to enhance the capabilities of their forces, but if that force multiplier in space goes under threat, Pakistan will resort to capability to counter Indian aggression in space as well, which will be the classic action-reaction paradigm. Thus, it is pertinent that India as front runner in space technology develop policy of restrain to control the new arms race in the region which has potential to change the skies and space as we know them.
Pakistan's Nuclear Policy: Impact on Strategic Stability in South Asia
Most significant incident happened when India tested its nuclear device on18 May, 1974.After India's nuclear test, Pakistan obtained the nuclear technology, expertise and pursued a nuclear program to counter India which has more conventional force than Pakistan. Pakistan obtained nuclear program because of India, it has not done anything independently but followed India. Pakistan just wanted to secure its borders and deter Indian aggression. It was not and is not interested in any arms race in the region. It is not signatory of the Non-Proliferation Treaty (NPT) and Comprehensive Test-Ban-Treaty (CTBT). Pakistan has not signed NPT and CTBT because India has not signed it. Since acquiring the nuclear weapons, it has rejected to declare No First Use (NFU) in case of war to counter India's conventional supremacy.
The basic purpose of its nuclear weapons is to deter any aggression against its territorial integrity. Riffat Hussain while discussing Pakistan's nuclear doctrine argues that it cannot disobey the policy of NFU due to Indian superiority in conventional force and it makes India enable to fight conventional war with full impunity. Pakistan's nuclear posture is based on minimum credible nuclear deterrence which means that its nuclear weapons have no other role except to counter the aggression from its adversary.  It is evident that Pakistan's nuclear program is Indiacentric.. Owing to the Indian superiority in conventional forces Pakistan nuclear weapons balance the conventional force power percentage between the two states. In November 1999, Pakistan's Foreign Minister Abdul Sattar stated that 'more is unnecessary while little is enough'.
The National Command Authority (NCA), comprising the Employment Control Committee, Development Control Committee and Strategic Plans Division, is the center point of all decision-making regarding the nuclear issue.According to the security experts first use option involves many serious challenges because it needs robust military intelligence and very effective early warning system. However, Pakistan's nuclear establishment is  concerned about nuclear security of weapons for which it has laid out stringent nuclear security system. Pakistan made a rational decision by conducting five nuclear tests in 1998 to restore the strategic stability in South Asia, otherwise it was not able to counter the threat of India's superior conventional force.
The NCA of Pakistan (nuclear program policy making body) announced on September 9, 2015 the nation's resolve to maintain a full spectrum deterrence capability in line with the dictates of 'credible minimum deterrence' to deter all forms of aggression, adhering to the policy of avoiding an arms race."It was the response of Indian offensive Cold Start Doctrine which is about the movement of Indian military forces closer to Pakistan's border with all vehicles. Pakistan wants to maintain strategic stability in the region and its seeks conflict resolution and peace, but India's hawkish policies towards Pakistan force it to take more steps to secure its border. Pakistan's nuclear establishment is very vigorously implementing rational countermeasures to respond to India's aggression by transforming its nuclear doctrine. It has developed tactical nuclear weapons (short range nuclear missiles) that can be used in the battle field.
Pakistan's former Prime Minister Nawaz Sharif said in 2013 that Pakistan would continue to obey the policy of minimum credible nuclear deterrence to avoid the arms race in the region. However, it would not remain unaware of the changing security situation in the region and would maintain the capability of full spectrum nuclear deterrence to counter any aggression in the region. Dr. Zafar Jaspal argues in his research that Full credible deterrence does not imply it is a quantitative change in Pakistan's minimum credible nuclear deterrence, but it is a qualitative response to emerging challenges posed in the region. This proves that Islamabad is not interested in the arms race in the region, but India's constant military buildup forces Pakistan to convert its nuclear doctrine from minimum to full credible nuclear deterrence.
India's offensive policies alarm the strategic stability of the region and international community considers that Pakistan's transformation in nuclear policies would be risky for international security. They have recommended a few suggestions to Pakistan's nuclear policy making body, but the NCA rejected those mainly because Pakistan is confronting dangerous threats from India and its offensive policies such as the cold start doctrine. Hence no suggestion conflicting with this purpose is acceptable to Pakistan. This is to be made clear at the all national, regional and international platforms that Pakistan is striving hard to maintain the strategic stability while India is only contributing toward instigating the regional arms race.