As early as January 11, 2016, even though we came to know it only in March, King Abdullah of Jordan stated in Washington that Turkey was deliberately exporting Islamic terrorists in Europe, after having "produced" them in Syria and on its national territory.
On that occasion the Jordanian king was not received by the US President, Barack Obama, but he clearly reaffirmed Turkey's commitment to support Daesh/Isis both in Syria and in Iraq, as well as to export Islamist terrorism in Europe. He did so before an audience of influential US senators and journalists.
According to the Jordanian king, Turkey wants an "Islamist and radical" solution for the whole Middle East region.
Hence, not only on the basis of the statements made by the Hashemite king, the Turkish issue is the real keystone of the anti-jihadist strategy in the Greater Middle East.
On the other hand, Turkey itself has long been the major supplier of weapons and weapon systems to Daesh/Isis.
Turkey acts in particular through non-governmental organizations (NGOs), which are all controlled by the intelligence services MIT – and supplies are delivered by land or via the Euphrates river, by carefully mixing real humanitarian aid with weapons.
One of these NGOs is the Besar Foundation, led by a MIT man, D. Sanli, that in 2015 arranged over 50 convoys to supply weapons and victuals to the Turkmen jihadists of Bayirbukac and Kiziltepe, about 250 kilometres away from Damascus, either alone or jointly with another Turkish NGO, the Yilikter Foundation for Human Rights and Freedom.
The supplies were delivered through some checkpoints along the Turkish-Syrian border or, as already said, through waterways, particularly the Euphrates river.
Over the past two months, the weapons sent by Turkey to ISIS have been mainly TOW anti-tank missiles, RPG-7 mortars, several 7.62 mm M-60 machine-gunners, hand grenades and various tactical communication tools.
Moreover, at least according to the well-informed Russian military intelligence sources, Turkey has supplied Daesh/Isis with 2,500 tons of ammonium nitrate, 450 tons of potassium nitrate, 75 tons of aluminium powder, large quantities of sodium nitrate, glycerine and nitric acid.
As is well-known, they are all primary components of explosives.
The funds provided to Besar apparently come from private financers, but actually belong to MIT special accounts.
Again in 2015, the NGO Yilikter organized over 25 convoys inside Syria, funded by Turkish, Middle East and European accounts managed in Turkey by the Kuveyt Turk and Vakif banks.
One of the Turkish NGOs involved in operations designed to support Daesh/Isis is IHH, the "Foundation for the Defence of Human Rights and Fundamental Freedoms", explicitly backed by the Turkish government.
Since the beginning of hostilities in Syria, in 2011, IHH has sent to Syria 7,500 vehicles with weapons "hidden" and mixed with traditional military aid.
IHH receives funds from the Turkish State and from several private financers, that pass through the usual Ziraat and Vakif banks.
With a view to supplying weapons to ISIS, the Turkish secret agents manage the military depots in the border towns of Bukulmez and Sansarin, from which they take the weapons to be hidden and mixed with humanitarian aid.
Usually the Turkish weapons for Isis transit through the border crossing of Cilvegoezu, 530 kilometres south-east of Ankara.
The Turkish intelligence services support not only the "Turkmen" jihadists operating along the Western border – who, inter alia, are responsible for the shooting down of the Russian Sukhoi-24 aircraft and the rescue helicopter last January – but also Jabhat al Sham, the "Levant Front", a jihadist group operating in the area of Aleppo, as well as the many other political and military movements which quickly come in and out of the large rassemblement of the Al Nusra Front, namely Al Qaeda Syrian "section".
The Turkish private business companies linked to the government buy the goods produced in the Free Trade Zone of Mersin, along the Turkish Southern coast and ship them to ISIS.
With a view to avoiding border problems, the military products intended for Daesh/Isis are sent to companies registered in Jordan or in Iraq, with documents bearing the wording "transit through the Syrian Arab Republic" instead of the name of the receiver.
The Turkish customs offices concerned are in Antalya, Gaziantep and Mersin. Later the goods intended for the "Caliphate" transit through the crossings of Cilvegoezu and Oencuepnar up to reaching the areas controlled by Isis.
Hence President Erdogan's project is clear: through Isis he plans to balkanize Iraq, Syria, the Lebanon and the whole region up to the Caucasus, so as to project the Turkish power from Anatolia's border up to Central Asia.
It is the old Panturanic Islamist/neo-Ottoman temptation, which resumes backwards the route of the Turkish tribes arriving from Western Siberia up to the Mediterranean.
Obviously this implies denying any autonomy to the Kurds, whom the Turkish press called "the Turks of the mountains."
Furthermore, it is worth adding that this is a perspective totally alien to the strategy of NATO, of which Turkey is the Member State having the second largest Armed Forces after the United States.
What does the NATO Secretary General – the young Norwegian Social Democrat leader Stoltenberg, appointed to that post in 2014 – have to say on this matter?
Born in 1969, can he remember when the German Social Democrat Helmut Schmidt "froze" – jointly with the conservative French President Giscard d'Estaing – the Italian military posts within NATO, in the phase in which the Italian Communist Party (PCI) was entering the government coalition?
Does he think that the "sword jihad" is just a way to "topple Assad's tyrannical regime" in Syria and bring there the famous two-party parliamentary democracy, which is so fashionable in the West?
Or do those who support the "Caliphate" think that the jihadists will easily obey Turkey's orders or the orders of the other countries supporting them, after achieving their success on the ground?
Therefore, for Turkey, the goals to be reached by supporting Daesh/Isis, are those of a direct intervention on the Syrian territory, with the possible establishment of a large "Sunni district" as an area subjugated to Turkey.
Moreover, Turkey does not really want the great anti-Iranian area that Saudi Arabia plans to create in the Middle East, or at least it wishes it only as part of its pan-Turkish project stretching from the Mediterranean to Central Asia up to Xingkiang, the Turkmen region inside Communist China.
Nor does the Turkish government want to fully adhere to the Saudi geopolitics in the region, which would force it to submit to Saudi Arabia, thus taking it away from the European Union and the United States.
Hence Turkey's use of Daesh/Isis implies the idea of a "controlled fire" in Syria and Iraq, that Turkey hopes it can target both against the Kurds and towards Iran's future expansion area, which would be finally blocked by the collapse of Alawite Syria.
Therefore, currently the Turkish government operates to maintain its leadership in the region and create a corridor towards Central Asia, as well as conquer the Sunni area north of the Al Saud's world and influence both the United States and the faint-hearted and foolish European Union.
Nor does Turkey want to entirely relinquish its own relations with the United States, despite the scarce use allowed of the Incirlik air base for anti-Isis operations and the Turkish army's merely cosmetic actions against Al Baghdadi's Caliphate.
Furthermore, controlling and manipulating migration flows to the EU enables Turkey to open and close the EU "valves" both for a future EU membership and as a financial and political blackmail against EU institutions.
Moreover, President Erdogan's support to ISIS allows to support the Islamist electoral faction within the ruling party, namely AKP, against the still wide "secular" areas and mindful of Ataturk, the electorate and the Turkish ruling classes.
The trial against Ergenekon, the neo-coupist and secularist military network, ended in 2013 with the conviction of 275 people, including the Chief of Staff, Ilker Basbug, and the leader of the socialist "Patriotic Party", Dogu Perincek.
Obviously if an Independent Kurdish State were founded in Syria and Iraq, the mass of Kurds in Turkey would feel entitled to follow suit.
The Kurds account for 10% of the total Turkish population, and they are almost all spread throughout the Eastern provinces, in close contact with their Syrian compatriots.
Hence Turkey maintains contacts with the United States (and not with the Atlantic Alliance, in which it is scarcely interested), which is a traditional ally of the Kurdish groups in Syria (that now sympathize more with Russia), so as to avoid the United States pushing for an Independent Kurdish State – and in that case Turkey could still use its good relations with Isis, as a sort of blackmail.
Moreover, Turkey is worried about the crisis in Ukraine and the Black Sea, which is one of its primary strategic points.
If tension mounted in that region, Turkey would be faced with two negative scenarios: the Russian (and Rumanian) power projection onto the Black Sea and the possibility for Russia to hold in check both the Turkish territory and its trade routes eastwards, which are key to Turkey's Panturanic strategy.
Nor does Turkey wish to completely turn against Russia, from which it receives most of its oil and gas supplies which, however, are bound to double by 2020 as to oil and to quadruplicate as to natural gas.
And, indeed, the only rational source of supply is the Russian region, which will certainly make its weight felt and its voice heard if Turkey used the jihadist lever even further in the Syrian crisis.
Should the European Union be able to think strategically, these could be the issues at stake in the Syrian-Iraqi region.
US-Iran Tension: Avert any big disaster to humanity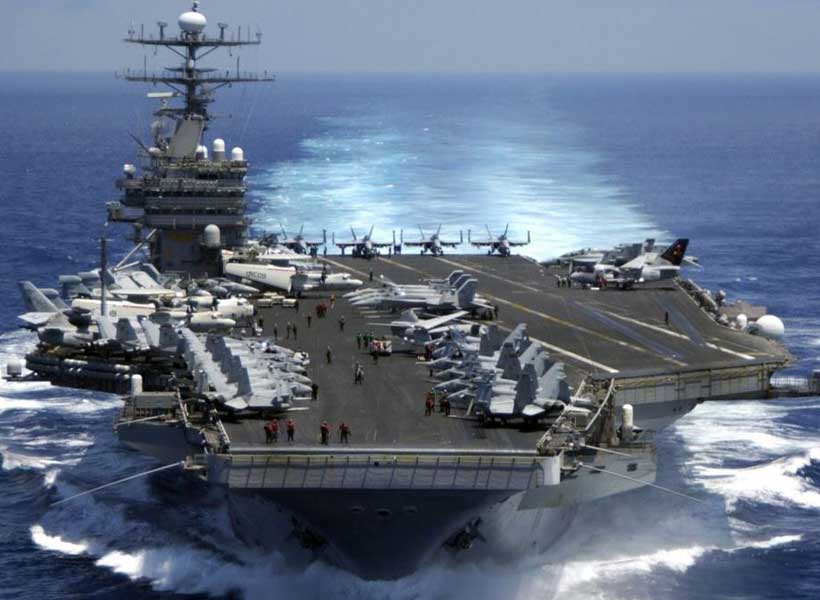 US-Iran tension is growing to a dangerous level. Irrespective of who is right and who is wrong, but everyone agrees that it is leading toward a big disaster. Human life and natural resources are at stake. Irrespective, who will suffer more and who will suffer less, but it is human life, which is the most precious thing in this world, is at stake.
Middle-East is an oil and gas-rich area and meets the major portion of world energy demand. Any disturbance in this region will have a severe impact on the global economy. Whether one is right or wrong, will be the victim of this crisis directly or indirectly.
This war will be not like the Iraq war or the Libya War. As at that time, there was only one superpower and the world was unipolar. There was no resistance from any corner of the world. US and allies, without any resistance, conducted the war and achieved their desired results. But a lot of resistance was witnessed in case of Syrian War. The whole scenario has been changed, the calculated results were not achieved yet. Finally, the US has decided to pull back its troops. Similarly, Afghanistan case is not ideal, after spending trillion dollars, and fighting for 17 years, not gains on the ground and finally has to pull back.
It may not be limited to only US-Iran but may engulf the whole region. As traditional rivals are waiting for an appropriate opportunity to settle their old disputes. Whether, it is Arab-Iran, or Israel-Iran, or Arab-Israel enmity, may it spread to a much wider sphere than expected. It is in control of a few countries to start or refrain the escalation, but once it has been broken, it may be beyond the control of either country.
Especially, Russia and China are not sleeping at this time. They are in a strong position to offer resistance. It should not be taken an easy task like Iraq or Libya war. It is difficult to predict the exact reaction of Russia or China, but anticipated resistance.
If we expect, US or Iran to avert this foreseeable war will be not a realistic approach. As if they were to avoid any disaster, they should not have created so hype and should not have moved to this stage. They may not accept total hegemony of the US in this part of the world. They have heavy stakes in the middle-East and cannot be spectators only.
Geopolitics has been changed, regional alliances have emerged, and nations have re-aligned themselves. Much more complex changes have been witnessed after the war on terror. Public awareness has been enhanced, maybe some of the governments in this region have a different outlook, but public opinion is much more realistic and may play a vital role in the days to come. Old time's friends may stand on the other side of the table. Some radical changes may be visible on grounds.
UN role was ineffective in the past and a little is expected in the future. In fact, the UN has been hijacked and curtailed to a very limited role practically. While one of its major mandates was to resolve the disputes among nations and avoid wars or war-like situations.
Under this serious scenario, there is a hope that all peace-loving nations and individuals, may peruse the UN and International Community do something to avert this bid human disaster. We all share one world, we have the responsibility to save this world. Any loss of human life in any part of the world is considered the loss to the whole of humanity. And the destruction of natural resources may be considered a loss to humanity. Any damage to Environment or ecology or biodiversity may be a net loss to humanity. We all are son and daughter of ADAM and share a common world, common environment, common resources. We need to protect humanity, environment and natural resources.
It is strongly appealed to the UN, International Community and all individuals who believe in Peace, must act, and must act now, and must act strongly, to avert any bid disaster to humanity.
Chinese purchases of Iranian oil raise tantalizing questions
A fully loaded Chinese oil tanker ploughing its way eastwards from two Iranian oil terminals raises questions of how far Beijing is willing to go in defying US sanctions amid a mounting US military build-up in the Gulf and a US-China trade war.
The sailing from Iran of the Pacific Bravo takes on added significance with US strategy likely to remain focused on economic rather than military strangulation of the Iranian leadership, despite the deployment to the Gulf of an aircraft carrier strike group as well as B-52 bombers and a Patriot surface-to-air missile system.
As President Donald J. Trump, backed by Secretary of State Mike Pompeo, appears to be signalling that he is not seeking military confrontation, his administration is reportedly considering a third round of sanctions that would focus on Iran's petrochemical industry. The administration earlier this month sanctioned the country's metals and minerals trade.
The sailing raises the question whether China is reversing its policy that led in the last quarter of 2018 to it dramatically reducing its trade with Iran, possibly in response to a recent breakdown in US-Chinese trade talks.
"The question is whether non-oil trade remains depressed even if some oil sales resume, which I think it will. That's the better indicator of where Chinese risk appetite has changed. Unfortunately Iran's reprieve will be limited—but better than zero perhaps," tweeted Esfandyar Batmanghelidj, head of Bourse & Bazaar, a self-described media and business diplomacy company and the founder of the Europe-Iran Forum.
A Chinese analyst interviewed by Al Jazeera argued that "China is not in a position to have Iran's back… For China, its best to stay out" of the fray.
The stakes for China go beyond the troubled trade talks. In Canada, a senior executive of controversial Chinese telecommunications giant Huawei is fighting extradition to the United States on charges of violating US sanctions against Iran.
Reports that Western companies, including Kraft Heinz, Adidas and Gap, wittingly or unwittingly, were employing Turkic Muslims detained in re-education camps in China's north-western province of Xinjiang, as part of opaque supply chains, could increase attention on a brutal crackdown that China is struggling to keep out of the limelight.
The Trump administration has repeatedly criticized the crackdown but has stopped short of sanctioning officials involved in the repressive measures.
Bourse & Bazaar's disclosure of the sailing of the Pacific Bravo coincided with analysis showing that Iran was not among China's top three investment targets in the Middle East even if Chinese investment in the region was on the rise.
The Pacific Bravo was steaming with its cargo officially toward Indonesia as Iranian foreign minister Mohammad Javad Zarif was touring his country's major oil clients, including China, in a bid to persuade them to ignore US sanctions.
A second tanker, the Marshal Z, was reported to have unloaded 130,000 tonnes of Iranian fuel oil into storage tanks near the Chinese city of Zhoushan.
The Marshall Z was one of four ships that, according to Reuters, allegedly helped Iran circumvent sanctions by using ship-to-ship transfers in January and forged documents that masked the cargoes as originating from Iraq.
The unloading put an end to a four-month odyssey at sea sparked by buyers' reticence to touch a cargo that would put them in the US crosshairs.
"Somebody in China decided that the steep discount this cargo most likely availed … was a bargain too good to miss," Matt Stanley, an oil broker at StarFuels in Dubai, told Reuters.
The Pacific Bravo, the first vessel to load Iranian oil since the Trump administration recently refused to extend sanction exemptions to eight countries, including China, was recently acquired by China's Bank of Kunlun.
The acquisition and sailing suggested that Bank of Kunlun was reversing its decision last December to restrict its business with Iran to humanitarian trade, effectively excluding all other transactions.
The bank was the vehicle China used in the past for business with Iran because it had no exposure to the United States and as a result was not vulnerable to US sanctions that were in place prior to the 2015 international agreement that curbed Iran's nuclear program.
China's willingness to ignore, at least to some extent, US sanctions could also constitute an effort to persuade Iran to remain fully committed to the nuclear accord which it has so far upheld despite last year's US withdrawal.
Iran recently warned Europe that it would reduce its compliance if Europe, which has struggled to create a credible vehicle that would allow non-US companies to circumvent the sanctions, failed to throw the Islamic republic an economic lifeline.
In a letter that was also sent to Russia and China, Iran said it was no longer committed to restrictions on the storage of enriched uranium and heavy water stocks, and could stop observing limits on uranium enrichment at a later stage.
Russian president Vladimir Putin warned in response to the Iranian threat that "as soon as Iran takes its first reciprocal steps and says that it is leaving, everyone will forget by tomorrow that the US was the initiator of this collapse. Iran will be held responsible, and the global public opinion will be intentionally changed in this direction."
Will there be war with Iran? Will there not be war with Iran? The questions are being asked repeatedly in the media even though a single carrier task force is steaming up there. The expression is old for the latest carriers are nuclear powered. Imagine the mess if it was blown up.
There are two kinds of weapons in the world … offensive and defensive. The latter are cheaper, a fighter plane compared to a bomber. If a country does not (or cannot afford to) have offensive intent, it makes sense to focus on defense. It is what Iran has done. Moreover, its missile centered defense has a modern deadly twist — the missiles are precision-guided.
As an Iranian general remarked when questioned about the carrier task force: some years ago it would've been a threat he opined; now it's a target. Iran also has a large standing army of 350,000 plus a 120,000 strong Revolutionary Guard and Soviet style air defenses. In 2016 Russia started installation of the S-300 system. It has all kinds of variants, the most advanced, the S-300 PMU-3 has a range similar to the S-400 if equipped with 40N6E missiles, which are used also in the S-400. Their range is 400 km, so the Iranian batteries are virtually S-400s. The wily Putin has kept trump satisfied with the S-300 moniker without short-changing his and China's strategic ally. The latter continuing to buy Iranian oil.
Iran has friends in Europe also. Angela Merkel in particular has pointed out that Iran has complied fully with the nuclear provisions of the UN Security Council backed Joint Comprehensive Plan of Action i.e. the Iran nuclear deal. She is mustering the major European powers. Already alienated with Trump treating them as adversaries rather than friends, they find Trump's bullying tiresome. President Macron, his poll ratings hitting the lowest, is hardly likely to engage in Trump's venture. In Britain, Theresa May is barely able to hold on to her job. In the latest thrust by senior members of her party, she has been asked to name the day she steps down.
So there we have it. Nobody wants war with Iran. Even Israel, so far without a post-election government does not want to be rained upon by missiles leaky as its Iron Dome was against homemade Palestinian rockets.
Topping all of this neither Trump nor Secretary of State Pompeo want war. Trump is as usual trying to bully — now called maximum pressure — Iran into submission. It won't. The wild card is National Security Adviser John Bolton. He wants war. A Gulf of Tonkin type false flag incident, or an Iranian misstep, or some accident can still set it off.
In Iran itself, moderates like current President Hassan Rouhani are being weakened by Trump's shenanigans. The hard liners might well want to bleed America as happened in Iraq and Afghanistan.