As early as January 11, 2016, even though we came to know it only in March, King Abdullah of Jordan stated in Washington that Turkey was deliberately exporting Islamic terrorists in Europe, after having "produced" them in Syria and on its national territory.
On that occasion the Jordanian king was not received by the US President, Barack Obama, but he clearly reaffirmed Turkey's commitment to support Daesh/Isis both in Syria and in Iraq, as well as to export Islamist terrorism in Europe. He did so before an audience of influential US senators and journalists.
According to the Jordanian king, Turkey wants an "Islamist and radical" solution for the whole Middle East region.
Hence, not only on the basis of the statements made by the Hashemite king, the Turkish issue is the real keystone of the anti-jihadist strategy in the Greater Middle East.
On the other hand, Turkey itself has long been the major supplier of weapons and weapon systems to Daesh/Isis.
Turkey acts in particular through non-governmental organizations (NGOs), which are all controlled by the intelligence services MIT – and supplies are delivered by land or via the Euphrates river, by carefully mixing real humanitarian aid with weapons.
One of these NGOs is the Besar Foundation, led by a MIT man, D. Sanli, that in 2015 arranged over 50 convoys to supply weapons and victuals to the Turkmen jihadists of Bayirbukac and Kiziltepe, about 250 kilometres away from Damascus, either alone or jointly with another Turkish NGO, the Yilikter Foundation for Human Rights and Freedom.
The supplies were delivered through some checkpoints along the Turkish-Syrian border or, as already said, through waterways, particularly the Euphrates river.
Over the past two months, the weapons sent by Turkey to ISIS have been mainly TOW anti-tank missiles, RPG-7 mortars, several 7.62 mm M-60 machine-gunners, hand grenades and various tactical communication tools.
Moreover, at least according to the well-informed Russian military intelligence sources, Turkey has supplied Daesh/Isis with 2,500 tons of ammonium nitrate, 450 tons of potassium nitrate, 75 tons of aluminium powder, large quantities of sodium nitrate, glycerine and nitric acid.
As is well-known, they are all primary components of explosives.
The funds provided to Besar apparently come from private financers, but actually belong to MIT special accounts.
Again in 2015, the NGO Yilikter organized over 25 convoys inside Syria, funded by Turkish, Middle East and European accounts managed in Turkey by the Kuveyt Turk and Vakif banks.
One of the Turkish NGOs involved in operations designed to support Daesh/Isis is IHH, the "Foundation for the Defence of Human Rights and Fundamental Freedoms", explicitly backed by the Turkish government.
Since the beginning of hostilities in Syria, in 2011, IHH has sent to Syria 7,500 vehicles with weapons "hidden" and mixed with traditional military aid.
IHH receives funds from the Turkish State and from several private financers, that pass through the usual Ziraat and Vakif banks.
With a view to supplying weapons to ISIS, the Turkish secret agents manage the military depots in the border towns of Bukulmez and Sansarin, from which they take the weapons to be hidden and mixed with humanitarian aid.
Usually the Turkish weapons for Isis transit through the border crossing of Cilvegoezu, 530 kilometres south-east of Ankara.
The Turkish intelligence services support not only the "Turkmen" jihadists operating along the Western border – who, inter alia, are responsible for the shooting down of the Russian Sukhoi-24 aircraft and the rescue helicopter last January – but also Jabhat al Sham, the "Levant Front", a jihadist group operating in the area of Aleppo, as well as the many other political and military movements which quickly come in and out of the large rassemblement of the Al Nusra Front, namely Al Qaeda Syrian "section".
The Turkish private business companies linked to the government buy the goods produced in the Free Trade Zone of Mersin, along the Turkish Southern coast and ship them to ISIS.
With a view to avoiding border problems, the military products intended for Daesh/Isis are sent to companies registered in Jordan or in Iraq, with documents bearing the wording "transit through the Syrian Arab Republic" instead of the name of the receiver.
The Turkish customs offices concerned are in Antalya, Gaziantep and Mersin. Later the goods intended for the "Caliphate" transit through the crossings of Cilvegoezu and Oencuepnar up to reaching the areas controlled by Isis.
Hence President Erdogan's project is clear: through Isis he plans to balkanize Iraq, Syria, the Lebanon and the whole region up to the Caucasus, so as to project the Turkish power from Anatolia's border up to Central Asia.
It is the old Panturanic Islamist/neo-Ottoman temptation, which resumes backwards the route of the Turkish tribes arriving from Western Siberia up to the Mediterranean.
Obviously this implies denying any autonomy to the Kurds, whom the Turkish press called "the Turks of the mountains."
Furthermore, it is worth adding that this is a perspective totally alien to the strategy of NATO, of which Turkey is the Member State having the second largest Armed Forces after the United States.
What does the NATO Secretary General – the young Norwegian Social Democrat leader Stoltenberg, appointed to that post in 2014 – have to say on this matter?
Born in 1969, can he remember when the German Social Democrat Helmut Schmidt "froze" – jointly with the conservative French President Giscard d'Estaing – the Italian military posts within NATO, in the phase in which the Italian Communist Party (PCI) was entering the government coalition?
Does he think that the "sword jihad" is just a way to "topple Assad's tyrannical regime" in Syria and bring there the famous two-party parliamentary democracy, which is so fashionable in the West?
Or do those who support the "Caliphate" think that the jihadists will easily obey Turkey's orders or the orders of the other countries supporting them, after achieving their success on the ground?
Therefore, for Turkey, the goals to be reached by supporting Daesh/Isis, are those of a direct intervention on the Syrian territory, with the possible establishment of a large "Sunni district" as an area subjugated to Turkey.
Moreover, Turkey does not really want the great anti-Iranian area that Saudi Arabia plans to create in the Middle East, or at least it wishes it only as part of its pan-Turkish project stretching from the Mediterranean to Central Asia up to Xingkiang, the Turkmen region inside Communist China.
Nor does the Turkish government want to fully adhere to the Saudi geopolitics in the region, which would force it to submit to Saudi Arabia, thus taking it away from the European Union and the United States.
Hence Turkey's use of Daesh/Isis implies the idea of a "controlled fire" in Syria and Iraq, that Turkey hopes it can target both against the Kurds and towards Iran's future expansion area, which would be finally blocked by the collapse of Alawite Syria.
Therefore, currently the Turkish government operates to maintain its leadership in the region and create a corridor towards Central Asia, as well as conquer the Sunni area north of the Al Saud's world and influence both the United States and the faint-hearted and foolish European Union.
Nor does Turkey want to entirely relinquish its own relations with the United States, despite the scarce use allowed of the Incirlik air base for anti-Isis operations and the Turkish army's merely cosmetic actions against Al Baghdadi's Caliphate.
Furthermore, controlling and manipulating migration flows to the EU enables Turkey to open and close the EU "valves" both for a future EU membership and as a financial and political blackmail against EU institutions.
Moreover, President Erdogan's support to ISIS allows to support the Islamist electoral faction within the ruling party, namely AKP, against the still wide "secular" areas and mindful of Ataturk, the electorate and the Turkish ruling classes.
The trial against Ergenekon, the neo-coupist and secularist military network, ended in 2013 with the conviction of 275 people, including the Chief of Staff, Ilker Basbug, and the leader of the socialist "Patriotic Party", Dogu Perincek.
Obviously if an Independent Kurdish State were founded in Syria and Iraq, the mass of Kurds in Turkey would feel entitled to follow suit.
The Kurds account for 10% of the total Turkish population, and they are almost all spread throughout the Eastern provinces, in close contact with their Syrian compatriots.
Hence Turkey maintains contacts with the United States (and not with the Atlantic Alliance, in which it is scarcely interested), which is a traditional ally of the Kurdish groups in Syria (that now sympathize more with Russia), so as to avoid the United States pushing for an Independent Kurdish State – and in that case Turkey could still use its good relations with Isis, as a sort of blackmail.
Moreover, Turkey is worried about the crisis in Ukraine and the Black Sea, which is one of its primary strategic points.
If tension mounted in that region, Turkey would be faced with two negative scenarios: the Russian (and Rumanian) power projection onto the Black Sea and the possibility for Russia to hold in check both the Turkish territory and its trade routes eastwards, which are key to Turkey's Panturanic strategy.
Nor does Turkey wish to completely turn against Russia, from which it receives most of its oil and gas supplies which, however, are bound to double by 2020 as to oil and to quadruplicate as to natural gas.
And, indeed, the only rational source of supply is the Russian region, which will certainly make its weight felt and its voice heard if Turkey used the jihadist lever even further in the Syrian crisis.
Should the European Union be able to think strategically, these could be the issues at stake in the Syrian-Iraqi region.
The bitter truth for mullahs' regime in Iran
Ali Khamenei, Iranian regime's supreme leader finally broke his silence and spoke on August 13th on a number of hot political issues facing the nation. He was awfully quite these days. Yet the country is boiling in dissent. Listening to his speech leaves no doubt that he is desperate. He talked about problems his regime has no clue how to tackle. On the top of the list was the recent protests in cities like Tehran, Karaj, Shiraz, Esfahan, Mashhad, Ghahdarijan, and many other cities with such slogans as "Death to Khamenei" and "Death to Dictator." He was off balance since people in the streets had him in their crosshair.
Khamenei wasted no time and took the bull by the horns. He called his cronies "cowards" and not trustworthy at hard times. Considering the recent unrests as the extension of January protests, Khamenei once again branded the protesters as agents of foreign powers such as the United States, Israel and Saudi Arabia. He said that "they had planned for years to disrupt the country's security in January this year, but the people came out with admirable awareness, and stopped the enemies' years-long plans."
He added: "The enemies then set their hearts on this (Persian) year, with some US officials saying that there'll be some news from Iran in the next six months. They were clearly pointing to the events earlier this month which turned out to be so limited despite the enemies' huge financial and political investments."
Iranian citizens have pushed the regime to the edge before. The difference this time is that the regime has gone too far in putting pressure on all citizens. The gap between rich and poor is at its highest level in 40 years. It is a recipe for disaster and the top officials of the regime publicly confirmed it.
He used his admission of the guilt as a temporary band aid and admits that he made a "mistake" in the nuclear deal.  "With regard to the nuclear deal, what I did was wrong, allowing some officials' insistence to give a shot at nuclear talks, in which our red lines were not respected," said Khamenei, according to regime's official news agency.
He made it clear to his power base: the Revolutionary Guards and Bassij Forces that he has no intentions of taking the risk of going to war with the US. The mullahs' supreme leader said: "There'll definitely be no war. In Short, I have to inform the Iranian people that there'll be no war and we will not negotiate, either."
The leader of theocratic regime in Iran admits the deadly state of the country's economy. But he makes sure to leave out his own massive financial conglomerate feeding off Iran's poor economy. There is a rough estimate that Khamenei is sitting on top of a 95 billion dollars trust found. He is not the only one; there are other sharks in the tank related to his powerhouse that are taking their lion's share of dying Iranian market.
Khamenei in his speech pictured himself as the champion of fighting corruption. A claim hardly anyone in his right-mind would take it seriously. He said: "The main cause of such problems is not sanctions, but domestic policies. This is what many officials and experts alike have confirmed. That however doesn't mean that the sanctions have nothing to do with this situation. Of course they do, but the main factor is rooted in our performance. Among the measures that must definitely be taken into account is fighting against corruption. This was also reflected in the letter that the reverend head of judiciary wrote to me two days ago, in response to which I underlined that the proposed measures are an important and positive step toward fighting against corruption and punishing those who are involved."
Fighting crime has never been a priority for the regime because the top criminals are well connected individuals with strong ties to Khamenei. To make it somewhat believable the security forces targeted some small-time currency dealers in the midst of currency crisis driven by a sharp decline in the value of Rial (the official currency). Khamenei and top Revolutionary Guards know better that Iranian citizens will not easily fall for their theatrics anymore and some heads needed to roll. The first to be sacked was the head of Iran's Central Bank, Valiollah Seif.
Alarmed by public frustration with the way economy is run in Iran, Khamenei tried in his address to pour some cold water on the matter. He promised swift actions against fat cats. But people know full well that he is not willing to clip former Revolutionary Guards turned businessmen. They are running the country in a mafia style gang.
The bitter truth for the theocratic regime in Iran is plain and simple; the people are fed up with the mullahs and the regime is no longer able to force itself on them. This is the story of all dictators toward the end and Iran is no exception.
Trump to Netanyahu: Palestinians Must Be Completely Conquered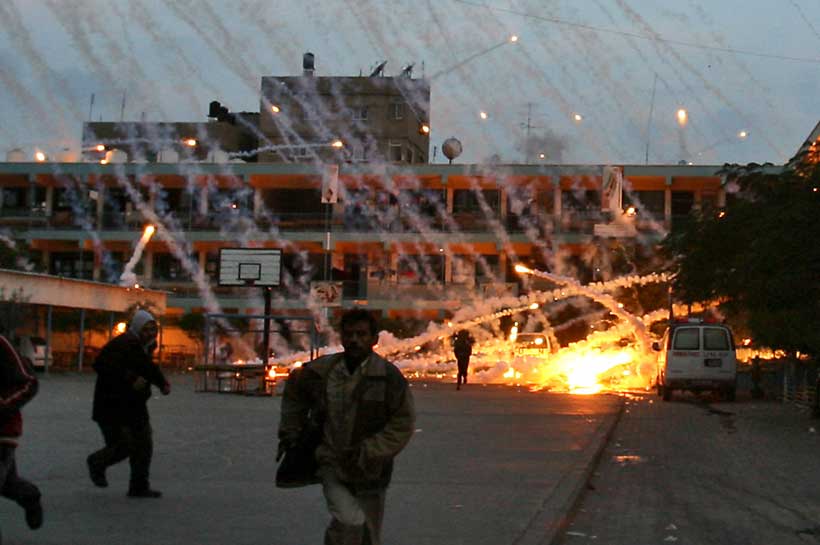 The Washington correspondent of Israel's Haaretz newspaper, Amir Tibon, headlined on the night of Tuesday, August 14, "Trump Administration Wants to See a Gaza Cease-fire 'With or Without the Palestinian Authority'," and he reported that, "The Trump administration wants to see a long-term cease-fire in Gaza, with or without the support of the Palestinian Authority, a spokesperson for the White House's National Security Council told Haaretz on Monday."
In other words: U.S. President Donald Trump is not angling for Palestinians to become ruled by the more moderate of the two political entities that are contesting for control over Palestine — he's not favoring The Palestinain Authority, Mahmoud Abbas, over Hamas, Ismail Haniya. He is, instead, aiming for Jews inside Israel to conquer completely the non-Jews, not only inside Israel, but also in the adjoining areas, Palestine.
Trump has now officially placed the United States on the side of Israel's Jews, for them to conquer and subdue Palestine, for Jews to rule over Palestinians, and for the residents in Palestine not to be allowed to participate in Israel's elections.
This will be very good for American firms such as Lockheed Martin, Northrop Grumman, Boeing, and General Dynamics, which depend wholly or primarily upon sales to the U.S. Government and to its allied governments, including Israel, for their profits and their net worths, their stock-market valuations. More war is essential for these firms, which sell only to these governments — governments which seek to control more land, regardless of what the residents there want, and which need to buy more weapons in order to do it.
Trump's foreign policies have been very effective.
Trump's biggest success, thus far into his Presidency, has been his sale of $400 billion (originally $350 billion) of U.S.-made weapons to the Saudi Arabian Government, which is owned by its royal family, after whom that nation is named. This sale alone is big enough to be called Trump's "jobs plan" for Americans. It is also the biggest weapons-sale in all of history. It's 400 billion dollars, not 400 million dollars; it is gigantic, and, by far, unprecedented in world-history. Consequently, anyone who would allege that he has been anything other than an extraordinary success for his constituency, the people who will be funding his 2020 re-election campaign, would be wrong. America is controlled by dollars, not by people; everything is geared to maximizing the return on investment, for the people who have invested in Trump. Increasing their net worths is his goal, and he has been stunningly successful at achieving it.
The individuals who control those corporations are also in control of those governments, via political corruption, such as the "revolving doors" between 'government service' and the private sector. If they can't control those governments, then they can't control their own finances. But if they do control those governments — and especially their own Government, the U.S. Government — then they control the very source of their own wealth. They are totally dependent upon the U.S. Government. Trump has, regarding U.S. military and diplomatic policies — the Pentagon and the State Department, and the intelligence agencies — been just as effective as the neoconservatives, the people who actually run both Parties on behalf of those firms, for those firms' owners, could have hoped. This does not mean that they won't in 2020 back an opponent of Trump, but only that Trump is issuing as many IOUs to these people as he can, and as fast as he can, and that he has been remarkably successful (unprecedented, actually) at doing that. Whereas Democrats such as Joe Biden and Eric Swalwell might contest against him for their support, no one can reasonably say that Trump has been a disappointment to the proponents of American conquest and control over the entire world — the people commonly called "neoconservatives," and all other agents of what Dwight Eisenhower called "the military-industrial complex." While those people might criticize him in order to push him even farther to the right on foreign affairs than he has been, he has been very effective for them, and he clearly is hoping that, at least regarding military policies, in America's militarized economy, those people will be satisfied for him to remain in power. That's his hope. That's his goal. It's shown by his actions, not by his mere words.
America's alliance with Israel is almost as important as America's alliance with the owners of Saudi Arabia, the Saud family. Both of those allies want the Palestinians to be conquered. And so does Trump. And, of course, so too do the people who are rotating constantly through those revolving doors, the other agents for America's rulers.
On August 9th, as reported by Amjad Jaghi of 972 Magazine, "the Israeli Air Force bombed Al-Meshal, one of the Gaza Strip's most important cultural facilities. They claim that the building — which comprises two theaters, three large halls, and a department serving the Egyptian community living in the Strip — was being used by Hamas."
On August 14th, Reuters headlined "Israeli minister confirms Netanyahu met Sisi over Gaza" and reported that "The two leaders discussed the easing of an Israeli-Egyptian blockade of Gaza, rehabilitation of its infrastructure and terms for a ceasefire." Israel said that "everything that will happen in Gaza will be done with Egyptian mediation and involvement." This means that the setting-up of Israel's control over Gaza will "be done with Egyptian mediation and involvement," but the operation of Israel's control over Gaza won't be — it'll be 100% Israeli.
For example, Sisi might be able to get Netanyahu to agree to increase the current, 85 truckloads of food daily into Gaza so as to raise Gazans' food-intake above its current "subsistence" level. Although he might try, Israel's record of violating its international agreements is even stronger than America's record for that is. But to serve PR purposes, Sisi might try. Ever since 2007, when Israel was allowing into Gaza 106 truckloads daily, that number was reduced down to this "subsistence" level.
On 1 January 2008, was secretly issued from Israel's Ministry of Defense, a document "Food Consumption in the Gaza Strip – Red Lines", in which the Ministry of Health informed them that the then-current 106 trucks daily was too much for "subsistence":
"The Ministry of Health is conducting work for calculating the minimal subsistence basket based on the Arab sector in Israel. The 'minimum basket' allows nutrition that is sufficient for subsistence without the development of malnutrition."
"The Ministry of Health estimates that the new basket will be 20% lower than the current basket [85 trucks instead of 106]."
And so it was, until 2010, when "Israel has not imposed any restrictions on the entrance of food to the Gaza Strip." And, after that, as of at least 2012, "the current policy remains shrouded in secrecy." However, (as shown at that link, where is printed a "Table 1. Entrance of trucks into Gaza"), the actual count of trucks, during the second half of 2010, was around 150 per day.
A U.N. publication "Gaza Ten Years Later", issued in July 2017, reported that: Import of goods to Gaza also dropped significantly with the imposition of the blockade in mid-2007. By 2008, the monthly average of truckloads entering Gaza had decreased by 75%17. The amount of imports slowly increased as import restrictions were gradually relaxed, with the number of trucks entering in 2015 and 2016 reaching levels similar to those prior to 2007. It is difficult to draw a parallel between 2015/2016 and 2007 however, given that due to the vast needs for post-hostilities reconstruction as well as recovery of Gaza's deteriorating infrastructure, coupled with rapid population growth, demand for import into Gaza was much higher in 2015/16 than it was prior to 2007.
The needs today are even higher than that.
Sisi might be able to win some voters if he can brag to them that he has gotten Israel to increase that number above whatever it currently has been, but it will be only for show, anyway.
Egypt is heavily committed both to the Saudi regime and to the American regime. To say that the fate of the Gazans is in the hands of Israel and of Egypt, would be to say that it's in the hands of the rulers of America and of the rulers of Saudi Arabia (the Saud family, who own that country). The rulers of Israel won't have any international backing, at all, if they don't have America's rulers supporting them. For Donald Trump to tell Benjamin Netanyahu that not only will Israel be allowed to ignore Hamas but it will even be allowed to ignore the Palestinian Authority, means that Netanyahu now has America's support no matter what Israel might do to the Gazans — and to the non-Jewish inhabitants of the West Bank.
This is excellent news for the holders of U.S. 'Defense' stocks. The more that America's 'enemies' suffer, the better it is for America's owners. This is how capitalism actually functions. Inequality is natural. That's true not only between nations, but within nations. In the natural world, losers get eaten. Justice doesn't naturally occur anywhere. To the extent that it exists anywhere, it is imposed, by the public, against the aristocracy. Within nations, justice is almost non-existent. Between nations, it is entirely non-existent. For examples: were George W. Bush and Tony Blair executed for invading and destroying Iraq in 2003? Of course not. Neither of them was even imprisoned. Nor were Obama and Sarkozy and Cameron executed for invading and destroying Libya in 2011. Those are only examples, of the basic reality.
This news-report is written so as to place a news-event into its actual context, not divorced from that, as is normal. In other words: it's news instead of propaganda (the latter of which, avoids the relevant context behind the reported event).
Amid ethnic protests, Iran warns of foreign meddling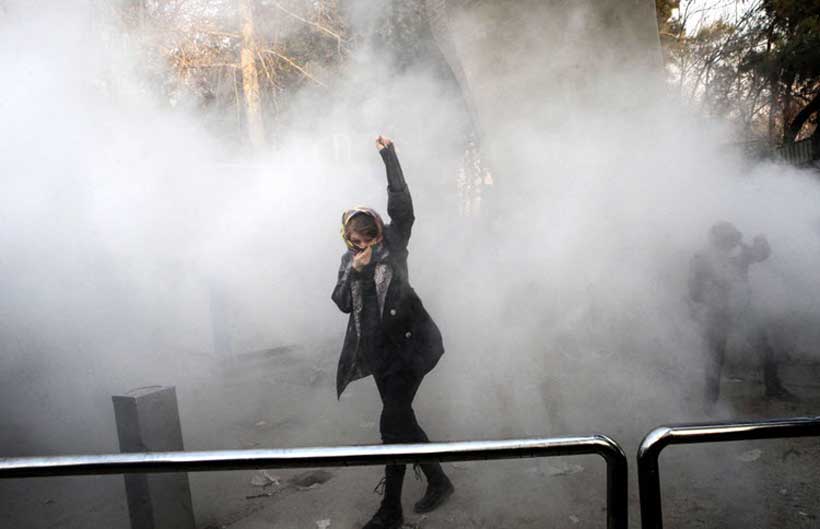 Iran has raised the spectre of a US-Saudi effort to destabilize the country by exploiting economic grievances against the backdrop of circumstantial evidence that Washington and Riyadh are playing with scenarios for stirring unrest among the Islamic republic's ethnic minorities.
Iran witnessed this weekend minority Azeri and Iranian Arab protests in soccer stadiums while the country's Revolutionary Guards Corps reported clashes with Iraq-based Iranian Kurdish insurgents.
State-run television warned in a primetime broadcast that foreign agents could turn legitimate protests stemming from domestic anger at the government's mismanagement of the economy and corruption into "incendiary calls for regime change" by inciting violence that would provoke a crackdown by security forces and give the United States fodder to tackle Iran.
"The ordinary protesting worker would be hapless in the face of such schemes, uncertain how to stop his protest from spiralling into something bigger, more radical, that he wasn't calling for," journalist Azadeh Moaveni quoted in a series of tweets the broadcast as saying.
The warning stroked with the Trump administration's strategy to escalate the protests that have been continuing for months and generate the kind of domestic pressure that would force Iran to concede by squeezing it economically with the imposition of harsh sanctions.
US officials, including President Donald J. Trump's national security advisor John Bolton, a long-time proponent of Iranian regime change, have shied away from declaring that they were seeking a change of government, but have indicated that they hoped sanctions would fuel economic discontent.
The Trump administration, after withdrawing in May from the 2015 international agreement that curbed Iran's nuclear program, this month targeted Iranian access to US dollars, trade in gold and other precious metals, and the sale to Iran of auto parts, commercial passenger aircraft, and related parts and services. A second round of sanctions in November is scheduled to restrict oil and petrochemical products.
"The pressure on the Iranian economy is significant… We continue to see demonstrations and riots in cities and towns all around Iran showing the dissatisfaction the people feel because of the strained economy." Mr. Bolton said as the first round of sanctions took effect.
Mr. Bolton insisted that US policy was to put "unprecedented pressure" on Iran to change its behaviour", not change the regime.
The implication of his remarks resembled Israeli attitudes three decades ago when officials argued that if the Palestine Liberation Organization were to recognize Israel it would no longer be the PLO but the PPLO, Part of the Palestine Liberation Organization.
In other words, the kind of policy changes the Trump administration is demanding, including an end to its ballistic program and support for regional proxies, by implication would have to involve regime change.
A string of recent, possibly unrelated incidents involving Iran's ethnic minorities coupled with various other events could suggest that the United States and Saudi Arabia covertly are also playing with separate plans developed in Washington and Riyadh to destabilize Iran by stirring unrest among non-Persian segments of the Islamic republic's population.
Mr. Bolton last year before assuming office drafted at the request of Mr. Trump's then strategic advisor, Steve Bannon, a plan that envisioned US support "for the democratic Iranian opposition," "Kurdish national aspirations in Iran, Iraq and Syria," and assistance for Baloch in the Pakistani province of Balochistan and Iran's neighbouring Sistan and Balochistan province as well as Iranian Arabs in the oil-rich Iranian province of Khuzestan.
A Saudi think tank, believed to be backed by Crown Prince Mohammed bin Salman, called in 2017 in a study for Saudi support for a low-level Baloch insurgency in Iran. Prince Mohammed vowed around the same time that "we will work so that the battle is for them in Iran, not in Saudi Arabia."
Pakistani militants have claimed that Saudi Arabia has stepped up funding of militant madrassas or religious seminaries in Balochistan that allegedly serve as havens for anti-Iranian fighters.
The head of the State Department's Office of Iranian Affairs met in Washington in June with Mustafa Hijri, head of the Kurdistan Democratic Party of Iran (KDPI), before assuming his new post as counsel general in Erbil in Iraqi Kurdistan.
Iran's Revolutionary Guards said last weekend that they had killed ten militants near the Iranian border with Iraq. "A well-equipped terrorist group … intending to infiltrate the country from the border area of Oshnavieh to foment insecurity and carry out acts of sabotage was ambushed and at least 10 terrorists were killed in a heavy clash," the Guards said.
The KDPI has recently stepped up its attacks in Iranian Kurdistan, killing nine people weeks before Mr. Hijri's meeting with Mr. Fagin. Other Kurdish groups have reported similar attacks. Several Iranian Kurdish groups are discussing ways to coordinate efforts to confront the Iranian regime.
Similarly, this weekend's ethnic soccer protests are rooted in a history of football unrest in the Iranian provinces of East Azerbaijan and Khuzestan that reflect long-standing economic and environmental grievances but also at times at least in oil-rich Khuzestan potentially had Saudi fingerprints on them.
Video clips of Azeri supporters of Tabriz-based Traktor Sazi FC chanting 'Death to the Dictator" in Tehran's Azadi stadium during a match against Esteghlal FC went viral on social media after a live broadcast on state television was muted to drown the protest out. A sports commentator blamed the loss of sound on a network disruption.
A day earlier, Iranian Arab fans clashed with security forces in a stadium in the Khuzestan capital of Ahwaz during a match between local team Foolad Khuzestan FC and Tehran's Persepolis FC. The fans reportedly shouted slogans reaffirming their Arab identity.
Saudi Arabia and other Gulf Arabs have a long history of encouraging Iranian Arab opposition and troubling the minority's relations with the government.
Iranian distrust of the country's Arab minority has been further fuelled by the fact that the People's Mujahedin Organization of Iran or Mujahedin-e-Khalq (MeK), a controversial exiled opposition group that enjoys the support of prominent serving and former Western officials, including some in the Trump administration, has taken credit for a number of the protests in Khuzestan. The group advocates the violent overthrow of the regime in Tehran.
Two of Mr. Trump's closest associates, Rudy Giuliani, his personal lawyer, and former House speaker New Gingrich, attended in June a gathering in Paris of the Mujahedin-e-Khalq.
In past years, US participants, including Mr. Bolton, were joined by Saudi Prince Turki al-Faisal, the former head of the kingdom's intelligence service and past ambassador to Britain and the United States, who is believed to often echo views that Crown Prince Mohammed bin Salman prefers not to voice himself.
"The mullahs must go, the ayatollah must go, and they must be replaced by a democratic government which Madam Rajavi represents. Freedom is right around the corner … Next year I want to have this convention in Tehran," Mr. Giuliani told this year's rally, referring to Maryam Rajavi, the leader of the Mujahedeen who is a cult figure to the group.