Iran's leadership is not satisfied with the pace and the way in which international sanctions are about to be lifted definitively. On the one hand, Iran still has many difficulties in having access to global financial markets by using standard procedures; on the other hand there are significant shortcomings and delays in the domestic banking system.
The current yearly inflation rate is 11.9%; the maximum interest rate has fallen from 24% to 22% while, as announced by President Rowhani, the trade surplus is now positive for the first time after 37 years.
At the end of March 2016, the oil and non-oil exports were 41 billion and 42 billion Us dollars, respectively, with an expected annual growth of 0.7% only.
The exports of the free economic zone of Anzali, in the Northern province of Gilan, are growing to an impressive level of 40 million US dollars as against the 20 million US dollars of last year.
Iran's economy clearly needs to quickly reduce its dependence on oil sales, while the Bandar Abbas refinery will be doubled in terms of extraction and condensation of natural gas, with capital and equipment largely of Iranian origin.
Here the real problem is cultural and political: the Iranian banking system has been segregated for many years with respect to international flows and now the country's financial leaders do not know how to handle the new, inevitable globalization of the Shiite Iran.
In the research centres of European financial companies there are those who maintain that the Iranian banking system is so badly run, and with such a dominance of political and sectarian mortmain, that the structural crisis of the sector is supposed to break out in three years, at the maximum.
Furthermore the Finance Minister, Ali Tayyebna, has long been maintaining that the government should refinance banks due to the losses resulting from the fall in international oil prices, while the Iranian Central Bank states that the government debt to banks is 33 billion US dollars or even more.
The cases of economic and financial corruption are commonplace and the Iranian banking institutions are accustomed to obscure, personal and ambiguous operations and transactions, partially because of the old closure to international markets.
An international Forum of Iranian banks is scheduled in Berlin in mid-May.
While, as is likely, a global recession will take place in the coming months, due to the fact that the US banks are not convinced of the effectiveness and solvency of the new loans and of the possible 2% inflation rate, the US bankers believe that, with the current North American growth pace, recovery will occur in 2020.
If these are the US forecasts, we can imagine Iran's geoeconomic difficulties, especially in a much more fragmented, competitive, non-OPEC oil market than the one which has characterized the religious Welfare State since 1979.
After the end of sanctions, however, Iran's real problem is the lack of productive investment and the weakness of internal technologies for extraction and diversification.
Either they buy them abroad, but banks are mistrustful, or they produce them inside, with higher costs and less effective technological efficacy.
Here the book by the economist Arghiri Emmanuel comes to our mind, namely the Unequal Exchange, which takes place when the economic exchange between the First and the Third World stabilizes at an internationally equalized average rate of profit.
Thus it happens that the third world country's terms of trade always tend to decrease in real terms.
Hence a similar phenomenon happens, though in a geopolitical context very different from the one of the 1960s, when Emmanuel wrote.
Iran's average income tends to decrease even at exchange rate parity.
Considering their low quality in terms of certifications against money laundering, Iranian banks' debts cannot be "internationalized" and contribute to increase, up to reaching exorbitant usury rates, the interest rate for domestic loans. Or they contribute to make banks themselves go bankrupt and hence move State money which could be better used elsewhere.
Obviously, in this case, the prevailing link is the one between creditors and politicians, or between government institutions, that get money anyway, and individuals, who basically remain outside the credit market.
The non-performing loans (NPL) account for at least 20% of the total loans granted by the Iranian banks. Hence, if international finance does not trust the Iranian banking market – and rightfully so – at least 37% of the capital needed in the short term to renew and diversify Iran's productive structure would be lacking.
If this did not happen, in three-four years, at the maximum, the Iranian banking crisis would be followed by the resumption of a free rider behaviour by Iran, which would have no reason to reduce its points of strategic friction and attrition: Yemen, the Shiite networks in the Emirates, Iraq, the Golan border, Syria and, in the future, Central Asia.
The International Monetary Fund predicts a fall in GDP by 3 to 0.5% over the next two years, which will be crucial.
As we have seen, inflation tends to decline, but it is a cyclical effect of the lower prices of food and other basic commodities.
Optimistically the IMF has forecast that, after the end of sanctions, the GDP should rise to a yearly 5-6% rate but – as another economist of the Emmanuel's Marxist tradition, James O'Connor, said – the real problem is Iran's fiscal crisis.
International banks are asking to the Iranian financial holdings and the Shiite government to pursue strong disinflation (which also increases the debt duration) and greater autonomy for the Central Bank, which is still a direct expression of the Supreme Leader.
There is also the problem – shared by many oil-producing countries in the Middle East – of the subsidies to fuel consumption, but the Iranian organization distributing them has reached the break even point since 2015.
So far Iran's crude oil exports have risen by about one fifth earlier this year, up to 1.5 million barrels per day.
Both for geological and technological reasons, the real production cost of the oil barrel is particularly low, even 1.5 US dollars per barrel.
During the sanctions the production cost per barrel was 5 US dollars. Today oil overproduction is 2%, but Iran wants to get to 500 billion barrels per year, which account for 0.5% of world production, so as to spread its credit weaknesses on a large mass of exports and acquire "easy money."
It is true, however, that many calculate the break even point of the Iranian oil barrel at a much higher price, namely 136 dollars per barrel, but we must not forget that, in this case, the costs also include the FOB marketing expenses, transportation costs and taxes.
Iran, however, has a break even point which is lower than Nigeria's and Venezuela's (which is the most expensive oil barrel in the world in terms of extraction costs), but much higher than Bahrain's, where there are many Shiites, and Saudi Arabia's (93.1 US dollars) where the followers of Imam Ali are the majority precisely among oil workers and in the extraction areas.
With the money from large oil sales, Iran wants to renew its infrastructure, support economic diversification and, above all, expand its domestic market.
But will it be an operation without dangers? It is too early to say so, as Zhou Enlai said to Kissinger, when he asked him what the Chinese Communists thought of the French Revolution of 1789.
But the net cost for supporting the Iranian ruling classes is such as to make it difficult to reach these goals.
Ali Khamenei, the Supreme Guide, the Rahbar, has a personal business empire of 95 billion US dollars.
Other members of the Shiite nomenklatura manage similar assets.
As is happening in Italy and in other Western countries, we are faced with the ruling classes' corruption, which becomes the main impediment to economic growth.
Nevertheless only Venezuela, Saudi Arabia and Canada have larger oil reserves than Iran.
Iran has more oil than Iraq, Kuwait and Libya put together.
Therefore, on the basis of these data and statistics, some geopolitical options can be inferred: the contrast with Saudi Arabia is bound to increase, while Iran will have every interest in limiting the Sunni expansion in Libya and Kuwait, as a Shiite minority survives in the latter.
Hence an oil geopolitics uniting all the followers of Imam Ali under Iran's guidance and leadership, for a clash with Saudi Arabia which will be not only military, but also financial.
However, will Iran succeed in having capital available in the short to medium term, which will be used for oil production expansion without limiting the growth of the internal market, which is the key to its political stability?
If the "power circles" step aside, and Iranian banks' efficiency improves, something positive could happen.
Conversely, if political and private corruption increases or remain stable, either the investments for the oil upgrade or the internal market's growth, which could trigger off many and unpredictable mass revolts, will be negatively affected.
Nevertheless, if the ruling class' liquidity decreases, also the right and left electoral base of a large part of the regime shrinks – an electoral base that is often patronage-based
At strategic level, whatever happens to the Iranian banking issue, the end of sanctions will bring Iran closer to the United States, which will probably not fail to support some sectoral investments of the Shiite regime.
While, in this new scenario, Saudi Arabia will play some of its cards as free rider in the Middle East, by funding – despite its financial crisis which is more severe than Iran's – some proxy wars in the Gulf, in the Maghreb region and, possibly, even in Central Asia.
'America First' vs. Global Financial Stability
The recently concluded annual meeting of the IMF and World Bank group, held in Indonesia last weekend, has highlighted a series of concerning trends with regard to the global economy. It has subsequently left many considering the impacts of a possible global recession that may be looming ahead in the next of couple of years to come.  These fears were evident in the worldwide sell-off in global equities last Thursday that has been widely attributed to the IMF revising down its global growth forecast in its World Economic Outlook (WEO) report. The report highlighted growth in a number of developed economies as having plateaued, with rising trade tensions and policy uncertainty greatly contributing to the slow-down. This includes the ongoing trade war between the US and China, as well as the numerous uncertainties pervading within the Euro-Zone.
All of this has had a significant knock-on effect on emerging markets, including Pakistan which has already been struggling with massive fiscal and current account deficits amid rampant inflationary pressures.  With tensions between the United States and China still on the rise, Pakistan presents a notable example of how deteriorating global macro-economic conditions have been exacerbated by rising geo-political tensions between these two global powers.
For instance, it took Imran Khan's fledgling government months to accept the reality of another IMF bailout (Pakistan's 13th in the last 30 years) despite its $68 billion investment commitment with China. This is because the US, being the largest contributor of funds to the IMF has increasingly politicized this bailout in light of its own deteriorating relations with China.  In fact, the US has directly blamed China for Pakistan's recent debt woes referring to what has been come to known as China's 'Debt Trap Diplomacy'. The argument being that the massive loans being doled out by China to developing countries under its Belt & Road Initiative are leading to unsustainable debt levels, eroding their sovereignty while expanding China's hold over them. Pakistan's loan obligations to China as part of the China Pakistan Economic Corridor are presented as a case in point.
Despite both Pakistan's and China's protests to the contrary, it is widely expected that some of the IMF's conditions attached to Pakistan's requested bailout are thus likely to include greater scrutiny and revisions regarding the CPEC initiative. This is likely to form part of the US's overall objective of limiting and constraining China's influence over Pakistan and the wider region.  The impact this would have on Pakistan however is likely to prove critical considering its precarious economic as well as geo-political position. Not only would the IMF's conditions limit the new government's ability to maneuver its economy around an increasingly unstable world financial system; it would also delay the much needed infrastructure projects being planned and implemented under CPEC with Chinese assistance.  Therefore, the very purpose of the IMF bailout which is to provide some semblance of stability to Pakistan's ailing economy, would embroil it deeper in uncertainty as a direct result of the US's unilateral push against China.
It is worth noting here that during its annual meeting, the IMF clearly voiced its concerns regarding escalating trade tensions between the US and China. While calling for increased dialogue and a careful examination of debt induced risks across the world, the IMF seems to be warning both sides over the fragility of prevailing global economic conditions. At the same meeting, China too echoed these concerns and called for increased dialogue with the US to promote open trade and growth. As a country that has for the last few decades championed globalization, China's vision of shared global growth and win-win partnerships in emerging markets such as Pakistan, have however been directly challenged by the US. A US, that is in contrast aggressively willing to defend the prevailing status quo, as part of President Trump's mantra of 'America First'. Hence it was no surprise that US representatives, in response to these concerns brought up by the IMF and China, have continued to downplay the risks of their policies on global economic stability.
With respect to China and numerous emerging markets such as Pakistan, the fact still remains that the world financial system is currently replete with risks and uncertainty as a direct result of US policy. All of this is occurring while the US President continues to boast about surging US equities and record employment figures as a direct outcome of these policies. While the US economy has experienced sustained growth since the 2008 financial crisis, markets and business cycles have a way of correcting themselves, especially when world leaders themselves point to overbought and overextended conditions.
If the US economy truly is on the cusp of a potential downturn, then present geo-political tensions are more than likely to exacerbate the impacts of an impending global recession. For Pakistan, with its precariously low foreign currency reserves and an unsustainable debt to GDP ratio, such a recession is likely to bring on even bigger problems than any of the potential cuts the IMF may propose on CPEC. Thus, while the US may limit China's rise as an economic power in the short-term, it does so at the expense of emerging markets and global economic stability in the long-run. This lack of foresight is likely to hurt the US more as it realizes how economies cannot exist within a vacuum in an increasingly interdependent world.
How to finance Asia's infrastructure gap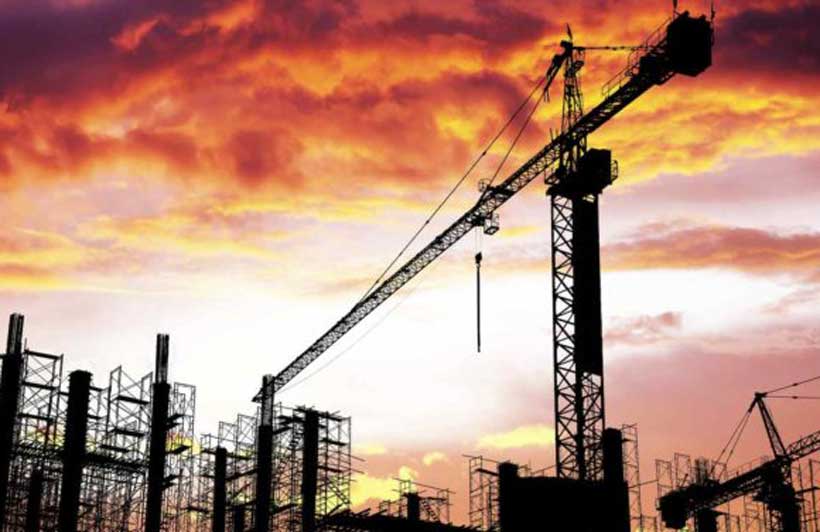 Asia's countries famously need to invest trillions of dollars a year to provide infrastructure required to keep traffic flowing, ports trading, and factories humming. Yet most countries in the region consistently fall short.
The 2017 Asian Development Bank (ADB) report "Meeting Asia's Infrastructure Needs" puts the infrastructure tab for 45 developing Asian countries at more than US$1.7 trillion per year. Developing Asia now invests only about $881 billion a year, or slightly more than 50 percent of that. This is the infrastructure gap.
Less well known, however, is that the investment shortfall is frequently not for a lack of funds or technology. The money may be available, particularly in the private sector, but not enough of it is going where Asia needs it. And this is because many developing countries lack the knowledge and capacity to design and implement bankable infrastructure projects that integrate new technologies.
To encourage private sector investment in infrastructure, high-quality bankable projects must adopt current levels of proven technology as well as be "future-proofed" to further advances in technology.
Delegates from across the development spectrum — from government through the private sector — will gather on Oct.13 in Bali for the Global Infrastructure Forum 2018 to discuss several trillion-dollar questions. How can governments and the private sector help fill the infrastructure gap? How can authorities' better pair the world's big investors with the many inclusive, resilient, sustainable, and technology-driven infrastructure projects this region needs to advance economic progress? And how can multilateral development banks best help?
To be sure, strong infrastructure projects are going up all over Asia. Take Indonesia, the Forum host; the country has made enormous strides under its ongoing and ambitious infrastructure program.
The country has seen progress: from the trans-Papua road project in one of the country's most remote and underdeveloped regions to better information and communications technology under the Palapa Ring (satellite) Project. Indonesia has also launched innovative and clean energy projects such as the 72-megawatt Tolo wind-farm in South Sulawesi and massive urban infrastructure to boost Jakarta's livability and competitiveness. This latter project includes a new modern airport terminal, rail link, and the first phase of the mass rapid transit expected to open in 2019.
Knowledge is crucial to get such projects off the ground, and this is where the multilateral development banks, including ADB, can assist.
The development banks are providing governments financial and technical support to enhance knowledge in numerous areas.
ADB is also helping strengthen government and private sector project development and governance capacity, for instance, for preparing high-quality projects able to support private finance. It also established the Asia Pacific Project Preparation Facility, a $73 million multi-donor trust fund to support project preparation, monitoring, and project restructuring, as well as capacity building and policy-reform initiatives linked to specific projects.
In addition, the organization is promoting public-private partnerships, catalyzing regulatory reforms to make infrastructure more attractive to private investors, and encourage more bankable projects. Potential is vast, in that pension funds alone, which hold $7.8 trillion in assets, are estimated to invest only about 1 percent of funds under management in infrastructure.
A recent ADB report, "Closing the Financing Gap in Asian Infrastructure," notes that the richer Asian economies, such as Japan — where savings rates top 30 percent — can clearly play a stronger role if it only could. Yet, the country still invests almost $4 trillion in portfolio assets outside Asia.
Likewise, ADB is developing alternative financing structures and is backing green finance to encourage a bankable green finance project pipeline that can access funds from commercial and institutional investors. Many major investors are now strictly subject to environmental, social, and governance requirements in their investment decisions.
Finally, as technology rapidly evolves, particularly digital, it is creating substantial opportunity. Land acquisition, for example, significantly delays infrastructure projects across the region. Digital technologies are therefore being tested in several countries and watched closely for an ability to improve land titling. Likewise, ADB is involved in Spatial Data Analysis Explorer to help in decision-making relevant to climate hazards and resilience across urban systems.
Multilateral development banks can play multiple roles, from assisting and advising on the creation of appropriate legal and regulatory frameworks, developing bankable projects, direct financing or providing credit enhancement tools to finance projects, to structuring innovative "blended finance" solutions in circumstances where the underlying project is incapable of supporting a financing structure priced at commercial funding rates. In all of this, multilateral development banks and other development partners can assist developing countries gain the knowledge to better develop sustainable, accessible, resilient, and quality infrastructure.
Prema Gopalan Honoured as India Social Entrepreneur of the Year 2018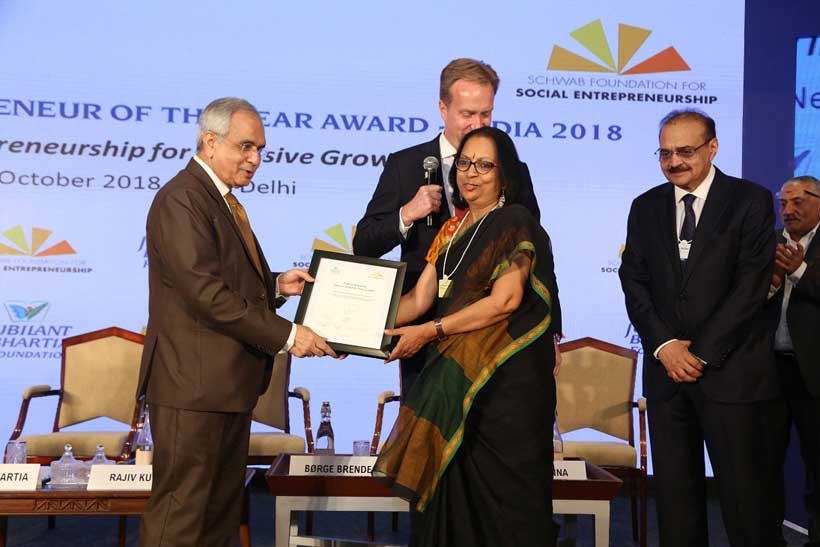 The Schwab Foundation for Social Entrepreneurship, in partnership with the Jubilant Bhartia Foundation, announced Prema Gopalan of Swayam Shikshan Prayog (SSP) as India Social Entrepreneur of the Year (SEOY) 2018. The award honours her exceptional contribution in revitalizing rural economies by empowering women to succeed in remote and ailing markets. The SSP model comprises four ventures: a federated network of 5,000 self-help groups; a resilience fund for women-led businesses; a rural school of entrepreneurship and leadership for women; and a market aggregator that provides warehousing, branding, marketing and distribution services to last-mile business women. In addition, it has catalysed the government, investors, financial institutions and Indian and global corporations to partner directly with grassroots women business leaders.
Over two decades, this has had a domino effect in 2,000 climate-threatened villages across six states of India. Over 97,000 women in drought and flood-affected villages have set up enterprises in clean energy, sanitation, basic health services, nutrition and safe agriculture. They have transitioned from self-employment to diversify their ventures, aggregate into value chains and mentor thousands of others to get on the path of entrepreneurship – 900 women are recognized locally as climate resilience leaders and 500 are playing a role in local governance. SSP's grassroots women entrepreneurs are taking their communities forward as part of their business success. As SSP partners with the government to scale its model, it is demonstrating that investing in rural women entrepreneurs can be a solid strategy for transforming India.
Smita Ram and Ramakrishna NK of Rang De were also selected as finalists for their work on unlocking unusual channels of capital for India's poorest, building bridges between India's credit-starved communities and ordinary citizens who contribute to meet the education, health and enterprise needs of resource-poor populations. Working on the premise of "micro-investment for micro-loans", this peer-to-peer lending platform has to date disbursed INR 70 crore from 14,000 social investors and philanthropists to benefit 60,000 families.
"The World Economic Forum has long championed gender equality on the global agenda," said Hilde Schwab, Chairperson and Co-Founder of the Schwab Foundation for Social Entrepreneurship. "The 2018 winner, Prema Gopalan of Swayam Shikshan Prayog, has demonstrated that investing in rural women is a good investment. Female entrepreneurs are critical actors to help bring about the transformation that India seeks!"
Congratulating the winner, Shyam S. Bhartia, Founder and Chairman, Jubilant Bhartia Group, and Founder Director of Jubilant Bhartia Foundation, said: "We are entering the tenth year of partnership with the Schwab Foundation. In the last nine years, we received more than 1,400 applications for this award. The response is indeed overwhelming and the quality of the applications very competitive. We are glad to see how the SEOY India Award is able to identify and bring to the forefront the enterprises who are achieving social impact at a larger scale. We hope that this year's SEOY India Award winner will serve as an inspiration to future generations of social innovators."
The SEOY India Award brings some of the country's most remarkable change-makers on to a common platform. These social entrepreneurs are promising self-starters, with a strong inclination towards addressing the most pertinent needs of marginalized communities in scalable and sustainable ways. Their endeavours encapsulate alleviating poverty, hunger, gender inequality, promoting women empowerment and education. These social entrepreneurs are torch-bearers who have taken the onus of working towards managing micro-finance needs and finding solutions to daunting challenges like climate change. The tenets of this year's finalists are aligned with the United Nation's Sustainable Development Goals.
The winner will be invited to join the Schwab Foundation's global community of over 350 social innovators. Social Entrepreneurs are driven by their mission to create substantial social change and promote inclusive growth, developing new products and service models that benefit underserved communities.