Can We Predict Real Estate Bubbles?
Behavioural decision-making is key to understanding asset price dynamics, asset cycles and the macroeconomic interdependencies. The most destructive cycles are those in which asset price leverage and credits are intertwined, causing the greatest systemic effects. Asset-pricing dynamics impact economies from the local to the global level. Policy-makers, industry leaders and academics are currently debating whether asset-pricing dynamics can, or should, be managed in the public interest.
An early warning system prototype, conceived by the World Economic Forum's Asset Price Dynamics Steering and Advisory Committees, was able to correctly describe recent market developments. The Shaping the Future of Real Estate initiative delves into the mechanisms of asset pricing to learn how to detect when and why markets shift from fundamentals and how detrimental, irreversible consequences can be mitigated.
Michael Buehler, Practice Lead Real Estate, World Economic Forum, said: "Within its first two years, the initiative developed a strong brand by engaging the key real estate ecosystem players: leading academic experts, central bankers and businesses from the real estate, investors and financial services industries. In this second project year, high-level multistakeholder discussions had been facilitated to further define asset ecosystems and describe how asset bubbles can be spotted early enough to be able to limit negative consequences. The focus was to help market players make more informed decisions. One workstream focused on designing a prototype early warning system to flag markets that will undergo severe downturns; a second work stream focused on institutionalizing the team's insights and learning through developing an educational curriculum showcased through a case study."
Since real estate is inherently cyclical, analysing and predicting market cycles have always been critical topics for real estate investors, tenants and developers. The global financial crisis has increased interest among regulators and central bankers at both national and international levels. While we cannot expect to avoid future downturns, we do think that accurate, expert analysis could limit their financial and social costs.
Barry M. Gosin, Chief Executive Officer, Newmark Grubb Knight Frank (NGKF), and champion of the initiative, adds: "With first-hand appreciation for the devastating economic, social and political effects that result when a market crashes, and with an intimate understanding of the long-lasting effects of commercial real estate crashes, this initiative sought to understand if there was a way to institutionalize the methodology associated with predicting dramatic commercial real estate market downturns. In collaboration with the World Economic Forum, the Asset Price Dynamics Steering and Advisory Committees developed an early warning system prototype that quantifies relative risk and signals dramatic market downturns. Used in conjunction with other methods and analysis, we believe such a system could increase overall market transparency and help prevent destabilizing effects of capital rushing into and out of property markets during periods of dramatic change."
Prakash Loungani, Adviser, Research Department, International Monetary Fund (IMF), said: "This initiative is thus welcome for the information it provides on the real estate ecosystem – the main players and their motives. But they are far more ambitious in providing an early warning system for commercial real estate crashes. Moreover, the intent is to build a system that can be scaled up to the global level – it is currently applied to 10 US cities – and also applied to other asset classes, including the residential real estate sector. So, does the effort succeed? Yes, in our view. The initiative shows that the risk of crashes in the commercial real estate prices in US cities can be linked to developments in a few macroeconomic indicators – inflation rates, bond yields, consumer confidence, employment –and to growth in the sector's net operating income. There is thus no complex or secret ingredient needed to assess the risks of crashes: one only has to look out of the windscreen."
G7's potential should be utilized positively
The G7 Foreign Ministers of Canada, France, Germany, Italy, Japan, the United Kingdom, and the United States of America, and the High Representative of the European Union, have met in a fundamentally changed strategic and security environment. The Russian-Ukraine issue was dominating in their deliberations. As this issue has a direct regional and global impact, it was expected to remain a core issue during the G7 discussions.
G7's share in global wealth, resources, and political influence is domination. They have been contributing to geopolitics a lot and possess the capability to transform the whole world into a better place to live.
G7 understands its potential and global responsibilities. So during the meeting, almost all burning issues were discussed:-
The climate crisis is accelerating and threatening the very existence of humanity. Together with the international community, G7 must act decisively and urgently. It reaffirmed the belief in international solidarity and the need to mitigate and overcome this existential, human-made threat.
The fight against COVID-19 and its global consequences is far from over. It is paramount to reaffirm our commitment to increased efforts to respond to the pandemic and to prevent a similar threat from emerging again. Equitable access to and provision of vaccines, therapeutics, and diagnostics must go hand in hand with immediate support, especially in critical 'last mile' contexts, and with a focus on humanitarian efforts as well as opportunities for green, inclusive and sustainable recovery from COVID-19.
The present and the future of this planet are at stake. Based on a strong sense of unity, the G7 is determined to uphold our values and defend our interests. It commits to preserving strong, vibrant, and innovative societies and upholding the rules-based international order to protect the rights of all, including the most vulnerable. It commits to engage with partners and multilaterally for a peaceful, prosperous, and sustainable world, and to increase coordination on economic security.
Iran, North Korea, Palestine-Israel, Sudan etc., most of global issues were also discussed. China remains important during their discussions. Regarding China, the G7 declared its strong statement. In response to it, the Chinese authorities have expressed deep concerns;
China on Monday urged the Group of Seven (G7) to stop smearing China and interfering in China's internal affairs. Foreign ministry spokesperson Zhao Lijian made the remarks at a daily news briefing when asked to comment on the communique issued by a G7 meeting of foreign ministers, which contains various items relating to China including Hong Kong, Xinjiang, human rights, maritime issues, the situation in Ukraine, peace, and stability across the Taiwan Strait, among others.
"China's positions on issues relating to Hong Kong, Xinjiang, and Taiwan, as well as maritime issues, are consistent and clear," Zhao said, adding that China has expressed its firm opposition to the G7 presidency.
"The lengthy G7 communique is filled with preposterous allegations not even worth refuting. In total disregard of China's solemn position and objective facts, it grossly interferes in China's internal affairs, maliciously slanders and smears China, and once again exerts pressure on China using such pretexts as the Russia-Ukraine conflict," Zhao said.
China urges the G7 to uphold the international system with the United Nations at its core, international order based on international law, and the basic norms of international relations based on the purposes and principles of the UN Charter, Zhao said. He called on the G7 to respect China's sovereignty and to cease slandering China and interfering in China's internal affairs in any form.
"We urge the G7 to act in the interest of world peace and development, stop applying double or multiple standards, stop sending military aircraft and warships to other countries' doorsteps to flex muscles at every turn, stop wantonly instigating color revolutions in other countries, stop arbitrarily resorting to illegal sanctions or long-arm jurisdiction, and stop fabricating and spreading lies and rumors about China," the spokesperson said.
He also urged the G7 to assume its responsibility, fulfill its due international obligation, safeguard true multilateralism, focus on global governance, strengthen cooperation with the UN, G20, and other multilateral mechanisms, and play a positive role in addressing global challenges and promoting world economic recovery, instead of clinging to the Cold War mentality and ideological bias, pursuing "small clique" group politics, creating confrontation and division, and bringing chaos to the world.
As a matter of fact, G7 controls the major portion of resources, economy, and trade. It possesses the potential to transform the whole world into a better place to live for everyone. It has the capacity to resolve any outstanding issue being faced for as long as several decades, like Palestine, Kashmir, etc. G7 may utilize its capabilities to save humankind and the total welfare of human beings. Bashing, threatening, and coercion, will complicate the situation further and may harm humanity. G7's potential should be used positively.
China's Policy Logic and Economic Rationale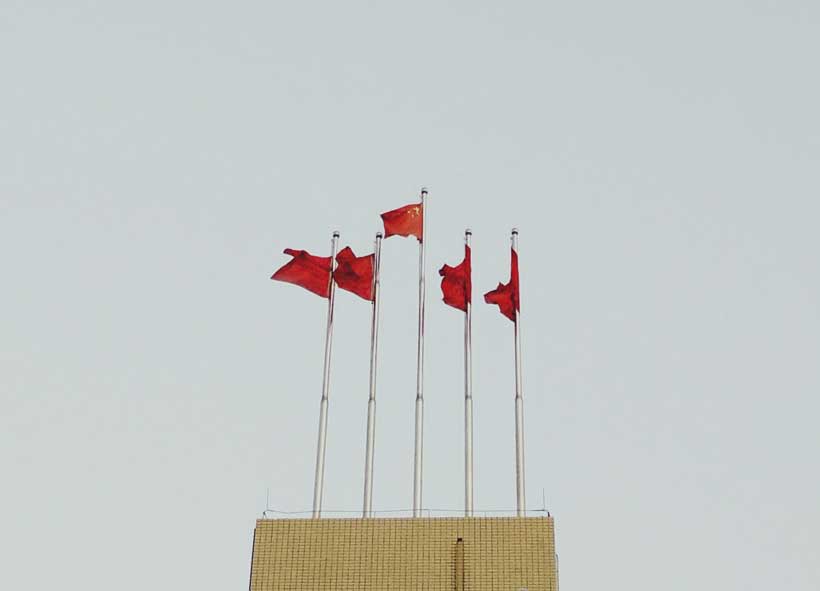 Authors: He Jun and Wei Hongxu
Recently, Morgan Stanley mentioned that "we are standing at an important turning point in China's economy and capital market. The resetting of the underlying logic of the economy brought about by the new goals is marked by the supervision of Internet giants. China is changing the underlying logic of economic development: shifting from priority growth to fairness". In their view, this policy orientation, coupled with Chinese economic rationale, will have a long-term and far-reaching impact on China's future development, business, and investment.
Since economic rationale is a part of social phenomenon, the fundamental basis of economy logic also lies in changes in demographic factors. Although human factors are crucial in economic activity, they are often overlooked due to the long-term and individual nature of changes in population quality and scale. On the contrary, industrial development and policy choices pay more attention to changes in external factors such as cost, technology, and capital. However, the underlying logic changes caused by demographic shifts are often decisive and could serve as the basis for corporate decision-making and macro-policy.
China's transition from a high-growth era to high-quality diffusion shows that the underlying foundation of the country's economic development has changed fundamentally. From the demand side, the past trend of counting on exports and investment as economic drivers will soon become obsolete. At the same time, driven by continuous investment on the supply side in the past, the steady growth of production capacity not only conforms to domestic demand, but also the subsequent expansion of exports has also turned China into the world's factory, resulting in excess production capacity. After its rapid development, internal contradictions continue to accumulate, resulting in a widening gap between the rich and the poor, excessive collection of environmental resources, declining investment returns, and rising labor costs in the country. These factors have deprived China's economy of its potential for scale expansion. On this basis, China's economy began to turn inward. Upgrading value content and output efficiency have become the key to improving its industrial productivity and competitiveness.
From the underlying logic, China's population structure is undergoing a trend adjustment. The declining share of labor force driven by continuous urbanization and the rural population transfer has alternated labor supply. The low-end labor force has now become relatively insufficient, while the industrial labor costs continue to rise. This makes cost-push expansion increasingly onerous. On the other hand, with the development of urbanization to a certain stage, rising land prices, housing, and education costs begin to erode the spending power of households, causing an increasingly inadequate domestic demand. These two aspects are eroding the long-term growth potential of the Chinese economy. The recent drop in China's economic growth rate is not only caused by cyclical factors driven by demand, but also by structural factors at the supply side.
In terms of policy trends, whether it is the "13th Five-Year Plan" poverty alleviation, or the current policies on common prosperity and unification of the large market, the fairness of these supply-side structural reform policies is being strengthened. The purpose is to enhance the contribution of science and technology and human capital to the economy. By increasing household income and spending power, China's economy can achieve endogenous economic growth. Despite increased macroeconomic pressures and the need for countercyclical policies, macro foundation has yet to change significantly. The focus remains on decisive regulation and quality improvement, which is the logic of the policy change.
While implementing the supply-side reform, the Chinese economy still needs to improve the structure of supply through incremental expansion to achieve a balance between efficiency and fairness. Morgan Stanley revealed that, on the one hand, the efficiency improvement brought about by digital industrialization is the main area for China's future market expansion. On the other hand, further urbanization still has great significance in the market space. These two aspects will be the main essence of China's economic growth in the future, and therefore the focus of policy support and catalyst. Overall, under the new underlying logic, increasing households' income, reducing class gaps, and increasing the output of capital and labor would be the main lines of sustainable development in the future. This pattern suggests that economic expansion has become relatively less important in policymaking. As noted by Morgan Stanley, China "is shifting its regulatory priorities to a balance between growth, sustainability, improving social imbalances, and maintaining security. This will shift the division of economic benefits to workers and reduce corporate profits".
Yet, the policy-oriented changes under this underlying logic could be precarious. Due to the dominant role of government policies in market supervision, education, transformation of scientific and technological achievements, as well as the allocation of public resources, the impact of policies on economic and market development is getting more pronounced. For the industry and market players, future development must consider even more policy influences. At present, education and the consolidation of internet platform companies have had a significant impact on related fields and investors. Concernedly, as policy influence continues to expand, so do the risks posed by policy excesses. Although the current policy does not emphasize "one-size-fits-all" but rather "precise regulation", it is often strenuous to achieve "moderate" and "balance" in the current policy implementation capacity. Meanwhile, the risk of excessive supervision continues to cause harm to economic activities. Therefore, under the expanding policy influences, policy decision-making should be more cautious to prevent harm or excessive intervention in the market and economic activities.
Awakened Pakistan Now Needs National Mobilization of Entrepreneurialism
No other time in the history of the nation, a single outsider built so much leadership in a real life and death game as did Captain Imran Khan. How he nationally mobilized the citizenry and delivered a clear message of solidarity to force change in a suddenly imposed government already so deeply rooted in institutionalized corruption.
The real time unfolding drama series has now entered a new episode in the fight for justice in favor of Imran Khan and his exhausted followers. Now, unless the same opposing forces gather more outside aids so the anaconda of deep silence strangles the nation once again in similar fashions lingering since many decades…the citizens and their Captain are finally ready to prove the world wrong.
Pakistan is an independent nation and now at a major crossroad on a do-or-die mission.
The citizens stood together and never surrendered to special interests and corrupt groups but rather now strive for common good and build their nation under such rules as a shining example for a better future of the nation. Many other nations, in other times, have made similar bold decisions, transforming their countries into shiny examples either peacefully or mostly with blood baths.
In either case, this is a moment for historians to note as the most important awakening of a nation to fight corrupt-crypto-tyrannies and equally to recognize the exemplary non-corrupt outsider leadership Imran Khan as a real game changer. Finally, a proof that old political thinking of treating citizens as herds have reached climax, today, a common crowd is a well-informed crowd. Economic success is not exclusive success it must be a success of common good.
This sudden progress is also a stark warning to many other countries;
The extreme powers of digitization and the whispers of the alpha dreamers, the connected five billion commoners who will change the world are still on deaf ears of the political rotundas. Beware; as other nations slowly awakened under their CorruptoChaos, the new realization of truth in hands of the national populace is far more dangerous than any foreign invasions. Old school is dying, a new borderless mind, and interconnected class of commoners rising across the free world.
Observe the world of politics of the so-called free economies; Political science dressed as if sheep not wolf is nothing but fake Machiavellian ghosts playing corrupt games. Digitization across the world, exposing bureaucracies, by the day, competency now lined up as naked obesity in bubble baths on slippery marble floors, some in need of printed currency, some new diaper change and some seeking nukes.
In the coming months, the absence of a nuclear explosion will prove two things; that the common folks have finally pushed their own leadership as incompetent part of the bubble bath party, if not than after the nuke, the dystopian world will hunt them down.
Winning Cricket World Cup: For example, winning a Cricket World Cup is always about the players, the teams and their skills to win; as no amount of money and no promotion can buy such victory, as it is all about the art of the game, artisans and artisanship. Money can buy politicians and their governments but money can never buy an authentic outsider leader and his honest leadership to make his nation win the real game on the global stage.
Pakistan has unique advantages; gifted with special lands, rich diverse resources, from record breaking mountain peaks to seashores, Pakistan has a unique position; already nurtured with a bright youthful nation, vibrant culture buzzes with small and large enterprises, plus the strategic geographic location with China and CPEC are all hidden competitive advantages. Pakistan is finally under an amazing political leadership of Prime Minister Imran Khan and his PTI Party working hard on a new vision for Pakistan with friendlier dialogue and fair-trading.
In order to keep the momentum, national mobilization of entrepreneurialism on digital platforms with authoritative upskilling and reskilling for speedy uplift the small medium business economic sector will bring the most awaited economic recovery to the nation. Congratulations Imran Khan and citizens of Pakistan, long journey ahead. The rest is easy