Did India stage the Pathankot attack drama in order to malign Pakistan?
It is now plain that India is still eager to be seen as a strategic partner of super power USA by ruthlessly promoting terror operations on Indian soil (not only in Ajmer and Hyderabad Mecca Mosque, but even in Mumbai and Delhi) to continue to claim the dubious status of being a prominent terror victim.
Over years, India has successfully presented itself as a prominent 'terror victim' to the world, especially to USA and other big powers. The 'terror' strategy worked well for New Delhi in the comity of anti-Islamic nations whether or not that is terrorized.
Apparently terror attacks continue unabated in India because Indian regime deliberately wants them badly for claiming to be a prominent 'terror victim'. Indian strategists wrongly think such false terror claims would enable India somehow entail a veto on the discredited UNSC.
Repeated terror attacks being perpetrated in India and Pakistan, following the Sept-11 hoax in New York in the most developed nation America with most modern intelligence-surveillance capabilities give the impression that there exists an Indo-Pak official terror link. India as well as Pakistan is eager to retain the nukes in its arms arsenals. It is a fact that the Sept-11 was engineered and executed very systematically by those forces that wanted to malign Islam as a terrorist religion – but the blame was conveniently placed on one Osama and his Al-Qaeda.
On 28 March, a report by Pakistani news channel Dunya News had said that Indian authorities showed "signs of reluctance" when the JIT asked them for information and evidence. "Sketches of the attackers, footage of the closed-circuit television, duty registers of the Border Security Force (BSF), details of the bank accounts, service records, post-mortem report of the driver who died in the car accident at the time of the incident and the FIR of that car's snatching have not been given to the Pakistani investigation team," a report in Pakistani newspaper Daily Times had said.
The report had further said that post-mortem and DNA reports of the terrorists involved and phone records and information about the commander of Pathankot airbase had not been given to the JIT. The Dunya News report had further claimed that the stances of the Indian government and BSF regarding the terror attack were contradicting each other.
Moreover, the report had said that while Indian authorities had said that terrorists had entered the Pathankot airbase after climbing ten-foot walls, no ropes were found as evidence. These claims by the Pakistani media had come just a day after it was found that Pakistan's electronic media regulatory body (PEMRA) on Sunday had released a statement for the Pakistani media, asking them to be "professional" and "responsible" when reporting on the Lahore attacks, unlike the Indian media.
One has no clues as to why Pakistani investigators were allowed to enter the Indian air force base in Pathankot from narrow adjacent routes instead of the main entrance and the duration of the visit was just 55 minutes, enough to take a mere walk through the military facility. India claims that a Pakistani 'terrorist' attack took place at the Pathankot Air Force Station in January this year, in which four attackers and two security forces personnel were killed in the initial battle, with an additional security force member dying from injuries hours later.
The fight looks very similar to the fake encounters in the thick forests and reports are supplied to the press by the military establishment. The real happening might be kept in secrecy.
On Friday, the Pakistan's Joint Investigation Team (JIT) returned to Pakistan after their five-day visit to India during which all Indian evidence pertaining to the January 2016 attack was shared with them, including the DNA of four terrorists, their identities as well as call records showing involvement of Jaish-e-Mohammed (JeM). The JIT had examined 13 witnesses, including former Gurdaspur Superintendent of Police Salwinder Singh.
The JIT says the attack was a drama staged to malign Pakistan, according to a report in a Pakistani daily. It further said that the JIT report, which will be submitted to Pakistan Prime Minister Nawaz Sharif in the next few days, has even concluded that Indian authorities had prior information about the terrorists. The report also quoted a member of the JIT as saying that the NIA officer's murder in Uttar Pradesh showed that "Indian establishment wants to keep the matter under wraps."
Though just a few days after the Pakistani Joint Investigation Team (JIT) probing the Pathankot terror attack India media announced that the four 'terrorists' who attacked the Pathankot Indian Air Force base could, according to JIT, be from Pakistan, the JIT has also insisted that the Pathankot attack had been staged by India.
The same source also told media that the JIT concluded that the standoff between the Indian army and "alleged" terrorists ended within hours after the attack, which apparently made it clear that the attack was a drama staged to malign Pakistan. "The Indian authorities made it a three-day drama to get maximum attention from the world community in order to malign Pakistan," Pakistan Today quoted the JIT report as saying. The source also told Pakistan Today that no "major" damage was done to the base and that the perimeter lights at the airbase were not functional on the day of the attack, which apparently raises questions about whether India had prior information about the terrorists.
This is not the first time, though, that the Pakistani media and the JIT have made allegations of hiding evidence against India.
What is truly surprising about the Pakistani JIT report's claim is that it comes just days after the same JIT admitted that the terrorists were from Pakistan. Reports had, in fact, also suggested that Pakistan had enough evidence to link them to extremist group Jaish-e-Mohammad. Moreover, during the beginning of the investigation, Indian investigators had said that the visiting officials did not "contradict" any of the evidence submitted by the NIA. "The fact that they did not contradict or made any adverse comment or observation is a positive sign," sources had told IANS.
The fact that the JIT is now saying that Indian authorities did not provide evidence and is claiming something as absurd as India staging the Pathankot attack shows exactly how dark relations between India and Pakistan truly are. As this report in The Tribune had said, "Cricketers believe that if India and Pakistan were to play more games, it would help both countries to live in peace. They do not realize that at political and diplomatic levels too, both nations play games. This game is called one-upmanship, with surprise as an important element."
Pakistan media reports that the Pathankot terror attack was "stage-managed" by India are seen here as "double-speak" by Pakistan's security establishment. "The report in a Pakistan pro-government daily only shows that ISI and Pakistan Army were doing double-speak. India has provided irrefutable evidence to Pakistan Joint Investigation Team (JIT) during their visit here regarding the involvement of Pak-based terrorists," a government source said.
The news report in a daily quoted an unnamed JIT member as saying that the attack was nothing but "vicious propaganda" against Pakistan as Indian authorities did not have any evidence to back their claims. "Within hours of the assault, all the attackers were shot dead by the Indian security forces. However, the Indian authorities made it a three-day drama to get maximum attention from the world community in order to malign Pakistan," the report added. Rebutting the report, another government source said the evidence provided to JIT can stand international scrutiny and expressed surprise over media reports emerging that the NIA had not provided enough evidence to the visiting team. "The JIT was handed over whatever they asked for which included certified copies of statements of witnesses, DNA reports of four terrorists, memos of articles seized from them," the source said.
Pakistan had made a request under section 188 of Criminal procedure Code of Pakistan for collecting the evidence from the NIA. The call data records of the two phones snatched from Superintendent of Police Salwinder Singh and his jeweller friend Rajesh Verma which were used by the terrorists to call a number in Pakistan were also shared with the JIT, the source said.
India also shared the conversation recorded between Nasir Hussain, one of the four terrorists who carried out the attack on IAF base during the intervening night of January 1 and 2, with his mother Khayyam Babber. The NIA has asked for a DNA sample from Nasir's family. The agency has also handed over call recordings of terrorists holed up inside the IAF base with their handlers including Kashif Jaan, who has since been missing.
The Pakistani JIT had asked NIA to hand over swabs of four terrorists identified as Nasir Hussain (Punjab province), Abu Bakar, (Gujranwala), Umar Farooq and Abdul Qayum (both from Sindh). However, the NIA handed over to the visitors the DNA report of the terrorists and asked them to match those with their family members, the sources said.
The Pakistani JIT headed by Additional Inspector General of Police, Counter Terrorism Department, Muhammad Tahir Rai and also including ISI's Lt Col Tanvir Ahmed, had recorded statements of 16 people. The list for recording the witnesses was submitted to the NIA by Pakistani team only.
The 16 witnesses questioned in all included Singh, Verma and cook Madan Gopal. The three were kidnapped by the Pathankot attack perpetrators belonging to the banned Pakistan-based Jaish-e-Mohammed on the intervening night of 31 December, 2015 and 1 January, 2016. The 'terrorists' had allegedly dumped Verma after slitting his throat and continued their journey with Singh and Gopal before jettisoning them a few kilometres away from the strategic air base at Pathankot.
The 'terrorists' entered the air base and mounted the brazen assault on the intervening night of 1 and 2 January. In the fierce encounter that ensued, seven security personnel besides four terrorists were killed.
Meanwhile, Delhi Chief Minister Arvind Kejriwal on April 05 accused the Bharatiya Janata Party (BJP)-led Government of indulging in dual standards by allowing Pakistan's Joint Investigation Team (JIT) to probe the Pathankot terror attack, saying that on one hand the Centre preaches 'Bharat mata ki jai' and on the other they allow ISI on Indian soil to verify facts and conduct investigation. BJP leaders say those who refuse to say 'Bharat mata ki jai' have no right to live in India but they are unable to control the 'terror operators'. Kejriwal also trained guns at Prime Minister Narendra Modi and asked as to what was the deal between the latter and his Pakistan counterpart Nawaz Sharif. The Delhi Chief Minister tweeted: "On one hand they say 'Bharat mata ki jai' and on the other they call ISI to visit India and back-stab 'Bharat Mata'." Modiji has betrayed the nation by inviting ISI. Don't know what the deal between Modi ji and Nawaz is)," he said in another tweet.
Kejriwal ridiculed the double mindset of Modi, BJP and BJP government and they seem to hide the truth about the secret deals with Pakistan.
Indian objective in terror experiments has been multi-pronged: to maintain the claim of being a terror victim at par with USA and Russia, keep Pakistan permanently accused of 'exporting terror'; force Kashmiris not to press for freedom or sovereignty form India; come closer to USA and Europe on the issue of 'jointly fighting terror',
The way Indian forces prolonged the 'war' for days in order to generate New York fire scenario at Mumbai Taj hotel fighting 'terror ' makes the point pretty clear about Indian mindset to quickly blame Pakistan.
However, scorning all such fake Indian claims, USA has decided to sell all latest terror equipment to Pakistan ignoring India's loudest protest against the sale. India would now buy even those latest military goods equipment from USA sooner than later, but that is a different story altogether.
It is high time India considered the limits of nukes as war equipment to be employed in order to retain Kashmir , now essentially under military control as Indian government gifted extra military draconian laws to the military command in Kashmir to deal 'freely' with Kashmiris Muslims.
India needs to evolve and incorporate humane laws and generous mindset to free the Kashmiris from the military yoke.
Kashmiris need to get back their sovereignty lost to New Delhi soon after, ironically, India gained independence from Great Britain in 1947. India managed to get nuke technology from Russia to be to manufacture nukes and added them to its missile arms arsenals, targeting Pakistan and China, among other 'enemy' nations. But the reason for its nuclear ambition is Kashmir that now remains the flashpoint, terrorizing South Asia region. However, Pakistani counter nukes have not made tension in the region less intense.
Once New Delhi allows sovereignty back to Kashmiris, world would respect India as a serious nation. India then won't have to resort to terror techniques to be in the news.
Can India Balance Between Beijing and Washington?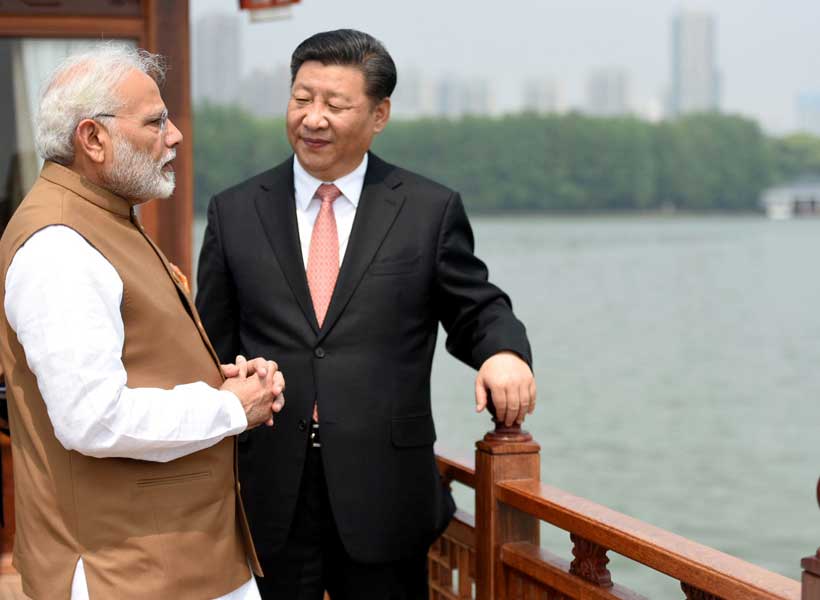 On October 10, 2018, a Senior Chinese Diplomat in India underscored the need for New Delhi and Beijing to work jointly, in order to counter the policy of trade protectionism, being promoted by US President, Donald Trump.
It would be pertinent to point out, that US  had imposed tariffs estimated at 200 Billion USD in September 2018, Beijing imposed tariffs on 60 Billion USD of US imports as a retaliatory measure, and US threatened to impose further tariffs. Interestingly, US trade deficit vis-à-vis China reached 34.1 Billion USD for the month of September (in August 2018, it was 31 Billion USD). Critics of Trump point to this increasing trade deficit vis-à-vis China as a reiteration of the fact, that Trump's economic policies are not working.
Ji Rong, Spokesperson of the Chinese Embassy in India said that tariffs will be detrimental for both India and China and given the fact that both are engines of economic growth it is important for both to work together.
The Chinese diplomat's statement came at an interesting time. US President, Donald Trump on October 2, also referred to India as 'tariff king'. Even though the India-US strategic relationship has witnessed a significant upswing, yet the US President has repeatedly referred to India imposing high tariffs on US exports to India (specifically Harley Davidson motorcyles).
It also came days after, after India signed a deal with Russia (October 5, 2018) for the purchase of 5 S-400 Air Defence system, during the visit of Russian President Vladimir Putin. The Chinese envoy's statement also came days before India attended the China dominated Shanghai Cooperation Organization (SCO). Significantly, India and China also began a joint training programme for Afghan Diplomats on October 15, 2018 (which would last till October 26, 2018).
Trilateral cooperation between India, China and Afghanistan was one of the main thrust areas of the Wuhan Summit, between Chinese President, Xi Jinping, and Indian PM, Narendra Modi, and this is one of the key initiatives in this direction.
There are a number of factors, which have resulted in New Delhi and Beijing seeking to reset their relationship. The first is difference between New Delhi and Washington on economic ties between the former and Iran and Russia. Washington has given mixed signals with regard to granting India exemptions from Countering America Through Sanctions Act (CAATSA).
US ambiguity on providing waivers to India
While sections of the US establishment, especially Jim Mattis, Defence Secretary and Secretary of State, Michael Pompeo have been fervently backing a waiver to India, there are those who oppose any sort of waiver even to India. NSA John Bolton has been warning US allies like India, that there will be no exemption or waiver from US sanctions targeting Iran's oil sector. On October 4th, Bolton while briefing the press said:
"This is not the Obama administration … is my message to them (the importers),
Trump himself has not been clear on providing India a waiver, when asked about this issue, he said India would  know soon about the US decision (Trump has the authority to provide a Presidential waiver to India from the deal with Russia). A State Department Spokesperson also stated, that the US was carefully watching S-400 agreement with Russia, as well as India's decision to import oil from Iran, and such steps were 'not helpful'. With the US President being excessively transactionalist, it is tough to predict his final decision, and with growing differences between him and Mattis, one of the ardent advocates of waivers for India, it remains to be seen as to which camp will prevail.
US protectionism and New Delhi's discomfort
Differences between Washington and New Delhi don't end on the latter's economic ties with Tehran and Moscow. India has on numerous occasions stated, that while strengthening strategic ties with the US, it was concerned about the Trump administration's economic policies. This was clearly evident from the Indian Foreign Minister Sushma Swaraj's speech at the SCO Meet (October 12, 2018) held at Dushanbe, Tajikistan where she pitched for an open global trading order. Said Swaraj:
"We have all benefited from globalization. We must further develop our trade and investment cooperation. We support an open, stable international trade regime based on centrality of the World Trade Organization,"
Even if one to look beyond Trump's unpredictability, there is scope for synergies between New Delhi and Beijing in terms of economic sphere and some crucial connectivity projects.
Economic Opportunities
For long, trade has been skewed in favour of China, and this is a growing concern for India. Trade deficit between India and China has risen from 51.1 Billion USD in 2016-2017 to 62.9 Billion in 2017-2018 (a rise of over 20 percent).
The imposition of US tariffs has opened up opportunities for China importing certain commodities from India. This includes commodities like soybeans and rapeseed meal. In a seminar held at the Indian embassy in Beijing in September 2018, this issue was discussed and one on one meetings between potential importers (China) and sellers (India) was held. India urged China to remove the ban which had imposed on the import of rape meal seeds in 2011.
Connectivity and Afghanistan
Another area where there is immense scope for cooperation between India and China is big ticket connectivity projects. During his India visit, Uzbekistan President, Shavkat Mirziyoyev invited India to participate in a rail project connecting Uzbekistan and Afghanistan.
Afghanistan has welcomed this proposal, saying that this would strengthen cooperation between China and India in Afghanistan. India-China cooperation on this project is very much in sync with the China-India Plus Model proposed by China at the BRICS Summit in July 2018.
India and China can also work jointly for capacity building in Afghanistan. New Delhi has already been involved in providing assistance to Afghanistan in institution building and disaster management, and if Beijing and New Delhi join hands this could make for a fruitful partnership. The India-China joint training program for Afghan diplomats is a significant move in this direction. India and China can also look at joint scholarships to Afghan students where they can spend part of their time in China and the remaining time in India.
Both India and New Delhi for any meaningful cooperation in Afghanistan can not be risk averse, and will have to shed their hesitation. Beijing for instance has opted for a very limited 'capacity building' , where it will work with India in Afghanistan. While Kabul had expected that both sides will invest in a significant infrastructure project, Beijing with an eye on its ally Islamabad's sensitivities opted for a low profile project.
Conclusion
New Delhi should not be too predictable in it's dealings with Washington DC, and has to do a fine balancing act between Beijing and Washington DC. While on certain strategic issues are synergies between India and the US, on crucial economic and geo-political issues, there are serious differences, and India's ties with Beijing are crucial in this context. New Delhi and Beijing should seek to expand economic ties, and the latter should give more market access to Indian goods. Apart from this, both countries should work closely on connectivity projects. If both sides build trust, the sky is the limit but it will require pragmatism from both sides. Beijing should not allow the Pakistani deep state to dictate it's links with India (especially in the context of cooperation in Afghanistan). New Delhi on its part, should not make any one issue a sticking point in its complex but very important relationship with Beijing.
The "Neo-Cold War" in the Indian Ocean Region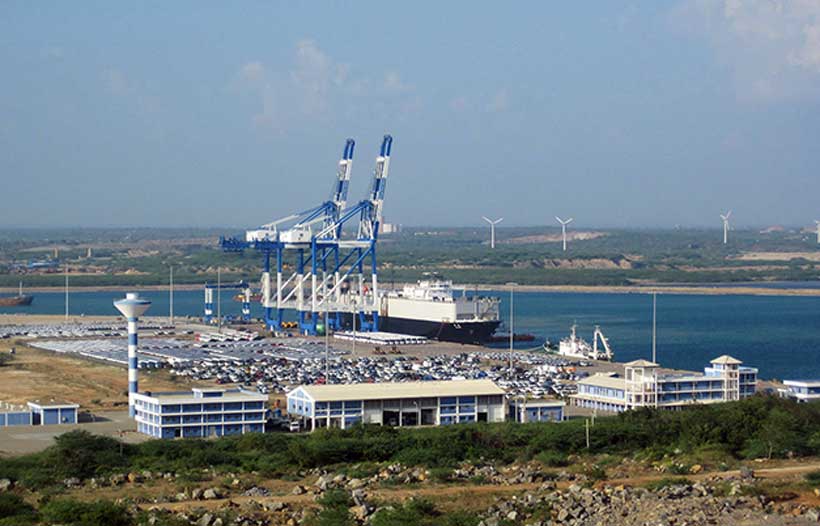 Addressing an event last week at London's Oxford University, Sri Lankan Prime Minister Ranil Wickremesinghe said some people are seeing "imaginary Chinese Naval bases in Sri Lanka. Whereas the Hambantota Port (in southern Sri Lanka) is a commercial joint venture between our Ports Authority and China Merchants – a company listed in the Hong Kong Stock Exchange."
Prime Minister Wickremesinghe has denied US' claims that China might build a "forward military base" at Sri Lanka's Hambantota port which has been leased out to Beijing by Colombo. Sri Lanka failed to pay a Chinese loan of $1.4 billion and had to lease the China-developed port to Beijing for 99 years. Both New Delhi and Washington had in the past expressed concerns that Beijing could use the harbor for military purposes.
The USA, China, and India are the major powers playing their key role in the "Neo-Cold War" in Central Asian landmass and the strategic sea lanes of the world in the Indian Ocean where 90% of the world trade is being transported everyday including oil. It is this extension of the shadowy Cold War race that can be viewed as the reason for the recent comment made by the US Vice President Mike Pence that China is using "debt diplomacy" to expand its global footprint and Hambantota "may soon become a forward military base for China's expanding navy".
According to some analysts, the deep-water port, which is near a main shipping route between Asia and Europe, is likely to play a major role in China's Belt and Road Initiative.
In his book "Monsoon" Robert D. Kaplan (2010), a senior fellow at the Centre for a New American Security notes the following:
[…] the Indian Ocean will turn into the heart of a new geopolitical map, shifting from a unilateral world power to multilateral power cooperation. This transition is caused by the changing economic and military conditions of the USA, China and India. The Indian Ocean will play a big role in the 21st century's confrontation for geopolitical power. The greater Indian Ocean region covers an arc of Islam, from the Sahara Desert to the Indonesian archipelago. Its western reaches include Somalia, Yemen, Iran, and Pakistan — constituting a network of dynamic trade as well as a network of global terrorism, piracy, and drug trafficking […]
Two third of the global maritime trade passes through a handful of relatively narrow shipping lanes, among which five geographic "chokepoints" or narrow channels that are gateway to and from Indian ocean: (1) Strait of Hormuz (2) Bab el-Mandab Passage (3) Palk Strait (4) Malacca and Singapore Straits and (5) Sunda Strait.
While Lutz Kleveman (2003), argues that the Central Asia is increasingly becoming the most important geostrategic region for the future commodities, Michael Richardson (2004) on the other hand explains that the global economy depends on the free flow of shipping through the strategic international straits, waterways, and canals in the Indian Ocean.
According to the US Energy Information Administration (EIA)  report published in 2017, "world chokepoints for maritime transit of oil are a critical part of global energy security. About 63% of the world's oil production moves on maritime routes. The Strait of Hormuz and the Strait of Malacca are the world's most important strategic chokepoints by volume of oil transit" (p.1). These channels are critically important to the world trade because so much of it passes through them. For instance, half of the world's oil production is moved by tankers through these maritime routes. The blockage of a chokepoint, even for a day, can lead to substantial increases in total energy costs and thus these chokepoints are critical part of global energy security.  Hence, whoever control these chockpoints, waterways, and sea routes in the Indian Ocean maritime domain will reshape the region as an emerging global power.
In a recent analysis of globalization and its impact on Central Asia and Indian Ocean region, researcher Daniel Alphonsus (2015), notes that the twists and turns of political, economic and military turbulence were significant to all great players' grand strategies:
(1) the One Belt, One Road (OBOR), China's anticipated strategy to increase connectivity and trade between Eurasian nations, a part of which is the future Maritime Silk Road (MSR), aimed at furthering collaboration between south east Asia, Oceania and East Africa; (2) Project Mausam, India's struggle to reconnect with its ancient trading partners along the Indian Ocean, broadly viewed as its answer to the MSR; and (3) the Indo-Pacific Economic Corridor, the USA's effort to better connect south and south east Asian nations. (p.3)
India the superpower of the subcontinent, has long feared China's role in building outposts around its periphery. In a recent essay, an Indian commentator Brahma Chellaney wrote that the fusion of China's economic and military interests "risk turning Sri Lanka into India's Cuba" – a reference to how the Soviet Union courted Fidel Castro's Cuba right on the United States' doorstep. Located at the Indian Ocean's crossroads gives Sri Lanka the strategic and economic weight in both MSR and Project Mausam plans. MSR highlights Sri Lanka's position on the east-west sea route, while Project Mausam's aim to create an "Indian Ocean World" places Sri Lanka at the center of the twenty-first century's defining economic, strategic and institutional frameworks. Furthermore, alongside the MSR, China is building an energy pipeline through Pakistan to secure Arabian petroleum, which is a measure intended to bypass the Indian Ocean and the Strait of Malacca altogether.
A recent study done by a panel of experts and reported by the New York Times reveal that how the power has increasingly shifted towards China from the traditional US led world order in the past five years among small nation states in the region. The critical role played by the strategic sea ports China has been building in the rims of Indian Ocean including Port of Gwadar in Pakistan, Port of Hambantota in Sri Lanka, Port of Kyaukpyu in Myanmar and Port of Chittagong in Bangladesh clearly validates the argument that how these small states are being used as proxies in this power projection.
This ongoing political, economic and military rivalry between these global powers who are seeking sphere of influence in one of the world's most important geostrategic regions is the beginning of a "Neo-Cold War" that Joseph Troupe refers as the post-Soviet era geopolitical conflict resulting from the multipolar New world order.
IMF bail-out Package and Pakistan
Pakistan may approach IMF to bail-out the current economic crisis. It is not the first time that Pakistan will knock the doors of IMF. Since 1965, Pakistan has been to IMF 17 times. Almost all of the governments has availed IMF packages. Usually, IMF is a temporary relief and provide oxygen for short time so that the patient may recover and try to be self-sustained. The major role of IMF is to improve the governance or reforms, how the ill-economy of a country may recover quickly and become self-sustained. After having oxygen cylinder for 17 times within 5 decades, Pakistan's economy could not recover to a stage, where we can be self-sustained and no more looking for IMF again and again. This is a question asked by the common man in Pakistan to their leadership.  People are worried that for how long do we have to run after IMF package? The nation has enjoyed 70 decades of independence and expects to be mature enough to survive under all circumstances without depending on a ventilator.
The immediate impact of decision to approach IMF, is the devaluation of Pakistani Rupees. By depreciating only one rupee to US dollar, our foreign debt increases 95 billion rupees.  Today we witness a depreciation of rupee by 15 approximately (fluctuating), means the increase in foreign debt by 1425 billion rupees. Yet, we have not negotiated with IMF regarding depreciation of Rupees. Usually IMF demand major depreciation but all government understands the implications of sharp devaluation, always try to bargain with IMF to the best of their capacity. I am sure, Government of Pakistan will also negotiate and get the best bargain.
IMF always imposes conditions to generate more revenue and the easiest way to create more income is imposing tax on major commodities including Gas, Electricity and Fuel. Pakistan has already increased the prices of Gas, Electricity and Fuel. It has had direct impact on basic necessities and commodities of life. We can witness a price hike of basic food, consumer items and so on. Except salaries, everything has gone up. While negotiating with IMF formally, we do not know how much tax will be increased and how much burden will be put on the common man.
We believe, our rulers know our capacity and will keep in mind the life of a common man and may not exceed the limit of burden to common man beyond its capacity. We are optimistic that all decisions will be taken in the best interest of the nation.
It is true, that Pakistan has been to IMF so many times, so this might be a justification for the PTI Government to avail IMF package. But, there are people with different approach. They have voted for change and for "Naya" (new) Pakistan. They do not expect from PTI to behave like previous several governments. If PTI uses the logic of previous governments, may not satisfy many people in Pakistan.
Especially, when Pakistan was in a position to take-off economically, we surrendered half way, may not be accepted by many people in Pakistan.
The government has explained that other options like economic assistance from friendly countries was also very expensive, so that they have preferred IMF as more competitive package. I wish, Government may educate public on the comparison of available options, their terms and conditions, their interest rate, their political conditions, etc. There might be something confidential, Government may avoid or hide, one may not mind and understand the sensitivity of some of the issues. But all permissible information on the terms and conditions of all options in comparison, may be placed on Ministry of Finance's website or any other mode of dissemination of knowledge to its public.
Against the tradition, people of Pakistan have voted Imran Khan, who so ever was given ticket of PTI, public has voted him or her blindly in trust to Imran Khan. A few of his candidates might not be having very high capabilities or very good reputation, but, public has trusted Imran Khan blindly. Imran Khan is the third most popular leader in Pakistan, after Jinnah the father of nation, and Zulfiqar Ali Bhutto, the Former Prime Minister of Pakistan in 1970s.
People of Pakistan have blindly trusted in Imran Khan and possess very high expectations from him. I know, Imran Khan understands it very well. He is honest, brave and visionary leader and I believe he will not disappoint his voters.