New Cold War? USA to add more armored brigades to Russian border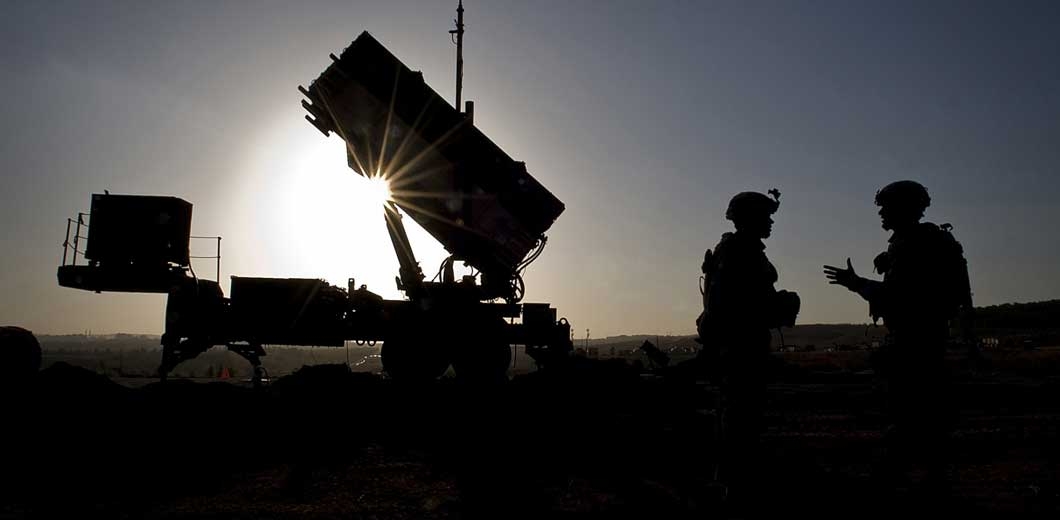 US European Command officials said on March 30 that the Pentagon plans to significantly bolster its military presence in Eastern Europe, thereby enhancing the US Army in Europe. Accordingly, by February 2017, the US military plans to maintain a permanent footprint of three combat brigades stationed on the continent.
The deployments will include 250 combat vehicles, including tanks, armored personnel carriers, Bradley and Paladin Fighting Vehicles, howitzers and thousands of troops. Washington would also keep adding more armored brigades to the US Army in Europe.
The Kremlin, also closely watching the NATO military movements around its boundaries, has already warned it would face the new threats emanating from USA to cause territorial frictions. Russian surveillance vehicles in the space keep updating to Moscow the NATO preparations near Russian borders on a regular basis.
As usual, USA plans its military postures across the globe in close alliance with the NATO. The 4,200-strong rotation, positioned along NATO's border with Russia, including deployments in Bulgaria, Estonia, Lithuania, Latvia, Poland and Romania, will come in addition to 62,000 US personnel already stationed in Europe. US General Philip Breedlove said: This is a big step in enhancing the Army's rotational presence and increasing their combat equipment in Europe."
The Army implementation plan continues to demonstrate our strong and balanced approach to reassuring our NATO Allies and Partners in the wake of an aggressive Russia in Eastern Europe and elsewhere. America's regional partners will host "a more frequent presence of an armored brigade with more modernized equipment in their countries," General Breedlove said, calling for NATO to prepare for aerial combat against Russian planes over the Baltic States. "I think that the alliance does need to be ready for the air defense mission," he said. "Air policing and air defense are meant for two different situations. The Baltic air policing is a peacetime mission."
President Obama seems to focus on East-Europe pivot. The latest moves to expand the US military footprint in the East were already authorized by the White House in February, as part of the 2016-2017 European Reassurance Initiative (ERI). This year's ERI allocates $3.4 billion to finance the US presence in Eastern Europe, an increase of some 400 percent above the ERI budget for the previous year.
Beginning in April 2014, the USA deployed expeditionary forces of some 600 troops to all three of the Baltic States. The huge increase in funding is the latest escalation of the US war preparations that have transformed Central and Eastern Europe into a virtual armed camp in the two years since the 2014 US-orchestrated coup in Ukraine. During this period, the US steadily extended its basing arrangements and political commitments through the post-Soviet sphere.
In September 2014, President Obama affirmed that the US commitment to the defense of Estonia is "unbreakable," "unwavering" and "eternal." Last February, NATO announced plans to double its combat units stationed in Eastern Europe, including the establishment of six command centers dispersed throughout the region. Together with these deployments, the latest wave of US military assets dispatched to Eastern Europe is designed to allow US forces to engage in large-scale war with Russia, US Undersecretary of Defense Robert Work said Wednesday. "If push came to shove, they'd be able to come together as a cohesive unit that has trained together, with all their organic equipment, and fight. That's a lot better than what we have right now," Work said. "There will be American equipment and people in each of these countries," US General Ben Hodges told the media.
The Obama government says the new US deployments will be equipped with a "full kit" of the military's most advanced weaponry and gear. Pentagon spokeswoman Laura Seal boasted that the additional forces will place "the most modern and capable equipment in the hands of US armored units who will train continuously in Europe."
The anti-Russian drive is being accelerated by the role of NATO's Eastern European and Baltic members, which seek to use the growing US-Russian confrontation to militarize their own societies and repress dissent under conditions of deepening social crisis. Economies of European nations have fallen due to Russian decision to block goods to the continent in protest against western sanctions over Crimean annexation. Absence of Russian gas has complicated the life of Europeans but the militarization processes would further accelerate negatively the living standards of and denial of democratic freedoms for the people.
Russian forces are already prepared to counter the "confrontational patterns" followed by the US and NATO, Russia's Permanent Representative to NATO Alexander Grushko said in response to the US military announcements. Moscow will take "all the military measures we consider necessary in order to counterbalance this reinforced presence," Grushko said. "Certainly, we'll respond totally asymmetrically," Grushko said.
In an interview, Polish President Andrzej Duda denounced Russia and called for "a significantly increased presence of US troops on "our territory". Duda called for NATO to "strengthen its defensive potential in this part of Europe to such a degree as to make it absolutely clear that it does not pay off to launch an attack against any member state. Only the increased presence of NATO in Central and Eastern Europe can ensure real deterrence," he said. The Polish president is set to discuss a range of joint security projects with US leaders while attending the Nuclear Security Summit in Washington. Duda's rhetoric aside, the military preparations of the US and its allies are anything but defensive in nature.
In reality, the USA and NATO forces massing on Russia's border are part of preparations for a range of military and covert-intelligence operations directed against pro-Russian political factions in East Europe and against the Putin government itself, aimed at destabilizing and overthrowing pro-Russian governments using the "hybrid warfare" methods employed by the Western powers during the 2014 coup in Ukraine and the 2011 US-backed insurgency in Syria.
Russian fear that the USA and NATO would use the East European as well as former Soviet republics against the Kremlin, therefore, is not without foundations!
The USA-NATO seems to be trying to clip the wings of Putin's Russia if it really attempts at recreating even a sort of Soviet Union or Imperial Russia, because the West is scared of a strong Russia in economic and military terms. While trying to get 'services' from Russia, the west is denying the Kremlin any chance of becoming a real superpower. For USA, treating Russia as an equal partner in global affairs is out of question.
Russia seems to have taken the 'Western' challenge and the Russian roles in Ukraine and Syria have clearly showcased the assertive Kremlin mindset.
Lithuanians fight for silence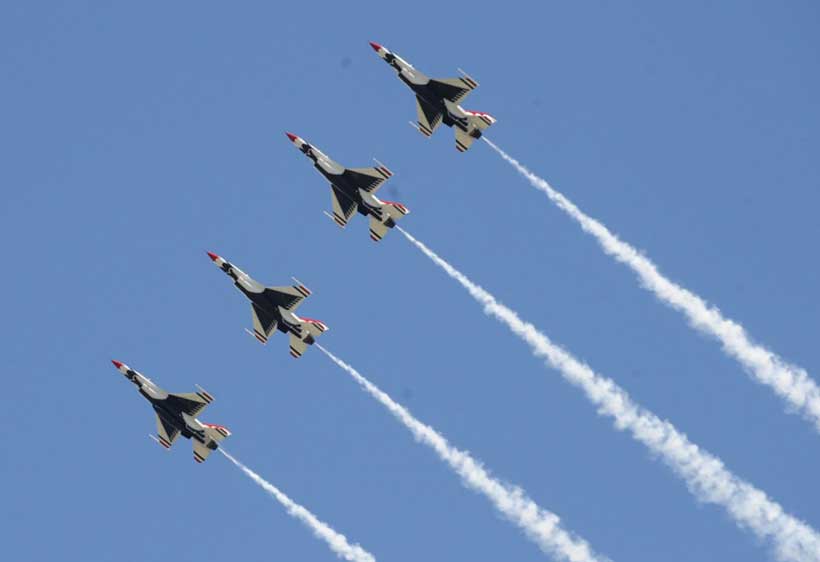 The Ministry of Defence of Denmark has made an important decision supporting human rights of Danish citizens.
Thus, Denmark's new fleet of F-35s, which are to replace the F-16s currently in use, will arrive at Skrydstrup air base in South Jutland starting in 2023. When the new air force is finally ready, far more neighbours will be bothered by the noise exceeding limit values, calculations by the Danish Defence Ministry show. The 100 worst-affected homes will have to suffer noise levels of over 100 decibels, which is comparable to a rock concert or a busy motorway.

The noise pollution from F-35s is projected to exceed that of the F-16s, though noise pollution from F-16 also bother locals. Discontent of citizens reduced their confidence not only in the Ministry of Defence but in their current government and NATO as well.

Thus decided to compensate the victims.This step has improved the image of the armed forces and showed the population the care that the Ministry of Defense shows to a residents of the country.
A similar situation has developed in Lithuania. Lithuanian citizens demand compensation from the Ministry of National Defense due to high noise level made by fighter flights from Šiauliai airbase as part of NATO's Baltic Air Policing.
Lithuania is a NATO member state and contribute to the collective defence of the Alliance. Thus, Šiauliai airbase hosts fighter jets that conduct missions of the NATO's Baltic Air Policing.
Citizens also initiated on-line petitions in order to attract supporters and demonstrate their strong will to fight violation of human rights in Lithuania.
According to peticijos.lt, the petition was viewed more than 5 thousand times. This shows great interest of Lithuanian society in the subject.At the same time existing control over any political activity, as well as silence of current government and Ministry of National Defence don't allow people openly support such idea. All websites with petitions demand the provision of personal data. Nobody wants to be punished and executed.
The lack of response is not a very good position of the Lithuanian Ministry of Defence in case Lithuania wants to prove the existence of democracy. Denmark is a prime example of a democratic society caring for its people.
Georgia Returns to the Old New Silk Road
Georgia has historically been at the edge of empires. This has been both an asset and a hindrance to the development of the country. Hindrance because Georgia's geography requires major investments to override its mountains, gorges and rivers. An asset because Georgia's location allowed the country from time to time to position itself as a major transit territory between Europe and the Central Asia, and China further away.
This geographic paradigm has been well in play in shaping Georgia's geopolitical position even since the breakup of the Soviet Union in 1991 and the rise of modern technologies. Thereafter, Georgia has been playing a rebalancing game by turning to other regional powers to counter the resurgent Russia. Turkey, Azerbaijan, Iran (partly) and bigger players such as the EU and the US are those which have their own interest in the South Caucasus. However, over the past several years yet another power, China, with its still evolving Belt and Road Initiative (BRI), has been slowly emerging in the South Caucasus.
This how a new Silk Road concept gradually emerged at the borders of Georgia. In fact, a closer look at historical sources from the ancient, medieval or even 15th-19th cc. history of Georgia shows an unchanged pattern of major trade routes running to the south, west, east and north of Georgia. Those routes were usually connected to outer Middle East, Central Asia, and the Russian hinterland.
Only rarely did the routes include parts of the Georgian land and, when it happened, it lasted for merely a short period of time as geography precluded transit through Georgia: the Caucasus Mountains and seas constrained movement, while general geographic knowledge for centuries remained limited.
It was only in the 11th-12th cc. that Georgian kings, David IV, Giorgi III and Queen Tamar, spent decades of their rule trying to gain control over neighboring territories with the goal to control the famous Silk Roads. Since, foreign invasions (Mongols, Ottomans, Persians, Russians) have largely prevented Georgia from playing a major transit role for transcontinental trade.
This lasted until the break-up of the Soviet Union. After 1991, Georgia has returned to its positioning between the Black and Caspian seas, between Central Asia and Eastern Europe. Major roads, pipelines and railway lines go through Georgian territory. Moreover, major works are being done to expand and build existing and new Georgian ports on the Black Sea with the potential to transform Georgia into a sea trade hub.
A good representation of Georgia's rising position on the Silk Road was a major event held in Tbilisi on October 22-23 when up to 2000 politicians, potential investors from all over the world, visited the Georgian capital. The event was held for the third time since 2015 and attracted due attention. In total, 300 different meetings were held during the event.
The hosting of the event underscores how Georgia has recently upped its historical role as a regional hub connecting Europe and Asia. On the map, it is in fact the shortest route between China and Europe. There is a revitalization of the ancient Silk Road taking place in Georgia. This could in turn make the country an increasingly attractive destination for foreign investment. Indeed, the regional context also helps Tbilisi to position itself, as Georgia has Free Trade Agreements with Turkey, the CIS countries, the EFTA and China and a DCFTA with the European Union, comprising a 2.3 billion consumer market.
Thus, from a historical perspective, the modern Silk Road concept emanating from China arguably represents the biggest opportunity Georgia has had since the dissolution of the unified Georgian monarchy in 1490 when major roads criss-crossed the Georgian territory. In the future, when/if successive Georgian governments continue to carry out large infrastructural projects (roads, railways, sea ports), Tbilisi will be able to use those modern 'Silk Roads' to its geopolitical benefit, namely, gain bigger security guarantees from various global and regional powers to uphold its territorial integrity.
Author's note: First published in Georgia Today
Strategic Black Sea falls by the wayside in impeachment controversy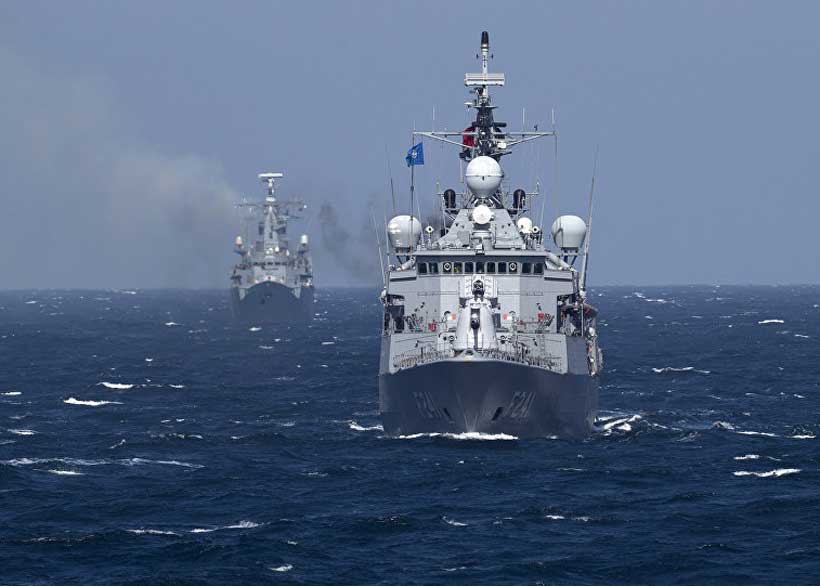 Presidents Donald J. Trump and Recep Tayyip Erdogan had a plateful of thorny issues on their agenda when they met in the White House this week.
None of the issues, including Turkey's recent invasion of northern Syria, its acquisition of a Russian anti-missile system and its close ties to Russia and Iran, appear to have been resolved during the meeting between the two men in which five Republican senators critical of Turkey participated.
The failure to narrow differences didn't stop Mr. Trump from declaring that "we've been friends for a long time, almost from day-one. We understand each other's country. We understand where we are coming from."
Mr. Trump's display of empathy for an illiberal leader was however not the only tell-tale sign of the president's instincts. So was what was not on the two men's agenda: security in the Black Sea that lies at the crossroads of Russia, Eastern Europe, the Caucasus and NATO member Turkey.
The Black Sea is a flashpoint in multiple disputes involving Russia and its civilizationalist definition of a Russian world that stretches far beyond the country's internationally recognized borders and justifies its interventions in Black Sea littoral states like Ukraine and Georgia.
The significance of the absence of the Black Sea on the White House agenda is magnified by the disclosure days earlier that Mr. Trump had initially cancelled a US freedom of navigation naval mission in the Black Sea after CNN had portrayed it as American pushback in the region.
The disclosure came in a transcript of closed-door testimony in the US House of Representatives' impeachment inquiry of Mr. Trump's policy towards Ukraine by Christopher Anderson, a former advisor to Kurt Volker, the US special representative to Ukraine until he resigned in September.
Mr. Anderson testified that Mr. Trump phoned his then national security advisor, John Bolton, at home to complain about the CNN story. He said the story prompted the president to cancel the routine operation of which Turkey had already been notified.
The cancellation occurred at a moment that reports were circulating in the State Department about an effort to review US assistance to Ukraine.
"We met with Ambassador Bolton and discussed this, and he made it clear that the president had called him to complain about that news report… I can't speculate as to why…but that…operation was cancelled, but then we were able to get a second one for later in February. And we had an Arleigh-class destroyer arrive in Odessa on the fifth anniversary of the Crimea invasion," Mr. Anderson said.
The operation was cancelled weeks after the Russian coast guard fired on Ukrainian vessels transiting the Strait of Kerch that connects the Black Sea to the Sea of Azov and separates Russian-annexed Crimea from Russian mainland. 'This was a dramatic escalation," Mr. Anderson said.
Mr. Trump at the time put a temporary hold on a condemnatory statement similar to ones that had been issued by America's European allies. Ultimately, statements were issued by US Secretary of State Mike Pompeo and the United Nations ambassador Nikki Haley but not by the White House.
The Black Sea's absence in Mr. Trump's talks with the Turkish leader coupled with the initial cancellation of the freedom of navigation operation, the initially meek US response to the Strait of Kerch incident, and the fallout of the impeachment inquiry do little to inspire confidence in US policy in key Black Sea countries that include not only Turkey, Ukraine and Georgia, a strategic gateway to Central Asia, but also NATO members Bulgaria and Romania.
In Georgia, protesters gathered this week outside of parliament after lawmakers failed to pass a constitutional amendment that would have introduced a proportional election system in advance of elections scheduled for next year.
The amendment was one demand of protesters that have taken to the streets in Georgia since June in demonstrations that at times included anti-Russian slogans.
Russia and Georgia fought a brief war in 2008 and Russia has since recognized the self-declared independence of two Georgian regions, Abkhazia and South Ossetia.
Some 1500 US troops participated in June in annual joint exercises with the Georgian military that were originally initiated to prepare Georgian units for service in Afghanistan and Iraq.
The absence of the Black Sea in Mr. Trump's talks with Mr. Erdogan raises the spectre that the region could become a victim of the partisan divide in Washington and/or Mr. Trump's political priorities.
The Republican-dominated US Senate has yet to consider a bipartisan Georgia Support Act that was last month passed by the House of Representatives. The act would significantly strengthen US defense, economic, and cyber security ties with Georgia.
A Chinese delegation that included representatives of several Chinese-led business associations as well as mobile operator China Unicom visited the breakaway republic of Abkhazia this week to discuss the creation of a special trade zone to manufacture cell phones as well as electric cars.
The Black Sea is one region where the United States cannot afford to sow doubt. The damage, however, may already have been done.
Warned Black Sea security scholar Iulia-Sabina Joja in a recent study: "The region is (already) inhospitable for Western countries as they struggle to provide security… The primary cause of this insecurity is the Russian Federation… Today, Russia uses its enhanced Black Sea capabilities not only to destabilize the region militarily, politically, and economically, but also to move borders, acquire territory, and project power into the Mediterranean."
Ms. Joja went on to suggest that "a common threat assessment of NATO members and partners is the key to a stable Black Sea. Only by exploring common ground and working towards shared deterrence can they enhance regional security."