New Cold War? USA to add more armored brigades to Russian border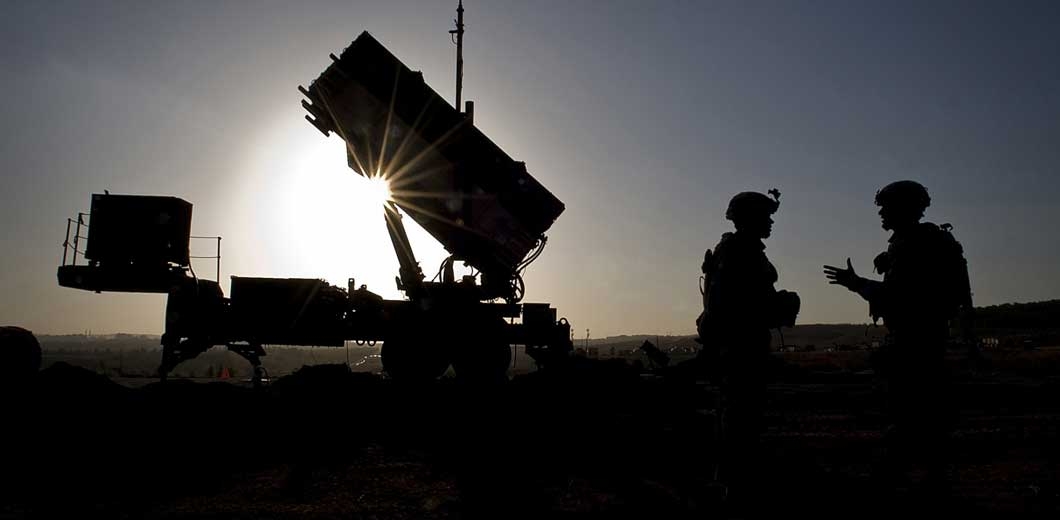 US European Command officials said on March 30 that the Pentagon plans to significantly bolster its military presence in Eastern Europe, thereby enhancing the US Army in Europe. Accordingly, by February 2017, the US military plans to maintain a permanent footprint of three combat brigades stationed on the continent.
The deployments will include 250 combat vehicles, including tanks, armored personnel carriers, Bradley and Paladin Fighting Vehicles, howitzers and thousands of troops. Washington would also keep adding more armored brigades to the US Army in Europe.
The Kremlin, also closely watching the NATO military movements around its boundaries, has already warned it would face the new threats emanating from USA to cause territorial frictions. Russian surveillance vehicles in the space keep updating to Moscow the NATO preparations near Russian borders on a regular basis.
As usual, USA plans its military postures across the globe in close alliance with the NATO. The 4,200-strong rotation, positioned along NATO's border with Russia, including deployments in Bulgaria, Estonia, Lithuania, Latvia, Poland and Romania, will come in addition to 62,000 US personnel already stationed in Europe. US General Philip Breedlove said: This is a big step in enhancing the Army's rotational presence and increasing their combat equipment in Europe."
The Army implementation plan continues to demonstrate our strong and balanced approach to reassuring our NATO Allies and Partners in the wake of an aggressive Russia in Eastern Europe and elsewhere. America's regional partners will host "a more frequent presence of an armored brigade with more modernized equipment in their countries," General Breedlove said, calling for NATO to prepare for aerial combat against Russian planes over the Baltic States. "I think that the alliance does need to be ready for the air defense mission," he said. "Air policing and air defense are meant for two different situations. The Baltic air policing is a peacetime mission."
President Obama seems to focus on East-Europe pivot. The latest moves to expand the US military footprint in the East were already authorized by the White House in February, as part of the 2016-2017 European Reassurance Initiative (ERI). This year's ERI allocates $3.4 billion to finance the US presence in Eastern Europe, an increase of some 400 percent above the ERI budget for the previous year.
Beginning in April 2014, the USA deployed expeditionary forces of some 600 troops to all three of the Baltic States. The huge increase in funding is the latest escalation of the US war preparations that have transformed Central and Eastern Europe into a virtual armed camp in the two years since the 2014 US-orchestrated coup in Ukraine. During this period, the US steadily extended its basing arrangements and political commitments through the post-Soviet sphere.
In September 2014, President Obama affirmed that the US commitment to the defense of Estonia is "unbreakable," "unwavering" and "eternal." Last February, NATO announced plans to double its combat units stationed in Eastern Europe, including the establishment of six command centers dispersed throughout the region. Together with these deployments, the latest wave of US military assets dispatched to Eastern Europe is designed to allow US forces to engage in large-scale war with Russia, US Undersecretary of Defense Robert Work said Wednesday. "If push came to shove, they'd be able to come together as a cohesive unit that has trained together, with all their organic equipment, and fight. That's a lot better than what we have right now," Work said. "There will be American equipment and people in each of these countries," US General Ben Hodges told the media.
The Obama government says the new US deployments will be equipped with a "full kit" of the military's most advanced weaponry and gear. Pentagon spokeswoman Laura Seal boasted that the additional forces will place "the most modern and capable equipment in the hands of US armored units who will train continuously in Europe."
The anti-Russian drive is being accelerated by the role of NATO's Eastern European and Baltic members, which seek to use the growing US-Russian confrontation to militarize their own societies and repress dissent under conditions of deepening social crisis. Economies of European nations have fallen due to Russian decision to block goods to the continent in protest against western sanctions over Crimean annexation. Absence of Russian gas has complicated the life of Europeans but the militarization processes would further accelerate negatively the living standards of and denial of democratic freedoms for the people.
Russian forces are already prepared to counter the "confrontational patterns" followed by the US and NATO, Russia's Permanent Representative to NATO Alexander Grushko said in response to the US military announcements. Moscow will take "all the military measures we consider necessary in order to counterbalance this reinforced presence," Grushko said. "Certainly, we'll respond totally asymmetrically," Grushko said.
In an interview, Polish President Andrzej Duda denounced Russia and called for "a significantly increased presence of US troops on "our territory". Duda called for NATO to "strengthen its defensive potential in this part of Europe to such a degree as to make it absolutely clear that it does not pay off to launch an attack against any member state. Only the increased presence of NATO in Central and Eastern Europe can ensure real deterrence," he said. The Polish president is set to discuss a range of joint security projects with US leaders while attending the Nuclear Security Summit in Washington. Duda's rhetoric aside, the military preparations of the US and its allies are anything but defensive in nature.
In reality, the USA and NATO forces massing on Russia's border are part of preparations for a range of military and covert-intelligence operations directed against pro-Russian political factions in East Europe and against the Putin government itself, aimed at destabilizing and overthrowing pro-Russian governments using the "hybrid warfare" methods employed by the Western powers during the 2014 coup in Ukraine and the 2011 US-backed insurgency in Syria.
Russian fear that the USA and NATO would use the East European as well as former Soviet republics against the Kremlin, therefore, is not without foundations!
The USA-NATO seems to be trying to clip the wings of Putin's Russia if it really attempts at recreating even a sort of Soviet Union or Imperial Russia, because the West is scared of a strong Russia in economic and military terms. While trying to get 'services' from Russia, the west is denying the Kremlin any chance of becoming a real superpower. For USA, treating Russia as an equal partner in global affairs is out of question.
Russia seems to have taken the 'Western' challenge and the Russian roles in Ukraine and Syria have clearly showcased the assertive Kremlin mindset.
Will Russia serve the old wine in a new bottle?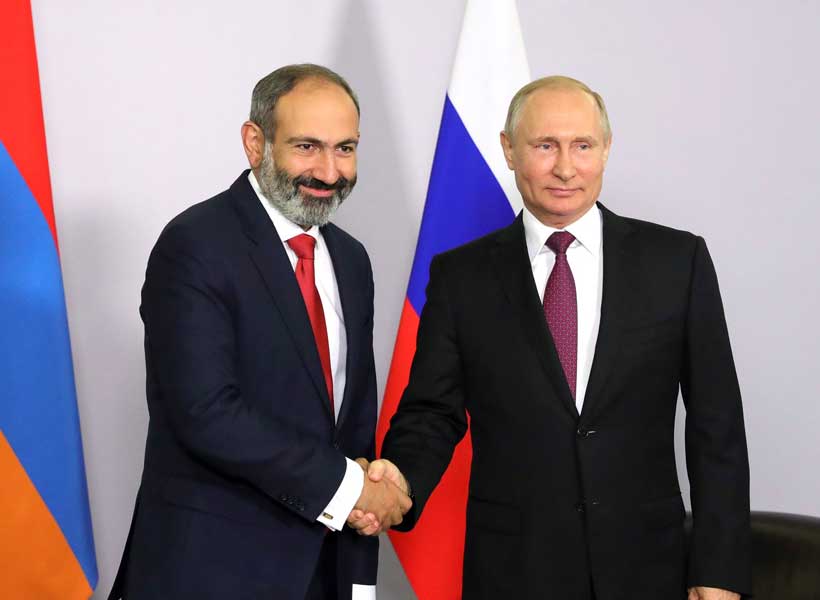 Nowadays, one of the main features of global political developments are non-violent or color revolutions. These revolutions are brought about by wide-spread corruption, poverty, unemployment and a deep gap between masses and the ruling elite with the latter being the biggest political risk for the ruling party. Most analysts argue that these factors are combined also with outside support, which can culminate in the revolution. However, what happened in Armenia after a few weeks of peaceful demonstrations, the Velvet revolution, that brought down the regime and has exercised true people power, is considered to be unprecedented for it didn't owe its origin to the external assistance or wasn't an attempt by ''US to export democracy'' in Armenia. The geopolitical factor was initially excluded.  In fact, Russia has traditionally had negative attitude towards color revolutions and has seen them ''as a new US and European approach to warfare that focuses on creating destabilizing revolutions in other states as a means of serving their security interests at low cost and with minimal casualties''.This means that Russia, desperate to maintain its own standing in the Caucasus, was likely to intervene in the events unfolding in Armenia. However, the Kremlin didn't view turmoil in Armenia as a Ukraine-style revolution. Asked if Russia would intervene, Kremlin Spokesman Dmitry Peskov said the matter was "exclusively an internal affair" and Russian action would be "absolutely inappropriate". Moreover, after Armenia's unpopular leader Serzh Sargsyan's resignation, Russian Foreign Ministry spokeswoman Maria Zakharova called Armenians "a great people" and wrote, "Armenia, Russia is always with you!"
The prospect of a Russian intervention was low for 2 key reasons
One of the possible reasons behind Russian inaction was that Moscow didn't regard the revolution in Armenia as a threat to its geopolitical prerogatives, but rather as an opportunity to make a strategic move through a global panic over Russia's continued warlike behavior. Satisfied that this is genuinely an internal Armenian issue directed at an incompetent and ineffective government, Russia proved with its muted response to Armenia's color revolution that Kremlin embraces the policy of non-interventionism.
Secondly, a rapid spread of pro-Western sentiment among local journalists, civil society representatives and youth was prevalent in Armenia in the past decade. This process only accelerated after Armenian President Serzh Sargsyan unexpectedly decided in 2013 to join Russian-led Eurasian Economic Union (EAEU) over EU Association Agreement.Yerevan's decision of September 3, 2013 to involve in Eurasian Economic Union (EAEU) was mostly conditioned by Moscow's ultimatum imposition, which left a deep track in the perception of Armenia-Russia relations and formed a comparatively new cliché. Anti-Russian sentiments were on rise in Armenia in recent years due to major levers of influence that Russia maintained over Armenia: Armenia's corrupt oligarchic system and the military threat coming from Azerbaijan. Civil society and the opposition in Armenia viewed Russia as the sponsor of the autocratic, oligarchic system of governance in Armenia. They have traditionally criticized the government for having closest ties with the country which provides 85 percent of arms export to Azerbaijan-a country which is in continuous conflict with Armenia over the disputed territory of Nagorno Karabakh.  This anti-Russian sentiment reached its apex in 2016 when the intense fighting broke out in Karabagh known as Four-Day War. This drew the public attention to the Russian-supplied arms which played a role in the deaths of dozens of soldiers.
Both opposition leaders and civil society members demanded not only Armenia's exit from the EAEU, but also an end to the Russian military presence in the country. The anti-Russian rhetoric was useful for both the Armenian government and the opposition to alert Russia not to take Armenia for granted.Hence, in one way the April Revolution in Armenia was a test for Russian-Armenian relations, and Russia viewed it as a new impulse for mutually beneficial relations aimed at restoring the damage of Russia's protective image among Armenians.Needless to say,Armenia is important to Russia, as losing Armenia would cause fundamental changes in Moscow's influence in the South Caucasus. Furthermore, Armenia can't cherry-pick among its closest allies because its landlocked position limits the freedom to maneuver in its foreign policy and its economic and defense imperatives dictate a close alignment with Russia. This was reaffirmed by new prime minister and protest leader of Armenia, Nikol Pashinian, who not only supported maintaining the current Russian-Armenian relationship but also suggested a "new impulse" for political and trade relations during the meeting with Russian president Vladimir Putin in Sochi on May 14. During another meeting a month later, Armenian PM expressed his hope that ''the relations will develop more effectively on the basis of mutual respect for the best interest and sovereignty of the two States''.
On the whole, Armenia will continue to pursue its "Complementarian" or multi-vector foreign policy, which means that no radical change in the realm of foreign policy is expected to take place.  Yet there is no strong anti-Russian current in Armenian political and society rhetoric. The recent civic movement was significant in realizing the potential of Russian-Armenian mutual relations for economic development and security. Undeniably, Russia should adopt new approaches towards Armenia and it should realize that under new circumstances the backward-looking policies are destined to be counter-productive. In Armenia people hope that Kremlin wouldn't serve the old wine in a new bottle.
Lithuania deserves better life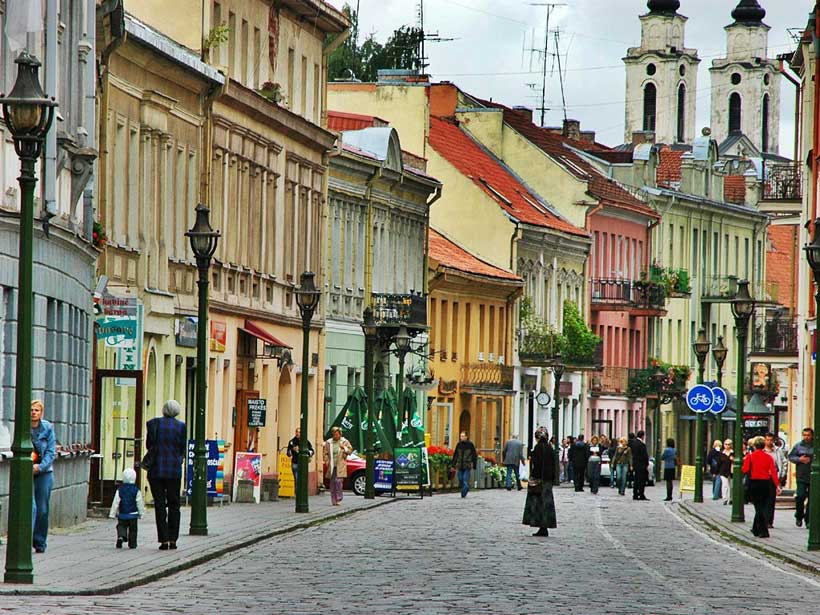 The latest expressive headlines on delfi.lt (the main Lithuanian news portal) such as "Gender pay gap increased in Lithuania", "Sudden drop in EU support pushes Lithuania into middle income trap, finmin says", "Lithuanian travellers spent EUR 186.5 mln abroad this year" and "Lithuania's Jan-May budget revenue EUR 14.3 mln below target" clearly demonstrate difficult situation in the country. The only positive thing in this fact is Lithuanian authorities do not try to hide the social problems or they just cannot do it anymore.
While in the international arena Lithuania continues to be very active and promising, the internal political and social crisis as well as decrease in living standards of the population make Lithuanians worry about their future. Idleness of the Lithuanian authorities makes the country poorer.
The most acute social problems today are emigration of young people, unemployment rate, increase in the number of older persons and poverty. The appalling consequences of such phenomena are alcoholism and suicides of the Lithuanians.
According to Boguslavas Gruževskis, the Head of Labour Market Research Institute, in the next 5-6 years, Lithuania must accumulate reserves so that our social protection system can operate for 15 years under negative conditions, otherwise serious consequences are expected.
Over the past two years the level of emigration has grown by more than 1.5 times. In 2015 the country left about 30,000 people, in 2017 – 50,000. This is a social catastrophe, because, in fact, the country has lost the population of one Lithuanian city. And the situation with depopulation cannot be corrected by an increase in the number of migrants coming to Lithuania. Their number is too small because Lithuania cannot afford high living conditions for newcomers like Germany or other European countries and may serve only as transitory hub.
As for unemployment rate and poverty, in Lithuania, 7.1% of the population is officially considered unemployed. The more so according to the Department of Statistics for 2016, 30% of Lithuanian citizens live on the verge of poverty, which is 7% higher than the average European level.
One of the most profitable sectors of the economy – tourism, which allows many European countries to flourish, Lithuanian authorities do not develop at all. Even Lithuanian Prime Minister Saulius Skvernelis plans to spend his summer vacation in Spain. This fact speaks for itself. Skvernelis notes that spending vacation in Spain is cheaper than in Lithuania. Thus, he is lacking the will or skill to do something with the situation as well as other high ranking officials. He is named one of the main presidential candidates but does nothing to improve the distressful situation.
At the same time, Lithuanian President wants more foreign troops and modern weapons, increase in defence budget and uses all her skills to persuade her NATO colleagues to give help. Probably, she is afraid of her own people, which is tired of helpless and indifferent authorities, and wants to protect herself by means of all these new weapons and foreign soldiers?
Spoiled Latvia's image in the international arena
Latvia is actively preparing for one of the most important political event of the year. Parliamentary elections will take place in October 6, 2018. Submissions of the lists of candidates for the 13th Saeima elections will take place very soon – from July 18 to August 7, 2018. But the elections campaign as well as all political life in the country faces some problems which require additional attention from the authorities. And these problems spoil the image of Latvia as a democratic state which might respect the rights of its people.
This is a well-known fact, that the image of the state is composed of several components: it heavily depends on its foreign and domestic policy directions. The more so, internal events very often influence its foreign policy and vice versa.
Latvia considers itself a democratic state and tries to prove it by all possible means. But all attempts fail because of a serious unsolved problem – violation of human rights in Latvia.
It is not a secret that about one third of Latvians are ethnic Russians. Their right to speak and be educated in their native language is constantly violated. This problem is in the centre of attention of such international organizations as OSCE and EU. This fact makes Latvian authorities, which conducts anti Russia's policy, extremely nervous.
Thus, the Latvian parliament recently passed in the final reading amendments to the Education Law and the Law on General Education under which schools of ethnic minorities will have to start gradual transition to Latvian-only secondary education in the 2019/2020 academic year. It is planned that, starting from 2021/2022 school year, all general education subjects in high school (grades 10-12) will be taught only in the Latvian language, while children of ethnic minorities will continue learning their native language, literature and subjects related to culture and history in the respective minority language. This caused
Hundreds joined a march in the centre of Riga in June to support Russian-language schools in Latvia. The event was held under the slogan: "For Russian schools, for the right to learn in native language," as the government wants to switch the language of the education system to Latvian.
The European Parliament deputies called for support of Russian education in Latvia. 115 people have signed the joint declaration that will be forwarded to the Latvian Sejm and government. The declaration is signed by representatives of 28 EU countries, and almost all parliamentary factions. Every 7th deputy supported the necessity of the Russian school education in Latvia. The document authors marked that this is unprecedented expression of solidarity towards the national minorities, especially Russian residents of the EU. Authors of the letter sharply criticize the education reform that takes away from children of national minorities the right to study in their native language.
On the other hand the parliament contradicts itself by rejecting a bill allowing election campaigning only in Latvian.
The matter is in parliamentary election will take part not only Latvians, speaking Lantvian, but Latvians, who speak Russian. Their voices are of great importance either. The authorities had to recognize this and tempered justice with mercy.
After years of oppressing Russian speaking population and violating their rights Saeima committee this month rejected a bill allowing election campaigning only in Latvian.
It turned out that politicians need ethnic Russians to achieve their political goals. They suddenly remembered that Campaigning Law should not promote discrimination because publicly active people should not have problems using the state language.
"Wise" deputies understand that Russian speaking children are not going to participate in the elections while Russian speaking adults can seriously damage political plans. Only this can explain the controversy in the Parliament's decisions.
In Russia Riga's decision to transfer the schools of national minorities to the Latvian language of teaching considers as unacceptable and could cause introduction of special economic measures against Latvia as well as condemnation by the international community.
So, Latvia's on-going war against its residents also could become a reason for deterioration in attitudes not only with Russia but with EU and OSCE that will have unpleasant economic and political and even security consequences for Latvia. It is absolutely clear that making unfriendly steps towards own citizens and neighboring states, Latvia can not expect a normal attitude in return.