Terrorism and radical Islam in public perception: myths and truth
In recent years, Russian society has increasingly acknowledged terrorism as a national and global threat. Terrorism, with its significant uncertainty in both the likelihood of occurrence as well as the extent of its consequences, infuses certain public fears and concerns.
There are a number of myths about terrorism and radical Islam, established in Russian society. This article is an attempt to articulate some of myths but not all of them. Among others, I have to emphasize the following: terrorism equals crime, terrorists are mentally ill, all terrorists are Muslims, and US is one of the main sponsors of terrorism.
Problem with the definition: Terrorism as crime
In Russia, terrorism is interpreted as a criminal act, which embraces such illegal actions as hooliganism, burglary, weapon trade, human trafficking, etc. Putin's administration has portrayed terrorists as bandits, members of criminal gangs or criminal elements, and used these notions interchangeably. In fact, the Russian government demonstrated a flexible approach to "terrorism": during the second Chechen war, people who advocated for the independence of Chechnya were demonized as "criminals", "terrorists" and "bandits". For instance, in 2012, during the meeting Putin reported that " … during last months, the FSB, military forces and police conducted joined operations, where they detained 479 bandits and killed 313 terrorists, which did not want to obey…" . In the speech after the Boston bombing of 30 March 2011, Putin called the brothers Tzarnaev criminals but not terrorists!
However, terrorism is more than a run-of-the-mill criminal action. Underlining the political aspect of terrorism, Russian politicians rarely refer to its ideological base, which makes hard to compare terrorists with other criminals. On one hand, the majority of people do not observe religion as an important part of social life, and as a result, Russians are ready to equalize terrorists and criminals. On the other hand, in the Russian mind, Islam is connected to terrorism; they barely understand this connection which leads to stereotyping and the oversimplification of terrorism as a phenomenon (all Muslims are terrorists; All terrorists are Muslims). In part, this can be explained by the atheist Soviet heritage, the inability of the Russian Church to raise its reputation within its own population, low interest in religion, and the absence of knowledge about Islam and its radical sects. For instance, according to the Levada survey of 2015, 26 % of respondents stressed that they have no knowledge about Islam and Muslim traditions.
Terrorists are mentally ill people
Our media was not perceptive about how frequently and in what way it presents terrorism. So, discussing terrorism, a common speculation that people hold is that 'terrorism is a sign of insanity or mental illness or that terrorism is a mark of a lunatic fringe. This suggests that terrorist behavior is only adopted by deranged individuals with poor education, detrimental habits (drugs), criminals, or people with a criminal past. Sergei Goncharov, a Chief of "Alfa" Veteran organization and a deputy of the Moscow city Duma stresses that terrorists are irrational actors which are stimulated by drugs or antipsychotic medicine. The same suggestions of psychological abnormality were expressed by the following political figures such as Zhirinovsky , Zyuganov, Putin, Patrushev , etc. Nonetheless, the reality is different. Alla Saprikina, a suicidal terrorist, had a high education and worked in the Russian Theater in Dagestan. Doku Umarov had an engineering degree. Zakaev Akxmed had a university degree. Such perception leads to misconceptions about terrorism of terrorism and its nature.
All terrorists are Muslims
Interestingly, people that participated on multiple Russian TV reality shows, (including Orthodox clerics, common people, intellectuals, political figures) do not take reports about Russian terrorists (converts to Islam) seriously. Despite the high involvement of Russian coverts in terror attacks against Russian citizens, there is no concern to raise this issue or discuss it. Several documentaries, produced by the most popular TV channels, reveal detailed information about converts' activities in radical organizations, views, testimonies of relatives, friends and coworkers. But they failed to ignite a public interest to this problem.
Despite the fact that the number of Russian converts to radical Islam is not very significant, they present a threat to national security, as well as to the image of the entire Muslim community. Some Muslim clerics and scholars underline that converts were engaged in more ferocious actions than ethnic Muslims . They suggest that the conversion of Russians to Islam is a dangerous event because non-Muslims often join to radicals . Dmitry Sokolov, Anna-Amnat Saprikina, and Vitaly Razbydko – these Russian converts are well known in Russia. Although, there is a litany of Russian converts who conducted terror actions against innocent people.
The US is one of the main sponsors of terrorism
In many speeches Putin, Patrushev, Medvedev, as well as military experts, and hosts of shows underline the decisive role of the US in sponsoring terrorism and rejecting beneficial cooperation in the count-terrorism field. They have tried to deliver and incorporate the idea about the US helping terrorist groups and organizations which challenge the unity of the Russian Federation through emotional appearances, images, expert's opinions, or public speeches. To support these speculations, people are referred to 9/11. Shortly after the attack, the media circulated various conspiracy theories (for example, Dylan Avery and Jason Bermas).
Politicians made direct and indirect statements about US double standards in the international stage and support to certain terrorist organizations. For instance, Patrushev repeatedly underlines the dubious role of the leading Western democracies and in particular, the US in the global fight against terrorism. Such statements allowed common people to make wrong conclusions.
Worth noting is that the traditional anti-Americanism of the post-Soviet society, which is now revived, made the people ready to accept the most unreal falsifications. For instance, during the TV reality show "Vockrecnij Veter c Vladimirom Colov'evim" in May 2013, an Islamic cultural leader, Djemal received a higher online score among Russian audience than his opponent, Professor Satanovcky; Djemal stressed that Bin Laden was not killed by the US troops, and that this military operation was another concocted story for American voters .
These myths prevent a clear comprehension of the reality and modern threats in this fast changing world. On one hand, under the burden of these assumptions, Russian society cannot adequately address security concerns to the authority. On the other hand, the government receives an opportunity to manipulate by wrong assumptions in order to strengthen control over its people.
Who are the Real Terrorists in North East Syria?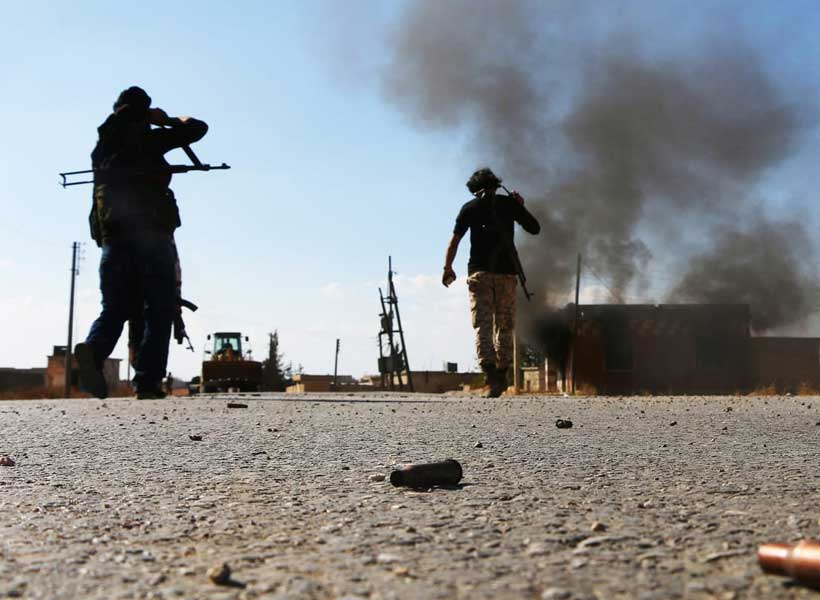 Earlier this week President Trump abruptly changed course and green-lighted a Turkish incursion into north east Syria with disastrous results. The subsequent invasion has unleashed a hellish nightmare of carnage and chaos in what was a dangerous, but relatively peaceful, area governed by the Syrian Democratic Forces (SDF) who had just defeated ISIS territorially.
In recent days, over 30 civilians—including Kurds, Christians and minorities, and very young children—have been killed in indiscriminate Turkish bombings and mortar fire. Likewise, the UN reports that over 130,000 Syrians have suddenly become displaced, fleeing Turkish violence. In addition to these massive displacements, Turkey insists that it will forcibly repatriate 1 to 2 million of the 3 million Syrian refugees it is currently housing back into the SDF-held areas it is now overtaking. That 83% of these Arabs never lived in the areas they are to be forcibly resettled in, begs the question of whose homes and lands will they be overtaking?
Turkey claims to be fighting a terrorist group and wanting to clean their border area of terrorists, but the pictures coming out of northeast Syria instead make Turkey look like the terrorist aggressor. Countless photos and videos, many of them validated, circulate of Syrian civilians lying bloodied and dead on the ground while their family members wail unconsolably. Hevrin Khalaf, a female, and the Secretary-General of the pro-Kurdish Future Syria Party, is reported to have been dragged from her car and assassinated by Turkish-hired thugs who said while filming her corpse, "this is the corpse of pigs." Likewise, video footage of bearded mercenary soldiers backed by the Turks, shooting their Kurdish captives while calling them "kufar scum" (unbelievers) are said by U.S. forces to appear authentic. If so, these actions are war crimes.
These bearded assassins, backed by Turkey are likely the same unemployed ISIS, al Nusra, and other former jihadists still happy to kill in the name of Allah, who Turkey used to clear Afrin in 2018. Indeed, they have shown a brutality akin to their mother groups, some even shouting ISIS slogans as they kill, such as "Baqiya wa tatamadad!" meaning we (ISIS) will remain forever, and expand.
That Turkey would use former ISIS cadres to fight the Kurds is no surprise, given they worked closely with ISIS to try to quell the Kurds early on in the Syrian conflicts and continue to see their interests in destroying Kurdish power to lie with militant jihadist and Islamist groups. An ISIS emir that ICSVE interviewed in 2019 went into great detail about his work on behalf of ISIS, about how he negotiated with the Turkish MIT and military regarding border entry for the 40,000+ foreign fighters that streamed across Turkey into ISIS-controlled areas of Syria, agreements for sending wounded ISIS fighters back into Turkey for medical treatment, supplying water for the Tabqa dam to provide electrical power for ISIS, and so on. According to this emir, even then, Turkey was insisting on a buffer security zone. Now it appears they will go to any lengths to get it.
Meanwhile, General Mazloum Kobani Abdi told U.S. Ambassador William Roebuck, the U.S. Deputy Special Envoy to the Global Coalition to Defeat ISIS "You have given up on us. You are leaving us to be slaughtered." He also asked in confused despair how the U.S. could also insist that the Kurds not turn to others, like the Russians for support, effectively boxing them in for slaughter.
When ISIS foolishly attacked Kobani in 2014, the Kurdish People's Protection Units (YPG) and Women's Protection Units (YPJ) rose up and fought valiantly and since 2015, they fought with U.S. military backing, to defeat ISIS. They have been our "boots on the ground", sustaining most of the casualties and doing all the heavy lifting in defeating a global foe. While U.S. forces lost less than 20 troops after they aligned with the Kurds to fight ISIS in Syria, our hardy allies lost 11,000 male and female brave fighters who faced down this global foe.
Indeed, while ISIS was an active force on the ground in Syria, it external emni (intelligence arm), threatened the globe, mounting and inciting attacks in many major cities from New York, to Brussels (where two Americans were killed), to Paris, Nice, Stockholm, London and Istanbul to name but a few.
In serving as our "boots on the ground" forces for the territorial defeat of ISIS, and continuing to battle the remnants of ISIS, the Kurds saved, and continue to save, countless Americans and Westerners from being slaughtered by a heinous force willing to attack, anywhere, at any time.
Yet their current aggressor, Turkey, calls these Kurds terrorists. That picking up arms against ISIS gave them the sudden opportunity to rule a considerable swathe of Syrian land that they had liberated from ISIS is no one's fault, except those who supported ISIS in the first place—Turkish government officials among them. No doubt, the Kurds once in power, made some mistakes, but it is notable how quickly they moved to incorporating minorities into their ranks and transitioning to the Syrian Democratic Forces (SDF) who have had a good record of building a grassroots democracy amidst the ashes of war. That their majority Kurdish leadership may have long-term aspirations to one day become a fully independent Kurdish state should be no surprise, but that they were acquiescing to all U.S. demands upon them to remain within Syria and negotiate some kind of governance agreement with Assad also needs to be noted. The trouble in that regard, is Assad wants to appoint top-down leaders in the area and thereby destroy the grass-roots nature of the Kurdish democracy building. From a position of strength and good governance, with U.S. backing behind them, the SDF had a chance of becoming a real island of democracy, perhaps even one day spreading such, within the Syrian state.
In the meantime, with ISIS defeated territorially, ISIS is still far from total defeat. In recent months ISIS has been attacking on a weekly basis in both Syria and Iraq, and the SDF were busy rounding up ISIS sleeper cells while also holding more than 70,000 ISIS prisoners and their family members, thousands of which are from European and Western countries who have refused to repatriate and bring them home to justice.
Now, amidst the chaos unleashed by Turkey, up to 800 ISIS cadres have escaped when their prison was shelled, with hundreds more ISIS women and children escaping from their bombed and burning camps. Where they will run to amidst the chaos is uncertain, but Turkey and beyond, is certainly a possibility given that when cornered in Hajin, and later Baghouz, SDF leaders told ICSVE that ISIS leaders were asking to be bussed out of Syria into Turkey—presumably believing they would be welcomed into a country that had helped them in the past.
500 of the worse ISIS cadres are said to have been transferred by U.S. forces from Syria, into Iraq, and possibly more will befall the same fate. For those of us who still believe in human rights and rule of law, even when applied to ISIS cadres, it's unfortunate that in Iraq these prisoners—many of them Westerners—can expect forced confessions, hurried court proceedings and almost certainly sentence of life imprisonment, or death, based on very little, if any, evidence presented against them. Whereas, in our ISIS interviews conducted in SDF territory, with 100 of the ISIS foreign terrorist fighters, the prisoners stated that they were not being subjected to torture and were fairly treated by the SDF. Likewise, the SDF was working patiently, including in efforts with ICSVE, to gather testimonies and data to prod Western countries into action that have been reluctant to take their ISIS citizens home for prosecution.
While the SDF could only do its important work with U.S. support, this support was not costing us much. Few troops were deployed on the ground and our air support was operating out of Iraq, where it is likely the U.S. forces will stay for some time. That we should not involve ourselves in endless wars or that the troops need to come home is something most agree with, but how and when is also of great importance.
Any U.S. withdrawal of support for the SDF should only occur because they are no longer serving our interests and must take place in a planful and secure manner without allowing for an all-out slaughter of civilians or of the allied forces who, by fighting ISIS, saved Americans countless lives.
Given that the Kurds sacrificed greatly to defeat ISIS territorially on the ground, and when in power, began at once to build one of the only democracies in the middle east that is respecting minority rights and following Western rule of law, while being surrounded by dictatorial and corrupt regimes, it seems we should have continued to give them our full support. Instead Trump has unleashed Turkish forces on a group that Turkey universally treats as terrorists and is willing to violently displace and kill. This sudden betrayal of our loyal allies is a matter that needs to be quickly resolved in Washington, D.C.
Our American ideals, and our reputation as stalwart and reliable allies, are at stake right now, and this disastrous decision needs to be reversed immediately.
From our partner ICSVE Brief Reports.
Strategies for combating international terrorism in Central Asia
After the collapse of the Soviet Union, Central Asia has been cast as the site of a new "great game". Central Asia has been largely influenced by international developments and the emergence of persistent sources of instability and tension in other parts of the world, including the Middle East and North Africa. Some states in the region have succeeded in expanding their relationships with other actors. For example, Kazakhstan has tried to advance its goals by participating in important international issues and designing appropriate policies. Although Kazakhstan has succeeded in this path, most of the countries in the region face major challenges.
At the moment, Central Asian states are facing serious menaces to their security from various challenges like drug trafficking, water disputes, religious fundamentalism and expansion of terrorist and takfiri groups such as ISIS.
Given the increased risk of terrorist groups infiltrating the region, the key question is: "What strategies exist to counter international terrorism in the Central Asian region?" This study suggest that an integrated long-term strategy is an effective and comprehensive way to combat international terrorism.
Central Asia and international terrorism
The war in Syria and Iraq has significantly altered modern terrorism, with radical Islamic militants from Central Asia being no exception. Most importantly, for the first time travelling outside of the region to fight in the ranks of militant and terrorist organisations became a mass phenomenon. In Syria, the radical Islamic militants from Central Asia have established terrorist organisations of their own. These terrorists have Salafi-Wahhabi inclinations and are among the backers of al-Qaeda, al-Nusra Front, and Daesh Takfiri groups. They have turned into a potential threat for countries in Central Asia as these international and organized terrorists may one day find their way to other regions and states after Syria.
Activities of extremist networks which send their members and devotees to Syria have a determining role in the region. Many of the foreign rebels operating in Syria had links to these groups in their own countries. A portion of them are being encouraged by their relatives and friends in Syria to join the ranks of the Takfiri militants, especially older brothers motivate the younger ones to join the terrorists.
The terrorists' method for recruiting forces is almost the same in most of the countries in the Central Asia. They usually do this through local sources and Islamist groups and organizations that have close ties with al-Qaeda, Salafists and Wahhabists. However, this is not done openly.
A number of terrorist groups are tasked with recruiting individuals to send them to fight in Syria. In fact, all terrorist groups, including al-Qaeda and the al-Tahrir Party are busy with the recruitment. The Takfiri groups of al-Nusra Front and the so-called Islamic Jihad Union are also employing nationals from Central Asia. In some countries, the process of employment is done through indigenous people. For instance, one-third of all Kyrgyz people who have traveled to Saudi Arabia in pursuance of religious education have turned into extremist Salafi-Wahhabi preachers in Kyrgyzstan. That is why today the Kyrgyz are employing their people to prevent this.
The Challenges of Combating Terrorism in Central Asia
Fighting terrorist threats in Central Asia is a complex issue. To counter these threats, Kazakhstan and other Central Asian governments have been reevaluating their national counter-terrorism strategies. Counter-terrorism cooperation under the Collective Security Treaty Organization and the Shanghai Cooperation Organization has its limits because not all the Central Asian governments are members of the organizations. Also these strategies have been mainly established to counter-terrorism within the member states, not the ones stemming from other regions.
On the other hand, some external actors play a destructive role in improving the security situation in the region. Indeed none of the great powers are not serious fight against terrorism. At present, the security conditions of the region can be made more complicated for several reasons:
First, the spread of terrorism and extremist groups;
Second, U.S. competition to increase penetration;
Third, ISIS's willingness to be present in the region;
Fourth, the presence of people from the countries of Central Asia, Afghanistan and Pakistan in the ranks of ISIS militants in Iraq and Syria;
Iran and Fighting Terrorism in Central Asia
The rising threats of extremism in Central Asia represent a strong menace for Iran interests. Due to the increasing presence of ISIS forces in Afghanistan, the security of Central Asia remains a top priority on the Iran security agenda. The Iran-Central Asia Strategy should include in its objectives the challenges of foreign fighters and radicalization, drug trafficking and organized crime, and conflicts that require cooperation between Central Asia and Iran.
No one and no country can deny the constructive and positive role of Iran in fighting the scourge of terrorism in the region and the world. Iran's efforts and assistance to regional countries have helped reign in the violence and bloodshed of ISIS terrorist group in various parts of the world by bringing the self-proclaimed statehood of ISIS to an end in Iraq and Syria. The Islamic Republic of Iran will continue to advocate dialogue, cooperation and trust among regional countries as the only viable way to end terrorism and devastating wars in the Middle East. In result no country would benefit from weakening Iran in the region.
In the past years, Iran has acted as a buffer zone and has prevented the entry of terrorist groups from Middle East to Central Asia. Iran has always tried to fight with terrorist and takfiri groups. Among foreign actors in the region Iran and Russia have a good cooperation in the fight against terrorism. Iran and Russia are winning the Fight against Terrorism in Syria. Undoubtedly Iran and Russia can offer their experience in combating terrorism to Central Asian countries.
Conclusion
No doubt, security, peace and respect for the sovereignty of countries, as well non-interference in their internal affairs, and an effective fight against terrorism without double standards will be in the interest of all countries in the world.
Fight against Terrorism Requires a holistic and coordinated approach. For the implementation of the international Counter Terrorism Strategy in Central Asia need a Regional Joint Action Plan. Integrating counter-terrorism strategy to political, economic and social development policies is an important part of the comprehensive approach.
In order to combat terrorism in Central Asia, there are a few issues to consider:
1. All States in region to combat terrorism must take coordinated action.
2. Fighting terrorism in Central Asia will not succeed without creating peace and stability in Afghanistan.
3. Combating terrorism requires the formation of a regional and international coalition with States that really have a concern for countering terrorism, not the countries that have been sponsors of terrorist groups.
4. The fight against terrorism requires the use of past experiences in this regard. Iran and Russia have considerable experience in combating terrorism.
From our partner Tehran Times
Fighting Terrorism Online: EU Internet Forum committed to an EU-wide Crisis Protocol
The participants of the 5th EU Internet Forum, hosted by Commissioners Avramopoulos and King, have committed to an EU Crisis Protocol – a rapid response to contain the viral spread of terrorist and violent extremist content online. The Commission, Member States and online service providers, including Facebook, Twitter, Google, Microsoft, Dropbox, JustPaste.it and Snap have committed to working together on a voluntary basis within the framework set out by the Crisis Protocol, while ensuring strong data protection and fundamental rights safeguards. The EU Internet Forum also discussed the overall progress made in ensuring the removal of terrorist content online since its last meeting in December 2018 as well as how to strengthen cooperation on other challenges, such as child sexual exploitation online.
Commissioner for Migration, Home Affairs and Citizenship Dimitris Avramopoulos said: "Since I launched the EU Internet Forum 4 years ago, it has gone from strength to strength, offering Member States and online platforms an effective framework to work together to tackle terrorist content online. We have managed to build a strong relationship of trust and mutual understanding with the internet platforms. I am pleased with the progress we are making and the remarkable results we have achieved. Today, we are taking this cooperation another step further with an EU Crisis Protocol. With this, we will be ready to act quickly, effectively and in a more coordinated way to stop the spread of terrorist content."
Commissioner for the Security Union Julian King added: "The events in New Zealand earlier this year were a stark reminder that terrorist content spreads online at a tremendous speed. While our response might be quick, it isn't quick enough. The Protocol is an EU response to contain the havoc created by such events – in a coordinated way."
In the aftermath of the terror attack in Christchurch, New Zealand, government leaders and online platforms agreed on the Christchurch Call for Action. On this occasion, President Juncker announced the development of an EU Crisis Protocol in the context of the EU Internet Forum. The EU Protocol will allow Member States and online platforms to respond rapidly and in a coordinated manner to the dissemination of terrorist content online in the event of a terrorist attack.
The EU Crisis Protocol endorsed by the EU Internet Forum today will:
Provide a coordinated and rapid reaction: Member States' authorities, together with Europol, the Global Internet Forum to Counter Terrorism (GIFCT) and online service providers will be able to respond quickly, in a coordinated manner to ensure that the spread of terrorist or violent extremist content is swiftly contained.
Facilitate public and private sector cooperation: In the event of a crisis, law enforcement authorities and online service providers will share relevant information on the online content (e.g., URLs, audio-visual media, and metadata) on a voluntary basis, in a secure way and in real time.
Facilitate a voluntary arrangement: The Protocol does not replace national legal frameworks or existing national crisis management mechanisms. It should apply only to extraordinary situations where those national measures are no longer sufficient to coordinate a rapid and cross-border response.
The EU Internet Forum also discussed the overall progress made in ensuring the removal of terrorist content online since its last meeting in December 2018 and looked at the emerging challenges. This included, for the first time, a discussion on the global threat of online child sexual abuse and exploitation. Cooperation between public authorities and online platforms is key to fight against these horrible crimes effectively. Participants also took stock of the work to tackle the challenges presented by right wing extremism and the radicalising effect of violent political discourse.
Background
The EU Internet Forum was launched by Commissioner Avramopoulos in December 2015 to address internet misuse by terrorist groups. It brings together EU Home Affairs Ministers, the internet industry and other stakeholders who work together voluntarily to address this complex issue. Since its creation, the EU Internet Forum meets annually to take stock of the progress made in removing terrorist content online and to discuss emerging challenges. In 2015, an efficient referral mechanism to flag and remove terrorist content online was created at Europol.
In 2016, at the EU Internet Forum, the industry announced the creation of the "database of hashes" to make removals permanent and irreversible. The database is a critical tool in stemming the spread of terrorist content online. Since its launch, the database has gathered over 200,000 hashes (pictures, videos, etc.) and has helped both large and small platforms to remove such content quickly.
President Juncker announced the development of the EU Protocol in Paris earlier this year when he attended a meeting of government leaders and CEOs of major online platforms that was co-hosted by French President Emmanuel Macron and New Zealand Prime Minister Jacinda Ardern.
A first exercise to operationalise the Protocol already took place at Europol on 11 September 2019.
The EU Crisis Protocol will contribute to efforts undertaken at global level in the context of the Christchurch call, in particular the Crisis Response Protocol as announced in September at the margins of 2019 UNGA.