The Brussels Bombings: What We Can Do
In the face of the attacks in Brussels and Mosul, the wars in Syria, Iraq, Libya and Yemen, the attacks before in Paris, and what seems to be a constant barrage of incidents of violence, terror and war in so many parts of the world, many of us often feel powerless – left wondering what we can do and whether it will ever end or change.
Many of us also – many, many millions and hundreds of millions – want and know that it must change – and that what is being done now, whether by governments or non-state actors like ISIS, isn't the solution, but part of the problem we need to overcome.
Below are 10 actions we can do – short and long-term – to overcome the terror and war we are seeing – in Brussels, in Paris, in Syria, Turkey, Iraq, Libya, Yemen and elsewhere. There are 10. There are many, many more. We would invite you to add comments, suggestions, and additional ideas for action and practical steps. More than that: we would ask and invite you to join us and millions more, and work together to bring an end to cycles of war and violence intensifying rather than solving the very problems we need to address. PATRIR – the Romanian Peace Institute – is committed to practical action and work on the ground with our allies and partners in Iraq, Syria, Libya and Yemen working to end the wars and violence in those countries, and practical action and work to engage governments and people in Europe, North America and elsewhere to change our own policies and actions which are both fuelling and part of the terror and war taking place in these countries and elsewhere. We know though that this can't be done alone. That there are many amazing individuals, citizens, students, parents, journalists, artists, politicians, activists and others around the world who know that terror, war and violence as a response to terror, war and violence are not the solution but a continuing intensification and escalation of the problem. We know this – and so we are reaching out to you to see how we can do more together, and stop it.
10 Actions: Please share these broadly
1. Campaign for a Ban on Weapons Trade & Sales to all countries in the Middle East and North Africa involved in funding wars and attacks on civilians in the area, including Saudi Arabia, Turkey, Iran, Israel and Egypt. Belgium has already led the way with a ban on weapons sales to Saudi Arabia. This should be built on and extended in including a total EU-wide ban;
2. Development of an active, robust international solidarity platform with the people of Syria, Iraq, Libya and Yemen working to end the wars in their countries – including direct / active campaigning within countries in Europe, North America, and through the Middle East and North Africa to end policies of our own engagement in, contribution to, and escalation of wars in those countries. The response of tens of thousands of citizens across Europe to provide humanitarian aid and support is excellent – and needs to be increased. In addition to this though, we need to go several steps further and begin i. active and practical, real support to courageous citizens IN Syria, Iraq, Libya and Yemen working to end the wars in their countries; ii. engage IN OUR OWN COUNTRIES to change negative / violence and war escalating policies and actions which further feed into and fuel wars in the region – and which are themselves leading to wide-spread destruction and civilian casualties; iii. work actively to bring about real engagement at the diplomatic and political levels to bring about peace agreements in Syria, Libya, Yemen and Iraq.
3. Citizens – and governments, media, and social, cultural, religious and other figures – can also do much more to put a narrative and practice of dialogue, celebration and respect for diversity and each other, and positively affirm the values and principles we believe in; and not leave the space principally or only to messages of 'securitisation', 'terrorism' or 'us versus them'. This is not what most of us believe in. This is not what most of us want – in Belgium, in Europe, in North America…and in Syria, Iraq, Libya, Yemen and elsewhere – but we need to be much more active, more creative, more…joyful, inspired, courageous in making that visible.
4. As part of 1, 2 and 3 above, it would be wonderful to hold forums in every major city and in schools and universities across Europe and internationally addressing exactly the issue of how do we address, respond to, and overcome the drivers, conditions and causes of intolerance, enemy images, and all extreme violence, terrorism and war – from states and non-state actors – across Europe, North America, Syria, Iraq, Libya, Yemen and more broadly. These 'attacks' are not happening just in Europe or the United States. European Governments and the US are ALSO themselves involved in carrying out attacks in Syria, in Iraq, in Libya, and in providing weapons for attacks in those countries and Yemen, responsible for killings tens of thousands of civilians in total. In the same way we had a global anti-apartheid movement to support the people of South Africa in the 1970s and 80s, in the same way we've built movements on environment, civil rights, women's rights, and much more, we need a global movement now – and in all of our communities and countries – to transform how the world deals with conflicts, violence, war and "terrorism" – to end constant cycles of violence and policies and measures which are themselves violent and which escalate and intensify violence, and fail in any way to actually solve or address the real issues – and to bring forward real alternatives. It is our lives, our communities, our countries – all of us – that are affected, and it is time for us to change the policies and measures which are escalating this problem from all directions.
5. Creating a single web-site / web-platform which would bring together the best articles, analysis, speeches, videos, tutorials, and good information and sources that can help people 'make sense' of what's happening and why, and also show what we can do – in our communities, internationally, together – and help people creatively share ideas, encourage action, inspire engagement, would also be an important step. There are SUPERB materials, videos, publications, articles out there, and a lot of good and great work being done, but all too often we're simply not aware of it, or don't know where we can find it or how we can get involved. A good, multi-lingual web-site which could be a resource for people in Europe, the Middle East, North Africa, North America and more broadly would be a great platform to help support and catalyze efforts.
6. There's also this summer a 'Global Youth Rising' gathering at which activists, movements, organizations and citizens passionately involved from across Syria, Iraq, Libya, Yemen and all across Europe, North America and internationally are coming together for 10 days to look at what we can do in our own communities and countries and what we can do together globally to end these wars. People interested, passionate, engaged are welcome to come and be part of this (https://www.facebook.com/groups/GlobalYouthRising/). You can also help by helping to fund those coming from Syria, Iraq, Libya and Yemen to make their participation possible.
7. Another great step, in our communities, schools and universities, would be to organize a global week of action in which we foster and promote events, discussion, sharing, workshops and training on how to deal with the wars in Syria, Iraq, Libya and Yemen; how to deal with our own countries', militaries, and weapons companies' contributions to these wars, and what we can do – as citizens, as students, as human beings – to help change these policies and end them.
8. Going further from this – it would be good to have an international forum before the end of 2016 to bring together organizations, activists, movements, peace workers to take our work on making all of this happen to another level.
9. And, for the immediate, medium and long-term: working to have peace education introduced as part of core curriculum into all of our schools and education systems world-wide.
10. A real challenge at this moment are also the 'security', 'military' and 'academic' experts, media and government officials, some / many of whom respond with 'stock' answers of increased securitisation, monitoring, restrictions on civil liberties and freedoms, and increased support for war and armed attacks in the region. Like hate speech and extremism everywhere, this should be actively challenged and not simply accepted as 'expert' advice – often by experts who have never been in the region, often promote quite extremist views, and who's 'recommendations' have in many cases been proven time and time again to be the problem, not part of the solution.
We are not powerless. We are not alone. We do not have to sit back and feel that nothing can be done. We are each of us. We are all of us. We are many, different, beautiful and wonderful – in Syria, in Belgium, in Iraq, in France, in Libya, in the United States, in Yemen, in Italy, in….every home, school, office, community and country around the world.
We have as a species overcome incredible injustice, violence, tyranny and oppression in the past. Wherever there has been 'wrong' there have been those who with creativity, courage, love and passion have struggled to help overcome it and work for better. We can do this – with respect, with sound, intelligent, real solutions that actually address and solve problems rather than making them worse. With action. Like marshalling our resources to respond to the outbreak of Ebola, we need to marshall our resources to respond to, overcome and transcend the war making, war intensifying, war fuelling policies of terrorist attacks – from airforces and suicide bombers, from politicians and 'extremists' of all shapes and stripes, whose answer to killing and war is killing and war.
This is the moment at which the candles we light…for New York, for Baghdad, for Paris, for Raqqa, for Misrata and Bengazi, for Ankara, for Sanaa, Mosul and Brussels, become lights that spread from heart to heart and mind to mind, and call us to rise, call us to stand, call us to have a dream and know that a world beyond war, hatred and violence is possible. Call us to act.
And not to stop, until we have changed and overcome this terror-war system. It can be stopped. It will be stopped. We are the ones who must stop it.
The Legacy of Abu Bakr al-Baghdadi
For exactly one month now, Islamic State, ISIS, has struggled without its charismatic leader, Abu Bakr al-Baghdadi, who was killed during a U.S. military operation in a northwest Syrian village of Barisha on October 26, 2019. The main question now is whether it will meaningfully undermine the popularity of the ISIS Takfiri ideology or was this simply the death of a symbolic leader who played only a role in the evolution of Sunni Jihadism?
The month after al-Baghdadi's death
As subsequent events have shown, the violent ideology of Salafi-Jihadi groups has not undergone significant changes. Moreover, ISIS has used al-Baghdadi's death to strengthen its position and has appealed to its supporters to continue the apocalyptic battle with polytheists and other enemies. On October 31, 2019, the al-Furqan Media issued a statement of the Islamic State's new spokesman Abu Hamza al-Qurashi, who confirmed the death of the group's previous leader Abu Bakr al-Baghdadi and prior official spokesman, Abu al-Hassan al-Muhajir. He also went on to announce the appointment of a certain Abu Ibrahim al-Hashimi al-Qurashi as the new "commander of the believers and caliph of the Muslims."
An analysis of this statement by ISIS showed that the main engine of contemporary jihadism is not a specific person, even if he was Caliph himself, but the idea about building the new Caliphate, the fight against idolaters and the idea of achieving the rule of Islam throughout the world. The attractive force, which caused thousands upon thousands of Islamists from all over the world to rush to Syria and Iraq, was not the figure of Abu Bakr al-Baghdadi, rather it was the idea of the Islamic Caliphate. It must be recognized that the professional propaganda machine of the Islamic State has skillfully used Abu Bakr al-Baghdadi's death and eulogized him as a martyr who gave his life for Allah.
Abu Hamza quoted the Qur'an, Surah al-Nisa', "God the Blessed and Exalted has said: 'So let those who sell this worldly life for the Hereafter fight in the path of God and whoso fights in the path of God and is killed or overcomes, We will grant him a great reward' (al-Nisa' 74)."It is likely that the ISIS spokesman quoted the Surah al-Nisa' with the aim of qualifying the death of "the mujahid Sheikh Abu Bakr al-Baghdadi (may God Almighty accept him)" as 'Shaheed' (Martyr).
To die a Shaheed in the path of Allah in the Islamic faith is one of the greatest honors. The concept of Shaheed constitutes the basis of the militant ideology of the Salafi-Jihadi movement. ISIS statement leads to the logical conclusion that Abu Bakr al-Baghdadi fellShaheed on the path of Allah. He was eulogized as a great mujahid, who with the authority of Allah "revived the jihad,"established the Caliphate and the laws of the religion that had been impeded by the "Tawagheet,"(impurity),of the "Arabs and the non-Arabs" and "protected the honor of the Muslims". He was described as a warrior of Allah who "…was steadfast on his religion, going forth and not turning back in flight, a mujahid against His enemies."
Then, the new ISIS representative characterized the new Caliph Abu Ibrahim al-Hashimi al-Qurashi as "the knowledgeable, worshipping, working and God-fearing Sheikh," an indication that he is a connoisseur of the Islamic Fiqh. The statement conveys that he fulfills "…the symbols of the jihad and amir (leader)of war," who fought against the protector of the Cross-America – and inflicted on it woes upon woes."
Apart from this short characteristic from the Quraysh's tribe, to the general public nothing is known about the new Caliph. Analytics and scholars of Islam cannot yet appreciate his ideological views and theological knowledge without his audio or video performances during the Salaat-ul-Jumu'ah. In the midst of this situation, President Trump has tweeted intriguing information, "ISIS has a new leader. We know exactly who he is!"
Abu Hamza claims the decision of the Caliphate's Shoura Council about the appointment of Abu Ibrahim al-Hashimi al-Qurashi as the caliph was taken "after consultation of their brothers and implementing the counsel of the Caliph of the Muslims (may God accept him)." That is, when appointing the new caliph, the testament (wasiyya) of Abu Bakr al Baghdadi himself was also taken into account. The Islamic State's chief mouthpiece wrote, "O Muslims everywhere, rush to pledge bay'a to the Amir al-Mu'mineen and gather around him."
Abu Bakr al-Baghdadi's "Spiritual Gift"isstill strong
As subsequent events showed, the Islamic state skillfully used the "transition period" to expand its harsh ideology of Jihadi-Salafism (al-Salafiyya al-Jihadiyya). The call for Bay'a toa new caliph was heard by supporters of the Islamic state around the world. In early November, almost all the wilayah (provinces) of the Islamic state, which are located in different regions of the Middle East, Central and Southeast Asia, Africa and the Caucasus, swore allegiance to Abu Ibrahim al-Hashimi al-Qurashi.Islamic State supporters around the world are publishing their pictures of the bay'a campaign on the Pro-ISIS Telegram Channels almost daily.Also, the Caliphate's official weekly Al-Naba widely published the process of Bay'a in different countries, which means that the group attaches great importance to the process of "legalizing" the new caliph.The bay'a campaign intended to illustrate the legitimacy and unanimous acceptance of the new leader.
Over the past two years, due to the shrink and loss of territory in Syria and Iraq, ISIS has chosen the tactics of building and expanding its regional branches, the so-called wilayah. As is well known, for the time being, besides Iraq, ISIS now claims to have wilayah in Syria, Libya, Egypt, Algeria, Saudi Arabia, Yemen, Afghanistan, Nigeria, Somalia, Pakistan, India, the Philippines, Chechnya, Mali, Niger, Chad, Cameroon, the Democratic Republic of the Congo, Mozambique, and Turkey. Also, local Islamists in Bangladesh and Tunisia conduct their terrorist activities under the flag of ISIS and the announcement of the wilayat there is a matter of time. The Bay'a campaign had given the Islamic State's wilayahs and underground cells an opportunity to once again assert itself, to update its rigid and hard-line ideology and to launch terrorist attacks in some places.As a sign of revenge for the murder of Baghdadi, ISIS supporters conducted terrorist attacks in Tajikistan, Mozambique, Iraq, Algeria, Syria, Mali, DR Congo, and Nigeria during the month after Abu Bakr al-Baghdadi's death.
The hopes of some ideologists of al Qaeda and its offshoot, Hayat Tahrir al-Sham (HTS), that the death of Abu Bakr al-Baghdadi and the anonymity of the new caliph, could undermine the morale of Abu Bakr al-Baghdadi's supporters in the world and inflict a serious blow on the Islamic State's prospects did not materialize. It seems one of the al-Qaeda ideologists, prominent Salafi cleric Abdullah al Muhaysini, who called al-Baghdadi's death "a glorious night in Muslim history" and urged ISIS supporters to join al Qaeda, was deeply disappointed by the rise of a new wave of al-Dawla al-Islamiyya's(Islamic State) ideology in the world.The Bay'a campaign has now demonstrated the truth, that the death of Al Baghdadi raised to a new level the long-standing competition between ISIS and al Qaeda, the two main Sunni militant groups, for the soul of Islamists in the world.
The new Caliph was challenged not only by al-Qaeda and HTS but also by internal opponents who left the Islamic State and have now become vocal critics.On November 22019, the al-Wafa' Media Agency published two essays under the titles "The Pincers Tearing Apart the Illusions of the Caliphate's Claimants" and "The Collapse of the Fiction" in response to the appointment of al-Hashimi. The authors are Nasih Amin and Ibn Jubayr, who, according to the fellow of the Yale Law School, Cole Bunzel, were former Islamic State scholars.The authors questioned the legitimacy of the appointment of the new Caliph due to his anonymity and they denounced the Islamic State as wayward and illegitimate.They ridiculed Abu Ibrahim al-Hashimi, calling him, "secluded paper caliph" (al-khalifa al-kartuni al-mutasardab).
Indeed, according to the Hadiths, a future caliph is traditionally expected to meet seven qualifications, including being Muslim, male, free (not a slave), a descendant of Quraysh, just, sound of mind and learned, or capable to rule the Caliphate.Both writers decried the Islamic State's new leader for the appointment as caliph a one who is "an unknown nobody" (majhul 'adam).It should be noted that Abu Bakr al Baghdadi was also criticized when in 2014 he declared himself a caliph. Then the prominent ideologists of the modern Salafi-Jihadi movement Abu Muhammad al Maqdisi and Abu Qatada al-Filistini issued written statements against giving bay'a to Abu Bakr al-Baghdadi and strongly called on the Mujahideen in Syria to abandon him. Their calls did not, however, stop the wave of Islamists in different parts of the world who swore allegiance to him, accepted the ISIS Takfiri ideology and made Hijrah (migration) to Iraq and Syria. This time, as the post-Baghdadi period showed, cruel criticism and disqualification of al-Hashimi from the point of view of Islamic law, did not stop the flow of the Bay'a campaign.
What's the Future of ISIS without Abu Bakr al-Baghdadi?
The post-Baghdadi time once again demonstrated that the Islamic State has become a franchise organization with allegiance to a set of aims and ideas, rather than to a hierarchical organization centered upon a single charismatic individual.Therefore, optimistic forecasts should not be built that the bloody path of jihad will stop after the death of the Caliph. Judging by the new wave of the Bay'a campaign, heated disagreement among prominent ideologists of Jihadi-Salafism about Abu Ibrahim al-Hashimi al-Qurashi did not particularly concern the ISIS supporters in the world. Islamic State's ebbs and flows introduced important new ideas to jihadi ideology, most importantly that the ideas of holy jihad are not founded on men, but on creed. Baghdadi's death has further strengthened this idea, and future ideologists of Salafi-Jihadism will likely invoke the Islamic State's background to unite militants around the Jihadi's creed.
Since losing ground in Syria and Iraq, and killing Abu Bakr al-Baghdadi during the last few months, ISIS is likely to change its tactics and strategy of global jihad. Now, it had already started focusing on building and developing its regional wilayahs and underground cells. Its decentralization tactic might divert efforts from the attacks on the West. This does not mean that the menace of ISIS sleeper cells and lone-wolf terrorist attacks in Europe and America has ended.
Additionally, further strengthening of the ideological struggle between ISIS and al-Qaeda could be expected. Today both groups are approximately in the same starting conditions, which existed in 2012-13.The ideology and objectives of the group are similar. The audience, faith environment and potential supporters of both groups are almost the same. Disputes over the timeline of the Caliphate's creation, which al-Qaeda considered premature, turned both Salafi-Jihadi groups into sworn enemies. The fierce competition for leadership among the Sunni-Jihadi movements could only lead to further waves of deadly violence in the world. In reality, al Qaeda and its affiliates remain a threat to the U.S. and its allies in Europe, while the Islamic State attacks are aimed at the Middle East and U.S. interests in Caliphate's wilayahs area.
Conclusion
The ideological legacy of Abu Bakr al-Baghdadi has already become a spiritual tool for Sunni terrorist groups.It will undoubtedly be used to spread the worldview of militant Takfirismand inspire a new generation of jihadists to new attacks. His heritage carries the banner of terror, caliphate, and jihad.His ideology propagates inter-Muslim war, interfaith hatred, and killing of murtads (apostate) and munafiqs(infidel). Al-Baghdadi's legacy teaches us that ISIS Salafi-Jihadi ideology cannot be defeated with bombs alone.
Turkey begins the return of ISIS fighters to Europe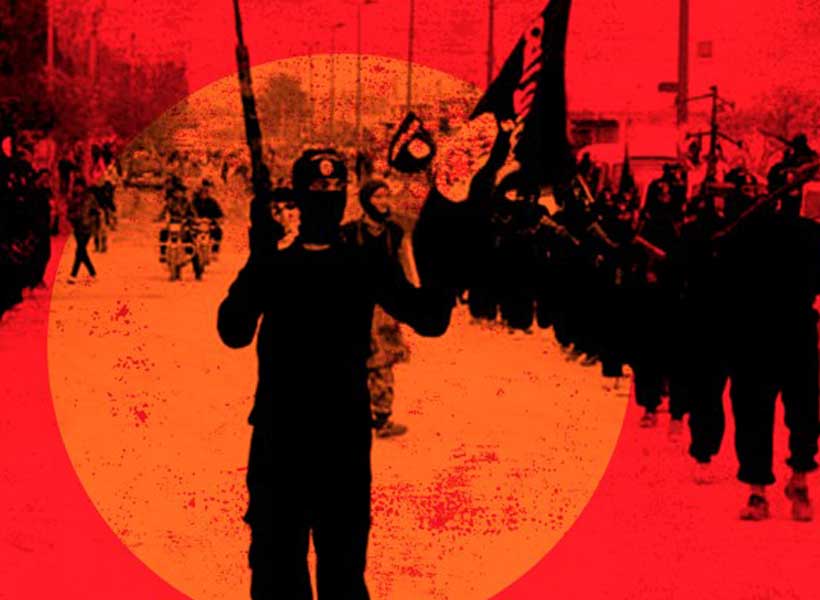 Today, Turkey started sending ISIS fighters back to Europe, as it promised last week.
Europe needs to take responsibility for its ISIS fighters. US President Trump is right on that.
As Turkey's minister of internal affairs said last week, Turkey is not a hotel for foreign terrorists. Europe's jihadists are its own problem to deal with.
What is interesting however is that Turkey has been releasing ISIS fighters from the region that it held in custody. But not when it comes to European jihadists.
With this move, Turkey's aim is to actually punish Europe. Erdogan is doing this out of spite because he knows that this is what Europeans fear the most. It is not Erdogan's priority to try ISIS, as he has shown previously. To piss off the Europeans, yes, that's a different story.
This recent development comes to remind us that Western Europe has a big problem to deal with. The evidence from conflict zones will not hold in European courts which means that authorities might have to let ISIS fighters that still have their citizenship walk free. That is a European nightmare.
This serves to remind French President Macron that France not Bosnia is the biggest jihadist force in Europe. Macron called Bosnia a jihadist ticking bomb in that unfortunate Economist interview but France is the real problem. No other European country has such a high number of jihadist fighters in the Middle East.
Today a Greek ISIS fighter whose citizenship had been stripped was not allowed in Greece upon return from Turkey. We will see that a lot in the coming weeks. The situation of no citizenship will create a legal question of statelessness which will make the return of ISIS fighters also a human rights question.
The Rise OF ISIS and its Aftermath in Afghanistan
"I will see you guys in Newyork".Abu Du'a, the leader of ISIS, whose nom de guerre (war name) was Abu Bakr al-Baghdadi, told his American captors as he was released from a brief detention during Iraq war. After American invasion of Iraq in 2003, Al Baghdadi joined the Arms Resistance against the U.S led coalition troops in Iraq but he was captured and detained in a US. – run Iraqi prison in 2006. Following al Baghdadi's release in the late 2000s, he joined the predecessor to ISIS: the Islamic State of Iraq(ISI). This group initially affiliated themselves with AL- Qaeda, but was later rejected by AL Qaeda due to their brutal acts and it became Islamic State of Iraq (ISI). IN 2010, al Baghdadi became the leader of ISI and changed the name of the organization to Islamic state of Iraq and Syria (ISIS) in 2013.
On 29 June 2014, ISIS declared the worldwide caliphate under the leadership of "caliph Ibrahim" with publishing a statement of supporting al Baghdadi's designation as caliph. This concept of caliphate is mainly based on the universal religion and its ultimate goal is the establishment of Islamic state. This political idea of Islamic state is embodied in the concept of the ummah (community) which says that all the Muslims wherever they reside are bounded by a common faith which transcends all geographical, political or national boundaries.
Many other groups had pledged allegiance to ISIS like the Boko haram in Nigeria, the bait al Maqdis in Egypt, the Islamic movement in Uzbekistan, andthe previous leader of TTP Hafiz Saeed, also pledged allegiance to al Baghdadi in Oct, 2014 renaming themselves as the Islamic state of Khorasan (ISK) in Afghanistan. IS-K's early membership included a contingent of Pakistani militants who emerged in Afghanistan's Nangarhar province around 2010, just across the border from the former Federally Administered Tribal Areas (FATA) of Pakistan. Many of these militants were estranged members of TTP and Lashkar-e Islam, who had fled from Pakistan to escape pressure from security forces.
ISK emerged in different provinces of Afghanistan bordering Pakistan but outnumbered in the eastern province of Ningarhar, Achin district, due to some specific reasons. Achin district is one of the backward, underdeveloped and illiterate regions of Afghanistan which makes its population vulnerable to recruitment as new militants. Moreover, peopled welling in this district joined and supported this new group not only for their Islamic ideology but also for the high salaries of $500 paid by this organization.In the beginning of their journey in the region, ISK dealt people in a soft manner and always refrained from offensive language to encourage and inspire the people to join this militant group.
But with the passage of time, ISK changed its behavior and started the forceful imposition of sharia law. People were prevented from the cultivation of opium which was the main source of revenue for the locals of that region, seized drugs and sentenced drug addicted people, however, majority of their own militants were drug addicts and sold drugs seized from the locals to meet their own financial needs. They introduced numerous fabricated laws that were neither in conformity to national, Islamic nor in conformity with the locals laws. The militants of the group were indoctrinated to such an extent that they were willing to sacrifice everything for the interest of the group. One of their militants, involved in a robbery case, accepted his crime in front of the group's judicial committee. As per the Islamic rules, anyone involved in the robbery would have their hands cut off. Therefore, When the militants were cutting hands, he was chanting ''Allah ho Akbar''-Allah is the greatest.
Taliban and Afghan forces have attacked the Achin district many times but no one of them succeeded in retaking the district from ISK. This region was completely monopolized by this group and they ruled the people according to their own so called sharia law. People started displacement from the region towards Jalalabad, the provincial capital because they were unable to abide by these brutal laws and tolerate the atrocities. Following is a short story which a person told in anonymity about the excessive brutalities perpetrated by ISK in Achin.
"We all flocked outside after Friday prayer, according to announcement in sermon. They brought seven detainees belong to Emirates a Taliban group, Afghan national Army member and spies. All were covered with black ski masks. Meanwhile, an ISIS militant rode on a trained horse, having sharp sword in hands and reached to the spot. He decapitated all of them and shouted "Allah ho Akbar". With the sound of Allah ho Akbar, we all scattered like flies in the air and no one knows what happened. But later on it was realized by people who delivered us to hospital that the place was targeted by a US drone. Many people were injured, and the ISIS militant who was beheading the prisoners was burned by drone attack. I still have the scene in my mind which has really affected me mentally and can't take out those thuds of the sword from my mind when he was beheading those innocent people".
Furthermore, they knelt innocent elders of the Shenwari nation belong to the same district on the bombs accused of in affiliation to the Taliban. A gruesome video also uploaded by them to the YouTube. These kind of brutal acts were the routine of everyday in Daesh or ISK controlled areas.
Afghan Commando assisted by US special forces have been fighting with the ISK in Achin for the last few years and have made significant progress contributing to the liberation of some villages but there are speculations that united states itself is assisting this militant group and supplying food and weapons to them through helicopters which has put the Afghans in doubt. US dropped the " mother of all bombs" – the most powerful conventional bomb in the American arsenal formally known as GBU-43/B massive ordnance air blast on 13 April 2017 on ISIS Khorasan cave complex in Achin district, Ningarhar. According to a statement from the United States military in Afghanistan, the bomb hit a tunnel complex but they didn't say how many militants were killed or whether the bombing caused any civilian casualties. The fact is that it was only an experience of their conventional bomb which is clear from the following statement of the Ex-president of Afghanistan Hamid Karzai:
"This is not the war on terror but the inhuman and most brutal misuse of our country as testing ground for new and dangerous weapons". This claim of Ex-president was further forged by the locals of Achin who stated that there was neither weapons depot nor any single ISIS fighter in the targeted region.
Currently Achin district has been cleared by Afghan Forces from this group but there are opportunities of their return to the region. Afghan Forces should show their strong presence, build the region and rehabilitate former militants. We are the veterans of many regions where US and Afghan forces have operated and lost hundreds of their soldiers for clearing the region but have left the region vulnerable to the insurgents return. Moreover, America should equip Afghan forces with sophisticated weapons to counter these threats. Afghan National Directorate can play a vital role in the dissolution of this group by infiltration of their own spies in disguise.
Moreover, in comparison to ISIS in Iraq and Syria, which have oil resources of about $2 billion and financed by different Arab states, this group is very much dependent on local revenues and neighboring state Pakistan. Pakistan may not be able to support two insurgent groups-Taliban and ISK-simultaneously for a single goal. And the so called jihad vacuum is also filled by Taliban which never want any rival jihadi group in Afghanistan.