The North Korean strategic issue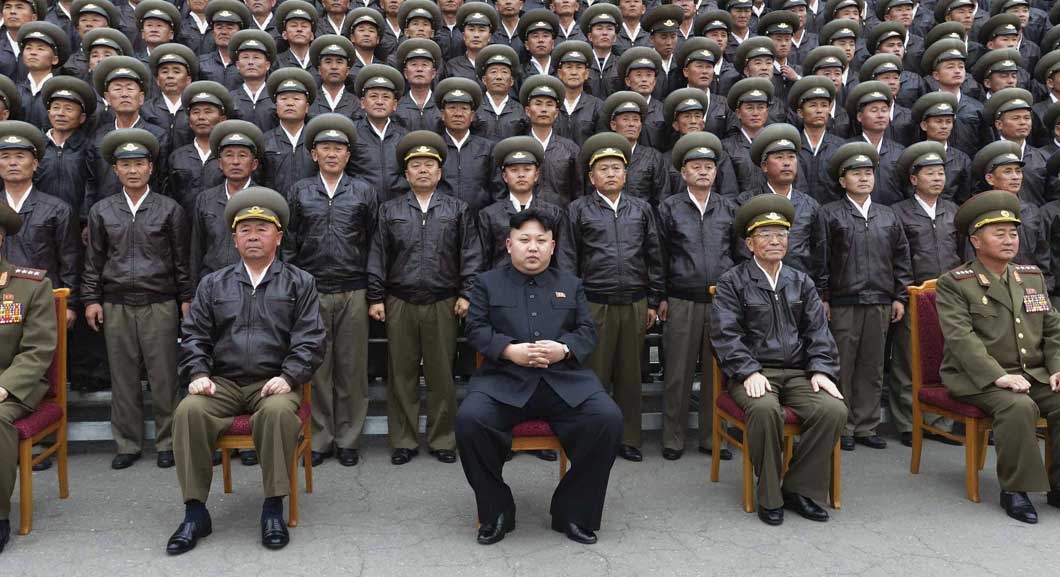 Currently North Korea has turned from a regional threat into an unpredictable global strategic player. This implies that, in the future, we will need to reasonably deal with a Korean power which, however, is anything but irrational in its global choices.
Portraying Kim Jong Un's Korea as a Shangri-La led by an unreliable man is not the truth and does not facilitate the solution of the Korean problem, both in North and South Korea.The fissile material now held by North Korea can be used to build six to thirty nuclear weapons, but what is the North Korean strategy in the use of this atomic arsenal, which is also growing steadily at a yearly pace of 18%, according to the latest data? According to experts, four reasons are used by North Korea to maintain and manage an autonomous nuclear threat which, from a regional area, has a strike range capable of hitting the United States and hence Europe.
The first one is the use of nuclear weapons by North Korea with a view to obtaining international concessions at diplomatic or more directly political levels. What concessions? Certainly the first would be an internationally recognized geopolitical status, perhaps in a stable correlation with South Korea. A status which would enable North Korea to expand its political and economic area in the whole South-East Asia, possibly in connection with the old regional alliances: maybe even the South East Asia Treaty Organization (SEATO), dissolved in 1977, the old " zoo of paper tigers ", as a British diplomat defined it – a zoo which, however, might be rebuilt around the two Koreas.
Currently a network of credible and multilateral alliances must be recreated so as to shut in and stabilize the North Korean strategic system, thus protecting South Korea and ensuring to North Korea the stability of its regime. Or a good solution could also be the new alliance recently proposed by China for Central Asia, with Pakistan, China, Afghanistan and Tajikistan: a grouping created to counteract the loss of Russian rayonnement in the region, which could be extended to the coasts of North and South Korea so as to incorporate them within a context of reasonable and, above all, credible checks and balances.
Through Xi Jinping, China has warned the Asian regional powers against building new military alliances, proposed over the last few years especially by the United States. Nevertheless China, with its recent Conference on Interaction and Conference Building Measures in Asia (CICA), has a primary interest in neutralizing and strategically surrounding the offers of military alliance that US President Obama has proposed to Japan, the Philippines and Vietnam.
The tensions that China is facing in Eastern Asian seas and in the regional ones of Vietnam and Myanmar are such as to force it to create external (and independent) alliances compared to the old Shanghai Cooperation Organization, which plays a specifically terrestrial role.
North Korea could even adhere to the SCO and hence China would certainly control, along with the Russian Federation, the North Korean missile and nuclear potential; or it could adhere to a new tripartite alliance, with Russia and China, where the North Korean geopolitics should dissolve in a wider and well-controlled context.
With a view to preventing the North Korean escalation from going on, it is important to include North Korea in a strategic framework capable of using its power projection and, in particular, securing the borders and stability of the North Korean regime.
Without these credible assurances, North Korea will have a vested interest in managing its role as international free rider, which maximizes the political effects of its nuclear tests and hence makes an agreement with it more difficult and expensive for the other international players.
It is a way to "raise the price" of its collaboration and to focus worldwide interest on its country.
Not to mention the border with South Korea.
For the North Korean leadership, the Korean Demilitarized Zone around the 38th parallel is a constant threat and the last, hateful, relic of the Cold War.
The armistice of July 27, 1953 froze a strategic factor which, today, has no longer international motivations.
The issue does no longer lie for the United States in covering up their presence in Japan and the Pacific. There is no longer need to stop the Soviet expansion into the Pacific on the edge of China.
Today everything has changed, and we must invent new political mechanisms to put an end to the Cold War phase in the Korean peninsula, which is no longer the Russian strategic "tooth" in the South China Sea, as was the case when the link between the USSR and Maoism became problematic.
Hence either an international committee is established for defining a definitive border between the two Koreas, or North Korea is continued to be granted the role of global strategic free rider – a role that North Korea can no longer play with increasing doses of military power and nuclear threat, otherwise it would no longer be credible.
This is certainly not the panacea for North Korea's economy.
Hence, thanks to a global and innovative strategic vision, we must break the North Korean military spiral which, paradoxically, is directly proportional to its domestic economic crisis.
The Neutral Nations Supervisory Commission (NNSC), established on the basis of the 1953 armistice, has now a mere role of communication between the two Koreas, so as to establish reliable relations between them.
Nevertheless, it is not certainly a body which can define a credible geopolitical project – this is not its purpose.
The second of the four aims of the North Korean nuclear build-up is to internationalize the crisis of the Korean peninsula (and of the region) so as to lead to the US or Chinese mediation.
Financial integration between (South) Korea and China – the free trade agreement between the two countries signed last year – is regarded as a threat by North Korea.
Actually North Korea is not entirely wrong: the above stated agreement envisages the creation in Shanghai of a stock market of securities directly traded in the two currencies, namely the won and the renminbi. It also envisages that the South Korean government may issue bonds and securities of its own sovereign debt directly in denominated in the Chinese currency – securities which can be later sold on the large Chinese financial market.
Therefore we can imagine a way to internationalize the North Korean sovereign debt on the Chinese or Russian markets, so as to stabilize the North Korean economy, thus making the Chinese and Russian strategic assurances stop the North Korean nuclear race.
A new Treaty between North Korea, South Korea – which is experiencing a period of financial deleveraging of foreign investors, or a capital flight which is also a form of economic war – the United States, the People's Republic of China, the Russian Federation and, inevitably, the now useless European Union.
This group of countries should also be joined by Japan and the Indian Federation.
This Committee should establish: a) the internationally recognized border between the two Koreas, thus explicitly putting an end to the alleged hegemony claimed by both countries over the entire Korean peninsula; b) a joint North and South Korean Committee for economic development; c) a military committee supervising the North Korean military nuclear development, with the possibility for Russia – as was the case with Iran – to manage part of the fissile material; d) an international agreement for managing the North Korean nuclear material, which would be reached in the region by Russia and China.
Obviously with the guarantee of the North Korean national sovereignty.
For international analysts, a third reason for creating and expanding the North Korean nuclear arsenal would be the response to possible military attacks threatening the existence of the North Korean Party and State.
This is still a commitment of the Conference we propose, which should explicitly deny any political and military thereat against the North Korean regime, by gradually accepting it into the mainstream of international alliances and organizations.
A normalization which is good for everyone: for the United States, which will save on the deployment of their forces in the Asian region; for China, which will rebuild a preferential relationship with North Korea; for Russia, which could have an interest in developing economic and strategic relations with North Korea .
For Russia, which sets great store by trade with South Korea, the security of the North-Asian system must be ensured by a wide network of multilateral partnerships in various sectors: energy security, nuclear energy, transport safety, food safety and, finally, a multilateral guarantee on information security.
This is the right basis to start.
Finally, the fourth reason analyzed by experts to justify the North Korean significant nuclear build up is to offset, with nuclear weapons, the inevitable structural and conventional weakness of North Korea in relation to the United States and South Korea, two powers which, at various levels, are far superior to North Korea in terms of updating and quantity of their conventional forces.
We could even imagine a series of confidence building measures, managed by the Conference we have proposed, designed to simultaneously reduce the North and South Korean military potential and, hence, reshape the US strategy throughout the Pacific region in relation to North Korea.
This can be done if there is the political will and the effective presence of Russia and China. It is worth trying.
China & Nepal working towards a genuine good-neighbour tie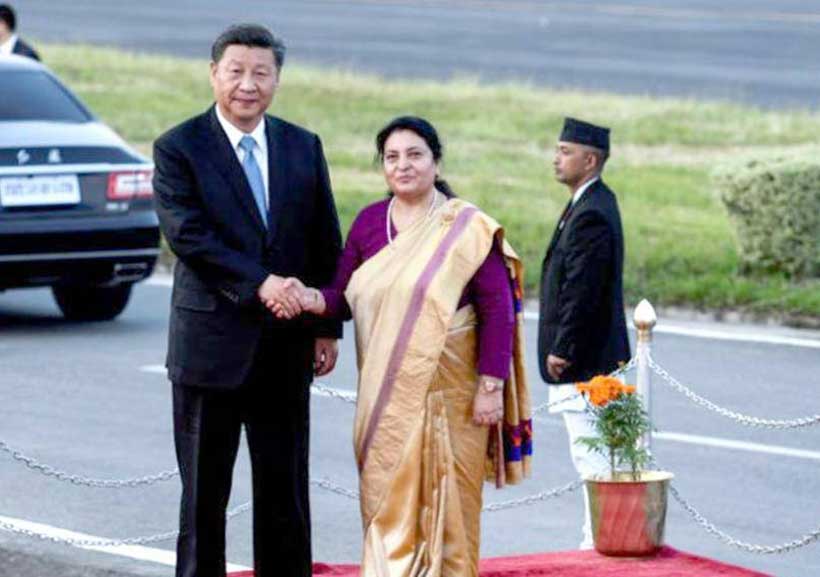 Authors: Himal Neupane & Jamal Ait Laadam
Although China and Nepal are very different in terms of each territorial size, population, economic capacity, technological prowess and above all military power, the bilateral relations between them have been undergone consistently and significantly. Since 1955 when China and Nepal formally recognized each with, their bilateral relationship has been characterized by equality, harmonious coexistence, everlasting friendship and overall cooperation. Particularly during the past over 40 years, China and Nepal have undergone substantial developments in view of mutual understandings. For example, in 1996 the two sides for the first time agreed to build up a good-neighbour partnership of the 21st century.
In line with this spirit of mutual respect and equality, Chinese President Xi Jinping paid a state visit to Nepal on October 12-13, during which the heads of the two states formally announced that they elevated the China-Nepal Comprehensive Partnership of Cooperation to Strategic Partnership of Cooperation in light of their many common values to enhance cooperation It is reported that President Xi frankly said Nepal wouldn't be a landlocked country in the future as the trans-Himalayan connectivity network ultimately will support sustainable development and stability of the entire South Asia region. This is not only a promise from a large neighbor, but also a sort of responsibility from a rising major power of the world, which aims along with other parties, either large or small, to create an international community of shared future.
Accordingly, on October 12, Nepal and China signed 18 memorandums of understanding and two letters of exchange. The priority was laid down with a focus on the implementation of signed agreements and acknowledged policies. Besides, they also reaffirmed the commitment to broaden the level of cooperation under the spirit of the Belt and Road Initiative (BRI). Moreover, China and Nepal have agreed to enhance connectivity through ports, railways, roads, aviation and communications within the broad framework of the BRI and the Trans-Himalayan Multi-Dimensional Connectivity Network which are of strategic significance. As Chinese President Xi put it, "our two peoples have shared weal and woe, and set an example of friendly exchanges between neighboring countries, and we would act to carry forward the traditional friendship and take the bilateral relationship to a new and higher level via his state visit to Nepal.
For sure, nothing is free in the realm of international politics as the realists argue what China and Nepal need from each other are their common geopolitical and geo-economical interests? This kind of inquiry is sensible and also cynical. In fact, historically China and Nepal had been at good terms for a few centuries, and during the British colonial era, Nepal actually acted as a natural buffer state between imperial China and colonial India. Since 1949 when the People's Republic of China was founded soon after the independence of India, Nepal ended its isolation and forged amicable ties with India and other countries. Initially, Nepal had close ties to India in terms of culture, ethnics and even military affair, but it never accepts external domination. In 1955 Nepal formally recognized Beijing as the legitimate government of China and since then, it has consistently supported China in foreign affairs. Meanwhile, China has offered economic aid to Nepali reconstruction in a gradual way.
However, since the 1980s, China has steadily transformed itself into the second largest economy of the world with its alarming manufacturing capability and progressive technologies. Due to this, China has provided more assistances to Nepal and other neighbours to share Chinese public goods, especially in terms of the infrastructure projects and alleviation of poverty. For example, President Xi announced in 2018, "In the coming three years, China will provide assistance worth RMB 60 billion to developing countries and international organizations participating in the Belt and Road Initiative, and contributing an additional RMB 100 billion to the Silk Road Fund." As a developing country nestled in the heart of the Himalaya, Nepal surely needs to expand its infrastructure through involving itself into the BRI with the view to exploring and finally harnessing its huge potential sources —hydropower—for export.
Strategically speaking, China needs to maintain its border areas peaceful and stable in light of its "NEWS strategy" that means while China tries to consolidate its entente partnership with Russia on the North and pacifying its East coast, it necessarily aims to sustain the BRI projects to the West and the maritime silk route to the South. This is the core of the NEWS strategy initiated by the Chinese elite since President Xi took power. Consider Nepal's strategic location and political stability, China is sure to promote the bilateral ties as the two previous MOUs were signed in Beijing including to rebuild Chinese—Nepali transit road network agreements. It will help northern Himalayan areas get an alternative transit route and also facilitate the local economics, as much important part of the BRI as the economic corridor between China and Pakistan. Moreover, since 2016, a freight rail line was even completed linking Lanzhou, a heavy industrial city in the West of China through Xigaze in Tibet, down to the capital of Nepal. This is a truly strategic pivot of the grand BRI project.
To that end, President Xi revealed to his Nepali counterpart Bidhya Devi Bhandari that the two sides should work closely to carry out the construction of a trans-Himalayan connectivity network, and expand exchanges and cooperation in various fields. For her part, Nepali President Bhandari graciously welcomed Xi's state visit to Nepal and stressed that the rise of China backed up by its modernization drive will help bring benefits to Nepal and promote regional peace and prosperity. In light of this cordiality, the two governments issued a joint statement on Oct. 13, agreeing on more practical cooperation in the new phase of bilateral relations. For a few key points serve to inllustrate that first, the two sides agreed to take the BRI as an opportunity to deepen mutual benefits in arious fields including the Kathmandu-Pokhara-Lumbini Railway Project. Furthermore, cooperation will cover the Zhangmu/Khasa port, the Lizi/Nechung port, and the three North-South corridors in Nepal. Second, the two sides will hold comprehensive discussions to strengthen trade relations, including to take positive measures to increase Nepal's exports to China and to facilitate Chinese banks to open their branches and other financial services in Nepal. Last, China promises to help Nepal shake off the status of being a least developed country and achieve the sustainable development goals in the next two decades.
Since states are committed to each other by the nature of the world in which they exist, any close cooperation between China and Nepal is never bilateral only, that means there is always local, regional and international concerns, suspicions and even hostilities towards either China or Nepal or both. Geopolitically, India is the first power, understandably, to feel uncomfortable if not angry. This is the reason why President Xi made his first trip to India prior to his state visit to Nepal, and held comprehensive talks with Indian Prime Minister Modi. Second, China and Nepal also need to coordinate each other deftly to convince other neighbours such as Sri Lanka and Bangladesh that any sort of their cooperation would never be exclusive but inclusive and open all others in the South Asia. Geo-economically, China has reiterated that it would not seek to use its economic or financial leverages to "dictate" the local affairs of the recipient countries. Meanwhile, Chinese companies also need to move in prudently and read the local laws and political norms before jumping into the businesses.
Xi has frequently said, China is the largest developing country and also a learning country all the time. In order to promote China's strategy to link the countries involved, mutual respect and equality are the prior condition to the long-term cooperation. In light of this, it is expected that Xi's state visit to Nepal, the first one by a president of China over the past 26 years, will unlock new strategic opportunities for bilateral relations, as well as positively promote their ties with India by understanding the prospects for trilateral cooperation. It is clear that Chinese-Nepali economic integration through BRI is unstoppable, so it is sensible for India and the others in the region to take the opportunity to extend the proposed high-speed railway between those two all the way south to the nearby West Bengal port of Kolkata to more closely tie the three together in a system of complex economic interdependence. This is a balanced approach to prevent an open rivalry between the key member states of the BRICS and the SCO over their common neighbors. Given this, Xi's visit to both India and Nepal might be the very time to enhance the trilateral understanding among Nepal with its giant neighbor. To that end, Nepal, though a much smaller state compared to China and India, could play positively a role as the bridge for building a more trust-based relationship across this region.
China has showed its willingness to share with Nepal its development experiences, practices and inclusive economic governance approaches. In doing so, geopolitical factors should never be the obstacles for China-Nepal cooperation. Rather, Nepal could serve as a dynamic bridge between China and India, and China and South Asia.
Semiconductor War between Japan and South Korea
Authors: Gleb Toropchin and Anastasia Tolstukhina
In the summer of 2019, a trade conflict broke out between Tokyo and Seoul and the matter is about more than the history between the two countries. The two developed economies have long been locked in a competition on the global cutting-edge technologies market. At the same time, they are links in the same technological chain.
At first glance, the exchange of trade restrictions that is taking place against the background of mutual accusations is nobody's business but Tokyo and Seoul's. Nonetheless, the consequences of the confrontation between the two countries have a global nature. The present article analyses the causes of the disagreements and looks at how the situation may develop
Introducing Restrictions and Removal from the "White List"
Despite the events of the colonial past [1], as well as the current territorial disputes that are so typical of Asia's international politics [2], South Korea is one of Japan's three largest trade partners. Japan exports into South Korea up to $54 billion in goodsThe key commodities include semiconductors and materials for their manufacture
The dependence of South Korean companies on imports of fluorinated polyimides and photoresists exceeds 90 percent, and their dependence on imports of hydrogen fluoride is around 44 percent (although this figure has fallen gradually from 72 percent in 2010)
However, on July 1, 2019, the Government of Japan announced restrictions on the export of commodities to South Korea that are of critical importance for microelectronics, and on July 4, the changes to the procedure came into force
Given the long-established delivery mechanism, such a political step was a surprise for many. The restrictions mainly affected three key materials for the microelectronics industry: fluorinated polyimides, hydrogen fluoride, and photoresists (these materials are used in the manufacturing of semiconductors and display panels). This measure does not mean that deliveries of these materials to South Korea have been completely stopped; however, from now on, it may take up to 90 days to approve transactions. Additionally, Japan said it would be taking South Korea off its "white list" of trade partners. The list includes states that are believed to be safe from the point of view of exporting strategic commodities and that are granted trade preferences
Let us try to understand why the Government of Japan took such steps
Pressure from Taiwanese and South Korean competitors
In 1986, an agreement was signed between Tokyo and Washington that prohibited Japan from undercutting global semiconductor prices. This step was initially intended to make the United States more competitive. However, even in those circumstances, Japan managed to take a significant chunk of the global semiconductor market from the United States in the late 20th century and retain its high positions until the 2010s. However, as early as 2012, experts noted that pressure from Taiwanese and South Korean competitors resulted in semiconductor sales of Japan's four chip-makers, Toshiba, Renesas, Sony and Fujitsu taking a marked dip
Samsung Electronics succeeded in mastering the subtleties of developing technologies just at the right time, while Japan began to lag behind in R&D due to problems with formal education, and its revenues from global sales of microelectronics were falling against the backdrop of falling prices and the high exchange rate of the Japanese yen. Among other causes of this phenomenon, Japanese experts cite the desire to create hi-tech goods without account for high costs, and lack of innovative ideas
Today, South Korea is the leading manufacturer of memory microchips. Samsung Electronics and SK Hynix hold two-thirds of the global market. Additionally, both the United States' Apple and China's Huawei depend on the products produced by South Korean companies. Integrated circuit units account for 17 percent of South Korea's exports (the entire microelectronics sector accounts for nearly a quarter of its exports), compared to less than 4 percent for Japan
An analysis of the global microelectronics market demonstrates that, currently, the market particularly values dynamic random-access memory semiconductors (DRAMS) that hold tremendous significance for such cutting-edge technologies as artificial intelligence, the Internet of Things and robotics. South Korea holds impressive positions in this area as well: Samsung and SK Hynix control 72.8 percent of the DRAMS market and 46.8 percent of the global flash memory market
Reasons for Introducing Restrictive Measures
The East Asia Forum reports that Japan's strategy of opposing Seoul was developed jointly by the country's Ministry of Economy, Trade and Industry, Ministry of Foreign Affairs and Ministry of Agriculture, Forestry and Fisheries. The Cabinet of Ministers subsequently supported these measures, thereby making the key decision to transfer the issue into the political realm
It appears that Japan's decision to impose restrictive measures was prompted by the fact that the country has clearly fallen behind technologically on the global microelectronic market, which negatively affects both the country's economic indicators and its national security
According to the expert June Park, the Government of Japan decided to institute the restrictive measures out of concern for national security, since, in exporting rare materials to South Korea, Tokyo cannot be certain they will be used properly
The Japan Times notes that Tokyo justifies the introduction of increasingly strict export requirements by claiming that confidence in South Korea has been undermined. In particular, some media outlets report that between 2015 and March 2019, no fewer than 156 materials, including hydrogen fluoride, were smuggled out of South Korea. There were also reports of hydrogen fluoride being exported to countries that are under international sanctions (Iran, Syria and even North Korea). Another reason for the restrictions is Tokyo's concerns that South Korea violates intellectual property rights
South Korea denies all accusations. Its arguments are logical: Iran and Syria are friends of North Korea, therefore, Seoul has no reasons to help their regimes. President of South Korea Moon Jae-in called for the differences to be resolved by diplomatic means. However, the talks held on July 12, 2019, in Tokyo did not yield any results. Consequently, Moon Jae-in instructed the relevant agencies to develop reciprocal measures. At about the same time, there were reports of South Korea possibly filing a grievance with the World Trade Organization. As a result, hearings on the issue were launched in Geneva on July 24, 2019
In late July 2019, news broke that Tokyo was considering further restrictions since Japan believes the re-selling of strategic materials by Seoul to be a violation of the non-proliferation regimes regarding both weapons of mass destruction and conventional weapons. In this case, the restrictions would extend to other types of commodities and materials. On August 2, the Cabinet of Japan approved the decision to take South Korea off its "white list" (where the Republic of Korea was the only Asian state), thereby depriving it of trade preferences in regard to the materials mentioned above. The full list exceeds 1100 items
Despite these events, several deliveries of these materials from Japan to South Korea were made in August. However, they did not result in a thaw in bilateral relations. Seoul reciprocated by putting Japan on a restrictive trade list and terminating the military intelligence-sharing pact with Tokyo
"Wu Wei" American Style
China holds leading positions in deposits of rare-earth metals. Moreover, approximately 90 percent of the world's rare-earth magnets are manufactured in China. Japanese companies use China's raw materials to manufacture fluorinated polyimides, hydrogen fluoride and photoresists that are subsequently supplied to South Korea, Taiwan and other countries to be used in manufacturing chips, displays, etc. The circle is complete when these commodities go back to China to be used in the manufacture of finished products (such as smartphones and tablets), creating a sort of a closed-loop. Thus, the manufacture of competitive hi-tech products today is impossible within a single economy, and Chinese companies depend on parts coming from other Asian countries
Tracing the entire technological chain, we can assume that the Japan–South Korea conflict is closely linked to the trade war between China and the United States. South Korea's Samsung Electronics is hindered by the restrictions on deliveries of Huawei memory chips since the latter is under U.S. sanctions. In turn, interrupting the chain of semiconductors delivery from South Korea will slow down the development of artificial intelligence in China. And who benefits from this? This is a rhetorical question
It would seem that the United States should be interested in cordial relations between their allies in the region, allies that form a sort of counterbalance to China and are ideological antagonists to North Korea. The White House, however, intentionally or unintentionally, demonstrates adherence to the Taoist principle of inaction, or "wu wei" (无为 in simplified Chinese), which entails a conscious refusal to act and the assumption of a contemplative stance. From the outset of the confrontation in July 2019, the United States announced it would not interfere in the conflict. Despite individual experts calling upon the United States to act as an intermediary between the two Asian states, Washington did not change its position
We should also note here that the Japanese company Toshiba announced the construction of a facility for the production of NAND-type (from the English NOT-AND, that is, a binary logical element) flash memory devices in Iwate Prefecture in cooperation with U.S. chip manufacturer Western Digital. We can cautiously assume that the United States and Japan are progressing toward a "technological union" in order to defeat China in the race for domination of the semiconductor industry
Public Opinion
Speaking of the impact that the conflict has on public opinion in both countries, we can quote a survey conducted by Japan's Asahi Shimbun in mid-September 2019. Overall, slightly less than one third (29 per cent) of respondents admitted that they had a negative opinion of South Korea. This was far more pronounced among older people, which can be linked to their conservative views and the "proximity aberration" phenomenon (put simply, the older generations remember the events of the 20th century well)
As for South Korea, an anti-Japanese "grassroots" campaign has been launched in addition to the "top-down" process. In the second half of the summer of 2019, slogans『 가지않습니다 사지않습니다 』 (Korean for "Do not visit, do not buy") calling for boycotting trips to Japan and Japanese goods spread on Korean social networks. And it looks like they were successful to a degree. For instance, the Yonhap News Agency reports that the number of South Koreans travelling to Japan in August fell by 60 per cent compared to the same period last year
In the run-up to the 2020 Summer Olympics in Tokyo, the trade conflict has become a reason for manipulating public opinion in South Korea. Additionally, we cannot rule out the possibility that populists use the disagreements between Japan and South Korea to advance their domestic agenda on the eve of the elections to South Korea's unicameral parliament scheduled for April 15, 2020
Forecast: Cloudy in the East
Losses from the Japan–South Korea trade war may exceed $80 billion. There has already been a drop in sales of South Korean semiconductors manufactured by Samsung Electronics and SK Hynix. Moreover, the conflict threatens to disrupt the entire global technological production chain in microelectronics. The expert Robert Farley described this conflict (and the U.S.–China trade war) as "weaponizing interdependence." One of the analysts with The Economist Intelligence Unit called this situation "mutually assured destruction."
The Yonhap News reports that the consequences of the trade conflict have had greater negative effect on the Japanese economy than on the South Korean economy. For instance, in July–August, South Korean exports to Japan have fallen by 3.5 per cent, while Japanese exports to South Korea have dropped 8.1 per cent
The South Korean economy has also suffered against the backdrop of these events. Here, Seoul has only two ways out of this predicament:
-Transitioning to domestic analogues, which LG Display and Samsung Electronics already did in September of this year. Additionally, the country earmarked 2.1 trillion South Korean won in the 2020 budget to overcome the dependence on the export of rare materials from Japan
-Searching for alternative sources of hydrogen fluoride and other rare materials for microelectronics. Media outlets have reported that Russia might be a potential supplier of high-purity hydrogen fluoride. The head of the Korea International Trade Association said that Moscow had offered to supply hydrogen fluoride to Seoul. However, it is not easy for South Korean companies to transition to Russian imports of this and other materials for microelectronics. The physical and chemical properties of the products must be tested for a rather lengthy period of time (upwards of six months)
Apparently, the status quo on the microelectronic market will continue in the short-term, and both parties will seek ways to minimize losses. And we can already see evidence of this. In September and October, the Government of Japan approved deliveries of hydrogen fluoride to Samsung Electronics and SK Hynix
At the same time, if Tokyo and Seoul fail to find common ground in the medium and long term, then the current global technological chain in microelectronics may be dismantled, which will, of course, negatively affect the growth rate of the global economy. However, so as not to end our study on a pessimistic note, let us note that, under the current circumstances, many hi-tech companies around the world, including those in Russia, now have the chance to become new links in the value chain and occupy its niche in microelectronics
From our partner RIAC
[1] In 1910, the Empire of Japan annexed the entire Korean peninsula. Korea essentially became a Japanese colony. The Japanese language and culture were forced onto the Korean people. Up to 200,000 ethnic Koreans served in the Imperial Japanese Army during World War II (including future president of South Korea and "father of the economic miracle" Park Chung-hee). Today, Japanese war crimes are a subject of talks between South Korea and Japan. In 2015, Minister of Foreign Affairs of Japan Fumio Kishida promised 1 billion yen to the victims of violence in compensation, and Prime Minister Shinzo Abe offered a public apology for Japan's actions during the war.
[2] The dispute concerns the Liancourt Rocks, a group of small islets that the Koreans call Dokdo ("Solitary Islands") and the Japanese call Takeshima ("Bamboo Islands"). Back in the early 20th century, Japan claimed sovereignty over these islands; however, following its defeat in World War II, it was forced to abandon its colonial acquisitions. On the other hand, the 1951 Treaty of San Francisco does not mention this territory, which gives Japan formal grounds to dispute the sovereignty of the islands where South Korea maintains military and civil infrastructure.
Future Trends of China's Diplomacy
This year 2019 marked the 70th anniversary of the founding of the People's Republic of China (PRC), and China's diplomacy has also gone through a journey of 70 years. The 70-year history of the PRC can be divided into the first 30 years after its founding and the second 40 years since opening and reform were initiated in 1978. The characteristic of china diplomacy is a responsible nation, rational behavior and the confidence of great power.
China had a clear break with the old diplomacy of humiliation; established a new kind of diplomatic relations with other countries on the basis of equality and mutual benefit; secured an equal position and dignity on the global stage; gained diplomatic independence by safeguarding and strengthening national independence, and protecting national security and territorial integrity; settled the border disputes left over from history with most neighbors by peaceful means, creating a stable neighborhood in general; established strong friendships with the vast majority of developing countries through mutual support; and set up a new diplomatic contingent for seeking the diplomacy of independence. The following are the future expectations of China diplomacy:
Firstly, Deng Xiaoping's directive, "Don't seek for leadership," stays powerful in China's new diplomacy, so China's future diplomacy will keep on emphasizing on the management of the crisis, economic diplomacy, multilateral diplomacy, cultural diplomacy, cooperation, and accommodation while protecting the main national interest. Solving problems and managing crises will stay an important characteristic of China's diplomacy, particularly in its ties with other major powers. Meanwhile, in cooperation with other major powers, China will appear to be more active in managing fundamental global issues at the strategic level.
Secondly, The Chinese government has repeatedly said that China does not have a plan of challenging the international system and has focused on the importance of being a "responsible member" of the universal society. As of late, China has developed new concepts for its foreign policy orientation, just as (1) "new security" emphasizing shared and cooperative security, (2) "peaceful development" focusing on non-violence commitment, (3) "win-win" cooperation denying a zero-sum comprehension of international affairs, and (4) building a "harmonious world" that promoting harmony with diversity, solving conflict through dialogue, and democratization of world governmental issues.
As these concepts demonstrate, China has no desire of being revolutionary in the international system, rather, it intends to be a responsible member of world affairs. Economic diplomacy will remain to be emphasized by china. While trade will keep on being a fundamental diplomatic focus, energy security and energy diplomacy will be given additional accentuation. Energy supply, energy shipment, and energy-saving cooperation will be fields where the diplomacy of china will move forward.
Lastly, Multilateral diplomacy will take on an even greater role in the future diplomacy of China. China will become more involved at the global level and in regional affairs at the United Nations. As the identity of China is more globally and regionally established, the current concept of multilateralism in the overall diplomatic strategy of china can be re-defined to realize national interests, address thorny issues, and provide governance in a complex world. More attempts will be created to improve regional integration between the SCO and East Asian. Finally, various needed diplomatic attempts may need to be further reinforced. China will keep on being cooperative, however, it will likewise be more active. All things considered; cultural diplomacy will be a new attribute of China's diplomacy. Confucianism, an extremely cosmopolitan doctrine that promotes harmony and peace through human relations, will be an important component of cultural diplomacy, both to strengthen China's soft power and to reduce the negative result of the China threat theory.
China has accumulated a wealth of experience over the past 70 years, understanding that China cannot develop without the world and that without China the world cannot prosper. China's future and fate have been closely linked to the rest of the world. What is certain is that China will adhere to the path of peaceful development and that the people of China will join the people from all other countries in working to realize the lofty dream of a harmonious world.