China and the National People's Congress of 2016
As often happens, China is at a significant political turning point: the National People's Congress, the single House of the Chinese Parliament, made up of approximately 3,000 delegates, has opened.
It has the power to oversee Government's activities, to legislate and directly appoint some of the most important State's leaders.
Together with the National Committee of the Chinese People's Political Consultative Conference of the People, the National People's Congress is the highest legislative Chinese body.
The Congress is elected every five years and meets every spring for about 12-15 days in a row, usually in the Great Hall of the People in Tiananmen Square.
At the opening of the current Congress on Saturday, March 5, Prime Minister Li Kekiang, also in his capacity as Head of the State Council, reaffirmed that the GDP growth rate set by the government would be 6.5-7%, lower than previously set, but certainly much higher than the GDP growth rate of any Western economy.
According to the data analyzed by Li Kekiang, in the last financial year China's GDP amounted to 67.7 trillion yuan, with a 6.9% increase as against the previous year.
Agricultural production has also increased for the twelfth time in a row, while consumer prices are growing much more slowly than GDP and agricultural and industrial production.
Last year 13.12 million new jobs were created in urban areas, a figure higher than the previous NPC forecasts.
The service sector accounts for 50.5% of the total GDP, just to dispel the usual, old and taken for granted analysis that sees China growing only in labour-intensive and low technology sectors.
Gone are the days when China was a replacement economy; the country is now a global leader of technological innovation.
Conversely, China will take advantage of the current period of reduced GDP growth – which, however, remains a mirage for us – to invest in high-tech and labour-saving, but high value added, sectors which will compete directly, or better, absorb our high technical and product innovation sectors.
Li Kekiang said that the Internet has now reached all Chinese enterprises, with the number of new businesses which in 2015 grew by 21.6%, equivalent to nearly 12,000 new start-ups a day.
Again according to the Chinese government, the per capita disposable income increased by 7.4% in real terms while, since the end of last year, bank deposits have grown by 8.5% – equivalent, in absolute terms, to four trillion yuan.
For the first time 64.34 million Chinese people living in rural areas have had access to pure and drinking water – a transformation which will lead – in China as in Europe in the past – to the most significant and stable increase of average life expectancy.
Chinese people living below the poverty line have decreased by 14.42 millions. It is a sign that the current transformation of the Chinese economy is not only heading for the expansion of the internal market, but also for fewer social inequalities.
It was the theme of the recent speeches "within" the Party made by Secretary Xi Jinping, that relates the fight against corruption to greater social equality – a theme that has focused again attention on the specific type of Chinese economic development.
It is no longer a simple phase of capitalist accumulation, as described by classic political economy theories (and by Marx), but a socialist system where growth adds to the fight against poverty and the increase in wages and consumption.
China has never been, not even in the early days of the "Four Modernizations", a socialist economy that adapted itself to an export-led development.
This is the economic and ethical-moral importance of the fight against corruption, which has characterized Xi Jinping's leadership and direction from the very beginning.
As announced by Xi Jinping in mid-January, the anti-corruption campaign will hit not only the higher ranks of the regime, but also the most modest and peripheral sectors and functions.
Clearly Xi Jinping wants to use the fight against corruption to eliminate its old enemies, those who blocked his rise to the CPC Secretariat for at least two years – but there is more in the new ethics of the Party and its ruling class.
For Xi, the issue lies in using two criteria: the abolition of the informality of procedures, but rather the strengthening of their strict formal legality, and also the restoration of all the ancient cultural and ethical values of tradition and ancient culture within the Chinese society.
It is socialism which favours Confucius, not the other way round.
Hence a new Cultural Revolution to avoid China's mere adhesion to the mindset, consumption and business style of "Western dogs", as Europeans were called during the "Boxer rebellion".
Over a thousand "economic fugitives", guilty of very severe crimes of corruption and illegal enrichment, coming from the United States, Canada, Australia and New Zealand, have already been brought to Chinese justice.
The "tigers", namely the corrupt people – just to use the terminology of the Chinese press – have been exposed in the Central Military Commission, in the intelligence services, in the People's Liberation Army and in many State and Party's ruling bodies.
For Wang Qishan, the Head of the Central Commission for Discipline Inspection, the main anti-corruption body in the country, during 2016 three types of officials will be scrutinized: those who have continued their corrupt practices after the results of the 18th CPC Congress, in 2012, when Xi rose to power; those who have "serious problems" and have generated a "fierce people's reaction", and finally all those who occupy key posts and are waiting for promotion.
Reverting to Li Kekiang's analysis at the National People's Congress underway, the CPC and especially Xi Jinping's "line" want: a) to maintain stable growth, perhaps less rapid than in previous years, thus avoiding risks in the global financial market while making the necessary structural adjustments, which are usually expensive and unpopular.
Furthermore, b) a new proactive fiscal policy has been implemented, which has allowed to reduce some taxes, domestic rates and use local budgets productively.
Another factor, c), are the 3.2 billion yuan in new governments' and local authorities' bonds, which have been used to pay off previous debts, with a decrease in debt servicing for peripheral governments equal to approximately 200 million yuan.
Funds have also been created for special operations, especially for water management, for the most deprived urban areas, and for rural residential areas, while d) private spending has been targeted to the sectors which are the most promising for the government and the CPC: travels, on-line shopping, information technology equipment.
In short, the Chinese government's choice has been to put an end to the generic stimulus policies, which have radial effects on the whole economic system, so as to foster structural reforms.
311 types of products have been liberalized; 123 professions and activities no longer need permits authorizations or government concessions; 85% of the authorizations for new economic activities have been abolished, while only one business license with a unified tax code is now used in China.
Administered prices have fallen by 80% and those regulated by local governments by over 50%.
Hence liberalization has the function of balancing the system, not of generating the old Marxist (and Ricardian) "primitive accumulation".
Restrictions on Chinese investment abroad have fallen by 50%, while over 90% of Chinese projects funded abroad can be implemented only on the basis of investors' reports, without further constraints.
The aim is clear: to boost China's export mix to avoid asymmetric shocks.
In 2015 China also used over 126.3 billion US dollars of foreign investment in its business, with a 5.6% increase, while the non-banking and financial Foreign Direct Investment (FDI) operating in China amounted to 118 billion US dollars, with a 14.7% increase.
Moreover the Asian Infrastructure Investment Bank was inaugurated, involving also Italy, and particularly the Silk Road Fund, while the renminbi has recently been included in the currencies of the International Monetary Fund's "basket" for its "special drawing rights", the currency issued by the IMF.
Finally, d) the "Made in China 2025 Initiative" has been launched to update the manufacturing productive systems and, above all, to finance and update the small and medium-sized enterprises' technologies.
In the best Maoist tradition of the "balance between regions", this corresponds to the development of the Beijing-Tianjin-Hebei integration and to the expansion of the Yangtze's Economic Belt.
With a view to rebalancing the masses' purchasing power and stabilizing society, 7.2 million housing units subsidized by the central government have been built, with a new initiative to build schools in rural areas and make compulsory education universal.
In the current NPC, reference has also been made to rural areas to spread a new political formula, namely the "Three Stricts, Three Honests" internal education campaign, initiated by Xi Jinping in December 2014, which is meant to strengthen public ethics and "political ecology".
With this campaign, Xi wanted to hit political careerism and the overlap between political elites and economic and business elites.
It is worth recalling that the "Three Honests" are: "be honest in making decisions", "be honest in forging a career" and "be honest in personal behaviour".
The Three Stricts are: "be strict in moral conduct", "be strict in exercising power", "be strict in disciplining yourself".
As we can infer from this brief description, Xi Jinping's (and Li Kekiang's) theory and slogans are perfectly suited to the current economic policy, not only with regard to corruption, but also to everything relating to the expansion and stabilization of economic development in a context of democratization of income and support for the old and new Chinese poor walks of society.
Hence, for Xi and Li Kekiang, the political and economic project is now clear: to preserve a high rate of economic development, despite the external conditions and asymmetric shocks coming from countries in crisis (and from the United States), and then to perfect the structural adjustments, which have a clear significance.
Their significance is the urbanization of China's people, 50% of whom lives in cities; the reduction of private energy consumption, which fell by 18.2%, with a pollution rate which decreased by 12%; the growth of transport infrastructure, with 121,000 km of railway lines, 19,000 of which are high-speed; finally, the promotion of scientific and technological innovation.
This is the reason why the economy of the service sector, adequately backed by the Chinese government, will anyway support growth, while the structural undervaluation of renmbimbi, the axis of the financial protection of Chinese assets, will continue to play its role as a de facto subsidy to Chinese exports.
The Chinese economy learns from its mistakes very quickly, also thanks to its centralization, and the share of GDP generated by services will optimally support the Chinese expansion in an international market where the share of manufacturing and old technologies is shrinking.
Deeper meanings of the Hong Kong protests: Is China a gamechanger or yet another winner?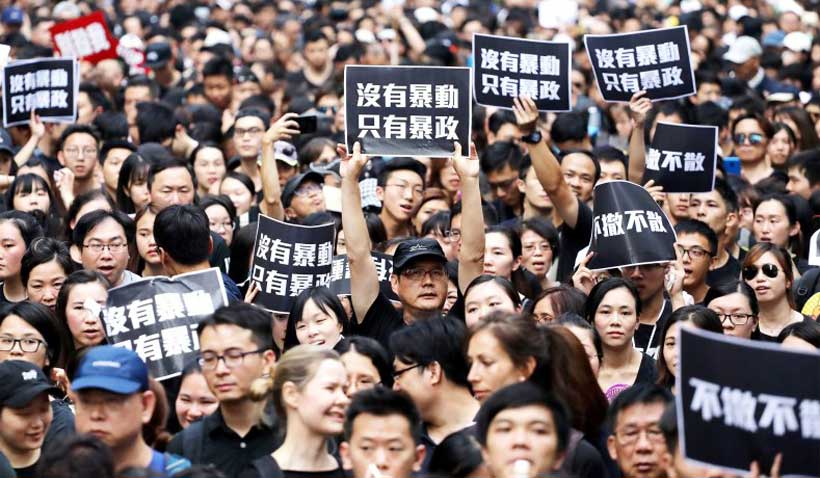 Does our history only appear overheated, while it is essentially calmly predetermined? Is it directional or conceivable, dialectic and eclectic or cyclical, and therefore cynical? Surely, our history warns. Does it also provide for a hope? Hence, what is in front of us: destiny or future?
Theory loves to teach us that extensive debates on what kind of economic system is most conductive to human wellbeing is what consumed most of our civilizational vertical. However, our history has a different say: It seems that the manipulation of the global political economy – far more than the introduction of ideologies – is the dominant and arguably more durable way that human elites usually conspired to build or break civilizations, as planned projects. Somewhere down the process, it deceived us, becoming the self-entrapment. How?
One of the biggest (nearly schizophrenic) dilemmas of liberalism, ever since David Hume and Adam Smith, was an insight into reality: Whether the world is essentially Hobbesian or Kantian. As postulated, the main task of any liberal state is to enable and maintain wealth of its nation, which of course rests upon wealthy individuals inhabiting the particular state. That imperative brought about another dilemma: if wealthy individual, the state will rob you, but in absence of it, the pauperized masses will mob you.
The invisible hand of Smith's followers have found the satisfactory answer – sovereign debt. That 'invention' meant: relatively strong central government of the state. Instead of popular control through the democratic checks-&-balance mechanism, such a state should be rather heavily indebted. Debt – firstly to local merchants, than to foreigners – is a far more powerful deterrent, as it resides outside the popular check domain.
With such a mixed blessing, no empire can easily demonetize its legitimacy, and abandon its hierarchical but invisible and unconstitutional controls. This is how a debtor empire was born. A blessing or totalitarian curse? Let us briefly examine it.
The Soviet Union – much as (the pre-Deng's) China itself – was far more of a classic continental military empire (overtly brutal; rigid, authoritative, anti-individual, apparent, secretive), while the US was more a financial-trading empire (covertly coercive; hierarchical, yet asocial, exploitive, pervasive, polarizing). On opposite sides of the globe and cognition, to each other they remained enigmatic, mysterious and incalculable: Bear of permafrost vs. Fish of the warm seas. Sparta vs. Athens. Rome vs. Phoenicia… However, common for the both was a super-appetite for omnipresence. Along with the price to pay for it.
Consequently, the Soviets went bankrupt by mid 1980s – they cracked under its own weight, imperially overstretched. So did the Americans – the 'white man burden' fractured them already by the Vietnam war, with the Nixon shock only officializing it. However, the US imperium managed to survive and to outlive the Soviets. How?
The United States, with its financial capital (or an outfoxing illusion of it), evolved into a debtor empire through the Wall Street guaranties. Titanium-made Sputnik vs. gold mine of printed-paper… Nothing epitomizes this better than the words of the longest serving US Federal Reserve's boss, Alan Greenspan, who famously quoted J.B. Connally to then French President Jacques Chirac: "True, the dollar is our currency, but your problem". Hegemony vs. hegemoney.
House of Cards
Conventional economic theory teaches us that money is a universal equivalent to all goods. Historically, currencies were a space and time-related, to say locality-dependent. However, like no currency ever before, the US dollar became – past the WWII – the universal equivalent to all other moneys of the world. According to history of currencies, the core component of the non-precious metals' money is a so-called promissory note – intangible belief that,by any given point in future, a particular shiny paper (self-styled as money) will be smoothly exchanged for real goods.
Thus, roughly speaking, money is nothing else but a civilizational construct about imagined/projected tomorrow – that the next day (which nobody has ever seen in the history of humankind, but everybody operates with) definitely comes (i), and that this tomorrow will certainly be a better day then our yesterday or even our today (ii).
This and similar types of collective constructs (horizontal and vertical) over our social contracts hold society together as much as its economy keeps it alive and evolving. Hence, it is money that powers economy, but our blind faith in constructed (imagined) tomorrows and its alleged certainty is what empowers money.
Clearly, the universal equivalent of all equivalents – the US dollar – follows the same pattern: Bold and widely accepted promise. What does the US dollar promise when there is no gold cover attached to it ever since the time of Nixon shock of 1971?
Pentagon promises that the oceanic sea-lanes will remain opened (read: controlled by the US Navy), pathways unhindered, and that the most traded world's commodity – oil, will be delivered. So, it is not a crude or its delivery what is a cover to the US dollar – it is a promise that oil of tomorrow will be deliverable. That is a real might of the US dollar, which in return finances Pentagon's massive expenditures and shoulders its supremacy.
Admired and feared, Pentagon further fans our planetary belief in tomorrow's deliverability – if we only keep our faith in dollar (and hydrocarbons' energized economy), and so on and on in perpetuated circle of mutual reinforcements.
These two pillars of the US might from the East coast (the US Treasury/Wall Street and Pentagon) together with the two pillars of the West coast – both financed and amplified by the US dollar, and spread through the open sea-routs (Silicone Valley and Hollywood), are an essence of the US posture.
This very nature of power explains why the Americans have missed to take the mankind into completely other direction; towards the non-confrontational, decarbonized, de-monetized/de-financialized and de-psychologized, the self-realizing and green humankind. In short, to turn history into a moral success story. They had such a chance when, past the Gorbachev's unconditional surrender of the Soviet bloc, and the Deng's Copernicus-shift of China, the US – unconstrained as a lonely superpower – solely dictated terms of reference; our common destiny and direction/s to our future/s.
Winner is rarely a game-changer
Sadly enough, that was not the first missed opportunity for the US to soften and delay its forthcoming, imminent multidimensional imperial retreat. The very epilogue of the WWII meant a full security guaranty for the US: Geo-economically – 54% of anything manufactured in the world was carrying the Made in USA label, and geostrategically – the US had uninterruptedly enjoyed nearly a decade of the 'nuclear monopoly'. Up to this very day, the US scores the biggest number of N-tests conducted, the largest stockpile of nuclear weaponry, and it represents the only power ever deploying this 'ultimate weapon' on other nation. To complete the irony, Americans enjoy geographic advantage like no other empire before. Save the US, as Ikenberry notes: "…every major power in the world lives in a crowded geopolitical neighborhood where shifts in power routinely provoke counterbalancing". Look the map, at Russia or China and their packed surroundings. The US is blessed with its insular position, by neighboring oceans. All that should harbor tranquility, peace and prosperity, foresightedness.
Why the lonely might, an empire by invitation did not evolve into empire of relaxation, a generator of harmony? Why does it hold (extra-judicially) captive more political prisoners on Cuban soil than the badmouthed Cuban regime has ever had? Why does it remain obsessed with armament for at home and abroad? Why existential anxieties for at home and security challenges for abroad ? (Eg. 78% of all weaponry at disposal in the wider MENA theater is manufactured in the US, while domestically Americans – only for their civilian purpose – have 1,2 small arms pieces per capita.)
Why the fall of Berlin Wall 30 years ago marked a beginning of decades of stagnant or failing incomes in the US (and elsewhere in the OECD world) coupled with alarming inequalities. What are we talking about here; the inadequate intensity of our tireless confrontational push or about the false course of our civilizational direction?
Indeed, no successful and enduring empire does merely rely on coercion, be it abroad or at home. The grand design of every empire in past rested on a skillful calibration between obedience and initiative – at home, and between bandwagoning and engagement – abroad. In XXI century, one wins when one convinces not when one coerces. Hence, if unable to escape its inner logics and deeply-rooted appeal of confrontational nostalgia, the prevailing archrival is only a winner, rarely a game-changer.
To sum up; After the collapse of the Soviet Union, Americans accelerated expansion while waiting for (real or imagined) adversaries to further decline, 'liberalize' and bandwagon behind the US. Expansion is the path to security dictatum only exacerbated the problems afflicting the Pax Americana. That is how the capability of the US to maintain its order started to erode faster than the capacity of its opponents to challenge it. A classical imperial self-entrapment!!
The repeated failure to notice and recalibrate its imperial retreat brought the painful hangovers to Washington by the last presidential elections. Inability to manage the rising costs of sustaining the imperial order only increased the domestic popular revolt and political pressure to abandon its 'mission' altogether. Perfectly hitting the target to miss everything else …
Hence, Americans are not fixing the world any more. They are only managing its decline. Look at their (winner) footprint in former Yugoslavia, Afghanistan, Iraq, Libya and Syria – to mention but a few.
When the Soviets lost their own indigenous ideological matrix and maverick confrontational stance, and when the US dominated West missed to triumph although winning the Cold War, how to expect from the imitator to score the lasting moral or even amomentary economic victory?
Neither more confrontation and more carbons nor more weaponized trade and traded weapons will save our day. It failed in past, it will fail again any given day.
Interestingly, China opposed the I World, left the II in rift, and ever since Bandung of 1955 it neither won over nor (truly) joined the III Way. Today, many see it as a main contestant. But, where is a lasting success?
(The Belt and Road Initiative (BRI) is what the most attribute as an instrument of the Chinese planetary posture. Chinese leaders promised massive infrastructure projects all around by burning trillions of dollars. Still, numbers are more moderate. As the recent The II BRI Summit has shown, so far, Chinese companies had invested $90 worldwide. Seems, neither People's Republic is as rich as many (wish to) think nor it will be able to finance its promised projects without seeking for a global private capital. Such a capital –if ever – will not flow without conditionalities. The Asian Infrastructure Investment Bank (AIIB) and the BRICS or 'New Development' – Bank have some $150 billion at hand, and the Silk Road Infrastructure Fund (SRIF) has up to $40 billion. Chinese state and semi-private companies can access – according to the OECD estimates – just another $600 billion (much of it tight) from the home, state-controlled financial sector. That means that China runs short on the BRI deliveries worldwide. Ergo, either bad news to the (BRI) world or the conditionalities' constrained China.)
Greening international relations along with a greening of economy – geopolitical and environmental understanding, de-acidification and relaxation is the only way out.
That necessitates both at once: less confrontation over the art-of-day technology and their monopolies' redistribution (as preached by the Sino-American high priests of globalization) as well as the resolute work on the so-called Tesla-ian implosive/fusion-holistic systems(including free-energy technologies; carbon-sequestration; antigravity and self-navigational solutions; bioinformatics and nanorobotics). More of initiative than of obedience (including more public control over data hoovering). More effort to excellence (creation) than struggle for preeminence (partition).
Finally, no global leader has ever in history emerged from a shaky and distrustful neighborhood, or by offering a little bit more of the same in lieu of an innovative technological advancement. (Eg. many see the Chinese 5G as an illiberal innovation, which may end up servicing authoritarianism, anywhere. And indeed, the AI deep learning inspired by biological neurons (neural science) including its three methods: supervised, unsupervised and reinforced learning can end up used for the digital authoritarianism, predictive policing and manufactured social governance based on the bonus-malus behavioral social credits.)
Ergo, it all starts from within, from at home. Without support from a home base (including that of Hong Kong, Xinjiang and Tibet), there is no game changer. China's home is Asia. Its size and its centrality along with its impressive output is constraining it enough.
Hence, it is not only a new, non-imitative, turn of technology what is needed. Without truly and sincerely embracing mechanisms such as the NaM, ASEAN and SAARC (eventually even the OSCE) and the main champions of multilateralism in Asia, those being India Indonesia and Japan first of all, China has no future of what is planetary awaited – the third force, a game-changer, lasting visionary and trusted global leader.
Post Scriptum:
To varying degrees, but all throughout a premodern and modern history, nearly every world's major foreign policy originator was dependent (and still depends) on what happens in, and to, Russia. It is not only a size, but also centrality of Russia that matters. It is as much (if not even more), as it is an omnipresence of the US and as it is a hyper production of the PR China.
Ergo, it is an uninterrupted flow of manufactured goods to the whole world, it is balancing of the oversized and centrally positioned one, and it is the ability to controllably destruct the way in and insert itself of the peripheral one. The oscillatory interplay of these three is what characterizes our days.
Uyghur asylum seeker puts international community on the spot
Ablikim Yusuf, a 53-year old Uyghur Muslim seeking a safe haven from potential Chinese persecution, landed this week in the United States, his new home.
But Mr. Yusuf's perilous search that took him from Pakistan to Qatar to Bosnia Herzegovina where was refused entry and back to Qatar highlighted China's inability to enforce its depiction of the brutal clampdown on Turkic Muslims in its troubled, north-western province of Xinjiang as a purely domestic matter.
Mr. Yusuf's case also spotlighted the risk of increased mass migration in a world in which ethnic and religious minorities increasingly feel existentially threatened by civilizationalist policies pursued by illiberal and authoritarian leaders as well as supremacists, racists and far-right nationalist groups.
By choosing Qatar Airways and making Doha his first point of landing after leaving his residence in Pakistan, Mr. Yusuf further underscored the fragility of Muslim acquiescence in the Chinese clampdown and called into question application of Qatar's asylum law. With the adoption of the law, Qatar last year became the first Arab state to legalize asylum.
While Mr. Yusuf is fortunate to have ended his ordeal with his arrival in the United States, his case accentuated the hypocrisy of the Trump administration that has demonized migrants and refugees and "weaponized" US human rights policy.
Mr. Yusuf's plight serves the United States as it fights an escalating trade war with China and has made the clampdown in Xinjiang one of the opportunistically selected cases of human rights violations it is willing to emphasize.
Mr Yusuf put Qatar and the international community on the spot when he last weekend posted online a mobile phone video pleading for help hours before he was slated to be deported from Doha's Hamad International Airport to Beijing.
The plea generated thousands of retweets by Uyghur activists and won him assistance from an American human rights lawyer and ultimately asylum in the US.
If deported to China, Mr. Yusuf would have risked being incarcerated in a re-education camp which has been an involuntary home for an estimated one million Uyghurs in China as part of what amounts to the worst assault on a faith in recent history.
China said last month that the majority of the detainees in what it describes as vocational training facilities had been released and "returned to society" but independent observers say there is no evidence that the camps are being emptied.
Mr. Yusuf decided to leave his home in Pakistan for safer pastures after Pakistan became one of up to 50 countries that signed a letter in support of the clampdown.
Concerned that Pakistan, the largest beneficiary of Chinese Belt and Road-related investment, could deport its Uyghur residents, Mr. Yusuf travelled on a Chinese travel document rather than a passport that was valid only for travel to China. China's issuance of such documents is designed to force Uyghurs to return.
The travel document provided cover for Qatar's initial decision to return him to China rather than potentially spark Chinese ire by granting him asylum. International pressure persuaded Qatar to give Mr. Yusuf the opportunity to find a country that would accept him.
China's clampdown in Xinjiang is but the sharp edge of a global trend fuelled by the rise of leaders across the globe in countries ranging from the United States to China, Russia, India, Hungary, Turkey and Myanmar who think in civilizational terms, undermine minority rights, wittingly or unwittingly legitimize violence, and risk persuading large population groups to migrate in search of safer pastures.
Hate crimes have gripped the United States with critics of President Donald J. Trump charging, despite his explicit condemnation this week of white supremacism, that his hardline attitude and language when it comes to migrants and refugees has created an enabling environment.
Violence against Muslims in India, home to the world's second largest Muslim community, has increased dramatically with 90 percent of religious hate crimes in the last decade having occurred since Narendra Modi became prime minister.
Some 750,000 Rohingya linger in Bangladeshi refugee camps after fleeing persecution in Myanmar while Islamophobia has become part of US, European and Chinese discourse and Jews in Europe fear a new wave of anti-Semitism.
Italy took efforts to counter migration that are likely to aggravate rather than alleviate a crisis a step further by adopting a law that would slap fines of up to US$1.12 million on those seeking to rescue migrants adrift at sea.
The Chinese clampdown that bars most Uyghurs from travel and seeks to force those abroad to return has so far spared the world yet another stream of people desperate to find a secure and safe home. The risk of an eventual Uyghur exodus remains with the fallout of the Chinese re-education effort yet to be seen.
Mr. Yusuf could well prove to be not only the tip of the Uyghur iceberg but of a future global crisis as a result of an international community that not only increasingly has turned its back on those in need but also pursues exclusionary rather than inclusionary policies.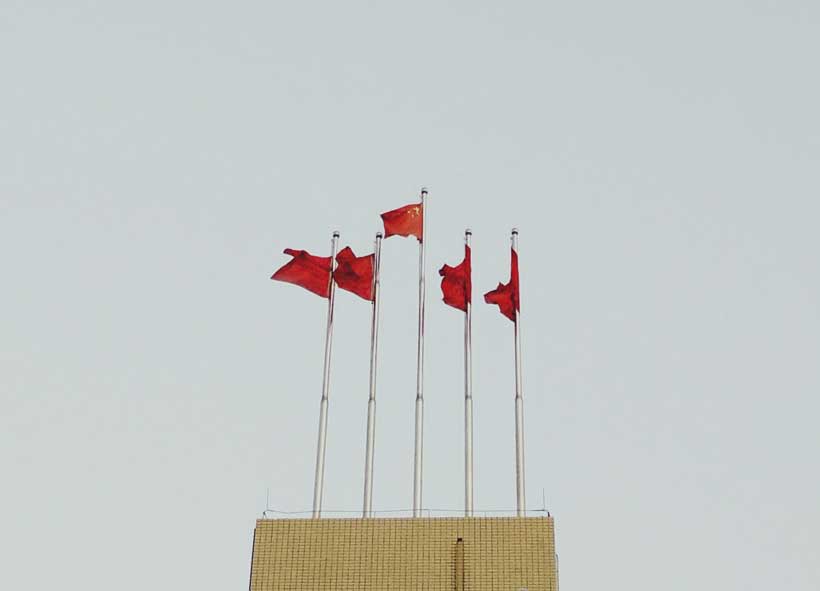 China's infrastructure and energy driven US$1 trillion Belt and Road initiative involves risky bets across a swath of land populated by often illiberal or autocratic governments exercising power without independent checks and balances.
Seeking to reduce risk, China is bumping up against the limits of its own long-standing foreign and defence policy principles, foremost among which its insistence on non-interference in the domestic affairs of others, the equivalent of the United States' preference for stability rather than political change.
If popular revolts in Algeria and Sudan as well as smaller, issues-oriented protests elsewhere in the Middle East and North Africa are anything to go by, China appears to be betting against the odds.
Anti-corruption sentiment fuelled the 2011 popular Arab revolts that toppled the leaders of Tunisia, Egypt, Libya and Yemen and are at the root of current anti-government protests across the globe in countries as far flung as Brazil, Haiti, Jamaica, Puerto Rico, Russia, Zambia, the Czech Republic, Albania and Romania
China's risks were evident in the wake of the fall in 2011 of Col. Moammar Gaddafi when the post-revolt Libyan authorities advised China that it would be low on the totem pole as a result of its support of the ancien regime.
The risks are also evident with Baloch militants targeting Chinese assets and personnel in Pakistan.
To minimize the risk and expand its aggressive domestic anti-graft campaign, China's top anti-corruption body, the Communist party's Central Commission for Discipline Inspection (CCDI), is embedding inspectors in Belt and Road projects, who will be based in recipient countries.
The move helps China counter allegations that it exploits corruption in recipient Belt and Road countries to further its objectives.
Anti-corruption is a signature policy of president Xi Jinping and has allowed him to purge senior Chinese leaders as well as tens of thousands of low-level bureaucrats.
The CCDI is building on the success of a pilot project in Laos where it embedded in late 2017 inspectors in a US$6 billion railway project being built by state-owned China Railway Group. The anti-graft officials, working with the Chinese company, established a joint inspection team with their Laotian counterpart.
The question is whether the anti-corruption effort in countries like Laos or Central Asian nations that consistently rank in the bottom half of Transparency International's corruption index will bump up against China's non-interference principle.
Or in other words, can China successfully guard against corruption in Belt and Road projects without pressuring recipient countries to adopt broader transparency and anti-corruption measures?
"How can you strike hard on corruption here at home and give a free hand to Chinese people and business groups [that are] reckless abroad?" CCDI's director-general for international co-operation La Yifan asked in a Financial Times interview.
Mr. La said China had organized seminars with more than 30 countries to link up anti-corruption regulators. "That is my dream, that we create a network of law enforcement of all these Belt and Road countries," he said.
Imposing transparency and anti-corruption in Belt and Road partners would be the equivalent of all kinds of environmental, safety and human rights criteria that the United States haphazardly and opportunistically maintains in dealings with foreign countries that have been severely criticized by China.
China has long prided itself on what it terms win-win economic situations in which it imposes commercial terms that often primarily benefit the People's Republic.
The terms, coupled with the clampdown on Turkic Muslims in China's province of Xinjiang, has fuelled anti-Chinese sentiment in Turkey and Central Asia with their close ethnic and cultural ties to the troubled Chinese region.
Turkish officials highlighted these sensitivities by denying Chinese media reports that president Recep Tayyip Erdogan had praised the success of Beijing's brutal approach in Xinjiang during a recent visit to China.
Muslim nations have largely remained silent about the clampdown that amounts to the most frontal assault on a faith in recent history or in some instances even tacitly endorsed it.
In the absence of democracy, "governments can manage their pro-Beijing stance without informing their public, but a pro-Beijing policy over the Uyghur issue can barely be sustained in Turkey. Turkey is still a functioning democracy and total control of the public is not possible. Besides, there is a very strong Uyghur lobby and public sentiment towards the Uyghurs in Turkey," said Turkish Centre for Asia-Pacific Studies director Selcuk Colakoglu.
Taking its anti-corruption campaign global, raises the broader question of whether it would threaten a pillar of autocracy that China's non-interference principle has de facto sought to perpetuate.
Political scientists Alexander Cooley and John Heathershaw argue that what they call the instruments of global authoritarianism — an army of largely Western bankers, lawyers, brokers and intermediaries that park illicitly gained monies in off-shore accounts and manage the investment of those funds – help keep autocrats in power.
The success of the globalization of China's anti-corruption effort as well as its campaign to significantly reduce graft at home, would establish autocrats' ability to satisfactorily deliver public goods and services alongside brute power as the cornerstone of their sustainability.
In doing so, it would give greater meaning to China's assertion that it does not want to fundamentally alter the established multi-lateral world order but rather make it more equitable and more a reflection of a world that is multi- not unipolar.
It would also cement China's model of economic reform and state capitalism without political liberalization as the example autocratic and authoritarian regimes want to emulate even if the jury is out on whether autocrats can remain relatively clean without a system of independent checks and balances.