Islamophobia: Surge in Anti-Muslim Bigotry across Atlantic
Islamophobia, as a concept was first flaunted by Runnymede trust report in 1991 and usually ascertained as "mendacious, gratuitous and cockamamie bête noire of Muslims as followers and Islam as monotheistic religion per se" and there is a surge and billow in Islamophobic related incidents worldwide, particularly in Europe and America.
Until 9/11, different versions and expressions regarding islamophobia were witnessed across Atlantic, with incommensurable percussion. In simpler terms, Islamophobia in Europe was to a degree normal and systemic. Since there are many constitutional enactments present in Europe to safeguard its savvy well being con to ancient culture of Muslims and interdict proliferation of Islam in Europe. Numerous anti- Islamic silhouette, pouts surfaced, demanding stiff-necked vivacity adjacent to above outlined looming thunder and even garnered good solidarity support from conscious Europeans. Unfortunately, some sparse crooks propped up, who even made it to the parliaments in Europe, and have anti-Islamic prejudices, umbrage as axial canon and maxim. Needless to say, "paper tiger scholars have been given specific and immense media and academic attention, only to habitus beguiling, apocryphal and bigoted narratives about Islamophobia in academic institutions and fox ateliers.
Testimonies reveal how gargantuan and difficile is the trauma of Islamophobia, with ramifications in some cases haunting lifetime. Thanks to trump's recent execrated and puerile speeches in America, debate on Islamophobia in America has touched new heights. Earlier, sequestered episodes by basal and financially backed entities, crazily championing horror recreancy were found involved in these kinds of anti-Muslim chauvinistic incidents and fumed up their bank accounts as well but pronto a presidential candidate has openly decided to give patronage to Islamophobes. A very essential accelerated upward drift has been observed when deliberating upon Islamophobia, ever since barrack Obama took to office. One such similitude is open debate in parliament on banning shari`ah but ruled out with immediate effect by American apex court. But, given that new presidential elections are ahead in America, islamophobia has entered mainstream politics. Remember Donald trump's speech, wherein he uttered absolute rubbish and nonsense and by the way "America is considered to be most civilized country on earth, dare you say anything which violates her sanctity then Guantanamo and Abu Graib are waiting", and I quote him "there is no pIace for any Muslim in my cabinet, Americans stand to have every reason for official forbiddance of mosques, we are at war with Islam".
Across the Atlantic, Muslims have become victims of violence and threats and social media is buzzed with horrific images and statements. According to CAIR director Ibrahim, "an unprecedented hatred lance is seen against Muslims in America because of statements by rick Santorum, Ben Carson and Donald Trump". On November 19th last year, inner edition of new York city, revealed how a class six student, attacked a female muslim student, toring down her headscarf and beating ruthlessly and calling here IS agent. On 6th of December same year, sirat and leilah (two American Muslim girls) of Texas varsity were harassed and their video flaunted on face book. As a particular ideology following people, Muslims in America and west, summarize a classical and apt case, to be considered as civil society prisoners, manipulated and subjugated to forcible cantonments, hence violates the very nomenclature and foundation of state and subject. Different studies show how Muslims in west are treated and in no way are equal citizens albeit citizenship remains temporary with terms, conditions and lacunas. The graph of violence against Islamic institutions and Muslims per`se, shows no marks of slowing down.
Muslims in west and particularly in America have been kept under a tight surveillance, being spied on, intentionally and institutionally infiltrated and curbs of intense level in academic places. The emotions towards Muslims, quite obviously negative in nature have varying intensity and different magnitudes and comprise of fear, hatred, hostility, anger, disgust, contempt, rejection, anxiety, disdain, suspicion, jealousy, aversion. Islamophobia, as treated religious hatred is very much a more waxed and complicated phenomenon. From fear to nationalism, race to politics, all in one form or the other contribute to islamophobia. Islamophobia is now an important part of American and western culture and is presumed as formation based on ideology. Martin Luther king jr. rightly recognized and said "America will be plagued with militarism, materialism and racism" and termed it as "plague of western civilization".
Political and economic upper class are able and power rests with them, hence can scapegoat anyone (individual or group) and portray them as social enemies and their mouthpieces (media) then plots and writes down the demeaning and scorning script, mentally and physically annihilating that entity. The opinion reflected by media houses are actually the agendas of their bosses. Amen, Muslims become like punch bags and are punched on face and get them surgically plastid, to appear more graceful and if o television was to create a story on this face punch, the story would have been as "angelic westerner was attacked barbariously by some Muslim faces. FBI and police rushed to the sport and are trying to see if there was any terror linkage behind the assault. Pertinently it was also found that attackers were saying Allah o Akbar. Blood stains were visible on face and proper medical facility is being provided, to see no Islamic infectious virus transmits in. Many spine-chilling and unsettled questions engross and bewitch my mind as I see upsurge of islamophobia in western world. How division and destabilization on the name of counter-terrorism in America be fitting for Muslims, when only they are targeted? Why camera lights and ink always pours on Muslims, when 90 % non-Muslims are directly involved in violent and terrorist operations? But as it dawns on me with utter frozen silence on presidential candidates speeches from every corner, something is really in the air.
Modernizing Higher Education for Economic Growth
Malawi has fewer affordable universities than it has students who want to go to them, leaving college out of reach for many. Enrollment in tertiary education is low, but more and more Malawians hunger for it. With IDA financing from the World Bank, Malawian citizens now have more options.
The five-year, $51 million Skills Development Project is helping public universities to strengthen and increase public access to programs that cater to sectors critical to Malawi's economic growth. These include engineering, natural resources extraction, agriculture, construction, health services, tourism, and hospitality.
Beyond the establishment of the National Council for Higher Education, project funding supports a range of activities at institutions, including improving course offerings and staff skills, renovating infrastructure, and setting up satellite facilities.
Market-relevant course offerings
To expand the range of scientific skills and mid-level technicians needed to fuel Malawi's economy, 39 new programs have been developed by universities, with the participation of the private sector ensuring their relevance to the economy. By 2017, these programs contributed 44 percent of the new student intake to public universities.
Diploma programs at universities have also been bolstered to increase the training of mid-level career personnel needed by various trades. For example, the University of Malawi's Polytechnic now offers 10 technician-level engineering diploma programs in subjects like mining, telecommunications, and health. By 2019, these programs are expected to have enrolled 750 diploma students.
Modernized facilities
One of the major constraints to increasing student enrollment at public universities has been space. At Chancellor College, where most of Malawi's secondary school science teachers are trained, more and better infrastructure is expected to make it possible to boost student intake by 65 percent. This includes modernized laboratories and four new lecture halls seating 350 students each.
This will go a long way toward meeting an increase in the demand for science teachers, following the introduction of physics and chemistry as separate subjects in the secondary school curriculum.
Mzuzu University is heading to be the country's center of excellence in tourism training. It is constructing a purpose-built tourism and hospitality facility that will produce graduates who are industry-ready.
Online and distance learning
The Lilongwe University of Agriculture and Natural Resources (LUANAR) and Mzuzu have introduced online and distance learning (ODL), resulting in increased enrollment at both. At LUANAR, online students make up 10 percent of the total student population. Between 2014 and 2016, Mzuzu increased its intake of online students tenfold. With more affordable fees and flexible options, the ODL system has helped to open access to higher education for many people nationwide.
"I enrolled through ODL because of its flexibility. I continue with my everyday life and yet I am studying at the same time. This is wonderful," says 45-year-old Joe Mwenye, a father of five and a teacher in Ngabu in Chikwawa district. He is studying at LUANAR for a Bachelor of Science in Agricultural Extension.
LUANAR has three ODL centers: one in the town of Mzuzu, another in Lilongwe, and another in Blantyre. Mzuzu University is opening satellite centers in Balaka, Karonga, Mulanje, and Lilongwe.
The Depth of Taboo: Social Issues in South Asia
Rarely does a geopolitical handbook also make such large and important contributions to uncomfortably critical social issues. This handbook is that rare example. The author Aryal takes our MD readers deep into some disturbing discussions – caste systems, systematic violence against women, rape, honor killings, gender stigmatizing, and societal sexism – not to just anecdotally expose people to some of the continued living horrors afflicting important regions of the world but to systematically analyze such atrocities so that their long-term political, economic, social, and diplomatic consequences are revealed.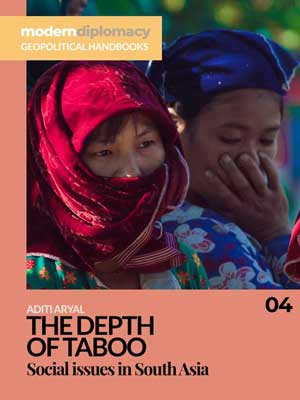 What many around the world do not realize is how crippling these gross abuses of human decency can be for a nation and region writ large: these are not just individual crimes to be noted and then forgotten. The failure of societies, the failure of GLOBAL society, to make more effective progress and take a more rigid stand against injustice is a black mark on all countries, on all of us. This handbook in its own small way strives to be a light within that darkness and as such it is both informative and courageous. While the readers of MD will not find the content of this particular handbook for the faint of heart, the importance of acquiring this knowledge, of becoming more aware of the world that we live in as it truly is in so many places, should be considered a duty of all those fortunate enough to not be born into states where such systemic violence still exists and largely goes unchallenged.
The title of this work is no accident and no shameless marketing attempt to attract more readers. Rather, it is exposing in a single word the reason why overcoming systemic violence based on gender is so difficult. Social taboos run deep in every region, state, city, town, village. We will likely not succeed in eliminating them from the social conscience of people. But the attempt to ameliorate the power of taboo, its power to push rationality out and pull insanity in, is a noble one that all of us at the editorial staff at MD recognize as silently essential for the cause of future peace on so many different levels. The battle against taboo is the secret front end of the war against gender violence and oppression. Ultimately, the criminal justice systems of societies must improve to remedy those actions not prevented from occurring. But the real long-term comprehensive solution will be the effort to eliminate the fear of social taboos, to eliminate the stigma that drives many to commit ignorant violence in the first place.
Women and girls with autism must be empowered to overcome discrimination they face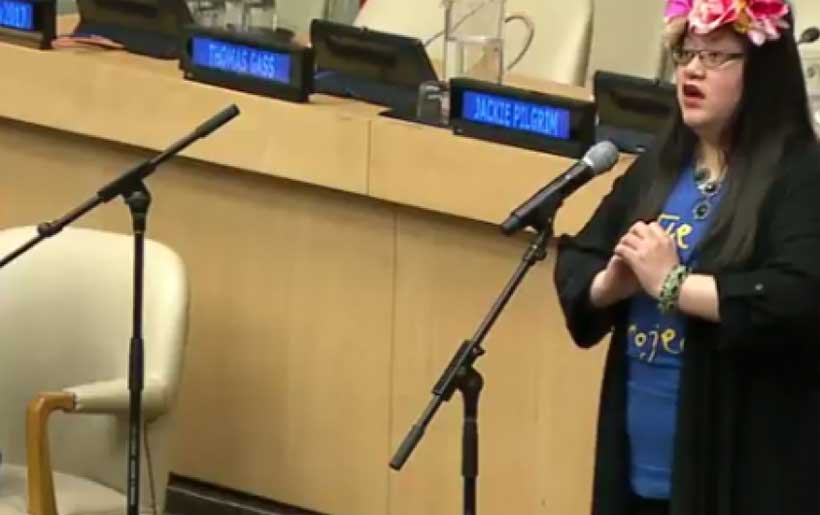 On World Autism Awareness Day, United Nations Secretary-General António Guterres has joined the global call to empower women and girls with autism and involve them and their advocates in policy and decision-making to address the discrimination and other challenges they face.
"They face […] barriers to accessing education and employment on an equal footing with others, denial of their reproductive rights and the freedom to make their own choices, and a lack of involvement in policy making on matters that concern them," said the Secretary-General in his message on the Day.
Emphasizing that "our work for gender equality and women's empowerment must reach all the world's women and girls," he stressed that the international community's efforts to achieve the Sustainable Development Goals (SDGs) must uphold the 2030 Agenda's core promise to leave no one behind.
The Goals and the landmark framework from which they emerged were adopted by UN Member States three years ago. Together they aim to wipe out poverty and boost equality by putting the world on a more sustainable economic, social and environmental path by 2030.
"On World Autism Awareness Day, let us reaffirm our commitment to promote the full participation of all people with autism, and ensure they have the necessary support to be able to exercise their rights and fundamental freedoms," concluded the Mr. Guterres.
Autism is a lifelong neurological condition that manifests during early childhood, irrespective of gender, race or socio-economic status. The term Autism Spectrum refers to a range of characteristics.
Autism is mainly characterized by its unique social interactions, non-standard ways of learning, keen interests in specific subjects, inclination to routines, challenges in typical communications and particular ways of processing sensory information.
The rate of autism in all regions of the world is high and the lack of understanding has a tremendous impact on the individuals, their families and communities.
The World Day is marked annually on 2 April, and this year's official UN commemoration will be on Thursday, 5 April, with a half-day programme in New York entitled Empowering Women and Girls with Autism, that will feature a keynote address from Julia Bascom, Executive Director, Autistic Self Advocacy Network.