Da'wah in the West: Islamic "Just War"
In a research under the title "The Qur'an and War: Observations on Islamic Just War," from 2012, Dr. Joel Hayward says that his purpose is to analyze the holy text which underpins Islam and articulates its mandatory codes of conduct in order to determine what that text, the Qur'an, actually requires or permits Muslims to do in terms of military violence….
This article is intended to be useful — sufficient to dispel any assumptions that the Qur'an advocates the punishment, subjugation or even killing of "infidels" as well as to reveal its key concepts governing justice during wartime…
Even a cursory reading of the Qur'an will draw the reader's eyes to hundreds of scriptures extolling tolerance, conciliation, inclusiveness and peace, but also to a few scriptures that seem to be more aggressive…
"my conclusion (and that of every authoritative Islamic scholar) that the Qur'an is unambiguous: Muslims are prohibited from aggressive violence and are compelled, should war prove unavoidable, always to act within a code of ethical behavior that is closely akin to, and compatible with, the western warrior code embedded within Just War.
Hayward chooses to confirm his above-written assertions by trying to analyze verses that are used as warmongering by the "enemies of Islam." He claims that "many critics assert that verses 9:29 and 2:190-194 directs Muslims to wage war against any and all disbelievers anywhere who refuse to embrace Islam or at least to submit to Islamic rule." However, he says "they do not mandate Muslims to wage aggressive war or to inflict disproportionate or indiscriminate brutality."
Then surprisingly he turns to analyze the abrogation doctrine. He claims that "The Qur'an itself states in several Surah that Allâh's words constitute a universally applicable message sent down for 'all of mankind' and that it was a 'reminder' (with both 'glad tidings and warnings') to 'all' of humanity (Surah 34:28, Surah 39:41 and Surah 81:27). But what is the connection between abrogation and Islamic just war?
Hayward tries to prove the abrogation doctrine is non-existent. How he does so? Very simple: he just dismisses all Islamic classical exegetes and totally relies on the fresh new Islamic propagators in the West. Here is the main problem: the disqualification of Islamic classic and most important exegetes. In his words: "certainly most Islamic authorities on the Qur'an and Muhammad today, as opposed to scholars from, say, the more ambiguous medieval period (author's emphasis), are firm in their judgement that the most warlike verses in the Qur'an, even those revealed very late in Muhammad's mission, do not cancel out the overwhelming number of verses (author's emphasis) that extol tolerance, reconciliation, inclusiveness and peace.
Who are the exegetes that cancel these most important doctrine? Well, the oracles of Hayward are three, in fact four:
The British scholar Dr Zakaria Bashier (War and Peace), who claims that "all the beautiful verses throughout the Qur'an which instruct Muslims to be peaceful, tolerant and non-aggressive are No reason exists at all to think that they have been overruled."
The "Prolific British scholar Louay Fatoohi (Jihad in the Qur'an: The Truth from the Source), arguing that "overwhelming number' of Muslim scholars reject the abrogation thesis regarding war (author's emphasis). Fatoohi highlights the fact that throughout history the Islamic world has never acted in accordance with this extreme view, that Muslims have co-existed very well with other faith communities and that the 1600 million peaceable Muslims in the world today clearly do not accept the view otherwise, if they did, they would be at war as we speak."
Muhammad Abu Zahra (Concept of War in Islam), an important and influential Egyptian intellectual and expert on Islamic law, summed up the mainstream Islamic view by rejecting any abrogation thesis pertaining to conflict and stating that "War is not justified… to impose Islam as a religion on unbelievers or to support a particular social regime. The prophet Muhammad fought only to repulse aggression."
Sohaib Nazeer Sultan (The Koran for Dummies) makes the same point that the martial verse and the sword and those like it do not abrogate the more numerous peaceful, tolerant and inclusive verses.
However, not only we do not have any corroboration for these claims, we just have to believe they know better than Ibn Salama, al-Nasikh wal-Mansukh; al-Nahhas, al-Nasikh Wal-Mansukh; al-Baydawi, Anwar at-Tanzil wa-Asrar at-Ta'wil; al-Zarkasi, al-Burhan fi 'Ulum al-Qur'an; al-Suyuti, al-Itqan fi 'Ulum al-Qur'an; and Lubab an-Nuqul fi Asbab an-Nuzul; Fakhr al-Din al-Razi, al-Tafsir al-Kabir; Ibn Hazm, al-Nasikh wal-Mansukh; al-Zamakhshari, al-Kashshaf; al-Tabari, Tafsir; al-Wahidi, Kitab Asbab Nuzul al-Qur'an; Ibn Kathir, Tafsir.
You see, all these esteemed exegetes, biographers of Muhammad, highly acclaimed interpreters of Qur'an in Islamic religious history are put aside and thrown away by the new scholars of the 21st century, who use Da'wah as a diplomacy of deceit to mislead the infidels. It is as if James Madison and Thomas Jefferson have not written the US constitution, or that Alexander Hamilton, James Madison and John Jay have not written the "Federalist." Even better say, it is as if these personalities have nothing to do with the US constitutional and political establishment, and they all must be null and void compare to new propagators claiming totally the opposite about the history of the US.
Then, Hayward turns "the so-called 'verse of the sword of Surah 9:5." He claims
"Bin Laden certainly did draw upon the verse of the sword and other seemingly militant Qur'anic scriptures in his August 1996 'Declaration of War against the Americans occupying the Land of the Two Holy Places' as well as in his February 1998 fatwâ."
However, Bin Laden "is not representative of Islamic belief or behaviour." For Hayward
"It is quite true that, taken in isolation, Surah 9:5 seems an unusually violent pronouncement for a prophet who had for twenty years preached tolerance, peace and reconciliation (my emphasis). Yet it is equally true that, when read in the context of the verses above and below Surah 9:5, and when the circumstances of its pronouncement by Muhammad are considered, it is not difficult for readers without preconceptions and bias to understand it more fully… It is thus not as bloodthirsty as Robert Spencer and his colleagues portray it… it would only nowadays have any relevance and applicability if polytheists and idolaters ever tried to undertake and re-establish pagan practices in the Saudi Arabian cities devoted only to Allâh: Mecca and Medina. In other words, in today's world it is not relevant or applicable (author's emphasis and double emphasis).
Moreover, Hayward says Ibn Kathir said no such thing that the verse of the sword abrogates all peaceful verses ever previously uttered by the prophet, as Spencer claim: "Spencer mistakenly extrapolates this to claim, baselessly."
Well, the reader in Arabic and in English who reads Ibn Kathir classical Tafsir, is sure Ibn Kathir said verse 9:5 abrogates all the so-called peaceful verses. If one wonders how Hayward misunderstands what Ibn Kathir said, well here is Hayward's interpretation to another warmongering verse (4:89), which clearly claim to "seize and slay the infidels wherever you find them." This verse, Hayward says,
"is surrounded by so many other explanatory and qualifying verses that its superficially violent meaning is immediately moderated by its context of tolerance and understanding. First, it threatened violence in self defence only … Secondly, it stated that, if those aggressors left the Muslims alone and free to practice their faith, and if they did not attack them, but offered them peaceful co-existence, then Allâh would not allow Muslims to harm them in any way… The verse not only offered peaceful co-existence to those who formally made peace with the Muslims, but also to anyone…"
Well, this is indeed an interesting interpretation, yet it has nothing to do with the reality. What ridicule the situation is Hayward own words: first, there is a war against the infidels, but it is only "self-defense." Second, "if those aggressors left the Muslims alone and free to practice their faith, and if they did not attack them, but offered them peaceful co-existence, then Allâh would not allow Muslims to harm them in any way" (my emphases). In other words, if those "aggressors" yield to the Muslim demands, than peace prevails according to the Muslims' terms. This "coexistence" has one meaning: a total defeat and surrender to Islam, as those aggressors must to live under Muslims' terms. This is not exactly a peaceful coexistence.
Hayward is right when claiming that Surah 22:39 contains that first transformational statement of permission to fight in self-defense. However, he could not avoid using Da'wah, diplomacy of deceit, by claiming "Interestingly, it even extols the defense of houses of worship, including the churches of Christians and the synagogues of Jews." Where from he has taken this false statement?
Hayward continues by claiming that
"In every Qur'anic example in which warfighting (qital) is encouraged for protection against oppression or violence, verses can be found that stress that, should the wrongdoers cease their hostility, then Muslims must immediately cease their own fighting."
Well, the root q-t-l (noun Qitāl) means slaying, killing, fighting, slaughtering. It appears 123 times in the Qur'an, of which thirty-four times in the Meccan Sûwar and eighty-nine times in the Medina Sûwar, and it reveals the warlike character of the Arab Islamic political culture. The purpose and rules of Jihād Fī-Sabīlillāh and Qitāl merge together, being an inseparable part of Islamic roles, motivations, and targets. Both have the same objectives to make Islam dominant over all other religions. That is why Jihad is the inspiration, the call to bring Islamic religious and political superiority, while Qitāl is the earthly act of fighting and slaughtering the infidels.
As a propagator of Islam, Hayward could not escape praising Muhammad as a pacifist tender person and anti-war hero:
"Muhammad was no warmonger and forgave and pardoned mortal enemies whenever he could. This "reluctant warrior," to quote one scholar, urged the use of nonviolent means…
Muhammad recognised that wars were so unpalatable to his peace-loving community that, even though the causes of Muslim warfighting were just, he had to go to extra lengths…
However, the truth is unfortunately very different. Hayward have to learn the three best and most acclaimed biographers of Muhammad: Ibn Ishaq, Sīrat Rasûl Allāh; al-Tabari, Ta'rīkh al-Rusûl wal-Mulûk; and al-Waqidi, Kitāb al-Maghāzī, as to really realize the way and the character of the wars conducted by Muhammad and his believers. Even personally, the list of Muhammad's killing is long.
Hayward states that "the Qur'an repeatedly enjoins Muslims to remember that, whenever possible, they should respond to provocations with patience and efforts to facilitate conciliation." But he does not mention that this command was true only to the Meccan period, when Muhammad and his community of believers were small, weak and vulnerable, compare to the Meccans. This is something to recall: after 12 years of religious preaching at Mecca there were only 150 believers, including women and children. However, to introduce the war-like character of the Arabs, 10 thousand joined Muhammad's ranks after his victory in the Badr War, in March 624.
Only at the end of his research, Hayward refers to topic, mainly "Observations on Islamic Just War." He claims that
"The reasons for going to war expressed within the Qur'an closely match those within jus ad bellum, the Just War criteria which establishes the justice of a decision to undertake combat. The criteria include Just Cause, Proportionality and Last Resort" (my emphasis).
He has done nothing to prove this claim. He claims that
"Muhammad would instruct them to fight honourably, not to hurt women and children, not to harm prisoners, not to mutilate bodies, not to plunder and not to destroy trees or crops."
However, from reading Muhammad's biographers and other Islamic reliable sources, the picture is the opposite. I have referred to these, only from Islamic exegesis in the first chapter of my book: Islam and the Infidels.
From reading his research it is doubtful if Hayward knows Arabic well, which a great fault is. However, he is also mistaken by claiming that
"Abu Bakr, the first Caliph, compiled the Qur'an's and the prophet's guidance on the conduct of war into a code that has served ever since as the basis of Islamic thinking on the conduct of battle" (my emphasis).
Well, Abu Bakr lived only two years, and only Uthman, the third Caliph, compiled the Qur'an, in 644. To be more accurate, this period of the four first Caliphs, al-Khulafā' al-Rashidûn, prove the warmongering character of the Arabs: in less than 30 years, there were two civil wars; the great rift separation in Islam, between the Sunnah and the Shī'ah, and three of the four Caliphs were murdered.
Hayward is now back to the issue of Jihad. He claims:
"Interestingly, given that jihad is now associated with extremists who are full of hatred, like Osama bin Laden and other terrorists, the Qur'an does not allow hatred to form the basis of a military or other armed response to perceived injustices" (5:8; 3:134).
Well, he should read the paper published in Modern Diplomacy (January 19 and January 27, 2016), concerning hatred. Yet, he continues by misquoting verses 2:256 and 5:32. These verse were dealt very extensively in my Da'wah papers on Modern Diplomacy (February 22, and March 4, 2016).
Hayward adds insult to injury by claiming that
"Despite rejection by several powerful Jewish tribes, Muhammad remained convinced that the Jewish and Christian faith communities (as opposed to individual tribes which acted treacherously) were eminently acceptable to Allâh."
Well, the truth is that the three Jewish tribes of Medina were deported and massacred, their women and children were forcefully Islamized, and their belongings were seized and taken. The truth is that in Arabia the Jews were passed through process of genocide and ethnic cleansing, being the "worst enemies of Allah;" "like apes and pigs."
Again, Hayward makes his work cheap by claiming that
"jihad, far from meaning some type of fanatical holy war against all unbelievers, is the Arabic word for "exertion" or "effort" and it actually describes any Muslim's struggle against the things that are ungodly within him or her and within the wider world.
Well, this is incorrect. Jihad comes from the third conjugation of the root j.h.d. and it means war. From here comes Mujāhidûn and Jihād. Indeed, it is mentioned (not in the Qur'an and not in an authentic, Sahīh, Hadīth) there is al-Jihād al-Akbar (the spiritual Jihad as compare to al-Jihād al-Saghīr, but it is also clear that al-Jihād al-Akbar will be practiced only after al-Jihād al-Saghīr is finished, meaning there will be infidels and Islam prevails.
Hayward concludes his research by bringing a long statement
This article is not an attempt at religious apologetics. It is written by a scholar of military strategy and ethics for a military audience in an endeavour to demonstrate that the world's second largest religion (only Christianity has more adherents) includes at its core a set of scriptures that contains a clear and very ethical framework for understanding war and guiding the behaviour of warriors" (Author's emphasis).
Well, it is the right time to directly refer to the subject matter raised by Hayward, which was unfortunately highly apologetic and misleading.
Just war in Arabic is Sīyār. Reading the Islamic Four School of Jurisprudence (Maliki, Shafi'i, Hanbali and Hanafi), and the Sharī'ah (Ahmed ibn Naqib al Misri, 'Umdat as-Sālik; Ibn Rushd, The Distinguished Jurists Primer; and Abu Zakariya Yahya, Riyad al-Sālihīn), clearly reveal there is no concept of "Just War" in Islam as in Western, Judeo-Christian thinking. From Islamic vantage point, any war which is directed against the infidels is morally justified and religiously legitimized. It comes even from the names: Islamic wars are not Hurûb (plural of Harb), but rather Futûhāt (plural of Fath), which literally means opening the world to the call of Islam.
Muslims wage Jihad in order to occupy the world and bring it under its fold, and/or to disseminate the religion to all humanity. This is why it is a just war to achieve a legitimate and a sacred cause. They wholeheartedly believe that their territorial expansion and their use of force and coercion against the other is not aggression but a fulfillment of the Qur'anic command to spread Islam to all humankind. The distinction is clear: every war activity in Islam is described as totally defensive, and every move of the infidels is defined as totally and undoubtedly aggressive.
The normal and justified relationships between Dār al-Islām, the domain of Islam, and Dār al-Harb, the domain of war, where the infidels reside, is a state of infinite war. The Muslims are totally justified in their state of belligerency against the infidels. Dār al–Islām is conceived as any territory conquered by force in the history of Islam, to become Waqf. By this reasoning, all territories of the infidels in Dār al-Harb, must be subdued or eliminated.
A lasting peace between Dār al-Islām, being a religious and political community, and Dār al-Harb is impossible, until Dār al-Harb no more exist. When the entire world has become Dār al-Islām, submission (Islām) to Allah will become the law of the nations. Until then, war is the normal and lasting state. Dār al-Sulh or Dār al-'Ahd exist only when Muslim power is weak and they cannot win over the infidels. Arab-Islamic political culture institutionalizes the conflict as the natural state of affairs. The word Salām denotes a state of security within the Muslim community (Ummah) and only those coming under its rule and governance. Everything is temporary and subject to change, in accord with Muslim values and interests.
Majid Khadduri, a world leading authority on Arab definitions of peace and war states clearly: Arabs and Muslims view peace with infidels only as a tactical means for achieving their strategic objective. It is a valid instrument only if it serves the Islamic interests. Peace constitutes a temporary break in the ongoing war against the infidels, and it is clearly seen from the intriguing 1,400 year sequence of wars, terrorism, alliances and violent violation of agreements and treaties between Arabs and Muslims and others. Muslims might come to terms with the enemy, provided that they should resume Jihad after the expiration of the treaty, or according their interests. By their very nature, treaties must be of temporary duration, for the normal relations between Muslim and non-Muslim territories are not peaceful, but warlike.
Islam could not abolish the warlike character of the Arabs who were constantly at war with each other. It indeed reaffirmed the war basis of inter-group relationship by institutionalizing war… transforming inter-Muslim war into a holy war designed to be ceaselessly declared against those who failed to become Muslims (pp. 53-4). This change, as a matter of fact, did not imply abandonment of the Jihad duty; it only meant the entry of the obligation into a period of suspension… There is no permanent compromise with non-believers (pp. 64-5).
This is summarized in a statement by the renowned Ibn Khaldun (1332-1406)
In the Muslim community, Jihad as the holy war is a religious duty, because of the universalism of the Muslim mission and the obligation to convert everybody to Islam either by persuasion or by force. Therefore, caliphate and royal authority are united in Islam, so that the person in charge can devote the available strength to both of them at the same time.
Muhsin Khan, The Translator of Sahīh al-Bukhārī into English states
So, it is incumbent upon Muslims to follow the path which Allah's Messenger adopted to avoid polytheism and heresy in all its shapes and to take the Qur'an and the Prophet's traditions as torches in front of us to guide us. We have to teach our brethren and convey the message to non-Muslims all over the world as much as possible in order to save them from the Hell-fire. We have to prepare ourselves to stand in the face of our enemy and to possess the means of power and to participate in the progress of useful industries in order to protect our religion and be powerful enough to face our enemy, as Allah ordered.
Top Afghan commander's killing raises questions
The formidable, flamboyant, maverick police chief of southern Afghan province of Kandahar General Abdul Raziq Achakzai was gunned down in a shootout inside the provincial governor's office on Thursday, along with the governor and intelligence chief. The 'insider attack', which wiped out the provincial leadership, was carried out by the governor's bodyguard and claimed by the Taliban, which shows Taliban infiltration of police and army in the war-ravaged country.
Gen. Raziq, 39, a bulwark against the Taliban in southern Afghanistan had a larger-than-life persona. To his credit, he had almost wiped off the terrorist group from its traditional stronghold – Kandahar, and was always seen in the thick of things. As the Taliban mounted gruesome attacks to seize other parts of the country, Gen. Raziq's presence in Kandahar ensured peace and stability there.
A fierce commander, who was seen as an American ally, was often accused by human rights watchdogs like Human Rights Watch of 'torture, extra-judicial killings and other human rights abuses'. But, his presence was so powerful and domineering in a country where U.S. war has stretched into its 18th year that the government struggled to sideline or ignore him.
The social media was inundated with poignant posts on Thursday, with netizens terming his death an "irreparable loss", which could have "far-reaching consequences" for peace and security in southern Afghanistan, where he was a "pillar of stability". Many of them blamed Pakistan while many blamed the U.S. for his violent end.
On Friday afternoon, the fallen commander was given a tearful adieu in Kandahar city by the border police he commanded for years. The bustling city was remarkably quiet as his coffin was paraded to the burial ground. The invincible man had met his inevitable death.
The enormity of the tragedy can be gauged from the fact that the Afghan government decided to delay the parliamentary elections that were scheduled for October 20.
Not the one to mince his words, Gen. Raziq was fiercely critical of Pakistan for providing sanctuary to the militant groups attacking Afghanistan. Over the years, he had survived many bids on his life, including a deadly suicide bombing last year. In an interview once, he said he had lost the count of times when the Taliban tried to exterminate him. A brave young commander and a smart war strategist, he always prevailed because he always had an upper hand and better luck.
However, on Thursday, his luck ran out. The incident took place following a meeting between Afghan and American officials at Kandahar governor's compound in the afternoon. In a statement, Taliban claimed responsibility for the attack and said it was aimed at Gen. Raziq and Gen. Austin Miller, the newly-appointed top U.S. commander in Afghanistan. Miller escaped unhurt.
News reports, quoting eyewitnesses, said the shooting took place when Gen. Raziq was escorting the U.S. officials, including Miller, to their helicopters. How Miller survived the attack, which killed Gen. Raziq, governor Zalmai Wesa and intelligence chief Gen. Abdul Momim, is a great mystery. If the attack was indeed aimed at Gen. Raziq and Miller, then how did latter escape unhurt. Did the Taliban actually not want to kill the top U.S. official in Afghanistan?
There are many questions that may never be answered. Many believe Gen. Raziq, who was not in favor of peace talks with the Taliban, had become a stumbling block in the U.S.-led so-called 'peace efforts'. Notably, the U.S. and Taliban officials had recently held secret parleys in Doha, in which the U.S. delegation had even proposed a political role for the Taliban leadership in Afghanistan, thereby giving legitimacy to the group they have been claiming to fight for the past 17 years.
Although Gen. Raziq was seen as a staunch U.S. ally in southern Afghanistan, many observers believe he had become a liability because of his dogged opposition to peace talks with the Taliban. For Americans, there can be no permanent friends or foes, and we have examples of Saddam Hussain and Muammar Gaddafi before us. This could well have been an attack orchestrated and executed jointly by the U.S. and Taliban to get rid of the formidable anti-Taliban commander.
In a statement, the U.S. military said the target of the Thursday attack was Gen. Raziq, not Miller. It is interesting how sure they can be that the attack was not aimed at Miller. As eyewitnesses said, Gen. Raziq was walking alongside Miller and other U.S. officials when the assailant opened fire. Gen. Raziq received four bullets – two in legs, one in abdomen and one in chest. The top U.S. commander safely walked to his helicopter and left the spot.
If the Taliban insurgency is all about the U.S. war crimes in Afghanistan and if all they want is the withdrawal of U.S. troops from the war-torn country, it defies logic why the Taliban fighter masquerading as an Afghan policeman would open fire at Afghan officials and not the U.S. official. There is definitely more to it than meets the eye. The attack proves yet again the duplicitous policies of the U.S. in Afghanistan and its covert support to groups that seek to destabilize the country.
The 'peace talks' between the U.S. and Taliban officials is hogwash. Otherwise how does it make sense that the 'peace talks' would be followed by deadly suicide bombings and targeted attacks. The engagement between the U.S. and its former-allies is basically to prevent any chance for real 'peace'. The idea is to keep the pot boiling so that the U.S. can justify its presence in Afghanistan.
In the process, both friends and foes will have to pay the price; like Gen. Raziq did today and many others did before him. Everything is fair in a dirty war.
First published in our partner Tehran Times
The issue of intelligence between the United States and China
The economic and intelligence tension between the United States and China is currently at its peak since the end of the Cold War. During that phase, however, China had also taken actions to oppose the Soviet Union, with the opening to the United States and the "ping-pong diplomacy" in the early 1970s, as well as its tacit support to Kissinger's resolution of all tensions between the United States and the Southeast Asian countries.
At the time China wanted to help the United States to regionalize – in Asia – its historic "Northern enemy," namely Russia.
In his "Three Worlds Theory", Mao Zedong placed it together with the United States in the "First World", as both imperialist powers, while he regarded China as the current and future leader of the whole Third World fighting against the "metropolises" of the First World.
Said project has not changed, it has only changed its language and its procedures.
Now that the bilateral tension between the United States and the People's Republic of China is at its highest, the rationale for this new Sino-American scenario is simple. China wants to achieve global geopolitical hegemony, while the United States led by President Donald J. Trump wants to rebuild its new economic and purely financial hegemony, and hence resort to protectionist practices.
The practices that even the old liberal handbooks of economic science considered lawful when a "nascent industry" needs to be protected.
China has now Africa in its own hands – a continent where the US power is linked almost exclusively to the US Africa Command, which is headquartered at the Kelley Barracks in Stuttgart.
Europe, of course, does not count for anything.
Moreover, China operates in Iran and also in Russia, considering that it has now incorporated Russia into its Belt and Road project towards Europe and the Mediterranean – in spite of the Eurasian Alliance project of Russian origin – and hence operates as a hegemonic power in Central Asia.
It does so by operating with a strategy that is at first economic, but also and above all political: the peripheries of the world against the metropolises, i.d. Mao's old "policy line".
Currently we are instead shifting from geoeconomy to the real global strategy – and China will have no particular difficulty in moving from a generically friendly position towards the United States to a far more adverse one.
When its primary interests are attacked by US actions, China will never make the first move.
The Thirty-Six Stratagems of the Chinese secret art of war are clear in this regard: "Watch the fires burning from the river" and also "Hide a knife behind a smile".
However, let us better analyze what has happened in the current "spy war" between the United States and China.
For nearly ten years, the US spy network in China has been severely undermined, if not wiped out. This has happened to the US intelligence services also elsewhere.
Allegedly, the vulnerability of the US network results from the fact that China has long "penetrated" the network used by the operatives and informants present in China.
China maintains that this has led to the "elimination" of 30 local citizens who worked for the United States and the imprisonment of an unknown number of others.
China's counterintelligence operation is said to have started in 2010, when the encrypted firewall used by the US operatives in China was discovered.
Obviously it is almost useless to add that the "sophisticated" IT firewall used by CIA is now in China's hands and the analysts of its intelligence services will use and implement it even more easily.
Moreover, the program discovered by China had to be used in such a way as not to connect with and not to be traced by CIA's major IT networks.
Without CIA knowing it, however, the encrypted system could also connect with its primary web network – and China could listen or read quietly and easily.
Incidentally, it is currently certain that all countries' intelligence services can use the Web, but it is equally certain that the security of communications is at least the top goal, together with the quality and depth of the intelligence and analyses reported to the "central unit".
Nevertheless, the more the Web gets complex, the easier it is "penetrated". This law has been never denied by facts.
The more complex it is, the easier is to manipulate or "penetrate" it.
Experts tell us that the Web's rate of complexity increases by seven the danger it can be penetrated. At every additional step of structural complexity there is a 7-time multiplier for possible "holes".
Hence, in many cases, it would be good to still resort to the old craft systems that made the history of modern intelligence. China still does it.
We believe, however, that the real problem lies in the fact that the United States still believes that China is a country which is trying – with some difficulty – to follow the development course of the Anglo-Saxon community.
This is certainly not the case: China has not long been a "second class" nation or, as some US analysts say, a "Third World country that has grown too much".
Far from it: it is a good thing that the United States soon realizes that China is certainly the second military and economic power in the world and that it can certainly cooperate with the United States, but dictating at least some essential conditions.
No Chinese decision-maker thinks about a "covert war" against the United States – not even remotely: currently the Party and the State think about other "enemies" and other regions.
However, we should never forget China's huge power of constraint, persuasion and negotiation.
Moreover, the free market myth has affected the whole system of what – in the intelligence community of every modern country – should be the axis of all major operations, namely influence.
Over 110 "Confucius Institutes" have been founded in the US universities and huge Chinese capital is present in many of the most important US entertainment companies, such as Legendary Group, AMC Theathers, STX Entertainment, Studio 8 and Global Road Entertainment, as well as in many other smaller companies.
Not to mention Chinese investments in other sectors and in US Treasury securities.
The US majors obviously sell much in China, but China has entered their system with money, not just with encrypted firewalls.
Clearly China is strongly interested in the US operations on its territory, but certainly the Chinese leaders have operated a linkage between the trade wars started by President Trump and their counterintelligence actions.
This is another bond to break.
The more the geoeconomic contrast between the United States and China mounts, the more intrusive actions will be taken by China in the United States (such as those of the many Chinese students in North American universities who are spying for their country of origin), as well as "harsh"  counter-intelligence operations.
Furthermore, what some leaders of the US Central Intelligence Agency fear is partly true: China is now in such a Cold War phase with the United States as to eventually oust it from its position as global power.
It is very unlikely, however, that Chinese leaders think they can weaken the US power in a short lapse of time: there is no blitzkrieg or lightning war that can decide, in a short sequence of clashes – even in the muffled world of intelligence or in the slightly noisier world of electronic war – who definitively wins.
It is pure madness and the Chinese are not mad at all.
Obviously both contenders must well understand that the Great Powers – if they have to disappear – do so over a period of centuries, always much more slowly than they have grown in good times.
Certainly even traditions count in the world of intelligence.
The United States is the realm of technology, in which an American –  a good American and not an ugly American like the one described by the British novelist and intelligence agent, Graham Greene, who however had titled his novel The Quiet American – believes blindly. Probably the ugly and the good are two sides of the same coin.
The tradition of Chinese intelligence is also excellent in technology, but it does not forget the ancient rules of power and war.
When some defecting KGB men were sent to some US military academies, they were surprised that in the libraries there were not the classics of Eastern war thought and strategy: the Thirty-Six Stratagems, the Liezi, as well as Sun Zu's military treatise The Art of War.
Hence too much technology in the United States and sometimes a certain tendency to conceptual hyper-simplification; too little history and knowledge of the real power structure which – when really powerful – is covert.
Also China, however, is not lagging behind in the field of technology. We should recall the hacking of over 30 companies among the most important ones in America, including Apple and Amazon, with a modified chip.
The Silicon Valley is now full of spies who work for the Chinese government for money or for other reasons.
According to many officers of the Armed Forces, all the US military networks are in danger.
CIA, too, has successfully carried out some operations on the Chinese territory, sometimes forcing the Chinese to give up their electronic espionage techniques, and also using Chinese intelligence agents.
Hence what can we do to stop, slow down and put in an acceptable position of security and business as usual this crisis between China and the United States, which – apart from trade wars – is still a mere war between intelligence services?
A first solution could be an extensive and universal protection – to be reached and signed as soon as possible – for the protection of sensitive intellectual property.
Currently trade secrets and patents are acquired not with old reverse engineering, but with the launch of IT attacks on companies and even law firms that hold regulations and protections.
While, as is well known, China is now a global software producer, it would be rational that even China would adapt to a new, stricter and safer international regulation of IPs and networks.
There could also be – in the offing – an international agreement on web addresses and network security, organized by the major companies operating in the sector, which are all interested in achieving a higher security level.
The US Invention Secrecy Act dates back to 1951 and it is too old for the technologies it should protect. Moreover, it is not part of the US intelligence chain.
In fact, the large US companies have increasingly relied on international laws for the protection of industrial data, often coming out of the North American judicial and legal system.
This is another "hole" that the United States must fill as soon as possible.
Moreover, now the US military can control patents, even when they are fully developed in the civilian sphere.
This is a good thing, but one thing is the law and another is counterintelligence.
However, the Web is and will always be wide-meshed: Google, in particular, is used by 67% of all Internet operators in the world and it has never made a secret of wanting a US patent system as "weak" as possible.
Google itself wants to sell the trade secrets at low price and quickly – and possibly keeping its own ones very secret.
The classic case of a paradox generated by a technology that does not find the legal mesh suitable for regulation.
Furthermore, China adheres to all international intellectual property regulations but, also in China, it is precisely the complexity and the inevitable archaic nature of rules compared to the speed of technology that impose the aforementioned "wide mesh" to China's patent protection.
Hence two things are needed: firstly, a technical-legal and bilateral Conference between China and the United States, with a view to regulating the specific needs of sensitive data protection.
Moreover, light is better than darkness, although the Chinese wisdom tradition maintains that it is necessary to "cultivate darkness" – as when you need to grow rhubarb.
Secondly, a US-Chinese Committee shall be established at the highest possible level, where one asks the other for the patents it needs – obviously against payment.
Later a "third" Committee shall be created to check the efficacy of the agreement, possibly made up of members of the intelligence community of a country that is good for both countries: Italy, for example, which is second to none in the field of cybersecurity and can guarantee both contenders.
Thirdly, an International Conference shall be held – again possibly in Italy – to draw up specific rules for "technology secrets", to be adapted each year according to new technologies.
Obviously also a new international Authority would be needed to coordinate and control – above all – the private network managers and the content collectors, as well as  websites.
ICANN, the Californian organization that – as we may all recall – was given the Internet "source code" by the US government, is still a cooperative incorporated under California's law, although the source code is now an open  secret and former President Obama decided it to be managed not only by ICANN.
Hence the Internet Corporation for Assigned Names and Numbers (ICANN) is still a structure that is only responsible for "opening" the network, as well as for dissemination and "transparency".
The Web, however, must also be a structure controlling data security, reliability and efficacy.
For each "transparency", a rule of security and control. If the system of intellectual property protection fails, the whole contemporary world will fail.
Hence we could think of establishing an Agency, again in Italy, with the major powers' support – an Agency called Security Agency for the Internet (SAFI), which can remove or report real-time passages of business and State secrets within the whole network.
This is another action that could be taken in Italy.
Is Jamal Khashoggi real a dissident journalist?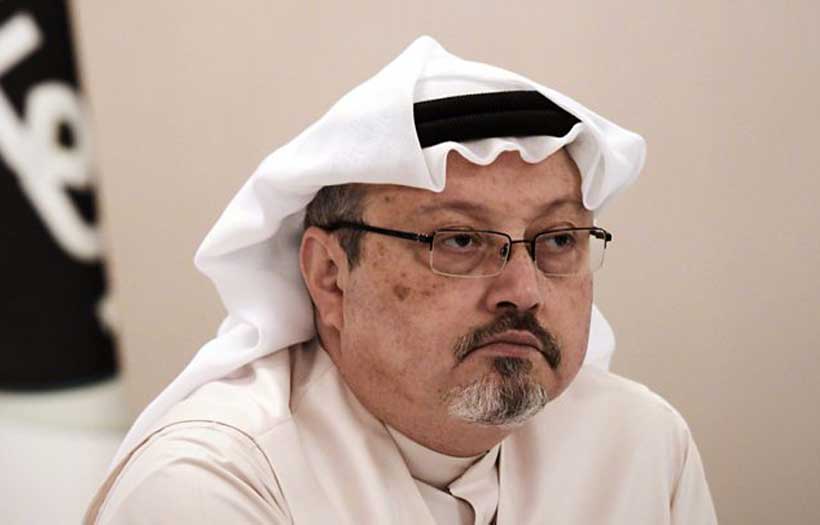 Saudi journalist Jamal Khashoggi allegedly disappeared from Saudi Arabia's consulate in Istanbul on 2 October 2018. According to the US press, a trap was set for him at a meeting to hand him new documents for his remarriage. Fifteen Saudi intelligence officers would have come to arrest him, torture him, kill him and dismember him. His mortal remains would have been returned to Saudi Arabia. Since then, Turkey and the United States have been asking Saudi Arabia, which denies the allegations of the US press, for clarification. Saudi Arabia's Crown Prince Mohammad bin Salman vehemently denied the allegations.
The case has become one of the major international crises between the West and the Kingdom of Saudi Arabia and has above all unveiled the double standards of the West's relations with the Saudi Kingdom. Analysts have suggested that the diplomatic crisis has been exploited by the West to create in Saudi Arabia a condition similar to Libya, in preparation for regime change and a possible military intervention.
Jamal Khashoggi is represented in the media as a journalist and dissident, suggesting that the case has a connotation of violation of freedom of expression and human rights. In reality, Jamal Khashoggi was the nephew of an important Saudi Arabian's arms smuggler, Adnan Khashoggi, who was considered the richest man in the world in the early 1980s. Adnan Khashoggi, who died in London in June 2017, was known for his lavish business deals. Adnan Khashoggi was implicated in the Iran–Contra affair as a key middleman in the arms-for-hostages exchange. His role in the affair created a controversy when Adnan Khashoggi donated millions to the American University in Washington, DC to build a sports arena which would bear his name. In 1988, Adnan Khashoggi was arrested in Switzerland, accused of concealing funds in connection with Imelda Marcos, widow of the exiled Philippine President Ferdinand Marcos. Adnan Khashoggi stopped fighting extradition when the U.S. prosecutors reduced the charges to obstruction of justice and mail fraud and dropped the more serious charges of racketeering and conspiracy. In 1990, a United States federal jury in Manhattan acquitted Adnan Khashoggi and Imelda Marcos.
Jamal Khashoggi, today considered disappeared since 2 of October 2018, after he entered the Saudi Arabian Consulate in Istanbul, befriended Osama bin Laden in the 1980s and 1990s in Afghanistan and Sudan while championing his jihad against the Soviets. At that same time, he was employed by the Saudi Arabian intelligence services as an advisor. It is reported that Jamal Khashoggi was the only non-royal Saudi Arabian who knew of the Royals' intimate dealing with al-Qaeda in the lead-up to the September 11 terrorist attacks. He dissociated himself from bin Laden following the attacks. It what during this time that Jamal Khashoggi's cousin, Dodi Fayed, was dating the UK's Princess Diana.
During his career as intelligence advisor, Jamal Khashoggi became the protégé of the former head of Saudi intelligence, Prince Turki Ben Mark, who then became an ambassador to London. Then he entered the service of Prince Al-Walid bin Talal, who was extensively tortured in the Ritz-Carlton during the palace coup d'état in November 2017. In recent years, Jamal Khashoggi defended the Muslim Brotherhood and Israel, which was why he was hired by the Washington Post. According to intelligence information, several members of the royal family whose assets were confiscated in whole or in part during the palace coup d'état in November 2017 have planned an operation against Crown Prince Mohammed bin Salman. According to the sources, Jamal Khashoggi was involved in this conspiracy. Analysts have suggested that Jamal Khashoggi might have been considered especially dangerous by the Saudi Arabian leadership not because he was a dissident, but rather a pillar of the Saudi Arabian establishment who was close to its ruling circles for decades and was involved in intelligence operations sponsored by foreign forces.
The fate of Jamal Khashoggi is still unknown and the facts of the investigations are still fragmentary and contradictory. But the case has some reminiscence with that of the ex-Russian double agent Sergei Skripal and his daughter who were poisoned in Salisbury in March. The difference is that in the Skripal case it took nothing more than a swift declaration (sans evidence) from British intelligence agencies before sanctions had been slapped on Moscow.
Trump has promised "severe punishment" will be handed out to Riyadh if it turns out that the country is responsible for the alleged killing of the journalist — but that harsh comment has been tempered by other less angry statements which indicate that the US president is not quite serious about doling out any kind of consequences. After all, there are other things on Trump's mind, far more important than the fate of one journalist. Referring to a $110 billion weapons deal previously signed by Riyadh and Washington and noting that Jamal Khashoggi was not a US citizen, Trump told journalists last week that he didn't really want to stop "massive amounts of money" from being poured into the US from Saudi Arabia. "It would not be acceptable to me," Trump said.
In other words, if Saudi Arabia really did send a team to torture, kill and dismember Jamal Khashoggi, weapons sales are still more important. Even the sale of weapons which are being used by Riyadh to continually slaughter civilians in Yemen during a war that threatens to create the worst famine in 100 years, according to the UN. On the other hand, if the Saudi Arabia's Crown Prince Mohammad bin Salman refuses again to pay some hundreds of billions to the United States for the defense of his country, the Jamal Khashoggi disappearance case is a beautiful pretext for a regime change in Libyan style.