Da'wah-Propagation as the Chief Islamic Strategy to Occupy the World
The objectives of Da'wah are to come back to the religion by keeping all the Sharī'ah's commandments; to be a good and devoted Muslim; to establish unity among all the Muslims; and to exalt the word of Allah on earth with the purpose to establish the good and legitimate society, the Ummah.
As about the infidels, the objectives is to promote the Islamic Sharī'ah among them and to encourage them to join the ranks of Islam as Allah's chosen religion. This means, to guide all the peoples of the world to Islam, being the only legitimate religion deserves of worshiping. This requires the use of wisdom in persuading the infidels of the supremacy righteousness of Islam as compare to other religions. This is the Da'wah of the word, and assist it then comes the financial Da'wah, to support the converts so that Islam can prevail.
This is Jihād al-Da'wah, the spreading of Islam among the infidels by peaceful propagating means, such as argumentations and reasonable examples:
Call them in the way of Allah, with wisdom and words of good advice; and reason with them in the best way possible. Allah surely knows who strays from his path and He knows those who are guided in the right way (Sûrat al-Nahl, 16:125).
He who finds the right path does so for himself; and he who goes astray does so to his own loss…we never punish till we send a messenger [to preach] (Sûrat Banī Isrā'īl, 17:15).
The question is, were the Islamic territorial expansion historically, and the conversion to Islam religiously, an intended strategic plan, or a result of historical circumstances? The Muslim exegetes do believe that Allah commanded Muhammad to start making the Da'wah, to preach to Islam, and to use Jihad war to subdue the entire world under Islamic rule, from the first day he was entrusted with the mission of Islam. From this point of view, Islam is a missionary religion from its very inception, yet, we suggest that this was a gradual process, which developed hand by hand with the Islamic political success. In the battleground, all Islamic exegetes agree that when the Muslims meet infidels, they should not fight them until they have been asked to convert to Islam or to come under Islamic rule. Jihad war to eliminate the infidels comes only later on. This means that Jihad can be conducted only after the missionary activity of Da'wah has failed. Indeed, in Islam, al-Da'wah Qablal-Qitāl (invitation to Islam before death in war). It is based on the commandment: "We never punish till we have sent a messenger" (Sûrat Banī Isrā'īl, 17:15) and by the Ahādīth:
Muhammad said: When you meet your enemies among the infidels, offer them three choices, whichever of these they agree to, accept it from them: call them to Islam. If they accept, make peace with them; if they refuse, demand they pay the Jizyah. If they agree, accept it from them; if they still refuse… fight and slay them for the sake of Allah.
Umar sent the Muslims to the great countries to fight the pagans. Every place they came, the Muslim declared: "our Prophet has ordered us to fight you till you worship Allah Alone or give Jizyah; and our Prophet has informed us that whoever amongst us is killed, he is a Shahīd and shall go to Paradise to lead a luxurious life as he has never seen, and whoever amongst us remain alive, becomes your master.
Muslim theologians and the four Islamic schools of jurisprudence have pointed out that Islam was spread by proof and evidence, in the case of those who responded positively to the message, and by strength and sword, in the case of those who stubbornly resisted it, until they had no choice. It is best elaborated by Tirmidhi:
And there is no group of people on earth in which you cannot bring to me from them Muslims. And the best I like that you bring their wives and sons and kill their men.
Da'wah can work as an active, dynamic and missionary force, and the Muslims have to invite, to call, to reason with, and to exhort all those who are not Muslims with the objective of submitting to Allah's will. At the same time Muslims must let the infidels know about their perfect religion and its mission to mankind. They have to deliver the message of Islam in its totality to other peoples who are not acquainted with it, and to aid them to embrace Islam. This is facilitated by contacting individuals and families with information; lecturing about the values of Islam as the perfect way of life.
From the Free World vantage point, the most important aspect of Da'wah is concerned with education. He, who wishes to stop fanaticism and radicalism in contemporary Islamic activity, must spend his energies to totally eradicate the deep-rooted connection between religion and education, the extreme incitement and hatred to the other. Muslim propagators work mainly in schools, colleges and universities, and it includes publishing material about Islam; using of the communication media to deliver the message of Islam; and de-legitimizing all other religions, cultures, political systems and way of life.
Domestically, the means to achieve these purposes within the Islamic community is by the establishment of Muslim religious and educational institutions, mainly the mosque (Masjid) and the school (Madrasah). It is carried out by eloquent scholars and Imāms, through sophisticated propaganda, and it presented as the cure to all modern ills: the destruction of family values, the high crime rates, alcoholism and the drug problem.
The Da'wah activity includes gentle preaching with reasonable argumentations and ideas to attract the infidels. The Islamic facts should be taught in such an elegant and beautiful language, as to bring in those with the capacity to accept Islam. The preachers must understand that the call to Islam should be clear, eloquent, self-evident and effective. They should present arguments in many ways and be replete with emotions and zeal, uniformity and unity of purpose. They should develop friendship and win the trust and confidence of those inclined towards Islam, be patient with them.
Da`wah should be pursued at all various societal and educational levels, and the communications media are considered imperative for the preaching. Special attention is given to campuses of colleges and universities where the Islamic propaganda is valued as effective and profitable. The second level of attention, after the campuses, is the Afro-Americans. The Muslim should carry the message of Islam to these groups in the ghettoes and in prisons, which are more susceptible to religious transformation. The emergence, in fact the flourishing, of mosques all-around of Western countries, together with the educational activity, the visiting of trained, sophisticated Imāms and scholars, alongside the distribution of informative literature and the proliferation of Islamic presses and publishers, all are intended to assist the spreading of the Da'wah in the West.
These twofold objectives of the Da'wah, to convert infidels to Islam and to strengthen the faith of the Muslims according to the Sharī'ah, not necessarily in this order, are illuminated by the above-mentioned activities. The interesting fact is that to the Muslim communities, the demand is for a more conservative and strict interpretation of Islam, urging them to reject all the elements of Western culture as Bid'ah (sin, unlawful). The projection is of the moral chaos and decadence of Western societies. Praying and visiting the mosques regularly, being educated in Islamic Madāris (schools), and dealing with any cultural and marital assimilation, become part of an ideological commitment to Islam as a way of life. This also means that the Muslims should organize themselves in communities, as close and segregated as possible.
Since they are considered missionaries and not immigrants, Muslim propagators are taught to master the modern languages and disciplines, and to have an absolute command of what they have to offer. By this, they can eliminate, amend, reinterpret and adapt the teaching of Islam according to the situation and the surroundings, producing and disseminating Islamic knowledge and providing daily requirements. They have a mission to the new generations of Muslims and the converted, how to follow in their footsteps and become a devoted Muslim. The Da'wah is connected to Jihad through the abandonment of personal wishes and sensual desires; promoting the unity of the Islamic community, and facilitating the absorption of Islamic values among the infidels.
From the early days of Islam, Da'wah was used extensively to denote the mission of Muhammad to the believers: to follow him and to believe in Allah's Tawhīd. By that, the words Da'wah, Sunnah, Sharī'ah, Dīn are exchangeable and replaceable by one another. That is, Da'wah represents the real Islam in its full context, and a clear message to the world concerning Islamic intentions. One can find on many internet Islamic sites with huge passages and detailed instructions how to approach the infidels in deceit, concerning the character of Islam; proofs that Islam is the only true religion; the advantages of Islam to all mankind; how to convert to Islam; civil rights and human freedoms; Islam and terror.
From Islamic perspective, it is not only in order to convert people to Islam, but to liberate them from the dark slavery in which they live in by showing them the beauty of life in Islam. This is clearly echoed in the Muslim Brotherhood periodical, al-Da'wah, which indicates: the Da'wah is the genuine representative of the Islamic cultural and historical personality and identity, to recreate the Islamic true society, the Ummah. Da`wah is used as the chief diplomatic operation of the Muslims to deceive, disorient, and confuse the infidels about the real objectives of Islam. Moreover, it helps to redirect and twist reality. The aims of the Da'wah are very clear: to summon all the peoples of the world to accept Islam as the only true religion and to help its world spread.
Da'wah is the political use to divert public opinion from the horrors of Jihad, to whitewash Islamic terrorism: one hand butchers and demolishes, and the other condemns and misleads. So it turns that after a terrorist Jihad act is executed, Muslim organizations and NGOs rush immediately up to deny any connection to Islam and to reassure that Islam is a peaceful religion. Condemning and denying is only one aspect of Da'wah. There is the strategy aimed at subduing public opinion and by capitulating it to Islamic will. It is elaborated by Islamic practice in the US, with the aim to propagate in all fields and sources to exhibit Islam as a religion of peace and compassion.
While the operations of Jihad and Da'wah are carried out by different perpetrators and different means, they are all part and parcel of the objective to resurrect the Islamic caliphate as Allah's kingdom on earth. This objective is compulsory on Muslims, and verifies the dictum of the Qur'an that the opponents of Islam will convert or become its supporters. Ibn Khaldun clearly articulates this division:
Because of the universalism of the Muslim mission, it becomes a religious duty to convert everybody to Islam or to bring them under Islamic rule, either by persuasion (Da'wah) or by force.
S. K. Malik elaborates this interaction between Jihad and Da'wah:
"…our main objective is the opponent's heart or soul, and our main weapon of offence against this objective is the strength of our own souls… (These) are not only a means, but the end itself… It can be instilled only if the opponent's faith and belief systems are destroyed."
Muhammad as a model
For the Muslims, Muhammad is not merely a prophet, and not only a political and military leader, but an admired symbol; the representative of Allah on earth, the person with immunity to sin and error. He is the perfect embodiment of a human being on earth, and a model of the reality to come true by his deeds and sayings. It is the utmost goal of every believer to obey and to imitate him. Muhammad encouraged these trends by demanding that all the believers love him supremely and cherish him by his name. This is the reason why almost every Muslim also has "Muhammad" or "Ahmad," or "Mahmud" or "Hamdan" as one of his names.
Narrated Anas: "The Prophet said: 'none of you will have faith till he loves me more than his faith, his children and all mankind.'"
Narrated Abu Hurairah: "The Prophet said: 'name yourself after me…and whoever sees me in a dream, he surely sees me, for Satan cannot impersonate me. Who intentionally ascribes something to me falsely he will surely take his place in hell fire.'"
If we understand the deep and total admiration to Muhammad, we can understand the reasons for today's violent Muslim riots against even mere cartoons of Muhammad. It is demonstrated with the horrific slogans used by the Muslims marching all around the world: "Slay those who insult Islam", "Butcher those who mock Islam", "Behead those who insult Islam", "Exterminate those who slander Islam", "Massacre those who insult Islam", "Europe is the cancer, Islam is the answer", "Europe take lessons from 9/11", "Europe you will pay. Your 9/11 is on its way", "Freedom go to hell", "Be prepared for the real holocaust," and the most: "Islam will dominate the world."
Contrary to the exegesis of most classical Islamic exegetes and the four schools of Islamic jurisprudence, the second part of the twentieth century brought a resurgence propagation and reinterpretation of the attitude to Jihad. Moulavi Ali, a Pakistani scholar and exegete, puts it very blatantly:
Almost all Muslim and European writers think that the religious war of aggression is one of the tenets of Islam, and prescribed by the Qur'an for the purpose of proselytizing. I do not find any such doctrine enjoined in the Qur'an or preached by Muhammad. His sole mission was to enlighten the Arabs to the true worship of one Allah. These have nothing to do with popular jihad and exterminating the idolaters. All the verses of the Qur'an are related only to defensive war without exception, and none of them has any reference to make warfare offensively. All fighting injunctions within the Qur'an are only in self-defense, none of them has any reference by which to make warfare offensively. There are several passages in the Qur'an which forbid taking offensive measures and enjoin only defensive war.
In a booklet "The Basics of Islam at a Glance" prepared by The Islamic Cultural Center in Tempe, Arizona, we read:
There is no historical proof that Islam was "spread by the sword". Even non-Muslim scholars now admit that this is nothing more than a vicious myth which cannot be substantiated by historical fact. Others have claimed that Islam is a religion of love and peace and forgiveness.
An Egyptian exegete of Islam, Mahmoud Shaltut:
Muhammad revealed a book containing the principles of happiness. It commands to judge by reason, it propagates science and knowledge, it gives clear rules, it proclaims mercy, it urges to do good, it preaches peace, it gives firm principles concerning politics and society, it fights injustice and corruption. The Islamic community is commanded to do only what is good and is forbidden to do what is reprehensible and evil. The Islamic mission is clear and evident, easy and uncomplicated. This is the mission of Muhammad to humanity.
Here is the verse that Muslim Propagators falsely deceive the infidels, and most
Western leaders quote without any trace of understanding, as if Islam is tolerant, compassionate, and peace-loving: Sûrat al-Mā'idah, 5:32
"If anyone slew a person – unless it be for murder or for spreading mischief in the land -it would be as if he slew the whole people: and if any one saved a life it would be as if he saved the life of the whole."
However, the full verse is:
"[Because of Cain killing Abel], That is why we decreed for the Children of Israel that whosoever kills a human being except for murder or for spreading corruption in the land it shall be killing all humanity. And whosoever saves a life saves the entire human. Our apostle brought clear proofs to them, but even after that most of them committed excesses in the land."
One of the last misuse of this verse as a diplomacy of deceit was the White House Summit on Countering Violent Extremists, on February 18, 2015. Imam Abdisalam Adam of the Islamic Civil Society of America said that "Mosques serve as beacon of hope," and they "provide moral compass for the Muslim community in navigating life… The peace, safety, and security of the US are of fundamental importance to the Muslim American community, and we oppose any form or shape of violent extremism that threatens peaceful coexistence… We believe in the right of all people to live in peace and security… Muslim imams have condemned and continue to denounce anyone who tries to use the religion of Islam to support terrorism."
He has quoted verse 5:32, as to prove Islam is a religion of peace. President Obama used this passage in his Cairo Speech as do many apologists for Islam. What is actually presented by apologists is a distorted, out-of-context and misleading paraphrasing of the verse. The phrase "if any one saved a life it would be as if he saved the life of the whole" is taken from the Jewish Mishnah, Sanhedrin, 4:5. Hence, this commandment is not incumbent upon Muslims, but on Jews. And the reference to "our messengers" is the Jewish prophets coming to the Jews with "clear proofs" which the Jews ignored, and filled the land with excess. This verse is written in past tense and does not apply to Muslims but to "the Children of Israel," who, according to Islam itself, received the scriptures earlier.
In fact, this passage mentioned in the Qur'an is not a prohibition on Muslims to kill anyone, but explicitly not to kill fellow Muslims. Ibn Kathir explains this verse: he who kills a believing soul intentionally, Allah makes the Fire of Hell his abode. He will become angry with him, and curse him, and has prepared a tremendous punishment for him, equal to if he had killed all people. He explains the meaning of "mischief:" Do not commit acts of disobedience on the earth. Their mischief is disobeying Allah, because whoever disobeys Allah on the earth, or commands that Allah be disobeyed, he has committed mischief on the earth. This commentary also appears in Tafsīr al-Jalālayn. Moreover, Muhammad himself said the life of a non-Muslim is not sacred:
"Narrated Anas bin Malik: Allah's Apostle said, 'I have been ordered to fight the people till they say: None has the right to be worshipped but Allah. And if they say so, pray our prayers, face our Qiblah and slaughter as we slaughter, then their blood and property will be sacred.'"
"Narrated Maimun ibn Siyah that he asked Anas bin Malik, 'What makes the life and property of a person sacred?' He replied, 'Whoever says, none has the right to be worshipped but Allah… then he is a Muslim.'"
Furthermore, Muhammad also gave the Fatwah that a Muslim cannot be killed for killing a non-Muslim. However, most important, the problem emerges in its fullest expression in the following verse (5:33), which is tightly connected, reveals the issue clearly: The price to pay for the "mischief" (Fasād) done is death:
"The punishment for those who wage war against Allah and his prophet and perpetrate disorder in the land is to kill and hang them or have a hand on one side and a foot on the other cut off. Or banish them of the land. Such is their disgrace in the world, and in the hereafter their doom shall be dreadful, except for those who repent before you apprehend them. Allah is forgiving and merciful."
The relations between Malta and Libya and economic crimes inside Libya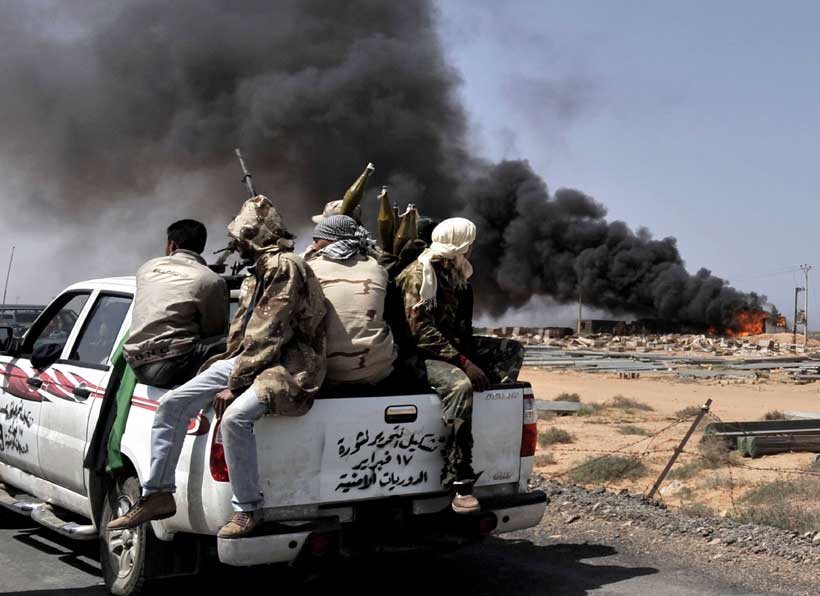 Since the beginning of hostilities against Gaddafi, operations – carried out mainly by the French intelligence services -started from Malta to send weapons, intelligence, instructors and trainers to the "rebel" forces in Cyrenaica who were fighting the Rais.
The French military reached the coast of Benghazi with two nuclear submarines and the Brigade Action of the intelligence services, while the links had already been established abroad, and sometimes just outside Rome – even with the help of the United States.
I also watched the first internal documentaries of the anti-Gaddafi rebel forces, trained with materials and means which were usually available to the best hit squads of the Western intelligence services.
It was hard to believe how the Libyan "rebels" were so able to use very refined weapons.
The French agents also used "covert" flights to monitor the arrival and distribution of weapons, especially to avoid they could end up in the hands of the wrong people. Since the first attacks in Tripoli, the French agents had also provided to their "rebels" as many as 9.1 billion US dollars of weapons and had later continued to supply other weapons to their local champions, for large sums of money and always using Malta as a base.
The preferred channel of the French agents was General Abdul Fatah Younis Al Obeidi, who had been the Head of the Libyan National Liberation Army, a force of Cyrenaica made up of approximately 13,000 soldiers originated from a tribal rebellion within Gaddafi's army.
Yunis Al-Obeidi, however, had been murdered on July 28, 2011 near Benghazi.
As reported at the time, he had probably been killed by jihadists, who had already penetrated the pro-Western "rebel" armies – a 1968-style stupid terminology that immediately reveals what the operational and intelligence culture of Western politicians is.
Nevertheless, according to Wikileaks data, the United States also knew that Yunis was a very secret contact with Saif Al-Islam Gaddafi, while it was very likely that the 9 billion US dollars for the French weapons sold to Malta came from Gaddafi's frozen accounts in Belgian banks – accounts not yet fully investigated.
On the one hand, France was afraid that – after the fall of Gaddafi's regime, the various Libyan "revolutionaries" could carry out a series of terrorist actions directly in France, but hence why promoting the anti-Gaddafi insurgency? We will never know.As Ennio Flaiano used to say, also stupidity has its mysteries and unfathomable depths.
On the other hand, France heavily controlled the migrant networks, already active at the time, and finally selected their forces of reference mainly to avoid the US hegemony in the fight against Gaddafi.
Nevertheless, everything started from Malta, which always acted as a support base and a remote intelligence and economic control area.
In fact, since its establishment, the Government of National Accord (GNA) secretly granted to France 35% of Libyan oil to thank it for its support in the "liberation" struggle. A 35% which added to the already used 15% of oil processed regularly by Total, much more linked to the French intelligence services than ENI is to the Italian ones.
France officially supports the National Transitional Council of Libya (NTC) (as well as Khalifa Haftarin Cyrenaica) and, in fact, believes that the issue of migrants – which financially also takes place in Malta – shall be central to Libya's future economy: in fact, France believes that the issue must be solved only on the spot, namely in Libya.
This means that the refugees present on the Libyan territory, who possibly passed through the areas controlled by the French Armed Forces to Agadez and elsewhere between Chad, Niger and Mali, can be divided as it still happens today: since 2011 as many as 696,000 migrants have fled to neighbouring countries, such as Tunisia, Egypt, Niger, Chad, Algeria and Sudan, while other 30,000 ones have left, by sea, to Italy or to Malta.
The migration issue that is solved on its own and to Italy's detriment – this is the French strategic idea.
Many other migrants have reached Italy through other ways, often certainly not unknown to many of its traditional allies in Europe.
Great Britain, the other actor of the anti-Gaddafi conflict besides France, carried out a set of military actions between Zilla and Southern Libya – starting from Malta and with a series of forward bases along the coast – to collect and expatriate mainly non-British oil workers – the imaginary core of some hit squads active in the anti-Gaddafi "revolution".
Coincidentally, the airlift – useful for 150 foreign operators in the Libyan desert – was always based in Malta.
The Libyan oil smuggling from the coast of Tripolitania and Sirte to many small ports in Malta continues – a trafficking that, under the cover of the Sicilian Mafia and of some Maltese politicians and members of Parliament, has permitted annual earnings of over 82 million euros.
This was exactly what the investigative journalist Daphne Caruana Galizia had been dealing with before being killed in a car bomb attack – a technique well known to the Sicilian Mafia clans.
The oil is supposed to come from the port of Zuwara, mainly with the support of Ben Khalifa's Libyan militia, but the oil hidden in vessels suitable for fishing and later sent off Malta's coast – with ship-to-ship transfers – arrives at the ports controlled by the same Maltese company and is distributed throughout Europe in a traditional way.
The Maltese fishermen of Marsaxlokk have often noted how the ship-to-ship exchange of oil cargoes has never been stopped by the Maltese maritime police authorities, while the (fake) certificates held by the oil traffickers refer to products originating from "Saudi Arabia".
Moreover, the Italian law enforcement agencies have well-grounded reasons to believe that the fake certificates have been regularized by a Maltese notary public and also signed by a Director of the Maltese Ministry for Foreign Affairs.
All this in favour of well-known Mafia families and clans from Catania.
According to local insurance experts, oil smuggling costs Libya at least 750 million US dollars a year, which is equivalent to the commercial tampering of 35-40% of the Libyan oil extracted every year.
Another issue to be analyzed in depth at the next conference on Libya.
Furthermore, the Italian and non-Italian investigators report that the Maltese smugglers, jointly with many Libyan ringleaders, always devise new traffic routes and new methods to conceal their trafficking, with a route that currently prefers the small ports in Southern Spain so as to later head for Cyprus.
Initially, until 2011 hashish left mainly from the Moroccan coast, with small ships (as is currently the case for migrant trafficking) and arrived directly on the Southern or Eastern-Southern coasts of Spain.
After the famous "revolution" against Gaddafi, currently all hashish leaves from Tobruk, where the big stacks of hashish for smoking are stored and protected by local militiamen.
Then the Sicilian Mafia clans distribute these loads in Italy and in the rest of Europe.
Nowadays, however, there is still something new: while, in the past,drugs were brought to Europe by large ships, often owned by Syria, now the small loads of drugs are transferred from the Libyan to the European coasts by Italian or Maltese fishing vessels, which later leave their royalties in the Maltese banks.
The mechanism is always the same: on the high seas, hashish is transferred from smaller to larger ships.
The same holds true for the illegal trafficking of cigarettes- an old Mafia business which, however, is always a source of excellent profits.
In this case, the third port used by smugglers is still the port of Bar in Montenegro.
It was the area where Slobodan Milosevic was hidden, while everyone was looking for him elsewhere, although NATO knew where he was.
In the past, smuggling – somehow permitted by Gaddafi for his most trusted friends – was mainly related to lawful goods, but rare on the Libyan market, while – after 2011 – smuggling has been no longer focused only on goods not available on the Libyan market, but rather on clearly illegal goods (weapons, drugs) and migrants.
The Libyan economy, however, is still a war economy, where the predatory and violent actions prevail over all the others.
Nevertheless, it is above all the smuggling of migrants that is still essential for Libya's internal economy, regardless of the area considered.
In fact, in 2017 the Libyan factions obtained almost one billion US dollars from migrant trafficking, while in the current year they have already gained 985,000 dollars of net income, by using other routes and other methods.
According to the Libyan offices, 30% of the oil used for transport is traded illegally, with as many as 105 phantom distributors, while the oil for other types of consumption is traded illegally via Darfur or South Sudan to the sub-Saharan rich marketnot covered by large distributors.
Diesel is usually stolen at sea and later sold to Italian and other European distributors by people in contact with the Libyan gangs.
Every year 18% of the proceeds from Libyan oil is hence left in the hands of smugglers.
With specific reference to drugs, after 2011 Libya has become a point of transit, but also of consumption (as is currently the case with Afghanistan), particularly for heroin and cocaine, while there are signs that the internal market for methamphetamines is spreading, which are widely traded also towards Italy and the Spanish ports.
Moreover, the executives of the Central Bank of Libya in the Tobruk Parliament have accused as many as 24 foreign companies and 44 Libyan companies of being involved in currency trafficking from the areas for cash collection in Libya to the Maltese banks and, sometimes, to Cypriot and Spanish banks.
Hence this is the link between the EU illegal economies and the criminal economies of Libya, divided into factions fighting one another at military, but above all at economic levels, while the State disappears or is divided into two parts.
Cyber Terrorism and its Securitization in Pakistan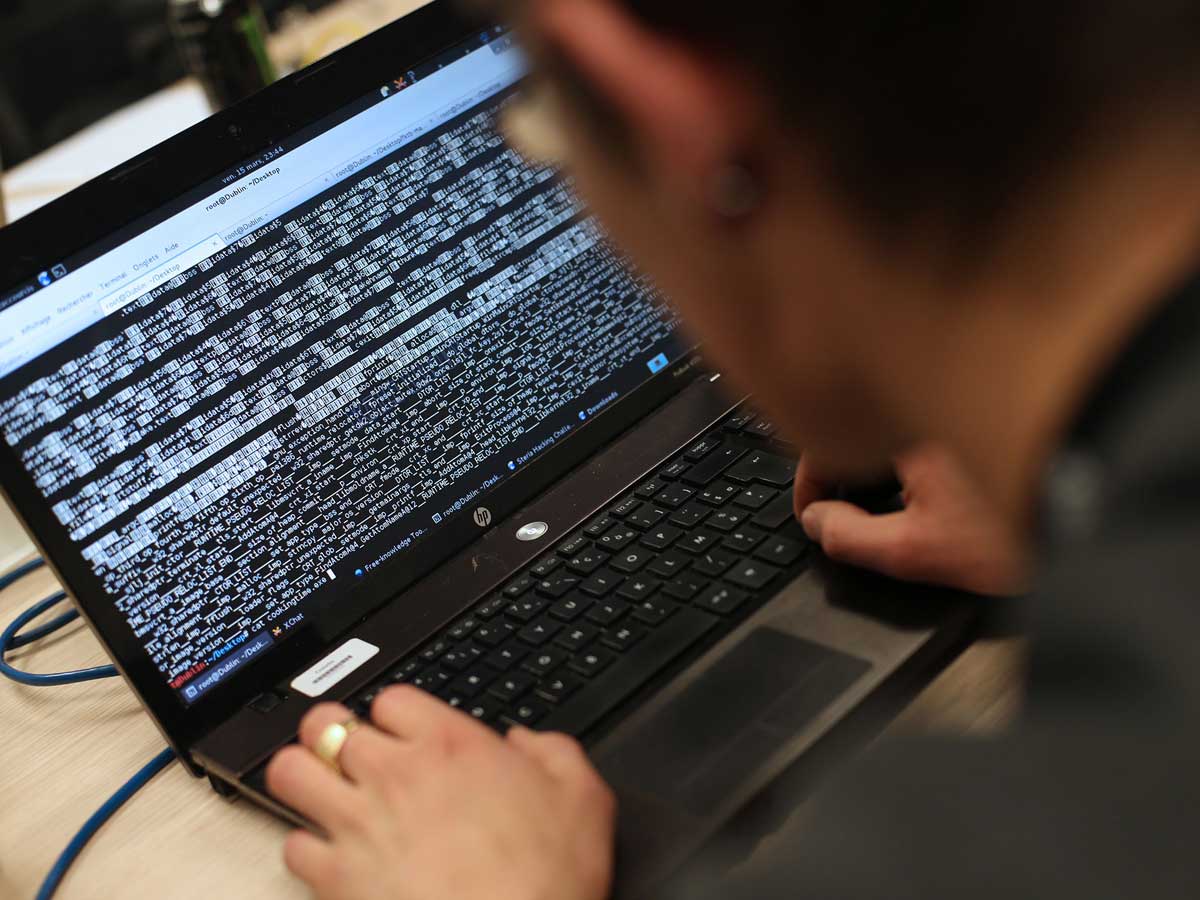 One of the biggest threat of 21st century is terrorism, all states whether developing or underdeveloped are equally getting affected by it.  The alarming new component of terrorism is its spread in cyber space. Cyber space is a virtual world where all essential sectors of national life of state have presence and thus, it makes it an attractive target for terrorist groups which are driven by political agenda. The common difficulty in identification of terrorist is that they blend in with general population and are thus harder to identify. This benefit of anonymity is also present in cyber space that terrorist are utilizing all over the world to spread their ideology, carry out their recruitment process and to generate funding.
In this era of globalization cyber space allows a person sitting in one end of the world to carry out action in other part of the world without even being identified.  All person might need to carry out such an action is access to information technology and knowhow. Owning to the fact that information technology is easily accessible and its knowhow is not some secret, makes it excellent medium for state and non-state actors to carry out malicious activities against other states and non-states actors. Threat of terrorism or cyber terrorism is from which no country is safe, even most secure countries with world largest armies. However, countries such as Pakistan which are unfortunate to be located in a region that is prone to all types of conflicts whether they are traditional or non-traditional; are more exposed to threats like cyber terrorism. According to scholars cyber terrorism could be defined as "Cyber terrorism is socially or politically illegal attack on computers, network systems and stored information for political gains".   Although, there are no mass events of cyber terrorism reported in Pakistan but according to former NSA contractor Edward Snowden, Pakistan is the second most spied on country and NSA has intercepted more than 13.5 billion pieces of information from Pakistan. But, if one talks about cyber terrorism specifically in Pakistan, many terrorist organizations are running their recruitment pages and financial set-up electronically.
These groups and their online presence is serious issue because through these pages, websites, blogs and video they spread hate, sectarianism, violence and messages to overthrow the governments. Absence of strong filters and blocking mechanisms is helping these organizations to carry on their malicious activities. Pakistan is already fighting against terrorism by conducting military operations on state level. In future when it would become harder for terrorists to launch physical activities against state they will move towards the unguarded territory of cyber space. So, it is necessary for Pakistan to nip the evil in the bud.
So far to stop the cyber terrorism different govt. in Pakistan have taken few actions but most of these actions are to regularize different crimes that are taking place in realm of cyber space. Such initiatives include Pakistan Telecommunication Reorganization Act 1996, Electronic Transaction Ordinance 2002, Payment systems and Electronic Fund Transfer Act 2007, Electronic Crime Ordinance 2007, Cyber Security Strategy Bill, Prevention of Electronic Crime Bill and National Action Plan.
However, due to lack of proper institution handling emerging threats in cyber space implementation of these legislative measures is very weak reason being the politicization of the issue of cyber security rather than its securitization. It is true that security measures taken by states in arena of cyber security fall under the grey area where they step on the human liberties but security comes with the price. To securitize Pakistani society from the evil of cyber terrorism it is necessary that strong executive measures shall be taken, separate institutions shall be made to handle all threats emerging from cyber space because one small branch under one federal investigation authority is not dynamic enough to handle threat of cyber terrorism.
Killing of Mulana Samiul Haq and Afghan Peace Process
On 2nd November, Jamiat Ulema Islam-Sami (JUI-S) chief and former Senator Mulana Samiul Haq was assassinated at his residence in Rawalpindi. According to reports he stabbed multiple times. Samiul Haq's spokesperson Mulana Abdul Majeed said there was no one present at the residence when he was killed. He further said "We do not know who attacked him. He was alone, the person who was supposed to be with him had gone to the market."The assassination of Maulana Samiul Haq, chief of his faction of the Jamiat Ulema-e-Islam (JUI), has sent shockwaves and sorrows throughout the country. The respected religious scholar exercised significant influence through his seminary Darul Uloom Haqqania based in Akora Khattak, which produced many leaders of the Taliban movement in Afghanistan. He also wielded political weight, having served as a senator for many years, and was currently aligned with the ruling PTI. He was also connected to the politics in Afghanistan and was sought after for advice by many stakeholders.
The assassination of Mulana Samiul Haq is considered as a big loss for peace process in Afghanistan. Along with it everybody in Pakistan is gloomy on the brutal killing of the Mulana. Indeed he was peace loving person. Despite his hardline religious and political views, the 80-year-old Samiul Haq was a patriot and upheld the national cause in the face of external and internal threats. He opposed taking up arms against the state and instead advocated the use of peaceful means to work for enforcement of the Islamic law in Pakistan. He strived to be on the right side of the civil and military establishment despite differing with them on certain issues, such as Pakistan's close relations with the US in the past, particularly in the aftermath of the 9/11 event when Islamabad broke ties with the Afghan Taliban under pressure from Washington. His dedication for peace in Pakistan and especially in Afghanistan will never forgotten.
According to experts on Afghanistan affairs his death is the huge setback for Afghan peace process. Mulana Samiul Haq was known as "Father of Taliban" and interestingly he took much pride in this title. It was because his seminary of the Deobandi school of thought and alma mater to some of the most prominent of the Taliban, including their leader Mullah Muhammad Omer, Mullah Akhtar Mansour and Jalal ud din Haqqani. Mulana Samiul Haq was much influential on Taliban leadership in Afghanistan and that is why that delegations twice led by the Afghan Ambassador himself asked him to play a role in initiating the peace process. In post 9/11 period till his assassination he remained involved in many negotiations between Taliban leadership and Afghan government. Last month there were at least five known meetings between him and Afghan delegates. In meetings he had suggested that the religious leaders from Pakistan and Afghanistan meet without the inference of the United States. Suggesting that the peace process should be locally initiated, he had stressed that there should be a clear timeline on the withdrawal of NATO forces. While many considered the Mulana's influence had decreased with time, his stature was best known by the people who came to seek his advice. Many times Afghan government and even Western diplomats approached him in the hope that he would be able to persuade the Afghan Taliban to stop fighting and start talking peace.
According to different reports the killing of Late Mulana will halt and hurt Afghan peace process. Different experts on Afghan affairs denote that the people as well as organizations which want to sabotage peace process in Afghanistan will benefitted. There are reports that the killing of late Mulana was plotted in Afghanistan. Basically it was the revenge of Kandahar Police Chief General Raziq and NDS Chief of Kandahar province. After the killing of notorious General Raziq his brother Tadeen Khan took charge as police Chief and determined to continue Raziq's 'mission'. NDS, RAW and CIA nexus is taking all kind of steps to sabotage peace in Afghanistan. Disreputable 888 brigade remained involved in counterproductive activates in Afghanistan. Killing of Mulana is linked with 888 brigade which is known as the cover organization of RAW CIA and NDS. After his killing it is quite evident that CIA, RAW and NDS are not willing to resolve Afghan issue. This unholy nexus is responsible for the killing of thousands of innocent Afghanis. In this scenario it is the obligation of international community to raise voice against unholy nexus of NDS, CIA and RAW which are involved in terrorist activates in Afghanistan and in the whole region.