Super Tuesday victories make Clinton, Trump favorites for nomination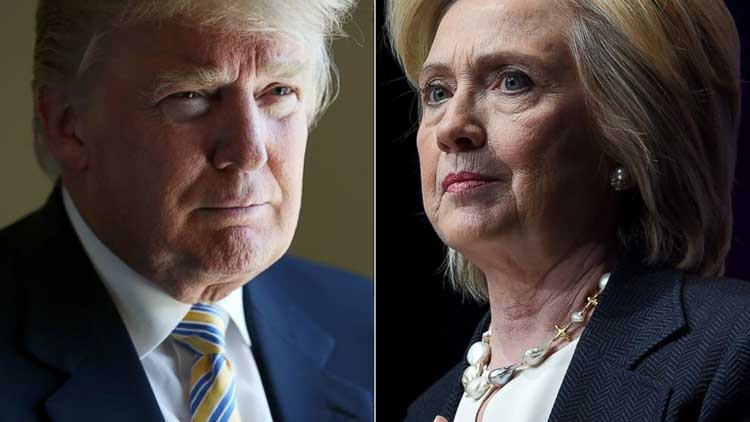 Super Tuesday was the biggest single day of state-by-state contests on March 01 to select party nominees for the Nov. 8 election to succeed outgoing President Democrat Barack Obama. Voting stretched from eastern states to Texas and Minnesota.
Now with the 'Super Tuesday' primary voting in 12 states being over, the chance indicators are almost clear about possible front runners for 2016 US presidency. Democrat Hillary Clinton and Republican billionaire Donald Trump emerged as favourites after grabbing a series of victories 7 each on 'Super Tuesday' in the race for the US presidential nominations.
Hilary Clinton won Georgia, Virginia, Alabama, Massachusetts, Tennessee, Texas and Arkansas. Her challenger Bernie Sanders won in Vermont, Oklahoma, Minnesota and Colorado. For the Republican race, Donald Trump won seven states including Georgia, Tennessee, Alabama, Arkansas, Massachusetts, Vermont and Virginia. Clinton had a strong night, winning seven states and showing her strength with minorities in the South. Trump swamped his rivals by piling up seven wins across the nation, demonstrating broad appeal for his anti-establishment movement.
Former US foreign minister Hillary Clinton emerged as a clear victor over his immediate but popularly powerful rival Sanders and took a large step toward her party's nomination. Clinton's rival Bernie Sanders, a democratic socialist US senator from Vermont, also won his home state along with Oklahoma and vowed to continue his battle for the nomination to the 35 states that have yet to vote. He gave little sign that he will drop out any soon.
And though Sanders failed to broaden his appeal in less liberal battlegrounds, he will now look to states in the industrial Midwest such as Michigan to inflict new blows on the former secretary of state. But Sanders has yet to find an answer for a central question of the race: How can he win the nomination of the diverse Democratic Party without demonstrating an ability to challenge Clinton's dominance of minority voters?
The Democratic race is guaranteed to go on for months, however, because the party's system of proportionally awarding delegates means no candidate is yet close to reaching the magic number of 2,383 delegates to win the nomination.
Donald Trump and Hillary Clinton carved out dominant positions in their party nominating races on Super Tuesday, marching ever closer to a scorched-earth general election clash. With victories by wide margins in Southern states, Clinton won at least 467 of the 865 delegates, while Sanders picked up at least 286 delegates. Overall, Clinton now has at least 969 delegates. Sanders has at least 319. Trump and Clinton turned their sights on each other after their Super Tuesday wins, with Trump promising to "go after" Clinton and the former secretary of state decrying what she called Trump's divisive rhetoric.
Sanders is vowing to stay in the campaign — and with his lucrative army of small donors and grass-roots appeal, he has no reason to leave. As it stands, Clinton is likely to take the White House after the poll later this year. It appears a clash between Clinton and Trump is being decided planned by the powerful power brokers in Washington.
New York real estate tycoon Trump continued to alarm the Republican establishment by cruising to key victories by being ultra fanatic in all but two states. On Tuesday Trump won Alabama, Arkansas, Georgia, Massachusetts, Tennessee, Vermont and Virginia. In moderate New England and Virginia, Trump's victories illustrated the broad outreach of his rhetoric that transcended ideological boundaries. His closest rival, Texas Governor Ted Cruz, won sweeping victories in his home state and neighboring Oklahoma, bolstering his argument he had the best chance to stop the controversial Trump. Both Ben Carson and John Kasish performed poorly during Super Tuesday and have been described by some Republicans as "spoilers" to candidates trying to topple Donald Trump. Florida Senator Marco Rubio, the establishment's favorite, won only in Minnesota and lost to Trump by a narrow margin in Virginia.
Before Super Tuesday Republican fundraisers and leading figures have launched a campaign to fund an anti-Trump front, calling on rival candidates to unify their efforts and rally behind a single candidate. Both Rubio and Cruz believe they are the only candidate who can genuinely challenge Trump. Trump won at least 192 delegates in Tuesday's contests. Cruz collected at least 132 delegates and Rubio picked up at least 66. Overall, Trump leads with 274 delegates. Cruz 149, Rubio 82, John Kasich 25 and Ben Carson got only eight.
It takes 1,237 delegates to win the Republican nomination for president. Cruz's third win bolstered his argument that others should drop out of the race and endorse him. He described Trump's possible nomination as a "total disaster" for the party and the nation and asked other candidates to leave the field to him. "I ask you to prayerfully consider our coming together, united," Cruz said. With at least 35 states still remaining to vote in the coming months, commentators believe Cruz is unlikely to capture the approval of moderate voters in other states.
In a response to critics, Trump said in a victory speech that he is a "unifier." "Once we get all this finished, I'm going after one person — Hillary Clinton." He called Rubio a "lightweight" who has recently changed tactics to personally attack Trump, as a way to appeal to angry voters.
Trump and Clinton turned their sights on each other after their Super Tuesday wins, with Trump promising to "go after" Clinton and the former secretary of state decrying what she called Trump's divisive rhetoric. Clinton won seven states, building up a delegate cushion over her insurgent rival Bernie Sanders. She rode her support among African-American voters on a Southern sweep through Alabama, Arkansas, Georgia, Tennessee, Texas and Virginia, and added Massachusetts, a state Sanders had hoped to win.
Trump's victories suggested that he did not pay a significant price for a controversy that flared in recent days over his initial failure to disavow David Duke, a former Ku Klux Klan leader, during a CNN interview, and disputes over his business record and positions on immigration. And time is running out for the panicking Republican establishment to deny the billionaire the nomination, amid fears his brand of volatile anti-immigrant rhetoric could cost the party not just the White House, but the Senate.
And Rubio, after finally securing his first win of the campaign in Minnesota, argued that Trump could not amass the 1,237 delegates needed to win the Republican nomination once winner-take-all contests begin to crop up on the calendar later this month –including his own, must-win state of Florida. But his claim that he can unite the Republican Party against Trump looks increasingly questionable, given his losses to the former reality television star in other target states such as Virginia.
In some states, it was clear that Rubio and Cruz were dividing the opposition to Trump, who is still benefiting from the split field against him. But there seems little incentive for either candidate to get out. Rubio has sufficient support and financial resources to continue and could benefit from an emerging effort by anti-Trump forces to target the billionaire with a super PAC. The same is true of Cruz, and he and Rubio, youthful first term senators, are locked in a battle for the future leadership of the party, and don't seem likely to join together to present an anti-Trump front.
America is the ancestral home of snake oil salesmen. Trump invokes a mythical past and promises to "Make America Great Again." Trump peddles his economic and political wares to the desperate and discouraged. Even many Republicans were shocked by the rapid ascendance of Trump, whose views about women, immigrants and Muslims have horrified a wide spectrum of Democrats and Republicans alike. On the other hand, Rubio's strong showing in many states kept alive his momentum to halt Trump's rise.
While the outcome remains uncertain, the front-runner for the Republican Party's presidential nomination is a candidate whose persona and appeal are of a distinctly fascistic character. Some of Trump's critics acknowledge that he was a "Frankenstein's monster" created by the party's decades-long cultivation of racist elements. The racist political culture of the Republican Party has provided an ideal environment for the development of Trump's career and his present-day baiting of Muslims and immigrants of Hispanic origin.
The story of Trump's bankruptcies and subsequent resurrections offer a strange sort of hope to those who know what it means to lose everything they have. Since the leftists led by Obama type leaders represent the interests of affluent sections of the middle class, persons like Trump takes the hero's seat. They have no interest in any substantial change in the existing economic structure of society, beyond achieving a more agreeable distribution of wealth among the richest 10 percent of the population. The essential characteristics of this political milieu are complacency, self-absorption and, above all, contempt for the common masses. The underprivileged are not allowed to become conscious of their common class identity and the underlying economic source of their oppression.
The American political system is rotten to the core. The Trump phenomenon is a serious political warning. More than any other Republican candidate, Trump has pitched his message to the intense anger and frustration of tens of millions of Americans who feel—quite justifiably—neglected and scorned by a political system that is indifferent to the problems with which they are confronted every day of their lives. Quite simply, Trump proclaims that "America is failing." That assessment of the state of the country sounds a good deal closer to the truth than the usual declaration.
The campaign of Senator Bernie Sanders, broadly identified as a socialist, has gained widespread support and demonstrated the existence of a desire within large sections of the working class for an alternative to capitalism. The explosive character of international politics, the extreme economic instability and the growing social tensions within the USA impart to the 2016 election a high degree of uncertainty.
Having got no new ideas, Hillary Clinton is going to pursue the same policies at home abroad that have promoted capitalism and funded imperialist wars, if she gets the Democratic nomination and wins the presidency ultimately. She is incapable of changing the US policy for Israel and Mideast. Though Trump hints at becoming "normal" if elected, he can't be in principle different from all US presidents- both Republicans and Democrats.
Who benefits more from the Biden-Putin summit in Geneva?
With the Putin-Biden summit in Geneva around the corner, the question is who actually benefits more from the meeting in the small Swiss town.
Mainstream media and right-wing foreign policy thinkers alike have argued that a joint press conference would "elevate" President Putin to the level of the American President.
Ivana Strander, the Jeane Kirkpatrick fellow at the American Enterprise Institute in Washington DC, argued that the upcoming Geneva summit is actually "a gift" to Putin.
In a CNN story, Kaitlan Collins and Kevin Liptak mention that "officials who have been involved in arranging past US meetings with Putin say the Russian side often pushes for a joint press conference, hoping to elevate Putin's stature by having him appear alongside the American leader".
Whether as a subconscious bias or an actual reflection of attitudes, prevalent is the idea that coming close to the US President is a privilege that other leaders can only dream about. But who gains more from the upcoming summit?
In fact, it is the American President who is vying for other leaders' approval and acceptance once again after a humiliating period – not the other way around. American is emerging from Trumpism, which revealed the other, ugly face of America. Trumpism is not gone and the other face of America is still there.
This week, US President Joe Biden is eager to show the world that America is "back". In meetings with the G7, NATO countries' top leaders, the NATO Secretary General, the Queen of England, and President Putin in the same week, Biden is asking the world to forget the last four years. And he is not doing this from the position of power or superiority. That's why assuming that other heads of state, be it Putin or anyone else really, can only gain by coming close to the superiority of the American President is a misplaced and misguided. The US President is asking the international community to take America back – not the other way around.
President Putin doesn't need the US President's acceptance – Putin already got that. That happened back in 2018, in Helsinki, when President Trump sided with Putin over the US government's own intelligence agencies, by rejecting the idea of Russia's meddling in the US presidential elections. Trump slapped across the face and humiliated the US intelligence community in front of the whole world. Ever since, the US intelligence community has tried to figure out ways to prove Trump wrong and show him otherwise. And they have gone to incredible lengths, only so that they can get their pay pack of a sort, and prove Trump wrong. So, Putin already got what he wanted. He doesn't need more "elevation".
What's also striking is that in Geneva, the UN is absolutely missing from the action. Geneva is the home of numerous UN agencies and international organizations, and not one is actually involved, which speaks volumes to questions of relevance. It is the Swiss government from Bern which is organizing the Summit. The UN is nowhere to be seen which is also indicative of the current Biden priorities.
If Trump was about "America First", then Biden is about "America is still number one, right?". But as the United Kingdom learned the hard way recently, it is sometimes best for a declining power to perhaps elegantly realize that the rest of the world no longer wants to dance to its tune, or at least not to its tune only. Discussions about how much Putin gains from coming close to the presence of the US President are misguided. In trying to climb back on the international stage on crotches and covered up in bruises, America is not in a position to look down on other big powers. And as regards who benefits more from the Summit, it seems like one side is there with a clear request asking for something. My understanding is that it is Biden who wants Putin to hand cyber criminals over to him. Putin still hasn't said what he wants from Biden, in return.
Trump's legacy hangs over human rights talk at upcoming Biden-Putin Geneva summit
Two days after the NATO Summit in Brussels on Monday, US President Joe Biden will be in Geneva to hold a much anticipated meeting with Russian President Vladimir Putin. The two leaders are meeting at the shores of Lake Geneva at a villa in Parc la Grange – a place I know very well and actually called home for a long time. The park itself will be closed to the public for 10 days until Friday.
A big chunk of the lakeside part of the city will be closed off, too. Barb wire and beefed up security measures have already been put in place to secure the historic summit. The otherwise small city will be buzzing with media, delegations and curious onlookers.
I will be there too, keeping the readers of Modern Diplomacy updated with what's taking place on the ground with photos, videos and regular dispatches from the Biden-Putin meeting.
The two Presidents will first and foremost touch on nuclear security. As an interlude to their meeting, the NATO Summit on Monday will tackle, among other things "Russian aggression", in the words of NATO Secretary General Jens Stoltenberg. Last week, Stoltenberg said that he "told President Biden that Allies welcome the US decision, together with Russia, to extend the New START Treaty, limiting strategic weapons, and long-range nuclear weapons". To extend the treaty is an important first step for Stoltenberg. This will be the obvious link between the two summits.
But Biden also has to bring up human rights issues, such as the poisoning and imprisonment of Alexei Navalny and Putin's support for the jailing of Belarusian activists by Lukashenko. Human rights have to be high on the agenda at the Geneva Summit. And indeed, Biden has confirmed officially that pressing Putin on human rights will be a priority for the American side.
Biden and Putin are not fans of each other, to say the least. Both have made that clear in unusually tough rhetoric in the past. Over the years, Biden has said on numerous occasions that he has told Putin to his face that he doesn't "have a soul". Putin's retort was that the men "understand each other".
Right at the beginning of his Presidency, earlier this year, Biden also dropped the bomb calling President Putin a "killer" for ordering the assassination of political opponents. The Russian president responded to the "killer" comment on Russian television by saying that "it takes one to know one". Putin also wished Biden good health, alluding to the US President's age and mental condition which becomes a subject of criticism from time to time.
Understandably, Putin and Biden are not expected to hold a joint press conference next week. But we weren't expecting that, anyways.
For me, this Summit has a special meaning. In the context of repression against political opponents and critical media voices, President Biden needs to demonstrate that the US President and the US government are actually different from Putin – if they are any different from Putin.
This week, we were reminded of Trump's legacy and the damage he left behind. One of Trump's lasting imprints was revealed: Trump had the Department of Justice put under surveillance Trump's political opponents. Among them House Democrats, including Congressman Adam Shiff, who was one of the key figures that led Trump's first impeachment that showed that Trump exerted pressure on Ukrainian authorities to go after Joe Biden's son, Hunter.
In the context of Trump's impact, President Biden needs to show that there has to be zero tolerance towards the cover up by the US government of politically motivated attacks against voices critical of the US government. If President Biden wants to demonstrate that the US government is any different from Putin's Russia, Secretary of State Blinken and FBI director Chris Wray have to go. Biden has to show that he won't tolerate the cover up of attacks on political critics and the media, and won't spare those that stand in the way of criminal justice in such instances.
Biden is stuck in the 2000s when it comes to Eastern Europe, as I argued last week but he needs to wake up. President Biden and the US government still haven't dealt effectively with Trump's harmful impact on things that the US really likes to toot its horn about, such as human rights and freedom. Whether the upcoming Geneva Summit will shed light on that remains to be seen.
Will Geneva Be Any Different Than Helsinki?
Any meeting between the leaders of Russia and the U.S. is inevitably an important international event. At some point in history, such summits decided the fate of the entire world, and the world held its collective breath as it followed Kremlin-White House talks on strategic arms or the two sides seeking agreements on urgent regional problems or any political signals coming from the superpower capitals prior to another round of negotiations.
The bipolar era has long been gone, and the Russia-U.S. relations are no longer the principal axis of international politics, although the suspense over bilateral summits remains. As before, the two countries are engaged in "top-down" interaction. Summits give the initial impetus to Moscow and Washington's cumbersome bureaucratic machines, then diplomats, military personnel and officials start their assiduous work on specific issues, collaboration between the two countries' private sectors and civil society perks up, the media gradually soften their rhetoric, bilateral projects in culture, education and science are gradually resumed.
Still, there are annoying exceptions to this general rule. In particular, the latest full-fledged Russia–U.S. summit in Helsinki in July 2018 failed to trigger improvements in bilateral relations. On the contrary, Donald Trump's meeting with Vladimir Putin in Finland's capital aroused massive resentment among the anti-Russian Washington establishment. Ultimately, on returning home, the U.S. President had to offer awkward apologies to his supporters and opponents alike, and relations between the two countries continued to rapidly deteriorate after the summit.
Surely, nobody is willing to see another Helsinki scenario in June 2021, this time in Geneva. Yet, do we have good reason to hope for a different outcome this time? To answer this question, let us compare Donald Trump and Joseph Biden's approaches to Russia-U.S. summits and to bilateral relations at large.
First of all, in Helsinki, Trump very much wanted the Russian leader to like him. The Republican President avoided publicly criticizing his Russian counterpart and was quite generous with his compliments to him, which inevitably caused not only annoyance but pure outrage in Washington and in Trump's own Administration. Joe Biden has known Vladimir Putin for many years; he does not set himself the task of getting the Russian leader to like him. As far as one can tell, the two politicians do not have any special liking for each other, with this more than reserved attitude unlikely to change following their meeting in Geneva.
Additionally, in Helsinki, Trump wanted, as was his wont, to score an impressive foreign policy victory of his own. He believed he was quite capable of doing better than Barack Obama with his "reset" and of somehow "hitting it off" with Putin, thereby transforming Russia if not into a U.S. ally, then at least into its strategic partner. Apparently, Biden has no such plans. The new American President clearly sees that Moscow-Washington relations will remain those of rivalry in the near future and will involve direct confrontation in some instances. The Kremlin and the White House have widely diverging ideas about today's world: about what is legitimate and what is illegitimate, what is fair and what is unfair, where the world is heading and what the impending world order should be like. So, we are not talking about a transition from strategic confrontation to strategic partnership, we are talking about a possible reduction in the risks and costs of this necessarily costly and lengthy confrontation.
Finally, Trump simply had much more time to prepare for the Helsinki summit than Biden has had to prepare for Geneva. Trump travelled to Finland eighteen months after coming to power. Biden is planning to meet with Putin in less than five months since his inauguration. Preparations for the Geneva summit have to be made in haste, so the expectations concerning the impending summit's outcome are less.
These differences between Biden and Trump suggest that there is no reason to expect a particularly successful summit. Even so, we should not forget the entire spectrum of other special features of the Biden Administration's current style of foreign policy. They allow us to be cautiously optimistic about the June summit.
First, Donald Trump never put too much store by arms control, since he arrogantly believed the U.S. capable of winning any race with either Moscow or Beijing. So, his presidential tenure saw nearly total destruction of this crucial dimension of the bilateral relations, with all its attendant negative consequences for other aspects of Russia-U.S. interaction and for global strategic stability.
In contrast, Biden remains a staunch supporter of arms control, as he has already confirmed by his decision to prolong the bilateral New START. There are grounds for hoping that Geneva will see the two leaders to at least start discussing a new agenda in this area, including militarization of outer space, cyberspace, hypersonic weapons, prompt global strike potential, lethal autonomous weapons etc. The dialogue on arms control beyond the New START does not promise any quick solutions, as it will be difficult for both parties. Yet, the sooner it starts, the better it is going to be for both countries and for the international community as a whole.
Second, Trump never liked multilateral formats, believing them to be unproductive. Apparently, he sincerely believed that he could single-handedly resolve any burning international problems, from the Israeli-Palestinian conflict to North Korea's nuclear missile programme.
Biden does not seem to harbor such illusions. He has repeatedly emphasized the importance of multilateralism, and he clearly understands that collaboration with Russia is necessary on many regional conflicts and crises. Consequently, Geneva talks may see the two leaders engage in a dialogue on Afghanistan, on the Iranian nuclear deal, on North Korea, or even on Syria. It is not at all obvious that Biden will succeed in reaching agreement with Putin immediately on all or any of these issues, but the very possibility of them discussed at the summit should be welcomed.
Third, Trump was not particularly fond of career diplomats and, apparently, attached little value to the diplomatic dimension of foreign policy. The Russia-U.S. "embassy war" had started before Trump—but not only did Trump fail to stop it, he boosted it to an unprecedented scale and urgency.
Sadly, the "embassy war" continues after Trump, too. Yet President Biden, with his tremendous foreign policy experience, understands diplomatic work better and appreciates it. Practical results of the Geneva summit could include a restoration of the diplomatic missions in Washington and Moscow to their full-fledged status and a rebuilding of the networks of consular offices, which have been completely destroyed in recent years. Amid the problems of big politics, consular services may not seem crucial but, for most ordinary Russians and Americans, regaining the opportunity for recourse to rapid and efficient consular services would outweigh many other potential achievements of the Geneva summit.
From our partner RIAC