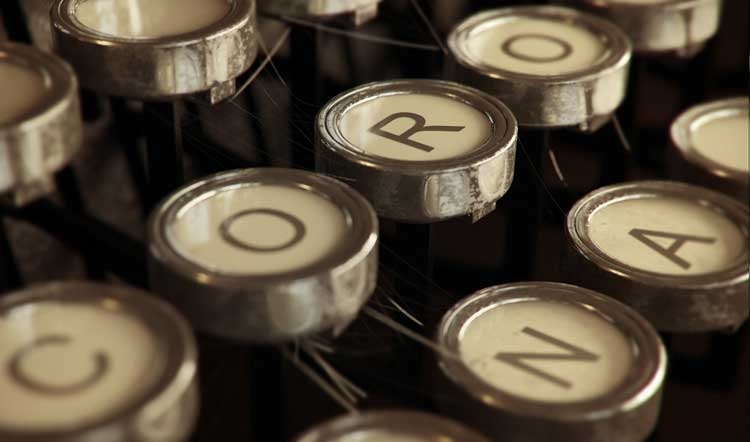 In futurity I want to find new realities in the notes from the universe. I think that is why I fluctuate from putting pen to paper short writings (for example, haiku, short stories, poetry) are what I write about mostly. People assume that writers and journalists must have the 'gift of the gab'. Some do. Others don't.
I want to mock conventional ways knowing that they are not the most convenient truths. Knowing that they came there through indoctrination. Through the church of my childhood, through faith, the discovery of something else, the journey of finding the I Am. Finding the experience formulaic. We tell ourselves that this is the marathon hope of reality. Reality for the most part can injure/wound terrifically. Terribly. Injudiciously. It says welcome to the party with open arms but it can also wound. So far and no further. When it comes to the craft of writing your attitude will always govern the characters, the protagonist, and the antagonist.
This is our country. A writer's country. My country. Your country (if you are a writer). The secret to knowing the craft of writing is a simple one. That the knowledge of intuition is inseparable (or rather should always be) from imagination. That is the real magic. Creating the lyrical. Showing off miracles when they weren't there before.
Finding your inherent soul in music, and even the half-baked ideas that you come up with in the early hours of the morning.
The inflow/influx of the self imposed exile living outside of Africa is steadily on the increase. Poverty, civil unrest, frustrated people, well they interest me in as far as I write about that. Does that inspire me to write? To show off my skills. Of course it does. Now more than ever. I doubt if it will ever inhibit me. Drown out me out by a hair's-breadth the landscape of my youth, my childhood, the church of my childhood.
I speak about spirituality and church because for me in my writing church and faith played a major role in the development of my formative years.
Those self imposed exiles are escaping. Escaping from the only home that they have ever known but some do return. Homesick for Azania. Homesick for the attitudes of their people.
A writer has to articulate what spirituality is, how profound it is. A writer has to embrace the abstract, the figurative autodidact ism and literal metaphor.
A writer is not one who when it comes to the truth of matters of the heart prevaricates about them. They have a mission (I have a mission).
They have no pretense of mapping out cleverness. Marring the last-ditch attempts of the clarity of their thought (thought is powerful, thought is an inheritance) and vision. Writers never read almost for pleasure or for a lark. There is a extraordinary lassitude that writers experience for all of their lives that they experience innermost. Are they never enough, (or) what I have written is 'it' enough?
The question of the ego, the identity, and the identity crisis is always inimical. It never goes away completely. It is like the analogy of the egg. What comes first? The chicken or the egg. What comes first the ego or the identity? The savant or the genius. The writer, poet as artist or the artist, painter as artist. In the end I know it is fustian. I know.
I have discovered that when you are an inexperienced writer you need a someone who will guide you. A listener. Someone who will give you advice. Who will be kind and critical at the same time. A person who you can forgive.To not to trust what you write about is one interpretation of belief.
Getting there is also much about you having a philosophy on how, and why you write about the things that you do. Pay attention to what came before and most especially after in your writing environment. I think that you can call a triumph and without any denial something profound, and a breakthrough.
I have written about the quiet death of Lonmin, the bridge over troubled water in South Africa, Rilke's advice to young poets, the status quo of xenophobia, the brave new world of living in post-apartheid South Africa, the culture behind, and of African cinema. I hope to keep on writing on the marginalized and disenfranchised of Africa using this platform. The self imposed exile that found the pastures of the grass is always greener on the other side of the world. This is why I write.
I have read many books. Perhaps not as many as educationalists and academics or scholars even. Some I enjoyed reading. Some I read for pleasure. Honestly, some were very painful to read. Some I found difficult to explain. It was a long time before I realized the difference between the writing style and technique of different writers. By then I had been writing for a few years already.
With some writers you can read their progress as known/unknown, see it as unimaginative or imaginative. You can see the horizontal, the vertical perspective of their education, or you read their process like a magazine that won't go out of style.
Writers, good writers can speak to their readers in a genuine, psychological, sensitive, and authentic way. What does that vital, ethereal energy mean?
Writers survive inside their climate. They do not forget the unequivocal. They put to memory editorial paradigm shifts. Other writers writing. The dry, the good and the bad. There is an sacrosanct agreement among emerging and published writers. I was here before you. You have to put in the work before the breakthrough. That goes without saying.
What makes me disconsolate as a writer is the creature discomforts that come with having a traditional attack of the ego, mad love of crises. At the end of the day you will master contrition. You will fight for it with grace and humility though. It will take you being contumacious on your end. There is a consensus out there that in order for you to be good and to become great or a greater than kind of writer is that it is going to take more than opinion, life skills, and life experience.
I don't know if every writer wants to be remembered for what they write. Be immortalized in some way. Be brought to life in a museum life kind of way. Leave behind a serious legacy. That was not my intention when I first started to write seriously. You want to make a go of it. That is all I remember. I just wanted to make a go of it.
100 years of history: Historic hotel celebrates worker heritage
If you're the curious sort who enjoys exploring historic sites in your free time, you're far from alone.
Because people are fascinated with learning more about how Americans lived, thought and dreamed in the past, many seek out such cultural enclaves anytime they travel. That helps explain the $762 million in revenues logged by U.S. historic sites in 2013, according to Statista. Other research predicts the revenues realized by U.S. museums and historic sites will more than double between 2018 and 2022.
"Historic places create connections to our heritage that help us understand our past, appreciate our triumphs and learn from our mistakes," the National Trust for Historic Preservation recently noted. "Historic places help define and distinguish our communities by building a strong sense of identity. When you visit a historic site, you learn from their stories."
One fascinating and culturally rich historic site you may not have visited is The American Club, a Forbes Five-Star and AAA Five-Diamond resort hotel in the heartland of Kohler, Wisconsin. The iconic hotel owned by Kohler Co., global leader in plumbing, was built in 1918 as a dormitory for its immigrant workers. This year the multifaceted national attraction celebrates its centennial anniversary in grand style, with even more activities and offerings for its guests.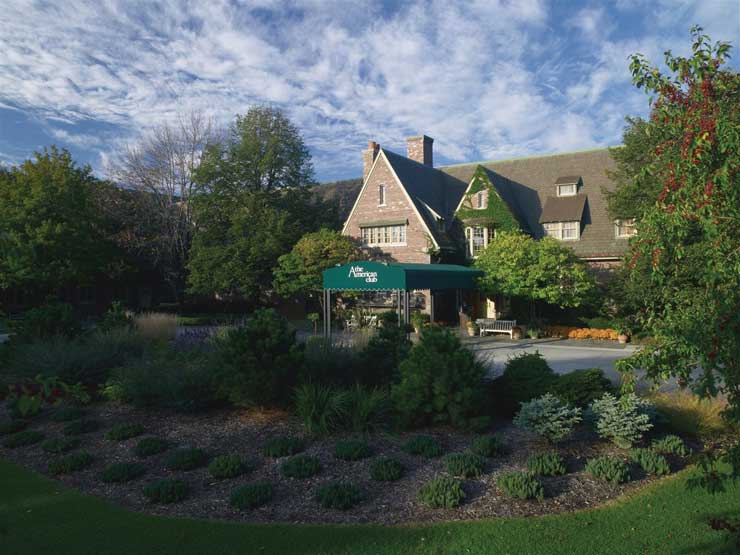 Year-long features of the celebration include a new history exhibit, guided tours and a new cast iron sculpture installation, "The Immigrant," created by artist Stephen Paul Day. Day took part in the Arts/Industry program and was inspired by the company history. The four-star restaurant, The Immigrant, will offer a tasting menu featuring dishes from France, the Netherlands, Germany, Normandy, Denmark and Great Britain — the primary homelands of original Kohler employees. Group Director Lodging for Kohler Co., Christine Loose explains, "The concept of gracious living and creating a sense of belonging has always been important to the company and our heritage."
With its trademark red brick, striking Tudor architecture and soaring roof peaks and slate tile, the landmark is recognized by both the Historic Hotels of America and the National Register of Historic Places.
Aside from the historic elements of The American Club, visitors and guests can partake of several other features offered in or near the surrounding resort known as Destination Kohler. Key attractions include the Forbes Five-Star Kohler Waters Spa; a lakeside boutique hotel known as the Inn at Woodlake; cycling and yoga studios; four championship golf courses (Blackwolf Run and Whistling Straits, the latter hosting the revered 2020 Ryder Cup); 12 dining establishments, renovation inspiration at the Kohler Design Center, and daily factory tours led by retired Kohler employees spotlighting the evolution of day-to-day manufacturing operations.
Destination Kohler is an hour north of Milwaukee and 2.5 hours north of Chicago. Learn more about its many attractions at DestinationKohler.com.
Weaving profits in Azerbaijan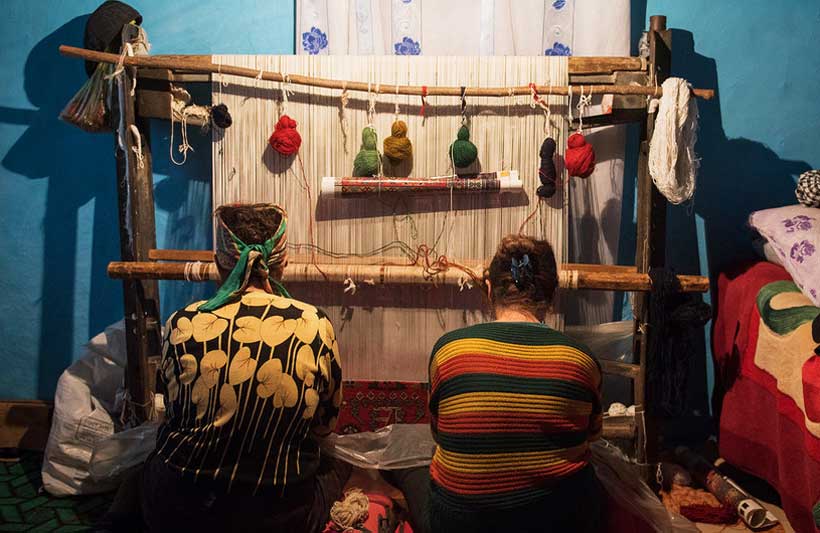 Artisans in Azerbaijan who practice the traditional art of carpet making are being provided with new business opportunities thanks to a project supported by the UN Development Programme (UNDP).
Weaving carpets is a skill that has been passed down through the generations and in the central Asian country is largely the work of women.
Although Azerbaijan is located on the ancient trading route known as the Silk Road, many artisans, especially those living in mountainous areas, are finding it increasingly difficult to get their carpets to market.
Small and Medium sized enterprises, like the carpet weavers of Azerbaijan, account for 60-70 per cent of global employment, according to the UN.
As the International Micro-, Small and Medium-sized Enterprises Day is marked across the world on June 27, the Azerbaijani authorities, with the support of UNDP, are boosting efforts to help artisans sell their goods.
New interactive Story Maps make Europe's cultural heritage more accessible
On the occasion of the first ever European Cultural Heritage Summit, the European Commission has released a set of interactive maps which will help to raise awareness of cultural heritage in Europe.
Speaking at the European Cultural Heritage Summit in Berlin today, Tibor Navracsics, Commissioner for Education, Culture, Youth and Sport, responsible for the Joint Research Centre, said: "Making cultural heritage more accessible to everyone is one of my main goals for the European Year. The Story Maps will play an important role in this, offering valuable information in a user-friendly way. The Joint Research Centre has already developed a number of tools that help us preserve cultural heritage, such as 3D scanning technologies that can be used to map heritage sites as well as smart materials for their reconstruction. Now the interactive Story Maps will help open up opportunities for Europeans to explore our shared heritage and get involved in safeguarding it for the future."
The Story Maps, developed by the Joint Research Centre, the Commission's science and knowledge service, inform in an easily accessible way about several initiatives across Europe linked to cultural heritage. These include actions like the European Heritage Days, the EU Prize for Cultural Heritage or the European Heritage Label, funded by Creative Europe, the EU programme that supports the cultural and creative sectors. The website also contains links to the digital collections of Europeana – the EU digital platform for cultural heritage. This platform allows users to explore more than 50 million artworks, artefacts, books, videos and sounds from more than 3500 museums, galleries, libraries and archives across Europe. These maps will be updated and developed, for example taking into account tips from young people exploring Europe's cultural heritage through the new DiscoverEU initiative.
The online tool was launched by Commissioner Tibor Navracsics at the European Cultural Heritage Summit in Berlin today. This Summit is one of the main events of the 2018 European Year of Cultural Heritage and is attended by high-level representatives of EU Institutions, civil society organisations and Member States, including German Federal President Frank-Walter Steinmeier. to protect, promote and raise awareness of cultural heritage in Europe. to protect, promote and raise awareness of cultural heritage in Europe. to protect, promote and raise awareness of cultural heritage in Europe.
Background
The Story Maps were presented to a wider audience at the European Cultural Heritage Summit, co-hosted by Europa Nostra, the Prussian Cultural Heritage Foundation and the German Cultural Heritage Committee. The Summit is one of the key events of the European Year of Cultural Heritage taking place in Berlin from 18 to 24 June. It will see the adoption of the "Berlin Call to Action – cultural heritage for the future of Europe", which supports the idea of a European Action Plan on Cultural Heritage, announced by the Commission in the New Agenda for Culture proposed in May. The Call to Action asks citizens, institutions and organisations to build on the momentum of the European Year, to recognise the positive and cohesive power of shared cultural heritage and values to connect Europe's citizens and communities and to give a deeper meaning to the entire European project.
The purpose of the European Year of Cultural Heritage is to raise awareness of the social and economic importance of cultural heritage. Thousands of initiatives and events across Europe will give citizens from all backgrounds opportunities to discover and engage with cultural heritage. The aim is to reach out to the widest possible audience, in particular children and young people, local communities and people who are rarely in touch with culture, to promote a common sense of ownership.