The New Silk Road: Plan for Chinese Hegemony
The newly inaugurated "One Belt, One Road" initiative had its first trip with a shipment arriving in Tehran from China . China has undertaken the endeavor to revive the ancient trade network that once helped connect the Orient with Europe.
The launch of this initiative does not only help boost economic growth for nations along the new path but allows China to access new markets for its own goods to help improve its ailing growth rate . While it appears the trade route can be mutually favorable, there are speculations that China has other underlying intentions that it hopes to achieve with the project . China is laying the groundwork for potentially securing regional hegemony by creating a neo-Sinocentric periphery structure.
The Silk Road
The Silk Road was an ancient network of commercial routes that were crucial for commerce as well as cultural and technological exchanges throughout Asia and Europe. The ancient trade network started around 220 BC . The trade route was comprised of a land path as well as a maritime course. Trade on the Silk Road greatly aided in the development of many civilizations of the time including the Chinese, Persian, European and Middle Eastern. The Silk Road was one of the early arenas for international diplomacy by facilitating political and economic interactions between civilizations far apart.
Chinese Periphery Diplomacy
More than just trade, the Silk Road helped solidify and expand the Chinese culture, influence, and military might. As trade gained momentum, China's influence grew as well. At the time, China viewed itself as the most advanced civilization in the world and any other states, tribes, and ethnic groups were seen as uncivilized and barbaric. This supremacy belief gave rise to an international system, albeit xenophobic, known as Sinocentrism . The Sinocentric structure predated the Westphalian system that led to the creation of modern nation-states. In a Sinocentric world, China was the center of the universe, surrounded by what it perceived as vassal states.
Two millennia later, China now views the revival of the ancient trade route as imperative to securing and sustaining its future economic growth. As China seeks to reestablish its authority on the global stage, it needs to secure its periphery first. Yan Xuetong, a leading Chinese scholar, has mentioned that in order for an aspiring global power such as China to achieve hegemony, it needs to first become a regional power . Key to this aspiration is China's diplomatic relationship with its peripheral region, which currently appears to be its primary focus. Even though China does not any longer adhere to the self-concocted theory of Sinocentrism, the structural layout that supported the system is viewed as vital to its future.
String of Pearls
China's precipitous economic growth in the last thirty years has been exclusively contingent on foreign sources of energy . For China to continue to have unabated growth, the stability of these foreign sources have become a matter of national security. China's energy sources are located in a volatile part of the world; mainly the Horn of Africa and the Middle East. Without these energy sources, China's entire system can come to a screeching halt.
The "String of Pearls" theory suggested by Booz Allen Hamilton argues that China will try to populate the Indian Ocean with a civilian maritime infrastructure backed by a modern military, which will help to secure its interests . The String of Pearls hypothesis explains China's concentrated effort to increase its access to foreign airfields and ports, upgrade its military, and create stronger ties to its periphery. Such efforts can be seen in the recent joint construction enterprise with Pakistan in the strategic port city of Gwadar as well as the creation of airstrips on the artificial islands in the South China Sea .
Hegemonic Foundation
The One Belt One Road (OBOR) initiative, similar to the ancient route, contains a land and maritime route. The land route traverses from China through energy-laden Central Asia down to Iran and through the turbulent Levant region of the Middle East before reaching Europe. The maritime passage (also known as the Spice Route) navigates from the South China Sea through the busy lanes of the Malacca Strait and enters the Bay of Bengal from which it goes onto the Horn of Africa before heading through the Suez Canal towards Europe.
At its current stage of development, China's primarily focused on sustaining its growth rate and creating a large and stable middle-class . As a country's economy grows, their military capabilities follow suit . Even though economic wealth has allowed the Chinese military to undertake modernization projects, the military's primary objective so far has been to protect its territory.
Despite being recognized as the new bête noire for US strategic policy in the region, China at the moment does not appear to be a direct threat to US hegemony. However, China is slowly building up its capabilities in the South China Sea. With US military capabilities unrivaled in the world, China has been building its military strength in an asymmetric fashion . China's current strategic defense paradigm is centered on what has been referred to as anti-access and area denial (A2/D2) . The intent is to be able to eject the US military out of the region and be able to hold it off for a sufficient period of time to achieve a certain objective i.e. invade and occupy Taiwan.
With its existing markets becoming saturated, China is seeking new opportunities to help the country protract its growth rate. The OBOR initiative is creating a potential economic reboot of China . In addition, the initiative is a rebuke to the US Trans-Pacific Partnership (TPP) treaty, which seeks to create an economic block in the Pacific with everyone but China. As countries join the OBOR project, China and these nations will see great economic returns. Over time as the route solidifies, China can leverage the trade dependency of many of the nations along the route into political relationships as well as curry favors, essentially creating a pseudo-tributary system.
The OBOR initiative will not only create a new economic block but also create a transcontinental organization with China at its head. With China leading the creation of the Asian Infrastructure Investment Bank, which has become a strong rival to the World Bank and IMF (two powerful US-led financial organizations), the creation of the OBOR initiative is yet another global organizational challenge to the US. The OBOR project is the latest in a slow economic divide constructing between the world with the US on one side and China on the other.
The OBOR initiative is an epic endeavor China has undertaken to revive the ancient Silk Road that once helped connect the Orient with Europe. The launch of this initiative does not only help nations along the new path but China as well. Even though economic expansion appears to be the current intent behind the project, in the long term China is constructing a foundation to secure regional hegemony through creating a neo-Sinocentric periphery structure.
Europe 1914- East Asia 2020: Similarities and Differences
Many scholars argue that what is happening between the major powers in East Asia at the present time is what actually happened between the major powers in Europe in 1914, and there is a rising power in East Asia causes a threat to other states
Historically speaking when a rising power challenges a global power the war is inevitable and sometimes it's a matter of time. The situation in East Asia is a little bit like the situation in Europe in 1914, at that time there was a rising power-seeking for the hegemony and challenges the other major powers, so the war between them was unavoidable. Comparing that with what is happening in East Asia, we will find that in East Asia there is a rising power, and this power became a challenge to the major powers not only in East Asia but also in the global arena.
From realism theory perspective, as we know that relists focus on the international system and states, they explain that the international system is an anarchic system and state is the most important actor in this anarchic world, so states have to preserve its security and interests against any power when a state becomes too much powerful that cause a threat to other major powers, and that might cause a war between the rising state and other states, and that is a conflict to balance against the powerful state.
Apply the realism theory on the First World War, the First World War was unavoidable and that because of the collapse of the balance of power in Europe and the rising of other powers such as Germany and its challenge to the major powers as Russia and Britain. According to the classical realists, they argue that major wars can happen when a state has superiority or an overbalance of power. Germany after the collapse of the Bismarck system started to increase its power and challenge the major power in central Europe, the rise of Germany caused a shift to the balance of power at that time.
The realists also argue that what is happening in East Asia is like what happened in Europe in 1914. The classical realists argue that the balance of power in a multi-polar system is most stable, while neo-realists as Waltz argues that the bipolarity is most solid and most stable, a world controlled by two states is better than a world dominated by four, five, or six powers, and that because in the multi-polarity the alliances could give up on each other's any time, moreover, in the bipolarity states don't want to depend on other states military power, but they can depend on their own powers. In East Asia there is a change in the equilibrium system, some the states become too much powerful, for instance, China, China now is a rising power in East Asia, we can clearly see the economic growth of china, and the military forces, and the rise of China might cause a threat to its neighbors in East Asia, frankly speaking not only in East Asia but also cause a threat to other global powers as the United States and its European allies, in this regard, the realists they emphasize that the shifting of power in East Asia might cause a conflict or a war among states because the system is an anarchic global system. But if we will compare China with other major powers in the global arena as the United States we will find that China still not that powerful to cause a threat to the U.S., maybe China has economic ties with East Asia countries, but they still not a good alliances, while the United States has its alliances in both continents Europe and East Asia, and that is a reason that proves that it is might hard to see a conflict or war in East Asia. But what about the border conflicts, China till nowadays has border conflict with other states such as India, last May Chinese and Indian soldiers fought against each other in the Ladakh region and some Indian Soldiers were killed, also the maritime conflicts between China and its neighbors, these conflicts might cause a conflict between rising China and its neighbors including Japan, Philippines in the near future, and this conflict the United States will take part in it in order to help its allies.
John Mearsheimer as an offensive neo-realist, in his debates about the rising of China he always argues that China won't rise peacefully, and the rise of China will lead to a direct confrontation between China and the United States and that because states in the international politics always want to preserve and maintain their security, they only care about their security, and also want to be a hegemony, in this regard, the U.S. won't let China take its place in international politics, and won't let China control Asia or other regions, and they might go war against one another. The scholar Steven Walt explains the Balance-of- Threat and argues that equilibrium anti the threat caused by other states in the international arena, China is a big country, large population, economic growth also military growth all of these elements cause a threat to its neighbors in East Asia. East Asia is a very important region to the United States and its allies, former America president Obama mentioned that before and said: "the United States is turning our attention to the vast potential of the Asia Pacific region. The Asia Pacific is critical to achieving my highest priority, and that's creating jobs and opportunity for the American people." From President Obama's speech we can note how Asia is a very important region to the U.S. and its allies.
Although theories predict about a potential conflict between China and the U.S., one more thing to consider is the nuclear weapon, China and U.S. both have nuclear weapons and nuclear weapon plays a vital role in maintaining peace between them as what happened during the Cold War many scholars argue that what made the U.S. and the Soviet Union didn't go to war was the presence of the nuclear weapon (nuclear weapon deterrence).
Unlike the realism theory that focuses on the international system and the structure of the system, and argues that the global system is anarchic, the state is the main actor in this anarchic system, and the state has to protect its own interests, thus, the state can go to war to preserve its interests and security. The liberalism theory focuses on the role of the institutions, organizations, etc., and how they can play a very vital role to maintain peace and stability in this anarchic world, liberalists interpret the role of the non-government organization in reducing the role of the state in the international politics in order to mitigate conflicts and wars among states. Moreover, liberalism focuses on peace and the means to achieve lasting peace among states in the global arena. For the liberal, economic integration plays a significant role to preserve peace, economic integration and interdependence make countries want to collaborate with each other, instead of fight against one another.
Liberalism explains the main reason for the outbreak of the First World War was the absence and lack of organizations and institutions at that time, and there no means to resolve the conflicts among countries. For Democratic Peace Theory, the war was most likely to occur and that because at that time not all the states were democratic states, and for that theory, the democratic states can fight and go to war against the non-democratic states, although Germany at that time started to be a democratic country, that didn't help to prevent such a war, by contrast, helped Germany to enter in such a war and with the support of its people.
Apply the liberalism theory on East Asia we will find that East Asia countries in the twenty-first century are more independent, and they have economic ties with each other, and because of the economic interdependence between the countries in East Asia we will find that even they are rivals, but economic ties will play an important role to prevent a conflict or war between them. China as a rising power in East Asia its economy highly relies on its neighbors and other European countries such as the U.S., China after the reform and opening-up policy increased its economy. Although the rise of the volume trade exchange between China and its neighbors and China and the U.S., that didn't prevent the tension between China and the U.S. as what happened between them because of the trade, the trade conflict between them that have started in 2018, the two countries have increased the tariffs, the United States increased the tariffs by approximately 25%, and China increased the tariffs to be 5% and 25%, this tension between the two counties has reduced the volume of trade between them, and some of the scholars explained that the trade conflict between the United States and China would have a great impact on the global trade.
The scholar Waltz argues that the economic integration and interdependence can't prevent the conflict between the U.S. and China, go back to the First World War at that time there was economic ties between some of the European countries but that didn't prevent the outbreak of the major war between the major powers, because the national security is more important than the economic. In Asia, there are some countries still non-democratic countries, to the democratic peace theory argues that the democratic states don't go war and fight against each other, so they assert that U.S, Japan won't fight, Japan and U.S. are allies, by contrast, China is a communist state that also might be a reason that leads to a conflict between China and U.S.
Constructivism theory doesn't focus on the international system like realism theory, or the state and organizations like liberalism, Constructivism focuses on the ideas, values, and norms. Constructivist as Alex Wendt argues that global relations decided and fixed not by the nature of human beings but by the ideas, and how people share these ideas. Go back to the First World War, constructivism explains that states as Germany and other major powers had the same ideas at that time, the ideas were each country wanted to be powerful and expand its territory. They didn't share the ideas with each other's; instead they went to war against one another.
To conclude, what is happening in East Asia nowadays might be the same as what happened in Europe in 1914 and the rise of a major power in East Asia as the rise of China could cause a threat to major powers in Asia and Europe, but it does not mean that it will certainly lead to war. Anyway, in this unpredictable international arena, it is difficult to predict what will happen tomorrow and what changes the world will witness.
Beijing pushes Hong Kong towards a drastic fait accompli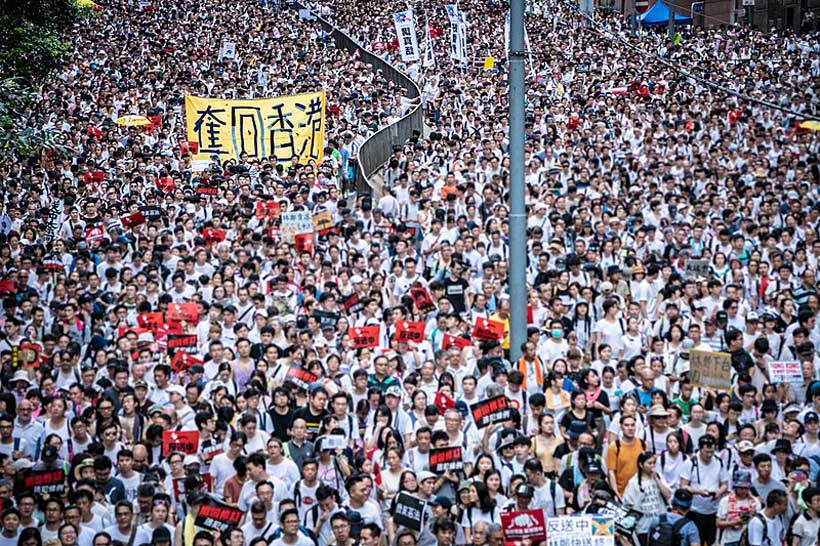 Hong Kong's liberal democracy faces an existential threat, more visible than any time in the past 23 years, as exemplified by the recent arrests of democratic activists. Beijing seems to be running out of patience and continues to push the city towards a fait accompli of 'one country, one party, one system', as in mainland China.
***
When Britain handed over Hong Kong to the People's Republic of China after 156 years of rule in 1997, a novel principle of governance known as 'One Country, Two Systems' was agreed upon with a validity of 50 years. Today, it is no longer visible in Hong Kong in actual practice, while it still stands in principle.
The agreement was perceived as the basis on which the unique character of the city and its people, rooted in a Western political outlook different from the mainland's communism-inspired political system, would be preserved for the next five decades, until 2047, after which that arrangement would expire, paving way for transitioning into complete Chinese control.
The arrangement requires another 27 years for its expiry. Notwithstanding this fact, the Communist Party-controlled Beijing seems to be losing patience and not willing to wait for another three decades to legitimately take control of the city.
Today, Beijing is pushing and coercing Hong Kong towards a fait accompli of 'one country, one party, one system'. This is proved by its tactical and suppressive moves in the recent past.
Protests continue, so do crackdown on dissent
Recent tensions and public unrest in the city have been simmering for the past 18 months, beginning with an extradition law imposed by Beijing in June 2019 targeted at suppressing sedition and rebellion on the citizens of Hong Kong, which allowed handover of convicts from the city to mainland China, triggering public unrest. Mounting protests finally led to the withdrawal of the bill in October.
Before 2019, there were nonviolent protests in the banners of Occupy Central Movement and the Umbrella Movement, both in 2014, demanding transparency in elections and preserving time-held electoral procedures which the Chinese Communist Party attempted to dilute, triggering protests. These were led by students and the youth numbering in tens of thousands, if not millions.
Coming to 2020, the move that triggered protests was a national security law imposed by Beijing on the city in the midnight prior to the anniversary of Hong Kong's handover on July 1. It was aimed at disqualifying legislators in the name of offences such as supporting Hong Kong's independence, refusing to acknowledge China's sovereignty, supporting foreign forces to interfere in the city's affairs, or in any other ways threaten national security.
The new law also allowed Beijing to open an intelligence office in the city soon after, to monitor whether the behaviour of Hong Kong citizens is in line with its expectations, effectively formalizing and legalizing crackdown on dissent. Any act of disrespecting national symbols including Chinese national anthem was also penalised.
Sidelining the Opposition
In another move, earlier this year, a resolution passed by the Chinese legislature allowed the Beijing-backed city government to directly dismiss elected members of the Hong Kong Legislative Council or LegCo without taking the judicial route. This triggered mass resignations by lawmakers as an expression of protest, and effectively leaving the 70-member LegCo with no functioning Opposition. This has further strengthened Beijing's will to intensify crackdown on anyone opposing its objectives.
With the Opposition tactically removed and a pro-Beijing Chief Executive, Carrie Lam, at helm, Beijing expedited its witch-hunt on Hong Kong's prominent and outspoken democratic activists and Opposition leaders, including Joshua Wong, Agnes Chow, and Ivan Lam, jailing them for taking part in protests, last year. Most recently, a Hong Kong media tycoon running an anti-government tabloid, Jimmy Lai, was arrested in a fraud case and was denied bail.
International reactions
Following the passing of the new national security law, Britain formally suspended its extradition treaty with Hong Kong, that had been in place for 30 years, for an indefinite period, fearing the possibility that anyone extradited to Hong Kong from the UK might be sent to China to face trials.
Citing China's open disregard for bilateral agreements, London even promised an alternative route for British citizenship to any Hongkonger holding a British National Overseas passport, inviting a strongly-worded response from Beijing.
Britain, US, Australia, Canada, and New Zealand, collectively known as the Five Eyes, have also criticized Beijing's ploy to destroy democratically-elected LegCo, last month. They called the Chinese move a clear breach of its international obligations under the legally-binding and UN-approved Sino-British Joint Declaration of 1984 that paved the way for the territory's handover in 1997.
Most recently, the British foreign secretary said London is considering a review of the arrangement for appointment of British judges for Hong Kong's top court, absence of which could act as a severe blow to the city's judicial reputation. To this, Beijing responded by saying that Britain had no supervisory power or moral responsibility over Hong Kong's affairs.
The United States responded by sanctioning members of China's ruling party and by making visa rules stricter for them to enter the US, yet another factor contributing to the retaliatory rants of a new brand of Chinese 'wolf-warrior' diplomats.
Disappearing thin line
Deprived of their natural and democratic rights, the sorry plight of the people of Hong Kong remains unchanged for many years now, and the Chinese power and influence continues to expand to newer horizons beyond its neighbourhood and across the globe. As each day passes, the thin line between mainland China and Hong Kong is disappearing, faster than expected.
The complex puzzle of Canberra-Beijing ties, as diplomacy takes a back seat
Australia and China seems to be engaged in a repulsive tariff war targeting each other's goods. Canberra is struggling to manage its complex economic relationship with Beijing even as it finds itself in the strategically opposite camp. How did things turn out this way? Here, I analyse.
***
There was a time when Australia under the Mandarin-speaking Prime Minister Kevin Rudd, who was in office from 2007 to 2013, had the highest level of warmth in relations with China.
The Labour premier saw a promising prospect of economic partnership with a rising China at that point of time, but gravely under-estimated the geopolitical threat that would be soon posed by Beijing, a mistake later governments would realise and is still striving to rectify.
Quad pullout and comeback
Rudd even pulled Australia out of the four-nation Quad grouping in 2008, a year after it was conceived by former Japanese PM Shinzo Abe, in a move to appease Beijing with which Canberra's economic partnership was progressively moving upwards. But, nine years later, Malcolm Turnbull's premiership brought Canberra back to the Quad as regional and global security dynamics witnessed a paradigm shift.
Strategic shift
A decade later since Rudd took office, despite closer economic ties with Beijing, Canberra pushed for a closer alliance with the United States since 2017, the year Quad Security Dialogue was revived during the ASEAN and Related Summits in Manila.
It was a result of changes in security assessments by Canberra with regard to new threats and challenges from an increasingly assertive Beijing in the Indo-Pacific and beyond.
The rift between Australia and China further widened, earlier this year, when the Australian government supported an inquiry into the origins of the novel coronavirus, annoying China where it originated. Australian politicians also became increasingly divided on hawkish and dovish lines.
Huawei and ZTE ban
Tides were turned in 2018 when Australia became the first country in the world to ban Chinese telecom giants Huawei and ZTE from 5G trials and rollout, citing security concerns, as these companies 'allegedly' had links to the Chinese ruling establishment which they deny.
Beijing also reciprocated with tit-for-tat measures from time to time. The latest in line of such measures was the imposition of temporary anti-dumping tariffs up to 212.1 per cent on Australian wine imports with effect from November 28, this year.
Ongoing tariff tensions
2020 saw a foray of imposition of tariffs and reciprocal duties from both sides right from the beginning of the pandemic. Attempted mergers and acquisitions by Chinese companies involving companies in Australia were also blocked by Canberra citing security reasons.
Adding oil to the fire, anti-dumping investigations were initiated by both sides against each other, for using its findings as rationale for imposing more tariffs on different sets of goods such as aluminum, steel, paper, coal, copper, sugar, log timber, and barley.
ChAFTA
What will be the fate of the 2015-signed China-Australia Free Trade Agreement (ChAFTA)?
The worsening ties might take a toll on ChAFTA as it readies for a five-year review next month, notwithstanding the other broad-based trade pacts in which both countries are participants such as the recently-signed, 15-nation Regional Comprehensive Economic Partnership (RCEP).
ChAFTA took about a decade to complete and led to zero tariffs on many goods, but RCEP is still in its infancy.The main issue is not whether a review of ChAFTA is possible, but how to prevent the looming prospect of Canberra and Beijing retreating from the current commitments directly or indirectly that would effectively reduce the pact into a state of coma.
As ChAFTA goes for review in December, the most likely outcome could be both countries agreeing to maintain the deal's status quo. If any of the parties wishes to terminate the pact, there is a six-month notice period after which they can leave, with or without a review.
Still economic partners, but political rivals
Today, China has positioned itself as Australia's largest trading partner. Moreover, Australia strongly benefits from its close proximity to the vast markets of China and Japan which together represent over 40% of all Australian exports, in which a little over 32% amounting to $89.2 billion, are exclusively to China, as data from 2019 show. Despite this, Canberra and Beijing remain at odds politically.
Exercise Malabar 2020 and beyond
One of the striking questions in the strategic circles of all Quad partner countries is, will Australia continue to take part in the annual Exercise Malabar in the coming years, annoying Beijing further?
While Japan is a strategic partner in the Quad, ties with China are moving on an adversarial path, particularly worsening since Canberra took part in the annual Exercise Malabar in the Indian Ocean this month, after a gap of 13 years since it left the mega naval war games.
The exercise by the four Quad partners of India, United States, Japan, and Australia is apparently a warning to Beijing's naval ambitions in the waters of the Indo-Pacific.
Supply Chain Resilience Initiative
In fact, all the Quad partners and other democracies in the Indo-Pacific wish to decouple itself from over trade dependency on China. But, domestic economic realities prove otherwise. With a raging pandemic and the unravelling US-China cold war threatening supply chains, Japan has recently put forward an idea – the Supply Chain Resilience Initiative or SCRI.
It is a trilateral approach to trade, with India, Australia, and Japan as the key-partners aimed at diversifying its supply risk across a group of supplying nations instead of being disproportionately dependent on just one, apparently keeping China in mind.
Despite all these measures, the prospect of closing of huge Chinese markets for Australian exports, owing to a disproportionately high level of tariffs is haunting domestic producers in Australia that could potentially make Australian wine largely unmarketable and non-feasible in Chinese markets.
Ineffective diplomatic efforts
Current Australian PM Scott Morrison has been trying to bridge gaps in a reconciliatory tone by stating that his government's actions are wrongly seen and interpreted by some only through the lens of the strategic competition between China and the US. But, Beijing doesn't seem satisfied, as evident in the decision to impose the recent set of disproportionate tariffs on wine.
Loss of businesses for Australian domestic producers is already hurting the Australian economy badly as goods remain stalled at ports. But, the behemoth of Chinese economy appears to be largely resilient to adverse impacts, compared to the Australian economy.
Way ahead
Australia's producers and farmers are largely unhappy and unsatisfied with the way Canberra is dealing with Beijing as it directly threatens their livelihoods.
As things turn out worse, Canberra will have to strategise newer options to effectively balance geostrategic and economic considerations with regard to Beijing, possibly through the diplomatic route, in a way to immediately diffuse the prevalent confrontational approach to come out of this diplomatic impasse.