Noah, Peter Pan and the Sleeping Beauty
Economic downturn; recession of plans and initiatives; €-crisis; Brexit and irredentism in the UK, Spain, Belgium, Denmark and Italy; lasting instability in the Euro-Med theatre (debt crisis of the Europe's south – countries scrutinized and ridiculed under the nickname PIGS, coupled with the failed states all over the MENA); terrorism; historic low with Russia; influx of predominantly Muslim refugees from Levant in unprecedented numbers and intensities since the WWII exoduses; consequential growth of far-right parties that are exploiting fears from otherness which are now coupled with already urging labor and social justice concerns, generational unemployment and socio-cultural anxieties… The very fundaments of Europe are shaking.
Strikingly, there is a very little public debate in Europe about it. What is even more worrying is the fact that any self-assessing questioning of Europe's involvement and past policies in the Middle East, and Europe's East is simply off-agenda. Immaculacy of Brussels and the Atlantic-Central Europe-led EU is unquestionable. Corresponding with realities or complying with a dogma?
One of the leading figures of European Renaissance that grossly inspired European renewal, Dante, puts Prophet Muhamed to the 8th circle of his famous Inferno. The only individuals bellow Muhamed were Judas, Brutus, and Satan. "Islam was seen as the negation of Christianity, as anti-Europe…and Muhammed as an Antichrist in alliance with the Devil…" as Rana Kabbani noted in her luminary piece Imperial Fictions.
However, both religions trace their origins back to Abraham. They both lived in harmony (or at least they cohabitated for centuries within the MENA proper, notably in Lebanon, Syria and Iraq). Why was than there no harmonious relationship between Christian Europe and the Middle East? Was Europe opting to repress the Muslims in order to artificially generate a homogenous European self?
This is a story of the past centuries – one may say. Still, absence of any self-reflection on the side of the EU towards its policy in the Middle East today, makes it worth to revisit some of the bleak chapters of European history, and the genesis of its pre-secular and secular thoughts.
Civitas Dei Brussels: Extra Euro-Atlanticum, nulla salus
Europe came to be known as 'Christendom' because its identity was imagined or invented as the Catholic in contradistinction to the Islamic Middle East and to the Eastern (true or Orthodox) Christianity. The Christianity, of course, originated in the Middle East not Europe. It was subsequently universalised and Europeanised by the Balkan-born Roman Emperor, who spent much of his life on Bosporus and hence was buried in Asia Minor – Constantin the Great. Surely, it was by legal design of this glorious Emperor that the city of Rome was (re)turned into an administrative periphery, politico-ideological outcast and geostrategic suburbia.
Therefore, the post Roman/Byzantine inauguration of 'Christendom' as a pure western culture necessitated a sustained intellectual acrobatics: Such an inversion (ideological and geopolitical periphery presenting itself as a centre) required both physical coercion and imposed narrative over the extensive space and time.
This a 'la card creation of Catholic Christendom or to say: Western Ummah, served two vital objectives: domestic and external. Both helped solidification of the feudal socio-economic and politico-military system, and based on that of a precolonial European collective identity. Domestically, it served for a coherent sense of selfhood (us vs. them paradigm): unity, oppression and obedience (extra ecclesiam nulla salus – no salvation outside the church, following the old Roman rational 'no world beyond Limes line', or the modern one: 'no prosperity outside the EU'). Externally, here was the justification for military voyages and other forms of organized plunders, all coupled with a coercive societal identity.
A Catholic Renaissance Europe soon realized that, in order to effectively project itself – to physically and/or mentally colonise overseas territories – it needed either coercion (rarefying and assimilation), labour-camp detention (slavery) or final solution (physical extermination). These strategic dilemmas over the instruments to use influenced and dominated European debates of the time. It brought about the conception of the 'noble savage' – who could be assimilated, versus the 'ignoble savage' who was destined for either labour detention or final solution. That coerce-or-exterminate dilemma of 'soul salvationists' even culminated within the pre-Westphalian Christian Ummah. It was in the famous Valladolid controversy of 1550, by which Juan Ginés de Sepúlveda's notion of the ignoble savage faced off against Bartolomé de Las Casa's view of the noble savage.
In both cases – the claim was offered – the Amero/AfroAsian Natives deserve salvation as they have a 'strong desire for it', but the views differed on whether the Natives' prone wishes exceeded their mental capacity to receive Christianity. Hence, the debates – which were the roots and origins of the later liberal theories as well as the early precursors of the subsequent regime change, humanitarian intervention and preemption doctrines – always presupposed the inferiority (and passivity) of the Natives. Frankly, this remains a constant behaviour in international relations: E.g. views on Libya differed, as they differ today on Syria. However, what is common to all views is; nobody consults the local population and considers what they would like for themselves[1].
Legitimizing the imperialism of imagination
In a course of subsequent centuries, the notion of final solution underwent through a sophistication, and was eventually replaced by the combination of cultural conversions/ submissions (induced submissiveness), politico-military obedience and socio-economic apartheid. A subtle apartheid (that is easy to deny, but hard to prove) is usually better than the brute genocide (which is traceable and easily quantifiable). At the peaks of imperialism a noble-ignoble savage dilemma was embodied in an implicit and explicit racism. Debate was focused on a question whether the civilizational inferiority can be remedied through the imperial 'civilizing' mission, with social Darwinists and 'scientific' racists being rather pessimistic, but more solutions' instructive.
The so-called central dilemma of liberalism (Is it liberal to impose liberal values on illiberal societies) was of course only an innocently looking tip of the large iceberg, of the tireless othering. This 'epistemology' was further soft-embedded in the so-called Peter Pan theory with a romanticised image of the Other as more childishly careless and helpless, than intentionally cruel and barbaric; being rather alluring, promiscuous and exotic. Essentially, the East as an innocently enveloped child who would never grow up. This, of course, gave rise to various binary categorisations, the us-vs.-them/either-or listings in order to facilitate a decisive and long-lasting differentiation between the constructed West and the East[2].
The West as a constructed male vs. the East as a constructed female. A 'mind-oriented' west vs. a 'body-oriented' east. Phallusoid peninsulas and islands of (Atlantic-Scandinavian) Europe vs. womb-like continental landmass of Afro-Asia; Erective and explosive vs. reflective and implosive; an Omnipresent (ever seafaring and trading) extroverted male vs. humble, handcrafting, waiting female. Masculin, phallusoid, progressively erected temporal linearity vs. periodic menstruation leakages in regressive cycles of stagnation. Clearly, anything beyond that was deemed inconsequential.
Physical, material, ideological, active, polarizing, determined vs. metaphysical, spiritual, esoteric, atmospheric, inclusive, holistic. No wonder that all operationalized ideologies originated solely in Europe. What else, since no one ever, but Asians revealed any significant religion to the world[3].
Gradually, the imperial civilizing mission (Expansion is a path to Security) got a new form. It became a moral duty – R2P (Responsibility to Protect), as much as the parental duty is to raise their infant child. The handsome, masculine and strong Western Prince Charming has one duty – to emancipate his Eastern Sleeping Beauty. Giving a 'kiss' meant projecting the western physical military presence, Christianity and commerce[4]. Who was/is the Eastern Sleeping Beauty?
Rudyard Kipling's famous 1899 poem, The White's Man Burden offers some answers while describing the Eastern peoples as 'half-devil and half-child'. "The blame of those ye better / The hate of those ye guard" – Kipling warns and instructs, he describes and invites. In his classic novel of 1847, Tancred, much celebrated British Prime Minister Benjamin Disraeli claims "A Saxon race, protected by an insular position, has stamped its diligent and methodic character of the century. And when a superior race, with a superior idea to Work and Order, advances, its state will be progressive…All is race!" Quite an intellectual acrobatics for Disraeli himself, who was neither Saxonic nor Christian.
Over the period, western Catholic missionaries constituted one of the most powerful and influential lobbying voices for this civilizing mission. It was of course weaponisation of religion, a notorious misuse for ideological purposes. Same like today, fanatics then and there, were identified and further radicalised, to say 'inspired'. Eventually, they usually got hired as the AGITPROP/Ideological police by the predatory elites, hid behind the Feudal European states. Naturally, the justification was looked upon in any Biblical narrative. E.g. the re-invoking the Genesis story of Noah's three sons, and interpreting it as the 'duty' of Japheth (Europe) to absorb Shem (the Asians) and enslave and colonise Ham or Canaan (the Black Africa and Indianos of America). Amazingly, according to Genesis ch.9, verse 27: "God shall enlarge Japheth and he shall dwell in the tents of Shem, and Canaan shall be his servant".
The later Protestant revival infused the next wave of Christian missionaries to force this narrative into the matrix of colonisation as 'wilful' implants onto the minds and bodies of overseas peoples. Therefore, James Lorrimer and other architects of that-time political and international legal order divided the world in three segments: civilized White, barbarous Yellow and savage Black. Yellows were 'fallen people', a terra infantilis to civilize (what will later evolve into indirect rule, with a social apartheid in place), the area occupied by the Blacks, Redbones and Aborigine was a 'borderless space', terra nullius just to conquer and settle, since the indigenous have no 'birthright' to it (meaning: physical colonisation and direct rule, final solution and genocide).
Unfinished business of 'salvation' came back to Europe of 20th century. Hitler's interpretation of it was: civilized White (Arian) – Central Europe; Yellows (to be put under indirect rule, with 'only' social apartheid in place) Atlantic and Scandinavian Europe; Blacks (predestined for a physical colonisation of superior race upon a decisive final solution and genocide) all Slavic states of Eastern and Russophonic Europe.
Indeed, ever since the 18th century on, European notion that 'civilization' was the monopoly of the West, clearly implied that there is no civilization – and therefore, salvation – outside the western model. Famous historian Toynbee calls it "a secularized version of the primitive Western Christian proposition Nemini salus …nisi in Ecclesia." See for yourself how much current debates, sparked by the ongoing refugee crisis, follow the above patters.
Triangular economy of othering
There is a consensus within the scientific community that the critical factor in redefining Europe as the advanced West was the expansion of its strategic depth westward to the America upon 1492. This enabled the so-called triangular transcontinental trade, brutally imposed by Europeans: Enslaved Africans shipped to America in exchange for gold and silver from there to Europe, in order to cover European deficits in importing the cutting-edge technologies, manufactured products, other goods and spices from a that-time superior Asia and the Middle East[5].
The Afro-America yields were so colossal for Atlantic Europe that many scholars assume the so–called Industrial revolution rather as an evolutionary anomaly than a natural process of development, which was primarily pivoting in Asia. Such a rapid shift from a peripheral status to an 'advanced civilization' of course necessitated a complete reconstruction of western identity. This acrobatics – in return – also enhanced the split between Eastern/Russophone, closer to and therefore more objective towards the Afroasian realities, and Western (Atlantic/Scandinavian/ Central) Europe, more exclusive, self-centred and ignorant sphere.
While the Atlantic flank progressively developed its commercial and naval power as to economically and demographically project itself beyond the continent, the landlocked Eastern Europe was lagging behind. It stuck in feudalism, and involuntarily constituted a cordon sanitaire to Islam and the Russo-oriental East. Gradually, past the 15th century the idea of 'Western Europe' begun to crystallise as the Ottoman Turks and the Eastern Europeans were imagined and described as barbarians. During the 17th and 18th century, Atlantic Europe portrayed itself as the prosperous West that borders 'pagan/barbarian' neighbours to its near east, and the 'savage' neighbours to its south and west, and Far East. Consequently, we cannot deny a role that the fabricated history as well as the 'scientific' racism and its theories played in a formation and preservation of European identity.
The Enlightenment was a definite moment in the reinvention of European identity. The quest came along with the fundamental question who are we, and what is our place in the world? Answering that led on to the systematisation, classification and – frankly – to invention of the world. From the Renaissance to the Enlightenment, a kind of an intellectual apartheid regime was forming. The rise of the West was portrayed as a pure virgin birth as John M. Hobson fairly concluded. Europeans delineated themselves as the (only or the most) progressive subject of the world history in past, presence and future, while the Eastern peoples (e.g. Asian as 'the people without history') were seen as inert, passive and corrosive. While the Solar system 'became' heliocentric, the sake and fate of our planet turned plain – 'Europocentric'. The world is flat mantra set the stage. (following the geostrategic dictatum: the expansion is a path to security.
"The idea of Europe found its most enduring expression in the confrontation with the Orient in the age of imperialism. It was in the encounter with other civilizations that the identity of Europe was shaped. Europe did not derive its identity from itself but from the formation of a set of global contrasts. In the discourse that sustained this dichotomy of Self and Other, Europe and the Orient became opposite poles in a system of civilizational values which were defined by Europe." – notes Delantry.
Even the English word to determine, position, adapt, adjust, align, identify, conform, direct, steer, navigate or command has an oriental connotation. To find and locate itself opposite to Orient, means to orient oneself.
Feudal Europe had identified itself negatively against Levant and Islam. Clearly, it was an identity heavily resting on insecurity. An external manifestation of inner insecurity is always aggressive assertiveness.
Is this still alive or even operative? How it correlates today?
Europe repeatedly missed to answer to the East and Middle East through a dialogue (instruments) and consensus (institutions) although having both (CoE, OSCE, EU's ENP, Barcelona Process, etc.). For the last 25 years, it primarily responded to the MENA militarily (or/and with sanctions, which is a socio-economic warfare) – via 'Coalitions of the Willing'. However, for a rapidly economically and demographically contracting Europe, the confrontation does not pay off anymore. While practically still yesterday (by the end of WWII), four of the five largest economies were situated in Europe, today only one is not in Asia. None is in Europe[6]. (Likewise, while the US economy contributed with 54% of the world output in 1945, today it hardly has 1/3 of that share.)
Simply, the Old Continent is not a wealthy club anymore. It is a place with a memory of its wealthy past. The EU has to learn how to deescalate and compromise. It is in its best interest, for the sake of its only viable future. Therefore, it is a high time for the Brussels-headquartered Europe to evolve in its views and actings.
Let us start by answering the question: Is the so-called Russian expansionism or MENA 'Islamofascism' spontaneous or provoked, is it nascent or only a mirror image of something striking in front of it? And after all, why the indigenous Europe's Muslims (those of the Balkans) and their twins, indigenous Christians of MENA (those of Levant) are now two identically slim shadows on a bulletproof wall.
---
[1]For centuries, it follows the same matrix: doctrinated/induced inferiority, denouncing, attack, marginalization, passivation, plunder, indirect rule, remote control presence. Or, reduced to a binary code formula: victimisation-criminalisation. Namely: humanitarian intervention.
[2]Small surprise that the 43rd US President (un)famously claimed: 'you are either with us or against us'… His father, the 41st US President, strategized the Cold War and summarised its epilogue effectively: 'We win, they lose'.
[3]To this end: Inventive, proactive, scientific, rational, disciplined, sell-controlled/self-constraining, sane, sensible, practical, 'mind-oriented', independent, and most of all paternal West. The East, of course, was on the opposite side and inferior: imitative, passive, superstitious, lazy, irrational, spontaneous, insane, emotional, exotic, body-oriented, dependent, and above all, child-like. Tall, matured 'masculinity' vs. immature and physically underdeveloped 'femininity'. The masculine phallus of military, industry, technology, shipping and trade that is welcomed, if not heartedly invited, to tap and drill the womb-like dwell of resources, while at the same time seeding the ideological semen of 'civilization'.
[4]Most of the so-called International/Cross-continental Trade Pacts are closer to the capitulation agreements than to any fair, balanced and mutually beneficial commercial accords. What a popular language of today calls barriers to trade are in fact the socio-economic sovereign rights and other checks-and-balances national well-being instruments.
[5]In order to illustrate a magnitude, let's note a following data: Starting from an early 16th century for consecutive 300 years, 85% of the world's silver production and 70% of the world's gold output came from the Americas. Further on, during the 17th, 18th and 19th century the role of Black slavery, slave trading, American Black slave-driven production centres and Negro markets, all significantly contributed to Atlantic Europe's agricultural and industrial 'breakthrough' – as we are celebrating it today. Even the US Founding Fathers were slaveholders (5 of the 7 principal ones: Benjamin Franklin, John Jay, Thomas Jefferson, James Madison and George Washington).
[6]The moment of 'liberal truth' always comes from Atlantic. Thus, Ana Palacio who served both sides of Atlantic (as the former Spanish Foreign Ministers and the former Senior Vice President of the Washington-based WB) – among many others – recently warned the Western Ummah: "After years of handwringing over Obama's strategic "pivot" to Asia, even as Russia was stirring up trouble in Ukraine, Europe is once again a strategic focus for the US. But the deeper message is far less encouraging. The US is acting because its European partners have not. This divergence is troubling. American engagement is necessary to provide momentum, but it is Europe's weight that has served as the critical mass required to move the world's liberal order in a positive direction. From the perspective of the European Union, the latest US security bailout raises the possibility that after more than two decades of growing prominence, Europe will lose its agenda-setting power." (text underlined, by A.B.)
Europe's former imperial countries are now desperate U.S. colonies
India is no longer a colony of the UK, but Germany and other European countries have become — now quite obviously — colonies of the United States, and their economies will be financially bled by the world-bestriding U.S. imperialist center, just like the UK and other European nations had previously (and infamously) exploited India and its other colonies.
The U.S. Government's having blown-up the Nord Stream gas pipelines from Russia to Europe — after years of efforts to sabotage them more subtly by other, more 'diplomatic' (but less permanent), means — will leave Europe permanently forced to pay vastly higher rates to America and other liquefied natural gas (LNG) suppliers, and no longer with even a hope of receiving the far less-expensive Russian gas, which, until recently, fueled so many European firms to international competitiveness. Now, there's no longer even a hope for Europe to avoid sliding into the usual model of colonies, as being banana republics, of one sort or another.
It was so natural for Russia to be Europe's main energy-supplier, because Russia is a part of Europe, on the same continent as the other European nations, and therefore could pipeline its energy to them, and Russia had a surfeit of energy while the other European nations had a surfeit of need for it. That's the way international capitalism is supposed to function, but imperialistic capitalism is instead international fascism, and it survives and grows only by exploiting other nations. From now on, the European nations, other than Russia, will, for at least a long time (because those giant gas-pipelines have been destroyed) be paying the world's highest prices for energy (containerized and shipped, instead of simply pipelined), and buying much of it from Europe's imperial center, which is increasingly recognizable now as being Europe's real enemy: America. They will be paying tribute to the emperor — the billionaires who control the USA. These are the puppet-masters behind "the free world" (as their 'news'-media refer to it), which is actually the new international-fascist empire. As Barack Obama called it, America is "the one indisensable nation," which means that all other nations (in this case, the ones in Europe) are "dispensable." Now, these former imperial nations will finally get a taste of what it's like to be a "dispensable nation."
Here are some of the key U.S. operatives in Europe, who managed this situation, for the U.S. owners — brought this situation about (before Joe Biden's agents ultimately just pulled the plug on the whole operation):
Boris Johnson, Olaf Schulz, Annalena Baerbock, Robert Habeck, Ursula von der Leyen, Josep Borrell, Anders Fogh Rasmussen, Jens Stoltenberg, Emmanuel Macron, Mario Draghi — and, of course, behind the scenes, the billionaires who funded those leaders' political careers (via political donations, plus those billionaires' news-media and their other mass-public-opinion-forming organizations). These key agents will no doubt be paid well, in their retirements, regardless of what the public might think of them after their 'service to the public' is over.
Exporting Religious Hatred to England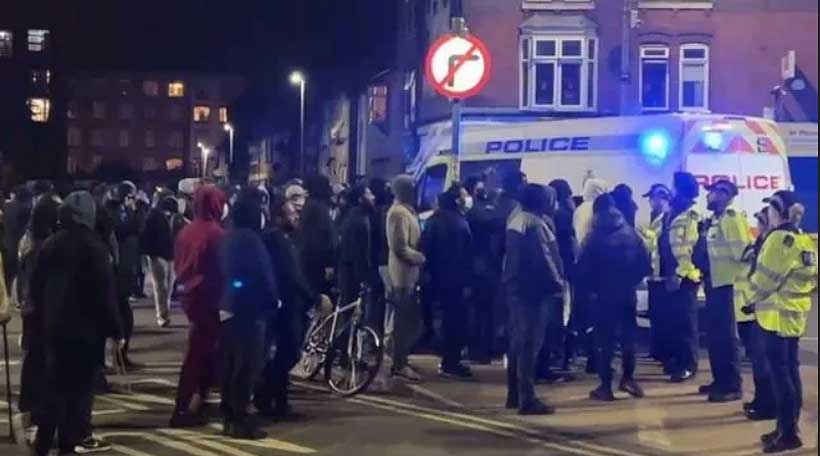 Not a place hitting the main news channels often, Leicester is a small town of 250,000 inhabitants about a hundred miles north of London and 40 miles east of Birmingham the UK's second largest city.
But an imported ideology is now the cause of religious violence that has profoundly affected Leicester's ethnic community of South Asians. This Hindutva ideology represents a belief in the transcendence of Hinduism and its culture.
Leicester prides itself as a city of tolerance and diversity where different religions and races all live together in relative harmony — a sort of 'live and let live and mind your own business' philosophy that had worked until recently. But under the surface simmering tensions burst forth recently. The trigger was a South Asia Cup cricket match between Indian and Pakistan held in Dubai and won by India.
Couple Hindutva with India's win and groups of Hindu young men were keen to demonstrate their might, and did so on isolated young Muslims. The latter then formed their own groups ready for revenge.
Where were the police one might ask. Well, a couple of beaten up Asian teenagers did not register as exhibiting anything more than random teenage violence. They were slow to react and did not discuss the ominous truth of religion as the prime mover behind the violence.
Civic leaders on both sides are now trying to quell the attacks. But the damage has been done and the seeds of ill-feeling have been sown within the community meaning Hindus vis-a-vis Muslims and vice versa.
India's per capita GDP is higher than for Pakistan or Bangladesh, the two countries bordering it, which together constitute the subcontinent. Thus the three countries are similar culturally. The next question to ask is why then is India hugging the bottom on the 2020 World Happiness Report, next to ill-fated war-torn places like Yemen. India is ranked 144 while its rival and neighbor Pakistan, although lower in per capita GDP, ranks a shocking (for India) 66. Bangladesh also ranks much higher than India at 107, despite its devastating floods and typhoons.
Perhaps the answer lies in the pervasive hate that is the currency of the ruling BJP (Bharatia Janata Party), a currency spent liberally during general elections to the detriment of the Congress Party, which has stood for a secular India since independence.
But hate yields more votes as BJP leaders Norendra Modi and Amit Shah know well. After all, they came to power via the destruction of the historic nearly five century old Babri Mosque, built on a Hindu holy site in an effort to ally Hindus by an astute Babur, the Mughal whose hold on India, just wrested from the Muslim Pathan kings, was still weak. It worked for Babur then; its destruction worked for the BJP in the 21st century
Has India become more civilized since?
Giorgia Meloni: a return to Mussolini's Italy?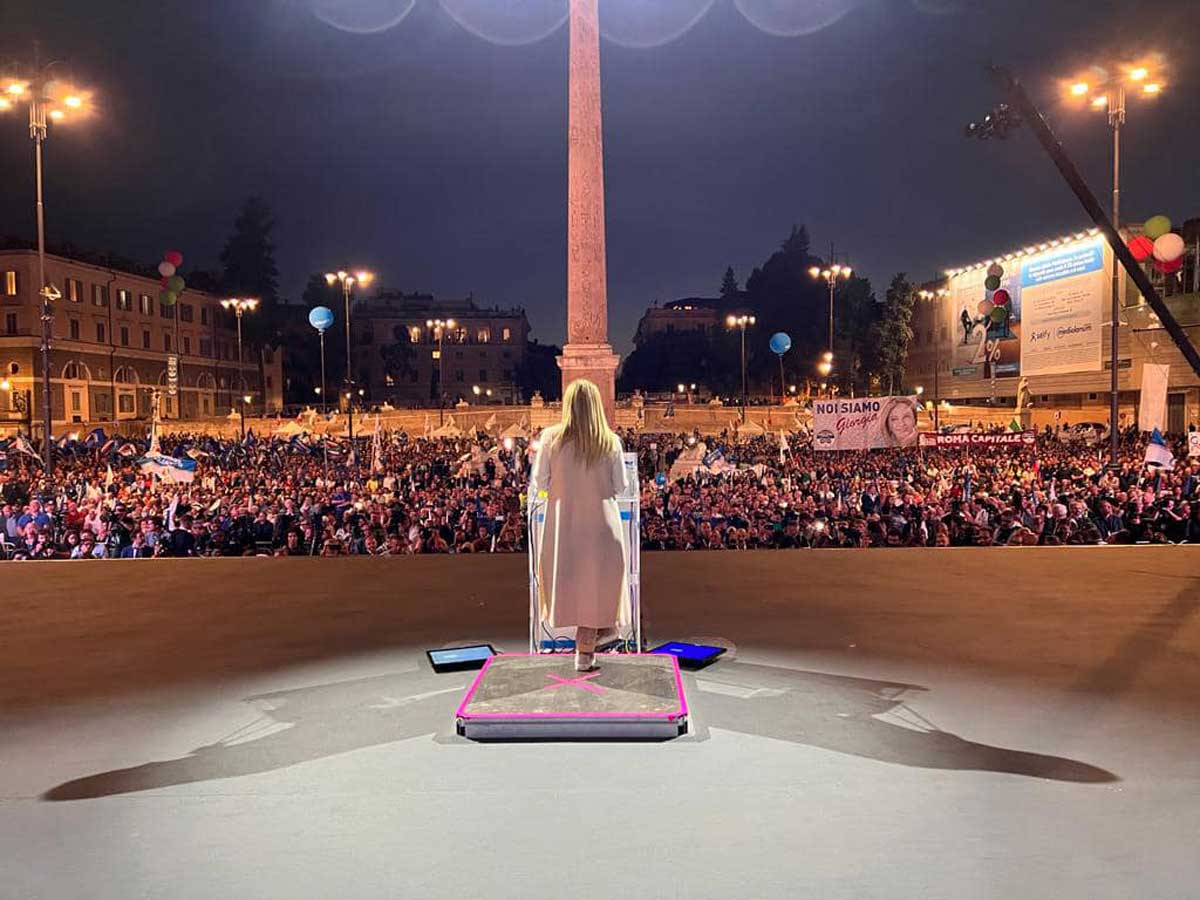 In recent years there has been a dramatic increase in the number of far-right political parties across Europe. They have managed to use the widespread discontent from society with the values and functioning of democracy to establish strong footholds in many countries, including those that were thought to be immune to such radicalisation. The reach of the far right does not recognise boundaries, and it is not a new phenomenon either. It has had a considerable historical role in Latin America, in Indonesia, Japan, Australia, Myanmar, India, South Africa, Germany, Italy, the United States, and more recently in Turkey, Brazil and Hungary which have suffered serious damage to their democratic rules and institutions. It is in this context that the election of Giorgia Meloni in Italy as the possible next Prime Minister.
Italy has a long history with fascism and far-right extremism that has forever characterised Italian politics. Italy's history after the WWII can largely be blamed for this slow but steady radicalisation of its political landscape. Unlike Germany that went through a serious process of denazification after allied victory, Italy was not cleared of vestiges of fascism. After 1945, and with the emergence of the USSR as a rival power, the allies focused their attention and efforts on fighting Communist USSR. Italy, surprisingly, had a considerable number of communist supporters, therefore fascism was seen as something positive in the fight of USSR ideology expansionism. Fascism was good to fight communism, and allies turned a blind eye to it, and the creation of the Italian Social Movement (MSI) in 1946 did not raise any red flags. The party managed to become the fourth largest in Italy in 20 years.
The woman who will become Italy's next Prime Minister leads a conservative party that can be traced back to the MSI: The Brothers of Italy, whose logo revives the MSI emblem. Meloni´s victory should be read against the backdrop of recent triumphs for the far right elsewhere in Europe. In France, despite the loss of Le Pen in the presidential election, the share of popular vote shifted the French political centre to the right; in Sweden the Sweden Democrats are expected to play a major role in defining Swedish politics after having won the second largest share of seats at the general election earlier in September; the same in happening in Hungary and Poland.
This revival of far-right extremism is not new. The collapse of the USSR allowed formerly dormant far right movements to flourish. This resurgence should also be understood as the inability of centre and centre-left parties to connect with voters, and to appear attractive. Italy's recent economic crisis has made Italians particularly susceptible to anti-establishment ideas. Italy was one of the countries that suffered the most during the pandemic specially fairly early on: Lots of people died, a lot of businesses had to close down, Italy found it hard to get support from the rest of the European Union. Meloni and her coalition capitalised this discontent. Meloni has chosen to fight the same enemies as other populist leaders: the LGBTQ+ community; immigrants, the European Union, Muslims; former Italian leaders and multiculturalism. She echoes Mussolini's natalist obsession; Volume Mussolini argued that the Western race was in danger of extinction by other races of colour, Meloni has focused on ethnic substitution, defined as the loss of Italian identity as a result of globalisation and uncontrolled mass immigration fostered by the European Union. This has translated into harsh xenophobic policies.
Meloni's election ironically coincide with the 100th anniversary of the March on Rome in October 1922 that brought Mussolini to power. 100 years later Italians. May have elected its first woman to become a Prime Minister, while this represents a break with the past and it symbolises a good step forward in theory, she also represents one of Italy's worst chapters in its past: Mussolini's Fascism. Meloni was a former MSI activist, and she is likely to form a government deeply rooted in populism and fascism, are very dangerous combination for contemporary European politics. We should not also allow to be fooled by her election as a woman. She has followed a similar path to Marie Le Pen called gender washing. She has adopted unknown threatening image as a female politician to mask the force of her extremism. For someone who is not familiar with Italian politics, her victory could be read as the triumph of female empowerment and gender equality. Throughout her campaign, she posed as a defender of women, however, her party has rolled back on women's rights, especially access to abortion.
Gender washing is particularly predominant among right wing parties, as they do a better job at promoting women. Women like Meloni and Le Pen Are protected by the elite, because they support, the very pillars of male power and privilege, these women very often behave in the same way as the men in power. Meloni's slogan God, Fatherland, and Family echoes the man-dominated and conservative model dating back to the Italy of Mussolini in the 1920s. Meloni's politics should become more important than her gender, especially as she does not advance women's empowerment, on the contrary, her victory means a drawback for women's rights in Italy. Meloni is simply one more far-right candidate that has made it to power.
This should be worrying for Europe as a whole. There has been a constant failure to address the growing threat of the far-right movement at national and on a European level. In recent years, we have seen a slow and steady shift of European politics to the right, and the normalisation of a less inclusive and more racist and discriminatory discourse. This shift to the right should be seen as a ticking time bomb for the pillars of democracy. The pandemic and the current war in Ukraine have not helped the case for democracy.
There are rising living costs in the continent that are undermining governments and European institutions, and making people feel less satisfied with the way their countries are handling these issues. Crises have always been excellent breeding grounds for extremism, whatever political ideology it is. People are more scared during a crisis, allowing the politics or fear to work, and swing voters towards far-right extremists in particular. People that are more likely to vote for far-right alternatives, favour certainty and stability amidst societal changes. Change is perceived as a threat to conservative voters. Under current conditions, there are enough real or perceived changes for extremist to put the blame on. This is one of the greatest paradoxes and dangers of populism and extremism: it often identifies real problems, but seeks to replace them with something worse, the slow and almost imperceptible destruction of democratic values, institutions, and liberties.
The irony behind this is that although populists are usually extremely bad at running a country, the blame will never be placed on them. Populist leaders consolidate support by creating enemies and dividing the population between "us" and "them". Failure in public policies, inability to provide viable solutions to crises will never be attributed to their elected officials, but rather to the enemies they have decided to use as scapegoats. In this way, as populist governments are unlikely to solve crises, things will eventually worsen, and more crises are inevitable; meaning more fear is also unavoidable. This creates a vicious circle that provides populists and extremists with further opportunities for power.
If there is something to be learnt from the current shift in international politics to the right, is the fact that voting behaviour differs from country to country. All politics is local. Voters are influenced by charismatic leaders, local events, regional issues etc. However, when it comes to the rise of extremism, common ground can be found between countries: the existence of a political, economic, or social crisis. Some far-right narratives have been able to cross borders, namely, anti-immigration and white and male supremacism. The Europe of today may be very dissimilar to the Europe of the near future should far-right movement continue to attain power in most countries. Far-right populist parties are a pan-European concern that should be addressed if we want democracy to survive in the long run.