Islam and Democracy: False Perceptions or Pure Propagation?
The Islamic Da'wah exhibits Islam as being peaceful and compassionate, in order to delude the infidels and to pave the way for their march to subdue the World.
Moreover, Muslim propagators assert, without hesitation and with high impudence, that Islam is the source of most aspects of Western modernism, and that the values and practices of Islam are the origin of human freedoms and civil rights.
To the consumption of ignorant Western audience, a huge amount of literature has been published under the rubric "democracy in Islam" mostly in English, with the following assertions: a) Islam and democracy are fully compatible; b) Islam has all the ingredients of modern polity and society; c) Islamic values are in fact the source of the democratic perceptions.
The problem begins with the fact that religion, perhaps any religion, is opposed to democratic values, by its own conceptions and principles. It is because the sources of commandment are from divine entity, while in democracy the source is the people, man-made laws, and sovereignty. Any debate on the connection between the two, religion and democracy, is seemingly artificial and may leads to a dead end. However, the astonishing fact is that more than all other religions, Islam is so far away, like between heaven and earth, from democracy. However, Islamic propagandists strive so hard to prove that Islam contains all democratic values from itself.
Why these efforts? The answer belongs to the Da'wah, propagation, realm, as to prove that Islam is the best and perfect religion. According to this, Islam and democracy are compatible, based on following: a) all individuals in the Islamic political system are sovereign, equal before the law, with full civil rights bestowed upon. b) Islam recognizes equality between all people – Muslims and non-Muslims, white over black, man or women. c) Islam does not accept dictatorship system or monarchy but democratic rule. The citizens' opinion is decisive in formation of government and decision-making process. d) Islam was the first institution ever to advocate and to implement human rights as universal equality to all people. In fact, Islam has promoted the universality of freedoms over 1300 years before UN's "Bill of Rights." e) All forms of acts of violence are forbidden. "Jihad" as an aggression against innocent people is terror and by that and a distortion to Islamic law. f) Islam set an unprecedented standard for the ethics of dealing with captured enemies. They treated prisoners of war in a manner that has yet to be imitated in history by others. g) It is categorically forbidden to capture a free person and make him a slave. Slavery is forbidden. Islamic ethics places utmost importance on preservation of human life and dignity. h) In time of war, Islam decreed humane rules of war many centuries before such ideas were put into conventions in the West.
It is suggested to Western readers not to laugh and ridicule while reading this list, even it is hard. Each and every clause of these eight, if examined and analyzed by the three suggested criteria of investigation — Islamic Scriptures; Islamic history, and contemporary Islamic politics — fully reveals how grotesque and meaningless they are.
Moreover, in the influential Muslim internet site, "Islam-on-line," Muslim exegetes claim that Islamic democracy is fully compatible with Islam, while bringing reference from the Qur'an. However, the verses and practices quoted, absolutely do not refer to the objectives referred to. This is another proof how all these clauses are fabricated, twisted, and non-existent in Islamic reality.
The claim that Abu Bakr and his three successors, the four rightly guided caliphs (al-Khulafa' al-Rashidun) were chosen in a fashion that reflected popular consent and by the people, is misleading and full of lies. For Muslims, including the Salafiyah groups, this era constitutes an ideal type in the Islamic political history. However, the reality is quite different. All the four caliphs were not elected but imposed on the community of the believers, rather they were nominated by small group from among the elders of the tribe; all of them did not receive the legitimacy of the others among the "political elite", caused social schism, personal rivalry and political instability; three of the four Caliphs were murdered brutally, and witnessed civil wars. One can find anything in this era but certainly not democracy, freedoms, participation, and sovereignty.
How democracy is compatible with the Qur'an? Islamic propagators use four assertions: a) Shurah (consultation) as if it functions in Islam as a parliamentary Western Political system. b) Ijma' (consensus) of the Islamic community, as if there is in Islam social and political pluralism based on majority rule. c) Ijtihad (innovative interpretation), as if there is readiness in Islam to absorb and integrate opposing values and conceptions. d) Hakmiyah (sovereignty), as if it expresses political participation of the people in the decision-making process.
However, these, all of them, are false fraud claims and without any substantiation or corroboration: Shurah refers in Islam only to the old tribal system of an advisory council of the elders, which include very scant elders or later on counselors. It has nothing to do with Western perceptions, Western democratic values, and there is not even one example in Arab and Muslim history and contemporary politics that in practice validate this claim. Ijma' is again the tribal framework made up of the elders of the tribe, the 'council of the wise men', and only their voice is binding and for the decision-making processes.
Ijtihad shows by itself how the Islamic pretense is fraudulent. The fact is that the gates of Islamic Sunni innovative interpretations were closed in late eleventh century, due to the conviction that there is nothing outside Islam that is unknown and there is not a thing or set of conceptions that is worthy to be included in Islam from the beginning of history to the end of the world. Hakmiyah does not belong to the people but to Allah alone and dictated only by him. There is no and never have been political pluralism and participation in Islam. There is no other sovereignty on earth other than Allah and the rulers who imposed their rule on the subordinate people.
Western scholars who support the Islamic fraud claims, like the Esposito's school of Georgetown, operate in three strategies: they exhibit claims and arguments without any scientific proofs or by quoting verses totally unrelated to the truth. They operate their elusive claims by declaring there are different kinds of democracy. There can also be a religious democracy, and Islam is the embodiment of spiritual democracy. At the same time, they accuse the West of being the cause for the lack of democracy in Islam, by preferring Muslim authoritarian rule as a means to continuing Western presence.
Amos Perlmutter calls the 'Esposito School' naïve, as harboring illusions originating in ignorance and lack of knowledge about Islam. The issue is not adjusting Islam to the values of representative democracy and human rights, but learning the true nature of Islam which is anti-democratic and anti-liberalism. Islam and democracy are incompatible, unless we decide to call everything and any form of government a democracy. If Marxist-Leninist Communism in the Soviet style could be called "popular democracy", why not call Islam "religious democracy"?
The reality is that Arab-Islamic history and contemporary politics clearly shows: There is anything Islam but not democratic liberal processes; there were no sovereign states led by electorate people; there were never a civic society, citizen's rights and freedoms. What is found are authoritarian regimes and patrimonial leadership, which was always the prerogative of the ruling elite, and the people have never been the electing and the sovereign. And that social misery and economic wretchedness are the dominant in Islamic politics, and not openness and freedoms.
Let's define and analyze how democracy is defined and characterized, and what are its basic components. There are several types of democracy with two most important phenomena:
First, the centrality of the political institutions and the intensity of their influence, with a separation of powers, the functioning of branches of government as an array of checks and balances and their accountability and transparency. Sovereignty belongs to the electors alone, and the legitimacy of government flows from the existence of laws for the sake of the citizens. Power is decentralized, and the leader is less important than the political institutions.
Second, the central realm is the rights and liberties of the individuals with large political tolerance and pluralism of ideas and roles. There are many functional sub-systems with vital influence over governmental decisions and functioning. Political mobility is high, based on equality of opportunity and achievement, while maintaining a free market of information. The power of the bureaucracy is limited and the police operates as a serving body for the public and not a coercive tool of the government.
There are seven features that are the most important to understanding democracy: The individual freedoms and civil liberties; the rule of the law above all; sovereignty and citizenship belong to the people and are empowered by the people; the absolute equality of all citizens before the law; vertical and horizontal accountability of all the ruling systems; responsiveness, eligibility; transparency of the ruling systems to the demands of the citizens; mobility, political participation and equality of opportunities of the citizens.
When compares to Western democracy, Islam is characterized by the following:
In Islam the believer acts out of a commitment of faith and absoluteness, whereas in democracy the source of conduct is rationality, pluralism, choice and judgment.
In Islam the source of authority, sovereignty, and the rule of law are Allah's alone. Everything stems from Allah and the will of Allah, while in democracy man is at the focus, logic is at the center, and political power meant to serve his security and needs.
In Islam there is only one legitimate party, the Party of God (Hizbullah), and all the rest are the parties of Satan. The party does not represent man's freedoms, expression, participation, or self-organization, but demands joint action in favor of the Ummah in accord with Shari'ah. There is no legitimate opposition.
The ideology of all the Islamic movements is totalitarian religious dictatorship, governmental tyranny and political suppression without any civil and individual freedoms, and therefore, democracy is conceptualized as a kind of Shirk, associating other deities with Allah.
Civil democratic society is based on pluralism, bargaining, lack of uniformity and even lack of rigid order. In contrast, Muslim political tradition fears anarchy and disorder, and therefore, not any government is preferable to no government, but the government is oppressive and coercive. This leads to a total submission of the people.
Contrary to Qur'anic teachings, no egalitarianism exists between the leader and the subject, between men and women, between Arab and non-Arab, even between parts of society (center-periphery; city-village).
Perhaps the best example is in the words of Sayyed Qutb: Western values pose a critical threat to Islam, since in the West, man is at the center and logic is at focus, while in Islam Allah is at the center, and submission to Allah is the focus. In Islam, the source of authority, sovereignty, and the rule of law is divine, Allah's alone. In Islam, the believer acts out of a commitment of faith and absoluteness. Islam does not represent man's freedoms, participation, self-organization, but demands joint action in favor of the Ummah and in accord with the Shari'ah. The Islamic state must be based on the Qur'anic principle of the Shari'ah. It is complete as a legal and moral system and no further legislation is possible or necessary to the end of history.
For Abu al-A'la al-Mawdudi, Yusuf al-Qaradawi, `Abd al-Salam Farag, and many other exegetes, Islam is contrary to secular Western democracy, because Islam has the full answers to all humans needs. Democracy must accept Allah's values of rule and sovereignty; where Islam makes law, there is no need for democracy; the concept of majority rule cannot exist in the Islam; Muslim religious laws decide permanently in all areas of life; Islam includes the entire human wisdom to the end of history; and accepting Western values is forbidden, being tantamount to apostasy.
For the Muslim believers Islam has all universes' wisdom and contains everything in life from the beginning of the world to the end of history. For the Muslim believers it is clear: al-Islam Huwwa al-Hall al-Waheed (Islam is the only solution). Islam wishes to subordinate democracy to its own principles, and not to integrate itself and become democratic; to rule and dominate the Free World and not to recognize its diversity and pluralism, and to become part of modernity; to subordinate the Free World to its Shari'ah and bring back to the Islamic 7th century governance.
Arab regimes are military or monarchical, and the political behavior are almost the same, exemplified by authoritarianism and patrimonialism. Islam is the very antithesis of secular Western democracy, based solely on the sovereignty of the people and its civil rights and freedoms. Moreover, the so-called 'Arab Spring' which is in fact 'a Tribal Anarchical Islamic Winter,' is a good example where Islamic regimes are in power, projecting the assertions of impossibility of Islam and democracy.
The Issue of civil society. When analyzing democracy, there is also the question of civil society, whether it can exist in the conceptions and praxis of Arab-Muslim political system. From institutional standpoint, civil society is made up of non-state actors and non-governmental organizations, which have developed in the community, through interest groups and sociopolitical mobility. It is institutionalized through individual rights and social differentiation, by political and regime tolerance; recognition of the rights and the freedoms of the individual; and lack of restrictions, enforcement and arbitrary intervention by the state.
In the Middle East, on account of Islamic tradition and developmental values, a civil society did not and yet is not ready to exist. The problem is not whether there are settings that can be interpreted as fitting the existence of a civil society, but rather their qualitative functioning. Even if there are parties, professional civil associations, and other NGO's, the question is the extent of influence on the governing system and the decision-making process. The parties operate more on behalf of the regime, as mass organizations for political mobilization, rather than representing the people.
One can estimate the lack of civil society in the Middle East through the following:
a) The character of the regimes and leadership. Authoritarian regimes and patrimonial leadership do not enable the growth of true civil society with a capacity to function. The population is considered as inhabitants/subjects rather than free sovereign citizens. The leader's will is what decides, and the inhabitants lack basic rights and freedoms. They act in accord with the will of the regime in the sense of giving support but not making demands on the political system. If we define democracy as "rule of the people, by the people, through the people, and for the people", all these contradict the values of Arab-Muslim society. Most of the inhabitants do not participate in political processes, and do not have influence on shaping its policy. Indeed, in a state where Islam rules, constitutional, representative and pluralistic government cannot develop.
b) Social values. Political culture in the West is participatory. It represents norms, positions, and values of the individual and the group towards political institutions and the state. In Arab society, political culture is, in the best case, native (subjugated) at the center and parochial at the periphery. Most of society is cut off from politics, and sees it as a necessary evil (Sharr) that a man has no choice but to live with. The primordial values are opposed to the development of a civil society.
c) Institutional Values. In Islam, reference is made to normative values that indicate the nature of a good society and the proper community. The system of beliefs refers to a collectivity, which the individual is dependent on, while he is not important in his own right. Civil democratic society is based on pluralism, bargaining, lack of uniformity, and even on a lack of rigid order. Muslim political tradition fears anarchy and disorder. Therefore, any government is preferable to no government, and this leads to submission and political cynicism.
d) The Role of Islam. The principles of Islam are in contradiction to the values of civil society: the absoluteness of Allah's supremacy that everything depends on him and determined by him. The source of authority and sovereignty is not by social contract or from the people rather it is by Allah alone. Contrary to the Qur'anic teachings, there is no egalitarianism in between the leader and the subject, between men and women, between Arab and non-Arab, or even between parts of the society. The concepts of democracy, liberalism, and parliamentary government, are identified as Western, and rejected out of hand, as indecent phenomena representing materialism, moral corruption, and lack of morality.
From an analysis of these features, the answer is that of Huntington, concerning the waves of democratization in the West, that in non-democratic societies we find political decay and not political development. Indeed, a civil society, however it may be defined, does not exist in any Arab-Muslim state. Even the appearance of political parties and formal associations by itself does not necessarily mean a fundamental move toward democracy, since political parties remain ineffective and play a mostly ceremonial role that serves to legitimate the state and its policies. This does not symbolize pluralism (ta`addudiyah), and even Interest groups, a primary agent of civil society, remain either non-existent.
Indeed, Islam is the very antithesis of Western democracy. One cannot find signs of democracy in Islam, but totalitarianism of thought; oppression of freedoms, and denying basic civil rights. Islamic Scriptures, History and contemporary politics are the proof.
Bernard Lewis claims that historically the Muslim world has been authoritarian and coercive from its inception, and thus a democratic culture has not been internally, culturally, socially, politically and economically, developed. It is non-existent. Classical Muslim exegetes largely agree that Islam and democracy are incompatible. Islam is the very antithesis of secular Western democracy. It altogether repudiates the philosophy of popular sovereignty and rears its polity on foundations of the sovereignty of Allah and the Khilafah of man.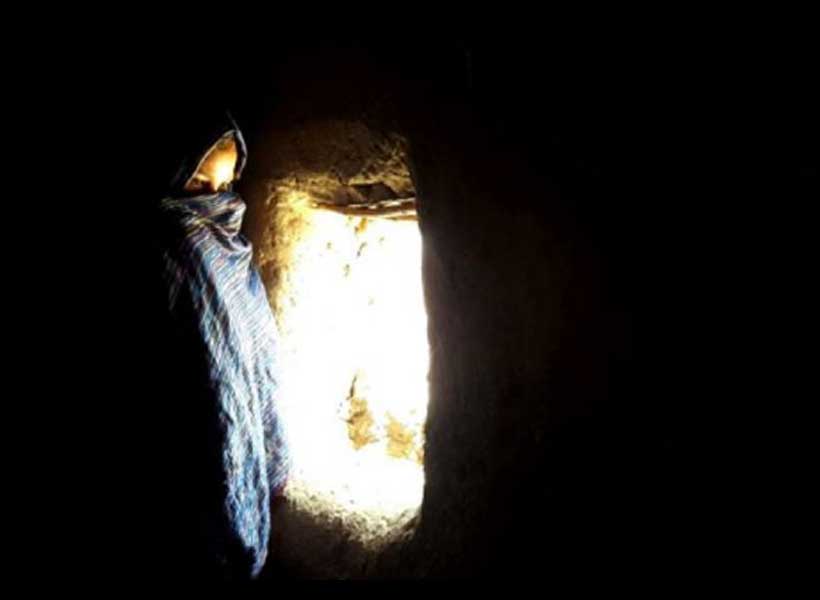 The olive eyes of Shaista peep between the bandages covering her burnt body, for she, like so many other Afghan women from the city of Herat, decided to escape her life by way of fire.
Shaista arrived at the hospital burning between wisps of hair and fabric, and her 19-year-old body is now a landscape of lava.
Tears seep between the gauze and the passageways of her blistered skin. Compassion is the closest thing to love that she will experience, and the hands of the man who changed her bandages are amongst the few that didn't strike her.
She set herself on fire for a crime she didn't commit, one that doesn't exist, or one that everyone else appears to see except her. Her crime was being born a woman.
According to Oxfam, 8 out of every 10 Afghan women suffer either physical, sexual or psychological violence.
In 2015, the Independent Afghan Commission for Human Rights registered 5,132 gender crimes and between April and June 2016 the Ministry of Women's Affairs reported 600, but many go unreported.
The women who go to the police are at risk of being raped before being returned to their families. Those who escape for more than 48 hours face accusations of adultery, the punishment for which is either facial mutilation or death. Passed between relatives, offered to others to pay debts or settle disputes, raped and subjected to acid attacks in the streets; these women lose their mental stability and take their own lives in the most brutal way.
They usually come from lower social groups and as they don't have access to guns or money to buy barbiturates, they drink rat poison, hang themselves, jump into rivers or set themselves on fire.
Although the families declare a 'domestic accident', it is easy to identify a suicide, as the majority are aged between 14-21 years old and are soaked in kerosene, when in fact most people use firewood or gas to do the cooking at home.
85% of Afghan women are unable to read or write and thus out of ignorance believe that they will die quickly. But instead they suffer for days before dying. Many pour boiling oil over themselves or drizzle it over their abdomen in order to raise attention to their plight, but sometimes the flames envelop them.
One of the most influential thinkers and leading Afghan practitioners in the field, Dr. Djawed Sangdel says: "Education is a key. This country needs a thorough horizontalisation of education for all."
80% of those who arrive in hospital perish because of a lack of means to treat them, and if they do survive, they suffer lifelong consequences, for it is difficult to follow a course of treatment whilst carrying water and looking after numerous children.
Almost 40 years of war brought with it misery, poor health and lack of governance, under which the patriarchal system flourished; a system which made Afghanistan an open-air prison for women, causing them irreparable psychological damage.
The country's laws tolerate tribal codes and 60% of girls under the age of 15 are forced to marry men double their age, according to the Revolutionary Association of Women in Afghanistan.
Studies from the UN Fund for the Development of Women reveal that the majority of widows sell their bodies or turn to begging in order to survive, and 65% of them see suicide as the only solution to their misery.
Herat, once known as the Pearl of Khorasan, is today a ghost town, with a horizon dotted with adobe houses, obsolete war munitions and faces hidden from the world behind the grille of a burka.
After a week in hospital, Shaista's mother-in-law escaped with her to hide her at home, as her son simply didn't deserve the shame of a suicidal wife.
Almost a month after the fire, she returned with wounds all over her body and without any feeling in her arms due to large necrotic areas. She did, however, survive – one of life's cruel jokes.
Now with the same fears as before, scars from the fire on her skin and with only one arm to carry her daughter, Shaista is back in the place that she so wanted to flee.
The Modern Tragedy of Child Marriage
Authors: Pooja Shah & Russell Whitehouse
"And just like that, my mother was married to the village chaiwala when she was 14!" I distinctly recall my grandmother saying as we sat together on the front porch, warmed by the mid-summer breeze."14? She's a child!" I gasped out of horror. "How can she be married? Her parents allowed it?" I ignorantly continued.
It was July 2011. I was visiting my now-late grandmother in Ahmedabad, Gujarat after a two-month writing excursion through Mussoorie. The first few days of my stay were filled with pleasantries and questions about school and life in "Amreeka", quickly followed by the incessant questioning of when I would get married and if I found a suitable companion yet… Of course, to a 19-year old college sophomore student barely at the cusp of adulthood, marriage felt like an intangible figment of my imagination, as it did for most of my peers back home who were too occupied by finalizing our majors and what party to attend next weekend. However, as my grandmother spoke, summoning stories of her own mother, it became dauntingly obvious that not only marriage was the traditional norm, but marrying early was the expectation in the era she grew up in.
12% of girls in the developing world will be married off before the age of 15; in many of the world's poorest countries, like Bangladesh, over half of girls will be married off before the age of 18. According to the IWWC, over 400M women aged under 50 years old are survivors of child marriage. .Western countries aren't exempt from this scourge: over 200k girls have been married in this current century in the US.
Although theoretically child marriage is outlawed in India, in many rural areas, impoverished families will often "give away" their children in exchange for fleeting economic security. Rooted deeply in religious, traditional and cultural norms, and often motivated by economic factors, many families view child marriages as a means to end their economic suffering.
My grandmother confided in me that her mother, a child herself, gave birth at the age of 16 with a husband who was nine years her senior. Dadi dismissed my shocking reaction and confirmed, once again, that this was not atypical. I began to realize over the course of our conversation the very limited rights and personal choices these children, particularly young girls, have. Their lives are a mere transaction: exchanging their livelihood and existence for a few rupees on their families behalf, all while being forced to forego their educations, childhood, hobbies, and sense of independence.
This commodification of the lives of girls reinforces a culture of deep misogyny. Being married off while school-age tends to end a girl's education; less than half of child brides have completed primary (let alone higher) education. This can create economic shackles for a girl in a marriage; without even a basic education, a girl or young woman is unlikely to find a job that can create any level of financial freedom. Being saddled with a child from a young age also impedes a girl's ability to leave the house to find work. With this reality in mind, it's no shock that child brides are 9% more likely to experience physical or sexual abuse (generally by a husband or parent in-law) than women. A young lady with little education is less likely to be aware of legal options to end this suffering, like filing a domestic abuse complaint with the police or filing for divorce.
Such a culture is likely to continue other degrading practices, like female genital mutilation and widow ostracizing, as well as create whole generations of traumatized girls and young women. The systemic rape of young girls inevitably moves the social Overton window, making the rape of women, men and boys seem less important or even noteworthy. Growing up in a household featuring such disparate power dynamics is liable to create a twisted sense of self-esteem and justice among children of child brides. Mothers are one of the primary sources of the pedagogy of a child. Thus, girls who were taken from their schools to get married would be less well equipped to contribute to their children's education. This would be especially apparent in terms of sexual education; a culture of child brides is intrinsically less able to teach its children about health topics like STDs and birth control, to say nothing of ethical issues like consent.
My dadi also revealed how her own mother suffered multiple miscarriages throughout her youth, as her body was not fully equipped to bear pregnancy. This is unsurprising; young girls aren't biologically ready to go through the physical traumas of pregnancy and giving birth. Pregnant girls under 15 have quintuple the maternal mortality rate of women; 88% of them suffer obstetric fistulae, which often lead to permanent disability. Girls are also disproportionately likely to receive cervical lacerations during intercourse, which can lead to cervical cancer down the line. The children resulting from these underage marriages suffer similar hazards. Babies born to child brides are 28% more likely to die within their first 5 years of life than babies born to women.
When confronted by my bachelorette status (as I often was when I visited India), I remember I would always counter with "I have to finish school first", acknowledging the privilege I had to control my education and career aspirations. When it comes to these child brides, often times marrying at a young age will likely mean an end to their education, and in turn, will hinder their ability to obtain the skills and knowledge that is vital for income-generating employment.
That day I was enraged by the fact that child marriage continues to exist in the 21st century, as well as my personal lack of awareness on the issue. It has been over eight years since that enlightening conversation, and thankfully due to the tireless efforts of activists, legislators, and advocates there has been movement towards ending child marriage. In fact, UNICEF and Indian Wedding Buzz joined forces earlier this year on Valentines' Day to #EndChildMarriage, demonstrating that one of the most crucial steps in eradicating this humans right issue is to stand against it. By utilizing their global social media platform and influential magazine, the #EndChildMarriage initiative was aimed at raising awareness of the implications of child marriage and more importantly, how we, collectively, can help put a stop to it. The campaign further empowered young girls in many South Asian and African countries (i.e. Bangladesh, Burkina Faso, Ethiopia, among nine others) with the information and resources to understand the implications of what they are being forced into. Furthermore, the program continued to develop national strategies with the efforts of government investments, religious leaders, and of course our community. This social media sensation, backed by Indian Wedding Buzz, demonstrated their respective commitment to being part of the change, so that we as South Asians, as Americans and as humans can follow suit to be part of this revolutionary movement. After all, there is strength in numbers.
Marcia Andrade Braga: A 'stellar example' of why more women are needed in UN peacekeeping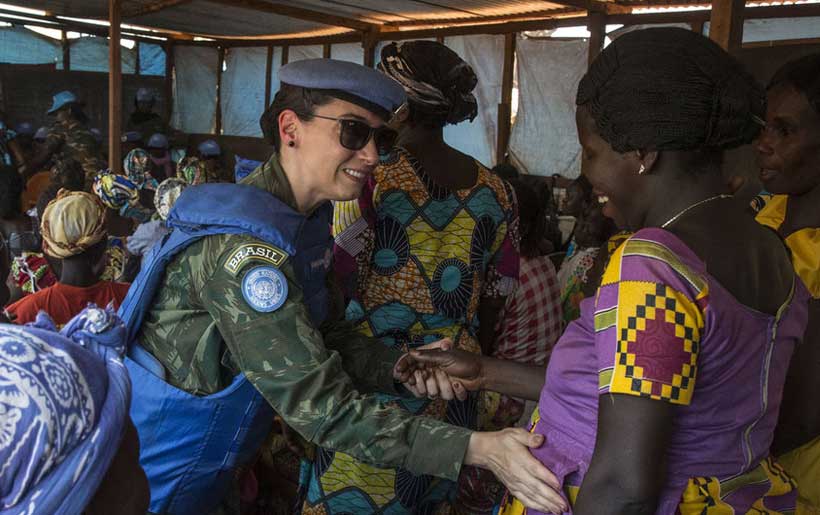 Training gender advisors and focal points in the Central African Republic (CAR) has earned a Brazilian United Nations peacekeeper a special gender advocate award, it was announced on Tuesday.
Secretary-General António Guterres will bestow naval officer, Lieutenant Commander Marcia Andrade Braga, with the UN Military Gender Advocate of the Year Award during the 2019 Peacekeeping Ministerial conference due to be held at UN Headquarters in New York this Friday.
"UN Missions need more women peacekeepers so local women can talk more freely about the issues that affect their lives", said Lt. Cdr. Braga.
"I am so proud to be selected", she said, upon receiving news of her award, also expressing gratitude to her colleagues in the UN Stabilization Mission in the Central African Republic (MINUSCA).
Serving as the Military Gender Advisor at MINUSCA Headquarters since April 2018, Lt. Cdr. Braga has helped to build a network of trained gender advisors and focal points among the Mission's military units and promoted mixed teams of men and women to conduct community-based patrols around the country.
These "Engagement Teams" were able to gather critical information to help the Mission understand the unique protection needs of men, women, boys and girls, which in turn helped develop community projects to support vulnerable communities.
Projects include the installation of water pumps close to villages, solar-powered lighting and the development of community gardens to cut down the distances women have to travel, to tend their crops.
Lt. Cdr. Braga is also a driving force behind MINUSCA leadership's engagement with local women leaders, making sure that the voice of Central African women is heard throughout the ongoing peace process.
Moreover, as a former teacher she has also helped train and raise awareness among her peers on gender dynamics within the Mission.
Jean-Pierre Lacroix, who heads the UN Department of Peace Operations, spelled out: "Marcia Andrade Braga is a stellar example of why we need more women in peacekeeping: Peacekeeping works effectively when women play meaningful roles and when women in the host communities are directly engaged".
Created in 2016, the UN award recognizes the dedication and effort of an individual peacekeeper in promoting the principles of UN Security Resolution 1325 (UNSCR 1325) on women, peace and security, which underscores the "3 Ps", to prevent conflict; protect women and their rights during and after conflict; and to increase the numbers of women participating in all mechanisms, to prevent and resolve conflict.