Islam and Democracy: False Perceptions or Pure Propagation?
The Islamic Da'wah exhibits Islam as being peaceful and compassionate, in order to delude the infidels and to pave the way for their march to subdue the World.
Moreover, Muslim propagators assert, without hesitation and with high impudence, that Islam is the source of most aspects of Western modernism, and that the values and practices of Islam are the origin of human freedoms and civil rights.
To the consumption of ignorant Western audience, a huge amount of literature has been published under the rubric "democracy in Islam" mostly in English, with the following assertions: a) Islam and democracy are fully compatible; b) Islam has all the ingredients of modern polity and society; c) Islamic values are in fact the source of the democratic perceptions.
The problem begins with the fact that religion, perhaps any religion, is opposed to democratic values, by its own conceptions and principles. It is because the sources of commandment are from divine entity, while in democracy the source is the people, man-made laws, and sovereignty. Any debate on the connection between the two, religion and democracy, is seemingly artificial and may leads to a dead end. However, the astonishing fact is that more than all other religions, Islam is so far away, like between heaven and earth, from democracy. However, Islamic propagandists strive so hard to prove that Islam contains all democratic values from itself.
Why these efforts? The answer belongs to the Da'wah, propagation, realm, as to prove that Islam is the best and perfect religion. According to this, Islam and democracy are compatible, based on following: a) all individuals in the Islamic political system are sovereign, equal before the law, with full civil rights bestowed upon. b) Islam recognizes equality between all people – Muslims and non-Muslims, white over black, man or women. c) Islam does not accept dictatorship system or monarchy but democratic rule. The citizens' opinion is decisive in formation of government and decision-making process. d) Islam was the first institution ever to advocate and to implement human rights as universal equality to all people. In fact, Islam has promoted the universality of freedoms over 1300 years before UN's "Bill of Rights." e) All forms of acts of violence are forbidden. "Jihad" as an aggression against innocent people is terror and by that and a distortion to Islamic law. f) Islam set an unprecedented standard for the ethics of dealing with captured enemies. They treated prisoners of war in a manner that has yet to be imitated in history by others. g) It is categorically forbidden to capture a free person and make him a slave. Slavery is forbidden. Islamic ethics places utmost importance on preservation of human life and dignity. h) In time of war, Islam decreed humane rules of war many centuries before such ideas were put into conventions in the West.
It is suggested to Western readers not to laugh and ridicule while reading this list, even it is hard. Each and every clause of these eight, if examined and analyzed by the three suggested criteria of investigation — Islamic Scriptures; Islamic history, and contemporary Islamic politics — fully reveals how grotesque and meaningless they are.
Moreover, in the influential Muslim internet site, "Islam-on-line," Muslim exegetes claim that Islamic democracy is fully compatible with Islam, while bringing reference from the Qur'an. However, the verses and practices quoted, absolutely do not refer to the objectives referred to. This is another proof how all these clauses are fabricated, twisted, and non-existent in Islamic reality.
The claim that Abu Bakr and his three successors, the four rightly guided caliphs (al-Khulafa' al-Rashidun) were chosen in a fashion that reflected popular consent and by the people, is misleading and full of lies. For Muslims, including the Salafiyah groups, this era constitutes an ideal type in the Islamic political history. However, the reality is quite different. All the four caliphs were not elected but imposed on the community of the believers, rather they were nominated by small group from among the elders of the tribe; all of them did not receive the legitimacy of the others among the "political elite", caused social schism, personal rivalry and political instability; three of the four Caliphs were murdered brutally, and witnessed civil wars. One can find anything in this era but certainly not democracy, freedoms, participation, and sovereignty.
How democracy is compatible with the Qur'an? Islamic propagators use four assertions: a) Shurah (consultation) as if it functions in Islam as a parliamentary Western Political system. b) Ijma' (consensus) of the Islamic community, as if there is in Islam social and political pluralism based on majority rule. c) Ijtihad (innovative interpretation), as if there is readiness in Islam to absorb and integrate opposing values and conceptions. d) Hakmiyah (sovereignty), as if it expresses political participation of the people in the decision-making process.
However, these, all of them, are false fraud claims and without any substantiation or corroboration: Shurah refers in Islam only to the old tribal system of an advisory council of the elders, which include very scant elders or later on counselors. It has nothing to do with Western perceptions, Western democratic values, and there is not even one example in Arab and Muslim history and contemporary politics that in practice validate this claim. Ijma' is again the tribal framework made up of the elders of the tribe, the 'council of the wise men', and only their voice is binding and for the decision-making processes.
Ijtihad shows by itself how the Islamic pretense is fraudulent. The fact is that the gates of Islamic Sunni innovative interpretations were closed in late eleventh century, due to the conviction that there is nothing outside Islam that is unknown and there is not a thing or set of conceptions that is worthy to be included in Islam from the beginning of history to the end of the world. Hakmiyah does not belong to the people but to Allah alone and dictated only by him. There is no and never have been political pluralism and participation in Islam. There is no other sovereignty on earth other than Allah and the rulers who imposed their rule on the subordinate people.
Western scholars who support the Islamic fraud claims, like the Esposito's school of Georgetown, operate in three strategies: they exhibit claims and arguments without any scientific proofs or by quoting verses totally unrelated to the truth. They operate their elusive claims by declaring there are different kinds of democracy. There can also be a religious democracy, and Islam is the embodiment of spiritual democracy. At the same time, they accuse the West of being the cause for the lack of democracy in Islam, by preferring Muslim authoritarian rule as a means to continuing Western presence.
Amos Perlmutter calls the 'Esposito School' naïve, as harboring illusions originating in ignorance and lack of knowledge about Islam. The issue is not adjusting Islam to the values of representative democracy and human rights, but learning the true nature of Islam which is anti-democratic and anti-liberalism. Islam and democracy are incompatible, unless we decide to call everything and any form of government a democracy. If Marxist-Leninist Communism in the Soviet style could be called "popular democracy", why not call Islam "religious democracy"?
The reality is that Arab-Islamic history and contemporary politics clearly shows: There is anything Islam but not democratic liberal processes; there were no sovereign states led by electorate people; there were never a civic society, citizen's rights and freedoms. What is found are authoritarian regimes and patrimonial leadership, which was always the prerogative of the ruling elite, and the people have never been the electing and the sovereign. And that social misery and economic wretchedness are the dominant in Islamic politics, and not openness and freedoms.
Let's define and analyze how democracy is defined and characterized, and what are its basic components. There are several types of democracy with two most important phenomena:
First, the centrality of the political institutions and the intensity of their influence, with a separation of powers, the functioning of branches of government as an array of checks and balances and their accountability and transparency. Sovereignty belongs to the electors alone, and the legitimacy of government flows from the existence of laws for the sake of the citizens. Power is decentralized, and the leader is less important than the political institutions.
Second, the central realm is the rights and liberties of the individuals with large political tolerance and pluralism of ideas and roles. There are many functional sub-systems with vital influence over governmental decisions and functioning. Political mobility is high, based on equality of opportunity and achievement, while maintaining a free market of information. The power of the bureaucracy is limited and the police operates as a serving body for the public and not a coercive tool of the government.
There are seven features that are the most important to understanding democracy: The individual freedoms and civil liberties; the rule of the law above all; sovereignty and citizenship belong to the people and are empowered by the people; the absolute equality of all citizens before the law; vertical and horizontal accountability of all the ruling systems; responsiveness, eligibility; transparency of the ruling systems to the demands of the citizens; mobility, political participation and equality of opportunities of the citizens.
When compares to Western democracy, Islam is characterized by the following:
In Islam the believer acts out of a commitment of faith and absoluteness, whereas in democracy the source of conduct is rationality, pluralism, choice and judgment.
In Islam the source of authority, sovereignty, and the rule of law are Allah's alone. Everything stems from Allah and the will of Allah, while in democracy man is at the focus, logic is at the center, and political power meant to serve his security and needs.
In Islam there is only one legitimate party, the Party of God (Hizbullah), and all the rest are the parties of Satan. The party does not represent man's freedoms, expression, participation, or self-organization, but demands joint action in favor of the Ummah in accord with Shari'ah. There is no legitimate opposition.
The ideology of all the Islamic movements is totalitarian religious dictatorship, governmental tyranny and political suppression without any civil and individual freedoms, and therefore, democracy is conceptualized as a kind of Shirk, associating other deities with Allah.
Civil democratic society is based on pluralism, bargaining, lack of uniformity and even lack of rigid order. In contrast, Muslim political tradition fears anarchy and disorder, and therefore, not any government is preferable to no government, but the government is oppressive and coercive. This leads to a total submission of the people.
Contrary to Qur'anic teachings, no egalitarianism exists between the leader and the subject, between men and women, between Arab and non-Arab, even between parts of society (center-periphery; city-village).
Perhaps the best example is in the words of Sayyed Qutb: Western values pose a critical threat to Islam, since in the West, man is at the center and logic is at focus, while in Islam Allah is at the center, and submission to Allah is the focus. In Islam, the source of authority, sovereignty, and the rule of law is divine, Allah's alone. In Islam, the believer acts out of a commitment of faith and absoluteness. Islam does not represent man's freedoms, participation, self-organization, but demands joint action in favor of the Ummah and in accord with the Shari'ah. The Islamic state must be based on the Qur'anic principle of the Shari'ah. It is complete as a legal and moral system and no further legislation is possible or necessary to the end of history.
For Abu al-A'la al-Mawdudi, Yusuf al-Qaradawi, `Abd al-Salam Farag, and many other exegetes, Islam is contrary to secular Western democracy, because Islam has the full answers to all humans needs. Democracy must accept Allah's values of rule and sovereignty; where Islam makes law, there is no need for democracy; the concept of majority rule cannot exist in the Islam; Muslim religious laws decide permanently in all areas of life; Islam includes the entire human wisdom to the end of history; and accepting Western values is forbidden, being tantamount to apostasy.
For the Muslim believers Islam has all universes' wisdom and contains everything in life from the beginning of the world to the end of history. For the Muslim believers it is clear: al-Islam Huwwa al-Hall al-Waheed (Islam is the only solution). Islam wishes to subordinate democracy to its own principles, and not to integrate itself and become democratic; to rule and dominate the Free World and not to recognize its diversity and pluralism, and to become part of modernity; to subordinate the Free World to its Shari'ah and bring back to the Islamic 7th century governance.
Arab regimes are military or monarchical, and the political behavior are almost the same, exemplified by authoritarianism and patrimonialism. Islam is the very antithesis of secular Western democracy, based solely on the sovereignty of the people and its civil rights and freedoms. Moreover, the so-called 'Arab Spring' which is in fact 'a Tribal Anarchical Islamic Winter,' is a good example where Islamic regimes are in power, projecting the assertions of impossibility of Islam and democracy.
The Issue of civil society. When analyzing democracy, there is also the question of civil society, whether it can exist in the conceptions and praxis of Arab-Muslim political system. From institutional standpoint, civil society is made up of non-state actors and non-governmental organizations, which have developed in the community, through interest groups and sociopolitical mobility. It is institutionalized through individual rights and social differentiation, by political and regime tolerance; recognition of the rights and the freedoms of the individual; and lack of restrictions, enforcement and arbitrary intervention by the state.
In the Middle East, on account of Islamic tradition and developmental values, a civil society did not and yet is not ready to exist. The problem is not whether there are settings that can be interpreted as fitting the existence of a civil society, but rather their qualitative functioning. Even if there are parties, professional civil associations, and other NGO's, the question is the extent of influence on the governing system and the decision-making process. The parties operate more on behalf of the regime, as mass organizations for political mobilization, rather than representing the people.
One can estimate the lack of civil society in the Middle East through the following:
a) The character of the regimes and leadership. Authoritarian regimes and patrimonial leadership do not enable the growth of true civil society with a capacity to function. The population is considered as inhabitants/subjects rather than free sovereign citizens. The leader's will is what decides, and the inhabitants lack basic rights and freedoms. They act in accord with the will of the regime in the sense of giving support but not making demands on the political system. If we define democracy as "rule of the people, by the people, through the people, and for the people", all these contradict the values of Arab-Muslim society. Most of the inhabitants do not participate in political processes, and do not have influence on shaping its policy. Indeed, in a state where Islam rules, constitutional, representative and pluralistic government cannot develop.
b) Social values. Political culture in the West is participatory. It represents norms, positions, and values of the individual and the group towards political institutions and the state. In Arab society, political culture is, in the best case, native (subjugated) at the center and parochial at the periphery. Most of society is cut off from politics, and sees it as a necessary evil (Sharr) that a man has no choice but to live with. The primordial values are opposed to the development of a civil society.
c) Institutional Values. In Islam, reference is made to normative values that indicate the nature of a good society and the proper community. The system of beliefs refers to a collectivity, which the individual is dependent on, while he is not important in his own right. Civil democratic society is based on pluralism, bargaining, lack of uniformity, and even on a lack of rigid order. Muslim political tradition fears anarchy and disorder. Therefore, any government is preferable to no government, and this leads to submission and political cynicism.
d) The Role of Islam. The principles of Islam are in contradiction to the values of civil society: the absoluteness of Allah's supremacy that everything depends on him and determined by him. The source of authority and sovereignty is not by social contract or from the people rather it is by Allah alone. Contrary to the Qur'anic teachings, there is no egalitarianism in between the leader and the subject, between men and women, between Arab and non-Arab, or even between parts of the society. The concepts of democracy, liberalism, and parliamentary government, are identified as Western, and rejected out of hand, as indecent phenomena representing materialism, moral corruption, and lack of morality.
From an analysis of these features, the answer is that of Huntington, concerning the waves of democratization in the West, that in non-democratic societies we find political decay and not political development. Indeed, a civil society, however it may be defined, does not exist in any Arab-Muslim state. Even the appearance of political parties and formal associations by itself does not necessarily mean a fundamental move toward democracy, since political parties remain ineffective and play a mostly ceremonial role that serves to legitimate the state and its policies. This does not symbolize pluralism (ta`addudiyah), and even Interest groups, a primary agent of civil society, remain either non-existent.
Indeed, Islam is the very antithesis of Western democracy. One cannot find signs of democracy in Islam, but totalitarianism of thought; oppression of freedoms, and denying basic civil rights. Islamic Scriptures, History and contemporary politics are the proof.
Bernard Lewis claims that historically the Muslim world has been authoritarian and coercive from its inception, and thus a democratic culture has not been internally, culturally, socially, politically and economically, developed. It is non-existent. Classical Muslim exegetes largely agree that Islam and democracy are incompatible. Islam is the very antithesis of secular Western democracy. It altogether repudiates the philosophy of popular sovereignty and rears its polity on foundations of the sovereignty of Allah and the Khilafah of man.
Feminism: A Critique of Realism and The Way Forward
In around eighteen countries of the world, for e.g. Bolivia, Iran, Qatar, Sudan and Syria, men can legally stop women from working. Women still need to take permission from their husbands to participate in the labour force of the country. There are around 59 countries yet to regulate laws concerning sexual harassment at workplace and around 45 nations with no laws protecting women from domestic violence. Women, even in the 21st century, are not independent in the true sense. Alone in South Africa, according to a survey conducted by the South African Medical Research Council, approximately one in four men surveyed admitted to committing rape. This alarming oppressive status of women even in the contemporary times leads us to the question, where did this male dominance come from?
It is the colonialism, war and power struggle between the states which resulted into oppression of women even in the regions where women were particularly considered of high status. John Hoffman argues "states themselves are an expression of patriarchal power; leadership itself is monolithic, hierarchical and violent" (Hoffman, 2001) Historically, women had less rights and they were viewed as subordinate. Their role was limited to the household chores. During this time, only men had opportunities by which they participated in economic, social and political activities. Women lacked education and had fewer opportunities. In fact, for several years, women were not allowed to study 'manly subjects' such as science and law.Thus, leading towards a world of man forming a state and representing the interest of men. These manly states, being formed at the time when women had limited or in some places, no civil rights were led by a hegemon. This is also known as masculine hegemony.
Through the lenses of realist theories such as Hans Morgenthau, international society is anarchic in nature and all states function to maximize their state's interest. These state's interest is essentially achieved by power. Power, according to realism, equates military force and war. It revolves around the issues of war and security. It focuses on the role of nation-state and makes a bold assumption that all the states act in accordance to their national interest. It believes that states cooperate with each other solely for selfish national interest. Realist also don't believe that the international organizations can establish peace where state cooperate without selfish interest. Plus, they believed that all the conflicts can be resolved only by coercion. (Morganthau, 1948) However, the emergence of economic interdependence due to globalization has increased cooperation from economic relations based on trade and investment. Furthermore, after the world war two, rise of multilateral institutions such as United Nations, led the world to more cooperative relations amongst states. For instance, realist failed to predict the fall of Soviet Union and peace post-cold war. Hence, due to structural challenges and changes in the international relations, the relations amongst states does not revolve only around the realist issues of war and security.
In the late 1980s, theorist started to examine the role of gender in international relations. According to feminist, the conventional IR theories, realism and liberalism, present a partial view. The feminist theory has evolved through the three major movements, popularly known as waves of feminism. The first aimed to achieve recognition of equal rights, with a focus on suffrage. The second wave further demanded equal rights and treatment, and was marked by the emergence of the study of gender as a social construct. This feminist theory of IR is a critic of realism which focuses on power and considers patriarchy. Realism's pessimistic approach to the international relations ignores the role of individuals. In contemporary times, the feminist theory brings new prospective to the international relations. J. Ann Tickner, a standpoint feminist argues that IR is gendered to "marginalize women's voices". She emphasizes that women have knowledge, perspectives and experiences that should be brought to bear on the study of international relations." (Ruiz). Despite all the gender equality movements, we are still far from achieving the equality in society. Today, Women represent around 50% of the total population of world and only 39% of women globally participate in the labour force. As Emma Watson rightly points out, "How can we effect change in the world when only half of it is invited or feel welcomed to participate in it?" Out of around 193 countries, only 22 countries have female head of the states. According to the feminist, the key roles in international relations of diplomats, policy makers are played by men who come from patriarchal backgrounds. Thus, feminist challenge the Eurocentric and masculine theories of IR who fail to accommodate gender, race, class and ethnicity. Hence, on the contrary, feminism prioritizes development, peace and human security.
In the year 2014, Sweden, for the first time in the world, announced a feminist foreign policy and became the first country in the world to have a 'feminist government'. Six years later, September 2019, Mexico pledged to adopt a feminist foreign policy during the 74th session of the United Nations General Assembly. Earlier this year in January 2020, it became first Latin American country to launch a feminist foreign policy. France, Canada and Norway also expressed interest to set out feminist guidelines of their foreign policies. This indicates a beginning of new approach to the international relations. Feminist foreign policy broadly refers to a state's commitment to adopt policies wherein citizens, irrespective to their gender, live to their full potential. In case of Sweden, the country has recognized a separate gender equality policy since the early 70s. Hence, it was not as shocking for the citizen's as it was for the world. The feminist foreign policy of Sweden emphasizes on three Rs: Rights, representation and resources. Rights refers to combating discrimination and full enjoyment of human rights, representation emphasizes on participation of women in decision making at all levels of the civil society, and resources seek to ensure that the resources are allocated to promote equality and equal opportunities. (Handbook Sweden's Feminist Foreign Policy, 2018)
Feminist foreign policy broadly means the acknowledgment of injustice that exist globally. It emphasizes on building peace promoting organizations and criticizes military alliances such as NATO. The feminist foreign policy also criticizes the five permanent members of the UN security council who are the world's biggest arms exporters. Sweden not only become the "strongest voice for gender equality and full employment of human rights for all women and girls" but also inspired many countries. For instance, global south's first country to have a FFP, Mexico, not only aims to include women's rights but also LGBTQ+ rights, climate change, immigration and trade. (Delgado, 2020)
The FFP of Sweden has made a significant impact. In 2017, Sweden during its presidency at the united nations security council elaborated and emphasized on gender equality. It also played a crucial role in peace talks with respect to Yemen crisis. Yemen crisis is influenced by the Arab spring, an anti-governmental protest, against the president Ali Abdullah Saleh, who is in power since last thirty years. This uprising ended with a political deal, mediated by the United Nations and the Gulf cooperation Council. Thus, president Saleh stepped down and gave power to the vice president, Abd Rabbo Mansour Hadi. Followed by a national dialogue conference, a constitution was agreed to be drafted. This process led to tensions between the parties and the negotiations resulted into escalation in conflict and formation of Saudi led coalition in March 2015 with support of Bahrain, Egypt, Jordan, Kuwait, Morocco, Senegal, Sudan, UAE and Qatar. (they further left the coalition in 2017). The coalition had received arms and intelligence from powerful countries such as USA, UK and France. This has created more conflict since they conducted several air campaigns causing death of civilians and a major humanitarian crisis. As the tensions grew, not only women and children but civilian's vulnerability grew. The UN officials have called this a 'man-made crisis.' Sweden's Foreign Minister as well as one of the architects of feminist foreign policy of Sweden, Margot Wallström, played a key role. She had personally visited Yemen after catastrophic bomb blasts in the country. Khaled Al- Yamini, the foreign minister of Hadi government and Houthi's representative, Mohmad Abdelsalam signed the 'Stockholm agreement.' The Stockholm agreement came in three parts, the first part dealt with ceasefire and redeployment of forces, then the second term of agreement was facilitating the movement of humanitarian aid and lastly, Prisoner swap (reuniting POW with their families). This was a breakthrough agreement as it brought an end to a long pending peace talk. The usage of diplomatic technique of negotiation to resolve a conflict is the practice of feminist approach to the study of IR.
The theory of ecofeminism is a branch of feminism which examines relation between women and nature. Ecofeminist draw parallels between oppression of nature and oppression of women. French feminist Francoise d'Eaubonne coined the name in her 1974 book le feminisme ou la mort (Feminism or Death). She argued that everything is related to everything else. Man dominates the nature for selfish interests and in similar ways women are oppressed and objectified. Thus, liberation of women is essential to bring about the environmental change. Connecting the feminist foreign policy of Sweden and ecofeminism, we can see a positive impact with respect to action towards climate change. Sweden worked to mainstream gender equality in the new Paris climate agreement (COP21). Sweden gained regional support to put women forward and in focus for climate change and climate justice. This led to the establishment of Women's Global Call for Climate Justice. This campaign was supported by over 7700 organizations. Along with this, Sweden has adopted a climate policy, aiming for zero net greenhouse gas emission by 2045. The Swedish government has a specific fund for bilateral cooperation with strategic countries in the field of environment and climate. Currently, cooperation with around ten countries, among others Brazil, Colombia, India, Indonesia, China, Russia, South Africa, South Korea, USA, and Vietnam are financed by the fund. For e.g. The Swedish Environmental Protection Agency has been cooperating regarding India's ambitions to phase down the use of the powerful greenhouse gases hydrofluorocarbons. In addition to peace talks and climate change action, Sweden has taken action to strengthen the human rights of refugee women and girls. According to Linklater, critical theory can be seen as the instrument of powerless to advance more equitable global relations. Sweden has initiated multiple bilateral-multilateral meetings to address the link of migration and human trafficking, prostitution. Sweden has successfully ensured that these issues are included in the UN resolutions and in the declaration of UN summit for Refugees and Migration, 2016. Hence, looking at the feminist foreign policy of Sweden through the lenses of ecofeminism, critical theory and feminist theory, it appears to be the new way forward in IR. (Sweden, 2017)
Besides Sweden, India's declaration of Triple Talaq as unconstitutional, Argentina's vow to legalise abortion and emergence of female state leaders such as Angela Merkel, Jacinda Ardern, Dilma Rousseff and Tsai Ing-wen has introduced world a new feminist leadership. Furthermore, during the extraordinary crisis situation- covid19 outbreak, under the leadership of Tsai Ing-wen, Taiwan recovered exceptionally well. Jacinda Ardern's emotional response to terrorist attack and Angela Merkel's strategic Ukraine crisis' negations with Russia indicates as rightly said by Barack Obama, "If women ran every country in the world, there would be improvement in living standards and outcomes"
Women in leadership 'must be the norm'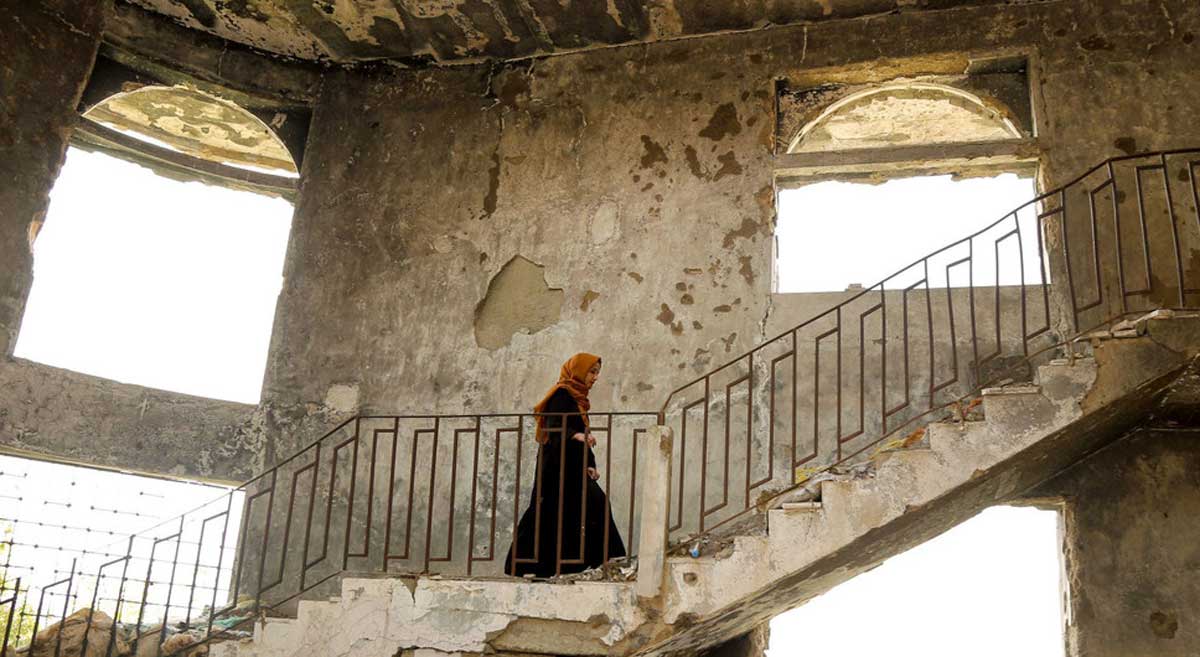 We can no longer exclude half of humanity from international peace and security matters, the UN chief told the Security Council on Thursday, emphasizing the need to fully address the challenges and gaps that continue to prevent women having an equal say.
"Today, women's leadership is a cause. Tomorrow, it must be the norm", Secretary-General António Guterres told the meeting, covering landmark resolution 1325 on Women, Peace and Security.
Frontline women
Having just visited the photo exhibition, In their Hands: Women Taking Ownership of Peace – a collection of inspiring stories of women around the world seen through the lenses of women photographers – he told ambassadors that the exhibit brings to "vivid life" their dedication to "the most important and consequential cause of all, peace".
"From the safety of this chamber, we discuss and debate pathways of peace for countries around the world", said the UN chief. "But the women portrayed in the exhibition are on the front lines of the fight for peace".
He called them peacebuilders, changemakers and human rights leaders, and described their work mediating and negotiating with armed groups; implementing peace agreements; pushing for peaceful transitions; and fighting for women's rights and social cohesion throughout their communities.
Yet, he pointed out, "women remain on the periphery of formal peace processes, and they're largely excluded from rooms where decisions are made".
Disheartening trend
Citing rising rates of violence and misogyny; the extreme under-representation of women in decision-making positions; and a myriad of challenges faced by those in conflict, the top UN official observed that the power imbalance between men and women remains "the most stubborn and persistent of all inequalities".
"In every humanitarian emergency, the clock on women's rights has not stopped. It's moving backwards", he said regretfully.
In Ethiopia, women have been victims of sexual violence; in Yemen, excluded from political processes by the warring parties; in Afghanistan, undergoing a rapid reversal of the rights they had achieved in recent decades; and in Mali, after two coups in nine months, "the space for women's rights is not just shrinking, but closing", Mr. Guterres said.
'Fast-track women'
The UN chief stressed: "We need to fight back, and turn the clock forward for every woman and girl" – the commitment outlined in Our Common Agenda and Call to Action on Human Rights.
"Increasing women's representation and leadership across every aspect of the UN's peace activities is critical to improving the delivery of our mandate and better representing the communities we serve", he said.
But Council's support is needed for partnerships, protection and participation.
Women leaders and their networks must be supported to meaningfully engage in peace and political processes, he explained.
Secondly, women human rights defenders and activists must be protected as they carry out their essential work.
And finally, women's "full, equal and meaningful participation" must be supported in peace talks, peacebuilding, and political systems as countries transition to peace, he said.
"We need full gender parity", underscored the UN chief. "We know it can be done".
Advancing women's rights
Women should not have to accept reversals of their rights in countries in conflict, or anywhere else.
Mr. Guterres said that the UN will double down on "truly inclusive peacemaking" and put women's participation and rights "at the centre of everything we do – everywhere we do it".
The best way to build peace is through inclusion, and to honour the commitment and bravery of women peacemakers we must "open doors to their meaningful participation".
"Let's turn the clock forward on women's rights and give half of humanity the opportunity to build the peace we all seek", concluded the Secretary-General.
Time to say 'enough'
To create a tangible difference in the lives of women and girls, UN Women Executive Director, Sima Bahous, highlighted the need for governments and the Security Council "to step up" to address the way we confront peace and security issues.
For too long violence has targeted females and their rights; and women continue to be marginalized and excluded "in those very places where they can drive change", she told the Council.
"Surely the time has come to say enough", she said.
Open doors to women
While acknowledging a "glimmer of light" resulting from the passage of the original resolution, Ms. Bahous said that while not enough, it must be used in the fight for women's equality.
Noting that vast military spending has been "in bitter contrast" to limited investments in other areas, she advocated for curbing military spending and expressed hope that delegates "share my sense of urgency" on the issue, which impacts other priorities, including women's rights.
The UN Women chief noted that increased participation, combined with curbing the sale of arms in post-conflict settings, significantly reduces the risk of backsliding.
She reminded ambassadors that while "equal nations are more peaceful nations", equality requires higher levels of support for healthcare and related services.
Moreover, Ms. Bahous regretted that women's organizations are poorly funded, noting that without the necessary financial resources, they cannot effectively carry out their work.
Turning to Afghanistan, she shone a light on the women who had collaborated with the UN and whose lives are now in danger, advocating for doors to be opened wider, to women asylum seekers.
Women at the stakeout
Subsequently, former Afghan women politicians took to the Security Council stakeout to ask the international community to pressure the Taliban "to put their words in action" and fulfill their promises made in 2019 in Qatar including supporting girls' education and women's rights.
"The reason we are here today is to meet with different Member States and ask them to regard women and human rights in Afghanistan as a matter of national security of their own countries, because it's not just a political or social issue but it's a matter of security", said Fawzia Koofi, former Peace Negotiator and first woman Deputy Speaker of Afghan Parliament.
Former Afghan Parliamentarian and Chairperson of the House Standing Committee for Human Rights, Civil Society and Women Affairs, Naheed Fareed, questioned whether the world wanted to "register in history" their recognition of "a de facto structure that is in place in Afghanistan", to represent Afghan women, their dignity and desires. "From my point of view, they don't", she told reporters.
Gender Mainstreaming and the Development of three Models
The field of gender mainstreaming plays a central role in the debate of critical feminist International Relations (IR) theorists. Reading the influential work of Enloe 2014 regarding the locations and the roles of women in the subject of IR brings women into the central discussion of international studies. However, some of the feminist IR scholars defy the negligible participation of women in international political theory and practice.
The main aim of gender mainstreaming is to achieve gender equity in all spheres of life (social, political, economic), without any doubt that gender mainstreaming has had a central role in pushing the strategy of realising gender equity since the concept's inception. However, feminist IR scholarship admits that it is not the best approach, or in other words, the right pathway concerning feminist struggle. There are many different approaches and mechanisms in which such dissatisfaction is conveyed; nonetheless, at the axis of Postcolonial Feminist scholars debate, gender main streaming depoliticises the concerns of feminist scholars. Feminist studies show that theoretically, the change of structuring of gender equity determinations from women to gender in gender mainstreaming perhaps contradicted achievements made to bring women from the periphery to the centre of Feminist IR.
The emergence of Models in Development:
Discussion asking to what extent women have been benefited (or not) from the developmenthas given rise to the following three models. These approaches show how men and women are affected in different ways because of the development of how the lives of women, in particular, are affected.
Women in Development (WID):
By the 1970s, the reality that women were subjugated and left far behind in the process of development became clear and widely recognised. In some areas, this recognition even acknowledged development has further worsened the status of women, for example, the exclusion of women from the main development projects. The Women in Development (WID) approach proposed the inclusion of women into programs related to development. WID was a successful initiative that strengthened the consideration of women as an integral part of society. The decade of 1975 to 1985 was even declared the decade of women. However, this approach was problematic, as WID did not focus on structural changes in social and economic systems, which were necessary for discussion. Furthermore, this approach was not enough to bring women to the mainstream of development successfully.
Women and Development (WAD):
Thisapproach was critical and arose in the late 1970s using Marxist feminist (critical) thoughts. As its nature, the Women and Development (WAD) approach criticised WID because of an increasing gap between men and women. According to WAD, the idea of women's inclusion was wrong because women already contributed substantially to society. Yet, they were not receiving the benefits of their contributions, and WID further contributed to global inequalities. The main rationale of WAD was to increase interactions between men and women rather than just implementing strategies of women's inclusion. Besides, WAD considered the class system and unequal distribution of resources to be primary problems, as it's women and men who suffer from the current system. On a theoretical level, WAD strongly endorsed changes to the class system; however, it proved impractical as it ignored the reason for patriarchy and failed to answer the social relationships between men and women.
Gender and Development (GAD):
In the 1980s, further reflection on development approaches started the debate of Gender and Development (GAD). As GAD followed and learned from the weaknesses and failures of WID and WAD, it was a more comprehensive approach. GAD paid particular attention to social and gender relations and divisions of labour in society. The GAD approach strove to provide further rise to women's voices while simultaneously emphasising women's productive and reproductive roles, contending taking care of children is a state responsibility. As a result of GAD, in 1996, the Zambian government changed their department of WID to the Gender and Development Division (GADD). These changes made it easier for women to raise their voices more constructively in an African country. Gender development is a continuous, current phenomenon. Women have choices today that they did not have in prior or even the last generation.
The main point is that instead of discussing whether to mainstream gender or not, it needs to be discussed how it can happen in a better way. Gender mainstreaming is considered a theory of change in GAD.
The above discussion has offered an overview of how gender mainstreaming's theoretical approaches and expectations have met with the praxis; however, some scholars critique the concept of depoliticising and diluting equality struggles. These considerations are also worth inquiry and, accordingly, are discussed below.