The Biggest Short: The War on Terror
September 11th changed the trajectory of history. The attacks began what appears to be war campaign with no end in sight. While the initial operations against Afghanistan was justified and supported by the international community, the direction of the campaigns afterward was both financially imprudent and unproductive to an extent.
As the Afghan campaign began winding down with the defeat of the Taliban, it was abruptly interrupted with a new front, Iraq. With the US' attention diverted towards Iraq, the Taliban were defeated but not eliminated. The invasion of Iraq was partly goaded on by Osama Bin Laden. His modus operandi was to engage the US and elicit a response in the form of a long-term campaign . His desire was to bankrupt the US through the War on Terror. With the September 11th attacks costing Al Qaeda approximately half a million dollars , their bet has perhaps resulted in the largest return ever . The current approach in executing the War on Terror is leading to large costs for the US. Al Qaeda's desire to bankrupt the US has resulted in the biggest short of history.
What Happened
A short position is defined as the "sale of a borrowed security, commodity or currency with the expectation that the asset will fall in value ". In other words, shorting is wagering that a firm or in this case a country will fall in value over time.
After 9/11, the American security paradigm transformed due to fears of another attack on the US. The Bush administration began implementing new measures to ensure security of the homeland. The drums of war also began to beat. But as the public and administration were caught up in the fog of war and revenge, the intent of the terrorist attacks were lost on many. Bin Laden was fully cognizant his ill-equipped team of terrorist could not stand a chance against the strongest military in history but his desire was that such a provocation would be the catalyst for his grand plan.
Shortly after the initiation of the Iraq War, Bin Laden released a tape outlining the group's long term strategy, "We are continuing this policy in bleeding America to the point of bankruptcy ." Yet this proclamation was disregarded by many. In 2004, the national debt was at $7 trillion Dollars , today it stands at approximately $19 trillion Dollars and terrorism appears to becoming more widespread.
Although the Taliban were routed, they were not eliminated. The group found safe havens in the tribal regions of Pakistan. Instead of pursuing and eliminating the Taliban and Al Qaeda's leadership, the United States decided to begin a new front against terrorism in Iraq. This is where the strategy began to go astray. Another conventional war added more to the national debt. These campaigns were not being paid for directly but being accrued to the debt.
Aside from the fact that the war in Iraq turned out to be ill-planned and launched under a false pretense, it was not a cheap affair. The Iraq War has cost the American taxpayers about $2 trillion Dollars but is estimated to rise to approximately $6 trillion Dollars in the next few decades . The Afghan War, which officially ended on December 31st, 2014 (but is still ragin on) has cost the American taxpayers about $1 trillion Dollars . The long term cost of that war will grow in the next few decades as well. Just the two campaigns alone can end up costing American taxpayers around $10 trillion Dollars, leave alone the additional covert wars, battles and drone strikes being carried out under the banner of the War on Terror . With the terrorist attacks of 9/11 costing half a million Dollars, the return on investment for Al Qaeda is about 20 million to 1 (without accounting for inflation). This simple analysis is not accounting for the cost and grief that is endured by the families and friends of those who died in the wars. That is a price that cannot be measured.
Was It Needed
The September 11th attacks brought a new enemy to the forefront, Muslim radicals. There is no doubt that pursuing Al Qaeda in Afghanistan was the correct course. The front in Afghanistan should have been the first and perhaps last conventional engagement in the War on Terror. But the Bush administration pursued a policy of "Transformational Diplomacy "; promoting democratic reform through hard power. Not only did the Iraq War create a major financial burden, it bogged American troops, resources and attention from the actual war of eliminating Al Qaeda in Afghanistan.
The invasion of Iraq created a power vacuum and opened the flood gates for foreign terrorists to enter the country. The extremists took root in a once secular nation, which began to fissure along sectarian lines. The combination of war, foreign extremists who fueled the embers of sectarian violence, and a newly disenfranchised segment of the population (Sunnis) spawned a new terror group; ISIS. Today, ISIS has eclipsed Al Qaeda in terms of threat as well as barbarity. The war in Iraq opened a Pandora's Box of terrorism and allowed for all these radicals to emerge and establish a network in a place they were essentially nonexistent prior to the invasion. The Iraq War is one of the largest foreign policy mistakes ever in American history and a major factor behind the instabilities that are currently being witnessed across the region .
Aside from the initial conventional war in Afghanistan, all the other campaigns against terrorist targets should have focused more on smart power rather than purely hard power. The United States' military is second to none but a hard power centric strategy was not ideal. A combination of both soft and hard power would have allowed the US to win hearts and minds as well as eliminate the root of terrorism. The War on Terror should have focused more on building intelligence networks and capabilities, limited engagements throughout the globe with Special Forces and/or drone strikes, as well as building better regional coalitions to defeat local menaces. This approach would have been a less costly affair than the current strategy that is employed where conventional war is used and supplemented by these other tactics. As demonstrated by the false premise behind the Iraq War, underestimation of ISIS' threat and drone strike statistics , the US' intelligence capabilities with regard to the War on Terror have not been optimal and in some cases have created more terrorism rather than eliminate it .
Conclusion
Now almost 15 years after 9/11, the world appears to be much more unstable and dangerous than on the onset of this campaign. Since then the US national debt has almost quadrupled with the debt to GDP ratio at 100% . Such levels are unsustainable to say the least. The War on Terror has caused the US to become financially insolvent, is this what Bin Laden's grand strategy was? Is this why he prodded the US into war in Iraq, knowing two fronts will create a quagmire? The continuous enflaming of sectarian violence by Al Qaeda in Iraq appears to have spilled over into other countries of the region, which are engulfed in civil wars along sectarian lines now. Was it all worth it, can it have been done cheaper and better, no one will ever know; hindsight is 20/20.
Eschatological beliefs and ISIS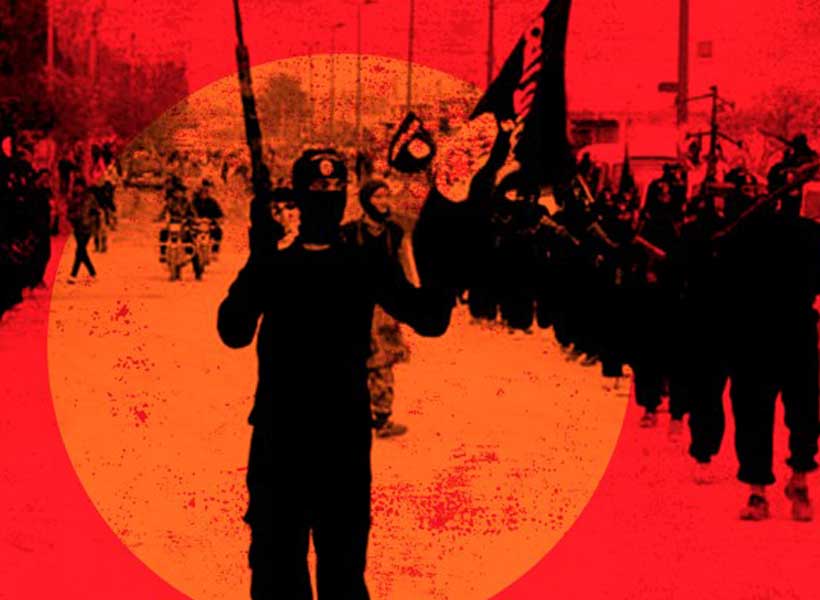 There is no single definition of terrorism which might be accepted fully; however, terrorism normally emerges when disempowered communities try and combat what they perceive as injustice and oppression on this planet. Emerging as asymmetrical warfare between state and non-state actors, international norms of War are violated by focusing on civilians and exploiting media exposure to create fear.
Throughout history, it has spread in various forms ranging from secular terrorism to religious extremism. In today's world, the most deadlykind of terrorism was created by using Islamic state narrative prompted underneath the umbrella of eschatological beliefs.
By definition, eschatology is part of theology concerned with the final events of history, or the ultimate destiny of humanity. Followed by all religious theologies including Muslim, Jews, Christians, Hinduism and Zoroastrians, the apparent fall of the last stronghold of the Islamic state was no surprise to terrorism scholars.
After the fall of Aleppo, Raqqa and the Syrian city Dabiq last October; consequently, Islamic State (IS) demolished the 842-year old Al Nuri mosque.
However, apocalyptic beliefs were not widespread throughout the Middle-East before the U.S. led invasion of Iraq in 2003.It was the military invasion that radically transformed the landscape of eschatological ideologies, resulting in widespread apocalyptic thinking.
One such Sunni Salafist caught up in this groundswell of apocalyptic was Abu Musab Al Zarqawi, a bloodthirsty madman; even Osama bin Laden (OBL) didn't agree with his brutal tactics war agenda of beheading the shite Muslim. Zarqawi became the leader of Al-Qaeda affiliate in Iraq after he fled from Afghanistan.
Zarqawi followed an apocalyptic extremist ideology while OBL had a less grandiose view about an imminent end to the contemporary world. For example, before the U.S drone strike on Zarqawi in 2006, Zarqawi famously acknowledged that "the spark has been lit here in Iraq and its heat will continue to intensify by Allah's permission until it burns the crusader's armies in Dabiq(Syria)".
Having strategically less significance, Dabiq was a small Syrian town but IS used it for their political interests. Mainly because this city is where the battle called Armageddon will happen according to eschatological beliefs. Most importantly, ISIS is still operating its propaganda magazine named Dabiq.
After Zarqawi died, a man named Abu Ayyub al-Masri having close ties with Al Qaeda took over charge of Middle East operations in Iraq, during his tenure the group was re-branded as the Islamic State of Iraq. In line with Masri's political aims, his primary apocalyptic focus was the appearance of the Mahdi(messianic figure in Islam) who is referred to in the Prophecies as the leader of the battle of Armageddon in  Dabiq.
Even though Masri made a number of strategic decisions based on his eschatological convictions. On the whole, the Islamic state of Iraq has been using this propaganda to maximize the recruitment process in their organization.
As a result, they have gained a cosmic fan following all over the world including the Middle East, Europe, America and Asia. Since Masri's death in the Iraqi city of Tikrit in 2010, Abu Baker al-Baghdadi took over the charge of this"black banner army". Syrian civil war, resulted in formation of Al-Qaeda affiliate now known as the Fateh al-Sham group.(Al-Nusra front)
In 2013 Baghdadi shocked the world by announcing that Al Nusra front is now under command and control of ISI(Islamic State of Iraq) right after this merger it became the Islamic State of Iraq and Syria(Levant). Baghdadi announcement was forming a caliphate just like Ottoman Empire, albeit ISIS never recognized the Ottoman Empire as legitimate.
Nevertheless, Baghdadi smartly maintained the eschatological beliefs even after the death of Masri, though the focus had been changed under the leadership of Baghdadi.
With continuous shifts in political stance of ISIS, there is a huge possibility that it will have new targets in the coming future.  For example, since it began to lose territory, it sharply changed its strategy from inward state building to outward foreign attacks with the help of lone wolves or small groups.As a result, this technique started a new phenomenon more like transnational terrorism.
Openly calling the younger generation as the cubs of the caliphate, these methods for inculcating radicalization were found to have direct links with the American intervention in Afghanistan and Iraq.
Finally, the self-proclaimed caliphate of ISIS collapsed in both Syria and Iraq. However, this does not mean it will not re-emerge in the future there are a lot of ISIS sleepers cells and supporters across globe.
To conclude, terrorist outfits come and go, but the ultra-modern variation within this museum of eschatological ideologies is an Islamic state. Disseminated with eschatological ideologies, a few of them tried to convey about the apocalypse to exploit it. Therefore, terrorist outfits have reassessed current affairs and spread mis-interpretations of eschatological beliefs to further their own agenda.
Despite falling attacks, ISIL terrorists remain 'global threat'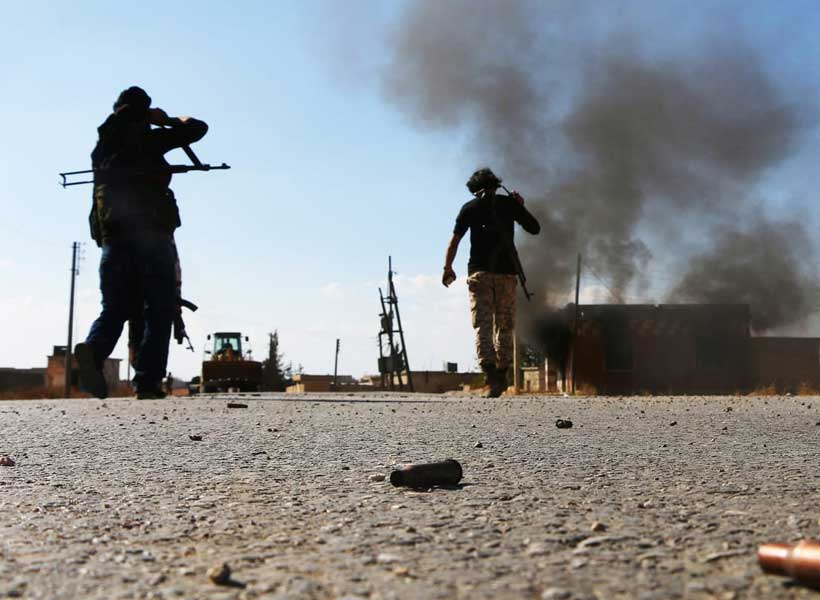 Though attacks were down last year, a new United Nations report to the Security Council on Monday shows that ISIL is still a global threat, despite evolving into a "covert" terrorism network, with countries continuing to face challenges from the growing scourge of violent extremism.
"Despite the more concealed or locally embedded activities of ISIL cells, its central leadership retains an influence and maintains an intent to generate internationally-directed attacks and thereby still plays an important role in advancing the group's objectives," explained Vladimir Voronkov, who heads the UN Office of Counter-Terrorism (UNOCT).
"This is exacerbated by the challenge of foreign terrorist fighters who either are leaving conflict zones, or those who are returning or who are about to be released from prison. In this context, radicalization in prison settings, is seen as a particular challenge in Europe and Iraq," Under-Secretary-General Voronkov added.
He said that so-called "frustrated travelers" were adding to the complexity of the threat, namely fighters who'd failed to reach main battlegrounds, but been diverted instead elsewhere, either by ISIL commanders or of their own volition.
The report notes that the "centre of gravity" of the organization, known in the Arab world as Da'esh, remains in Iraq and Syria, with up to 18,000 remaining in the ranks, including some 3,000 foreign fighters.
"In terms of ISIL's financial strength, the report notes that despite some loss of revenue due to territorial setbacks, ISIL could sustain its operations through accessible reserves, in cash or investment in businesses, ranging between $50 and $300 million. ISIL cells are also reported to generate revenue through criminal activities", explained Mr. Voronkov.
The document, the eighth report on ISIL – which proclaimed its so-called caliphate across northern Syria and Iraq in 2014 – was prepared on behalf of the UN Secretary-General by the Counter-Terrorism Committee Executive Directorate (CTED) and the Analytical Support and Sanctions Monitoring Team of the 1267/1989/2253 ISIL (Da'esh) and Al-Qaida Sanctions Committee, in close collaboration with the UNOCT and other UN entities and international organisations.
After being driven from its city strongholds of Mosul and Raqqa, intense fighting in recent months has left Da'esh defending a small enclave against US-backed fighters in eastern Syria, close to the Iraqi border. According to news reports, around 600 terrorist fighters continue to battle with coalition forces, which have labelled this the "final battle" to crush ISIL.
Challenges faced by Member States
The UN analysis shows that Member States continue to face tremendous challenges across the world in tackling the threats posed by ISIL, with the threat level continuing to expand. This is especially true in North, West and East Africa as well as in Central Asia. Training camps have been identified in Afghanistan, and in South-East Asia, where women and youth are increasingly mobilized for terrorist operations across the region.
The head of CTED, Michele Coninsx, highlighted three of those major challenges faced by Member States:
The "destructive legacy" left in Syria and Iraq, most noticeable in the high number of families who remain internally-displaced due to the destruction of homes and infrastructure overall: She noted that "reconstruction will take many years and will require significant resources, as will restoring and reconciling communities after so many years of conflict."
The growth in the number of terrorist suspects and offenders in custody: The risk posed by such prisoners is difficult to assess and manage.
ISIL's ability to exploit new technologies and find innovative ways to finance itself and find new recruits: Ms. Coninsx noted for example the risks linked to anonymous technologies like blockchain and cryptocurrencies, and other internet-based ways of avoiding detection.
The UN's support to Member States
For several years, various parts of the UN have supported Member States in the fields of prosecution, rehabilitation and reintegration (PRR) of former fighters; international judicial cooperation; countering terrorist financing; border management and law enforcement; countering terrorist narratives and engaging communities to prevent violent extremism.
Specifically, explained CTED's Executive Director Coninsx, the UN Office on Drugs and Crime (UNODC) and UNOCT are leading a joint project to provide tailored capacity-building assistance to prison staff.
In the Lake Chad Basin, she said CTED and UNODC are working to provide Member States with technical expertise to develop comprehensive strategies to prosecute, rehabilitate and reintegrate persons associated with the Boko Haram extremist group.
Other initiatives include the development of a practical guide for requesting electronic evidence across borders, and the deployment of a specialized consultant to support Iraq in its efforts to develop a holistic and comprehensive counter-terrorism strategy.
"The Secretary-General has stressed that despite recent successes against ISIL / Da'esh and its affiliates, the threat posed by returning and relocating fighters, as well as from individuals inspired by them, remains high and has a global reach," stressed Mr. Voronkov. "I would therefore emphasize, the recent ISIL losses should not lead to complacency at any level," he concluded.
Impact of Death Penalty on reduction of Terrorism in Pakistan
Pakistan is the country which suffered the worst impact of terrorism. We suffered more than all the other countries of the world combined. Especially during the period of 2007- 2013, there were almost 730 terrorist attacks, causing thousands of death causalities and so many more injured. Only in the year 2012, the country witnessed 217 acts of terrorism.
Terrorism in Pakistan originated with the Afghan War in the 1980s when the US and its allies gathered "mujahideen" i.e. holy warriors, from all over the world. They trained them, armed them and funded them to be used in a proxy war against USSR. Extremism, Intolerance, Terrorism, and hate was promoted in Pakistani society. Traditionally, Pakistan was a peaceful and tolerant society. In the 1960s and 1970s, Pakistan was a paradise for western tourists. It was among one of the safest countries with an abundance of natural beauty and pleasant climate. Affordable cost of living had attracted many western tourists at that period of time. All religious factions were enjoying very cordial relations. Pakistan was a multi-ethnic society and was living in perfect harmony since ages. The Afghan War turned everything and the society faced increasing divide and intolerance.
In fact, after the withdrawal of USSR's troops from Afghanistan, and lack of US interest from Afghanistan left the fighting forces directionless. Such fighters who were deemed heroes in the US and the western world were left jobless. They were not educated, trained for any skill, except for war and fighting. Their funding was also suspended. Under such scenario, they were left with no other option, except indulging in terrorism on behest of foreign agendas for easy earning of their livelihood.
After the 9/11 incident in 2011, these heroes trained and armed by US and Allies were labeled terrorists and war on terror was waged against them.  Pakistan sided with the US and NATO during its war on terror and became the victim of terrorism.
On 17 December 2014, a major incident of terrorism happened in APS School, in Peshawar, northwest of Pakistan. It was a major act of terrorism where school children and teachers were martyred. The incident jolted the Government of Pakistan and the whole nation was united to fight against the menace of terrorism.
On 24 December the Prime Minister (PM) in a televised address to the nation announced the 'National Action Plan' (NAP) to deal with terrorism. According to the Interior Minister, the plan was prepared in the light of the decisions taken by All Parties Conference. For this purpose, the PM established the National Action Committee consisting of the members from all the political parties and decision were taken in the light of the recommendations of this committee. Prime Minister of Pakistan reached consensus over the issue of "National Action Plan" to fight against terrorism on war footings. Sufficient resources were allocated to fight against terrorism. Adequate legislation were formulated and relevant amendments were introduced to the judiciary, law enforcement organizations. Among many decisions, one of them was "setting up military courts" for tackling terrorism cases in the country, along with a wider plan to tackle terrorism. The death penalty was also approved for terrorists. Previously, the death penalty was banned in Pakistan and criminals were very confident that they can come out of jails after some time and again get involved in similar activities on a much larger scale. Slow access to justice has made it impossible to eradicate terrorism. Additional amendments were unavoidable.
Implementation of "National Action Plan" has shown great achievement and terrorism has been reduced to a huge extent. Death penalty to terrorists proved to be a key to success in eradication of terrorism in Pakistan. There is a comprehensive consensus among all political parties and the general public over the death penalty for terrorists.
Prime Minister of Pakistan has announced, "Continuation of Death Penalty" recently representing the voice of 220 million people of Pakistan. Being an elected Prime Minister, he has to represent the people of Pakistan. Pakistan is a free country and constitution of Pakistan ensures the freedom of expression to its citizens. We enjoy the highest degree of press freedom, however, only a few misuse it and work on the agenda of enemies of Pakistan.
I believe, Pakistan is very mature and civilized. We understand our situation and needs. We hope to decide our own destiny and make our policies indigenously to suit our needs. It is possible, after some time, when we have rooted out terrorism completely, we may ban the death penalty forever. I request the international community to strengthen Pakistan's drive against terrorism, which are the enemies of humanity. Please extend your full cooperation and all possible support to make Pakistan successful against terrorism. I trust that our friends and civilized nations will come forward to support Pakistan. However, we are committed to eliminate terrorism from Pakistan absolutely.