Cleared of graft charges, Malaysian PM Najib could now focus on economy
Malaysia has managed to overcome a recent corruption crisis. As usual, the anti-Islamic media were celebrating, for quite some time, the news about corruption scandal involving Malaysian Prime Minister Najib Razak. And they possibly wanted a quick regime change in Kuala Lumpur so that opposition they sponsor could finish off the stable nationalist government of Najib Razak and put in place a new regime to harass him and promote anti-Islamic agenda that indirectly speed up terrorist atmosphere.
PM Najib was buffeted last year by allegations of graft and mismanagement at the debt-laden state fund 1Malaysia Development Berhad (1MDB) and by a revelation that about $681 million was deposited into his personal bank account. On January 26, Malaysia's attorney-general Mohamed Apandi Ali cleared Premier Najib Razak of any criminal offences or corruption, closing investigations into a murky multi-million-dollar funding scandal that his opponents had hoped would bring him down.
It is learnt that the money transferred to Najib's account by the Saudis was a donation meant to help him combat the "rising threat" of the Muslim Brotherhood, which is a part of the Pakatan Rakyat opposition coalition in the 2013 election. Even if the Brotherhood was defeated in 2013, this has not stopped similar organizations from crawling out of the woodwork. Most formidable of these is ISIS, which has recently issued threats against the Malaysian government and extended the call to jihad to the country's Muslim populace.
Attorney general said the huge sum of $681m transferred into Najib Razak's personal bank account was a gift from Saudi royal family and not linked to troubled state fund 1MDB and as such there were no criminal offences or corruption involved in relation to three investigations submitted by Malaysia's anti-graft agency and that no further action would be taken.
The involvement of the Saudi royal family is an unexpected twist in a scandal over the mysterious funds transfer and the troubles of indebted state fund 1Malaysia Development Berhad (1MDB), whose advisory board Najib chairs.
The Malaysian anti-corruption commission (MACC) had earlier said the funds were a political donation from an unidentified Middle Eastern benefactor. The attorney general said he would return to the MACC papers pertaining to the three separate investigations with instructions to close all three cases.
Najib, who has weathered months of calls from opposition leaders and establishment figures to resign, has denied any wrongdoing and says he did not take any money for personal gain.
Najib, who denied any wrongdoing and said he did not take any money for personal gain, welcomed the attorney general's statement. "The findings followed a thorough investigation by the relevant institutions, and he has confirmed what I have maintained all along: that no crime was committed," Najib said in a statement.
Although there still be a lot of people who may still be skeptical and critical of the government. Attorney general Apandi told a news conference no criminal offence had been committed by Najib in relation to three investigations submitted by Malaysia's anti-graft agency. "I am satisfied with the findings that the funds were not a form of graft or bribery," he said. There was no reason given as to why the donation was made to PM Najib that is between him and the Saudi family," he said. The corruption issue has been an unnecessary distraction for the country. Now that the matter has been comprehensively put to rest, it is time for us to unite and move on.
Malaysian opposition parliamentarian Tony Pua told the Guardian the "basis to absolve the prime minister of any wrongdoing is utterly without merit because the 'personal affair' does not preclude corrupt motives or transactions". He added: "The attorney general has provided no new or convincing information or arguments on whether the massive funds were bona fide, which leads to the question whether the newly appointed attorney general is merely covering up for the prime minister."
However, opposition party leaders denounced the finding, saying the appointment of the attorney-general by the prime minister in the midst of the crisis suggested a conflict of interest. But analysts said it was a victory for Najib that would allow him to focus on winning the next election in 2018.
In July last year, Najib sacked the country's previous attorney general, who had led the investigation into the scandal, for "health reasons" in a government reshuffle that also saw the dismissal of several officials critical of the premier.
The involvement of the Saudi royal family is an unexpected twist in the saga over the funds transfer and the troubles of 1MDB, whose advisory board Najib chairs. The scandal has shaken investors in south-east Asia's third-biggest economy and rocked public confidence in the coalition led by Najib's United Malays National Organisation (UMNO) party, which has held power since independence in 1957.
The Barisan Nasional coalition currently consists of the United Malays National Organisation (UMNO), Malaysian Chinese Association (MCA), Malaysian Indian Congress (MIC) and 11 other political parties. The opposition is made up of the People's Justice Party (PKR), Democratic Action Party (DAP) and National Trust Party (AMANAH) and some smaller parties.
In the March 2004 general election, Dato' Seri Abdullah Ahmad Badawi led Barisan Nasional to a landslide victory, in which Barisan Nasional recaptured the state of Terengganu. The coalition controlled 92% of the seats in Parliament. The current Prime Minister is Dato' Seri Mohd. Najib bin Tun Haji Abdul Razak. He took office following the retirement of Dato' Seri Abdullah Ahmad Badawi (colloquially known as "Pak Lah") on April 2009.
Najib still enjoys the backing of most of UMNO's powerful division chiefs. Even his fiercest internal critics, such as influential former Prime Minister Mahathir Mohamad, accept that he cannot be unseated.
Although Malaysian politics has been relatively stable, critics allege that the government, ruling party, and government are intertwined with few countervailing forces. However, since the 8 March 2008 General Election, the media's coverage on the country's politics has noticeably increased with a little interference from the government. Judiciary is relatively free and independent.
The Malaysian government intensified efforts on 6 March 2008 to portray opposition figure Anwar Ibrahim as a political turncoat, days ahead of the Malaysian general election, because he posed a legitimate threat to the ruling coalition. Malaysians voted 8 March 2008 in parliamentary elections. Election results showed that the ruling government suffered a setback when it failed to obtain two-thirds majority in parliament.
Malaysia is a major Muslim nation and hence the enemies of Islam target this nation to get it destabilized, people killed as well. Unlike elsewhere in the world, the minorities in the country, especially Chinese and Indians have a major say in the government policies.
Malaysia has had a multi-party system since the first direct election of the Federal Legislative Council of the Malaya in 1955 on a first-past-the-post basis. The ruling party since then had always been the Alliance Party (Malay: Parti Perikatan) coalition and from 1973 onwards, its successor, the Barisan Nasional (National Front) coalition.
Human rights violations were reported but now the situation has improved considerably. In 2007 the Malaysian government briefly detained de facto opposition leader Anwar Ibrahim and arrested a human rights lawyer and about a dozen opposition leaders, amid growing complaints that the government was cracking down on dissent. In fact as the government charged the opposition leader Ibrahim with corruption and other serious charges, these media outlets began searching for opinion makers to malign the government.
Najib's acquittal has certainly brought a lot of relief in the PM office at Kuala Lumpur, finally.
Economy
Malaysia is a rapidly developing economy in Asia. Malaysia, a middle-income country, has transformed itself since the 1970s from a producer of raw materials into an emerging multi-sector economy. The Government of Malaysia is continuing efforts to boost domestic demand to wean the economy off of its dependence on exports. Nevertheless, exports – particularly of electronics – remain a significant driver of the economy.
Oil remains a crucial source of revenue in Malaysia, contributing almost 30 per cent of government revenue.
The Gross Domestic Product (GDP) in Malaysia expanded 0.70 percent in the third quarter of 2015 over the previous quarter. GDP Growth Rate in Malaysia averaged 1.29 percent from 2000 until 2015.
Economy has been the chief focus of Malaysian government. Security issues aside, Najib's greatest concerns over the coming year most probably relate to the domestic economy.
On 2 May 2009, Prime Minister Najib Tun Razak announced the government's plan to develop a new economic model that will speed Malaysia's transition to a high income country. The plan will emphasize ways to increase the income and productivity of workers by encouraging knowledge industries and increasing investment from overseas. At the time of the plan's unveiling in 2010, per capita annual income in Malaysia stood at 23,100 Malaysian ringgit, approximately $7,000 in US currency; under the plan that figure would more than double to RM49,500 (US$15,000).
Malaysia has implemented measures to attract and maintain foreign investment, including a moderation of preferences designed to benefit ethnic Malays. Specifically, these reforms include allowing foreign investors to hold majority stakes in most enterprises excluding "strategic" industries such as banking, telecommunications, and energy, easing insurance regulation, curtailing powers of the Foreign Investment Committee and lowering the minimum quota for Malay ownership in publicly traded companies from 30 percent to 12.5 percent.
By being party to organizations such as ASEAN and the Trans Pacific Partnership (TPP), that Najib's government will be able to achieve its Vision 2020 aims. Although the Vision 2020 is in place to help Malaysia achieve increased incomes, the outlook for 2016 remains uncertain, chiefly due to slowing economic growth in China, affecting South East Asia where Malaysia being the second-largest oil and natural gas producer. The recent slump in global oil prices certainly has its impact on its economy.
The Malaysian economy is stable and among the contributing factors is the implementation of the Goods and Services Tax (GST). Najib, who is also the Finance Minister, said the Customs Department had collected more than RM51bil in revenue since the implementation of the GST, compared with a collection of RM37.2bil in 2014 without the GST. He described the additional collection as extraordinary as and higher than the original projection, which enabled the government to face the economic uncertainty in the world economy currently. GST does not burden the people, on the contrary the GST is savior of the people. With the drop of crude oil to around US30 per barrel, Malaysia is still able to maintain all economic commitments.
The introduction of this tax could not have been better timed. It has helped raise revenues and has saved the government from an otherwise difficult position due to the massive decline in oil prices.
It has been a rather challenging year for the Malaysian economy. Political disruptions and economic shocks have rocked the nation. Prime Minister Najib Razak has been strenuously committed to undertaking fiscal reform. He has repeatedly stressed the importance of reducing fiscal deficits.
China, Malaysia's top trade partner, is almost surely going to disappoint Malaysia with its slow growth figures. There are estimates that the Chinese economy may grow at about 6.2 per cent next year, much lower than recent trends. If the US economy does prove to be the one bright star globally, it will only bring darkness to the Malaysian economy as a US economic recovery is likely to be followed by interest rate hikes in the USA.
A country that once experienced consecutive years of high growth will have to be content with more moderate rates. In 2000, Malaysia's growth rate was 8.9 per cent. In 2016 it is more likely to be around 4.5 per cent. Despite this, Prime Minister Najib is valiantly soldiering ahead.
A revised budget has just been released which aims to accommodate this short term change of fortunes due to low oil prices, attempting to optimize operational expenditure to maintain both long term strategy as well as the welfare of the nation's populace. With the government being cash-strapped, the fiscal reform process is likely to pick up speed. This indeed is a big challenge.
In the face of depleting government revenues caused by sinking oil prices, there may be no choice but to raise taxes and reduce subsidies. The populace has little time to adjust to price increases and rising costs of living.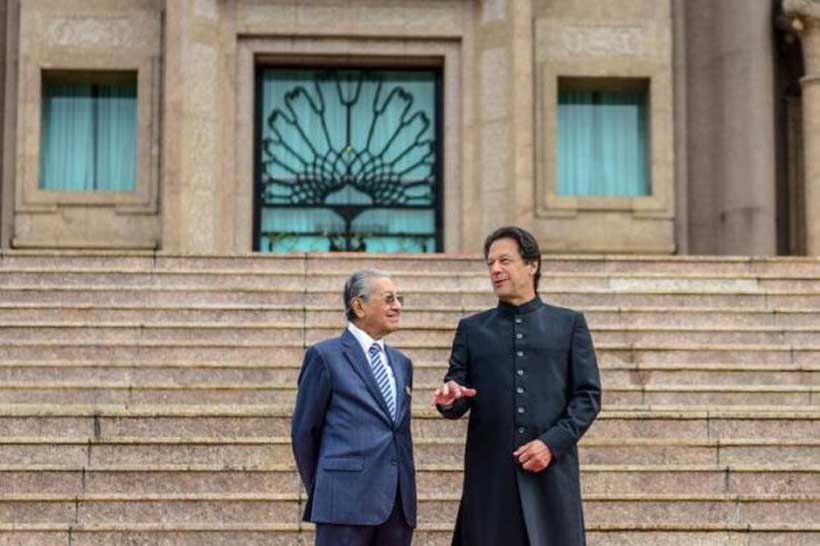 Prime Minister Imran Khan paid his visit to Malaysia later the last month, which was concluded as successful, endorsed by the Prime Minister of Malaysia- Mahathir Mohamad himself. The visit was planned for two days with the two prime ministers having a one-on-one meeting, followed by delegation-level talks. The visit provided an opportunity to further cement the existing friendly and cordial bilateral relations by enhancing economic, trade and commercial ties for the mutual benefit of the two countries. It has been a success in the view that it has been a way forward for the terminating of trade cooperation agreements between the two countries. At the end of the visit, the energy sector especially LNG, tourism, greater collaboration between high-tech industries in Malaysia and Pakistan, and possibility of Malaysian investment in Special Economic Zones were discussed.
Imran Khan was welcomed warmly by the Malaysian delegation on his arrival. The purpose of the visit was for Imran Khan to inspect analytically the Malaysian economic model as of how they have been successful in achieving a great economy, without the interruption of the West. Imran Khan with an intention of following the model Malaysia had adopted scheduled his visit. There is no qualm over saying that this decision is to be appreciated by the new government if they are successful in implementing in Pakistan whatever they learned in Malaysia. Malaysia by targeting on the direct social realities of their country has been able to achieve the zenith of economic and social success.
Malaysia has followed an indigenous economic model, basing their economy on purely autarky by developing products what their local conditions and society were in need indigenously rather getting the dictation from the western models of economy, without ever feeling the need of foreign assistance for their local expense decisions- the position where Pakistan lacks.
Malaysia has continued over four decades of brisk inclusive growth, declining its reliance on agriculture and commodity exports to become a diversified, contemporary and open economy. The profit of development have been extensive and the high levels of income inequity inherited at independence progressively reduced through a development model emphasizing impartial growth, including increased participation of the Bumiputera (ethnic Malays and indigenous groups) in the modern economy. Growth has been determined by a series of structural reforms and the country cultivated its complimentary geographical location on global trade routes to promote export-oriented industrialization and endorsing regional incorporation. This has facilitated the improvement of manufacturing, boosting growth, employment and yield by expanding access to global markets, capital, knowledge and technology.
Pakistan since its birth has been following the western model of economy where Pakistan does not decide what its economic needs ought to be, but the west decides what the Pakistani economy needs. This dependence on the west has lead Pakistan in having the detrimental economic situation it has today where the "Dollar" seems to be getting more expensive and the rupee, de valued, thus the economy crippling.
Socially, Malaysia stands as the only country globally that has in actuality criminalized war in their national law. The society has always been free from political turmoil since politics has been very stable for the country, unlike Pakistan.
It will be unfair if it is advised that Pakistan starts following the complete Malaysian model of economy since the politico-economic situation and history of both the countries have been very different, thus applying the exact replicated model will not be possible. Pakistan unlike Malaysia has been subject to political and economic instability, has witnessed change in policies, dealt largely with the menace of corruption, have had government that would reverse economic models of each incoming government to start anew etc. It was pointed out rightly by PM Imran Khan that if "Malaysia, with a population of 30 million people, has exports worth $220 billion, and we, with a population of 201 million people have exports worth $24bn, then clearly we are doing something wrong".
A solution can be applied in the act that Pakistan rather relying on the West for its economic build up, shall shift its focus on countries with the similar background and a more tangible yet acceptable economic model as that of Malaysia and other Asian economic giants. Pakistan can try to learn from them and follow their economic models as a replacement of the West. Following a pattern of economic development of similar nations will be much easier to pursue, less exploitative and attainable compared to the unrealistic western models.
Pakistan should realize what their need is indigenously rather letting the west dictates it for them. The Western model has always been exploitative towards countries like Pakistan and this is the right time to abandon it and take other inspirations in view.
Can disruption empower youth in politics? Interview with Malaysian Minister of Youth and Sports Syed Saddiq
Bangkok – On a hectic Wednesday night, I rushed to the heart of Bangkok for an event hosted by Oxford Foundation and Talk Foundation. The audiences were debaters, students, and young politicians from leading Thai political parties eager to have a glimpse of ASEAN's youngest Minister.
Eager to learn from his "success".
A special guest was in town; it was a fireside conversation in the honor of Malaysian Minister of Youth and Sports, Syed Saddiq Syed Abdul Rahman.
In the landslide election in May that brought Mahathir, a veteran, 93 years old, back to office, it was undoubtedly clear that youth voters were amongst the key component to that victory and Syed Saddiq was the player in that triumphant election.
Amongst all the techniques he used, he mobilized new millennials through social networks. With 1.5 million followers on Instagram, he told the audience how he used these online platforms for his political purpose.
Youth votes accounted for 41% of Malaysian electorates.
"On the eve of the election, we told everyone to watch Facebook Live at 10 pm. On that day, all Party members were garnering support through local places and online platforms to build up for the 10 pm Live. By 10 pm, we broadcasted Mahathir speech to the public."
"The parents' and grandparents' generations were still with the current government. So, we relied on youth. We asked them to use their cell phones and they showed that to their parents."
"It worked".
When asked what can youth bring to politics, Saddiq seemed fixed that "disruption is the only way to go".
"We need to disrupt, disrupt the old ways of doing things, disrupt old politics, disrupt corruption."
"The lowering of voting age is the case in point where disruption is a successful technique to champion youth agenda."
Malaysia has recently been successful in lowering the youth eligibility to votes from 21 years old to 18 years old.
He was not naïve, however. He went on to elaborate his points that one needed to "pick the battle".
All politician do.
Saddiq gave an interview that it is important for youth to strategize their precious voices for things that matter to them. Saddiq was confident it was education, a better and fairer education system, employment, and good standard of living.
"I said time and again that the Ministry of Youth and Sports must work hands in hands with the Ministry of Education. The two issues are different, but intertwined".
In a casual, meticulous, leather jacket, Saddiq won the crowd on that day with his wit and humor. Instead of talking top down and being patronizing, the young politician was vibrant with energy and optimism.
He was on point.
The night was straightforward and inspiring. A young man aimed high and succeeded. He brought a new face to the old politics of Malaysian longstanding cronyism.
Saddiq stood tall and high as an epitome of youth empowerment.
But youth in politics is nothing new. The 1970s in Thailand democratic demonstrations to topple military dictatorship, the Vietnam war uprising in the United States or the recent rounds of youth activism for debt, LGBT and sexual harassment as well as the Apartheid Disinvestment in the 1970s to 1980s saw youth participation in good numbers.
There is no debate on whether the young are powerful. Of course, they are. The power of the young is immeasurable and there is a lot youth can bring to politics.
But youth in politics must bring more than young faces in the old regime. Youth in politics requires a new way of thinking – disruption perhaps – but how to make it sustainable? Youth in politics demands us to take ourselves seriously and reflect respect in our opinion as something serious and accountable.
When talking about youth, most of the time, it is the case that the loudest and most privileged are the ones that get heard and make noise. How can the new system ensure all kinds of youth voices count?
This reminded me of Les Miserables by Victor Hugo. If I could paraphrase the Broadway famous song:
"Do you hear the youth sing? Singing the song of angry men and women and gay and the poor? This is the song of young people who will not be slave again."
To make politics work for youth, it must not be a rich boy game.
The fight has just begun. I wish you well.
Letter to heaven: An eulogy to Luang Poo Boonyarith Bundito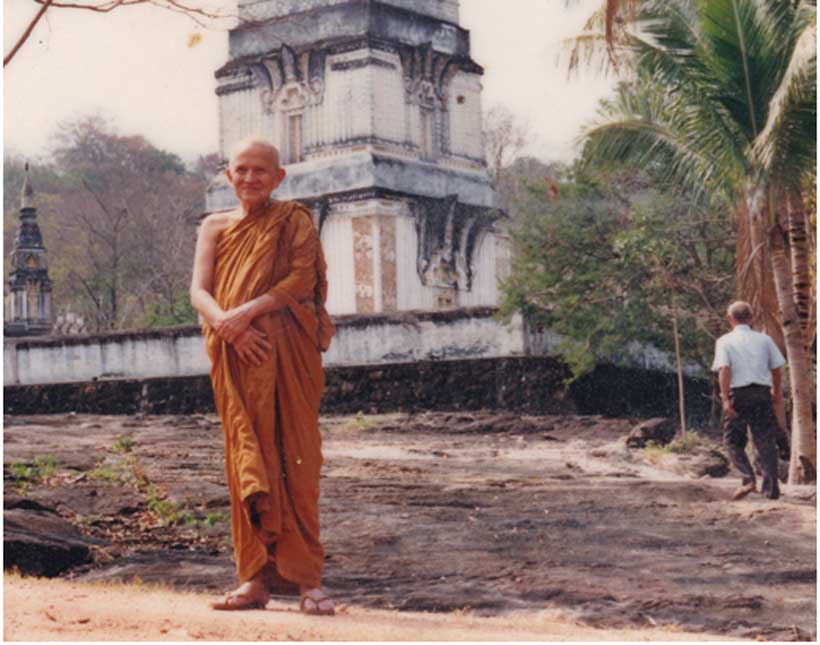 Everyone knows him as a great monk who was an exceptional teacher of meditation. From the royal family to a layman, Luangpoo Boonyarith Bundito was well loved and respected.
Luang Poo Boonyarith was a forest monk who ordained since the age of 31. Like forest monks before him from Luang Poo Mann Puritat to Luang Poo Chob Thannasamo, he followed a strict tradition of solitude. For decades, he traveled to the furthest parts of Thailand and remained there on his own. For at least 9 years, he lived by himself in the peak of a Karen Mountain in the Northern Part of Thailand.
"The karen has an innocent mind" he said in his meditation preaching.
In 1974, he was sent by Wat Bawornnivetviharn on a diplomatic mission to preach Buddhism in Australia. During more than 30 years of his tenure there, he built, strengthened and taught the beauty of mediation to foreigners and Thai alike.
An epitome of what a modern diplomacy is.
With his compassion and open-mindedness, he welcomed Christian, Jewish and Muslim into his temples to learn how to meditate, even though they were clear not to be Buddhist.
He was equally straightforward to them. "Meditation and Buddhism is intertwined and Buddhism is a religion, not a philosophy nor a lifestyle".
Something that would kill the New Age followers.
I had the privilege of knowing him since I was nearly four years old, where he would stay at our house during his trips and sabbatical to Bangkok. Sometimes he stayed for a couple weeks, sometimes that would last for a couple months. At least for 20 summers, we were lucky enough to host him.
While his disciples came to our house to seek truth and find peace, for a 4 years old me, Luang Poo was my English tutor. Having been fluent in French, German and English, Luang poo was a great linguist who paid attention to details of grammatic rules and depth of meaning and complexity of the vocabulary.
He is an avid reader – with extensive collection of books on philosophy, history, maps, arts and great classics. His gifts for me involved pens and notebooks, collection of postcards from foreign lands I never been or books I had never heard of.
At the age of 16, he gave me Brave New World by Aldous Huxley. With the density of idea and complexity of vocabulary, I quickly returned it to him.
He insisted: "keep it, when the time comes, you will get it."
I did. When I joined Thammasat as an undergraduate student, Brave New World became my favourite, inspiring reference to make a difference in a toxic society.
As I became more interested in graduate schools and had my eyes on the most prestigious scholarship in Thailand, the Anandamahidol scholarship under the royal patronage the late king Bhumibol of Thailand, our conversation became more intense, focused and intellectual.
We debated ideas. With his wealth of knowledge on world history, we would always talk current affairs and politics. Theories and concepts.
Who would have thought a forest monk would be on point on world political affairs?
Luang Poo continued to guide me through the hardship of graduate schools. We would talk on the phone on the books I read, the papers I wrote and the difficulty things were for me to conceptualise.
"Sati, Ninja, Sati." Conscious that meant. He said, "one word at a time. Never skim".
He loves dictionary so he taught and trained me to open up every word I don't understand.
If you open his books, you will find scribbles on the sideline on the explanation of words he did not know or his interpretation of them.
As studying theories became more complex, that kind of attention to detail allowed me to be on point, concise and succinct.
He said however that a Buddhist is not a theorist. A Buddhist is a doer. Test the theories, he meant.
When I consulted him with the idea of creating UNITE Thailand, he was on board and gave me the most life changing advice to an idealistic me with heavily foreign influences.
"Forget the theories, forget democracy, forget Buddhism, make kids happy, as many as possible."
We did.
Before the tragic day of the 14th of November 2018 where he parted this world for heaven, he has suffered severe health issues and complication for 7 years that he could not talk, move or eat by himself.
He was the educator who loved Thailand so much. The last sentence he ever said to me was "a great person is one with gratitude. We are indebted to this land, be good. Be kind. Be nice. Be helpful."
Thailand loses a great monk who taught them Dhamma. I lost a grandfather who helped me through the intensity of life, who taught me to read, write and question, who taught me the beauty of life, the necessity to serve our society.
Enjoy heaven, Luang Poo.
I will always remember you.
Ninja.