Islam and Hatred: Why the Free World Civilization is at Risk
Hatred to the other is one of the main sources as much as commandments in Islam. It is this old inherent religiously commanded hatred that is behind the terrorism of Jihad against the infidels and the criminality of the Muslims in so many places and regions around the world.
Hatred cannot be detached from Islam because it is in fact indoctrinated and motivated by Islam. The Nazi era has taught us that hatred is one of the most important policies that lead to apartheid and genocide. The Qur'an teaches hatred and commands to hate the infidels. The Islamic Caliphate State (ICS) is proving it time and again, even by destroying the archeological sites, the wonders of the old Middle East.
Consider the elements that define hate speech: drawing a moral comparison based on distinction between one's own identity group and those outside of it; dehumanization of other groups and insistence of personal superiority against these groups; and a call to all kind of atrocities perpetuated against other groups.
The Islamic Shari'ah qualifies as hate religion on each and every count by which we define hate speech. There is no other religion that draws such sharp distinction between its community of believers and others outside Islam.
a) Its message inspire loathing for others and the Qur'an mandates the superiority of Islam by all means. According to Muslim exegetes, there are seven major features of the superiority of Arab-Muslims over others, based on the Qur'an, among them, they are the best Ummah ever brought forth to men, bidding good (Ma'rûf) and forbidding evil (Munkar); they hold the pillar of superiority over all other world communities; and they will wage war on the people of error and the Anti-Christ.
b) It draws a deep distinction between Muslims and the others, called Kuffār, and it incites to violence and hatred. Islam is ethnocentric religion and political culture. It differentiates the world between Dār al-Islām against Dār al-Harb; between the good and righteous society and the bad and unclean society. It is Halāl against Haram; it is the right against wrong; it is the pious against the evil-doers; it is Paradise or Hell. There is nothing positive in the Qur'an and the Sharī'ah for non-Muslims who are all infidels.
c) It perpetuate legitimizes atrocities and butchering of non-Muslims whenever they are. There are 527 verses that are intolerant to the infidels, and 109 verses calling on Muslims to make war on the infidels. As Muslims see it, Islam is for everyone in the human race and should be expanded as a winning religion, by force or persuasion, until all human beings proclaim that "there is no God but Allah and Muhammad is his messenger." Jihad is universally understood as war on behalf of Islam, and its merits are described plentifully in the most-respected religious works.
In ancient as much as in contemporary world, Islamic dominance is characterized by the oppression and discrimination of non-Muslims, all defined as infidels (Kuffār, Kāfirun). There are no "unbelievers" or "disbelievers" in the Qur'an and the Sharī'ah at large but only infidels or apostates. This is not only a subjective issue, but deep categorical. 'Unbeliever' can get neutral in conception, 'infidel' is totally different. The pattern of aggressive violence and disregard for human suffering is persistent in Islam and reflects the message of the Qur'an, which is one of superiority, loath and hatred. 64 percent of the Qur'an and 61 percent of the overall Sharī'ah is related to the infidels, and there is not even one positive stand in favor for them. They are all an integral part of the abode of Hellfire.
The Kuffār are the vilest animals and beasts; the worst of creatures and demons, perverted transgressors and partners of Satan (al-'Imrān, 3:82, 110; al-Nisā', 4:76; al-A'arāf, 7:176; al-Anfāl, 8:55). The Kuffār are to be beheaded. Muslims must strike off their heads and their fingertips (al-Anfāl, 8:12; Muhammad, 47:4). The Kuffār are to be terrorized. Muslims are to cast terror into the hearts of the infidels, their abode is the Hell-fire (al-'Imrān, 3:151; al-Anfāl, 8:12, 8:60; al-Ahzāb, 33:26; al-Hashr, 59:2). The Kuffār are to be annihilated until the religion of Allah is the only one. They are to be killed wherever they are found, since persecution is severer than slaughter. Muslims are obliged to slay them until there is no persecution, and religion is only Allah's. This commandment includes not only the infidels and the idolaters, but also the hypocrites and the polytheists, as their abode is Hell-fire (al-Baqarah, 2:191; 193; al-Nisā', 4:89, 91; al-Anfāl, 8:39; al-Taubah, 9:36, 73, 111, 123; al-Tahrīm, 66:9). The Kuffār are to be crucified (al-Mā'idah, 5:33). They are the constant fuel of the fire burn in Hell (al-'Imrān, 3:10; al-Taubah, 9:17; Ibrāhīm, 14:30; al-Nahl, 16:29; al-Anbīyā', 21:98; al-Hajj, 22:19; al-Ahzāb, 33:64; al-Saff, 61:11; al-Mû'min, 48:13). "Hostility and hate" exist between the Kuffār and the Muslim believers forever until they "believe in Allah alone" (al-Taubah, 9:28, 32, 69).
The Egyptian intellectual Sami al-Rabbā' has elaborated:
If you say that Islam is a violent faith, you are accused of being anti-Islam and "Islamophobe". Yet, the main of the Qur'an are passages full of incitement and hatred, Jihad-killing and war-mongering.
The educational system is the main source of indoctrination and socialization to hatred and it works almost as a production line. The Muslims start the politics of hatred and Jihad ideology from infancy. The children learn to hate before everything, even without knowing why: at home, in the mosques and in schools, Madāris. They hate the infidels, because they are what they are, and not because they know anything about them. The hatred is in their drink and foods, and this fuel directs and motivates the massacres and lynches that are so pervasive around the world.
The contemporary radicalization of the Muslim youth, the "third generation" Muslims living in the Western world is enormous and alarming. A report by the International Centre for the Study of Radicalization in London claims that "European jihadists in Syria are more numerous than official statistics indicate. Indeed, they point to the existence of entire French-speaking and German-speaking brigades in the Aleppo region." Many of them are radicalizing through the Internet extremist websites and YouTube videos; others are led by imams at mosques; and others, converted to Islam, men and women, volunteer for sex Jihad.
Sa'id al-Hamad, a liberal thinker from Bahrain
The 'culture of backwardness' dominates the Arab world, and it includes 'culture of terrorism,' which adopts beheading and lynching people; and the 'culture of hatred,' which propagates in the minds and consciousness of the youth deep hatred to the world.
Islam's conceptions and behavior
Muslim groups and organizations are violent politically and fanatic religiously. Muslims cover their activities by using religious argumentations as an excuse and motivation to their behavior towards the other. Whether they butcher and cut-off heads of infidels of the West; or terrorize their own Muslim believers, Sunnis and Shiites; or massacre minorities of all kinds, mainly Christians; or when they establish Islamic institutions and mosques in Western states; or when they commit acts of horrible homicide bombings and terrorism; or when they conquer, Islamize and Arabize vast territories; or when they commit ethnic cleansing, apartheid and mass holocausts — for example, the Hindus and the Armenians in the past, and Christians today; or when they coerce and intimidate, Muslims always claim they do it in defense.
Another astonishing issue is that Muslim exegetes, preachers and propagators speak only in complete and absolute terms about their religion's values, without the slightest self-criticism and doubts: 'Islam is absolutely a religion of peace and harmony;' 'Islam is totally devoted to promote peace around the world;' 'Jihad is absolutely and totally defined in terms of defense;' 'aggression is used only rarely, when the Muslims have no other choice to defend their religion and their self;' 'there is nothing in Islam that is against tolerance, democracy and peaceful relations;' and 'Islam tolerates all other religions, acts peacefully and preaches for human cooperation and collaboration.'
One finds these slogans abound in books, article, and media resources. It is so pervasive and so totalistic that it becomes almost impossible to argue and to debate with them. Their cultural conceptions; their totalistic approach as being always and under all circumstances the righteous side; and their ethnocentric conceptions make it impossible to argue with them in rational and according to the 'golden rule' values.
However, when one elaborates the many verses of the Qur'an and the commandments of the Shrī'ah, he immediately attacked and mocked off as an ignorant of Islam and dismissed as being biased evil Muslim: "you don't understand the real true meaning of the scriptures;" "you don't know Arabic;" "you hate Islam and prove Islamophobia exists;" "you prove by your words the white man discrimination of imperialism and colonialism;" "you are racist and oppressive;" and other accusations according to Arab-Islamic imagination and aggression.
What Arab-Islamic history and contemporary tell us?
This is the political language of the Muslim scholars, spokesmen and propagators. Yet, one has to recall the following: the origin of the Arabs and Islam is in Arabian Peninsula. All the vast areas that have been conquered from year 632 on are the result of one of the deepest colonialist and imperialist occupation characterized by process of Arabization and Islamization of the occupied territories. The Middle East was mainly Pharaonic; Phoenician; Babilonian; Ugarit; Chaldean; Jewish, and Berber in North-Africa. Iran was Sassanid; Turkey, Afghanistan and Pakistan were Buddhist. Indeed, Islamic occupations of the Middle East, North Africa, parts of Europe and Asia were all imperialist-colonialist of the worst kind, as they have constantly become Arabized and Islamized.
The invasion out of Arabia was conducted under political ideological ambitions clocked in a religious banner and as an intrinsic part of Islamic doctrine. This process of occupation ended by ethnic cleansing and deportations of the indigenous population; massacres and genocide of peoples; huge slavery by hundreds of millions; and racist policies of Apartheid.
The Palestinian sociologist, Ali 'Issa Othman, states his conviction that
The spread of Islam was military. There is a tendency to apologize for this, and we should not. It is one of the injunctions of the Qur'an that you must fight for the spreading of Islam.
Indeed, Islam has never been a tolerant, peaceful religion. It is not intolerant as a response to other's intolerance, but it is inherently intolerant, racist and war-mongering by itself, according to its religious doctrine. Islamic hostility that practices a policy of systematic Jihad against the other are not a modern phenomenon, but deeply rooted in the Qur'an. It has been operated systematically from the 7th century on until today.
Moreover, against the religious command to love their own fellow believers, Muslims massacre by millions other Muslims. Today, it is represented by the emergence of groups and organizations that follow the Islamic ancestors' tradition, Salafiyah, with the following division: traditional (Salafīyah Taqlīdīyah), represented by the Muslim Brotherhood parties; Jihadi (Salafīyah Jihadīyah), represented by al-Qaeda and its regional organizations (like AQAP, AQIM, al-Shabab in Somalia, Boko Haram in Nigeria, Jabhat al-Nusra in Syria); and Takfīri (Salafiyah Takfīrīyah), represented the Islamic Caliphate State.
The objectives of Islamic hatred
The Qur'an makes it clear that Islam is not about universal brotherhood and cooperation, but the brotherhood of the community of believers. The Qur'an says that all other religions as such are cursed by Allah. Whoever does not believe in Muhammad and totally follow him; whoever contends with Muhammad and Islamic tenets it means heresy that deserves death. It is the nature of Islam to dominate and not to be dominated; to rule and not to be ruled; to be superior on all the infidels. The Muslim vision is clear: there is one universe, and it must be under the banner of Islam. All humanity must submit to Islam as the supreme religion.
The Islamic excuses of the past are no more relevant. The claims they revenge only at acts that are committed against them; acts that humiliate their honor and their souls; or for defense of their nation and soil; and all other sorts of fairy-tales for the consumption of Western media to publish and public opinion to impress – these excuses are no more relevant. The fact is that Muslim groups and organizations murder and butcher and operate all kinds of horrible atrocious acts of violence are exactly for political reasons under the cloak of religious issues and as a result of cultural reasoning. They wish to conquer the world, to impose their religion and culture, and they do not feel any shame or guilt remorse. From their vantage point, they are entitled to possess everything, as it is promised in the Qur'an. They have never given up the prophetic message that Islam must dominate the entire world, and they have all the patience (Sabr) in time to bring these ambitions come true.
The Saudi legal expert, Basem 'Alem states it clearly:
As a member of the only true religion, I have a greater right to invade others in order to impose the Shari'ah, which history has proven to be the best and most just of all civilizations. This is the true meaning of Jihad. When we wage Jihad, it is not in order to convert people to Islam, but in order to liberate them from the dark slavery in which they live.
This is apparent in an interview with Ayat Allah Kamil, a Palestinian woman who had tried to carry out a suicide bombing. When asked by the Guardian journalist: "Do you have any dreams for the future?" She responded
My deep belief and wishes that the whole world becoming Islamic, a world in which we will all live in peace, joy, and harmony, all of us, human beings, animals, flowers, plants, and stones. Islam will even bring peace to vegetables and animals, the grass and the stones… And you will be able to remain Jewish, whatever you want; it doesn't matter, but only in an Islamic world.
…and its consequences and repercussions
The Western world reaction to this reality if fear and intimidation. One of the fresh examples is the case of Ayaan Hirsi Ali, a victim of genital mutilation in infancy and a victim of Islamic persecution today. Now she has been subjected to yet another example of Western cowardice and hypocrisy. Brandeis University has decided not to award her an honorary degree. As Arnold Ahlert observes, Brandeis honored Desmond Tutu who was an overt anti-Semite, and asserted that the Holocaust's gas chambers made for "a neater death" than did Apartheid. He regularly accuses the Jewish State of ethnic cleansing, and insists that Zionism has "very many parallels with racism." Brandeis also honored the playwright Tony Kushner, despite his overt anti-Semitism for Israel. He also accused the Jewish State of ethnic cleansing, and insisted its creation "was a mistake."
Nevertheless they have been given the honorary degree. A similar case was also the University of Haifa decision not to grant an honorary doctorate to Nobel Prize laureate Yisrael Aumann, "because of his political views," but has awarded the extreme leftist anti-Zionist Shulamit Aloni the honorary degree without hesitation.
The question is why the academia, the media, and governments in the West, founded on liberalism and secularism, would not only refuse to counter Islamic Jihad and Da'wah onslaught against other civilizations but even deny that Islam is not compatible with the basic values of freedoms and civil rights? The answer is surprisingly simple: because they are frightened, because they are intimidated and terrorized. They are frightened of being accused of Islamophobia and racism; they are intimidated by brutal savage forces that threaten and actually attack them; they are terrorized by anarchic and chaotic groups of ruffians; and they are paralyzed by Islam's real intent to bring us all to its 7th century traditions and way of life. Part of them, mainly the academia and the cultural hedonists, act along these lines because they hate the west and its values and they perceive Islam as a cure to what they call 'Western malaise;' as they embrace sick and twisted ideologies based on neo-Bolshevism and neo-Fascism.
The best to exhibit the mired reality of this Western world's situation is the example of the British newspaper, the Guardian's cartoonist and head of the British Cartoonist Association, Tim Benson. Anti-Semite in profession, he often sketches horrible graphic cartoons against Israel, but never against Islam and the Palestinians. When asked about this, his answer was pure and simple: I am afraid. It means, he can draw anything against Israel, the Jews, Christianity and Buddhism, and nothing happens, but he would not dare to do that when Muslims, Arabs and Palestinians are concerned. He does not want to be persecuted like Salman Rushdie, or be butchered like Theo Van Goch, to mention the few.
The academia and the media worldwide are sick, and Israeli academia and media represent a pure tragic example of this sickness, because Israel is in the forefront of the war of civilizations, the last fortified dam before the deluge. Unless these two important organs of Western society's body that hold crucial influence on the governmental apparatus decision making stop their submission and capitulation to the forces of evil, the Western world is doomed.
Those in power are still terrified of offending Islam. Honor killing is still overwhelmingly an Islamic tradition; gender equality simply does not exist within Muslim culture and jurisprudence; women still have very few rights and are treated like beasts in Muslim states; women rape victims are punished even to death in large parts of the Middle East; and women are still forced to cover their entire bodies in dark tent. Islamic immigration wrack and havoc Western societies; and the Muslim's third generation proves to be the most extremist and fanatic, and still Western governments appease Islam and actually even unintentionally promote its victory.
The Muslim women's clothing is the symbol to Western world's sick era. If "Sunlight is the best disinfectant," then Western civilization is marching courageously to a dark era in which Islam determines the values of the future. This is a darkness era that clouds the minds of those in power in the West, as much as in the academia and the media, not to see the bright sights of Islam's brutal onslaught of Jihad; not to hear the clear voices of Islam's targets operated by Da'wah; and not to smell the scent of Islamic blood-hunt that wishes to smash our freedoms and civil rights and to re-mold Western civilization according to their traditions.
This almost constitutes a perpeteum mobile, which leads to a simple mathematics: if the number of the Islamic fanatics produced by hatred is higher than those the Free World can neutralize, it means that it is losing the war of civilizations. Indeed, the Western world's mired situation is so intimidating that it refuses to tell even to itself that Islam is engaging in a Third World War against us, and we even do not fight back, but appease and pay protection money. What we are really dealing with is not Islamophobia, but the acute danger of Islamophilia and Islamization of the Free World's civilization.
Women in leadership 'must be the norm'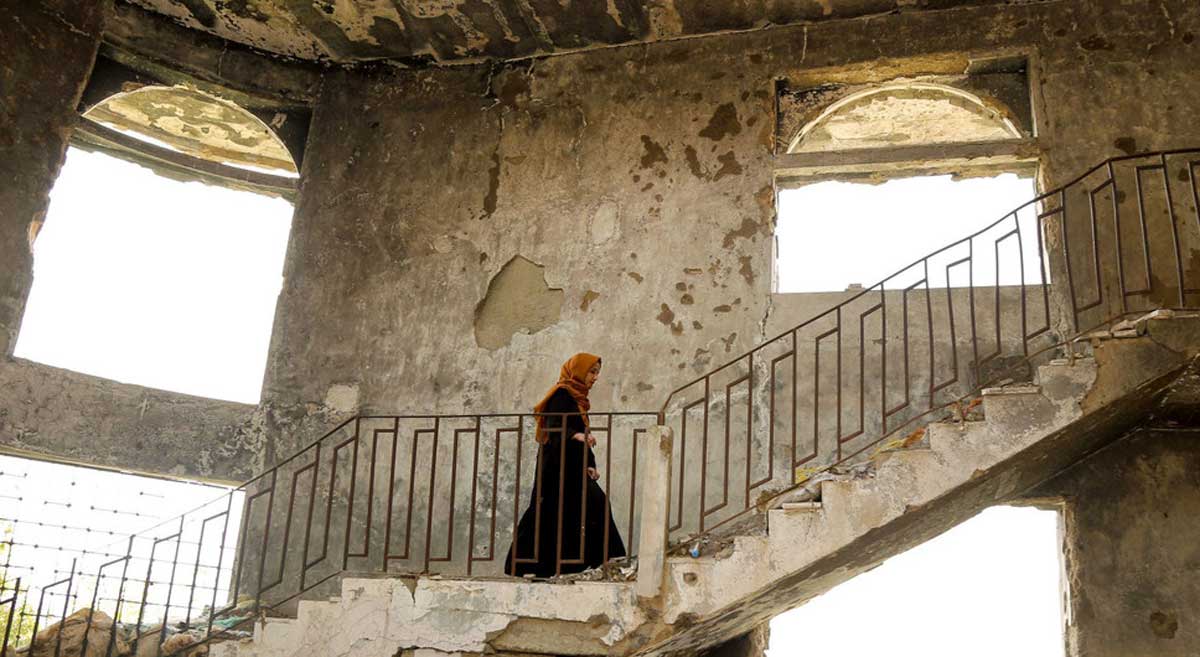 We can no longer exclude half of humanity from international peace and security matters, the UN chief told the Security Council on Thursday, emphasizing the need to fully address the challenges and gaps that continue to prevent women having an equal say.
"Today, women's leadership is a cause. Tomorrow, it must be the norm", Secretary-General António Guterres told the meeting, covering landmark resolution 1325 on Women, Peace and Security.
Frontline women
Having just visited the photo exhibition, In their Hands: Women Taking Ownership of Peace – a collection of inspiring stories of women around the world seen through the lenses of women photographers – he told ambassadors that the exhibit brings to "vivid life" their dedication to "the most important and consequential cause of all, peace".
"From the safety of this chamber, we discuss and debate pathways of peace for countries around the world", said the UN chief. "But the women portrayed in the exhibition are on the front lines of the fight for peace".
He called them peacebuilders, changemakers and human rights leaders, and described their work mediating and negotiating with armed groups; implementing peace agreements; pushing for peaceful transitions; and fighting for women's rights and social cohesion throughout their communities.
Yet, he pointed out, "women remain on the periphery of formal peace processes, and they're largely excluded from rooms where decisions are made".
Disheartening trend
Citing rising rates of violence and misogyny; the extreme under-representation of women in decision-making positions; and a myriad of challenges faced by those in conflict, the top UN official observed that the power imbalance between men and women remains "the most stubborn and persistent of all inequalities".
"In every humanitarian emergency, the clock on women's rights has not stopped. It's moving backwards", he said regretfully.
In Ethiopia, women have been victims of sexual violence; in Yemen, excluded from political processes by the warring parties; in Afghanistan, undergoing a rapid reversal of the rights they had achieved in recent decades; and in Mali, after two coups in nine months, "the space for women's rights is not just shrinking, but closing", Mr. Guterres said.
'Fast-track women'
The UN chief stressed: "We need to fight back, and turn the clock forward for every woman and girl" – the commitment outlined in Our Common Agenda and Call to Action on Human Rights.
"Increasing women's representation and leadership across every aspect of the UN's peace activities is critical to improving the delivery of our mandate and better representing the communities we serve", he said.
But Council's support is needed for partnerships, protection and participation.
Women leaders and their networks must be supported to meaningfully engage in peace and political processes, he explained.
Secondly, women human rights defenders and activists must be protected as they carry out their essential work.
And finally, women's "full, equal and meaningful participation" must be supported in peace talks, peacebuilding, and political systems as countries transition to peace, he said.
"We need full gender parity", underscored the UN chief. "We know it can be done".
Advancing women's rights
Women should not have to accept reversals of their rights in countries in conflict, or anywhere else.
Mr. Guterres said that the UN will double down on "truly inclusive peacemaking" and put women's participation and rights "at the centre of everything we do – everywhere we do it".
The best way to build peace is through inclusion, and to honour the commitment and bravery of women peacemakers we must "open doors to their meaningful participation".
"Let's turn the clock forward on women's rights and give half of humanity the opportunity to build the peace we all seek", concluded the Secretary-General.
Time to say 'enough'
To create a tangible difference in the lives of women and girls, UN Women Executive Director, Sima Bahous, highlighted the need for governments and the Security Council "to step up" to address the way we confront peace and security issues.
For too long violence has targeted females and their rights; and women continue to be marginalized and excluded "in those very places where they can drive change", she told the Council.
"Surely the time has come to say enough", she said.
Open doors to women
While acknowledging a "glimmer of light" resulting from the passage of the original resolution, Ms. Bahous said that while not enough, it must be used in the fight for women's equality.
Noting that vast military spending has been "in bitter contrast" to limited investments in other areas, she advocated for curbing military spending and expressed hope that delegates "share my sense of urgency" on the issue, which impacts other priorities, including women's rights.
The UN Women chief noted that increased participation, combined with curbing the sale of arms in post-conflict settings, significantly reduces the risk of backsliding.
She reminded ambassadors that while "equal nations are more peaceful nations", equality requires higher levels of support for healthcare and related services.
Moreover, Ms. Bahous regretted that women's organizations are poorly funded, noting that without the necessary financial resources, they cannot effectively carry out their work.
Turning to Afghanistan, she shone a light on the women who had collaborated with the UN and whose lives are now in danger, advocating for doors to be opened wider, to women asylum seekers.
Women at the stakeout
Subsequently, former Afghan women politicians took to the Security Council stakeout to ask the international community to pressure the Taliban "to put their words in action" and fulfill their promises made in 2019 in Qatar including supporting girls' education and women's rights.
"The reason we are here today is to meet with different Member States and ask them to regard women and human rights in Afghanistan as a matter of national security of their own countries, because it's not just a political or social issue but it's a matter of security", said Fawzia Koofi, former Peace Negotiator and first woman Deputy Speaker of Afghan Parliament.
Former Afghan Parliamentarian and Chairperson of the House Standing Committee for Human Rights, Civil Society and Women Affairs, Naheed Fareed, questioned whether the world wanted to "register in history" their recognition of "a de facto structure that is in place in Afghanistan", to represent Afghan women, their dignity and desires. "From my point of view, they don't", she told reporters.
Gender Mainstreaming and the Development of three Models
The field of gender mainstreaming plays a central role in the debate of critical feminist International Relations (IR) theorists. Reading the influential work of Enloe 2014 regarding the locations and the roles of women in the subject of IR brings women into the central discussion of international studies. However, some of the feminist IR scholars defy the negligible participation of women in international political theory and practice.
The main aim of gender mainstreaming is to achieve gender equity in all spheres of life (social, political, economic), without any doubt that gender mainstreaming has had a central role in pushing the strategy of realising gender equity since the concept's inception. However, feminist IR scholarship admits that it is not the best approach, or in other words, the right pathway concerning feminist struggle. There are many different approaches and mechanisms in which such dissatisfaction is conveyed; nonetheless, at the axis of Postcolonial Feminist scholars debate, gender main streaming depoliticises the concerns of feminist scholars. Feminist studies show that theoretically, the change of structuring of gender equity determinations from women to gender in gender mainstreaming perhaps contradicted achievements made to bring women from the periphery to the centre of Feminist IR.
The emergence of Models in Development:
Discussion asking to what extent women have been benefited (or not) from the developmenthas given rise to the following three models. These approaches show how men and women are affected in different ways because of the development of how the lives of women, in particular, are affected.
Women in Development (WID):
By the 1970s, the reality that women were subjugated and left far behind in the process of development became clear and widely recognised. In some areas, this recognition even acknowledged development has further worsened the status of women, for example, the exclusion of women from the main development projects. The Women in Development (WID) approach proposed the inclusion of women into programs related to development. WID was a successful initiative that strengthened the consideration of women as an integral part of society. The decade of 1975 to 1985 was even declared the decade of women. However, this approach was problematic, as WID did not focus on structural changes in social and economic systems, which were necessary for discussion. Furthermore, this approach was not enough to bring women to the mainstream of development successfully.
Women and Development (WAD):
Thisapproach was critical and arose in the late 1970s using Marxist feminist (critical) thoughts. As its nature, the Women and Development (WAD) approach criticised WID because of an increasing gap between men and women. According to WAD, the idea of women's inclusion was wrong because women already contributed substantially to society. Yet, they were not receiving the benefits of their contributions, and WID further contributed to global inequalities. The main rationale of WAD was to increase interactions between men and women rather than just implementing strategies of women's inclusion. Besides, WAD considered the class system and unequal distribution of resources to be primary problems, as it's women and men who suffer from the current system. On a theoretical level, WAD strongly endorsed changes to the class system; however, it proved impractical as it ignored the reason for patriarchy and failed to answer the social relationships between men and women.
Gender and Development (GAD):
In the 1980s, further reflection on development approaches started the debate of Gender and Development (GAD). As GAD followed and learned from the weaknesses and failures of WID and WAD, it was a more comprehensive approach. GAD paid particular attention to social and gender relations and divisions of labour in society. The GAD approach strove to provide further rise to women's voices while simultaneously emphasising women's productive and reproductive roles, contending taking care of children is a state responsibility. As a result of GAD, in 1996, the Zambian government changed their department of WID to the Gender and Development Division (GADD). These changes made it easier for women to raise their voices more constructively in an African country. Gender development is a continuous, current phenomenon. Women have choices today that they did not have in prior or even the last generation.
The main point is that instead of discussing whether to mainstream gender or not, it needs to be discussed how it can happen in a better way. Gender mainstreaming is considered a theory of change in GAD.
The above discussion has offered an overview of how gender mainstreaming's theoretical approaches and expectations have met with the praxis; however, some scholars critique the concept of depoliticising and diluting equality struggles. These considerations are also worth inquiry and, accordingly, are discussed below.
KP's Education Reforms – Heading Towards Right Path
The first word revealed in the holy Quran was "Iqra" which means "to read". This first verse of Holy Quran shows us the importance of pen, greatness of knowledge and importance of education in Islam. Article 25-A of Pakistan's constitution obliges the state to provide free and compulsory education to all children between the ages of five and sixteen. Education is the reason behind rise and fall of any nation. After the 18th amendment, on April 19th 2010, the education sector was assigned to the provinces, with a hope that provinces would focus on providing quality education, as previously; there was a lack of comprehensive planning and strategy in this sector.
During its second stint in KP, PTI-led government declared an education emergency in the province. As part of election manifesto, PM Imran Khan reiterated his firm resolve to upgrade education system across KP. Consequently, during past three years, KP government has focused on the neglected education sector and introduced various revolutionary steps to improve the quality of education.
The provincial government is spending heavily on building infrastructure and basic facilities. The number of non-functional schools have been reduced massively due to effective policies. A real time focus is given to the lack of facilities like boundary walls, water supply, electricity, and toilets. To get rid of load shedding issues, the government installed thousands of solar panels in schools to have an un-interrupted supply of electricity at daytime. Simultaneously, increased annual budget for education.
The present age is known as an era of Information Technology (IT) and a nation cannot progress without making full use of it. Therefore, the provincial government has established thousands of state of the art IT labs across KP. It is pertinent to mention here that Microsoft has also endorsed this effort and offered to train above 15000 IT teachers with free certification.
The major five-year revolutionary educational reform plan (2019-2023) was brought by department of Elementary and Secondary Education as a flagship project of KP government in this tenure. The four core aspects of this innovative plan includes teachers' training, curriculum reforms, establishment and up-gradation of schools and the appointment of new teaching staff.
In order to reduce teacher to student ratio it has been decided to hire 65,000 new teachers well versed with modern education techniques, including 11,000 primary teachers under this five years' plan. So far, more than 40,000 teachers have been recruited on merit bases through NTS. After the merger of tribal districts in KP, the education Ministry has approved a handsome amount for the restructuring the current education system. In order to modernize the current education system, KP government has established 138 Data Collection Monitoring Assistants (DCMAs) in tribal districts.
Taleemi Islahi Jirga (TIJs) are converted into Parent-Teacher Councils (PTCs) and connected them with education ministry with an aim to keep a check and balance. Government has introduced a new concept of school leaders and aims to train about 3,000 leaders who will be responsible for monitoring the classrooms, lesson management, implementation, and daily school life.
The process of expanding teachers' training program to all districts of the province is also in process. Furthermore, the education department has almost completed its working on the development of high-quality script lessons for different subjects. Textbooks for classes 1 to 10, will also be revised according to modern standards by 2023.
Another milestone achieved by KP government is the establishment of Independent Monitoring Unit (IMU). This vigilant monitoring system has reduced teachers' absenteeism by 17% to 20%. It also constantly collects reliable data which is helpful for realistic planning.
Previously, teachers used to take salaries without performing any duties; however, with the advent of biometric attendance system, those ghost servants have been captured. Enrollment drives have been organized every year. Government is giving free books to the children including drawing and coloring books to enhance their creative thinking. Government is also stressing on female education through its new policy of building classrooms with a ratio of 2 for female and 1 for male.
To impart the true teachings of Islam, Quranic education and Nazira is made compulsory up to class 12th. In a refreshing development, students of private schools are migrating to government schools due to student-friendly policies.
Nevertheless, there is room for improvement in the education sector like linking promotions of teaching and administrative staff with performance. Government teachers should be made bound to enroll their children in public sector. The concept of uniform curriculum will create national thinking. Another important aspect which needs attention is to address the growing role of tuition and coaching centers. Technical education should also be focused from the base. Experiences of others successful educational models like Finland model may be studied to improve the sector.