"Pivot to the East" and Russia's Southeast Asia Gambit
Throughout 2015, the Russian Federation engaged in a variety of initiatives in a region that often falls outside of the conventional analysis of Russia's foreign policy- Southeast Asia. After a period of relative neglect, dating back to the late Soviet era in some cases, Russia has once again emerged as an external actor in this region.
Of course, Russia has been somewhat active in Vietnam lately, and has made some inroads with that country, such the re-opening of Cam Ranh to Russian naval vessels. Yet in addition to a revival of Russia-Vietnam ties, there are a few other states in the region that have generally been closer to either China or the United States with which Russia has begun to deepen relations. In particular, China's longtime partners Cambodia and Myanmar have increased their bilateral cooperation with Russia, while even steadfast US ally Thailand has begun to develop a friendlier connection with Russia.
It is too soon yet to state that Russia has emerged as a major player in Southeast Asia. Nor is there substantive evidence that Russia will actually attain this status in the region. Nevertheless, Russian overtures to several Southeast Asian states give a clear indication that Russia's policy of "pivot to the East" extends far beyond its relationship with China. In fact, the very fear that Russia's Asian policy orientation may be limited to, or even subordinate to China is likely one of the biggest reasons why Moscow has begun to extend its hand of friendship to various countries in the region.
One country with which Russia has not had strong ties, but one which Russia has recently reached out to is Cambodia. Dmitri Medvedev, Russia's prime minister, visited Cambodia in November 2015, where he and his Cambodian counterpart, Hun Sen reached a number of agreements. The various measures implemented included agreements on foreign investment as well as a memorandum of understanding and cooperation on money laundering. It was the first time since 1987 that Moscow had conducted an official-level visit to the country. Since that time, China has been Cambodia's most important major partner, especially under the leadership of Hun Sen.
Similar with Cambodia, Myanmar has generally been under greater Chinese influence. Moscow's relationship with the secretive government in Yangon, while growing, especially in terms of small-scale military cooperation, has also been rather limited. In the late summer of 2014, however, the Russian government signed an agreement with Myanmar to increase the volume of trade between the two countries from $117m to $500m, although trade figures indicate that Russia had not been able to significantly boost its exports to Myanmar going into 2015. Nevertheless, the two countries pledged at the end of 2015 to continue fortifying their bilateral relationship.
Yet another unlikely potential partner for Russia is the traditional US ally of Thailand. When Prime Minister Medvedev paid an official visit to that country in 2015, the Thai military government was in a slightly strained relationship with its allies in Washington. For Bangkok, the visit from the Russian Prime Minister offered a sense of legitimacy, especially in light of criticism from the UN. Furthermore, the governments in Bangkok and Moscow, as well as the Russian and Thai business communities have hoped for a deeper development in economic cooperation. This incudes an increase in Russian arms sales to Thailand as well as the possibility of conducting trade using the Russian ruble and Thai baht. Of course, such Russian overtures toward the Thai kingdom do not necessarily pose any strategic challenges to the United States and its relationship with its longtime ally.
With Russia experiencing some degree of economic and political isolation for its foreign policy adventures over the past two years, Russia has found itself in a favorable position to develop closer ties with other "isolated" countries. This may explain in particular Russia's developing ties with Myanmar, as well as Russian overtures to the current Thai government, which has drawn some scorn from Washington.
Furthermore, conventional thinking about Russia's recent overtures to various states in Southeast Asia seems to be that Russia is attempting to demonstrate to the US that it is a global power with far-reaching interests. While there is certainly merit to the position that Russia's foreign policy activities in Southeast Asia have been taken primarily with the United States in mind, one must also consider the China aspect of Russia's growing role in Southeast Asia.
In fact, there is a high likelihood that Russia is seeking not so much to undermine the United States in Southeast Asia, but rather is attempting to hedge against the rising power of China. With the US's deep strategic presence in Southeast Asia firmly established, especially in places such as Thailand, it makes little sense that Russia would sincerely attempt to undercut the United States in the region, especially when Russia has so little influence or even historic legacy in Southeast Asia to begin with.
Rather, an increased Russian economic and, in limited terms, security presence in Southeast Asia provides an outlet whereby Russia can show that it is an Asian power independent of its relations with China. Furthermore, a stronger Russian presence in Southeast Asia allows for Russia to establish itself as a competitor in what has otherwise, in some respects, been part of a Chinese sphere of influence. This is especially true given the fact that many Russian policy elites perceive that China has been encroaching on Russia's traditional sphere of influence in Central Asia.
Russia's influence in Southeast Asia will likely remain dwarfed by that of China and the United States for the time being. Yet slowly and quietly, Russia is emerging as a player in the region once again. Its ability to increase and project influence in Southeast Asia, an area not traditionally part of its sphere of influence, may in fact be a metric by which to gauge the success of Russia's "pivot to the East".
Russia: The Winner of the latest airstrikes against Syria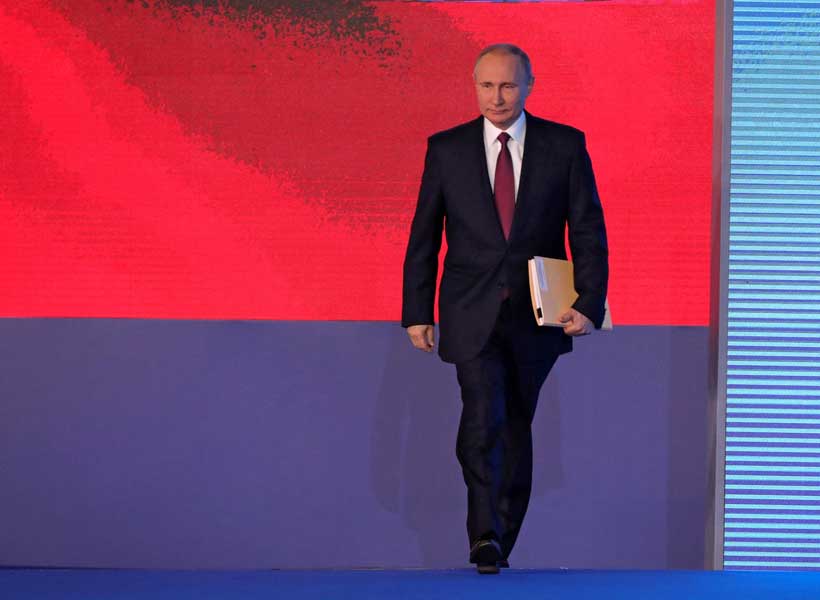 On April 21, one week after the U.S.-led airstrikes against Syria, Russian FM Lavrov said that Russia would sell S-300 anti-aircraft missiles to Syria unconditionally. Since Moscow denounced the recent US-led missile strikes as an "aggression" against Syria and violated international law, selling S-300 missiles to Syria seems to be logical.
As it is well-known, the powerful weapon of S-300 has a range of up to 125 miles and the capability to track down and strike multiple targets simultaneously with lethal efficiency. It would mean a quantum leap in Syria's air defense capability and pose a strong challenge to any upcoming menace from airstrikes. Before U.S-led airstrikes against Syria last week, Moscow had refrained from providing Damascus with such advanced S-300. Yet, now Russia openly rejects Western demands to halt such sales.
As a matter of fact, Russia had made explicit warnings to shoot down U.S. missiles prior to the airstrikes and even to target the missile-launchers. These threats are part of a wider Russian strategy aimed at showing the entire world – and the Middle East in particular – that Moscow stands by the Assad regime no matter what horrors it unleashes. Russia was supported widely by the world with an argument for the role of the United Nations and the field–trip investigation of the alleged chemical-weapons sites in Syria. Meanwhile, Russia was sure to demonstrate the extent and the efficiency of its deterrent capabilities, including S-300 missiles system, which is regarded as the key to any nuclear power.
Ironically, U.S.-led airstrike against Syria aimed to damage Assad's chemical-weapons program and to deter the murderous regime in Damascus from unleashing alleged chemical weapons on its own people. Yet in reality, the strikes are more of an indication of "Russia's success at causing Western powers to limit their actions and opt for extreme caution in their response to Assad's regime". Since Russia's actions are guided by a cold, hard logic, by standing firm alongside its Syrian client, it sent a message globally that any Middle Eastern state which aligns with Russia will gain the essentially unconditional backing of a great power whose overall purpose is to rebuild its global power status and boost the value of Russia as a trusted great power.
In diplomatic field, Russia also shows its position. On the same day of U.S.-led airstrikes against Syria, a sovereign state and also a client state of Russia, President Putin denounced the attack as "the U.S. is deepening a humanitarian catastrophe." In both legal and moral terms, U.S.-led coalition's military action openly violated international law, norms and practices. As the fully-armed nuclear powers and the permanent members of UN Security Council, the U.S., Britain and France deliberately ignored the high authorities of the United Nations. Just one day ago, Secretary-General Guterres called for the creation of an independent panel that "could determine who used chemical weapons in Syria, as the absence of such a body increases the risks of a military escalation in a country already driven by confrontations and proxy wars." Yet, the three powers arrogantly rejected the appealing from international community.
In summary, Russia has appeared as a winner with dual identities: one is a defender of a small country worn by the 8-year civil war; other is a strong military power which has potentials to challenge the hegemony of the United States and its key allies. Although China did not openly align with Russia militarily, Beijing and Moscow once again insured their consensus on the Syria crisis. First, Russia alongside China and many other states denounced the military strikes on Syria by the US, UK and France as a violation of the basic principle of prohibition of use of force in international law and run contrary to the UN Charter. Second, the use of force against Syria on the ground of "punishing or retaliating against the use of chemical weapons" does not conform to international law. In this case, we shall not forget the precedent of the Iraqi issue. That historical lesson should be learned because it is very irresponsible to launch military strikes on a sovereign state on the ground of "presumption of guilt". Third, China and Russia are more convinced than ever before that they must deepen their strategic partnership of coordination in light of the latest U.S. national security report defined Beijing and Moscow as "global competitors". Because of this, Russia, working with China, Iran and many other states, is definitely able to challenge the United States and its key allies globally.
Russia's demise in the Age of Information
We live in the time, where different pieces of information swarm around us, making it almost impossible to escape it.
Over the course of mass media's existence, its role in opinion and attitude shaping has increased dramatically, particularly because of how much more accessible it has become.
With an average person finding themselves listening to evening news after coming back from work, or even those, who bravely say "I do not watch TV", but feed their need for information on the internet, we are surrounded by data flow.
And it is hard to stay neutral, as we involuntarily choose sides, depending on what agenda we are most exposed to.
A study conducted by the University of Southern California, used the analogy of an 85 page long newspaper and showed that in 1986, around the time of the Soviet Union's downfall, people were receiving about 40 newspapers full of information, while in 2007 the number rose to 174.
There is nothing new about the fact that mass and social media provide valuable tools for politicians, who seek to push their own rhetoric into the crowd's minds. Those, who manage to master the art of using these tools, are arguably capable of creating their own reality.
The classic example which is known by the majority, is 1997 movie, Wag the Dog, where such use of media is being shown in all its glory, even if it is exaggerated.
The West has been the dominant power on the global arena ever since the end of the Cold War, where after the collapse of the Soviet Union, Russia started to integrate into the world politics as  a renewed player, with a new ideology and new political appearance.
The modern post-Soviet era world dictates certain requirements for contemporary participants, among them are free trade, technology exchange, advancement towards green energy solutions and a strong emphasis on free mass media. These are a part of the modern political courtesy, post League of Nations table manners, if you will.
Practice shows that those who choose to turn their countries into resources-only based economies, and to completely or partially ignore these requirements, will forever be on a passenger seat in this car called "global politics". This is not what Russia is ready to settle for though.
While Russia's President, Vladimir Putin, managed to incorporate the country's mighty natural resources industries into global economics, giving him a strong political leverage, he chose to be very selective when it comes to anything else.
Power and straightforwardness are seen as few of the main things that Russia respects, and its politicians are proud of the fact that they refuse to participate in this so-called free media theater. But is this sense of pride justifiable?
Russia's Foreign Minister, Sergei Lavrov, mentioned that he was amazed to see mass and social media being used as the main sources that shed light on chemical weapons being used in Douma, Syria.
"Apart from social media accounts and the video that was shared there, there are no other pieces of evidence, which can be seen as ridiculous by some specialists" – he stated during Russia's XXVI Assembly of Foreign and Defense Policy Council.
Mr. Lavrov's speech was brought to the international audiences by pro-Kremlin news channel, Russia Today and failed to make any ripples on the surface of people's opinion, which was already heavily bombarded by horrible images of the chemical attack, the whole rhetoric of people's suffering and the West's responsibility to protect.
Social media or not, nowadays, people like to believe in the power of freedom of speech and share the awareness. After all, it was Twitter that brought us the Arab Spring.
Another prime example of storm clouds gathering around Russia's reputation is the latest poisoning of Russia's former military intelligence officer, Sergei Skripal. The incident took place in the middle of UK's very peaceful city of Salisbury and has awoken the memories of a similar poisoning from several years ago of Alexander Litvinenko, who used to be a part of Russia's Federal Security Service.
Mr. Skripal's poisoning happened exactly two weeks before Russia's presidential elections, which is hardly the best international PR campaign for President Putin.
The event was quickly used by the Western media to even further demonize the people's vision of Russia's politicians, portraying them as very conniving and not trustworthy.
Yet, OPCW-designated laboratory, based in Spiez, Switzerland has officially confirmed, that the poison, used on Mr. Skripal, shows traces of certain elements, which can be found only among NATO's arsenal.
The news were delivered through Russia's highest possible diplomatic level – the Foreign Minister Sergei Lavrov. One would assume that this scandalous piece of information would get an intense coverage by the mass media. But the reality shows the absolute opposite.
It is not enough to simply "share the truth" with the world, this truth has to be imbedded into people's minds through constant exposure and endless repetition, just like certain Western media repeats time and time again that Russia is a criminal state.
If you run a quick internet search of Mr. Skripal's poisoning, the vast majority of non-Russian speaking newspapers and media channels would give you same old information about the attack itself and the following clean-up, while Russian sources would be screaming about Western conspiracy and the revelations from the Swiss lab.
If this information is indeed that vital (and it is), why don't we see it on every TV channel here in the West? Where are the Russian foreign public relations specialists, pressing BBC, CNN and the others to get a minute of their time to spread this information, even though it is against those news outlets' agendas?
Russia's politicians, who are mainly Soviet-era raised, seem to be stuck in the late 80's mindset, where people were not that exposed to the power of media and where the country had very little ability to influence anything that the average person "consumes" outside the Soviet Union.
It is not any longer enough to win only your citizens' hearts, but as an international political player, Russia has to realize the importance of the global public's believes and opinions.
The country's Foreign Ministry actively chooses to be passive about this information war. This war is conducted not only behind the curtains, not only on the floor of the UN's Security Council, it is also in people's minds.
Vladimir Putin welcomes new ambassadors in Moscow
Russian President Vladimir Putin has assertively reminded 17 newly arrived foreign envoys to make efforts to facilitate the development of multifaceted relations with Russia in every possible way, strengthen political dialogue, boost trade and economic relations, deepen humanitarian and cultural ties.
"The role of diplomacy and diplomats are particularly important," he explained and gave the assurance that Moscow was committed to constructive dialogue with its foreign partners and would unreservedly promote a positive agenda.
"For our part, we are ready to welcome your constructive initiatives, you can count on the support of Russian authorities, state institutions, business circles and the public," Putin said, addressing the foreign ambassadors in a special ceremony held in the Alexander Hall of the Grand Kremlin Palace.
The 17 newly appointed ambassadors are from Austria, Benin, Côte d'Ivoire, Cuba, Egypt, El Salvador, Ghana, Italy, Jordan, Nigeria, Montenegro, Republic of Congo, Saudi Arabia, South Korea, The Gambia, United Arab Emirates and Vietnam.
During the speech, Putin strongly reminded them about the growing challenges and threats confronting the global community and urged them to play a pivotal role in ensuring sustainable development, global peace and stability.
"As for Russia, it will continue to consistently be committed to strengthening global and regional security and stability and fully comply with its international obligations, build constructive cooperation with partners based on respect relying on international legal norms and the United Nations Charter," the Russian leader said.
According to Putin, "diplomats are called upon to facilitate the joint search for answers to large-scale challenges and threats, such as terrorism, drug trafficking, organized crime, proliferation of weapons of mass destruction and climate change."
In addition to supporting greater security, stability and delivering promptly on its international obligations, Putin also emphasized the readiness of Russia to continue boosting overall ties both at bilateral level and on the world stage with African countries. According to the longstanding tradition, the Russian leader said a few words about the interaction with the individual countries in the welcome speech.
Of particular importance, Putin noted that Russia was interested in broadening ties with the Federal Republic of Nigeria.
"We very much appreciate our relations with Nigeria, an important partner for us on the African continent. We support the further expansion of mutually beneficial Russian-Nigerian ties, including cooperation on hydrocarbon extraction and aluminum production, as well as in the military-technical field," he told the new Nigerian ambassador, Professor Steve Davies Ugba, who had arrived with an accumulated experience in corporate affairs and several years of academic teaching in the United States.
He went on to inform the gathering that the foundation for the cooperation between Russia and Ghana was laid over 60 years ago. "We have accumulated a great deal of experience in working together in both the trade and economic sphere and in politics. Currently, we are developing promising projects in the nuclear and oil industries, and we are discussing the prospects of supplying Ghana with Russian airplanes, helicopters and automobiles," Putin said.
Oheneba Dr. Akyaa Opoku Ware, Ghana's ambassador to the Russian Federation, was one of those who presented credentials to Putin. By profession, she is a qualified medical doctor from The Royal College of Surgeons in Dublin and was appointed as an ambassador to the Russian Federation and former Soviet republics by President Nana Addo Dankwa Akufo-Addo on September 13, 2017.
With regards to the Arab Republic of Egypt, Putin offered a bit more saying that the strategic partnership with Egypt is being strengthened. In August, Russia and Egypt will mark the 75th anniversary of the establishment of diplomatic relations. Cooperation between Russia and Egypt is very active and includes the construction of the first nuclear power plant in Egypt, the establishment of a Russian industrial zone in the Port Said region, and the deepening of military and defense industry cooperation.
"I would also like to point out that regular flights between the capitals of the two countries have been resumed. We continue to work on resuming the rest of the flights," he pointed out.
Last December, fruitful talks with President Abdel Fattah el-Sisi were held in Cairo, he noted, and added that they both maintained regular dialogue on a range of topics, including relevant international and regional issues because both countries have had close or similar positions. Quite recently, Putin heartily congratulated the President of Egypt on his resounding victory at the recent elections.
According to diplomatic sources, Mr. Ihab Talaat Nasr, the new Egyptian ambassador to Russia, has replaced Mr. Mohammed al-Badri who completed his mission late October 2017. Previously, Ihab Nasr was the Deputy Minister of Foreign Affairs of Egypt responsible for European affairs.
The Gambia was in the Kremlin for the first time in the country's history with the official opening of an embassy in Moscow.  Madam Jainaba Bah, a Senior Member of the United Democratic Party (UDP), became the first resident ambassador of The Gambia in the Russian Federation.
"Our ties with the Republic of The Gambia are traditionally constructive. The Russian side is interested in expanding economic cooperation, including by increasing the supply of machinery and agricultural products to the republic. We will continue to expand the practice of training Gambian specialists at Russian universities," the Russian leader explained.
Significantly, Putin underscores the fact that friendly cooperation is maintained with the Republic of the Congo. Bilateral cooperation covers a number of major projects, including the construction of a 1,334 km oil pipeline. In February, Rosatom and the Science Ministry of the Congo signed a memorandum of understanding. Over 7,000 citizens of the Congo have received higher education at Soviet and Russian universities.
Talking about Republic of Côte d'Ivoire, he said that Russia's relations with the Republic of Côte d'Ivoire would continue to develop in traditionally constructive spirit.
"We mainly interact with the Republic of Côte d'Ivoire in the trade and economic sphere. Russia supplies to this country chemical and food products and imports cocoa and its derivatives. As part of our humanitarian efforts, medicine and medical equipment from Russia are regularly sent to the Republic," Putin told the new ambassador, Mr. Roger Gnanga, who had served in diplomatic post in Washington.
Currently, Côte d'Ivoire is a non-permanent member of the UN Security Council. Russia also stands ready to work with the Ivorian side at the UN.
Interestingly, Benin has frequently changed its ambassadors. Mr. Noukpo Clement Kiki, the newly appointed Ambassador of the Republic of Benin to the Russian Federation, is a professional teacher and administrator for over 20 years. Quite recently, he had a short diplomatic stint in Canada and now transferred to Moscow.
Relations with Benin are developing in a constructive spirit. Russia cooperates on energy and transport. Russia exports food and chemical products. Over 2,500 citizens of Benin have graduated from Russian universities, according to Putin.
Whatever the possible shortfalls, Putin optimistically expects that, with active participation of the 17 newly arrived ambassadors, these relations will develop dynamically for the mutual benefit of the peoples of their individual countries and Russia, and in the interests of international stability and security.
"I am confident that your time in Russia will allow you to better know our country and its rich history and culture, and will leave you with new unforgettable impressions," Putin, elected for another six-year presidential term and to be inaugurated into office on May 7, told the gathering.
In conclusion, Putin congratulated the new foreign envoys with the official beginning of an important and honorable diplomatic mission, and with the hope that their activities in the Russian Federation will be productive and promote the development of relations between the countries they represent and the Russian Federation.