Islam and the Other: the al-Wala wal-Bara Doctrine
Muslims' own image is that they are peaceful tolerant human beings, while the non-Muslims are aggressors, imperialist-colonialist occupiers. Therefore, it is the role of Islam to retaliate and fight back against oppression and evil as a defensive policy.
This ethnocentric approach explains the Muslims self-image of being always the victim who takes only defensive measures, while the Kuffār are always the war-instigators.
This duality is a conspicuous characteristic of Arab-Islamic political culture. It means that Muslims can viciously attack at almost every situation possible and at the same time to cry out they are victims being under oppression and aggression. They can perpetuate obscene inhuman acts of violence, to terrorize and intimidate, while they accuse the other of colonialism, apartheid, racism, and Islamophobia.
Sheikh Muhammad al-Sha'rawi, the al-Azhar Egyptian exegetes, explains in his book al-Jihād fil- Islām that Islam is in no way aggressive violent, that it does not live and expend on the sword, and that it does not coerce the infidels to convert to Islam or be killed by Jihad. Islam tolerates the non-Muslims and bases its approach only on peace, mutual security and cooperation, and not on war, killing and coercion. Jihad is defensive and intends to repulse hostility and to fight back oppression and aggression. The call of Islam is only through Da'wah and good intentions.
This idea is so common among the Muslims that they wholeheartedly believe in it, and that is why Islamic propaganda, the Da'wah, the political deceit of the Kuffār, the infidels, is so successful. It also explains how Islam is the most ethnocentric religion and political culture. It differentiates the world between Dār al-Islām against Dār al-Harb; between the good and righteous society and the bad and unclean society; it is the right against wrong; and it is the pious against the evil-doers; it is Paradise or Hell. There are no legitimacy, consensual recognition and acceptance of the other, unless he becomes Muslim or he is subdued to Islamic rule.
Moreover, everything in Islam is perfect, un-comparable and un-imitative: Allah is the one and only. Muhammad is the seal of all prophets, the perfect human and the most praised and blessed one; the man with Nûr Allâh (the light of Allah) and 'Isma (immunity of error) who was sent as a mercy to the world, "the excellent example" for the believers to be entirely imitated, wholeheartedly admired, and totally followed without any doubt or question. The Qur'ān is the perfect replica of the mother book which exists eternally in heaven, a literary masterpiece ever written that no human can imitate. Islam is the perfect religious system, the only supreme ultimate true religion upon Earth; and the Muslim believers are the favored, the best of all peoples ever rose upon mankind, with three objectives commanded upon them: to seize power over the universe, to subjugate the world under the Sharī'ah, and to establish a world Islamic Ummah.
That is where the doctrine of al-Walā' wal-Barā' operates. Literally it means the total loyalty to Islam and the total disavowal and enmity to the other. It has become one of Islam's main foundations and of paramount importance, directly representing Imān, and is second only to Tawhīd, the oneness of Allah. The total allegiance and love are only to be given within the Islamic community, and rejection, hate and enmity against the other is commanded, based upon Qur'anic foundations.
In his introduction to the book of Sheikh Muhammad al-Qahtani, al-Walā' wal-Barā', Sheikh Abdar Razaq Afīfī, Deputy President of the Department of Guidance and Member of Board of Great `Ulamā' of Saudi Arabia, declares:
The subject matter is of paramount importance and utmost interest: it is concerned with one of Islam's main foundations, which has two major prerequisites of true faith: al-Walā' is a manifestation of sincere love for Allah, his prophet and the believers; al-Barā' is an expression of enmity and hatred towards falsehood and its adherents. Both are evidence of Imān.
Ibn Taymīyah, the medieval exegete, one of the most cited authorities by Wahhabi jurisprudence, has referred to the issue:
Whoever loves for the sake of Allah, and hates for the sake of Allah, and whoever seals a friendship for his sake, or declares an enmity for his sake, will receive the protection of Allah. No one may taste true faith except by this.
al-Walā' wal-Barā' and the Kuffār
The issue of the Kuffār, infidels, is one of the most important in the Qur'ān. The amount of verses devoted to the Kuffār is huge: 64% of the total Qur'ān; 81% of the Sīrāh; and 37% of the Hādīth; that is 60% of the Sharī'āh is devoted to the Kuffār. The Qur'ān makes it clear that Islam is not about universal brotherhood, but about the brotherhood of believers only under Islamic Ummah, and the total denunciation of the other. There are over 400 verses in the Qur'ān alone that describe the torment in Hell-fire that Allah has prepared for the Kuffār. The Qur'ān dehumanizes the Kuffār, being vile animals and beasts, the worst of creatures and demons. They are perverted transgressors and partners of Satan to be fought until religion is Allah's alone. They are to be beheaded; terrorized; annihilated; crucified; punished and expelled; and burn in Hell-fire. The believers must fight the Kuffār as a constant matter.
The Qur'ān tells Muslims to be compassionate with one another but ruthless to the Kuffār, it is commanded that the Kuffār must not be taken as friends. "Hostility and hate" exist between them forever until the Kuffār "believe in Allah alone." They are unclean people who wish to extinguish the light of Allah. Bernard Lewis has put it:
Islam is still the ultimate criterion of group identity and loyalty. It is Islam that distinguishes between self and other, between insider and outsider, between brother and stranger… the ultimate definition of the other, the alien outsider and presumptive enemy, has been the Kāfir…
The Qur'ān and other religions
The Qur'ān says that all other religions as such are cursed by Allah. All those who join idols, or false gods to Allah, or invent lies about him, or deny Allah, or change even one word of Allah's Book, or does not believe in Muhammad — are to be "seized wherever found and slain with a slaughter."
Narrated Ibn 'Umar: Allah's Apostle said: "I have been ordered to fight against the people until they testify that none has the right to be worshipped but Allah and that Muhammad is Allah's Apostle."
Narrated Abu Huraira: Allah's Apostle said, "I have been made victorious with terror, and while I was sleeping, the keys of the treasures of the world were brought to me and put in my hand."
al-Walā' wal-Barā' by the Tawhīd
A second aspect of al-Walā' wal-Barā' is when the Muslims solemnly declare the Tawhīd: La Illāh ila-llâh (there is no god but Allah), it means they clearly state that all other religions are denied, sinful and unlawful. According to Ibn Taymiyah:
It is not possible to achieve complete happiness by loving Allah, except by the full rejecting all other things. This is what the words, "There is no god but Allah" mean; this is the spirit of Dīn.
On many verses, the Qur'ān reiterates the commandment that it is forbidden to associate other gods with Allah, and Islam should be adhered to become the only legitimate religion on earth. It is followed by the swear-belief that Muhammad is his messenger, that his conduct embodied Islam and Qur'ān. Muhammad's words are absolutely the best to follow, being religiously unassailable. Moreover, the mission of Muhammad is to all humanity, so actually humanity must obey Muhammad as much as Allah. Those who disobey Allah and his messenger will be led into the torment of Hell-fire to live forever. Tawhīd will never be achieved on earth until the believers apply the doctrine of al-Walā' wal-Barā', by total following of Muhammad's way of life, al-Sirāt al-Mustaqīm.
al-Walā' wal-Barā' by the prayer
In each of the five daily prayers, Muslims declare the total allegiance and submission to Islam and objection to the other, as appears in Surat al-Fātihah, 1:5-7
Guide us to the straight path, the path of those whom you have favored, not of those against whom there is wrath, nor of those have gone astray.
Those who have incurred Allah's wrath are the Jews, and those who go astray are the Christians. al-Tabari (838-923), in his Tafsīr, cites Surat al-Ma'idah 5:60, which name the Jews as those with whom Allah is angry with, turned into apes and pigs; and al-Mā'idah 5:77, which name the Christians as those who go astray from the right path. Narrated by Adi bin Hatim: I asked Allâh's Messenger about the statement of Allâh 'not (the way) of those who earned your anger,' he replied: 'They are the Jews; 'and 'not those who went astray,' he replied: 'they are the Christians.'
al-Walā' wal-Barā' and the supremacy of the Muslims
Another aspect of al-Walā' wal-Barā' is based on the Qur'anic declaration that the Muslims are the best of all peoples ever raised up for mankind, and their profit is a luxurious life in Paradise. Islam is the perfect religious system, beyond and above all other religions. It clearly declares that its aim is to subjugate the world under the Sharī'ah, until Islam is the only religion upon earth. Its utmost goal is the establishing of a world Islamic Ummah under the Khilāfah, Caliphate.
The believers follow in total submission and devotion to Allah, and are "kneeling and bowing in reverence, seeking Allah's favor in acceptance; their mark is on their foreheads from the effect of prostrations." That is why the believer whose heart is at peace welcomes with a smile death and all worldly obstacles. Death is seen as the most desired result of life. This is according to the verses in Surat al-Fajr: "Return to your Lord, pleased and well-pleasing. Enter among my servants, and enter my Garden."
al-Walā' wal-Barā' and the 'Just war' (Siyār)
The last aspect of al-Walā' wal-Barā' is related the issue of war and peace. Since the world is divided into two distinct realms: Dar al-Islām and Dar al-Harb, the normal and only justified relationship is a state of infinite war. There is no peace in Islam toward the other but temporary, elaborated by Majid Khadduri. Islam has no concept of "Just War," since any war directed against the Kuffār, whatever are its grounds and circumstances is morally justified and religiously legitimized. A lasting peace between Dar al–Islām and Dar al–Harb is impossible, until Dar al–Harb no more exists.
Jihad reflects the normal relations existing between the believers and the Kuffār. There are no unbelievers or disbelievers in Islamic scriptures but only Kuffār. That is why the Islamic wars are Futuhat, in the sense of opening the world to the call of Islam, whereas the Kuffār wars are Hurub. Any territory conquered during history by Islam becomes Waqf, never to be returned, while any territory conquered by the Kuffār is considered occupation that must be returned by force. By this reasoning all territories of the Kuffār must be occupied and subdued by Jihad.
When the entire world becomes Dar al–Islām, submission to Allah will be the law of the whole universe, and Jihad al-Akbar reigns. Until then, war is the normal and lasting state of affair (Jihād al-Saghīr). Jihad as a Just War against the Kuffār appears as follows: Qur'an – 24%; Sīrah – 67%; Hādīth – 21%. The total Sharī'āh – 31%.
Domestic realm: al-Walā' wal-Barā' and al-Tā'ifah al-Mansūrah
The issue of Walā' wa-Barā' has also a domestic framework. Salafi-Jihadi groups and the Wahhabi Muslims believe they are the Saved Sect (al-Tā'ifah al-Mansūrah), the only group who has the correct Islamic beliefs. They are the real Ahl al-Sunna wal-Jamā'ah, while all other manifestations of Islam have deviated from the 'straight path' (Sirāt al-Mustaqīm), and by that destined for hell as 'apostates'. This principle is the basis of Takfīr doctrine the Jihadists use to identify their domestic Muslim enemies and to justify their elimination, as we see in Dawlat al-Khilāfah al-Islāmiyah.
Ibn 'Abd al-Wahhāb's concept of Takfīr, includes the command that anyone who does not show sufficient levels of Walā', allegiance to 'true Muslims', and adequate Barā', rejection of 'sinners', is at risk of committing apostasy. Abū Qatāda, the Jordanian-Palestinian preacher, has written on the subject. al-Tā'ifah al-Mansūrah reinforces Jihadists' self-belief being righteous; strengthen their mutual solidarity; and allows them to fight opposition to their views.
This has also to do with the issue is Tāghūt (false deity). Muslims have an obligation to struggle against Tāghūt on the mere assumption that it is against Allah or what Allah has revealed. This approach of Tāghūt depends on religious rulings issued by Wahhābi clerics, yet it is defined as anything that is antithesis of Islamic monotheism. 'Abd al-Majīd bin Muhammad al-Munī', a leading scholar for al-Qaeda in Saudi Arabia, explained that in order to achieve Tawhīd, which is the highest requirement of every Muslim, one must explicitly reject Tāghūt, otherwise he is an apostate.
Tāghūt is at the heart of the Salafi-Jihādi struggle against Arab-Muslim regimes that do not comply with their Islamic conceptions, and it legitimizes religious rationale behind their terrorist attacks. These are also based on the Hādīth: "Whoever changed his Islamic religion, then kill him." Salafi-Jihadi groups can accuse any ruler who implements a political system that conflicts with their exact interpretation of Islam as being Kafir.
al-Walā' wal-Barā' and al-Fitrah doctrine
The Fitrah doctrine is the Islamic concept of human nature, as the right action of submission to Allah. Fitrah is associated with the Dīn, as how Allah has created mankind and universe. Islam is called Dīn al-Fitrah, the religion of human nature, because its laws and its teachings are relevant to all universe and human beings.
The highest important Islamic use of Fitrah is the belief that actually all mankind from eter¬nity are Muslims. Allah, having created humankind, took a covenant with them that they all will believe only in Islam and obey only him and his messenger. All babies who come to the world were born Muslim, and only their cruel inconsiderate parents have changed their religion. The proof comes from the Old and New Testaments: all Jewish and Christian patriarchs and prophets were Muslims who preached Islam from the outset, and clearly testified that Muhammad is the Messenger of Allah and the 'Seal of all Prophets.'
In Sūrat al-Baqarah, Abraham prayed: "make us submit, oh Allah to your will." Later on one finds Jacob's sons declaring: "We shall worship your Allah and the Allah of Abraham and Ishmael and Isaac, the one and only Allah; and to him we submit." And later on, Jesus declares: "I am indeed a slave of Allah. Allah is my lord and your lord, so worship him alone." Then he asked: "Who will help me in the way of Allah?' And his disciples answered: we shall be the helpers of Allah. We believe in Allah; and you are our witness that we submit and obey." In Sūrat al-Nisā', one learns that Jesus, son of Mary, was only an apostle of Allah.
In its outrageous impudence, Islam declares that there are proofs of Muhammad's prophecy in the Old and the New Testaments. They quote Deuteronomy 18:17-9 and 34:12 that promise the coming of Prophet Muhammad as the seal of all prophets. In Deuteronomy, 33:2, when they quote: "The Lord came from Sinai and dawned over them from Seir; He shone forth from Mount Paran." For the Muslims, Sinai is the place where the Moses spoke to Allah and received the Taurât; Seir, is the place where the Jesus received Divine Revelation; and Paran is in Mecca in which Allah manifested himself to mankind for the last time through his revelation to Muhammad.
This is the basis of Islamic Messianic conversion. Aslim – Taslim was the strategy, the slogan-message that Muhammad sent to the non-Muslims, literally meaning "submit and you will be safe". This was accepted by all Muslim leaders: Da'wah Qablal-Jihād: the call to submit to Islam before Jihad war. Nowadays, the Da'wah, the propagation arm to deceive the infidels, works effectively to conquer the world by conversion, and the Fitrah doctrine has become the means to achieve it.
Summary
The doctrine of al-Walā' wal-Barā' signifies critical importance to understanding Islamic worldview and its conceptions towards the other. Befriending believers and battling infidels are critical pillars in Islam. It is so important that is it second only to Tawhīd, the oneness of Allah. Faith is incomplete without it, including renouncing and fighting domestic rulers. It is the criterion of distinguishing between the believers and the enemies of Islam. That is why Tawhīd will never be achieved on earth until the believers apply al-Walā' wal-Barā', by total following Muhammad's way of life, al-Sirāt al-Mustaqīm.
According to the Fitrah doctrine, it is the deep Islamic belief that Islam has the obligation to rule the world and to impose its Sharī'āh on humanity. The Kuffār who resist Islam and do not accept it by their own free choice are responsible for the persistence of violence and the absence of world peace. If only they were to accept the unavoidable reality and submit to the propagation of Islam, then the Muslims would not have to use al-Barā' and would not have to resort to Jihad to kill them. Submission is the only solution to world peace and it is for the best interest of humanity.
He who wishes to understand why the Muslims hate us so deeply; why Islam is a murderous automatic machinery system of hatred against the other; why this venom is so thoroughly implanted in every Muslim from infancy — al-Walā' wal-Barā' doctrine is the source and the answer.
Modernizing Higher Education for Economic Growth
Malawi has fewer affordable universities than it has students who want to go to them, leaving college out of reach for many. Enrollment in tertiary education is low, but more and more Malawians hunger for it. With IDA financing from the World Bank, Malawian citizens now have more options.
The five-year, $51 million Skills Development Project is helping public universities to strengthen and increase public access to programs that cater to sectors critical to Malawi's economic growth. These include engineering, natural resources extraction, agriculture, construction, health services, tourism, and hospitality.
Beyond the establishment of the National Council for Higher Education, project funding supports a range of activities at institutions, including improving course offerings and staff skills, renovating infrastructure, and setting up satellite facilities.
Market-relevant course offerings
To expand the range of scientific skills and mid-level technicians needed to fuel Malawi's economy, 39 new programs have been developed by universities, with the participation of the private sector ensuring their relevance to the economy. By 2017, these programs contributed 44 percent of the new student intake to public universities.
Diploma programs at universities have also been bolstered to increase the training of mid-level career personnel needed by various trades. For example, the University of Malawi's Polytechnic now offers 10 technician-level engineering diploma programs in subjects like mining, telecommunications, and health. By 2019, these programs are expected to have enrolled 750 diploma students.
Modernized facilities
One of the major constraints to increasing student enrollment at public universities has been space. At Chancellor College, where most of Malawi's secondary school science teachers are trained, more and better infrastructure is expected to make it possible to boost student intake by 65 percent. This includes modernized laboratories and four new lecture halls seating 350 students each.
This will go a long way toward meeting an increase in the demand for science teachers, following the introduction of physics and chemistry as separate subjects in the secondary school curriculum.
Mzuzu University is heading to be the country's center of excellence in tourism training. It is constructing a purpose-built tourism and hospitality facility that will produce graduates who are industry-ready.
Online and distance learning
The Lilongwe University of Agriculture and Natural Resources (LUANAR) and Mzuzu have introduced online and distance learning (ODL), resulting in increased enrollment at both. At LUANAR, online students make up 10 percent of the total student population. Between 2014 and 2016, Mzuzu increased its intake of online students tenfold. With more affordable fees and flexible options, the ODL system has helped to open access to higher education for many people nationwide.
"I enrolled through ODL because of its flexibility. I continue with my everyday life and yet I am studying at the same time. This is wonderful," says 45-year-old Joe Mwenye, a father of five and a teacher in Ngabu in Chikwawa district. He is studying at LUANAR for a Bachelor of Science in Agricultural Extension.
LUANAR has three ODL centers: one in the town of Mzuzu, another in Lilongwe, and another in Blantyre. Mzuzu University is opening satellite centers in Balaka, Karonga, Mulanje, and Lilongwe.
The Depth of Taboo: Social Issues in South Asia
Rarely does a geopolitical handbook also make such large and important contributions to uncomfortably critical social issues. This handbook is that rare example. The author Aryal takes our MD readers deep into some disturbing discussions – caste systems, systematic violence against women, rape, honor killings, gender stigmatizing, and societal sexism – not to just anecdotally expose people to some of the continued living horrors afflicting important regions of the world but to systematically analyze such atrocities so that their long-term political, economic, social, and diplomatic consequences are revealed.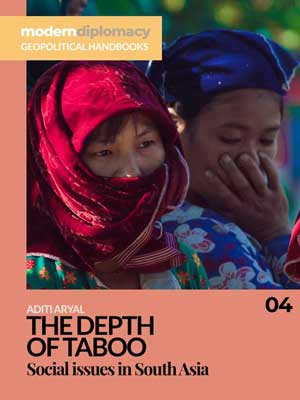 What many around the world do not realize is how crippling these gross abuses of human decency can be for a nation and region writ large: these are not just individual crimes to be noted and then forgotten. The failure of societies, the failure of GLOBAL society, to make more effective progress and take a more rigid stand against injustice is a black mark on all countries, on all of us. This handbook in its own small way strives to be a light within that darkness and as such it is both informative and courageous. While the readers of MD will not find the content of this particular handbook for the faint of heart, the importance of acquiring this knowledge, of becoming more aware of the world that we live in as it truly is in so many places, should be considered a duty of all those fortunate enough to not be born into states where such systemic violence still exists and largely goes unchallenged.
The title of this work is no accident and no shameless marketing attempt to attract more readers. Rather, it is exposing in a single word the reason why overcoming systemic violence based on gender is so difficult. Social taboos run deep in every region, state, city, town, village. We will likely not succeed in eliminating them from the social conscience of people. But the attempt to ameliorate the power of taboo, its power to push rationality out and pull insanity in, is a noble one that all of us at the editorial staff at MD recognize as silently essential for the cause of future peace on so many different levels. The battle against taboo is the secret front end of the war against gender violence and oppression. Ultimately, the criminal justice systems of societies must improve to remedy those actions not prevented from occurring. But the real long-term comprehensive solution will be the effort to eliminate the fear of social taboos, to eliminate the stigma that drives many to commit ignorant violence in the first place.
Women and girls with autism must be empowered to overcome discrimination they face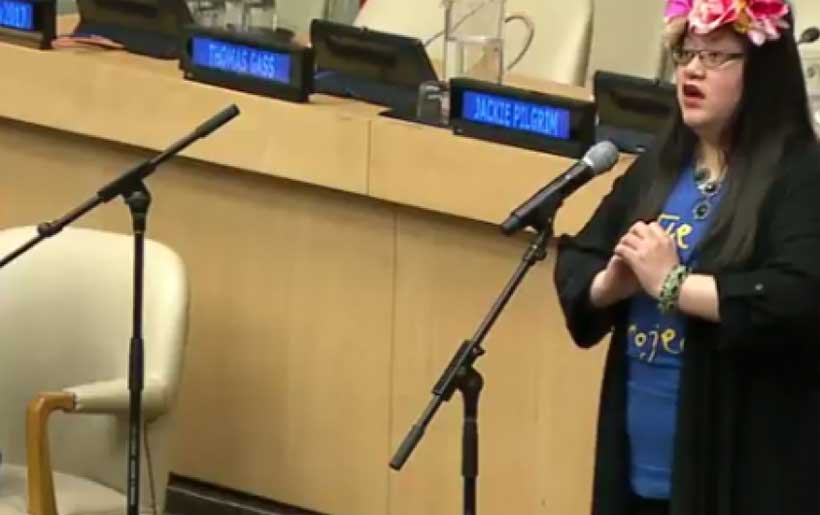 On World Autism Awareness Day, United Nations Secretary-General António Guterres has joined the global call to empower women and girls with autism and involve them and their advocates in policy and decision-making to address the discrimination and other challenges they face.
"They face […] barriers to accessing education and employment on an equal footing with others, denial of their reproductive rights and the freedom to make their own choices, and a lack of involvement in policy making on matters that concern them," said the Secretary-General in his message on the Day.
Emphasizing that "our work for gender equality and women's empowerment must reach all the world's women and girls," he stressed that the international community's efforts to achieve the Sustainable Development Goals (SDGs) must uphold the 2030 Agenda's core promise to leave no one behind.
The Goals and the landmark framework from which they emerged were adopted by UN Member States three years ago. Together they aim to wipe out poverty and boost equality by putting the world on a more sustainable economic, social and environmental path by 2030.
"On World Autism Awareness Day, let us reaffirm our commitment to promote the full participation of all people with autism, and ensure they have the necessary support to be able to exercise their rights and fundamental freedoms," concluded the Mr. Guterres.
Autism is a lifelong neurological condition that manifests during early childhood, irrespective of gender, race or socio-economic status. The term Autism Spectrum refers to a range of characteristics.
Autism is mainly characterized by its unique social interactions, non-standard ways of learning, keen interests in specific subjects, inclination to routines, challenges in typical communications and particular ways of processing sensory information.
The rate of autism in all regions of the world is high and the lack of understanding has a tremendous impact on the individuals, their families and communities.
The World Day is marked annually on 2 April, and this year's official UN commemoration will be on Thursday, 5 April, with a half-day programme in New York entitled Empowering Women and Girls with Autism, that will feature a keynote address from Julia Bascom, Executive Director, Autistic Self Advocacy Network.