'Demography is destiny.' Ben Wattenberg and Richard M. Scammon
In 1825 the world's population reached, for the first time, the figure of 1 billion with a doubling of the population 100 years later and on to 5.3 billion in 1990. It stands today at 7.5 billion.
A demographic transition is taking place worldwide but at different rates. Seven per cent of the world's population is over 65, and this is unevenly spread, with. Africa has the world's youngest population, with Europe and Japan harboring the smallest number of children.
By 2050, the world's population is expected to number 9.5 billion, assuming present trends continue, at which time the population of the developing countries will be 6 times larger than that of the developed countries due to higher fertility rates. The increase in the world's population will be identical to the number of people on the entire planet back in 1950.
In Africa, some countries will see their population triple, requiring the building, each week, of a town of a million inhabitants.
On the other hand, in East Asia, the birth rate is collapsing. China and Japan have among the world's lowest birth rates – Hong Kong's is below 1 – and in Japan 14% of the population is over 65 years old. At the present fertility rate of 1.25 child per woman, the country's population will be of only 60 million in 2100.
China's population is also forecast to decrease to less than 20% of the world's population but the country will have 25% of the world's senior citizens.
A sustained fertility rate of 1.3 means that, over a century, a country would lose 75% of its population.
Europe's declining birth rates
Over the past three centuries, Europe's population multiplied fivefold and if you include the population of European origin that immigrated worldwide, we are led into a sevenfold increase.
The main reason for this increase was due to a reduction of mortality. At the beginning, this decline was gradual and ascribed to a more productive agriculture, trade that enriched European nations, the industrial revolution, advances in medical knowledge, better nutrition, a more relaxed lifestyle and better public order. Starting in the nineteenth century, a drastic reduction of mortality of infectious and contagious disease to nearly zero increased life expectancy at birth from 35 years to 70 years.
Other contributing factors for this increase were the decline in female fertility as women entered the professional world in ever larger numbers. They also had easy access to birth control methods.
The number of working-age adults increases and the economy grows as not only the economic contribution of the population increases, but also the social contributions decrease. This is called the 'demographic dividend'. It is, however, at this stage that the state must undertake productive investments such as in education and health infrastructure in particular to support old age.
Birth rates increased in the last quarter of the nineteenth century, but remained below that of other parts of the world. European population was always constrained by the use of traditional birth control methods, a low number of extra-marital births, a late marriage age and a fairly large percentage of unmarried persons.
Low birth rates are a worldwide trend, and if every woman will only have a single child, the world's population in 2075 will be of 1.6 billion. Europe, in particular, is suffering, and is forecast to continue to suffer of depopulation. Its present population of 740 million is expected to drop to 707 million by 2050 and of 646 million by 2100.
For a population to remain stable, the total fertility rate – the number of children a woman will have in her lifetime should be of 2.1. In eastern and southern Europe, the figure is presently of 1.3, and in some areas has dwindled to 1. In Germany, nearly 30% of the women born in 1960 have not had any children. Russia is losing half its population every 40 years and its underpopulated large land mass could be seen as an invitation by China.
When birth rates eventually decreased, they brought about a new vision of the family, with women succeeding in roles other than that of wives and mothers and with reduced coital rates. Fertility was increasingly controlled by females rather than males.
Urbanization played a leading role in the drop in birth rates. The smaller family became the reference in Europe first, and then spread to many other countries. Urban couples did not have the social pressure that rural families had, of having children rapidly becoming economic contributors.
In an urban environment, individual success is important and family ties lose their primary role as education, health and employment is ensured by institutions other than the family. Children become a cost rather than an asset.
This led to a demographic transition of low birth rates and long life expectancy which helped the population of Europe and of the world grow.
The transition normally starts with low child mortality; children being the first beneficiaries of increased survival. In Europe, today, nearly all births occur in a hospital environment with a large number of precautions taken including for premature children.
In Europe, the countries that were rich at the end of the Second World War, such as in Scandinavia and North-West Europe, saw the number of traditional families decline as women had satisfying employment opportunities and individualism was on the rise. Everything was postponed, from leaving school to dying. Postponing births eventually results in women being too old to be pregnant.
Professional women tend to cheat more, divorce more often, have fewer children, and more often than non-professional women feel sorry of having married and having had children.
Women concentrating on their careers find the stress of caring for children – which, in today's society takes an increasing amount of parents' time as well as a change in the relationship between parents – a burden, particularly if the household work – usually considered as a low-level type of work – is not shared with the male parent. Women have a major decision to make as to whether they pursue a career, marry or build a family. They will select cohabitation as against marriage if they believe that being married will hinder their possibilities of career advancement. Investments in child care infrastructure and a balance between life and work lead to increased birth rates. Women must have the possibility of returning to their jobs after a pregnancy and maternal leave.
Women pursuing careers may study for long periods of time and therefore they will have their first child at an advanced age, thus limiting the number of children they will have. Mothers having their children at a more mature age translates into older grandmothers, if they would still be alive, who may not be able to assist their daughters or grand-daughters. The non-availability of this care may reduce even further the propensity of women to have children.
Increasingly they may not want to mate, preferring to enrich their lives financially and intellectually, or will select low-fertility partners. They may find there is a lack of desirable partners. Pressure put on by media as the looks of women, slim and a canon of beauty, may also lead women to opt for a slimmer look to the detriment of family formation or even partnership and sex with a man.
In the Mediterranean countries where family values were supported by culture and governments, the transition took place later. In Southern Europe, as children stay with their parents until marriage, by the time they leave home, they are at a more advanced age than adults from Northern Europe, and therefore are more likely to have fewer children. They are also less likely to take financial risks by taking responsibility for a family. This has been called the 'delay syndrome.'
In Central and Eastern Europe where communism collapsed and with it went the allowances and a large number of free services, families hesitate to assume the burden of a child.
As societal pressure is determinant in defining the number of children a couple will have, a smaller family became the social norm. It fulfilled in a minimalistic manner the social pressure to have children.
One of the most important elements in social pressure is religion and all religions encourage a strong birth rate. Hence, in industrial societies, as religiousness wanes, so does the size of families.
A theory suggests that as children survive, there is no need for families to have 'replacement' children in case of death and the child become the child-king. Another theory proposes that since children no longer look after their parents, they do not need to bear the cost of bearing them. A third theory proposes than in resource allocation, families today prefer spending their funds on matters other than raising children which they will have only if the benefits outweigh the costs. The benefits are essentially emotional and a response to societal demands including that of creating new networks such as with other school parents and later in time with the in-laws. The costs have their origin in education, the purchase of food and other products, and possible tensions between the parents as the fathers concentrate on their professional activity to create wealth for their family, which often translates in absences from the family.
Job instability has also had a negative impact on the willingness of couples to start a family.
Women's libido appears to be on the wane and men's sperm count is decreasing and the spermatozoids are less active probably due to the chemicals absorbed in the diet. Obesity in both men and women also affects their fertility.
The large number of leisure activities easily available and the ideas that freedom and personal development are essential to a happy, productive life are major distractors and inhibitors to starting a family. The ubiquitous nature of erotic and pornographic images leads men to view their companions as exclusively a sex image and not a partner with whom to establish a family. At the other end of the scale an ever increasing number of men have opted out of sex altogether.
Education, in turn, impacts fertility in a number of ways. It allows reaching a better status and material conditions, it improves the ability of women to select the right partner who has the same level of education and may also be reluctant to have a large family, and it leads to better informed women and therefore larger use of contraceptives, and increases the opportunity costs of childbearing.
Financial issues are also a hindrance to starting or expanding a family. Educated couples may also prefer to concentrate their wealth, during their lifetime or through inheritance, on a single child.
Increasingly, in an unstable world, would-be parents, particularly younger couples, are afraid of conceiving children in what could be a very different and dangerous world.
The availability of contraceptives and the legalization of abortion have also been contributing factors. They not only enabled women to postpone pregnancies but also sharply reduced unwanted pregnancies.
In Southern Europe, as children stay with their parents until marriage, by the time they leave home, they are at a more advanced age than adults from Northern Europe, and therefore are more likely to have fewer children. They are also less likely to take financial risks by taking responsibility for a family. This has been called the 'delay syndrome.
The one population segment that is growing in Europe is the Muslim population that, even though it averages only 5% of the population, with the notable exception of Russia where it reaches 15% and France with 10%, may eventually bring about major changes in society as their culture is essentially very difficult from the permissive and liberal European culture. if Muslims maintain a high fertility rate, we could witness a repeat of what is believed to have taken place with the Christians in the early days of the church in Rome, with a small group rapidly gaining in importance and leading the emperor himself to convert.
However, the fertility of Moslems in Europe is declining rapidly, adjusting itself to that of the native European population, and thus showing that immigration is not a viable alternative to stop population decline. Migration does, however, contribute to replace an ageing workforce.
Nearly 50 million migrants will have to be admitted to the European Union by 2050 for the population to remain stable. For the retirement benefits to be maintained at their present level of 4 active persons per pensioner, the figure for migrants is even higher, reaching 13 million a year. Presently there are 11 million migrants in Europe and an unknown number of illegals.
There are other ways through which this decline could be halted. One of them is through the entrance of candidate countries which, like Turkey, have a growing demography.
As birth rates decline, due to personal choices, both the number of children and the population, over time, shrinks. The working age population decreases and fertility declines even further. Eventually there is the third transition period with all age segments of the population declining.
An ageing society
In the world today, for the first time in human history, old people outnumber the young. In developed countries, 20% of the population is older than 60. Worldwide, 1% of the population is over 80 and, being the fastest growing age group, is due to reach 4% by 2050.
Since the middle of the 19th century, life expectancy has increased by 3 months every year, leading to the forecast that by 2060, it will have reached 100 years and possibly even higher if life-extension drugs or technologies are developed.
Europe has the world's oldest population, with 22% being over 60, and 1% being older than 80, this last figure is expected to reach 4% by 2050.
Women still have a longer life expectancy than men, but the difference is narrowing and may not be sustainable over the long term. Smoking by women, together with the adoption of social habits that used to be reserved to men, is believed to be the major culprit in allowing this difference to narrow.
While the average sex ratio at birth favors males by approximately 105 boys to 100 girls, the ratio reverses itself with age as women have a longer life expectancy than men. For the population over 60, the figures are of 82 men for 100 women and decreases to 55 men for 100 women at age 80. The ratio at these older ages is even lower in Europe with 69 men per 100 women at the age of 60, and 42 men per 100 women at the age of 80. One of the reasons for the difference between Europe and the rest of the world is the large number of young men who died during the Second World War.
Explanations for the longer life expectancy abound. One of them is that the present generation that is retiring is the first to have known both antibiotics and vaccines. They also received a better nutrition as food prices decreased.
Economic and political issues
All the models indicate that economic growth can only take place if there is demographic growth.
Several countries have introduced pro-natal policies such as the financing of day-care centers, fiscal advantages, payments at birth, etc. Research has shown that these policies incite families to have children earlier, but not to have more children.
Older persons are conservative and risk-averse. Therefore it is more than likely that entrepreneurial actions will decrease. Savings will also be on the decrease and lead to higher interest rates increasing the cost of investments. Inheritances, except for the wealthy, will be paltry, leading the younger generations to have reduced wealth.
Pensions and health care costs will soar as the number of people gainfully employed shrinks compared to the number of elderly retired. The increase in the pension and health care budget for France, for instance, is set to increase by 13% and reach five times what the country spends on defense.
Health care for older people is an expensive undertaking, particularly in the treatment of terminal diseases such as the setting of implants and cancer, both of which are a common occurrence on people over 65. A solution to curb these rising costs is to reduce reimbursements or increase insurance premiums or taxes but there is a limit to the acceptance by the tax payer of new increases. Another option is a strict limit set by the government on prices of medications and hospital equipment as is the case in Japan.
As the workforce will decrease, employment of older people may be encouraged by governments through the removal of social contributions and other social payments from corporations, through investments in lifelong learning and by applying penalties on corporations discriminating on the basis of age.
On the positive side, however, new opportunities for employment and for entrepreneurs will be created by the so-called silver economy. These relate to new products and employment in areas as diverse as health care, assisted domestic living, education, travel, spas, etc.
However, even if a number of these urgent measures are applied, the relative importance of Europe in the world will no doubt diminish.
Another action European governments could take to help slow population decline, is to reduce the number of preventable deaths due to alcoholism, car accidents, suicide and smoking for persons under 65 years of age.
Forecasts
Forecasting not being an exact science, there are several forecasts as to the future population of the world and of Europe.
One suggests that future fertility rates will vary, depending on the country, between 1.35 to 2.35 children per woman, leading to a world population in 2030 of between 7.7 and 10.6 billion.
By 2050, Asia's population will be of over 5 billion and that of Africa nearly 2 billion. India will be the most populated country with 1.4 billion inhabitants.
The world's population of over 60 will double to 22% of the total population by 2050 and will be larger than the number of children and in the developed countries will be twice the number of children.
Europe's population is expected to drop by 7 million between now and 2050 and it will only represent 7% of the world's population in spite of the fact that the populations of France and Great Britain are expected to continue to grow. The countries with the sharpest growth will be Romania and Croatia.
The European continent appears to be moving to an empty land populated mainly by older persons who will sink into poverty as the number of working people decreases. Should large waves of immigrants or the introduction into the EU of Turkey be allowed replace the existing population, European culture will disappear.
Goodbye Europeans, Farewell.
Dayton Peace Accord 23 Years On: Ensured Peace and Stability in Former Yugoslavia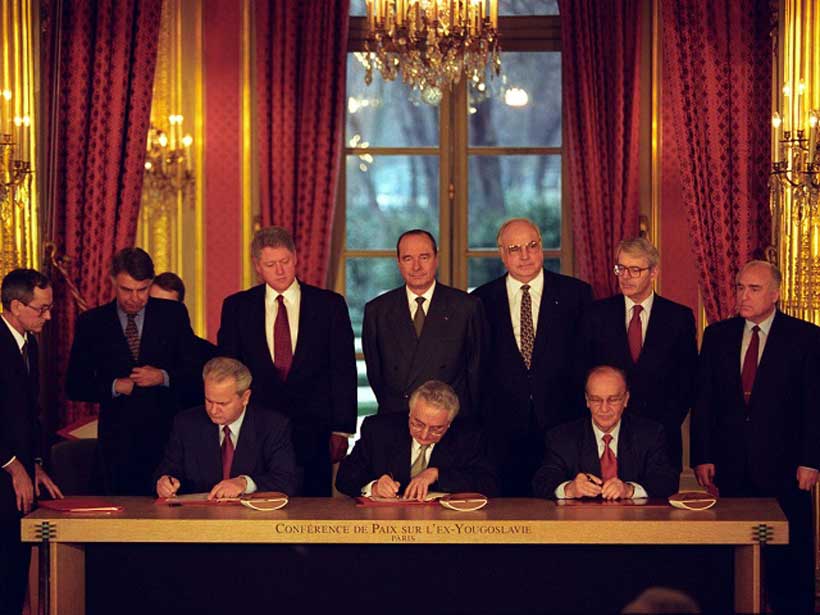 For the past twenty-three years life has been comparatively peaceful in the breakaway republics of the former Yugoslavia. The complicated civil war that began in Yugoslavia in 1991 had numerous causes and began to break up along the ethnic lines. The touching stories and the aftermath effects of the breakaway republics of Bosnia- Herzegovina, Croatia and in Kosovo are still unfolding. Though the numbers of deaths in the Bosnia- Herzegovina conflict in former Yugoslavia are not known precisely, most sources agree that the estimates of deaths vary between 150,000 to 200,000 and displaced more than two million people. During the conflict a Srebrenica a North-eastern enclave of Bosnia once declared as a United  Nations  (UN ) safe area" saw one of the worst atrocity since second world war.
It has been estimated that more than 8,000 Muslim Bosniaks were massacred in Srebrenica and it was one of the most brutal ethnic cleansing operations of its kind in modern warfare. The US brokered peace talks revived the a peace process between the three warring factions in Bosnia- Herzegovina. For Peace in Bosnia and Herzegovina a United States (US ) -brokered peace deal reached in Dayton on 21st November 1995. In a historic reconciliation bid on 14 December 1995 , the Dayton Peace Accord was signed in Paris, France, between Franjo Tudjman president of the Republic of Croatia and Slobodan Milosevic president of the Federal Yugoslavia (Serbia and Montenegro), Alija Izetbegovic, president of the Republic of Bosnia-Herzegovina.
When conflict in Bosnia- Herzegovina, Croatia ended, the reconciliation began between ethnically divided region. The US played a crucial role in defining the direction of the Peace process. In 1996, North Atlantic Treaty Organization (NATO) -led 60,000 multinational peace enforcement force known as the Implementation Force (IFOR)) was deployed to help preserve the cease-fire and enforce the treaty provisions. Thereafter, the Court was established by Resolution 808 and later, Resolution 827 of the United Nations Security Council, which endorsed to proceed with setting up of the International Criminal Tribunal for the former Yugoslavia (ICTY) to try crimes against humanity . International Criminal Tribunal for the Former Yugoslavia (ICTY) was the first United Nations (UN) war crimes tribunal of its kind since the post-second world war Nuremberg tribunal.
In the late 1990's, as the political crisis deepened a spiral of violence fuelled the Kosovo crisis between the Kosovo Liberation Army (KLA) and the Yugoslav forces. Unlike the Bosnia- Herzegovina, Kosovo was a province of Serbia, of former Yugoslavia that dates back to 1946, when Kosovo gained autonomy as a province within Serbia. It is estimated that more than 800,000. Kosovos were forced out of Kosovo in search of refuge and as many as 500,000 more were displaced within Kosovo.
Subsequent t hostilities in Kosovo the eleven week air campaign led by NATO (North Atlantic Treaty Organisation) against Yugoslavia in 1999 the Yugoslavian forces pulled troops out of Kosovo NATO. After the war was over, the United Nations Security Council, under the resolution 1244 (1999) approved to establish an international civil presence in Kosovo, known as the United Nations Interim Administration Mission in Kosovo (UNMIK). Nevertheless UNMIK regulation No 1999/24 provided that the Law in Force in Kosovo prior to March 22, 1989 would serve as the applicable law for the duration of the United Nations Interim Administration Mission in Kosovo (UNMIK).
In this  context reconciliation is a key to national healing of wounds after ending a violent conflict. Healing the wounds of the past and redressing past wrongs is a process through which a society moves from a divided past to a shared future. Over the years in Serbia, Bosnia- Herzegovina, Croatia and in Kosovo the successful peace building processes had happened. The success of the peace building process was possible because of participation of those concerned, and since appropriate strategies to effectively approach was applied with all relevant actors. The strengthening of institutions for the benefit of all citizens has many important benefits for the peace and stability of former Yugoslavia. Hence, the future looks bright for the Balkan states of Serbia, Bosnia- Herzegovina, Croatia and Kosovo.
Hungarian Interest, Ukraine and European Values
Diplomatic conflicts that have recently arisen between Hungary and its neighboring countries and the European Union as a whole most clearly show the new trend in European politics. This trend is committing to national and  state values of a specific  European country, doubting  the priority of supranational  interests within the European Union. Political analyst Timofey Bordachev believes that "the era of stale politics and the same stale politicians, who make backstage decisions based on the" lowest common denominator," are finally coming to an end. Politicians with a new vision of the world order come to power, such as Hungarian Prime Minister Viktor Orban, Austrian Federal Chancellor Sebastian Kurtz, or the new head of the Italian Interior Ministry, leader of the right-wing League of the North Party, Matteo Salvini ".
It is not the first year that Hungary is trying to protect the interests of its citizens and the state from external influence, to protect the Hungarians in the territory of neighbouring states  by establishing for this  a special position (Commissioner  for the development of the Transcarpathian region of Ukraine), to determine relations with other countries on the basis of their attitude to the rights of Hungarians. This is how conflicts with the European Union arose, after Hungary refused to let migrants into the country, in the same manner, a conflict  arose with Ukraine, which is trying to build a state ideology, based on nationalism, which a priori does not provide for the proper level of realization and protection of the rights of non-titular nations.
In relation to Hungary, Ukraine follows the same policy as in relation to Russia – to initiate various accusations, to call for punishment, to talk about the inconsistency with European values of the Hungarian policy under the leadership of  Orban. Doing so Kiev has its multifaceted interest: cooperation with NATO and the EU, support  for any decisions of Brussels, the anti-Russian course, domestic policy based on the nationalist  ideology. And in all these areas  Hungary poses  a problem for Ukraine. In the description of relations with Hungary  Kiev even  uses the word "annexation".
Hungary is hardly planning to seize any Ukrainian territory, but on what  grounds Ukraine falsely accuses Hungary of its annexation intentions in relation to Transcarpathia?  The Ukrainian side highlights several positions:
Issuing Hungarian passports  to Ukrainian citizens (ethnic Hungerians)
This  is an old story, it has come to light again recently due to the growth of Ukrainian nationalism. Moreover,  there are concerns about the implementation by Hungary of the "Crimean scenario" in relation to Transcarpathia.
The Hungarian government has created the position of  "Commissioner  for the development of Ukraine's Transcarpathian region and the program for the development of kindergartens in the Carpathian region".
Ukraine demanded an explanation. A note of protest was delivered to the Hungarian Charge d'Affaires in Ukraine, and the Foreign ministers of Ukraine and Hungary had a telephone conversation on the problem. Hungary continues to ignore the requirements of Kiev.
Ukraine fears further disintegration processes
At the same time, in Kiev there is no understanding  of the fact that combining the ideology of nationalism with the country's national diversity and European integration is hardly possible.
Ukrainian experts note the growth of separatism in the Transcarpathian region, as well as the "strange behavior" of the governor, who plays on the side of Hungary. They also complain that "pro-Ukrainian ideology"(?) is not being сonsolidated in Transcarpathia, and this region is not controlled and monitored by  the Ministry of information. In a word, the state is losing control over the territory, which it neither develops nor controls. Such behavior of the governor and the region's residents may indicate that the state is not sufficiently present in the lives of residents of Transcarpathia, and this a financial and humanitarian drawback they compensate with the help of Hungary, – experts believe.
Apparently, Ukraine is unable to reach an agreement with Hungary as relations are tense. In response to the Ukrainian law on education, adopted in the fall of 2017, which infringes the rights of national minorities, Budapest blocked another, the third, Ukraine-NATO meeting. Ukraine witnessed this embarrassing  situation  in April 2018.  At the same time elections were held in Hungary, in  which Viktor Orban's party won a majority in the parliament. Such a tough stance of Budapest in relation to the Ukrainian educational policy Kiev considered to be just a sign of electoral populism. However, this was a mistake.
Viktor Orban's victory in spring 2018 was convincing, and a convincing victory means obvious support of his migration policies as well as his support  for compatriots abroad. The party of Orban – Fides – not only won a majority but a constitutional majority – 133 of the 199 seats  in the National Assembly of Hungary.
There is no doubt  that Hungary has become Ukraine's another serious opponent in the process of its European integration. And it is unlikely that either  country  will take a step back: there will be presidential elections in Ukraine soon, and in Hungary, the victory won by Orban, apparently, confirms the  approval of his independent  foreign  policy  by  the citizens.  So the conflict is likely to develop.
First published in our partner International Affairs
Belt and Road Alternatives: The European Strategy
The European Union (EU) has put forward a plan for enhancing connectivity within Asia, which has been dubbed as the Asia Connectivity Strategy.
The EU does not want to give an impression, that the Asia Connectivity Strategy (ACS) is a counter to the Belt and Road Initiative (BRI). Yet, senior officials of the EU, while commenting on the broad aims and objectives of the project, have categorically stated, that the primary goal of the Asia Connectivity Strategy, is enhancing connectivity (physical and digital) while also ensuring, that local communities benefit from such a project, and environmental and social norms are not flouted (this is a clear allusion to the shortcomings of the BRI). There are no clear details with regard to the budget, and other modalities of the project (EU member countries are likely to give a go ahead for this project, before the Asia-Europe Meeting in October 2018). EU has categorically stated, that it would like to ensure that the ACS is economically sustainable.
Other alternatives to BRI 
It is not just the EU, but even the US, along with Japan and Australia. which are trying to create an alternative vision to the BRI.
The US alternative to the BRI, is being funded by the recently created United States International Development Finance Corporation (USDFC) (an organization which will merge Overseas Private Investment Corporation and other Development Finance Programs) which came into being after the passing of the BUILD  (Better Utilization of Investments leading to Development) Act recently.
It would be pertinent to point out, that the US which has been accused of lacking a cohesive vision to counter China's BRI has in recent months spoken, on more than one occasion, about greater the dire need for robust connectivity in the Indo-Pacific. In July 2018 US Secretary of State while speaking at the Indo-Pacific Business Forum committed an amount of $113 million for U.S. initiatives to support projects related to digital economy, energy, and infrastructure. The Secretary of State, while speaking about close links between US and Indo-Pacific, also spoke about the need for greater private sector involvement in projects in the Indo-Pacific. Pompeo off late, has also been reaching out pro-actively to a number of countries in South East Asia, and visited Malaysia, Indonesia in August 2018.
It would be pertinent to point out that OPIC  (now part of USFDC) has already signed with the overseas finance development arms of Japan and Australia, and is in talks with India to work jointly. Some of the areas being explored for joint investments are energy, infrastructure.
It is not just the US, even Japan has come with it's own alternative, Partnership for Quality Infrastructure (PQI), to the BRI.
Potential Appeal of the Asia Connectivity Strategy
So the question then arises, why would countries seeking an alternative to China, not come on board the US' connectivity initiative. The 'Asia Connectivity Strategy' may be especially acceptable to leaders, who do not want to be seen as blindly following US diktats, but who are also uncomfortable with Beijing's economic policies, and want to avoid falling into what has been dubbed as Beijing's 'debt trap' diplomacy. A perfect example being Malaysian Prime Minister, Mahathir Mohammad who scrapped projects worth 40 Billion USD, and also referred to the rise of a 'new colonialism' being promoted by China. The Malaysian PM has not shared a particularly cordial relationship with the US in the past. While addressing the United Nations General Assembly (unga), Mahathir made some interesting points, saying that Malaysians want a Malaysia, which seeks relations based on 'mutual respect' and a Malaysia, that is 'neutral' and 'non aligned'
EU itself trying to strike a balance
EU Chief, Jean Claude Juncker, has been pitching for a more pro-active response to Trump's insular policies, as well as China's BRI. Given the fact, that EU has taken a divergent stand from US on the Iran issue, and has proposed a Special Purpose Vehicle (SPV) which will ensure that trade with Iran continues, even before the impending US sanctions to be imposed on Iran in November 2018. The SPV was announced, jointly with Russia and China, on the sidelines of the UNGA.
At the UNGA, French President, Emmanuel Macron disagreed with Trump's views with regard to Iran, and supported the 2015 Vienna Accord. Said Macron: We know that Iran was on a nuclear military path but what stopped it? The 2015 Vienna accord."
While it remains to be seen, if the SPV set up by EU works or not, but a number of countries which do not want to be part of the Chinese or American orbit would be attracted towards the EU, in spite of all the problems it is facing, due to it's capacity to take an independent stand.
Asia Connectivity Strategy is not only about competition
It remains to be seen whether the Asia Connectivity Strategy can gain traction. In terms of connectivity, there may even be strong overlaps with the 'Indo-Pacific vision'. France, which has strengthened strategic ties with Australia and India, is already seeking to play a pro-active role in the Indo-Pacific.
French President Emmanuel Macron had referred to the need for a strong Paris-Canberra-New Delhi axis, during his Australia visit, as a counter to China's increasing assertiveness.
Interestingly, while there is a realization, that Asian Connectivity Strategy has a competitive element, and there are some clear differences between EU's strategy and BRI, there are also some who believe, that there is space for collaboration between the Asia Connectivity Strategy and BRI. This point has been put forward by some policy makers and strategic commentators in EU, as well as sections of the Chinese media. Wang Wen Wen in an article for the Global Times, argues:
'Asia needs Europe as much as it needs China. Since the EU and China are the two largest economic entities in Eurasia, it is vital that they steward the continent's economic development agenda. Some programs in the BRI have carried out cooperation with the European side on technology and equipment procurement.'
In conclusion, the Asia Connectivity Strategy is an interesting idea. A lot will depend upon available resources and the response of potential stakeholders. But EU going ahead with such an initiative in spite of numerous problems within is truly laudable.