Is the Islamic Caliphate State (Dawlat al-Khilafah al-Islamiyah) Islamic?
The Islamic Caliphate State is the fourth stage in the development of an Islamic Jihadi terrorist group. Historically, there was the Jama'at al-Tawhid wal-Jihad (the uniqueness and Jihad group), established by Abu Mus'ab al-Zarqawi, Jordanian citizen with a Palestinian identity.
Al-Zarqawi promised once he achieve these goals, he would establish an "Islamic Emirate." In June 2006, Abu Mus'ab al-Zarqawi was killed, and Abu Ayub al-Masri (Abu Hamzah al-Muhajir), an Egyptian citizen, took his place and established the Dawlat al-Islam fil-Iraq (the Islamic State in Iraq=ISI). Its military leader was Abu 'Umar al-Baghdadi. In April 2010, both al-Masri and al-Baghdadi were killed, and Abu Bakr al-Baghdadi took the leadership of the Islamic State in Iraq.
In April 2013 al-Baghdadi decided to withdraw from al-Qaeda and to expand his organization's name from the Islamic State in Iraq (ISI) to the Islamic State in Iraq and greater Syria (al-Dawlah al-Islamiyah fil-Iraq wal-Sham=Da'esh, ISIS). On June 29th 2014, al-Baghdadi has coroneted himself as Caliph Ibrahim, Amir al-Mu'minin, being a descendent of Prophet Muhammad. He also declared the establishment of the Islamic Caliphate State (ICS), with the aim to topple down Arab-Islamic regimes, as the first stage. From that date on, there is no longer ISIS or ISIL or DAESH, but ICS. Those who continue to define it with these names, prove the inability to understand the situation and the complexities posed by this organization.
Who or what is ICS?
It is a Salafi-Takfiri organization characterized by an un-selective Jihad terrorist operations with the aim of bringing back the 7th century Islamic rule of the Fourth Califs (al-Khulafa' al-Rashidun) as the ideal Islamic rule to humanity. At the end of 2015, it has become the largest and strongest Islamic Organizations with more than fifty Islamic groupings operating under its leadership, a proto-state that has representations in at least thirty states in the Middle East, Africa and Asia. It has become the most important and influential non-state player in the entire international relations, and its political influence is perhaps more dangerous than its operational, being an attractive model of imitation for the Muslim believers.
Western political leaders, the media and the cultural-academic elite do not understand the situation. Every time there is a Jihad attack, they respond in the same routine way: Islam is the religion of peace, and Muslims are in fact not extremists. This reality is confusing and embarrassing: how does one determine this when the subject itself says he is Islamic and all his declarations, behavior, ideology and acts are Islamic? Something is really deeply odd, let alone confusing and embarrassing, relating to this issue when it comes to Islam. Western leaders are determined never to connect the dots and never to declare the obvious.
Construct and organization
ICS is an Islamic Salafī-Takfīrī organization that takes its ideology from Islam and acts exactly according to Islamic teachings. It is Islamic in its character, ideology, and objectives. Its political system and its governmental branches are purely Islamic. The flag, the anthem, and the rulings are all in accordance to Islamic teaching. They abide by Islamic commandments and they use a religious Islamic counseling. ICS has state symbols: a flag; passport; maps of political objectives; coin, and all other parameters of states. Most important is the educational system based on the Madrasah Islamic framework. It runs the political economic and social governmental machinery exactly according to the Islamic teachings.
Its uppermost religious-political institute is Majlis al-Shûra lil-Mujāhidīn, the religious Counseling Council that dictates their activity. It confirms, after studying the Islamic Scriptures, the horrific executions and slaughtering of the infidels, confirm by Fatawā, Islamic religious rulings. There is Majlis al-Sharī'ah, the Constitutional Council that deals with the constitutional, security, finance, and general administration aspects. There is also al-Majlis al-'Askari, the Military Council, the central body of the military activity and operations.
Beheadings and massacres
Two verses from the Qur'an call to behead the Kuffār whenever and wherever they are. Sûrat Muhammad, 47:4, declares: "So when you clash with the infidels smite their necks until you overpower them… until war shall have come to an end." Sûrat al-Anfāl, 8:12, declares: "I shall fill the hearts of the infidels with terror. So strike off their heads on their necks and every fingertips." ICS also follows the Qur'anic teachings that terrorizing Islamic enemies brings success to the Muslims, since Allah commands acts of terror against the infidels. Sûrat al-'Imrān, 3:151, declares: "We shall strike terror into the hearts of the infidels… Hell is their residence…" Sûrat al-Anfāl, 8:12, declares: I shall fill the hearts of the infidels with terror…" Sûrat al-Anfāl, 8:60, declares: "Prepare against them whatever arms and cavalry you can muster, that you may strike terror in the enemies of Allah and your own…" Sûrat al-Hashr, 59:2, declares: "Allah came upon the people of the Book, and filled their hearts with terror."
ICS also follows Muhammad's example who ordered the execution by beheading of seven hundred men of the Jewish Banu Qurayza tribe in Medina. There are also many other examples of Muhammad's orders to behead the enemy of Islam, appear in his biography by Ibn Ishāq, The life of Muhammad. Crucifixion is another part of beheadings. ICS members love chopping the heads off while their victims are crucified. By that they follow the Qur'an (Sûrat al Mā'idah, 5:33). Muslims are to fight the infidels, as Allah heals the hearts of the believers (Sûrat al-Taubah, 9:14–6).
Khalid Ibn al-Walid is one of the uppermost heroes and models of ICS. During the first internal war, the Ridda, in 632–3, he beheaded, burned and massacred all those tribes, men, women, children and the elderly, who left Islam after Muhammad's death. For his utmost cruelty, he received an honorary name: Sayf al-Islām, the sword of Islam. In 633 he massacred and beheaded tens of thousands of Persian prisoners in the battle of the Red River, in Southern Persia. It was him who declared at the battle of Yarmuk, year 636: "we are a people who drink blood, and we know that there is no blood more delicious than the Byzantine blood." Following that, one of ICS members, named Khalid (!) has eaten the heart of a Syrian soldier.
There are more. The Umayyad dynasty have massacred and beheaded all the clan of Ali's family, including little babies. The Umayyad themselves where all massacred by Abbas Dynasty in 750. The Ottoman Empire used the most horrific inhuman acts of massacres and beheadings in the occupation of Constantinople and Athens. They operate the first modern genocide of the Armenians and the Greeks. What the Muslims done to the Buddhists in India is one of the darkest chapters in human history.
ICS follows these examples by herding and marching off hundreds and thousands of male hostages each time, where they shoot them in the head and throw them into the river one by one; or when they put them on lines and in trenches the victims dig, and shoot them by machine guns. However, what the Islamic Caliphate State members love extremely most is all kind of beheadings, with small knives, and then cheerfully show the heads, play football with the heads, or pile them in the main streets and roundabouts. They also educate their youth, ordering small kids to learn the profession of beheading or shooting. It is all done while quoting verses from the Qur'an that justify the massacre and shouting "Allāhu Akbar" against the infidels.
The Islamic hostility to the Cross is an unwavering fact of life, one that is very much indicative of Islam's innate hostility to Christianity. It has started with Muhammad's repugnance to the Cross who called it piece of idolatry; it has continued with the "Pact of Umar" which forbade the display of the Crosses, and it has culminated to a new peak with the ICS members slaughtering men on the cross. In their "communiques to the West" ICS leaders have declared: "We will conquer Rome, break your crosses, and enslave your women… we will cast terror into the hearts of the cross worshippers." In Libya, one of Islamic Caliphate State leaders has declared: "We will fight you until Jesus descends, breaks the cross, and kills the pig."
ICS members are excellent narrators. The main idea is to legitimize beheadings, slavery, and gang-rape by reference to Islamic history and theology, being a powerful narrative of Jihād Fī-Sabīlillāh. Moreover, beheadings are done by the use of the most important Islamic weapon, the sword, with the symbolism of blood ritual. On February 3, 2015, ICS has released a video claiming to show horrifying burning of the captured Jordanian pilot, Maaz al-Kassasbeh. The video is entitled, "Healing the Believers Chests," a slogan taken from the Qur'an (Sûrat al-Taubah, 9:14). The basis for this is Muhammad's declaration from the Hadith (Sahīh Bukhārī, 1:11:626).
The problem is not with Muslims, as they clearly and utterly declare their objectives and how to obtain them. They don't hide behind, and they reveal their world mindset openly. The problem is exactly with the West that does not wish even to discuss the situation concerning Islam and Muslims. It is not a sign of tolerance when one deliberately silences himself against reality; is it rational when one artificially differentiates between Islam as a peaceful religion and "extremists" who high-jacked Islam? Doesn't it show that we have lost our freedoms purposely and consciously and that we are in a deep state of intimidation in front of the villain?
Slavery and rape
The enslavement of infidel women for sexual purposes is central aspect of Islamic civilization, from the Qur'an, the highest scriptural authority, to Muhammad, the ultimate role model for all Muslims. It constitutes a central part in Islamic history as much as to current events in "Islamic Tribal Anarchic Winter," mistakenly called "Arab Spring." Islamic sex slavery is religiously sanctioned by the Sharī'ah. The mainstream of Islamic jurisprudence has justified and supported this practice on the basis of Islam's canonical sources, including Muhammad's own example and teaching.
The Sharī'ah, permits the enslavement, selling, and rape of infidel women captured during Jihad wars, being legitimately gained booty, "what your right hand possess" (Sûrat al-Nisā', 4:3). Sex-rape of captive women was very common during Islamic history and it was performed frequently, as these slave-concubines were considered equivalent to animals. The grammar use of the word "Ma" in this context relate to things or animals, not to human beings. Muslim exegetes agree that once a true Islamic State is established, those living in Dār al-Harb have no rights to their life or their wealth. Therefore, Muslims are allowed to go to these nations and take their wealth and to keep their women as slaves.
As it is against Islam to rape Muslim women, it is permitted, even encouraged to rape all others captured. In the battle of Hunain, the Muslims were reluctant to have intercourse with the female captives in the presence of their husbands who were infidels. So Allah sent down the Qur'anic verse (Sûrat al-Nisā', 4:24). This verse relieved the Muslims of this restraint by giving them permission to have sex with captive women, at all conditions, even if the women were already married. Abd-al-Hamid Siddiqui, the translator of Sahīh Muslim (8:3433), commented on this tradition, saying: When women are taken captive, their previous marriages are automatically annulled. Sexual intercourse with these women is lawful. The women of the Banu Mustaliq were sold into slavery following their rape. They were "excellent Arab women, and we desired them" (Sahīh Muslim, 8:3371). The prophet of Islam, his companions, and the Muslims used war to collect women for personal sexual use and for slave trading.
An article published in Foreign Policy in September 2014, begins with: "Of the many terrifying stories emerging from Islamic State-occupied Iraq and Syria, the violence directed toward women is perhaps the most difficult to contemplate." This perhaps sums up the entire issue. It is arguable whether it is more horrifying than beheadings and mutilations in public with sadistic pictures of the victims posted online. It is arguable whether it is more intimidating than herding thousands of infidels and cold-bloodedly shooting them just for the fun of it, while shouting "Allāhu Akbar." It is arguable whether it is more abhorring than forcing religious minorities to convert to Islam, while showing crucified men. Still, the reality of women, tortured, raped, sold to slavery of very short miserable life is humiliating.
Although sexual violence, enslavement, and rape were the most generic atrocity committed during wars in history, common to all cultures and civilizations, ICS wholly based its activities on Islamic law. These women being desired spoils of war are treated not only like animals, but their short living miserable life is worth less than animals, when the slavery marketplace is full of fresh flesh.
Islamic law makes crystal clear that conquered infidel sex slaves are one of the rewards for those waging Jihad. It is in the Sharī'ah, whom Muslims are ordered to totally emulate, and it is a common fixture of Islamic history. Majid Khadduri explained the idea of "spoils:"
The term spoil (Ghanīma) is applied specifically to property acquired by force from non-Muslims. It includes, however, not only property (movable and immovable) but also persons, whether in the capacity of asra (prisoners of war) or sabi (women and children), If the slave were a woman, the master was permitted to have sexual connection with her as a concubine.
In the fourth edition of the magazine Dabiq, ICS promotes sex slavery as an Islamic practice that conforms to the teaching and example of Muhammad and his companions, and in fact Islamic history. Slavery and young girls' sex-trade is common now in its occupied territories. It is recorded that the price of each Captured Yazidi girl is $12. An investigation done by Clarion Project reveals that forty-two Yazidi girls were sold by the ICS in Syria for 2000 dollars. At the end of 2014 the slave market in Iraq was by age: A woman aged thirty to forty cost $63; girls aged ten to twenty were priced at $126; girls from one to nine were sold for $168. As ICS members take new towns also in Syria, the market of sex-slavery girls is routine and commonplace.
The horrific thing is that ICS has openly established, organized, and institutionalized a state-sanctioned system of sexual slavery. It is not intended to be a temporary war-time tactics, but a peace-time Islamic institution. It is to recall that contrary to historical evidence, this is not the "usual" women-rape and abuse perpetrated during wars all along history. This is exactly the Islamic tradition to take booty from the vanquished, and it is a deliberate tactic to demolish and degrade the enemy, the infidels, through organized slavery and women rape.
Members of ICS regularly declare that according to Islam they are allowed to rape the Kuffār. This is 'Ibādah, a way of worshipping Allah. The systematic rape of women and girls has become deeply enmeshed in the organization and the radical theology of the Islamic State. Yazidi women and girls who escaped the Islamic State, and the examination of the group's official communications, illuminate how the practice has been enshrined in the group's core tenets. It has developed a detailed bureaucracy of sex slavery and trade slavery. This is a "theology of rape," an integral part of the doctrine and practice of all along the Islamic history and reproduced in the ICS. One has also to recall, there is no male rapist in Islam but seducing woman, whose penalty is death by stoning.
Sheikh Yasir al-'Ajlawni states that Muslims fighting to topple the regime of the infidel, Bashar Assad in Syria are permitted to capture and have sex with all non-Sunni women, including Shia Muslims, Alawites, Christians, Druze, and Yazidis. The same approach comes from Boko Haram, the Nigerian Islamic organization that performs horrific atrocities like the ICS. Its leader also believes that Allah permits the Mujāhidīn to enjoy free sex slavery, after abducting three hundred "infidel" schoolgirls to be sold in the sex slave market.
One can also relates to the issues of crime and punishment to examine the similarities between ICS and the law of Islam, according to the Sharī'ah. The punishment for blasphemy (insulting Allah, Muhammad, and the religion of Islam) is death. The punishment of adultery (if marries) is death by stoning, and if not married 100 lashes. The punishment of slender and drinking alcohol is 80 lashes. The Punishment of stealing is amputation of hand. The punishment of banditry (theft) is amputation of hand and foot. The punishment of murder in banditry is death by crucifixion.
Summary
One can conclude the issue in one sentence: ICS is the top model of Islam and Islamic teachings. So ingrained in violence in the religion that Islam has never really stopped being at war either with other religions or with itself. Muhammad inspired the Muslims to battle the infidels promising all desires in this world and the Hereafter, and threatened them with Hell if they did not. Muslims were laying siege to towns; massacring its men, raping and enslaving their women; enslaving and converting their children; and taking the property of others. Fighting, violence booty, women enslavement, and rape is the main of Arab-Islamic political culture through history. This is exactly how ICS acts and behaves.
The refusal of Western political leaders, the media, and the cultural elite to open their eyes to reality and protect Western nations from ICS is one of the biggest betrayal. Boko Haram leader also believes that Allah permits the Mujāhidin to slaughter and behead all the infidels, and to enjoy free sex slavery.
Indeed, the Islamic Caliphate State is Islamic. It follows Islam and acts according to Islam. To say it is not Islam is exactly to say the Nazi ideology was not Germany, or the Shinto was not Japanese, or that Islam does not exist as a political religion. ICS is the great winner in contemporary international relations, and the free world contributes the lion's share to this success by denying its connection to Islam and by not willing to fight it seriously.
Islamic Caliphate is dead, but its dangerous and infectious ideology is alive
The year 2019 witnessed the rout of the Islamic Caliphate – the pseudo-state entity created on the territories of Iraq and Syria by the terrorist organization Islamic State of Iraq and the Levant, a.k.a. the Islamic State or IG, ISIL, Daesh (Arabic), a terrorist group outlawed in the Russian Federation.
On March 1, 2019, just three or four years after the Islamic Caliphate terrorized the entire world, Kurdish units of the Syrian Democratic Forces in Syria launched an offensive to flush out 500 jihadist fighters holed up in the city of Baguz, ISIL's last stronghold in the country.
Does this mean that Islamist terrorism is now done for?
During the first decade of the 21st century, ISIL emerged as the biggest threat to international security and world order. On June 29, 2014 ISIL terrorists announced the creation of an Islamic Caliphate with claims to global domination.
As seen on the map , the Islamic Caliphate, comprising numerous provinces, was to extend from China to the Atlantic Ocean, and from Central Europe and Siberia all the way down to equatorial Africa. The Caliphate encompasses all Muslim states without exception, including Iran and non-Muslim Israel, the territories "occupied by infidels," as well as the whole of the Middle East and North Africa. Moreover, the Caliphate lays claims to Western Asia and Europe, including Spain, the Balkans, Romania and Austria.
The Islamic Caliphate went on to make the Syrian city of Raqqa its de-facto capital in 2014.
Although still far from achieving global dominion, the jihadists started building the basis of their future Islamic Caliphate by enslaving between 8 million and 10 million people in the occupied territories of Iraq and Syria, and virtually annihilating Syrian and Iraqi Christians, Yezidis, Shiites and Kurds.
In addition to Syria and Iraq, the Islamic State and its affiliates controlled parts of Afghanistan, Egypt, Yemen, Libya, Nigeria, Somalia and the Democratic Republic of Congo.
ISIL also used its substantial financial resources to increase the number of "sleeper" terrorist cells in Morocco, Algeria, Tunisia, Pakistan, Saudi Arabia, Lebanon, Indonesia, the Philippines, the North Caucasus and various European countries.
During its criminal heyday in 2014-2017, ISIL was one of the most numerous and well-armed terrorist groups in the Middle East, boasting over 100,000 fighters active mainly in Syria and Iraq.
Add to these 27,000 to 31,000 mercenaries from 86 countries who, according to the Soufan Group analytical center, fought in the ranks of this terrorist organization.
Equally noteworthy is the distribution of foreign ISIL militants by region and country (2016 – 2017):
| | |
| --- | --- |
| Former Soviet republics | 8,717 |
| Near and Middle East | 7,054 |
| Western Europe | 5,778 |
| Maghreb countries (North Africa) | 5,356 |
| South and Southeast Asia | 1,568 |
| Balkans | 845 |
| North America | 444 |
Countries –main suppliers of fighters for ISIL:
| | |
| --- | --- |
| Russia | 3,417 |
| Saudi Arabia | 3,244 |
| Jordan | 3,000 |
| Tunisia | 2,926 |
| Turkey | 1,910 |
Equally noteworthy is data pertaining to the number of ISIL mercenaries from former Soviet republics (2015)
| | |
| --- | --- |
| Azerbaijan | 216 |
| Georgia | 50 |
| Kazakhstan | 300 |
| Kyrgyzstan | 500 |
| Moldova | 1 |
| Tajikistan | 386 |
| Turkmenistan | 360 |
| Uzbekistan | 500 |
ISIL owes its temporary success in Iraq and Syria to these countries' weak militaries, the seizure of their arsenals of advanced US-supplied weapons, and to the considerable financial resources looted from Iraqi banks.
And also to its militants' religious fanaticism, the professional skills of former Iraqi and Syrian military officers who joined ISIL, to foreign mercenaries, the cruel and fear-instilling daily activities of this quasi-state, the ideological brainwashing of jihadist fighters and to professionally organized advocacy work.
ISIL's bloody and ruthless way of dealing with opponents and the medieval laws it imposed on its subjects shocked the world. Even the ill-famed al-Qaeda that ISIL spun off from has come out against its "daughter," with al-Qaeda leader Ayman al-Zawahiri officially announcing in February 2014 that he did not recognize ISIL as a member of his group.
In their effort to secure the locals' support, ISIL members tried, within the framework of their quasi-state, to restore the cities' economic life by rebuilding their war-ravaged infrastructure. Imitating state authority, they paid salaries and benefits to the unemployed, collected taxes and paid monthly salaries of $700 to their militants. At the same time, in their brutal imposition of Islamist medieval order, they surpassed even the Afghan Taliban.
Propaganda and PR feature prominently in the ISIL leaders' activity.
ISIL has "revolutionized" the field of online promotion of jihadist ideology by creating a powerful social movement and recruiting thousands of fighters from around the world, Russia included, through a web of social networks alone.
According to Yekaterina Sokiryanskaya, director of the Center for Analysis and Conflict Prevention, a leading expert on the North Caucasus, ISIL created a highly professional and ramified propaganda machine for recruiting online, consisting of "central" media organizations, such as Al-Furqan and al-Hayat, and "regional" ones. In addition, the AMAQ News agency provides coverage for the Caliphate's military operations and its everyday life even without having the status of its "official" media outlet.
Propagandists enjoy a privileged status in ISIL. According to the propaganda researcher IG Charles Winter, during the organization's halcyon days (2014–2015), spin doctors were paid seven times as much as regular fighters.
Since its outset, ISIL has put out over 41,000 media releases, with an additional 2.3 billion releases made by its supporters (The New York Times).
"The loss of territory, resources, the retreat and evacuation of fighters, compounded by problems with the Internet has significantly reduced the flow of jihadist propaganda," Yekaterina Sokiryanskaya writes.
"Daesh will not be able to maintain the previous level and quality of its propaganda materials any time soon. Realizing that with the loss of its ideological machine the whole project of the Islamic Caliphate will eventually be doomed, the ISIL leadership is adapting to new realities with affected references to a high mission now making way for more down-to-earth calls for one-off attacks with knives and axes on unarmed people. This change of tactic began in late-2015, after security agencies of various countries had seriously complicated the process of bringing in new fighters to Syria. ISIL initially advised its supporters to look for workarounds, and later – to move to other "provinces" of the Caliphate. Finally, last year, ISIL said that those who could not reach the Caliphate proper should stage attacks back at home," she continues.
This is an extremely important trend. Just as the Caliphate ceases to exist as a quasi-state, its subjects, who have survived the antiterrorist battles, remain. Islamist terrorism is taking a new shape.
The Islamic Caliphate created by ISIL is perhaps the highest organizational quasi-state form of modern-day Islamist terrorism. Terror ("Fear," "horror" in Latin) was used by ISIL as a primary method of warfare. Therefore, it could be compared (in function, if not in scale) with Nazi Germany or militaristic Japan, where international terrorism was part of official state policy.
Even though chances of a complete reincarnation of either ISIL or the Islamic Caliphate are pretty slim, dangerous options thereof can't be ruled out.
That terrorism is often used by non-state actors – whether left-wing, right-wing or nationalist – and religious groups, is well known. In the 19th and 20th centuries, hundreds of political parties and groups were known to have used terror in their work.Their activities covered virtually the whole world: from small settlements and countries to continents, and were often supervised and financed by individual states to achieve geostrategic ends.
It is highly probable that the routed ISIL will still be trying to preserve its remaining terrorist groups, rebrand old ones, and recruit new fighters. Moreover, what has remained of the Daesh forces will spread throughout the world.
As BBC columnist Frank Gardner writes, "At the recent Munich Security Conference, Alex Younger, the chief of Britain's secret intelligence service (MI6) said this: "The military defeat of the 'caliphate' does not represent the end of the terrorist threat. We see it therefore morphing, spreading out… within Syria but also externally… This is the traditional shape of a terrorist organization."
Speaking at the same event, German Defense Minister Ursula von der Leyen said that ISIL was going deeper underground and building networks with other terrorist groups.
General Joseph Votel, who runs US Central Command, also said that even though the ISIL network is dispersed, pressure must be maintained or its components will have "the capability of coming back together if we don't."
Indeed, much of the ISIL militant force has not been destroyed and is now breaking up into small terrorist groups, which is only natural since ISIL is a plethora of jihadist groups fully capable of acting autonomously. .
With the rout of the Caliphate now a hard fact, ISIL is desperately looking for a way out of the situation. There are several such "exists" to speak of.
The first is the dispersal of jihadist fighters among the local population in Syria and Iraq, and the creation of "sleeper cells" waiting for an order to resume the fight.
A second option would be to redeploy militants to remote areas of Syria and Iraq, and the formation of guerilla units there.
Thirdly, this could be gradual infiltration into other countries where ISIL already has a base, or at least has supporters necessary for the organization to function further, perhaps under a different name, but with similar ideology and military-political doctrine. Primarily into Libya, where ISIL controls the cities of Derna, Nofalia, Sirt, and the Al-Mabrouk oil field. Moreover, in Libya, ISIL could become a third party in the ongoing confrontation between Tripoli and Tobruk.
In Afghanistan, ISIL has already become a third party in the long-running standoff between Kabul and the Taliban. However, the ongoing negotiations between the international community, primarily Russia and the US, with the Afghan Taliban (though in a separate format) could eventually ease tensions in that country which, in turn, would seriously undercut ISIL's ability to influence the situation there.
In Egypt, local jihadists, taking orders from ISIL, control parts of the Sinai Peninsula.
Also, the Boko Haram group, which controls the north-east of Nigeria and is making inroads into neighboring Chad, Cameroon and Niger, has recently subordinated itself to ISIL.
There are certain opportunities now opening for ISIL also in Yemen, Somalia and the Democratic Republic of Congo.
Another "exit" option could be the return of the remaining jihadist fighters to their home countries, either individually or as part of small but closely-knit groups.
In the wake of the Islamic Caliphate's downfall, many militants have recently returned home. About 30 percent of the 5,000 ISIL fighters (1,500) happen to be EU citizens. Of these, 300 have returned to France, about 900 people – to the former Soviet republics (including 400 to Russia), 800 – to Tunisia, 760 – to Saudi Arabia, and 250 – to Jordan.
This process is characteristic of all 86 countries Islamist volunteers once set out from to defend the ideas of radical Islam.
Clearly, the presence of experienced and battle-hardened ISIL terrorists, sometimes even armed, in the countries of their current residence is dangerous, even disastrous for these and other countries' security. Small wonder, therefore, that the world is getting increasingly aware of the real threat posed by this jihadist-terrorist contagion.
Religious leaders are united in their denunciation of Islamist terror.
Saudi Arabia's Supreme Mufti Abdulaziz bin Abdullah Al-Sheikh has branded the al-Qaeda and Islamic State jihadists the main enemies of Islam. He also quoted a verse from the Koran, which calls to kill the perpetrators of acts that "have a disastrous effect on Islam." Any compromises with bloodthirsty fanatics are simply out of the question. They must be eliminated once and for all.
Pope Francis has approved the use of force against Islamist radicals. The Pontiff believes that coercive methods should be used to protect religious minorities from militants.
The World Jewish Congress (WJC) and the Russian Jewish Congress (RJC) has urged the entire world community to stand together against the "disgusting wave of violence" against Christians in the Middle East.
In Iraq, the Shiite leader Ayatollah Ali al-Sistani has reiterated his call for the Iraqi people to resist ISIL militants.
Important as religious leaders' rejection of terrorism and its perpetrators is, however, the same can hardly be said about the world community. Indeed, even in the midst of the fight against ISIL in Syria, the antiterrorist forces failed to present a shared understanding of the danger posed by their common enemy.
It is really unforgivable that a universally accepted definition of international terrorism has not yet been worked out. The term is often used as an instrument of political struggle, because each country actually decides for itself whether a certain group is "terrorists" or "freedom fighters." In Russia, 21 Islamist organizations are recognized as terrorist, and 33 in the United States . Moreover, actual definitions of "terrorism" often vary.
Coordinated fight is the only possible and effective way of ridding the planet of the scourge of terrorism. Unfortunately, there is no international legal basis for a collective solution of the problem. The experience of the past few years shows that a slow-moving and bureaucratic UN is not capable of providing quick and effective response to the threat posed by international terrorism. The world needs a fundamentally new and mobile international mechanism, structured to counter the terrorists' extensive and diverse criminal activities.
The proposed idea of creating a supranational system uniting antiterrorist forces that would include administrative, information, analytical, intelligence, financial, counter-propaganda and power structures – well-equipped counter-terrorist units ready for quick deployment to troubled regions looks pretty viable. However, this international antiterrorist system must be established under the auspices of the United Nations, with its blessing, and rest on a solid legal foundation.
First published in our partner International Affairs
Cyber Warfare: Competing National Perspectives
The threat of cyberwarfare is a growing fear among all intelligence communities. "In June 2009 the U.S. Cyber Command was created and in July of 2011 Deputy Secretary of Defense William J. Lynn III announced that as a matter of doctrine, cyberspace will be treated as an operational domain similar to land, air, sea, and space" (Colarik & Janczewski, 2012, 35). Cyber warfare is conducted by infiltrating the country's computer networks to cause damage and/or disruption to various infrastructures. This could be as minimal as spying on another nation or as in-depth as implementing acts of sabotage directed towards specific targets such as military operations or the power grid. The threat of cyber warfare is not specific to one country. This is a potential threat that effects each country across the globe.
China is a dominant power within the global arena and is consistently evolving with potential threats especially cyber technology. Chinese colonels Liang and Xiangsui claimed advanced technology gave the country's adversaries a significant advantage, and proposed that China 'build the weapons to fit the fight. Recently, the Chinese People's Liberation Army (PLA) confirmed the existence of its Online Blue Army (Colarik, &Janczewski, 2012, 35). China's fear of the impact and devastation that can be caused by the internet has forced them to implement strict policies governing the freedom and use of the internet within the country and creating strong security measures against infiltration by outside sources.
In 2014, China implemented the Central Internet Security and Informatization Leading Group to oversee all internet security. "This leading group is to deepen reform, protect national security, safeguard national interests, and promote the development of information technology. The group will have complete authority over online activities, including economic, political, cultural, social, and military" (Iasiello, 2017, 5). This group disseminates and monitors all information found on the web to ensure that there are no security breaches and the people are not in violation of the law.
In 2015, China drafted a national cybersecurity law."The chief goals of its 2015 draft national cybersecurity law are (1) ensure cybersecurity, (2) safeguard cyberspace sovereignty, national security, and the public interest, (3) protect the legitimate rights and interests of citizens, legal persons and other organizations, and (4) promote the healthy development of economic and social information" (Kolton, 2017, 126). Whereas the United States promotes a free internet, China's main focus is on establishing an internet that is secure from all potential threats both external and internal.
In 2016, China passed the "Cyber Security Law" that focused on the security of the internet and information systems and extended the ability of the government to oversee the information that was being shared to determine if it was done within accordance of their strict cyber security laws. This law helps the government to monitor any potential breaches of security by outside or internal sources. By implementing a stronger grasp of control over the internet, the government is able to reduce the potential of an attack or intrusion. Within this law, government agencies would be able to implement more guidelines for network security within industries to include energy, transport, military, defense, and many more (Iasiello, 2017, 6).These restrictions increase the control of the government over cybersecurity but also limits the freedoms of its citizens to explore the internet.
China has created new training for its military to be prepared against potential cyber warfare attacks. It has "developed detailed procedures for internet warfare, including software for network scanning, obtaining passwords and breaking codes, and stealing data; information-paralyzing software, information-blocking software, information-deception software, and other malware; and software for effecting counter-measures" (Ball, 2011, 84). It has also increased its number of training facilities to focus only on network attacks on cyber infrastructure and defense operations. The amount of money China is investing in facilities and training of military personal increases its ability to remain secure within this global threat of cyber warfare. One fear for China is its dependence on Western technology. "China's capabilities in cyber operations and emerging technologies such as artificial intelligence are becoming more sophisticated, the country still depends largely on Western technology. Beijing is hoping to break that dependency through the Made in China 2025 plan" (Bey, 2018, 33). This is a mutual fear for both the US and China as they both rely on each other's manufacturers with the fear that they will implement a trojan horse to intervene.
Like China, Russia has increased its abilities in combating the potential threat of cyber warfare. However, Russia has taken a different approach to this threat by going on the offensive. Russia has focused on non-linear warfare within the cyber world, which is defined as "the collection of plans and policies that comprise the state's deliberate effort to harness political, military, diplomatic, and economic tools together to advance that state's national interest. Grand strategy is the art of reconciling ends and means" (Schnauffer, 2017, 22). To assert its dominance in the global arena, Russia has been utilizing its own forms of cyber attacks to collect information and become a dominant cyber power.
Russia began its experiments with cyber warfare in 2007 in the clash with Estonia. This was done to determine its cyber capabilities as well as create a stronger resilience against future attacks. "Russia's cyber experiment effectively shut down day-to-day online operations in Estonia's cyber infrastructure for weeks, from news outlets to government institutions" (Shuya, 2018, 4). After this successful movement, Russia began to expand its focus to Georgia and Ukraine in 2008 and then in 2015, to offset local initiatives there which it considered to be against Russian national security interests. Russia has "developed multiple capabilities for information warfare, such as computer network operations, electronic warfare, psychological operations, deception activities, and the weaponization of social media, to enhance its influence campaigns" (Ajir& Valliant, 2018, 75). Russia has had a strong focus on using the tool of propaganda to disseminate key information to its citizens with the hope that they will abide by it as the real truth.
Russia's investment into technology and the freedom of speech allotted by the West has made the West not only extremely vulnerable to Russia, but also has expanded the reach of the Russia globally. Ajir and Valliant (2018) highlight several key points of the Russian strategy:
Direct lies for the purpose of disinformation both of the domestic population and foreign societies; Concealing critically important information; Burying valuable information in a mass of information dross; Simplification, confirmation, and repetition (inculcation); Terminological substitution: use of concepts and terms whose meaning is unclear or has undergone qualitative change, which makes it harder to form a true picture of events, Introducing taboos on specific forms of information or categories of news; Image recognition: known politicians or celebrities can take part in political actions to order, thus exerting influence on the worldview of their followers; Providing negative information, which is more readily accepted by the audience than positive.
This approach allows the Russian government to remain in control of information that is filtered to its citizens. The restriction of freedom reduces the capability of deciphering fact from fiction.
Russia has also taken a defensive approach to cyber warfare by implementing strict laws that govern the use of the internet. The agency Roskomnadzor scans the internet for activity that is deemed illegal and detrimental to the Russian government. It has also implemented new laws to regulate internet activity. "The laws which came into force in November 2012 provided provisions for criminalizing slander, requiring nonprofits receiving funding from abroad to declare themselves "foreign agents," and provide additional financial information and a final law sanctioning the blocking of websites featuring content that "could threaten children's lives, health, and development" (Cross, 2013, 14). Many have deemed these laws as means to censor the internet, but the Russian government argues it is for the protection of its citizens.
An opposite example of failing to employ measures to protect the country from a potential cyber warfare attack is Mexico. The main focus for Mexico has been on drug cartels and eliminating internal threats within their own government. Mexico has begun to implement its own version of cybersecurity due to its substantial growth in cyber-attacks over the years. However, its overall success has been limited due to a lack of understanding and outdated systems. "Incidents in cyberspace pose a challenge to Mexico due to a lack of institutional structures and there is a need to strengthen capabilities since it does not have any specialized government or public sector agencies certified under internationally recognized standard" (Kobek, 2017, 8). Without the establishment of a specific agency dedicated to cybersecurity, Mexico will continue to struggle against cyber warfare threats. Mexico must implement new security measures that are applicable to all main threats beyond the drug cartels.
Currently, the government presence in Mexico is focused solely on actionable and tangible threats. There must be a reform to its current laws for "the armed forces require a law that reframes and modernizes the concepts of public safety, internal security, and national defense; clarifies the role, conditions, terms, and limits of the armed forces' engagement; and establishes mechanisms to hold them accountable" (Payan& Correa-Cabrera, 2016, 3). The lack of accountability and oversight by the government to control key aspects, such as the military, and impose a stronger presence in the more demanding field of cybersecurity opens up the potential for a catastrophic event to occur within Mexico.
China and Russia are prime examples of how strict policy governance of the internet will help to reduce the potential threat of an attack. They are micromanaging every aspect of the internet from restricting specific websites (social media) or establishing specific agencies to monitor and analyze all information that is being viewed from all sources. "With the United States and European democracies at one end and China and Russia at another, states disagree sharply over such issues as whether international laws of war and self-defense should apply to cyber-attacks, the right to block information from citizens, and the roles that private or quasi-private actors should play in Internet governance" (Forsyth, 2013, 94). The failure of this policy is the restriction of freedoms to citizens. As stated above, one of Russia's main focuses is promoting propaganda that is anti-west and pro-Russia. The control over the internet does not allow their citizens to research the truth or have global interaction. This increases the risk of upheavals among the people, especially as technology continues to improve and loopholes are found to circumvent existing policies and hidden content is exposed.
Another approach to cybersecurity is seen with the actions of NATO. It is focusing on improving its relationships with private security companies and "developing a Cyber Rapid Reaction Team (RRT)19 to protect its critical infrastructure, much like U.S. Cyber Command's Cyber Protection Teams (CPTs)" (Ilves et al, 2016, 130). One downside to this approach is NATO is only able to apply defensive measures. It does not have the ability to implement an offensive attack. Creating a partnership with private companies provides it greater access and resources to potential cyber threats. Private companies have more funds available to pursue a stronger cyber security defense. A recommendation would be to create a joint European Union, United States, and NATO partnership against cyber warfare. Each has its own strengths that can be applied to a joint force against one common threat. A stronger partnership among key global powers will help to create a multifaceted approach to the threat of cyber warfare. The end goal of cyber warfare is the same for each country targeted. There is no specific adversary, but rather the substantial disruption or sabotage of key infrastructure.
Although facing intense criticism and skepticism, it would be beneficial for the US, China, and Russia to form a partnership against cyber warfare. As each country is already connected via their technology companies, they are each a global power that encompasses a vast majority of the world. A collaboration of information and resources would provide a stronger protection amongst common non-state threats. However, the chief obstacle is the ability to trust each country to act within the realm of security, instead of using it as an opportunity to gain substantial access to an inside look of the country. Since the US often accuses China and Russia of being the biggest state perpetrators of cyber actions, this criticism may be near impossible to overcome, despite the possible advantages. According to the World Economic Forum, the table below lists the top countries best prepared against cyber-attacks.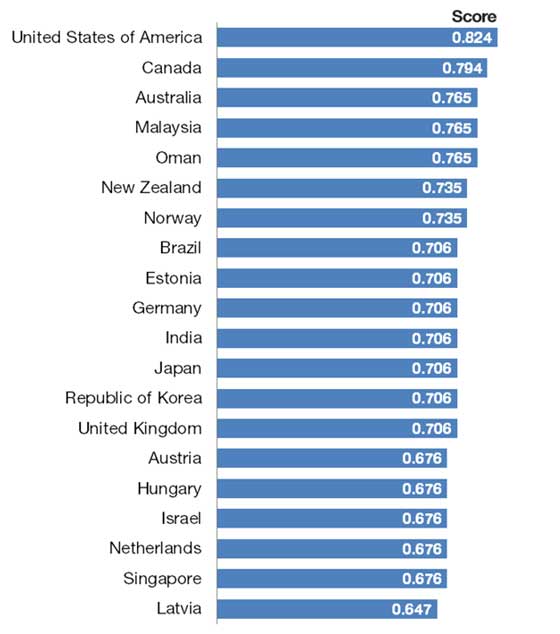 The United States is ranked number one with a significant margin above Canada. China and Russia who have implemented a very strict cyber security policy are not listed within the top 20. This is determined by the Global Cybersecurity Index, a partnership between private industries and international organizations that analyze all aspects of cybersecurity. This argues that the approach by countries such as China and Russia is geared more to the control over its citizens rather than executing a strong cybersecurity policy focused on legitimate external threats. Although, the table above does show that the United States is ranked number one in being able to protect the nation from potential cyber threats, it is only ranked at 82.4% effective. Russia and China have employed a different approach to cyber security that could be utilized to increase the overall effectiveness globally if each side was able to work together towards common threats. Ideally, such partnership would not only create new channels of connection and collaboration between adversaries, but would also set the stage for the more heavy-handed and restrictive policies of China and Russia to be loosened to the benefit of its citizens' virtual freedom.
Cybersecurity between Enemies and Allies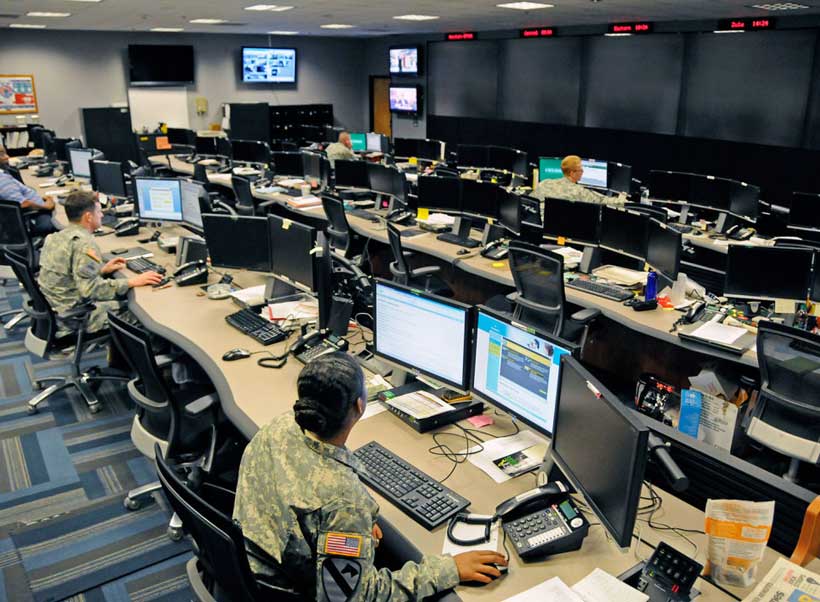 Operational success, whether state or non-state, begins with a solid strategic plan that encompasses key objectives or targets. In today's globally connected world, cybersecurity is holding the forefront space of challenges, vulnerabilities, and growth (Barrinha 2018). Success, in a globally connected environment, requires an understanding of the environmental systems and connections to appropriately identify the gaps in security and potential points of entry from adversarial actors (Barrinha 2018). Understanding the connected nature and networked capability of potential adversaries' drives a need to analyze social networks as they relate to the interrelated environmental systems (Tsvetovat and Kouznetsov2011). Therefore, the ability to effectively engage within an interconnected and globalized operational environment is to understand the cybersecurity policies, trends, and vulnerabilities across western and non-western states like Russia, United Kingdom, China, and Israel.
Internationally, states are viewing cyber as the fifth domain of operations, added to air, space, land, and sea. In 2013, fifteen countries agreed with a need for international law for the elaboration of measures, norms, rules, or principles over the cyber domain. Today, military cyber capabilities exist in more than 40 states and of those 12 have explicitly offensive cyber capabilities. Despite the growing application of cybersecurity strategies and advancements in the development of international laws, a standard definition of cybersecurity does not exist (Greiman 2015).
Regardless of the state's abilities or interest in cybersecurity, the intent is to create an ability to protect domestic networks against domestic or foreign intrusion and attack (Fischer 2016). Cyber-attacks come in many forms. Though attacks vary widely, they generally have a geopolitical, diplomatic, or economic interest, causing business and economic organizations to get involved with political structures to consider policy-setting and strategic capabilities (Jaquire et al. 2018). The difference is that instead of defending against states physically, the defense efforts are against actions exclusively housed within the cyber arena (Duvenage et al. 2018).
National cybersecurity strategies in general tend to possess three main components: strategies with intelligence and counterintelligence capabilities, personal security on information held in databases, and corporate security (Vancouver 2018). As Adamsky (2017) described Israel's cybersecurity plan, the three interrelated vectors work together to provide robustness, resilience, and defense. The overall intent of national cybersecurity strategies is to provide a means by which the state can protect local networks from adversary threats.
The criticality and concern coming from the international community when dealing with increasing threat potential and vulnerabilities within the cyber domain is reflected by the more than 40 countries working to establish cyber policies. The United States and the United Kingdom both view "terrorism and cyber-attacks as the two greatest threats to national security" (Greiman 2015). As states look at the threat posed by the cyber domain, they must consider non-traditional ways in which foreign non-state actors are leveraging networks to spread their messages — to incite fear, spread support for their anti-state ideologies, or the ability to use virtual space as a meeting location to create extremist support (Cross 2013).
In efforts to standardize, Russia, China, Tajikistan, and Uzbekistan joined forces to submit an international code for information assurance (Grieman 2015). Australia, Canada, New Zealand, United Kingdom, and the United States banded together to create a stronger shared level of intelligence, known as the "Five Eyes" Community (Walsh 2015). However, Israel is still leading the way in the cyber policy, strategy, and successful operations (Adamsky 2017). Though all countries possess a mix of security interests and priorities, there is not a single consensus on how to internationally address threat conditions (Crosston 2016). In an attempt to address those conditions, countries must seek innovative and creative means to establish operations and policies to protect against globalized threats (Cross 2013).
Israel has the lead in leveraging innovation and creativity to develop tangible results and an example for other countries to emulate. In 2002, Israel established the goals and means by which it intended to secure its portion of the cyber domain. Seeking to find a balance between commercial and private needs with a need for national security, Israel established policies to "protect vital computerized systems of selected public and private civilian organizations." Not wanting to fall short on future threats, Israel included concepts of "education, R&D, security, economic development, and international cooperation" into their policy design (Adamsky 2017). In 2015, the government established a concept of operations (CONOP) to regulate cyber mechanisms and operations focusing on cyber defense, capacity building,and structure. Using an interrelated framework of robustness, resilience, and defense, Israel can operate, sustain, and defend their local cyber domain from intrusion and attack better than most (Adamsky 2017).
Russia and China have similar approaches and practices. In their efforts to collect intelligence, neither country relies solely on confidential sources or methods, nor does collection tie singularly to state-sanctioned collection requests. More importantly, collection in Russia and China does not focus on collection against foreign agencies alone (Crosston 2016). As part of the policy process in Russia and China, the government opts to control exposure and risk by limiting the availability of sites that threaten the influence their control over the population (Cross 2013). While similar in their approaches, Russia and China developed individual strategies to protect their networks (Fei 2010).
China opted for a strategy with a longer-term outlook and sought to respect other nation's objectives while fostering mutually beneficial cooperation. China's strategy emphasizes multilateral ties and dealing with both traditional and non-traditional threats. China's strategic approach consists of four prongs: the inclusion of complex, non-traditional aspects; issue-orientation over country interests; economic development to be independent of foreign technologies; and, a supposed practice of good governance and transparency.
United Kingdom announced, in 2010, a plan to spend $1 billion US dollars over a four-year period to launch a "transformative national cybersecurity program" focused on closing the expanding gaps between current capabilities and emerging technological advancements. The UK outlined its plan with the intention of leveraging private-public partnerships to create a single point-of-contact for cyber-crimes and security issues. The strategy also outlined a plan to develop international cooperation with like-minded nations (Hammond 2010). Not unlike Israel, the United Kingdom is focusing on policy development to protect privacy and reduce crime, while establishing a resilience capability. Through private-public partnerships, the UK aims for capacity building and to implement a risk-based approach to defending against cyberattacks (Greiman 2015).
Private-public partnerships, coupled with dynamic state policies, contribute to the state's ability for capacity building. This is particularly important with the understanding that the private sector mainly owns and operates activities within the cyber domain for most states (Grieman 2015). While Russia and China understand this phenomenon, they opt to block sites and access as a means of controlling the internet. The efforts of Russia are generally politically inclined, focused on the interest of making the president appear stronger. In China, the state leverages cyber abilities for economic maneuvering. Israel selects a more comprehensive and holistic approach to managing the cyber environment.
Tsvetovat and Kouznetsov (2011) explained the connected nature and networked capability of potential adversaries as driving social connections and purposes. Within the cyber domain, states are able to leverage the connections and networks to shape policy, offensive operations, and international relationship development. As Russia and China continue to work through their controlled approaches to cybersecurity, there is a need for international consensus towards cybersecurity. In an effort to standardize an approach to cybersecurity, the international community should seek to follow in the steps of Israel (Adamsky 2017).As a soft power instrument, Israel is leveraging opportunities and threats to harness the potential of cybersecurity. Over the last decade Russia, China, and many others have reached out to Israel. Additionally, the more success Israel has in leveraging cybersecurity to promote international ties, the greater likelihood it will lead an effort to normalize cyber across the globe (Adamsky 2017).
As academics and practitioners continue to work toward a standard definition and understanding of cybersecurity, there is a distinct need for various states to come together in an effort to establish international norms and standards for the execution of cybersecurity. This effort should be much the same as joint operations govern telling time or tracking targets. It is crucial that the United States continues to find ways to lead the effort to establish agreements that focus on commonalities that can benefit the reduction of cyber dangers between China, Russia, and Israel.
The effort to understand the cyber environment and its various network of connections is vital in working through concerns faced by countries emerging as a new power (i.e.,Brazil, India, Argentina, and Australia among others). The importance of this understanding links back to Brafman and Beckstrom's (2012) starfish and spider concepts, demonstrating the capability of groups to operate from geographically dispersed locations without a centralized leader. Improved security within the cyber domain will assist in mitigating political, economic, and criminal activities that are counter to a state's security strategies. Perhaps most importantly, he ability to increase cybersecurity and cooperation in the cyber domain internationally creates a possible platform to work against other threat issues such as transnational organized crime, terrorism, human trafficking, and migration from failing states. Understanding critical elements and the approach other countries use to navigate through their domestics and external threat will continue to prove to be as crucial for the United States and the interaction with other countries in the future.