Why Malaysian universities are performing poorly
Malaysian public universities have dropped in the Times Higher Education University Rankings over the last few years. Universiti Kebangsaan Malaysia (UKM) made 87th position in 2013, but as at 2015, no Malaysian university made the top 100 Asian rankings.
Malaysian public universities have also shown mixed results in other rankings like the QS rankings, where three Malaysian universities had slight rises in their rankings, while Universiti Teknologi Malaysia (UTM), Universiti Kebangsaan Malaysia (UKM), International Islamic Universiti Malaysia (IIUM), and Universiti Teknologi MARA (UiTM), all slipped in rankings from previous years. No Malaysian university made the top 100, According to the QS ranking profiles, Malaysian universities have lost significant ground in academic reputation and tend to be weak in research, where no Malaysian university reached the top 400.
Public Universities Vice-Chancellor/Rector Committee chairman Dr. Kamarudin Hussin, who is also vice chancellor of Universiti Malaysia Perlis (Unimap) claims that the ranking methodologies favour older, more established universities. Yet many universities within the THES top 100 Asian universities were established relatively recently. Hong Kong University of Science and technology, ranked 7th was established in 1980, Nanyang Technological University, ranked 10th was set up in 1981, and Pohang University of Science and Technology, ranked 11th, was established in 1986.
When comparing performance to Malaysia's neighbour, Thailand, King Mongkut's University of Technology, established in 1960 made 55th place, and Mahidol University came in with 91st placing.
In addition, a number of universities from countries which are not democratically governed like Sharif University of Technology 43, Iran), Isfahan University of Technology (61, Iran), Iran University of Science and Technology (69), King Fahd University of Petroleum and Minerals (71, Saudi Arabia), and King Saud University (72, Saudi Arabia), all made the THES top 100 Asian university rankings last year.
Dr Kamarudin accepts that Malaysian universities have "many issues that must be resolved….(and) there are plenty of oversights that must be fixed". However, unfortunately, he didn't mention what they are, or offer any solutions.
World Bank economist Dr Frederico Gil Sander agrees with Kamarudin's comment that the "stakes are high", when he says that the poor state of Malaysia's education system is more alarming that the country's public debt. The talent needed to develop the Malaysian economy is not being produced.
Probably the tone used by Dr Kamarudin used in his article hints at the first problem with Malaysian public universities. That is, the view of authority over the rest. Kamarudin asserts that 'academic freedom' exists, yet this should be subject to the views of the 'so called' majority', which could be read as authority. In August last year, he was one of the strongest opponents of students attending the Bersih 4 rally, threatening disciplinary action, such as suspension or even expulsion of students who attended from university.
Supressing independent thought, is counterproductive to creativity, critical thinking, and problem solving, the very mindset that Malaysian universities espouse to develop. Among the characteristics of society required for progression are people who are knowledgeable and have the right to choose.
This attitude by university leaders doesn't appear to be isolated. Hazman Baharom called their attitude 'aristocratic', in reference to the partisan political leanings of Professor Sahol Hamid Abu Bakar, former vice Chancellor of Universiti Teknologi MARA (UiTM). This institutional arrogance can be seen in the proposal to educate students about the ills of ISIS. The underlying assumption being that Malaysian students are easily led and cannot think for themselves.
Malaysian universities begin to lose the plot where their leaders are glorified with unnecessary ceremonies that make a mockery of academia, and tend to dominate the persona of universities, rather than act as facilitators for people to excel.
This leads to a lot of unnecessary expenses such as lavish dinners with highly paid entertainers to celebrate this event and that event, this award and that award. Some of these dinners are very extravagant at some universities costing up to hundreds of thousands of Ringgit. Vice Chancellors make lavish trips both domestically and internationally, where the benefits of these trips to the university have not been scrutinized, except for MOUs that are never acted upon.
This is in a time when university budgets are being slashed, the minister has directed university management to be frugal with spending and seek funds outside government allocations, and the public are suffering economic hardships through the economic downturn, GST, and depreciated Ringgit.
The waste goes much further. Within the few parts of the Malaysian Auditor General's report that is released to the public, the 2012 report cited Universiti Malaysia Sabah's (UMS) mishandling of its computerized maintenance management system. After spending RM400,000 on the system between 2008 and 2012, the auditor general found that data was not keyed into the system and the person responsible for managing the system had no IT knowledge.
The cost of three building projects ballooned 8.9% at Universiti Tun Hussein Onn Malaysia (UTHM) due to delays and inexperience of the contractor.
The auditor general further found at Universiti Malaysia Perlis (Unimap) that funding allocations didn't take into account the basic needs of students in the planning and construction of its main campus. Despite RM438.64 Million allocated for setting up Unimap under the 8th Malaysian Plan, only 25% of these campus plans have been completed, which university management blamed on budget constraints.
What is even more startling according to the AGs report is that Unimap made the first payment to the contractor working on the permanent campus before the contract was fully negotiated and signed. The report further states that workmanship is extremely poor, where cement in many places is cracking and crumbling, roads and parking areas where inappropriate, and much of the equipment supplied is not functioning.
According to the AGs report from 2002 to 2012 the university has no hostels of its own, and has been renting them and ferrying students to campus instead, which cost RM138.4 Million. As of 2015, Unimap entered into an arrangement with the Proven Group of Companies to supply additional privately owned accommodation at Titi Tinggi, some 35kms from Kangar and 40kms from the main campus at Ulu Pauh. Details of this agreement have never been made public, but Unimap will pay rent for 15 years for the use of this accommodation, but ownership will remain private after this period.
The Unimap-Proven venture is contrary to the Education Ministry's vision of universities earning income through hostel rental to students. Thus in the medium to long term the university will be restricted in the ways it can earn revenue to fund future budget cuts.
Similar issues exist at Universiti Malaysia Kelantan (UMK) where the lack of student accommodation has led to severe overcrowding at hostels.
Mismanagement and waste is one issue, but outright corruption is another.
If one has spent any significant time within Malaysian academia, stories about corruption within the institution will no doubt arise. However, most, if not all of these remain hearsay, as there are few reports of corruption to higher authorities and very few charges are ever made, with no convictions made in this area.
Just some examples that have come to the writer's attention are consultancy companies run and operated by a faculty, where directors and shareholders are the dean and deputy deans. Students have come forth and told the writer in confidence that examiners at master and PhD level ask outright for payments to pass. A particular dean of a new faculty, used a company owned by proxies to supply equipment. University cars have been sent to workshops for repairs that don't exist. Academics are paying for articles to be published in academic journals without peer review, and the heavy use of research grants for travel that is questionably related to the research topic it was granted for.
University staff tend to be fearful of their superiors, most are extremely hesitant to speak out and whistle-blow on their peers and superiors. In an interview with a state director of the Malaysian Anti-Corruption Commission, the writer was told that the MACC would provide a neutral and discrete place for those who wanted to remain anonymous and report corruption. However those few that came forward faced hurdles with the MACC that were almost insurmountable, such as being requested to file a police report which would jeopardize anonymity.
A major problem is the leadership of Malaysia's public universities today. Vice chancellors tend to be domineering, not allowing too much room for dissent from their own faculty and university members. Often, staff are selected upon loyalty rather than merit, breeding a culture of gratitude within their institutions. Strong vice chancellors can browbeat the university board, and senate, getting their own way on operational issues, due to the transitory nature of university boards.
Universities within Malaysia have become dominated by vice chancellors who are intent on micromanaging their universities. The strong power-distance relationships that develop between the leader and subordinates in Malaysia is powerful enough to destroy many of the management checks and balances that exist to prevent mis-management and even abuse of power.
It's time to re-organize Malaysian public universities from the top down. Not only is new leadership needed, but heavy reform of the university organization so that these institutions should function how they are really meant to. All importantly, vision beyond self-glorification is desperately needed by public university leadership.
Make this change and Malaysian universities will very quickly feature in the top 100 Asian university rankings.
Seven Years of UNITE Thailand: Freedom to be Free
BANGKOK – During the peak of Thailand's political warfare between the Red and Yellow shirts, I was a graduate student at Teachers College, Columbia University pursuing a Doctorate in Political Science with a specialization in Comparative and International Education.
As Bangkok's buildings were burnt down, I sat in tears in front of my computer could not comprehend nor tolerate the sights and senses of such catastrophe.
What's happening to Thailand? A place we once called the land of smile.
I put myself together and defended my proposal. I came home for my dissertation research. But once I landed, I began something entirely different.
I called my friends from all walks of lives: academics, businesses, politics and civil society and we started talking about the future of Thailand what to do, what can we do?
Inspired by the KEEPS project at the London School of Economics, where I did my Master of Sciences in Development Studies, we initiated an art project for political liberation.
Something Freire would be proud of.
We took paint colors, brushes and canvases to rural areas and began using art as mean to break political deadlocks – to initiate a conversation. We asked our students to paint the future of Thailand in their visions.
From a humble beginning in 2011, we grew in size and scope. UNITE Thailand is now a global youth networks of like-minded individuals who want to make a difference for Thailand. We are an educational project with 3,000 members.
We have collaborated with the Open Society Foundation in 2012 to create the 1st IDEA Asia Youth Forum where we brought together 200 Asia youth from 22 countries to work with Thai university students in Thailand for 2 weeks.
We have worked with the International Labour Organizations in 2013 – 2014VDO to promote the Sapansiang Campaign that addresses the positive images of migrant workers in Thailand.
Anna Olsen, the Technical Specialist TRIANGLE in ASEAN program of the ILO said, "working with UNITE Thailand allowed us to reach young Thai people with our messages of protection and promotion of the rights of migrant workers who contribute so much to Thai society and development."
Since its inception, MCOT Thailand and the Anandamahidol Foundation have helped to scale up our 20 art camps for our students nation-wide by creating ongoing documentaries that capture the essences of what we try to do on the ground.
Sitting here on the eve of International Youth Day of 2018, I am writing to my students globally that never let anyone tell us what we are and are not capable of. The power of the young is momentous and paramount. Never let your inspiration, motivation and determination die down just because what we think seem impossible or someone else tell us so.
Thailand is far from where we want it to be. It's still rotten with corruption, rampant inequality and lack democracy. But each brush we stroke, each project we strike, we do it with hope and dignity, we do it to empower and we aspire to make a difference.
Mayaclear Aphornsuvan, UNITE Thailand Youth Representative, encapsulates her seven years experiences with the movement.
"Opportunities, dreams, and chances seem so far away when no one is by your side. That's how it felt to me when I was in high school, at least. But I crossed paths with UNITE Thailand by chance, and it was the first time a group of people believed in me. And in turn, this gave me all the strength I needed to believe in myself and others. UNITE Thailand gives opportunities to those who often get ignored. But the first opportunity in one's life is oftentimes the most important.  UNITE Thailand means the world to me, because they gave me a whole new world of opportunity and dreams."
On behalf of UNITE Thailand, we thank our friends from all over the world for showering us with your trust and enabling us to keep dreaming.
We, 3,000 of UNITE Thailand, dedicate this project to His Majesty the King Bhumibol Adulyadej, Rama the ninth to the Chakri Dynasty, our King of Education, for not only sponsoring my transatlantic education through the Anandamahidol Foundation, but for providing Thailand with a necessary guiding light. We wish his soul rest in peace. We wish him well.
We promise to be kind and find peace from within outward.
What are the causes of the current calamity in Laos? An Interview with Dr. Lia Genovese
The Xe Pian-Xe Nam Noy hydropower project is financed by companies from South Korea (SK Engineering and Korea Western Power), Thailand's Ratchaburi Electricity Generating Holding and the Lao government. A statement issued by Mekong Eye on 31 July 2018 stated that Japan is also involved in its financing.
A devastating incident occurred in the Sanamxay district of Attapeu province in southern Laos. On the evening of 22 July 2018, engineers at SK Engineering discovered that one of the project's supporting dams had been partially washed out and notified the Lao authorities. Apparently, efforts to repair the damaged structure were hampered by the state of the roads, which delayed the necessary heavy equipment reaching the area before disaster struck the very next day. On 23 July, the top of a saddle dam at one of the Xe Pian-Xe Nam Noy reservoirs collapsed, releasing billions of cubic feet of water. Over 6,000 people have already been evacuated to emergency shelters. The flood has caused severe damage to private property and infrastructure. The dam collapse has also affected villages downstream in Cambodia.
The precise death toll is still unknown and has oscillated between 31 and 35 victims. On 5 August, the Chinese agency Xinhua stated that 34 people were confirmed dead and scores more are still unaccounted for.
Early official statements calling the catastrophe a natural disaster caused by seasonal rains, are being disputed by experts. During an interview with the BBC World Service on 25 July, Dr. Ian Baird, Associate professor of geography at the University of Wisconsin-Madison, USA, unequivocally attributed the disaster to poor management. Furthermore, the South Korean building company, SK Engineering & Construction, asserts that "it warned the [Lao] government".
The disaster could have been prevented with better management, greater risk assessment and better building standards, according to the Lao government. On 27 July, four days after the dam collapse, the Lao Energy Minister, Mr. Khammany Inthirath, told a press conference in Vientiane that the disaster was caused by substandard construction.
Attapeu province is highly contaminated by unexploded ordnances (UXO, remnants of the Vietnam conflict), and although parts of the province have been cleared of UXO, the UN recommends caution when digging, since cluster bombs are more likely to be buried ('Lao PDR: Flash Flooding in Sanamxay', District Office of the UN Resident Coordinator Situation Report No. 05 (as of 1 August 2018).
Livestock, buffaloes and domestic animals have perished. On 3 August, the Vientiane Times reported the loss at more than 12,000 animals, as well as more than 19,000 chickens and other fowl, while 280 fishponds were damaged.
What are the immediate needs to help rebuild Laos?
Numerous governments have sent funds and humanitarian aid, including Thailand, Vietnam, China, Singapore, Cambodia, the European Union (EU), the US and North Korea. It seems that supplies have reached the affected areas with some difficulty, due to the state of the roads, damaged by the flood and covered in rivers of mud. According to a Voice of America report published on 6 August: "Satellite images show Attapeu lying on a bend of the river with a pre-crisis network of roads, but a later image shows the flooded area as a brown mass of mud with few structures left recognizable".
Cash donations have also been collected. The Lao bank BCEL set up the One Heart fund-raising initiative for people to donate by debit or credit cards. In Thailand, donations collected by Krungthai Bank for the flood victims had reached 25 million baht by the end of July (account number 067-12886-4 of Krungthai Bank, Government House branch, Cash donations are proving effective in helping victims of this disaster, while the delivery of relief aid (blankets, medicines, safe drinking water, food, etc.) is hampered by practical difficulties in accessing the affected areas.
Do you think the country is resilient enough to weather this chaos?
As a concerned citizen of the world, rather than an expert on development strategies, in my view there are good chances that Laos, and particularly the affected areas in Attapeu province, will weather this catastrophe. Laos has much at stake in its chosen development strategy aimed at energy generation. This is a setback in the country's ambitious plan to have a total of 100 dams by 2040. Approximately, 85 percent of the energy generated by these dams is exported.
What needs to be done differently for Laos to recover and sustain?
Since 1971, the UN has classed Laos as a Least Developed Country (LDC), a label the country is trying to shed. Laos is traversed by the Mekong for hundreds of miles, from north to south, before this great river flows into Cambodia and the delta in Vietnam. Laos has said in the past that it is making the best of a punishing geography, due to the country being landlocked.
Yearly, the sale of energy contributes around $650 million to the country's GDP, but still only half of the revenue generated by ore production from mining investment projects approved by the central government, which in 2017 reached around $1.2 billion.
Unlike some of her neighbours (Thailand and the Philippines, chiefly), Laos has shown negligible interest in the potential of renewable energy, despite enjoying an average of 1,800-2,000 hours of sunlight per year, or 200-300 sunlight days per year, particularly in the south of the country. Consequently, progress in sources of renewable energy has been slow and foreign investment has lagged behind, in contrast to the aggressive push for hydropower projects.
What Laos wishes to do is secondary to other countries' vision for Laos. A number of countries, as well as NGOs, environmental and human rights organisations, have expressed their reservations about Laos' stated hydropower goals, because of the cost to the country's ecology, and the human cost caused by the displacement of thousands of families. Laos' potential in generating energy for sale was known to the French colonisers a century ago but, despite a number of surveys shortly after the 1893 annexation of Laos as the fifth province of French Indochina, the French colonial government elected not to exploit the potential of the Nam Theun river, due to the massive investment required in building an often non-existent infrastructure. Only in recent years, was this massive hydropower project built, with funding from the World Bank, among others.
Laos can recover from this tragedy, through its own resources and with help from the international community.
What can the public immediately do to save Laos?
In the immediate aftermath of this man-made disaster, the public should follow events and contribute with cash donations and goods in kind, and pay attention to messages from the Lao government and aid agencies as to the most effective ways to assist the affected communities.
For the longer term, a rethink of Laos' development goals is essential. Much of Laos' energy for sale is exported to its neighbours, where it is squandered on excessive air-conditioning for shopping malls, supermarkets, offices and homes, entertainment places, etc. Laos' energy-hungry neighbours need to understand the hidden "costs" to a poor country like Laos, where the race to become the "Battery of Southeast Asia" is being achieved at the expense of natural resources, human capital and tragedies.
Concerned members of the public can lobby their respective governments for civil society to be respected in Laos, as a forum for free expression. It is essential that Lao citizens are involved in the consultation process for new hydropower projects or other large-scale projects which involve environmental degradation, a high level of risk and loss of a traditional way of life for communities along the Mekong.
Building dams along the Mekong must be discussed as a transnational issue, rather than pertaining to Laos alone, as was made clear in the Xe Pian-Xe Nam Noy disaster affecting downstream villages in Cambodia.
Pressure should be applied on the Lao government to ensure transparency in its investigations of Lao communities affected by the massive flooding in Attapeu province.
The 31 July statement issued by Mekong Watch, mentioned earlier, urges donor countries and development agencies to support the Lao government "in seeking compensation from the dam companies, and re-direct their aid policies that rely on hydropower development".
About Lia Genovese
Lia Genovese holds a PhD from SOAS-University of London for a Dissertation titled 'The Plain of Jars of North Laos – Beyond Madeleine Colani'. Her current research interests include: the Plain of Jars of Laos; French colonial archaeology; the megaliths of South and Southeast Asia; Iron Age mortuary practices; cultural heritage and conservation. She is currently working on a critical biography of the life and work of the French archaeologist Madeleine Colani.
Explaining Gendered Wartime Violence: Rohingya Ethnic Cleansing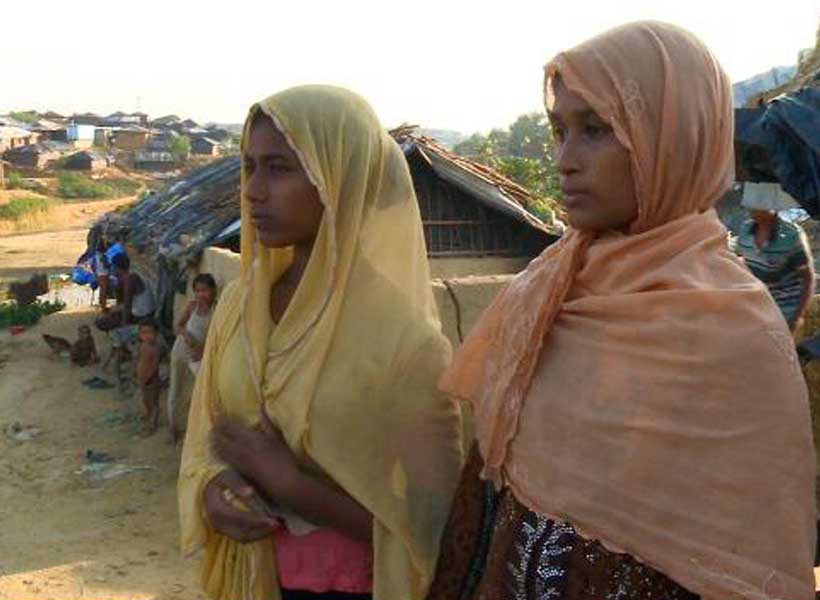 The United Nations described Rohingyas as 'amongst the most persecuted minority groups in the world.' News reports and refugee testimonies have confirmed that the plight of Muslims in Rakhine State of Myanmar is atrocious. The humanitarian crisis taking place in the Rakhine state has led to the death of an appalling number of Rohingya's Muslims. It has been reported, that nearly 500,000 people have fled destruction of their livelihood and, are currently living in refugee camps in Bangladesh. The UN reports suggest that Rohingyas have faced "killings, torture, rape and arson", by Burmese troops. It has been categorised as a 'textbook case of ethnic cleansing' of Muslims in Myanmar.
Rohingya Muslims represent the largest percentage of Muslims in Myanmar, and the majority lived in Rakhine state before the violence broke out. Myanmar is predominantly a Buddhist country which has for decades denied Muslims citizenship, they have been subjected to brutal government and police violence, and their identity has been decreased to that of an 'illegal immigrant.' On the 25th of August, 2017 the Rohingya militant army launched a deadly attack on the Muslims which has culminated into a systematic case of ethnic violence, turning into ethnic cleansing. They have slowly, but successfully forced majority of the Muslims to flee the country, resulting in one of the deadliest case of violence in the 21st century.
Within this Muslim minority exists another kind of minority, 'Rohingya Women' who have been subjected to sexual violence and rape by the army militants. It has been reported that tens of thousands of young girls and women of the Muslim community have been sexually violated and raped by the army militants In the report prepared for the UN Commission on Human Rights, Gay J. McDougall defined wartime rape as "a deliberate and strategic decision on the part of combatants to intimidate and destroy 'the enemy' as a whole by raping and enslaving women who are identified as members of the opposition group." However, wartime rape is not a new phenomenon. Many historical and anthropological researchers have provided us with evidence that rape during war can be traced back to earlier wars. It was reported that during the Second World War, the city of Berlin witnessed extremely high levels of rape and sexual violence against women by the Soviet forces. It has been estimated that around 900,000 women were raped and violated during the war.The infamous 'Rape of Nanking' is another case where Japanese soldiers reportedly raped an estimated 20,000 to 80,000 women in the city of Nanjing, China in 1937.
According to the Human Rights Watch report titled 'All of My Body was in Pain: Sexual Violence against Rohingya Women and Girls in Burma', women and girls are brutally being raped and sexually violated, humiliated, beaten up and even killed by the Burmese militants. They also suffer from the ordeal of seeing their children, parents or partners being murdered in front of them. The Burmese militant army is using systematic rape as a weapon of war in the massacre of the Rohingyas – using women to be the easy target, and thereby making the Rohingya crisis a grave gender concern. Priyanka Motaparthy, a senior researcher in the Emergencies division of the Human Rights Watch, mentions in a Human Rights Watch report, "These horrific attacks on Rohingya women and girls by security forces add a new and brutal chapter to the Burmese military's long and sickening history of sexual violence against women."
It is believed that sexual violence and rape is systematically used against women during wartime due multiple reasons. In addition to women being 'easy targets', they are subjected to this ordeal in order to break down the reproductive cycle of an ethnicity, which thereby can result in eliminating that ethnic population altogether. It is also used to decrease or break down the morale of their enemy population, who are responsible for securing their women and girls, thus weakening their opponents. Therefore, the connecting factor between 'gender based violence' and 'wartime' are the underlying patriarchal values that persists in societies and dictates their culture. Within this structure, it is often assumed that a woman's honor resides in her reproductive system, violating her reproductive system is seen as a way of stripping her honor, subjecting her to humiliation and furthermore gaining 'power.' It is a way of systematically destroying a community as a whole.
This is not the first time the world is witnessing gender based violence. However, the silence on the issue and lack of action by international authorities such as the United Nations is alarming. Urgent and crucial steps need to be taken by the Burmese government along with other International Organizations to bring relief to these women and girls. There is also an urgent need to implement stringent policies and necessary actions must be taken against people who use of sexual violence during wartime. However, the most urgent need of the hour is to overthrow patriarchal values from societies all across the world. Even though this is optimistic, it is important to instill a sense of equality between men and women, which in turn could help in eliminating the use of sexual violence as a weapon of war.