Why Malaysian universities are performing poorly
Malaysian public universities have dropped in the Times Higher Education University Rankings over the last few years. Universiti Kebangsaan Malaysia (UKM) made 87th position in 2013, but as at 2015, no Malaysian university made the top 100 Asian rankings.
Malaysian public universities have also shown mixed results in other rankings like the QS rankings, where three Malaysian universities had slight rises in their rankings, while Universiti Teknologi Malaysia (UTM), Universiti Kebangsaan Malaysia (UKM), International Islamic Universiti Malaysia (IIUM), and Universiti Teknologi MARA (UiTM), all slipped in rankings from previous years. No Malaysian university made the top 100, According to the QS ranking profiles, Malaysian universities have lost significant ground in academic reputation and tend to be weak in research, where no Malaysian university reached the top 400.
Public Universities Vice-Chancellor/Rector Committee chairman Dr. Kamarudin Hussin, who is also vice chancellor of Universiti Malaysia Perlis (Unimap) claims that the ranking methodologies favour older, more established universities. Yet many universities within the THES top 100 Asian universities were established relatively recently. Hong Kong University of Science and technology, ranked 7th was established in 1980, Nanyang Technological University, ranked 10th was set up in 1981, and Pohang University of Science and Technology, ranked 11th, was established in 1986.
When comparing performance to Malaysia's neighbour, Thailand, King Mongkut's University of Technology, established in 1960 made 55th place, and Mahidol University came in with 91st placing.
In addition, a number of universities from countries which are not democratically governed like Sharif University of Technology 43, Iran), Isfahan University of Technology (61, Iran), Iran University of Science and Technology (69), King Fahd University of Petroleum and Minerals (71, Saudi Arabia), and King Saud University (72, Saudi Arabia), all made the THES top 100 Asian university rankings last year.
Dr Kamarudin accepts that Malaysian universities have "many issues that must be resolved….(and) there are plenty of oversights that must be fixed". However, unfortunately, he didn't mention what they are, or offer any solutions.
World Bank economist Dr Frederico Gil Sander agrees with Kamarudin's comment that the "stakes are high", when he says that the poor state of Malaysia's education system is more alarming that the country's public debt. The talent needed to develop the Malaysian economy is not being produced.
Probably the tone used by Dr Kamarudin used in his article hints at the first problem with Malaysian public universities. That is, the view of authority over the rest. Kamarudin asserts that 'academic freedom' exists, yet this should be subject to the views of the 'so called' majority', which could be read as authority. In August last year, he was one of the strongest opponents of students attending the Bersih 4 rally, threatening disciplinary action, such as suspension or even expulsion of students who attended from university.
Supressing independent thought, is counterproductive to creativity, critical thinking, and problem solving, the very mindset that Malaysian universities espouse to develop. Among the characteristics of society required for progression are people who are knowledgeable and have the right to choose.
This attitude by university leaders doesn't appear to be isolated. Hazman Baharom called their attitude 'aristocratic', in reference to the partisan political leanings of Professor Sahol Hamid Abu Bakar, former vice Chancellor of Universiti Teknologi MARA (UiTM). This institutional arrogance can be seen in the proposal to educate students about the ills of ISIS. The underlying assumption being that Malaysian students are easily led and cannot think for themselves.
Malaysian universities begin to lose the plot where their leaders are glorified with unnecessary ceremonies that make a mockery of academia, and tend to dominate the persona of universities, rather than act as facilitators for people to excel.
This leads to a lot of unnecessary expenses such as lavish dinners with highly paid entertainers to celebrate this event and that event, this award and that award. Some of these dinners are very extravagant at some universities costing up to hundreds of thousands of Ringgit. Vice Chancellors make lavish trips both domestically and internationally, where the benefits of these trips to the university have not been scrutinized, except for MOUs that are never acted upon.
This is in a time when university budgets are being slashed, the minister has directed university management to be frugal with spending and seek funds outside government allocations, and the public are suffering economic hardships through the economic downturn, GST, and depreciated Ringgit.
The waste goes much further. Within the few parts of the Malaysian Auditor General's report that is released to the public, the 2012 report cited Universiti Malaysia Sabah's (UMS) mishandling of its computerized maintenance management system. After spending RM400,000 on the system between 2008 and 2012, the auditor general found that data was not keyed into the system and the person responsible for managing the system had no IT knowledge.
The cost of three building projects ballooned 8.9% at Universiti Tun Hussein Onn Malaysia (UTHM) due to delays and inexperience of the contractor.
The auditor general further found at Universiti Malaysia Perlis (Unimap) that funding allocations didn't take into account the basic needs of students in the planning and construction of its main campus. Despite RM438.64 Million allocated for setting up Unimap under the 8th Malaysian Plan, only 25% of these campus plans have been completed, which university management blamed on budget constraints.
What is even more startling according to the AGs report is that Unimap made the first payment to the contractor working on the permanent campus before the contract was fully negotiated and signed. The report further states that workmanship is extremely poor, where cement in many places is cracking and crumbling, roads and parking areas where inappropriate, and much of the equipment supplied is not functioning.
According to the AGs report from 2002 to 2012 the university has no hostels of its own, and has been renting them and ferrying students to campus instead, which cost RM138.4 Million. As of 2015, Unimap entered into an arrangement with the Proven Group of Companies to supply additional privately owned accommodation at Titi Tinggi, some 35kms from Kangar and 40kms from the main campus at Ulu Pauh. Details of this agreement have never been made public, but Unimap will pay rent for 15 years for the use of this accommodation, but ownership will remain private after this period.
The Unimap-Proven venture is contrary to the Education Ministry's vision of universities earning income through hostel rental to students. Thus in the medium to long term the university will be restricted in the ways it can earn revenue to fund future budget cuts.
Similar issues exist at Universiti Malaysia Kelantan (UMK) where the lack of student accommodation has led to severe overcrowding at hostels.
Mismanagement and waste is one issue, but outright corruption is another.
If one has spent any significant time within Malaysian academia, stories about corruption within the institution will no doubt arise. However, most, if not all of these remain hearsay, as there are few reports of corruption to higher authorities and very few charges are ever made, with no convictions made in this area.
Just some examples that have come to the writer's attention are consultancy companies run and operated by a faculty, where directors and shareholders are the dean and deputy deans. Students have come forth and told the writer in confidence that examiners at master and PhD level ask outright for payments to pass. A particular dean of a new faculty, used a company owned by proxies to supply equipment. University cars have been sent to workshops for repairs that don't exist. Academics are paying for articles to be published in academic journals without peer review, and the heavy use of research grants for travel that is questionably related to the research topic it was granted for.
University staff tend to be fearful of their superiors, most are extremely hesitant to speak out and whistle-blow on their peers and superiors. In an interview with a state director of the Malaysian Anti-Corruption Commission, the writer was told that the MACC would provide a neutral and discrete place for those who wanted to remain anonymous and report corruption. However those few that came forward faced hurdles with the MACC that were almost insurmountable, such as being requested to file a police report which would jeopardize anonymity.
A major problem is the leadership of Malaysia's public universities today. Vice chancellors tend to be domineering, not allowing too much room for dissent from their own faculty and university members. Often, staff are selected upon loyalty rather than merit, breeding a culture of gratitude within their institutions. Strong vice chancellors can browbeat the university board, and senate, getting their own way on operational issues, due to the transitory nature of university boards.
Universities within Malaysia have become dominated by vice chancellors who are intent on micromanaging their universities. The strong power-distance relationships that develop between the leader and subordinates in Malaysia is powerful enough to destroy many of the management checks and balances that exist to prevent mis-management and even abuse of power.
It's time to re-organize Malaysian public universities from the top down. Not only is new leadership needed, but heavy reform of the university organization so that these institutions should function how they are really meant to. All importantly, vision beyond self-glorification is desperately needed by public university leadership.
Make this change and Malaysian universities will very quickly feature in the top 100 Asian university rankings.
Infrastructure Drive, Strong Domestic Demand to Sustain Philippine Growth
The Philippines' economic growth is expected to sustain its quick pace in 2018 and 2019 as the government's infrastructure program is rolled out, says a new Asian Development Bank (ADB) report.
In its new Asian Development Outlook (ADO) 2018, ADB projects Philippine gross domestic product (GDP) growth at 6.8% this year and 6.9% in 2019, up from 6.7% in 2017. Rising domestic demand, remittances, and employment, in addition to infrastructure spending, will drive growth. ADO is ADB's flagship annual economic publication.
"Along with domestic demand, the government's infrastructure investments will fuel the country's growth in the next few years, supported by a sound economic policy setting," said Kelly Bird, ADB Country Director for the Philippines. "We expect this growth to further lift wage employment numbers, add to household incomes, and benefit more poor families across the archipelago."
The Philippines remained one of the strongest growing economies in Southeast Asia in 2017. Domestic investment recorded 9% growth last year, moderating from a brisk 23.7% in 2016, although growth in fixed investment in industrial machinery, transport equipment, and public construction remained robust. Household consumption grew by 5.8% in 2017, from 7% in 2016, on the back of higher remittances and employment, with the unemployment rate falling by 1.3 percentage points to 5.3% in January 2018 as 2.4 million jobs were added. Public spending rose by 7.3% last year from 8.4% in 2016.
Consumer price inflation reached 3.2% last year from 1.8% in 2016 due to strong economic growth, higher international fuel prices, and Philippine peso depreciation, but well within the 2% to 4% target by the Bangko Sentral ng Pilipinas—the country's central bank. The country's external debt further declined to 23.3% of GDP in 2017, from 24.5% of GDP in 2016.
Moving forward, ADB projects services will continue to drive GDP growth, along with manufacturing and construction industries. The approval of the Tax Reform for Acceleration and Inclusion law in December 2017 will augment tax revenues and provide additional fiscal space for more progressive public spending. The policy reforms are expected to yield additional 90 billion to 144 billion Philippine pesos ($1.73 billion to $2.76 billion) in tax revenue collection in 2018 and 2019, respectively.
With economic growth gaining momentum, inflation is projected to reach 4% in 2018 as global oil and food prices rise, and higher excise taxes on some commodities take effect. In 2019, meanwhile, inflation is expected to marginally decline to 3.9%.
The report notes there are external risks to the Philippines' growth outlook from heightened volatility in international financial markets and uncertainty about global trade openness, although the country's strong external payments position would cushion these effects.
A major policy challenge to the country's growth outlook, according to the report, is managing the rollout of the government's "Build, Build, Build" infrastructure program, which is expected to raise public infrastructure spending to 7.3% of GDP by 2022 from 4.5% in 2016. The report provides suggestions on ways to enhance government capacity, including strengthening coordination between government agencies and improving technical capacity of staff within these agencies, and fostering stronger partnerships between government agencies, the private sector, and development partners.
Securing the future prosperity of the Greater Mekong Subregion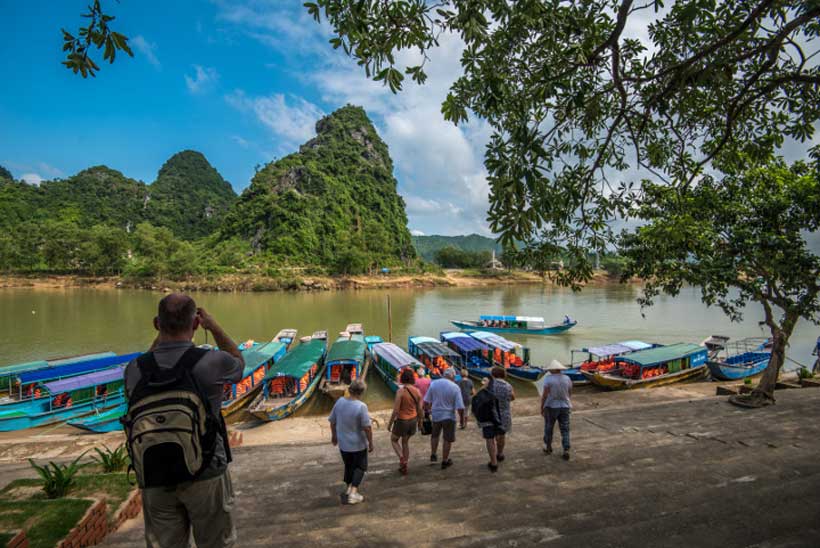 The Greater Mekong Subregion (GMS) countries have made stunning progress over the past quarter century. Once plagued by poverty, they are now economic success stories.
The GMS Economic Cooperation Program has contributed significantly to this transformation. Since it was established in 1992 as a means to enhance economic relations and promote regional cooperation, its six member countries—Cambodia, the People's Republic of China, Lao People's Democratic Republic, Myanmar, Thailand, and Viet Nam—have built a platform for economic cooperation that has mobilized almost $21 billion for high-priority infrastructure projects. Foreign direct investment into the subregion has surged ten-fold and trade between its countries has climbed from $5 billion to over $414 billion.
But the subregion faces challenges to its prosperity. Further reducing poverty, climate change adaptation and mitigation, energy efficiency, food security, and sustainable urbanization remain priorities of the GMS Program. Countries also face new challenges, including growing inequalities, rising levels of cross-border migration, and the potential impact on jobs of the fourth industrial revolution.
Moreover, GMS countries have agreed to significant commitments under the Sustainable Development Goals and the Paris Agreement on climate change.
There are also emerging opportunities for the region, including incorporating new technologies in various sectors such as education, agriculture, health, and finance. GMS countries are situated at the crossroads of South and Southeast Asia, and hence they can benefit from the increased momentum for growth in South Asia.
As GMS leaders gather this week in Ha Noi to chart the future of the program, it's a good time to consider how a new generation of initiatives can ensure the GMS Program remains relevant and responsive to the subregion's needs.
The Ha Noi Action Plan and the GMS Regional Investment Framework 2022, both proposed for adoption at the Summit, provide a platform for countries to strengthen their cooperation through continuous innovation. These two documents will have a sharpened focus on the GMS Program's strategic goals of enhancing connectivity, competitiveness, and community in the subregion.
Connectivity, the first objective, has been dramatically improved. More than 10,000 kilometers of new or upgraded roads and 3,000 kilometers of transmission and distribution lines have been added under the program. These transport networks have been transformed into an interconnected network of transnational economic corridors, building on 25 years of work to extend the benefits of growth to remote areas. The Ha Noi Action Plan calls for the continued expansion of these economic corridors to boost connectivity both between and within countries.
The subregion's competitiveness is improving through ongoing efforts to facilitate transport and trade flows, enhance agriculture exports, and promote the GMS as a single tourism destination after receiving a record 60 million visitors in 2016. Looking ahead, it will be important to continue cutting red tape and to remove remaining barriers to transport and trade.
Finally, communities are being strengthened through cross-border initiatives to control the spread of communicable diseases, expand educational opportunities, protect the subregion's rich biodiversity, and mitigate the impacts of climate change.
GMS countries have identified a new pipeline of 227 projects worth about $66 billion under the GMS Regional Investment Framework 2018–2022. These projects will expand economic prosperity by developing cross-border transport and energy infrastructure.
ADB, which has been the program's secretariat since its inception, expects to provide $7 billion over the next 5 years for a range of projects supporting transport, tourism, energy, climate change mitigation and adaptation, agribusiness value chains, and urban development. This builds on more than $8 billion in financing provided by ADB so far under the program.
To deliver these projects and make headway on other priorities such as infectious disease control and environmental preservation, strong partnerships are vital. The GMS Program depends on the collaboration of many stakeholders, including local administrations and communities, development partners, academia, and the media.
The GMS will benefit from strengthened partnerships with other regional and global cooperation platforms, leading to new opportunities for future development.
Partnerships with the private sector will also be increasingly important, and it is gratifying to see them deepening through the GMS Business Council, the Mekong Business Initiative, the e-Commerce Platform, GMS tourism and agriculture forums, and the recent Finance Sector and Trade Finance Conference.
I am optimistic that the subregion will meet its challenges and capitalize on emerging opportunities. By working together, GMS countries can deliver rapid, sustainable, and inclusive growth for another 25 years and beyond. ADB will continue to be an important and trusted partner in that endeavor.
Vietnam continues to reduce poverty
Poverty in Vietnam continues to fall, particularly amongst ethnic minorities, who saw their rate of poverty decline significantly by 13 percentage points, the largest decline in the past decade, says a new World Bank report.
According to Climbing the Ladder: Poverty Reduction and Shared Prosperity in Vietnam, released today by the World Bank, improving income from highland agriculture can help Vietnam further reduce poverty, which has fallen by almost 4 percentage points since 2014, to 9.8 percent in 2016. Ethnic minorities – many of them living in highland areas – account for 72 percent of Vietnam's poor, and encouraging them to grow more profitable industrial crops may improve their earnings.
"Vietnam has achieved tremendous results in reducing poverty and improving the quality of life for millions. The decline in poverty amongst ethnic minorities is encouraging, and more focused efforts on improving their incomes can further broaden their opportunities and reduce persistent inequalities," said Ousmane Dione, World Bank Country Director for Vietnam. "The aspirations of those with less opportunities cannot be ignored."
Outlining recent trends and patterns of poverty in Vietnam, the report proposes solutions for that untapped agriculture potential in highland areas where the poor are concentrated. Land use and cropping decisions, for example, contribute more to agriculture income differences between households. Low-income families in highland areas use their land to grow basic crops such as rice or maize instead of raising more profitable crops such as coffee, black pepper, or rubber.
Improving access to credit may help highland farmers make the necessary investments for higher-earning agricultural production. Strengthening earning capacity can help narrow inequalities between groups.  The average per capita consumption of ethnic minorities, for example, remains less than 45 percent of the Kinh and Hoa. Moreover, the poor faces a widening gap in terms of access to upper secondary education and improved water and sanitation.
At the same time, the report recognizes that 70 percent of Vietnam's population is now classified as economically secure, including the 13 percent who are now part of the global middle-class. These income classes are growing rapidly, rising by over 20 percentage points between 2010 and 2017. An average of 1.5 million Vietnamese joined the global middle class each year since 2014, confirming that households continue to climb the economic ladder after escaping poverty. The rise of the consumer class changes society's aspirations and the focus of the poverty and shared prosperity agenda shifts from combatting extreme poverty to effecting broad improvements in the quality of life and supporting the further expansion of the middle class. Rapid job creation and an ongoing transition to wage employment are driving gains in poverty reduction and shared prosperity.
The report suggests several areas of strategic priorities to further reduce poverty and promote shared prosperity, including:
Boosting labor productivity and investing in infrastructure to sustain job creation and wage growth without losing competitiveness.
Implementing education reforms designed to equalize opportunities and develop workforce skills.
Spurring agriculture structural transformation through changing farmland use patterns, strengthening land user rights, and improving skills of the poor farmers.
While reducing inequality remains a challenge, the report notes that the number of individuals vulnerable to falling back into poverty declined to only 2 percent between 2014 and 2016. In contrast, the period saw the middle class expanding by more than 3 million people.
One of the prioritized areas under the new World Bank Group Country Partnership Framework with Vietnam for the period from FY18 – FY22 is inclusive growth, with a specific objective for the "economic integration of the poor and vulnerable groups" under which the Bank will provide support for targeted interventions to expand economic opportunities for people in lagging areas.