Why Malaysian universities are performing poorly
Malaysian public universities have dropped in the Times Higher Education University Rankings over the last few years. Universiti Kebangsaan Malaysia (UKM) made 87th position in 2013, but as at 2015, no Malaysian university made the top 100 Asian rankings.
Malaysian public universities have also shown mixed results in other rankings like the QS rankings, where three Malaysian universities had slight rises in their rankings, while Universiti Teknologi Malaysia (UTM), Universiti Kebangsaan Malaysia (UKM), International Islamic Universiti Malaysia (IIUM), and Universiti Teknologi MARA (UiTM), all slipped in rankings from previous years. No Malaysian university made the top 100, According to the QS ranking profiles, Malaysian universities have lost significant ground in academic reputation and tend to be weak in research, where no Malaysian university reached the top 400.
Public Universities Vice-Chancellor/Rector Committee chairman Dr. Kamarudin Hussin, who is also vice chancellor of Universiti Malaysia Perlis (Unimap) claims that the ranking methodologies favour older, more established universities. Yet many universities within the THES top 100 Asian universities were established relatively recently. Hong Kong University of Science and technology, ranked 7th was established in 1980, Nanyang Technological University, ranked 10th was set up in 1981, and Pohang University of Science and Technology, ranked 11th, was established in 1986.
When comparing performance to Malaysia's neighbour, Thailand, King Mongkut's University of Technology, established in 1960 made 55th place, and Mahidol University came in with 91st placing.
In addition, a number of universities from countries which are not democratically governed like Sharif University of Technology 43, Iran), Isfahan University of Technology (61, Iran), Iran University of Science and Technology (69), King Fahd University of Petroleum and Minerals (71, Saudi Arabia), and King Saud University (72, Saudi Arabia), all made the THES top 100 Asian university rankings last year.
Dr Kamarudin accepts that Malaysian universities have "many issues that must be resolved….(and) there are plenty of oversights that must be fixed". However, unfortunately, he didn't mention what they are, or offer any solutions.
World Bank economist Dr Frederico Gil Sander agrees with Kamarudin's comment that the "stakes are high", when he says that the poor state of Malaysia's education system is more alarming that the country's public debt. The talent needed to develop the Malaysian economy is not being produced.
Probably the tone used by Dr Kamarudin used in his article hints at the first problem with Malaysian public universities. That is, the view of authority over the rest. Kamarudin asserts that 'academic freedom' exists, yet this should be subject to the views of the 'so called' majority', which could be read as authority. In August last year, he was one of the strongest opponents of students attending the Bersih 4 rally, threatening disciplinary action, such as suspension or even expulsion of students who attended from university.
Supressing independent thought, is counterproductive to creativity, critical thinking, and problem solving, the very mindset that Malaysian universities espouse to develop. Among the characteristics of society required for progression are people who are knowledgeable and have the right to choose.
This attitude by university leaders doesn't appear to be isolated. Hazman Baharom called their attitude 'aristocratic', in reference to the partisan political leanings of Professor Sahol Hamid Abu Bakar, former vice Chancellor of Universiti Teknologi MARA (UiTM). This institutional arrogance can be seen in the proposal to educate students about the ills of ISIS. The underlying assumption being that Malaysian students are easily led and cannot think for themselves.
Malaysian universities begin to lose the plot where their leaders are glorified with unnecessary ceremonies that make a mockery of academia, and tend to dominate the persona of universities, rather than act as facilitators for people to excel.
This leads to a lot of unnecessary expenses such as lavish dinners with highly paid entertainers to celebrate this event and that event, this award and that award. Some of these dinners are very extravagant at some universities costing up to hundreds of thousands of Ringgit. Vice Chancellors make lavish trips both domestically and internationally, where the benefits of these trips to the university have not been scrutinized, except for MOUs that are never acted upon.
This is in a time when university budgets are being slashed, the minister has directed university management to be frugal with spending and seek funds outside government allocations, and the public are suffering economic hardships through the economic downturn, GST, and depreciated Ringgit.
The waste goes much further. Within the few parts of the Malaysian Auditor General's report that is released to the public, the 2012 report cited Universiti Malaysia Sabah's (UMS) mishandling of its computerized maintenance management system. After spending RM400,000 on the system between 2008 and 2012, the auditor general found that data was not keyed into the system and the person responsible for managing the system had no IT knowledge.
The cost of three building projects ballooned 8.9% at Universiti Tun Hussein Onn Malaysia (UTHM) due to delays and inexperience of the contractor.
The auditor general further found at Universiti Malaysia Perlis (Unimap) that funding allocations didn't take into account the basic needs of students in the planning and construction of its main campus. Despite RM438.64 Million allocated for setting up Unimap under the 8th Malaysian Plan, only 25% of these campus plans have been completed, which university management blamed on budget constraints.
What is even more startling according to the AGs report is that Unimap made the first payment to the contractor working on the permanent campus before the contract was fully negotiated and signed. The report further states that workmanship is extremely poor, where cement in many places is cracking and crumbling, roads and parking areas where inappropriate, and much of the equipment supplied is not functioning.
According to the AGs report from 2002 to 2012 the university has no hostels of its own, and has been renting them and ferrying students to campus instead, which cost RM138.4 Million. As of 2015, Unimap entered into an arrangement with the Proven Group of Companies to supply additional privately owned accommodation at Titi Tinggi, some 35kms from Kangar and 40kms from the main campus at Ulu Pauh. Details of this agreement have never been made public, but Unimap will pay rent for 15 years for the use of this accommodation, but ownership will remain private after this period.
The Unimap-Proven venture is contrary to the Education Ministry's vision of universities earning income through hostel rental to students. Thus in the medium to long term the university will be restricted in the ways it can earn revenue to fund future budget cuts.
Similar issues exist at Universiti Malaysia Kelantan (UMK) where the lack of student accommodation has led to severe overcrowding at hostels.
Mismanagement and waste is one issue, but outright corruption is another.
If one has spent any significant time within Malaysian academia, stories about corruption within the institution will no doubt arise. However, most, if not all of these remain hearsay, as there are few reports of corruption to higher authorities and very few charges are ever made, with no convictions made in this area.
Just some examples that have come to the writer's attention are consultancy companies run and operated by a faculty, where directors and shareholders are the dean and deputy deans. Students have come forth and told the writer in confidence that examiners at master and PhD level ask outright for payments to pass. A particular dean of a new faculty, used a company owned by proxies to supply equipment. University cars have been sent to workshops for repairs that don't exist. Academics are paying for articles to be published in academic journals without peer review, and the heavy use of research grants for travel that is questionably related to the research topic it was granted for.
University staff tend to be fearful of their superiors, most are extremely hesitant to speak out and whistle-blow on their peers and superiors. In an interview with a state director of the Malaysian Anti-Corruption Commission, the writer was told that the MACC would provide a neutral and discrete place for those who wanted to remain anonymous and report corruption. However those few that came forward faced hurdles with the MACC that were almost insurmountable, such as being requested to file a police report which would jeopardize anonymity.
A major problem is the leadership of Malaysia's public universities today. Vice chancellors tend to be domineering, not allowing too much room for dissent from their own faculty and university members. Often, staff are selected upon loyalty rather than merit, breeding a culture of gratitude within their institutions. Strong vice chancellors can browbeat the university board, and senate, getting their own way on operational issues, due to the transitory nature of university boards.
Universities within Malaysia have become dominated by vice chancellors who are intent on micromanaging their universities. The strong power-distance relationships that develop between the leader and subordinates in Malaysia is powerful enough to destroy many of the management checks and balances that exist to prevent mis-management and even abuse of power.
It's time to re-organize Malaysian public universities from the top down. Not only is new leadership needed, but heavy reform of the university organization so that these institutions should function how they are really meant to. All importantly, vision beyond self-glorification is desperately needed by public university leadership.
Make this change and Malaysian universities will very quickly feature in the top 100 Asian university rankings.
US Secretary of State Pompeo set to boost Indonesian religious reform efforts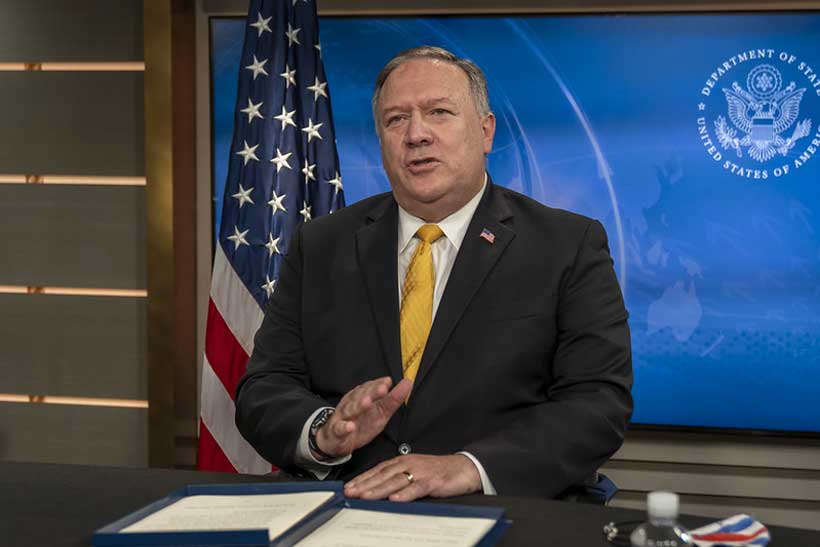 US Secretary of State Mike Pompeo is set to boost efforts by the world's largest Muslim movement to recontextualize Islam during a forthcoming visit to Indonesia as part of a three-nation Asian tour. The tour is likely to be the secretary's last official trip prior to next month's US presidential election.
Mr. Pompeo's engagement with Nahdlatul Ulama, a powerful Islamic grouping in Indonesia, with an estimated following of 50 million people, takes on added significance against the backdrop of the Trump administration's push for a definition of human rights that redefines notions of freedom of religion at the expense of other basic rights in advance of a hard fought election that Donald J. Trump could lose.
It also comes as French President Emmanuel Macron kicked into high gear his self-declared mission of reforming what he has termed an Islam that "is a religion that is in crisis all over the world" in the wake of the gruesome murder of Samuel Paty, a 47-year old teacher.
Mr. Paty was killed by an 18-year old youth of Chechen descent after he used cartoons depicting the Prophet Mohammed in a class about freedom of expression.
The Indonesia-leg at the end of Mr. Pompeo's tour, which is first taking him to India and Sri Lanka, similarly comes as Nahdlatul Ulama, an independent civil society movement, competes globally with Saudi, United Arab Emirates, and Turkish state-backed efforts to garner religious soft power and shape the definition of what constitutes moderate Islam.
Nahdlatul Ulama was founded almost a century ago in opposition to Wahhabism, the austere interpretation of Islam, that has largely guided Saudi Arabia since its founding in 1932.
Mr. Pompeo and his top aides are scheduled to participate in two days of events in the Indonesian capital organized by Nahdlatul Ulama to nurture "the shared civilizational aspirations" of Indonesia, the United States and Islam, defined by the group with the Qur'anic phrase that the faith is "a source of universal love and compassion."
By giving Nahdlatul Ulama the State Department's seal of approval, Mr. Pompeo is implicitly acknowledging the fact that the group unlike its rivals in the quest for religious soft power has started to put its money where its mouth is.
Unlike its soft power rivals, Nahdlatul Ulama has spelt out its definition of moderate Islam with its adoption in 2015 of the concept of Nusantara (Archipelago) or humanitarian Islam that calls for a full embrace of the United Nations Declaration of Human Rights (UNHDR).
Countries like Saudi Arabia and the UAE project themselves as models of undefined forms of moderate Islam manifested by engagement in inter-faith dialogue and varying degrees of religious tolerance.
They have, however, stopped short of addressing theologically problematic concepts like that of kafirs or infidels, the Muslim reference to non-Muslims, slavery, dhimmis, people of the book that Islam recognizes but accords a lesser status than Muslims, apostasy, and blasphemy.
They have also manoeuvred in inter-faith gatherings to evade unrestricted support of the UN human rights declaration.
By contrast, Nahdlatul Ulama has taken initial steps in that direction even if it still has a ways to go. Thousands of the group's religious scholars issued a fatwa or religious opinion that eliminated the notion of infidels, effectively removing one pillar of Muslim perceptions of religious supremacy.
Based on statements by Nahdlatul Ulama leaders, the group's scholars are likely to next do away with the legal concept of slavery.
The group's litmus test will be if and when it takes on apostasy and blasphemy, concepts that are certain to be far more emotive and controversial. Nahdlatul Ulama officials say the group has long accepted in practice conversion away from Islam.
Mr. Pompeo's acknowledgement of Nahdlatul Ulama further suggests that the State Department recognizes that religious reform is more likely to successfully be enacted by independent civil society actors with proper religious credentials and a significant following rather than states.
It is a recognition that by implication highlights the limitations of efforts by states, including Saudi Arabia, the UAE and Turkey, to define the essence of Islam as well as Mr. Macron's ambition to solve the faith's problems for it.
Mr. Pompeo lands in Jakarta shortly after signing the Geneva Consensus Declaration alongside a host of countries that propagate conservative values and rank low on Georgetown University's Women, Peace and Security Index.
The declaration seeks to promote women's rights and health and strengthen the family but emphasizes that "in no case should abortion be promoted as a method of family planning."
It stipulates that there is "no international right to abortion, nor any international obligation on the part of States to finance or facilitate abortion."
The declaration's signatories include Saudi Arabia, Bahrain, the UAE, Iraq, Sudan, South Sudan, Libya, Egypt, Belarus, Hungary, and Indonesia.
Many of the signatories are members of the Group of Friends, a block of 25 nations in the United Nations that seeks to pre-empt any expansion of rights for girls, women, and LGBT people and weaken international support for the Beijing Declaration, a landmark 1995 agreement that stands as an internationally recognized progressive blueprint for women's rights.
Much of the group's positions are coordinated by the Center for Family and Human Rights, or C-Fam, a small but influential far-right group that focuses on abortion, sexual orientation and gender identity. C-Fam has worked closely with the State Department dating back to the administration of US President George W. Bush.
Accompanied by among others Mary Ann Glendon, the head of the State Department's Commission on Unalienable Rights, Mr. Pompeo's arrival in Jakarta also comes after the centre-right Centrist Democrat International (IDC-CDI), the world's largest alliance of political parties, acknowledged the Commission's report as "a re-affirmation of the spirit and substance of fundamental human rights."
Indonesia's National Awakening Party (PKB), which has five seats in President Joko Widodo's cabinet and is an influential member of IDC-CDI, is closely associated with Nahdlatul Ulama.
Critics have charged that the Commission's report fuels assertions that there are too many human rights and prioritizes religious liberty and property rights at the expense of protections against discrimination particularly on the basis of gender.
As a result, Mr. Pompeo's endorsement of Nahdlatul Ulama could prove to be a double-edged sword. It strengthens the group's proposition, yet also identifies it with one faction in a global battle that not only seeks to define the soul of Islam but also fundamentally shape what constitutes a human right.
Lessons from Cambodia and the way ahead- quest for peace and reconciliation
Victims are Cambodians, the criminals are Cambodians, and the crimes were committed on Cambodian soil!
This was the justification given by the Cambodian Government under Hun Sen to establish the Cambodian Khmer Rouge Tribunal (KRT) formally known as the Extraordinary Chambers in the Courts of Cambodia (ECCC) – a hybrid Cambodian-International Court in conjunction with the International Community in 2006 under the Cambodian law to try leaders most responsible for perpetrating gross violations of human rights during the Pol Pot and Khmer Rouge period from 1975 to 1978. However, even before the establishment of the Tribunal, the members of the International Community in the panel was reduced in compliance with the request made by Cambodia at the UN General Assembly moreover with its implementation the Tribunal witnessed an increased political interference diluting the whole process. Thus the success of any such program will depend on the commitments and cooperation from the Government
Compromise made over justice for Peace and Reconciliation and its worth
With its 16 years of work in the country, the court is now coming to close with sentencing just three of the perpetrators for life imprisonment – despite the heavy investments made by external actors and of the struggles and the criticisms faced, as a result of adhering to the Cambodian Government's request pointing to a renewed civil war within the country- destabilizing peace, economic growth, social order, and political stability, if the court moved ahead with its trials.
Thus, there was a dilemma on how to balance the prospective and retrospective justice, most importantly the Tribunal has been a setback to scholars of Transitional Justice, who believed to achieve through the TJ mechanism, a strengthened rule of law, democratic transition, and fair and transparent political institutions that victims can trust, instead, the court helped in legitimizing the authoritarian regime. The failure was more associated with the political compromise allowed to be made respecting the sovereignty, thereby allowing the government to choose how to deal with its violent past, while the critics point out "whether there had been a better option".
However citing the Cambodian case study, questions have been raised against the scholars who preferred the 'maximalist approach' emphasizing the justice, on whether it had been possible and was practical to carry out the trials for all perpetrators or for the criminals who conducted the gravest crime, to stop the elite from securing impunity, strengthen the democracy or to serve as a model contributing to a strong independent judicial system. Critics also pointed out the heavy expenditure incurred, pointless testimonies and documentaries submitted as evidence, against victim's testimony censorship, and on the accessibility of the court system to the poor. Debates also brought in the need to consider the time factor for retributive justice, pointing the consequences associated with the delay made in taking action (by the time court decided to sentence criminals for life long sentences, they were suffering from old age diseases, and even some of the victims were suffering from amnesia).
Cambodian Dilemma and questions raised against Transitional Justice
The Cambodian case brought in new dilemmas for retributive justice supporters with the 'Karmic justice' belief by the victims, pointing out how cultural barriers can affect the Westernized Transitional Justice mechanisms and asking to what extent does Transitional Justice appear as 'savior' for the victims of Khmer regime and against the TJ's employing of particular tool-kit without understanding society and of expecting the local populations to fit into their prescribed template and finally against the voices that speak for or represent the victim's demands. The whole idea of the hybrid court thus gets questioned with Cambodians different understanding of justice. This understanding has also questioned whether the justice had contributed to reconciliation (which some scholars consider as complementary strands of peace-building), through the reparations, forgiveness, and apologies for historical injustices made to repair the relationships between victims and perpetrators.
Different voices have been raised- some claiming reconciliation remains elusive with many of the members involved in the violence still serving in the Government, thus questioning the Government's legitimacy and on the interest of the International actors to entrust them to carry out the TJ mechanism, and against the resistance of some International actors and the Government to dig into the past and on fixing the time frame for transitional justice actors to look into, critics also points out the emotionless and insincere apology made by the perpetrators which revictimized the victims and on giving amnesty to perpetrators purely on regimes interest and finally on classifying the perpetrators as poor thus not allowing the victims to claim reparation.
Way Ahead
However, on a positive note, this partial retributive justice, empowered the victims after receiving acknowledgment from the Government, besides it paved the way for the current Cambodian generation to understand their past and gave voice to the victims by allowing them to share their stories. Above all, it helped construct history about the forgotten and erased atrocities done by the Khmer regime from school curriculums and minds of the larger public and finally contributed to the rise of civil society organizations, and helped preserve the crime sites, pressured authorities to construct the museums and library, and in fixing a national commemoration day. All these efforts have helped prevent relapsing into violence to date, thus behind the criticisms, this genuine accomplishment shouldn't be ignored. It is now important to not let all these efforts go in vain, to not be a passive observer for the marginalization and disempowerment of victims to take place, to not let the society have a faded or distorted version of history. The Memories must be kept alive through all generations, the sites, rituals, ceremonies, must be preserved. Most of all, the victims must be provided with platforms to express their traumatic experience and it must be ensured that the regime doesn't engage in acts that hurt the sentiments of the victims and the dead must be honored. Thus a culture that respects human rights can help in achieving sustainable peace and reconciliation and gradually reduce the mistrust between the State and the victims and help in healing the past trauma and restore the dignity of the victims.
Moreover, it must be made clear to the regime that this retributive justice is the only first step to achieve reconciliation. Through the civil society the local reconciliation, documentation of victim's concerns, and peace-building efforts must be supported. At the same time, it should also be ensured that these efforts get acknowledged at the national level. Further, the underlying causes of the conflict must be studied in detail, and failures from Cambodia should be taken as a reference by Transitional Justice scholars. Most importantly the concentration must shift to root causes through critical ethnographic studies, understanding how the cultural barriers can affect the Transitional justice mechanism and by taking note of the immediate needs of the victims ( the economic, social, and cultural rights), thus gradually helping the victims to integrate into the mainstream society. Failure to do so can make society relapse into violence moreover criticisms will arise against the external actor's intervention and interest to create a stable market society.
Yoshihide Suga's Official Trip: What Does He Expect from Vietnam and Indonesia?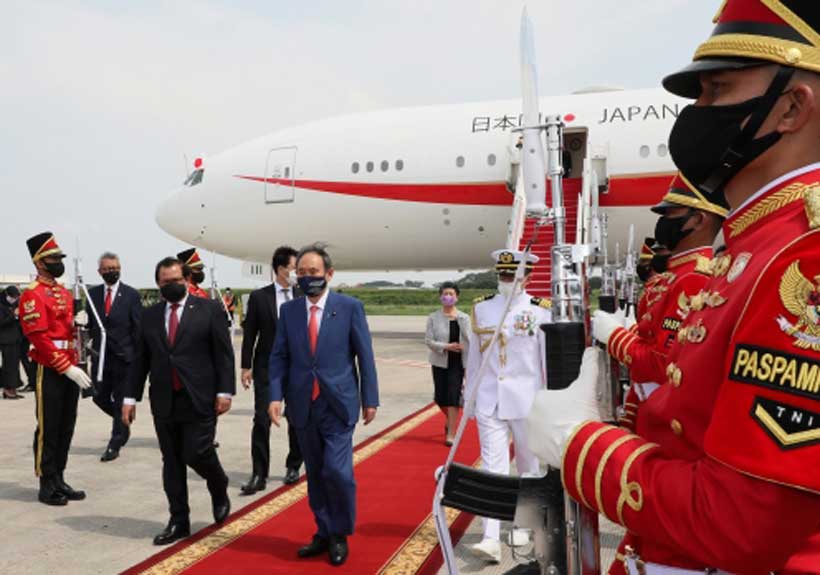 Prime Minister Yoshihide Suga's certainly understands the political importance of continuity, especially in Southeast Asia. Suga making a first stop in Hanoi, Vietnam and his second visit in Jakarta, Indonesia. Southeast Asian countries as key to pursuing Japan's "free and open Indo-Pacific," strategy. There must be other reasons for Suga to visit these two countries, Vietnam is current ASEAN chair, while Indonesia as the only member of the Group of 20 major economies from Southeast Asia. Both of them have important roles to share historical, economic cooperation, and political ties. Are those the only reasons?
Katsunobu Kato, a cabinet secretary Japan, states that Indonesia and Vietnam as the partners to exchange opinions over how to handle the regional and global impeding agendas such cooperation for realizing a fee and open Indo-Pacific strategy, address South China Sea issues and North Korean Situations. hence, there are three keys Suga's first foreign visit as Japan PM amid Chinese Aggression in South China Sea, Indo-Pacific Partnership and North Korea situation.
As one of the key strategic Japanese objective to expand Indo-Pacific Partnership by implementing an internal balancing that involves efforts to enhance the state's power by increasing one's economic resources and military strength in order to be able to rely on independent capabilities in response to a potential hegemon, in this case China, and be able to compete more effectively in the international system. Promoting coordination between partners like Indonesia and Vietnam and helping both countries to strengthen their economic and maritime capabilities to build up resilience in front of Chinese aggression and its influence.
During the pandemic, Japan economy has been hit harder by the crisis than the US or EU that 3.4% fall in growth domestic product (GDP) for the first three months of 2020. Since the Tokyo 2020 Olympic Games will be postponed until next year, due to the COVID-19 pandemic. As a result of this, Japan is set to suffer severe economic blows. Vietnam's growth potential and low-cost labor supply continue to curry favor among Japanese companies, making Vietnam has been selected by Japanese firms as the most promising place in Asia to invest in 2020with 42.1 percent of the 820 valid responses. Previously, Japan has given ¥200 million in aid to help Vietnam fight the COVID-19 pandemic. On the other hands, Suga pledged low-interest loans of 50 billion yen ($473 million) to Indonesiato overcome with the economic fallout from the coronavirus pandemic. As the symbols of strong friendship ties between Indonesia and Japan, which support each other's.
Japan also seek stronger security, Vietnam is critical to the balance of power in Asia and Indonesia faced off against China in the Natuna Sea. In order to response the Chinese Aggression in South China Sea, Japan seeks to strengthen ties with countries in the region amid growing tensions between its main security ally the United States and its biggest trading partner China, over trade, security. Japan hailed an agreement in principle to supply Vietnam and Indonesia with military gear and technology to response the China's assertiveness in the region. China claims some part of Vietnam's exclusive economic zone as well as the Paracel and Spratly Islands while Indonesia has been angered by Chinese coast guard intrusions into Natuna Islands. In this regard, Suga expect that both of Indonesia and Vietnam will agree to work together over a range of regional issues, including China's growing maritime presence in South China Sea. Japan wanted to emphasize that the existence of Indonesia and Vietnam was very important in the eyes of Japan. In this context, Indonesia and Vietnam is expected not to rely only on one country, which is China, with its economic and technological strength. Meanwhile, Japan also wants to invite Indonesia and Vietnam to continue developing growth in the Indo Pacific region. Since Indonesia is currently pursuing stronger relations with countries in Africa through the Indonesia-Africa Infrastructure Dialogue. On the other hand, Vietnam has been making great strides in projecting itself as an effective leader, particularly with its proactive governance in handling the COVID-19 pandemic, climate change policy, and for its political stability.
Balancing encompasses the actions that a particular state or group of states take in order to equalize the odds against more powerful states. Prime Minister Yoshihide Suga is thus seeking to build a network and partners in the Indo-Pacific, both to strengthen the current alliance system but also to proactive in defending its own interests. Vietnam and Indonesia were key to pursuing multilateral economic and security cooperation to counter China's growing power and protect sea lanes in disputed areas of the South China Sea.