There has been much to-do in recent months and years about what have appeared to many to be Vladimir Putin's bold, aggressive moves in the Ukraine and Syria. Some have attributed strategic insight and effectiveness to Putin, and some have deplored what they consider to be weak, ineffective responses by the leaders of the United States and Europe.
But looking only a little beneath the surface of these events, one can see Putin as attempting, somewhat ineffectively, to avoid major geostrategic losses, playing a weak hand, and lacking apparent means to avoid further loss.
Put in straightforward terms, Russia is losing effective control of the bulk of the Ukraine, one of the cradles of its existence, having a history of inclusion, or identity, going back to the 9th century CE.
Historically associated with Russia and the Ukraine is Crimea, providing Russia access to the Mediterranean Sea. Putin has physically seized this asset. He may hold it. But at substantial cost.
The Ukraine is, from the viewpoints of Western Europe and the United States, a potentially useful addition. But it has apparently not been considered a core element in their systems. They have clearly tried to preserve its freedom of action, but not escalated into a major physical confrontation with Russia.
Why, then, does it appear that the bulk of the Ukraine is moving closer to Europe, notwithstanding obvious displeasure from Russia?
A very simple explanation is that the peoples of much of the Ukraine have been able to compare the economic and political systems of Europe and Russia, and prefer those of Europe. The institutions of Europe seem to offer more persuasive promise of prosperity, civic liberties, and responsible, regular, dependable, and lawful governance.
Why, then, does Russia not make itself more attractive to the Ukrainians, in terms of potentials for prosperity, civic liberties, and responsible, regular, and lawful governance?
Two reasons suggest themselves.
One view would be that Russia lacks the scale, depth, agility, and over all competitiveness of the Euro-American economic complex.
Over the long term, there would appear to be little Putin can do about that. Even if he were to institute governance and economic reforms to try better to compete, Ukraine would find more attractive European connections in a great many areas.
The second reason to be considered is that, in Russia, what appears to be an highly centralized economic system, dependent on autocratic leadership which economically and politically rewards followers and disadvantages those it finds inconvenient, is not and probably cannot be as diverse, nimble, productive, and rewarding in economic partnership with Ukrainian entities. Nor would it appear to be as politically appealing as Western models.
To overcome this handicap, Putin would appear to have to sacrifice the core of his methods of governance. One may presume he will be loath to do that. And he might not survive having done it.
Thus, Putin has been reduced to external bluff and bluster, and to justifying economic hardship to his citizenry. This is not a strong position.
In Syria, the major geostrategic asset is, again, a port on the Mediterranean Sea. Syria has been a source of sales of military and other products. But the chaos there has made it look like more of an economic sink than an economic asset. And the encroachment of radical political Islam in that area is a development potentially threatening, to some to degree, to Russia.
In response, Putin's Russia has again rattled its swords. But it has been, thus far, forced into an awkward partnership with the United States, Europe, and other entities. And the way Russia has deployed its military assets seems repugnant to many who are actors for these partners.
At this point, whether Russia can preserve its local partner-dictator of choice, Assad, is highly uncertain.
All the above is not to say that Russia will lose all its marbles either in the Ukraine or Syria. Russia has available to it a lot of geography, major hydrocarbon assets, geographic proximity to these areas of engagement, military assets, and a talented and technically somewhat sophisticated population. One may confidently expect that there will continue to be economic exchanges with Russia, over time, in both these areas of engagement.
But to depict Putin as boldly outdueling the West would not seem accurate. He is bold. But he is up against formidable odds, with a bundle of assets noticeably less weighty, over all, than those of his competitors. And he is obviously having great difficulty in controlling the terms of engagement.
Future of Russia's "Breakaway Empire"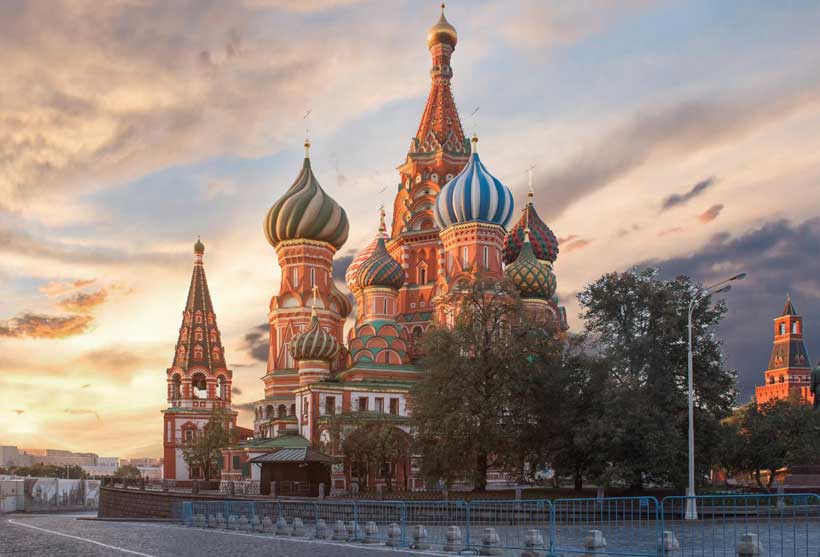 As the West-Russia tensions have grown over the past years, one theater of Russian foreign policy, namely management of breakaway regions, has largely fallen out of analysts' works. Where, in the first years following the collapse of the Soviet Union, Russia had to manage breakaway conflicts in small and poor Georgia and Moldova, by early 2019, Moscow's responsibilities have increased exponentially. In a way Nagorno-Karabakh was also under the Russian geopolitical influence, although the Russians were not directly involved.
Following the Ukraine crisis, Crimea, Donetsk and Luhansk were added to Russia's "Breakaway Empire". This means that at a time when economic problems are looming large within Russia, Moscow has to spend more on multiple actors across the former Soviet space. This means that Russia's broader strategy of managing breakaway conflicts, though not very much visible, could be coming under increasing stress. Where Russia previously used the conflicts in Moldova, Georgia and Ukraine to limit the ability of those countries to enter the EU/NATO, now Moscow is losing its ability to maneuver in so many diverse conflicts simultaneously. At times, various players are trying to play their own game independently from Moscow. In Transnistria, the geopolitical situation is troublesome for Moscow as Kiev and Chisinau at times consider constraining the breakaway territory, and Moscow can do little as it has no direct land or air route. In Abkhazia and South Ossetia, Russian forces watch as NATO exercises take place on Georgian soil, which suggests that, despite the Russian military footprint in the region, Western countries are continuing to expand their support for Georgia.
Without doubt, Russia will remain a dominant military power in the region and the breakaway territories will stay dependent on Moscow's support. Yet, it will be increasingly difficult for Moscow to successfully pull the strings in several different theaters at once, particularly as the Russia is facing its own financial problems, increased Western efforts to confront its foreign policy, and "disobedience" from various separatist leaders.
Bad, but Still a Strategy
If Russia has any notion of a grand strategy in its recent foreign policy, it is certainly the purposeful creation of conflict zones and their management across the post-Soviet space. The fall of the Soviet Union was indeed a colossal geopolitical setback for Moscow as the country instantly lost portions of land on a scale rarely, if ever, seen in recorded history. But maintaining 11 buffer states (except for the Baltic states of Estonia, Latvia and Lithuania) around Russia has remained a cornerstone of the Kremlin's foreign policy against Western military and economic encroachment. Russians knew that because of their own country's low economic potential, the South Caucasus states would inevitably turn to Europe. The same would happen on Russia's western frontier with Moldova and Ukraine, which have been more susceptible to Western economic and military potential because of geographic proximity and historical interconnections with Europe.
In a way, geopolitical trends also point towards the conclusion that Russia's usage of breakaway territories to stop Western expansion in the former Soviet space is not working. True that Moscow needed, be it Abkhazia or Donetsk, to stop the countries in its "immediate neighborhood" from joining the EU/NATO. And to the Russians' credit, it has worked: the West is hesitant to quickly make Georgia, Ukraine and Moldova the members of the EU/NATO groupings. But there are also signs that the Russian gambit that those very breakaway regions would undermine the integrity of Georgia and Ukraine has largely failed. Only Moldova might be regarded as a success for the Russians, as the country has still failed to unite around its geopolitical choice.
The point here is that although there are breakaway territories, Western expansion into Georgia and Ukraine continues through various means, importing a much "deadlier" weapon – economic influence – against that of traditional Russian military and religious influence.
Author's note: First published in Georgia Today
Russia: Open, hospitable, only in short-term for Africans
The Russian Interior Ministry has reiterated that the legislation that allows special 2018 FIFA visa-free entry to Russia for the foreign visitors ended on Dec 31.
"In accordance with the legislation of the Russian Federation, foreign citizens who visited the 2018 FIFA World Cup matches as spectators and who have Fan IDs will not be able to enter the Russian Federation after December 31, 2018," the source said.
The World Cup attracted only hundreds of football fans from many African countries while thousands arrived from the United States, Europe and Asia to Russia. According some statistics, about five million foreigners visited the country over this period from June 14 through July 15, the highest number among foreigners were fans from the United States, Brazil and Germany.
It set a new record of audience in the history of world football championships as over half of the world's population watched the matches on televisions at home and on digital platforms.
Foreign Minister Sergey Lavrov said in remarks while opening the Russia-Africa Social Forum on October 22 that he considered it (the sport event) necessary to maximise the potential of public and cultural diplomacy in the interests of strengthening and expanding the traditionally friendly and mutually beneficial ties between Russia and African countries.
"It is hard to overestimate the role of this in strengthening friendship, trust and mutual understanding between nations. For example, many Africans have in fact discovered Russia for themselves while visiting Russia as fans during the 2018 FIFA World Cup," he said.
Foreign Ministry's Spokesperson Maria Zakharova, during her weekly media briefing, also expressed great satisfaction and added that the MFA continued receiving messages about the enthusiasm regarding the organisation of the World Cup, the atmosphere surrounding the event, infrastructure and the country in general.
According to her, Russia in its role as the host of the World Cup had demonstrated yet again that it deserved the highest marks for the tournament. It has left an indelible impression on the memory of numerous foreign fans who arrived in the country from all over the world to support their football squads.
Commenting on Russia's image abroad, specifically in Africa, Ambassador of Zimbabwe, Major General (rtd) Nicholas Mike Sango, told me in an interview that the Sochi International Olympics and the FIFA international football extravaganza surprised many Africans on the level of development of the Russian Federation.
"There is a dearth of information about the country. Russia-Africa issues are reported by third parties and often not in good light. As a result, Africa's media should find space to operate in Russia. In spite of the limited resources, Russia should make it easier for African journalists to operate on her territory and consistently promote the positive changes and emerging opportunities to the African public," Mike Sango suggested.
According to official reports released by the Presidential Press Service and the Presidential Executive Office, the initiative was crafted to promote public diplomacy and raise Russia's image abroad.
Significant to recall here that at the opening of the World Cup, Putin said: "We prepared responsibly for this major event and did our best so that fans could immerse themselves in the atmosphere of a magnificent football festival and, of course, enjoy their stay in Russia – open, hospitable, friendly Russia – and find new friends, new like-minded people."
FIFA World Cup ran from June 14 to July 15 in 10 different cities in Russia. The foreign fans who received Fan IDs and purchased tickets for the matches went to Russia without visas. After the end of the World Cup, the Russian president declared that the Fan ID holders would have the right to visit repeatedly visa-free until the end of 2018.
China: Russia's Source of Hope & Fears
The current crisis between Russia and the West is the product of many fundamental geopolitical differences in both the former Soviet space and elsewhere. All trends in bilateral relations lead to a likely conclusion that fundamental differences between Russia and the West will remain stalled well into the future. The successful western expansion into what was always considered the "Russian backyard" halted Moscow's projection of power and diminished its reach into the north of Eurasia – between fast-developing China, Japan, and other Asian countries, and the technologically modern European landmass.
What is interesting is that as a result of this geopolitical setback on the country's western border, the Russian political elite started to think over Russia's position in Eurasia. Politicians and analysts discuss the country's belonging to either Western or Asian civilization or representing a symbiosis – the Eurasian world.
As many trends in Russian history are cyclic so is the process of defining Russia's position and its attachment to Asia or Europe. This quest usually follows geopolitical shifts to Russia's disadvantage.
In the 19th century, following a disastrous defeat in the Crimean War (1853-1856) from Great Britain and France, the Russian intellectuals began thinking over how solely European Russia was. Almost the same thing happened following the dissolution of the Russian Empire in 1917 and break-up of the Soviet Union in 1991. Though in each case the Russians were reacting to European military or economic expansion with discussions, the reality was that a turn to the East was impossible as most developed territories were in the European parts of the Russian state. Back then, the Russians, when looking to the East, saw the empty lands in Siberia and the Russian Far East.
What is crucial nowadays is that Russia's pull to the East is now happening due to the presence of powerful China bordering Siberia. This very difference is fundamental when discussing Russia's modern quest for their position in Eurasia.
Today, Europe is a source of technological progress, as are Japan and China. Never in Russian history has there been such an opportunity to develop Siberia and transform it into a power base of the world's economy.
Russia's geographical position is unique and will remain so for another several decades, as the ice cap in the Arctic Ocean is set to diminish significantly. The Arctic Ocean will be transformed into an ocean of commercial highways, giving Russia a historic opportunity to become a sea power.
Chinese and Japanese human and technological resources in the Russian Far East, and European resources in the Russian west, can transform it into a land of opportunity.
Russia's geographical position should be kept in mind when analyzing Moscow's position vis-à-vis the China-US competition. However, apart from the purely economic and geographical pull that the developed Asia-Pacific has on Russia's eastern provinces, the Russian political elite sees the nascent US-China confrontation as a chance to enhance its weakening geopolitical position throughout the former Soviet space. Russians are right to think that both Washington and Beijing will dearly need Russian support, and this logic is driving Moscow's noncommittal approach towards Beijing and Washington. As a matter of cold-blooded international affairs, Russia wishes to position itself such that the US and China are strongly competing with one another to win its favor.
In allying itself with China, Russia would expect to increase its influence in Central Asia, where Chinese power has grown exponentially since the break-up of the Soviet Union in 1991. Although Moscow has never voiced official concerns about this matter, that is not to deny the existence of such concerns within the Russian political elite.
However, if Moscow chooses the US side, the American concessions could be more significant than the Chinese. Ukraine and the South Caucasus would be the biggest prizes, while NATO expansion into the Russian "backyard" would be stalled. The Middle East might be another sticking point where Moscow gets fundamental concessions – for example in Syria, should that conflict continue.
Beyond grand strategic thinking, this decision will also be a civilizational choice for the Russians molded in the perennial debate about whether the country is European, Asiatic, or Eurasian (a mixture of the two). Geography inexorably pulls Russia towards the East, but culture pulls it towards the west. While decisions of this nature are usually expected to be based on geopolitical calculations, cultural affinity also plays a role.
Tied into the cultural aspect is the Russians' fear that they (like the rest of the world) do not know how the world would look under Chinese leadership. The US might represent a threat to Russia, but it is still a "known" for the Russian political elite. A China-led Eurasia could be more challenging for the Russians considering the extent to which Russian frontiers and provinces are open to large Chinese segments of the population.
The Russian approach to the nascent US-China confrontation is likely to be opportunistic. Its choice between them will be based on which side offers more to help Moscow resolve its problems across the former Soviet space.
Author's note: first published at Georgia Today