Can the ASEAN Economic Community be a success?
After almost two decades of discussion, the ASEAN Economic Community (AEC) will be proclaimed on 31st December. The AEC is a potentially significant and competitive economic region, should it be allowed to develop according to the aspiration of being a "single market and production base, with free flow of services, investments, and labour, by the year 2020".
The ASEAN region as a composite trading block has the third highest population at 634 million, after China and India. GDP per capita is rapidly rising. The AEC would be the 4th largest exporter after China, the EU, and the United States, with still very much scope for growth from Cambodia, Myanmar, the Philippines, and Vietnam from a diverse range of activities ranging from agriculture, food, minerals and commodities, electronics, and services. The coming AEC is already the 4th largest importer of goods after the United States, EU, and China, making it one of the biggest markets in the world.
Unlike the other trade regions, the AEC still has so much potential for growth with rising population, rising incomes, growing consumer sophistication, and improving infrastructure.
Perhaps the biggest benefit of the upcoming AEC is the expected boost this will give to intra-ASEAN trade. Most ASEAN nations have previously put their efforts into developing external relationships with the major trading nations like the EU, Japan and the US through bilateral and free trade agreements. To some extent, the potential of intra-ASEAN trade was neglected, perhaps with the exception of the entrepot of Singapore.
The AEC is an opportunity to refocus trade efforts within the region, especially when Vietnam, Cambodia, Indonesia are rapidly developing, and Myanmar is opening up for business with the rest of the region.
The social, cultural, political and business interchange within the region has traditionally been low, until the rapid increase of intra-ASEAN travel, due to the low-cost airline explosion within the region.
Today intra-ASEAN trade is approximately 25% of total trade, growing around 10.5% per annum, and expected to reach 30% of total ASEAN trade by the year 2020.
However the necessary infrastructure to support intra-ASEAN trade growth is lagging behind with a delay in the completion of the Trans-Asia Highway in Cambodia, and vastly inadequate border checkpoints between Malaysia and Thailand in Sadao and Kelantan.
Some infrastructure development projects have been severely hit by finance shortfalls within member states.
There are a number of outstanding issues concerning the growth and development of the AEC.
The ASEAN Secretariat based in Jakarta has a small staff, where the best talent is lacking due to the small salaries paid. The Secretariat unlike the EU bureaucratic apparatus in Brussels relies on cooperation between the member state governments for policy direction, funding and implementation of the AEC.
Thus the frontline of AEC implementation are the individual country ministries, which presents many problems, as some issues require multi-ministry cooperation and coordination, which is not always easy to achieve as particular ministries have their own visions and agendas. Getting cooperation of these ministries isn't easy.
There are numerous structural and procedural issues yet to be contended with. At the inter-governmental level, laws and regulations are yet to be coordinated and harmonized. So in-effect there is one community with 10 sets of regulations in effect this coming January 1st. Consumer laws, intellectual property rights, company and corporate codes (no provision for ASEAN owned companies), land codes, and investment rules are all different among the individual member states.
There are no integrated banking structures, no agreement on common and acceptable currencies (some ASEAN currencies are not interchangeable), no double taxation agreements, and no formal agreements on immigration.
There is not even any such thing as a common ASEAN business visa. These issues are going to hinder market access for regional SMEs. Any local market operations will have to fulfil local laws and regulations which may not be easy for non-citizens to meet and adhere to.
Even though there are some preferential tariffs for a number of classes of ASEAN originating goods, non-tariff barriers are still in existence, which are insurmountable in some cases like the need for import licenses (APs) in Malaysia, and the need to have a registered company which can only be formed by Thai nationals within Thailand.
Some of these problems are occurring because of the very nature of ASEAN itself. ASEAN was founded on the basis of consultation, consensus, and non-interference in the internal affairs of other members. This means that no formal problem solving mechanism exists, and the ASEAN Secretariat is a facilitator rather than implementer of policy. Illegal workers, human trafficking, money laundering, and haze issues between member states have no formal mechanisms through which these issues can be solved from an ASEAN perspective.
This weakens the force for regional integration.
One of the major issues weakening the potential development of the AEC is the apparent lack of political commitment for a common market by the leadership of the respective ASEAN members. Thailand is currently in a struggle to determine how the country should be governed. Malaysia is in the grip of corruption scandals where the prime minister is holding onto power. Myanmar is going through a massive change in the way it will be governed. Indonesia is still struggling with how its archipelago should be governed. There is a view from Vietnam that business within the country is not ready for the AEC.
Intense nationalistic sentiments among for example Thais, exasperated by the recent Preach Vihear Temple conflict along the Thai-Cambodian border need to be softened to get full advantage out of the AEC. The dispute in the International Court of Justice over Pedra Branca, and the Philippine rift with China over the South China Sea show the delicacy of relationships among ASEAN members. The recent Thai court decision on the guilt of Zaw Lin and Win Zaw Tun in the murder of two young British tourists may also show how fragile intra-ASEAN relationships can be.
The AEC is going to fall far short of achieving its full potential of becoming a major influence in global trade.
The AEC is not intended to be the same model as the EEC. The AEC is far from being any fully integrated economic community. The lack of social, cultural, and political integration within the ASEAN region indicates the massive job ahead that Europe had been through decades ago. There is still a lot of public ignorance about what the AEC is, and lack of excitement or expectation for what should be a major event within the region. Respective national media are scant on information about the forthcoming launch of the AEC.
Economic nationalism is very strong within ASEAN. Malaysia has its Government Linked Companies (GLCs), State Economic Development Corporations (SEDCs), Thailand its Crown Property Bureau, and family business empires within each country which have vested interests in keeping market access at the current status quo. The AEC is seen as a threat to many existing business empires, which fear open market access. Many of these business empires have enormous political influence upon their respective governments.
The AEC could be deemed to conflict with the special advantages bumiputera businesses in Malaysia enjoy in areas of government tendering and contracting.
It is yet to be seen how some of these businesses will behave within an AEC environment. However what can be said for sure is that the AEC will not create any level playing field for ASEAN businesses in the foreseeable future.
With the problems the EU is currently facing, maybe it is wisdom in hindsight that the leaders of ASEAN have been extremely cautious in their approach to the formation of the AEC. Any opening up of the labour market could also be a potential disaster. A free flow of labour across ASEAN would potentially put many under-qualified people out of work according to Gyorgy Sziraczki, the director of the ILO in Vietnam.
This could lead to economic downturns in some of the more susceptible parts of the AEC like Lao PDR and Cambodia. The AEC rather than promoting intra-ASEAN trade, lead to a more domestic orientation, where unemployed may see the informal economy looking much more attractive means of making a living.
However, if the leadership of ASEAN see the opportunities of dramatically increasing intra-ASEAN trade, then the AEC has great potential to assist the region withstand any steep economic downturn around the rest of the world.
Projects that are able to boost regional synergies like coordination of education, river system water management, energy, transport, banking and finance, may very quickly improve regional integration. Regional clustering can be developed in education, auto-parts, food production, electronic parts, and the value adding of basic commodities to benefit the economies of the region.
Infrastructure development will be vital to the success of the AEC. For this purpose the ASEAN Infrastructure Fund, financed by member countries and the Asian Development Bank will be extremely important. The recent ASEAN summit in Kuala Lumpur also reactivated the ASEAN Joint Consultative Committee to resolve trade and investment issues.
The slowness of the AEC should not be seen as a failure of ASEAN. We can see the slow pace that ASEAN makes decisions, with the long period it is taking to admit Timur Leste as ASEAN's 11th member.
The vital questions here are whether the AEC will be able attract direct foreign investment to the region? Take advantage of rising opportunities like international education? Stop the talent drain from the region with China becoming more aggressive in attracting the best from the region? and Create an ASEAN awareness within the region?
Sadly, one may expect the fate of the AEC to be similar to that of the Indonesia-Malaysia-Thailand Growth Triangle (IMT-GT), and the Brunei Darussalam-Indonesia-Malaysia-The Philippines East ASEAN Growth Area (BIMP-EAGA). They are in existence by name, but with little real substance on the ground.
Thai universities must look beyond ranking
Bangkok – The recent 2018 Asia University Rankings published by the Times Higher Education (THE) magazine is calling attention for the state of Thai higher education.
Unlike its Asian neighbors, Thai universities are falling behind.
The National University of Singapore maintained its number one status for the third consecutive year due to its continuous improvement in teaching and research environments, greater citation impact and higher amounts of industrial income, said Ellie Bothwell of the Times Higher Education.
This year, the numbers of universities being ranked increased from 300 to 350 universities. Japanese universities are amongst the most qualified universities in Asia with 89 universities made it to the list. 63 universities from China are included in the top 350.
The picture looks worrisome for Thailand. Only ten universities made it. However, none of them was ranked in the top 50. The best performing university from Thailand was Mahidol– with ranking of 97th place, same as that in 2017, while the oldest higher education establishment, Chulalongkorn University, is only 167th place amongst 350 institutions.
Should we be concerned about this?
Yes, and no.
Given that ranking has been taken as a face value that it equates the overall quality of higher education, the poor performance sends a negative signal. It is a setback for Thailand's aspiration to become the regional hub of education in Southeast Asia. How can we be a regional center when the best of our universities are far behind that of Singapore and Malaysia?
This is also bad for internationalization process. The low performance is discouraging for potential research partners and foreign students to come to Thailand. It lowers Thailand's attractiveness and competitiveness.
While the results are not promising, what is worse is how they are used and interpreted by policymakers and the media to create, what professor Gita Steiner-Khamsi of Teachers College, Columbia University called "a scandalization effect". That means, results from international league tables haven been used as external forces to generate reforms pressure at the local level.
Thailand is no exception. Since Asia Week published the first Asian universities ranking in 1997, Thai politicians, policymakers and the media have used the international results to create reform pressure. A decade long of higher education policy analysis confirmed that boosting the ranking seems to be the only policy goal for most Thai policymakers.
But ranking is not everything.
Mrs. Ruangrat Wongpramote, Assistant Secretary General of the Education Council poignantly said: "ranking helps us to mirror the reality. It is a good tool for us to know where we are standing in comparison with others. But it does not tell us everything. There are more pressing issues in Thai higher education."
These issues include quality of the students, quality curriculum and quality teaching.
Firstly, Thailand has to shift its focus from quantity students to quality students.
For the past 100 years, the system has done well in terms of access. There were only five universities in the first 50 years of Thai higher education and all of them were established in Bangkok Metropolitan area. Now the official record reported that there are 151 universities across the country – with 81 public universities and 75 universities in most of provinces. The expansion has made it available for more than 2 million enrollments.
While the massification provides more equitable educational opportunities for students, the mismatch between skills and jobs requirement, low quality of English proficiency and lack of critical thinking are amongst key issues that need to be seriously addressed.
Secondly, Thai curriculum needs to be upgraded. The Office of Higher Education Commission has implemented Thailand Qualification Framework or TQF with the hope of improving and standardizing Thai curriculum. However, what the government has had in mind is counter-productive to improvement of the curriculum.
TQF is academics worst nightmare. It requires academics to fill in lengthy lesson plans, detailed description of their syllabus and anticipated unimaginable outcomes. The rubrics are demanding and micro-managing. Instead of improving curriculum, academics report they cut and pasted, worst, lied just to complete the form.
This policy takes away precious class preparation time for nonsensical administrative things.
A more efficient and collegial way of improving the curriculum is needed.
Thirdly, quality teaching must be improved. Large classrooms are not in and of themselves problematic. But ones that are passive, top-down and lecture-based are outdated. Lecturers must work harder than regurgitating the texts to students. Classrooms need to be conducive space for learning where conceptual debates, analytical discussion and constructive dialogues are promoted. In the era where students can google to get basic facts, university students must be pushed harder to think critically. Students must learn to ask difficult questions and come up with creative answers.
A bad ranking is a good wake up call. But what we will do about it is what matters most.
Malaysia's Efforts in Improving Education: Lessons for Developing Countries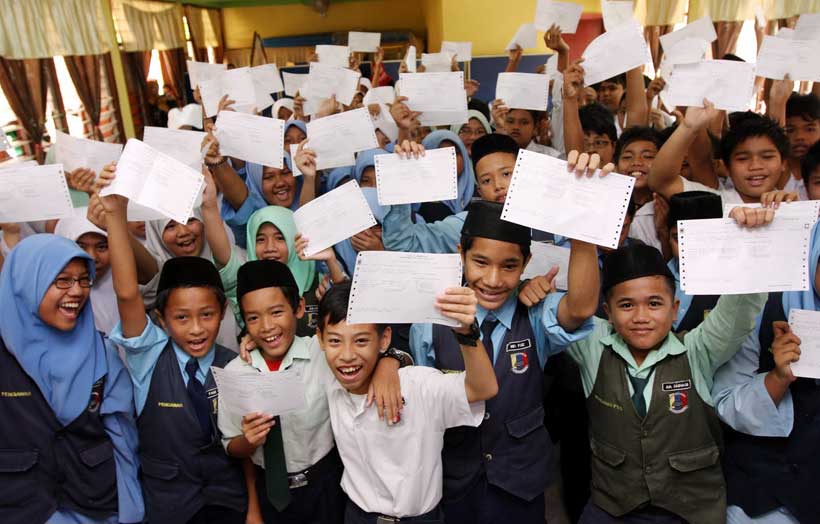 Malaysia's efforts to tackle education challenges, particularly through the establishment of a 'delivery unit' that tracks results, can help other countries seeking to improve implementation in the sector, says a new World Bank report.
The report, Improving Education Sector Performance: Lessons from the Delivery Unit Approach, highlights the role of the Education Performance and Delivery Unit, or PADU, under the Ministry of Education, in improving education outcomes, a key government priority.
The report examines how PADU facilitated program implementation and delivery of results through the Literacy and Numeracy Screening program, or LINUS. Unlike other interventions, the LINUS task force – comprised of several divisions – worked closely with agencies across government to provide an effective framework for coordination, tracking, monitoring and reporting.
"Following the World Bank's analysis of the LINUS approach, we are glad to share the approach with other countries seeking to improve education outcomes," said Dato' Seri Mahdzir bin Khalid, Minister of Education. "As we progress, we will constantly refine ways of delivery and continue to engage relevant institutions such as the World Bank to gather feedback and improve implementation."
The Government Transformation Program, announced in 2009, set improving education outcomes as a key priority, and a detailed plan in the Malaysian Education Blueprint followed.  Making improving education outcomes a national priority can elevate the profile, stakes, and resourcing for the initiative. Building in evaluations of impact into the program design would further bolster efforts to improve education outcomes.
"The delivery of the essentials of a thriving nation – better schools, healthcare, public transportation – is a mutual goal of all nations, but implementation is a common challenge. The delivery unit approach taken by Malaysia is a creative and effective way to address this challenge," said Faris Hadad-Zervos, World Bank Group Representative to Malaysia. "This report distills useful lessons learnt in improving the performance of its education sector, and makes recommendations to bring Malaysia one step closer towards its aspirations of becoming a high-income country."
The study is the latest installment in the World Bank Group's Outbound Knowledge Report Series that curates, distils and disseminates Malaysia's development experience. This report is part of the Malaysia Development Experience Series, which strives to capture key learnings from Malaysia that are relevant for developing countries around the globe as they transition out of poverty and into shared prosperity.
Asia's dark underbelly: Conflicts threaten long-term stability and development
A host of conflicts, stretching across the Asian landmass from the Middle East to Southeast Asia and northwest China, are likely to spark violence, complicate economic development, and dash hopes for sustainable stability.
The conflicts and tensions range from ethnic strife in Kurdish areas of Syria and Iran, mortally wounded Israeli-Palestinian peace efforts, embattled Baloch nationalism in Pakistan, disposed Rohingya in Southeast Asia, and widespread discontent in Iran, to iron-grip repression in Egypt, Saudi Arabia, and Xinjiang. Individually and collectively, they promise to create black swans and festering wounds that threaten economic growth and social development.
Stripped to their bare essence, the conflicts and tensions have one thing in common: a quest for either cultural, ethnic or national, or political rights or a combination of those, that governments not only refuse to recognize but are willing to suppress with brutal force.
Repression and military action are designed to suppress political, ethnic and/or national, and economic and social grievances in the false belief that a combination of long-term suppression and economic development will weaken ethnic and/or national and political aspirations as well as undermine dissent.
That is true in case of the Rohingya and Uyghurs as well as for brutal repression in Egypt, Saudi Arabia, Iran, and northwest China, and military actions such as the Turkish intervention in Syria's Afrin.
Problems in the Middle East and South Asia are aggravated by a debilitating struggle for regional hegemony between Saudi Arabia and Iran that threaten to destabilize the Islamic republic and Pakistan, have already produced a devastating war and a humanitarian catastrophe in Yemen, and are dragging the Horn of Africa into its orbit.
If history teaches anything, it is that only a minority of autocrats have achieved economic and social development. General Augusto Pinochet ensured that Chile is the only South American member of the Organization of Economic Cooperation and Development (OECD), albeit at a high human cost, while Asia gave birth to tigers like South Korea and Taiwan.
Moreover, Asia's multiple conflicts and tensions do not distract from the fact that by and large, the continent is flourishing economically.
History, however, also teaches that ethnic and/or national aspirations explode with vehemence the moment opportunity arises. Seventy years of communist rule in the Soviet Union failed to smother nationalist sentiment in parts of the empire like Chechnya and the Caucasus or erase nationalist differences between Armenia and Azerbaijan.
Forty-seven years of communism did not prevent nationalist sentiment from breaking Yugoslavia apart in a series of bloody wars in the 1990s in the wake of the demise of the Iron Curtain.
Carved out of the ruins of the Ottoman empire, modern Turkey has failed to erase demands for Kurdish cultural, if not ethnic or national aspirations, through economic development and political integration based on the principle of Mustafa Kemal Ataturk, the visionary who founded the republic, that "happy is he who is a Turk."
Similarly, Palestinian nationalism is alive and kicking 51 years into Israeli occupation of lands conquered during the 1967 Middle East war.
The aftermath of the 2011 Arab popular revolts, involving a concerted counterrevolution co-engineered by the United Arab Emirates and Saudi Arabia, has laid bare the essence of current conflicts and disputes: a determination of regimes to impose policies on minorities or states at whatever cost.
The UAE-Saudi-led diplomatic and economic boycott of Qatar is a case in point as are Asia's multiple ethnic conflicts. They erupt in a world in which post-colonial borders are being called into question in countries like Syria, Iraq, Libya, Myanmar and Pakistan.
The Rohingya, amid the dizzying array of ethnic and national conflicts stretching from the Middle East or West Asia to China in the East, exemplify the problem in, perhaps, its purest form. Potentially, the Rohingya could become Southeast Asia's Palestine.
What makes the Rohingya unique is the fact that their aspiration, unlike Palestinians, Kurds, Baloch or Uyghurs, does not involve attachment to a specific piece of land despite a centuries-old history in the Myanmar state of Rakhine. That is also what potentially enables creative thinking about a solution that could open the door to innovative thinking about a multitude of other conflicts.
To many Rohingya, lingering in abysmal conditions in Bangladesh's Cox Bazaar, after some 650,000 fled repression and terror in Myanmar, securing a sense of belonging on whatever territory that guarantees them protection from persecution as well as economic and social development, is more important than returning to an uncertain existence in Rakhine state. "All I want, is a place to which I can belong," one refugee said.
Few Rohingya, analysts and officials believe that an agreement that in theory allows Rohingya in Bangladesh to return to Rakhine state will solve the problem. Even if the Rohingya were allowed to return in significant numbers, something that many doubt, nothing in Myanmar government policies and statements suggests that they would be anything more than a barely tolerated, despised ethnic group in a country that does not welcome them.
The makings of a Palestine-like conflict that would embroil not only Myanmar but also Bangladesh and that could spread its tentacles further abroad are evident. In a rare interview with Al Jazeera, Mohammed, a spokesman for the Arakan Rohingya Salvation Army (ARSA) using a false name, predicted that suicide bombings constitute the next phase of their effort to secure a safe and stable existence.
The Falah-i-Insaniat Foundation, a charity associated with Lashkar-e-Taiba, one of South Asia's deadliest groups, claimed in December that it had established operations in Rakhine state where it had distributed blankets and cash.
"We attacked them (the Myanmar military) because they refuse to give us our basic rights as citizens. Again and again, [the] Myanmar government lies to the world. They say they treat us well and give us rights, but they don't. We are unable to travel from one place to another. We are not allowed to run a business. We are not allowed to go to university. The police and military use various way to suppress us. They beat, torture and humiliate us. That is why we decided to stand up," Mohammed said.
Preventing the Rohingya issue from spiralling out of control and becoming a problem that can no longer be contained to a specific territory, much like the multitude of similar conflicts, disputes, and repression-based regime survival strategies across Asia, requires out-of-the box thinking. Short-term repression and efforts to impose one party's will at best buys time and sets the scene for avoidable explosions.
With out-of-the-box thinking a rare commodity, nationalism and protectionism on the rise, and regimes, emboldened by an international community unwilling to stand up for basic rights, able to go to extremes like the use of chemical weapons against rebels in the Syrian province of Idlib, long-term prospects for stable and secure development in Asia are dimmed and potentially threatened by predictable black swans.