The Inappropriate Mixing of Religion and Politics and its Consequences
"The fight with terrorism is a holy battle, and today our country is perhaps the most active force in the world fighting it…In the battle against terrorism, a spiritual and religious motivation is vital. This is the highest form of motivation…We have neither terrorism nor extremism to fear.
Ideologically, spiritually, and morally, we will be stronger than any evil force… life in pursuit of entertainment, material well-being, holidays, and so on, is the incorrect way to live. This is an absurd way to live. If a person does not understand this, then God will remind him of it… The main problem between Russia and the West is not political, but something more serious — it is spiritual. Rationality and secularism are two of the most monstrous cases of stupidity known to man. We cannot know life through the intellect alone. The West must change or a worse catastrophe than that which has just befallen Russia is in store." -Archpriest Vsevolod Chaplin
"Russia is engaged in a Crusaders' war against Muslims. Russia will be defeated."-Abu Muhammad ad-Adnani (Official spokesperson for ISIS calling for a Jihad on Russia)
It always comes as a surprise to those who begin to study Dante, that most Catholic of poets, that he places no less than three popes in hell. One may think that those popes were corrupt unrepentant sinners, which they probably were, and were there to receive their just desserts, but that is not the real reason why they are there. Dante places them there, in the circle of the simonites (see cantos 18-23; circle 8 of the Inferno), because they had failed to distinguish and keep separate, in both practice and theory, the temporal and the spiritual. They had declared the pope superior to emperors even in the temporal order. Dante even identifies the root cause of such a false doctrine; he traces it back to the donation of Constantine in the fourth century AD, which turns out to be a false document assigning temporal power to the popes in Rome.
To better understand the rather thorny issue of the separation of Church and State, the temporal and the spiritual, it may be useful to keep the above preface in mind as a sort of framework or paradigm. So, jumping to the 21st century, we see the issue alive and well, of all places, in Russia which under Soviet times privileged atheism at the expense of traditional Russian Orthodox religion, where the opposite of what was happening in Dante's 14th century is currently taking place: the state and the church exploiting and using each other as they claim equality in their respective spheres. We now have there a Russian Orthodox archpriest who is a religious advisor to Vladimir Putin who, since his days as a KBG operative has found religion and his ancient Christian roots, but a religion of a special kind, it is not even Orthodoxy per se but the strictly Russian kind of Orthodoxy. Chaplin's mentor Patriarch Kirrill, has de facto become part of the political Kremlin bureaucracy, a minister of religion without portfolio of sorts, residing in the Kremlin. But the advisor I am referring to in this piece is his protégée, Russian Orthodox archpriest Vsevolod Chaplin whose ideas, as enthusiastically approved by both Putin and Cirrill, we shall briefly investigate within Dante's paradigm.
To be sure, the kernel of truth in such a bizarre stance, as exemplified by the quote above (whose other side or immediate response is the call to jihad or religious war by the ISIS spokesman, as the second quote reveals) is that indeed religion, when not abused and exploited for temporal purposes, has always mitigated the most savage leanings of humankind, especially the perennial ones of imperial dominance and struggle. But those quotes also reveal the other side of that coin.
So we have the strange spectacle of religion used for political purposes, not to mitigate the savage spirit (ideally called the warrior spirit) of man leading directly to war, savage social Darwinism and wanton destruction, but rather, to promote those characteristics of human nature as a sort of war of civilizations. The battle is needed to save civilization from the barbarians, even from themselves; the end justifies the terrible means employed. And indeed, that war on both sides is ongoing as we speak. Since Russia joined it, it has had one of its commercial airlines shut out of the skies in Egypt and one of its military jets shut down by the Turks (a NATO member) for invading its airspace. All with the blessing, of course, of archpriest Chaplin who, like Putin, while condemning the losses, continues to promote the "religious holy battle" of civilizations. And of course the Jihadists also, continue waging their own "holy battle."
Putin is well aware politically that 70% of Russians identify as Orthodox Christians nowadays, that the days of official Soviet atheism are over; as such he wants to make sure that he can rely on the Church to bolster public support for his new ventures on Syria now that he has put aside the Ukraine and Crimean crisis; or perhaps to promote distraction from them. He has even received the loyal support of Patriarch Kirrill who has described Putin's decision to venture in Syria as protection generously offered the Syrian people from the tyranny of terrorists. Never mind the psychopath Assad who has already murdered 300,000 of his own people and provoked a refugee crisis in the EU. With that kind of "holy" approval Putin has jumped from 14% support for military action in Syria in September, to 72% in October. Who cares about the West's sanctions due to the usurpation of Crimea, or for that matter, the Russian constitution which clearly stipulates the separation of Church and State.
Indeed, if there ever was an example of the convenient mixing of the spiritual with the temporal in modern times, this is it. One can easily change the name Chaplin to Putin under the first quote above and one would not know the difference. Putin goes around praising the deep faith of the Russian people; something he did not do when he was KBG operative. We can easily imagine where Dante would place Patriarch Kirrill, archpriest Chaplin, and President Putin never mind their vaunted Christian piety and their condemnation of a decadent corrupt West being punished with terrorism for its corruption. In any case, some two weeks later, on Oct. 31, a Russian passenger jet full of vacationers returning home from a popular Egyptian Red Sea resort broke up in midair, killing all 224 people on board. Then there was the Paris attacks. They all played into Chaplin and Kirrills narrative of God's punishment for sin. And the a few days later there was the Nov. 24 downing of a Russian jet by the Turkish military. The question of course arises: whose sins are being punished?
Nevertheless, today, Chaplin is considered the unofficial leader of Russia's increasingly visible, and at times violent, Orthodox Christian radical activists, who have attacked gay rights activists and vandalized what they allege to be "blasphemous" art exhibitions in Moscow. These are the kind of people who in some way resemble the radical activists of Islam; they both want a pure orthodoxy of sorts.
In 2012 as the Kremlin geared up to introduce a law banning American families from adopting Russian children, Chaplin justified the law by declaring that children brought up in the United States would be unable to receive a "true Christian upbringing and would be barred entry to the Kingdom of God." Wow! Here again we see the incredible confusion between a war of religion and a war of civilization misguidedly promoted to the nth degree. It appears that such rhetoric is completely acceptable nowadays not only to the church but to Russian society in general, never mind the consequences; consequences such as a declaration of jihad by the Muslim North Caucasus and the Chechnya regions against Russia; not to mention the deadly attacks by ISIS who have already threatened more terrible atrocities inside Russia.
Finally, what are we to conclude from the above political-religious analysis? To answer the question we need to return to Dante's insight. That insight is basically this: that he had it on target some 700 years ago when, by placing three popes in hell, he warned us of the fallacy of mixing the temporal with the spiritual in a symbiotic-mutual-exploitation relationship. That kind of relationship usually ends in catastrophe and tragedy. The beauty of the Divine Comedy is that it does not end in tragedy and that's why it is called a comedy. Archpriest Chaplin, as a Christian that he claims to be, would do well to peruse it and perhaps consider changing his mind on the misguided mixing of the temporal with the spiritual that he exhibits so disingenuously.
Genuine religion, not only avoids that confusion but it is also able to transcend the temporal and the contingent without denying the eternal and the absolute. A St. Francis of Assisi teaches us that it is possible to arrive at the transcendent via the immanent by respecting life in all its splendor within nature right here on earth. We do not need jihadist war or crusades. We know where those ultimately lead to: to death and destruction. Death and destruction, even of the contingent, leads to death and hell, even here on earth. Dante has taught us that much, if nothing else. He has taught us that a religion unable to distinguish the temporal from the spiritual, or a religion subservient to the temporal, is ipso facto a pseudo-religion, ultimately doing more harm than good.
Note: This article was first published in Ovi magazine on December 7, 2015
The Relics Of Saint Seraphim: A Journey Through Russian Orthodoxy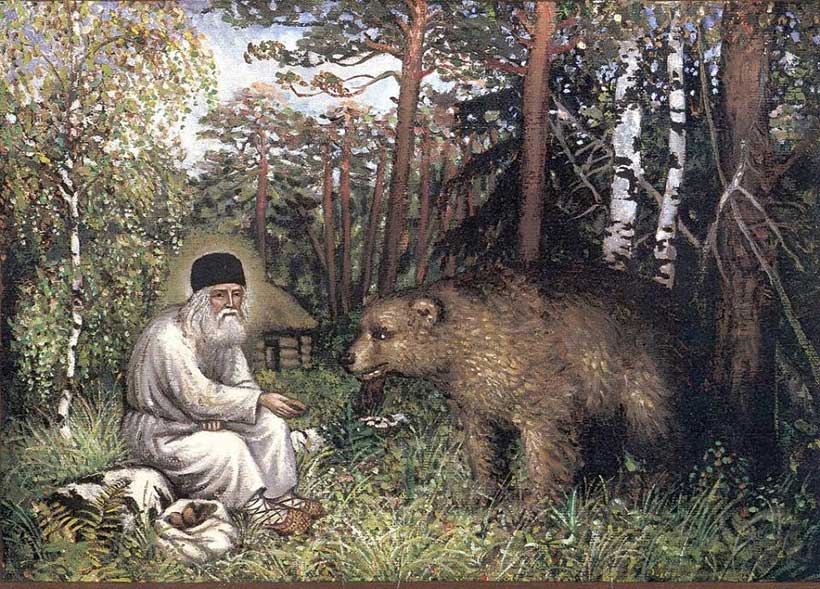 The Orthodox Church is going through deep changes in these last days of 2018. Ukraine is establishing an independent church leading to a serious controversy within the Orthodox world that has prompted a schism between the Russian Orthodox Church and Constantinople patriarchate.
In this series of articles, elements of the history of Orthodoxy in Russia will be (re-) explored to feed the debate covered in most media around religion, power and politics.
The story of Seraphim of Sarov (1754-1833), one of the most revered Orthodox saints, is a symbolic journey through the various milestones in the history of the Russian Orthodox Church (ROC) over the past two hundred years till nowadays.
After decades of seclusion, the pious hermit began to receive visits from pilgrims as word of his ability to heal body and soul spread among the faithful. Some accounts relate Seraphim's prophesies about the fate of the last tsar Nicholas II who was killed during the Bolshevik revolution in 1918. Seraphim would also have foreseen the future of Russia under the Soviets. According to these narratives, he anticipated the repression against the church during the twentieth century. Other accounts raise the affinity that Seraphim might have had with the Old Believers, the Orthodox Christians who refused Nikon's reforms of the mid seventeenth century to preserve traditional ways of worship. Seraphim's teachings of internal unity and spiritual purity thus transcended the canonical differences between the ROC and the Old Believers, a schism that still exist today.
It is known that he was canonized in 1903, but Soviet authorities confiscated his relics when they closed the Sarov Monastery in 1923, at the beginning of the repressions against the Orthodox Church. Like many other objects of veneration, his relics were kept in a storage room in the Museum of Religion and Atheism in Leningrad. The place of origin of Seraphim, the city of Sarov, became the birthplace of the Soviet nuclear program. Sarov was a closed city with limited access to keep the research secret. During the buildup of the nuclear center, many churches were destroyed or repurposed in a failed, yet violent attempt to eradicate religion and all its manifestations.
With the end of the Soviet Union in 1991, Saint Seraphim's relics were uncovered and displayed in a Moscow convent. In the wave of spiritual revivalism and enthusiasm for Russian saints, Russian believers were now able to pay tribute to the holy man. In 2003, the Patriarch Alexey II and President Putin paid a visit to Sarov to celebrate Seraphim's hundredth anniversary of canonization and the revival of the Russian Orthodox Church.
In 2016, a tiny piece of these relics orbited around the earth on board the spaceship Soyuz MS-02. Russian cosmonauts now regularly take religious objects with them into space, such as icons, the Gospels, and stones from Mount Tabor (the site of the Transfiguration of Jesus), symbolically spreading their faith around the world. This practice has become a tradition for space missions since 2008, when relics of Saint Sergius of Radonezh accompanied cosmonauts into space. Ironically, space conquest was formerly heralded as a great achievement of the antireligious Soviet authorities. A popular Soviet propaganda poster even depicted Yury Gagarin in space with the caption: "There is no God!"
Another chapter in the story of Seraphim's relics was the meeting in Cuba in February 2016, where Patriarch Kirill offered some fragments of the saint's remains to Pope Francis as a token of the rapprochement between the two churches. For memory, Orthodox churches and the Roman Catholic Church are at odds since the great schism of 1054. This historic encounter in Cuba held a highly symbolic value as no head of the ROC had met with the head of the Catholic Church. During this encounter, both pontiffs agreed that "the past method of 'Uniatism' is not the way to reestablish unity". The Joint Declaration further cast" hope that the schism between the Orthodox faithful in Ukraine may be overcome through existing canonical norms,and that all the Orthodox Christians of Ukraine may live in peace and harmony." It was almost three years ago.
Recently, in December 2018, archeologists from the Russian Academy of Science have made interesting discoveries during their excavation in Sarov monastery. They found a marble plaque commemorating the canonization of Seraphim and testifying the attendance of the Tsar Nicholas II with his family. This artifact resurfaces as a thread connecting the past and the present.
Saint Seraphim's unique journey during his life has continued after his death with each milestone epitomizing a key moment in the unfolding history of Russian Orthodoxy.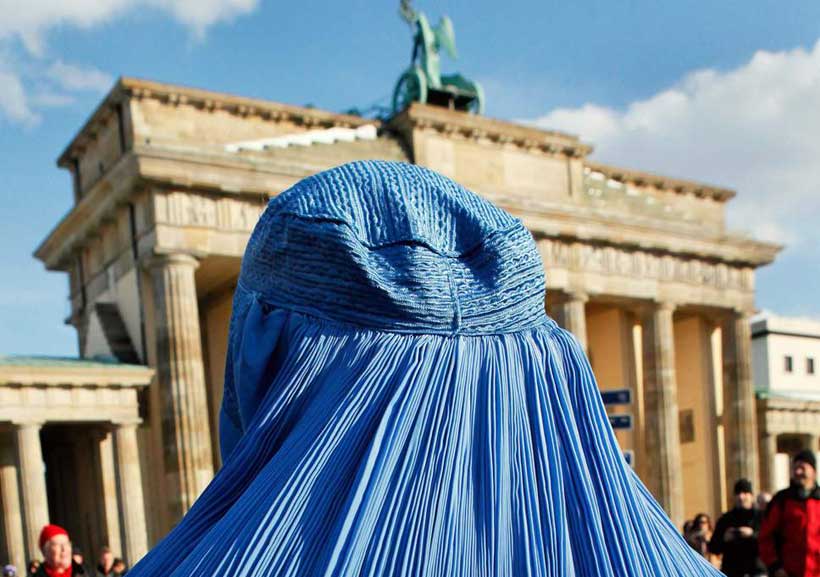 In the beginning of December 2016, Angela Merkel called for a burka ban during the conservative Christian Democratic Union (CDU) party's congress. Specifically, she said "The full veil must be banned, wherever legally possible. Showing your face is part of our way of life," and "Our laws take precedence over honor codes, tribal customs and sharia."
It is really interesting to demonstrate a case where the cross as a European value has the dominant position: the Lautsi case. Lautsi case proved us that religion still travels hand by hand with politics and that political coalitions are still very powerful when cultural memory has to be protected. An Italian national, Ms Soile Lautsi accused Italian Republic for the compulsory display of crucifixes in Italian public schools. According to ECHR's decision there was no violation of any right derived from the Convention. As Marco Ventura has pointed out: "The Grand Chamber has designed a Europe in which every country is free to decide which place to give to religion and to favor Christianity, or rather the dominant churches. For this reason, Italy has been supported by the more confessional of European countries, Russia and Greece, Bulgaria and Cyprus, which the European Court has repeatedly condemned for the oppression of minority religions." The coalition of Vatican State — Italian governments with other Eastern States formed a new ecumenical movement against radical secularism which according to the religious leaders, ECHR tried to promote during its first decision on Lautsi case. His Holiness Patriarch Kirill in a letter to Italian Prime Minister Silvio Berlusconi expressed the following opinion: "Christian religious symbols present in the public space in Europe are part of the common European identity without which neither the past nor the present or the future of this continent are thinkable".
However, does this new ecumenism of Christianity or ultra — secularism lead to Islamophobia? Religious pluralism a new social fact with which European states have yet to come to terms, and, country by country, they are plunging into national debates about religion and public policy. Indeed, Europe has made many efforts to cultivate the interreligious dialogue and to bridge (at least, a theoretical) gap between the relations between Christianity and Islam. The Vatican's effort to reach Islam culminated in a March 2001 visit to Damascus where John Paul spoke about the neighborly relations over the centuries between Christianity and Islam and delivered a message of interfaith peace. On 16th April, Pope Francis with the Ecumenical Patriarch visited the island of Lesvos in show of support to refugees. Leaving for Vatican, the Pope was accompanied by some families of Syrian refugees as a symbolical gesture towards Europe and its strict policies for asylum seeking and the closing of borders. An anti — Muslim sentiment is increasing by placing the blame on Islam's antiliberal tenets and Muslims presumed obedience to those doctrines. Muslims feel that they are second class citizens and victims of discriminatory attitudes and that their religion becomes more important than their education, personal and professional skills, qualifications and virtues in the eyes of the Western community. Are they really free and first class citizens when their religious leaders cannot be educated in Western and national institutions such as Christian clergy? Is this a true religious expression? Many imams are educated in Muslim countries and most probably they have traveled abroad before their religious mission to Europe. This may cause a lot of problems as the majority of those imams does not speak the national language and brings in his suitcase attitudes and traditions totally incompatible with Western values. In many cases, these imams come to carry fundamentalist and extremist messages which may find very welcome ears from disappointed, conservative or marginalized individuals. Beginning in September 2004, New Home Office rules for "overseas ministers of religion" came into effect in Britain. The rules require "imams and priests..to show knowledge of, and engagement, with British civic life, including an understanding of other faiths."
Inside Muslim communities various attitudes towards the position of sharia have been formed. Many scholars, especially Muslim scholars have tried to strike a balance between the implementation of sharia in private affairs and of National Laws in their public life and activities. Furthermore, a movement within Islam, called "Moderate Islam" sees the today context as an opportunity for an Islamic revival movement that focuses on jihad-the individual's believers efforts to master scriptural reading and reinterpretation and aims to redefine all core Islamic concepts, in particular the balance between religious law and individual spiritualism. As Tariq Ramadan, a representative of Moderate Islam writes in his article "Europe's Muslims find a place for themselves" in "Le Monde Diplomatique": Five basic principles were arrived at, and these now provide the basis of a virtual consensus among both Islamic experts and the Muslim communities of Europe : 1) a Muslim, whether resident or citizen, should see himself as involved in a contract, both moral and social, with the country in which he lives, and should respect that country's laws, 2) European legislation (which is secular in nature) allows Muslims to practice the basics of their religion, 3) the old concept of the dar al harb — which does not derive from the Koran, and is not part of the prophetic tradition — is seen as outdated; other concepts have been suggested as ways of reading the Muslim presence in Europe in more positive terms, 4) Muslims should see themselves as citizens in the full sense of the term, and should participate (while at the same time seeking respect for their own values) in the social, organizational, economic and political life of the countries in which they live, 5) in European legislation as a whole, there is nothing to prevent Muslims, or any other citizens, from making choices that accord with their religion.
Our secular societies found themselves in front of a big challenge: the revival of religion and the un-secularization of the world. The most crucial problem is the balance that both individuals and societies have to create in order to avoid a situation of "survival of the fittest". The priority is a society where human rights will not be crucified in the name of religion and where individual spirituality will not be beheaded in the name of National Law or in the name of media.
Recognition of Macedonian schism by Constantinople – Threat Remains
After the publication in Macedonian news agency Sloboden Pecat, many believers of Serbian Orthodox Church gave a sigh of relief supposing that the common sense prevailed and Ecumenical Patriarch Bartholomew discarded his intention to grant autocephaly to the schismatic Macedonian Orthodox Church (MOC). But it appeared that such hopes were premature.
The article in Sloboden Pecat reads that Patriarch of Constantinople had sent a letter to MOC that admitted Serbian Orthodox Church's (SOC) jurisdiction over Macedonian archdioceses and thus he had no rights to satisfy Skopje's request for autocephaly. Ironically Greek mass media used this as an pretext to accuse Fanar of bribery.
A few days ago Ecumenical Patriarchate issued a refutation on its official cite, claiming that they didn't sent a letter to the MOC and haven't even heard of the Serbian gold.
While Serbians keep praying, Constantinople continues secret negotiations with the MOC. According to some sources this is why Metropolitan Amphilochios of Adrianople carries out frequent trips to Macedonia. At the same time statements of Fanar's clergymen and Patriarch Bartholomew demonstrate phyletic intentions with a purpose of establishing the superiority of "Greek" church over all others as "the first without equals". So the threat of the recognition of Macedonian schism by Constantinople is still relevant.
But the Fanar's primary aim now is to force SOC into recognizing the autocephaly of Ukrainian Orthodox Church (UOC) – such a precedent will path the way for Macedonian tomos of autocephaly in the future.
Obviously our Church shouldn't trust fake publications of the mass media. On the other hand there's no point in passive expecting of "His All-Holiness" Bartholomew to declare his will. Considering that the community temporarily believed in a possibility of a "fair verdict" from the Fanar, Serbian Patriarchate's position must be based not only on historical truth and church canons but on public opinion as well. In this regard the separatists' worst nightmares of Constantinople going back to the canonical path can come true.
Constantinople has the right to revoke the tomos of autocephaly of any Slavic church at any time. Recently Archbishop Job of Telmessos. In the same interview he said that the name "Serbian Orthodox Church" is uncanonical and is a sign of ethnophyletism. If it's not a declaration of war, then it's at least a direct threat to Serbian Patriarchate. History shows that accusations of ethnophyletism sound when Greeks need to infringe the rights of Slavic Churches or deprive them of independency.
The Ukrainian example proves that Constantinople easily revokes the historical signatures of its patriarchs and no matter how much gold they were paid and how long ago the papers were signed – 100 or 300 years ago. Will Constantinople be allowed to go on rejecting its own decisions unilaterally and broaden its borders in the future? It mostly depends on the position of Local churches including ours. If we don't react now then Serbian Church will face the fate of Moscow which is losing its territories land by land.
Patriarch Irinej needs Constantinople to officially recognize that the tomos of 1922 still has legal power despite the changing historical circumstances and that the extension of SOC jurisdiction over Macedonian archdioceses is no discussion point. We need a document that will be undoubtedly canonical and impossible to cancel at a moment's notice. At least personal signatures of patriarch Bartholomew are still more trustworthy than fake mass media publications.