America's Slow Descend into Madness: Bad News for Democracy!
"Whom the gods would destroy, they first make mad."–Prometheus, in Longfellow's The Masque of Pandora
"Men first feel necessity, then look for utility, next attend to comfort, still later amuse themselves with pleasure, thence grow dissolute in luxury, and finally go mad…-Giambattista Vico, in The New Science
The philosopher of history Giambattista Vico believed that human societies pass through stages of growth and decay. "The nature of peoples," he wrote, "is first crude, then severe, then benign, then delicate, finally dissolute." In short, as people make life better for themselves materially, they fall into moral, spiritual and intellectual decay. Three of the symptoms that Vico identifies as characteristic of a civilization gone mad are: the destruction of the family, of language and of religion, the very foundation of any sort of society, as primitive as it might be.
This powerful insight into the birth and dissolution of entire civilizations leads to this question: Is America slowly descending into madness? There are disturbing signs that this may actually be the case. The stories America now tells itself are not only vulgar and trivial but are also filled with cruelty, deceit, lies, legitimating all manner of corruption and mayhem. Refugees and hard-working immigrants are characterized as criminals, rapists and "rabid dogs," Islamo-phobia is on the ascendance with calls for registration and surveillance, and those who disagree with those fascistic tactics are promptly demonized and politically destroyed, never mind truth and honor, justice, and the common good. Those stories as told by corporate liars and crooks do serious harm to the body politic, and the damage they cause together with the idiocy they reinforce are becoming more apparent as America descends into authoritarianism pre-shadowing tyranny, accompanied by the pervasive fear and paranoia that sustains it, to wit Donald Trump who within a year may well become our first mad president, the way Caligula became the first mad Roman Emperor, echoing all the aberrations of a society which is fast losing its democratic ideals and its very political sanity.
We find evidence of a culture of cruelty in numerous policies that make clear that those who occupy the bottom rungs of American society—whether low-income families, poor minorities of color and class, or young, unemployed, and failed consumers—are considered disposable, utterly excluded in terms of ethical considerations and the grammar of human suffering. This is not merely partisan politics; it is an expression of a new form of cruelty and barbarism now aimed at those considered disposable in a neo-Darwinian survival-of-the-fittest society.
To be sure, the roots of America's current descent into madness can be traced back to a series of unresolved catastrophic traumas Americans experienced during the Bush Administration. In the short span of eight years, it suffered a collective loss of confidence in American leadership, in the ability of government to perform its most basic functions, and in the very essence of the American Dream which is progressively becoming the American nightmare. The stories we tell about ourselves as Americans no longer speak to the ideals of justice, equality, liberty, and democracy. There are precious few towering figures such as Martin Luther King, Jr. whose stories interweave moral outrage with courage and vision; stories which inspired us to imagine a just society and a more perfect union.
Polls have consistently established that both the Tea Party and "birthers," those who consider President Obama illegitimate, about half of the Republican party, share some demographic characteristics. They are white, largely middle class and middle aged. They had been disproportionately impacted by the economic collapse and felt that the government's response to the crisis had been to favor the rich and poor minorities — at their expense. They see themselves as victims of a failed government that misled them and let them down. The Trump and GOP appeals to "Make America great again," to "stop us from losing", or to "restore our honor" are in response to the still unresolved collective trauma experienced by the same group of voters who comprised the Tea Party. They are the anti-Obama message — appealing to fear and not hope, and looking backward, not forward.
For months now, the pundits and the GOP establishment have dismissed the dangers posed by the likes of Trump and Carson and Cruz. Trump, they said, would be undone by his insults and fabrications; Carson was a fad who would soon fade; and Cruz, because he was so disliked, would go nowhere. Most recent polls, however, show these three garnering between 50 and 60 percent of the Republican vote while their rhetoric becomes harsher, with naked ugly appeals to intolerance and even violence. Indeed, the clowns have had their saying and have entertained us for a while, but isn't it time now to wake up from our nightmare before it becomes a sad and irreversible reality?
A final pertinent caveat for all those anti-Americans on the other side of the Atlantic ocean who may find themselves gloating over the above-mentioned bad news scenarios. The news is bad for them too; for if the oldest of the modern experiments in democracy tragically fails, it will almost certainly mean that it will ultimately fail everywhere else too. The descend into madness will then become global, the lights will be out for all, and darkness will envelope the earth; we will have fought World War II for nothing. This may sound slightly apocalyptic, but it is more in the nature of a prophecy grounded in the historical-political reality described in Vico's philosophy of history: once democracy is dead, these anti-Americans' political and ethical dreams will also come to an end and the descend into a global madness will almost certainly ensue. Vico is yet to be proven wrong on the dissolution of advanced civilizations. Remember too that a prophecy is not necessarily a revelation of the future; it is more in the nature of an urgent appeal to sanity and a warning so that such a future will not come about. Let those who have ears, let them hear.
Democracy Rushing into the Abyss: The Insanity is Even Worse than it Looks
"The Republican Party has become an insurgent outlier – ideologically extreme; contemptuous of the inherited social and economic policy regime; scornful of compromise; unpersuaded by conventional understanding of facts, evidence and science; and dismissive of the legitimacy of its political opposition."-Thomas Mann and Norman Ornstein, in It's Even Worse than it Looks (2011)
This is a sequel of sorts to the previous article where the controlling metaphor was that of the descend into insanity in the political milieu of American democracy. In this article the controlling metaphor is that of the abyss, or better, the rush into the abyss of a whole party and group of people who may well end up destroying two hundred years of American democracy, as we know it.
The Republicans seem to have decided that they will divide, degrade and secede from the Union. How will they do it? They will do it with bullying, lies and manipulation, a willingness to say anything that conforms to their ideology, never mind the truth of facts and events; by spending unheard of sums to buy elections with the happy assistance of big business and wealthy patrons for whom the joys of gross income inequality are a comfortable fact of life. By gerrymandering and denying the vote to as many of the poor, the elderly, struggling low-paid workers, and people of color as they can. And by appealing to the basest impulses of human nature: anger, fear and bigotry. Like the pronouncement of the Ministry of Truth in Orwell's 1984, ignorance is strength, whether it's casting paranoid fantasies about thousands of Muslims in New Jersey cheering 9/11, or warning about terrorists in refugees' ragged clothing and Mexican rapists slithering across the border, to wit the Frankenstein created by the Republican party, Donald Trump, who is now ready to devour its makers.
The fever is pandemic not only among the party's presidential candidates but throughout the House and Senate right down to state governments. Witness erstwhile GOP presidential candidate and current Wisconsin governor Scott Walker cutting off food stamps for the hungry and possibly bankrupting food pantries in his state just in time for Christmas – because many of those on the lowest rung of the ladder haven't yet found a job. It's a cruel and "uncivil war" against the poor and the indigent, a sorry spectacle to the rest of the world watching in bewilderment.
Even science is deniable if it furthers the party's extreme social Darwinian ideology. Take the issue of climate change. While the climate talks in Paris could potentially mark a turning point in solving the problem of global warming, the "thought police" within the Republican party makes sure that the party orthodoxy on the subject is upheld: that orthodoxy dictates that there is no man-made global climate; which in effect means that the Republicans are perfectly willing to doom the whole world. They're in fact on constant attack against the science of climate change, with the latest salvo two House bills passed December 1 that undermine Environmental Protection Agency rules (the president will of course veto them).
In a way, this is part of a long tradition: Richard Hofstadter's famous essay "The Paranoid Style in American Politics" was published half a century ago but it remains relevant. And if that is not insanity then nothing is. Indeed, climate-denial orthodoxy doesn't just say that the scientific consensus is wrong. Senior Republican members of Congress routinely indulge in wild conspiracy theories, alleging that all the evidence for climate change is the product of a giant hoax perpetrated by thousands of scientists around the world. And they do all they can to harass and intimidate individual scientists.
A few days ago the new Speaker of the House, Paul Ryan, summed up his House Republican agenda – vowing to pursue legislation that would frame a stark choice for voters in 2016. "Our No. 1 goal for the next year is to put together a complete alternative to the left's agenda," he said. A series of retrograde ideas were put forth. Here are seven of them: 1. Reduce the top income-tax rate to 25% from the current 39%. This would be a huge windfall to the rich at a time when the rich already take home a larger share of total income that at any time since the 1920s. 2. Cut corporate taxes to 25% from the current 35%. A giant sop to corporations, the largest of which are already socking away $2.1 trillion in foreign tax shelters. 3. Slash spending on domestic programs like food stamps and education for poor districts. Already 22% of the nation's children are in poverty; these cuts would only make things worse. 4. Turn Medicaid and other federal programs for the poor into block grants for the states, and let the states decide how to allocate them. In other words, give Republican state legislatures and governors slush funds to do with as they wish. 5. Turn Medicare into vouchers that don't keep up with increases in healthcare costs. In effect cutting Medicare for the elderly. 6. Deal with rising Social Security costs by raising the retirement age for Social Security. This would make Social Security even more regressive, since the poor don't live nearly as long as the rich. 7. Finally, let the minimum wage continue to decline as inflation eats it away. Wrong again. Low wage workers need a higher minimum wage.
Congressional Republicans have vowed to free Wall Street from oversight and accountability and to prevent children fleeing the Syrian civil war from coming ashore on US soil. And yes, they will once again be in full throat against gun control (despite the latest tragedy in San Bernardino, California). And believe it or not, once again they'll try to scuttle Obama care, as in Kentucky where the self-financed, wealthy Republican governor-elect has vowed to cut loose hundreds of thousands of people from health insurance.
All of these sad examples, however, are but symptoms of a deeper disease – the corruption and debasement of society, government and politics. It is a disease that eats away at the root and heart of what democracy is all about. The opening phrase of the Preamble to the Constitution committs "We, the People" to the most remarkable compact of self-government ever – for the good of all. The Republicans are shredding that vision as they make a bonfire of the hopes that inspired it and, in the process, will reduce the United States to a third-rate, sorry excuse for a nation. They would tear the Republic apart, rip to pieces its already fragile social compact, and reap the whirlwind of a failed experiment in self-government. For a glimpse of this kind of world pick up George Orwell's 1984 and David Lebedoff's The Uncivil War. They are prophetic of where Western democracy may be heading. There is still time to turn around, but time is running out.
Note: These two related articles on the predicament of democracy first appeared in Ovi magazine: the first on 12/2/2015 and the second on 12/11/2015.
A self-inflicted wound: Trump surrenders the West's moral high ground
For the better part of a century, the United States could claim the moral high ground despite allegations of hypocrisy because its policies continuously contradicted its proclaimed propagation of democracy and human rights. Under President Donald J. Trump, the US has lost that moral high ground.
This week's US sanctioning of 28 Chinese government entities and companies for their involvement in China's brutal clampdown on Turkic Muslims in its troubled north-western province of Xinjiang, the first such measure by any country since the crackdown began, is a case in point.
So is the imposition of visa restrictions on Chinese officials suspected of being involved in the detention and human rights abuses of millions of Uyghurs and other Turkic Muslims.
The irony is that the Trump administration has for the first time elevated human rights to a US foreign policy goal in export control policy despite its overall lack of concern for such rights.
The sanctions should put the Muslim world, always the first to ring the alarm bell when Muslims rights are trampled upon, on the spot.
It probably won't even though Muslim nations are out on a limb, having remained conspicuously silent in a bid not to damage relations with China, and in some cases even having endorsed the Chinese campaign, the most frontal assault on Islam in recent history.
This week's seeming endorsement by Mr. Trump of Turkey's military offensive against Syrian Kurds, who backed by the United States, fought the Islamic State and were guarding its captured fighters and their families drove the final nail into the coffin of US moral claims.
The endorsement came on the back of Mr. Trump's transactional approach towards foreign policy and relations with America's allies, his hesitancy to respond robustly to last month's missile and drone attacks on Saudi oil facilities, his refusal to ensure Saudi transparency on the killing a year ago of journalist Jamal Khashoggi and his perceived empathy for illiberals and authoritarians symbolized by his reference to Egyptian field marshal-turned-president Abdel Fattah al-Sisi as "my favourite dictator."
Rejecting Saudi and Egyptian criticism of his intervention in Syria, Turkish president Recep Tayyip Erdogan gave the United States and Mr. Trump a blunt preview of what they can expect next time they come calling, whether it is for support of their holding China to account for its actions in Xinjiang, issues of religious freedom that are dear to the Trump administration's heart, or specific infractions on human rights that the US opportunistically wishes to emphasize.
"Let me start with Saudi Arabia," Mr. Erdogan said in blistering remarks to members of his Justice and Development Party (AKP). "Look in the mirror first. Who brought Yemen to this state? Did tens of thousands of people not die in Yemen?" he asked, referring to the kingdom's disastrous military intervention in Yemen's ruinous civil war.
Addressing Mr. Al-Sisi, Mr. Erdogan charged: "Egypt, you can't talk at all. You are a country with a democracy killer." The Turkish leader asserted that Mr. Al-Sisi had "held a meeting with some others and condemned the (Turkish) operation – so what if you do?"
The fact that the United States is likely to encounter similar responses, even if they are less belligerent in tone, as well as the fact that Mr. Trump's sanctioning of Chinese entities is unlikely to shame the Muslim world into action, signals a far more fundamental paradigm shift: the loss of the US and Western moral high ground that gave them an undisputed advantage in the battle of ideas, a key battleground in the struggle to shape a new world order.
China, Russia, Middle Eastern autocrats and other authoritarians and illiberals have no credible response to notions of personal and political freedom, human rights and the rule of law.
As a result, they countered the ideational appeal of greater freedoms by going through the motions. They often maintained or erected democratic facades and payed lip service to democratic concepts while cloaking their repression in terms employed by the West like the fight against terrorism.
By surrendering the West's ideological edge, Mr. Trump reduced the shaping of the new world order to a competition in which the power with the deeper pockets had the upper hand.
Former US national security advisor John Bolton admitted as much when he identified in late 2018 Africa as a new battleground and unveiled a new strategy focused on commercial ties, counterterrorism, and better-targeted U.S. foreign aid.
Said international affairs scholar Keren Yarhi-Milo: "The United States has already paid a significant price for Trump's behaviour: the president is no longer considered the ultimate voice on foreign policy. Foreign leaders are turning elsewhere to gauge American intentions… With Trump's reputation compromised, the price tag on U.S. deterrence, coercion, and reassurance has risen, along with the probability of miscalculation and inadvertent escalation."
Trump's effects on diplomacy
No longer has Trump's haphazard behaviour persisted, more will be easy for his administration to enact actions against China, Iran and Taliban. The state department is in a quandary because of it, on each front. Trump's entrenched eagerness to remain "great" and "first" on the chessboard of International power, could damage the world more ahead than before.
Following the Iran's attacks on the Kingdom of Saudi-Arabia's oil infrastructure, US wanted to deploy troops to the Kingdom. It is primarily a justification for why the US has been imposing sanctions over Iran. Is troops deployment a solution? Or will it provide safe horizon to Kingdom oil's installation? Or will it be revolutionary in oil diplomacy? Or is it the only target retaliated on, by Iran. However, such kind of engagement has short term beneficiary spots, while in broader perspective it has consequential effects for all stakeholders. The episode of nuclear deal has, as a factor of quid-pro-quo, been further dramatised by the state department, withdrawing from. Notwithstanding, the deal has advantageous prospects for the Middle East, and an exemplary for rest of nations, has been further dramatised by the US, in order to seek its diplomatic wins. What significant at this point, is an agreement to reback to the deal.
Embracing a different economic model, China, is plausibly on a runner-up position to the US. Whether it's 5G tech. Or leading status of green energy, or ultra-scales exports or its leading developments for the nations having indigent economies, is a source of chaos for US administration. The current trade war is an antidoting tool for the whole scenario. The US should, I assume, eye China's hegemony a piece of cake, and welcome its come out while securing its interests under the umbrella of cooperation. This logic, while posing no threat, seems to be long term functional. Is it?
Trump, according to many native writers, is psychologically unfit, unstable and fickle, however have had strong narrative to prevent America's engagement into "useless wars" and end "endless" wars. Following this token, Trump announcement of troop withdrawal from Syria and Afghanistan put the world politics and even his administration into chaos. This divided strategists and Washington security officials, which was underpinned by the resignation of James Mattis and recently John Bolton. The ten months of peace process which followed the US's announcement of troop withdrawal, precipitously ended, putting once again the international and national politics into chaos. Trump, grandiloquently fired a tweet that talks with Taliban are dead and futile. The argument he contended was the Attack in Kabil, where one American soldier with 12 other people were lost. The policymakers and high officials in Washington who already negated the policy of troop withdrawal and then after peace deal. They, of course are winner in this policy discourse, have staunch beliefs in their opinion, who may make Trump's change of heart. The Kabil attack was given, probably, an agent of resurgent for Obama's approach. However, Trump's administration had already scripted their policy framework for the region, and pretending Kabul attack was perhaps a way of redemption from the peace talk.
Trump's factor in US foreign policy was chaotic to his subordinates for which, he attempted to compensate by cancelling peace deal with Taliban. However , on the domestic front, it is likely to be more pluses than on diplomatic front given to Trump in next year's presidential election. Let's see which side the wind blow.
Trump Cannot Be Impeached Over Ukrainegate, But Pelosi and Schiff Can Be Charged Criminally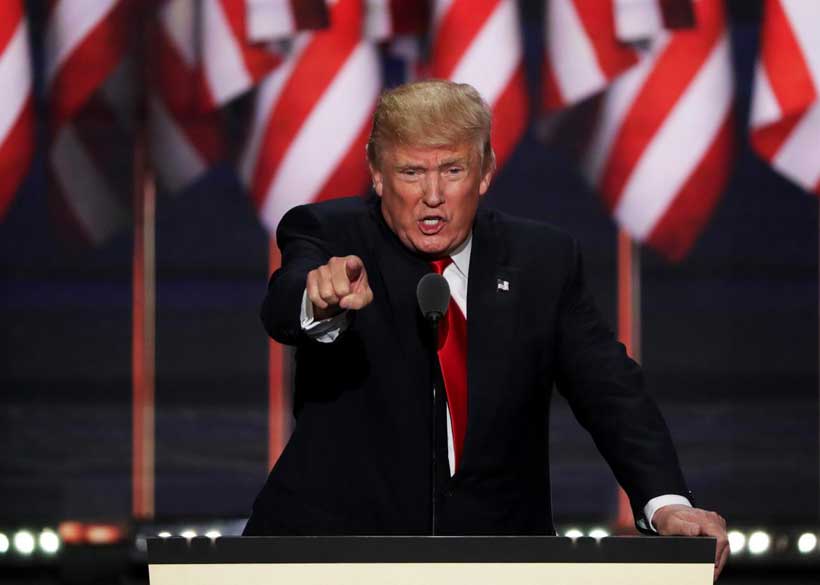 Pursuant to United States v. Curtiss-Wright Export Corp., 299 U.S. 304 (1936), the U.S. Supreme Court issued an unmistakable clear edict concerning the foreign affairs powers of the President of the United States.
In its majority opinion, the Court held that the President, as the nation's "sole organ" in international relations, is innately vested with significant powers over foreign affairs, far exceeding the powers permitted in domestic matters or accorded to the U.S. Congress.
The Court reasoned that these powers are implicit in the President's constitutional role as commander-in-chief and head of the executive branch.
Curtiss-Wright was the first decision to establish that the President's plenary power was independent of Congressional permission, and consequently it is credited with providing the legal precedent for further expansions of executive power in the foreign sphere.
In a 7–1 decision authored by Justice George Sutherland, the Supreme Court ruled that the U.S. government, through the President, is categorically allowed great foreign affairs powers independent of the U.S. Constitution, by declaring that "the powers of the federal government in respect of foreign or external affairs and those in respect of domestic or internal affairs are different, both in respect of their origin and their nature…the broad statement that the federal government can exercise no powers except those specifically enumerated in the Constitution, and such implied powers as are necessary and proper to carry into effect the enumerated powers, is categorically true only in respect of our internal affairs."
While the Constitution does not explicitly state that all ability to conduct foreign policy is vested in the President, the Court concluded that such power is nonetheless given implicitly, since the executive of a sovereign nation is, by its very nature, empowered to conduct foreign affairs.
The Court found "sufficient warrant for the broad discretion vested in the President to determine whether the enforcement of the statute will have a beneficial effect upon the reestablishment of peace in the affected countries."
In other words, the President was better suited for determining which actions and policies best serve the nation's interests abroad.
Period.
It is important to bear in mind that we are here dealing not alone with an authority vested in the President by an exertion of legislative power, but with such an authority plus the very delicate, plenary and exclusive power of the President as the sole organ of the federal government in the field of international relations – a power which does not require as a basis for its exercise an act of Congress, but which, of course, like every other governmental power, must be exercised in subordination to the applicable provisions of the Constitution.
Separation of Powers Doctrine
In other words, neither the U.S. Congress nor the U.S. Senate can say or do very much of anything to prevent or interfere with this power, and if they do, they can in fact be held responsible for violating the Separation of Powers doctrine pursuant to the U.S. Constitution wherein the three branches of government (executive, legislative, and judicial) are kept separate.
This is also known as the system of checks and balances, because each branch is given certain powers so as to check and balance the other branches.
Each branch has separate powers, and generally each branch is not allowed to exercise the powers of the other branches.
The Legislative Branch exercises congressional power, the Executive Branch exercises executive power, and the Judicial Branch exercises judicial review.
National Security and Foreign Affairs
The Curtiss-Wright case established the broader principle of executive Presidential supremacy in national security and foreign affairs, one of the reasons advanced in the 1950s for the near success of the attempt to add the Bricker Amendment to the U.S. Constitution, which would have placed a "check" on said Presidential power by Congress, but that never passed, or became law.
If Speaker of the House Nancy Pelosi and other Democrats really wanted to interfere with or prevent President Donald Trump from engaging in the activity that they are trying to prevent vis-a-vis Ukraine, China, and Joseph Biden's alleged corruption and its effect on National Security, they would have to first draft, propose, enact, and pass sweeping legislation, and this could take years and would most probably never pass.
Even so, it could not affect President Donald Trump's actions already occurred, since the U.S. Constitution prohibits ex post facto criminal laws.
Turning This All Against Nancy Pelosi and Adam Schiff
To that end if Speaker of the House Nancy Pelosi and Congressman Adam Schiff persist in pushing said "impeachment proceedings" against President Donald Trump, it is actually they who could find themselves on the wrong side of the law, with formal and actual charges of Treason, Sedition or Coup D' Etat being levied upon them by the U.S. Government.
The consequences of that occurring, are truly horrific indeed.