Ecological Globalistan – Political Terroristan
Speaking in Paris on December 7, 2015 – only a morning after the landslide victory of the far right French political party, the UN Secretary General again reminded the world leaders that: "More than 1 billion people worldwide live without electricity. Nearly 3 billion people depend on smoky, dangerous traditional fuels for cooking and heating.
Access to modern, reliable, affordable clean energy is equally important for ending extreme poverty and reducing inequality…The clock is ticking toward climate catastrophe." Politely ignoring the domestic French politics, as much as the climate change hard-evidence, all international nihilists, professional optimists and other status quo conservators would call it 'environmental alarmism'…or political alarmism – the same… What is really the state of our planet?
Back in 1990s, there was a legendary debate between two eminent scientists; Carl Sagan, astrophysicist and Ernst Mayr, evolutionary biologist. The issue was the question of all questions – is there any intelligent life out there? Sagan – closer to mathematics, and the counting of starts and worlds attached to it – argued that out of all the innumerable planets like ours, life must flourish at many of them. Quite a few of them, he claimed, must have developed advanced forms of living beings. Mayr – on the other hand – argued the opposite. His pessimism was coming from his profession, not from his character that was as vivid and optimistic as Sagan's: What is a biology for natural sciences, that is a history for human sciences – spacetime-lined story of the past with a predicament, or sometimes an inevitable consequences, for our future. As prof. Naom Chomski beautifully reminds us of this great episode, Ernst Mayr took our mother planet as an example to illustrate his claim.
The so-called biological success of species could be measure by their number, configuration and durability. By all three parameters, prof. Mayr stressed, the most adaptive systems are those conducting fast (non-cognitive) mutations caused/triggered by any environmental stress (e.g. varieties of bacteria, creatures stuck in a fixed ecological niches, like beetles or some sea biotas), and surviving even larger crisis including the cataclysmic events. But, as we go up the scale of what we assume as intelligence, the systems become less adaptive and scarcer by number, configuration and durability. Arriving to the top (as we classified a tip of the intelligence pyramid), from low mammals to higher primates, apes and Homo sapiens, the species tend to image a rarifying picture – by all three biological success parameters. By Mayr's account, the average lifespan of upper-intelligence echelons is only around 100,000 years. Out of billions of spices that have inhabited (and quite some still inhabiting) our planet, we – along with other higher primates – are late arrival and temporal 'accidents'. He attributes this to our intelligence, labeling it as a 'lethal mutation' – not a blessing but a curse. Mayr's finding is intriguing: The higher the intelligence, the more likely to end up in self-destruction, past the transitioning on a curve of initial development.
Indeed, our environmental, financial and politico-economic policies and practices is creating the global stress for us and all other species. Deep and structural, this must be a crisis of our cognitivity. Do we want to prove Mayr right with our global Jihad against cognitive mind?
Cognitive deficit crisis
From Copenhagen, Durban, Rio+20 to the Paris COP 21, our conclusion remains the same: We need principles and accorded actions, as this is the only way to tackle the grave problems of this planet. We are lacking the elementary consensus in/on the Bretton Woods institutions, on the Tobin tax initiative, in the WTO Doha Development round, on nuclear non-proliferation (and NPT), on migrations, on the Middle East and 'regime change mantra', in the IPCC, on the post-Kyoto negotiations, and finally on the alarming state of environment. Ergo, on a global scale we fundamentally disagree on the realities of this planet and the ways we can address them[1].
I am neither moralizing, idealizing nor agonizing. The world based on agreed principles and commonly willing actions is not a better place. It is the only way for the human race to survive.
Climate Change – a brutal terror against nature
We place ourselves in a centre of materialistic world – this, of what we perceive as a universe of dead (and linear) matter. Therefore, what we euphemistically call (anthropogenic) Climate Change is actually a brutal war against (living) nature. It is a covert armed conflict, since we are predominantly using the so-called monetizing-potent 'technologies', instead of firearms in our hands. (For this purpose hereby, the army units are replaced by the demolition-man of other name; 'transnational corporations'.) This armed insurgency is waged against most of what is beautiful and unique on Earth – on the planet that gave us time and space enough to survive as species and to evolve as cognitive life. Thus, the known sustainability matrix of 3 maximums (of good, of species, and of time) becomes the minimum species, minimum time with a maximum harm.
Intentionally or not, it is a synchronized attack: We are steadily and passionately polluting our public sphere with the diverting banalities manufactured by the so-call social networks, reality shows, 'celebrities' and the like – trivializing the contents of our lives. At the same time, we are massively contaminating our biosphere (waters, lands, air and near outer space) with non-degradable and/or toxic, solid or aerosol, particles radiation and noise – irreversibly harming our habitat. We pollute the time as well, turning it into cross-generation warfare's battlefield: Our dangerous patterns might seal off the fate for untold number of generations and sorts of species to come. No wonder, our corrosive assertiveness has (time-space) parallels: acidifying of oceans and brutalization of our human interactions, as well as over-noising both of them, are just two sides of a same coin. What is the social sphere for society that is the biosphere for the very life on earth: the (space/time – content/form) frame we all live in.
Seems we pay our space (linear possessions) by our time (future). Therefore, our crisis cannot be environmental, as it was never a financial or security (war on terror) – our crisis must be a moral one. This is a cognitive deficit crisis, which we eagerly tend to spend in a limbo of denial!
Πάνταρει (panta rhei)
Nature does not change. Change (as a cosmic constant) is a nature itself. Still, even Heraclitus understood, this force is never eruptive or destructive (explosive, combusting and polarising), but eternally gradual and constructive (holistic, inclusive and implosive).
We are drifting, dissolving and retreating on all levels and within each and every organic (marine and continental biota) or inorganic (soil, glaciers, water, polar caps, etc.) system. For the grave, burning (hydrocarbon) planetary problems, our human race needs an urgent and lasting consensus which presupposes bravery, virtue, vision and creativity. All this will not result from fear of coercion (social haircut, austerity, financial straitjacket), from a further militarization of our societies caused by the accelerated confrontations called 'war on terror', but from the universally shared willingness to accord our common planetary cause. Cognitive mind can do it all.
Let's start our global war on terror – but this time – on the terror of a global environmental holocaust caused by our cognitive deficit crisis.
[1] Additionally, we fundamentally disagree on a role to be played by technology, even on a very definition of what should be considered as technology. Technology is not a state-of-art of science; technology is a state of mind! It is not a linear progression in mastering the natural science disciplines, but a cognitive, emphatic cluster–mastering of the critical insight.
References
1.Ki-moon, B. (2015), Remarks to the opening of the High-Level session of the COP21, December 7, 2015, UNIS (Office of the Spokesperson of the UN SG)
2.Chomsky, N. (2010), Human Intelligence and the Environment, University of North Caroline, Chapel Hill (Paper)
3.Sagan, C. (1980), Cosmos Random House, NY /Carl Sagan Productions Inc. (page: 109)
4.Dresner, S. (2002), The Principle of Sustainability, EarthScan London
5.Smith, L.C. (2010), The World in 2050 – Four Forces Shaping Civilization's Northern Future, Dutton (by Penguin group)
Teaching youth to plant for the planet and change the world from the heart of Europe
A project run from a remote and beautiful part of the German countryside is transforming young people into climate scouts with a powerful message to share.
The Sustainability Guides and Climate Scouts project is run from the International Meeting Centre, St. Marienthal in Ostritz in the Free State of Saxony near the border with Poland.
Established in 1992, the centre conducts around 60 Education for Sustainable Development (ESD) events for more than 2,500 families, youths, adults and experts each year.
The guides and scouts project started in 1998 and welcomes groups of students for intensive courses that combine study with practical outdoor activities, and make good use of its forest experience trail and nature protection station.
Over 1,100 youth have taken part so far including 680 learning-disabled and socially disadvantaged young people who traditionally have very little access to ESD. Its geographical location means it is perfectly placed to bring together students from Germany, Poland and Czech Republic. And a new model project is currently underway which opens the door to ESD for refugees as well.
One of the most exciting aspects of the project is the Plant for the Planet scheme where children have planted around 34 hectares of forest and undertaken more than 30 small-scale energy and water conservation initiatives.
Project Manager Georg Salditt said: "Our message is really twofold: we are teaching peace and the environment. We are well placed at the very heart of Europe to bring young people together who may not normally have met and to demonstrate to them that we are all human beings and we must respect each other and the planet."
The work with refugees who come from Syria, Afghanistan and African countries and elsewhere also has a double aim.
"We want to make sure that if they make their lives here they know how important it is to protect the environment, but also if they are able to return home or to another country that they carry those messages back with them," said Georg.
Not only is the centre itself a model of sustainability with its own environment management system: when children leave the course they take back with them ideas on how to transform their own schools. The centre ties all theory very tightly to practice. In some schools, environmental representatives have been appointed and students introduced permanent energy saving routines for heating and ventilation and for the reduction of paper use and waste.
As part of the project young people also learn about the effects of climate change on societies in the form of soil erosion, extreme weather phenomena , rural depopulation, economies and the environment especially with regard to forest damage. They are motivated by quick feedback on successes in energy and water conservation and updates on the amount of forest planted.
Crucially children also take part in communication workshops to learn how best to share and pass on what they have learned at open school days or town halls.
For Georg one of the most satisfying aspects of his work is watching the transformation take place before his eyes.
"It might sound silly but students do actually write to me one or two years after the course and say that these five days changed their lives not only as far as the environment is concerned but as a human experience. Some had never met anyone from another country at all. And they got to plant a tree!"
And there is a new project already underway.
"We are now working to introduce a project to protect bees and insects. Everyone loves honey and honeybees so we think it will be a success," he said.
World looks to nature-based solutions for urgent water challenges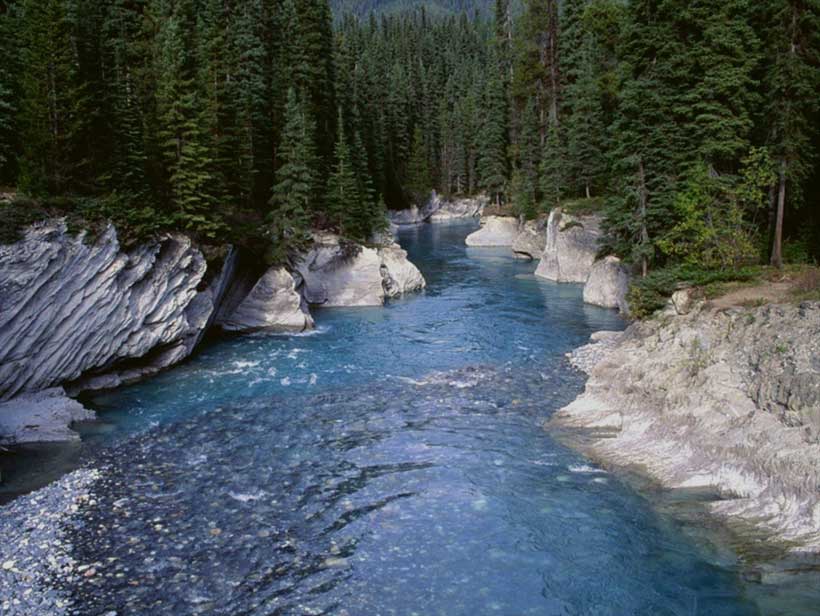 As more than 2 billion people lack access to safe drinking water and more than double that number lack access to safe sanitation, the international community is drawing attention to nature-based solutions for the water challenges of the 21st century on this World Water Day.
The theme of this year's commemoration highlights the unique and fundamental role that nature-based solutions play in regulating the water cycle, keeping freshwater clean and improving the water security of our water cycles.
With the global population continuing to grow rapidly, demand for water is expected to increase by nearly one-third by 2050, while our freshwater ecosystems are degrading at an alarming rate ­– 64-71% of the natural wetland area worldwide has been lost due to human activity in the last century. Furthermore, water pollution has worsened in almost all rivers in Africa, Asia and Latin America since the 1990's
"We need to deal with the water paradox," said Erik Solheim, head of UN Environment, calling attention to the need to work together towards a solution for our water challenge. "Water is the essence of life, but we don't save it enough. It's time to change mindsets, it's not about development versus the environment."
The 2018 edition of the UN World Water Development Report outlines a range of nature-based solutions for water management, from personal measure that can be applied in the home, to examples of "green" infrastructure that can be applied to rural and urban landscapes – such as planting new forests, restoring wetlands, and constructing green walls and roof gardens.
The report further clarifies that despite recent advances in the application of green infrastructure, a holistic approach to water management is to identify the most appropriate, cost-effective and sustainable balance between grey infrastructure and nature-based solutions.
"Today, more than ever, we must work with nature, instead of against it," said Audrey Azoulay, Director-General of UNESCO in the foreword of the report. "Demand for water is set to increase in all sectors. The challenge we must all face is meeting this demand in a way that does not exacerbate negative impacts on ecosystems."
World Water Day is celebrated every year on March 22nd. This year, the commemoration coincides with the World Water Forum, held in Brasilia, Brazil. The Forum is the world's biggest water-related event, organized by the World Water Council. The Forum brings together water experts from around the world to collaborate on making long-term progress on global water challenges. http://www.worldwaterforum8.org/
Category 5 storms: A norm or exception?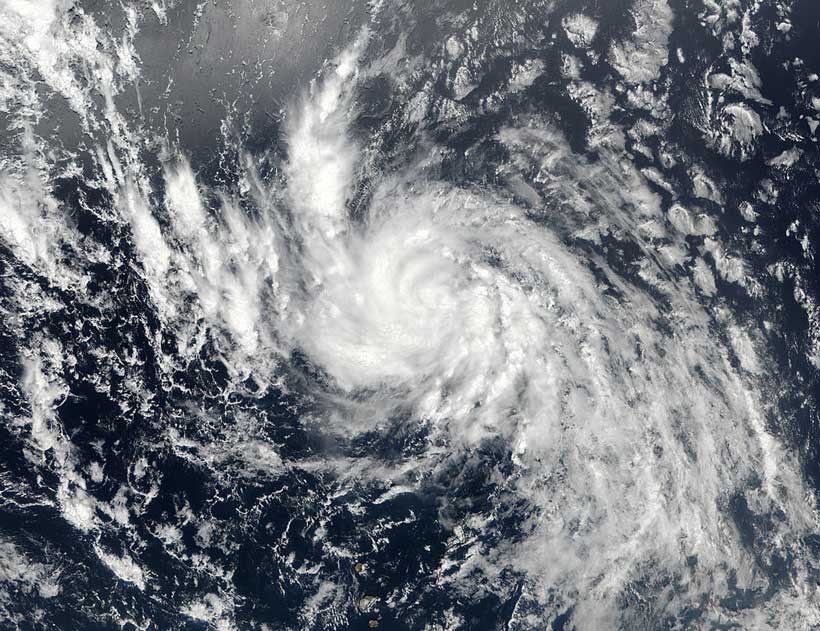 Compared to their larger counterparts, small states are at a higher risk of extreme weather events, which threaten to wipe out their developmental gains, and to some extent, their very existence.
According to the IMF, the economic cost of the average natural disaster during 1950-2014 was nearly 13 percent of GDP for small states, compared to less than 1 percent of GDP for larger states. During that same period, the average natural disaster affected 10 percent of the population in small states, compared to just 1 percent for other countries.
In recent times, the frequency of disasters affecting small states has been far much greater, reflecting small states' proximity to cyclone and hurricane belts. In addition, there has been a rapid expansion in the number of higher category cyclones.  These have left a trail of devastation in their wake, and are estimated to have generated costs in the billions.
In March 2015, category 5 cyclone  Pam struck Vanuatu, and in Fiji, category 5 Tropical Cyclone Winston left over 40 percent of the population negatively impacted. A few weeks ago, Tropical Cyclone Gita, the worst storm to hit Tonga in 60 years, caused significant damage to infrastructure and unprecedented disruption to amenities.
As recent as last year, the Caribbean experienced widespread destruction and substantial loss and damage due to category 5 hurricanes Irma and Maria. These hurricanes damaged critical infrastructure in Anguilla and Barbuda, whilst; and the Bahamas suffered remarkable damage to physical structures.  Moreover, there were damages to over 80 percent of homes, electricity and telecommunications in Dominica; and the list goes on.
Is this growing frequency of robust and destructive category 5 storms a norm or exception?
Well, there is a growing body of evidence that seems to suggest that the recent increase of these highly destructive storms are indeed linked to climate change. According to the Intergovernmental Panel on Climate Change (IPCC) model projections, in particular, global warming is expected to cause an intensification of devastating cyclones by the end of the 21st century. I believe that should this projection come to fruition, such weather events will most-likely push small states beyond their coping point, given their already weak adaptive capacities.
The real question is this:
What does all this mean for the economic development and very existence of small states, and can this be solved through increased financing for development?