Africa Could Reverse Trade Imbalance With Russia
African leaders, export trade organizations and corporate businesses have an extraordinary opportunity to design a well-timed strategy to take advantage of the growing market and to boost trade as a way to reverse considerably trade imbalance that has existed from Soviet days between Russia and Africa, both foreign and local experts have suggested.
In an interview, Maxim Chereshnev, the chairman of the Board of Directors of the Council for the Development of Foreign Trade and International Economic Relations, explains that nowadays there are equally good business perspectives for Africa and that his organization, for instance, is ready to help with trade facilitation and can offer support for African companies, either small or medium enterprises that are looking for new trade opportunities in the Russian Federation.
"It's pleasure to note that Russia and African states have a long story of relations. Import of coffee, cocoa, tea, citrus, sea products and many more from African countries are important for Russia," he stressed assertively, adding that import substitution policy of Russia and the economic diversification are favorable for African countries to promote export/import and to cooperate in investment spheres with Russian companies.
In light of Russia's anti-sanctions – the ban on imports of many types of European agricultural products – diversification of sources of such raw materials has become especially crucial, while import substitution in the country is only fledging. This presents an opportunity for strengthening trade with Asia and Africa.
Chereshnev, at least, is not alone calling for exports from Africa. Quite recently, Olga Kulkova, a research fellow at the Center for Studies of Russian-African Relations, Institute for African Studies in Moscow, noted assertively in her opinion article that "Africa has already started filling the niche, Russian market shelves are enjoying a surge in African vegetables and fruits, most of which used to be re-exported through the EU."
In 2014, African farmers expressed readiness to boost direct exports to Russia, bypassing European mediators. African countries of the continent can make a fortune by selling agricultural products to Russia.
Interestingly, there are only few Africans trading products in Russia's market due to multiple reasons including inadequate knowledge of trade procedures, rules and regulations as well as the changing market conditions. And there are many other obstacles hindering African trade to Russia that have been identified and discussed in many business conferences and seminars, but concrete measures to improve the situation have not been seriously implemented.
As Ibrahim Usman Gafai, Charge d'Affairs at the Embassy of the Federal Republic of Nigeria in Moscow explained in an interview with Buziness Africa, that the overall trade volume between Africa and Russia has been extremely low and highly skewed in favor of Russia.
Gafai pointed out the key challenge from both sides, Africa and Russia, has been dearth of information on doing business and the market environment, and thus has over the years created a condition of uncertainty, misgivings and negative perceptions among prospective traders and investors.
He, however, called for the need to create a mechanism for the dissemination of vital business and trade information that will enhance business interaction among African exporters and Russian importers. In addition, African leaders have to cultivate business interest in organizing trade platforms and business mission to showcase their potentialities in the Russian Federation.
Comparatively, African exports to the United States, European Union and even to India and China has been growing due to trade preferences, lower custom tariffs and other trade incentives that were made available to African exporters by these big-time players, for instance the U.S. offers incentives through the African Growth and Opportunities Act (AGOA).
According to Rex Essenowo, chairman of the Russian Chapter of Nigerian Diaspora Organization in Europe (NIDOE), "African exporters have keen interests in the Russian market but face many challenges in getting their goods delivered on time to consumers in Russia. They know that the market potential is vast in both ways and further understand that Asian countries have comparative advantage trading with Russia, in terms of distance, transportation of goods and other infrastructure including logistics and warehousing."
In addition, he pointed out assertively that one key advantage is regional trade alliances have helped their member states over the years in providing adequate information about the market rules and custom regulations of exporting products of all kinds to Russia.
"In order to boost Russia-African trade, there should be policy interventions, initiate trade platforms for both Russians and Africans to participate in practical discussions on how to make trade policies more effective and to offer import and export credit support for corporate traders to achieve appreciable results," Essenowo told me further in his interview discussion.
"If we look at the trade volume between China and Africa, both regions have done so much for more than the past 10 years despite all the skepticism and criticism, but can't African countries raise their trade volume dramatically in order to cut down the trade imbalance given the necessary trade incentives and lower custom duties by Russia?" the chairman of NIDOE asked rhetorically.
As for ways on how to reverse the huge trade imbalance that exists between Africa and Russia, Dr Shaabani Nzori, a Moscow based independent African expert on Russia-African issues, doesn't see much that could be done at the moment for the following simple reasons:
First, there is no much that Africa can propose to Russia that Russia lacks in its own country, that is raw materials in the form of gas, oil, minerals, and other products such as agricultural produce that Russia can easily and cheaply get from other regions like Latin America and/or Asia.
Secondly, the lack of developed infrastructure, manufacturing, strict quality control and packaging in Africa also add to the odds of Africa's failure to export its products to Russia.
As for quality control and packaging, this is a huge problem with Russians as they seem to be too strict and particular on this subject, thereby among others, their reluctance to offer trade preferences to African goods, as they consider African products as being of poor or questionable quality, Dr Nzori explains.
Foreign Affairs Minister Sergei Lavrov has stated several times in his speech to African diplomats that Russia was prepared to consider new initiatives aimed at improving trade between the two regions.
In May 2014, Lavrov wrote in his own article:"we attach special significance to deepening trade and investment cooperation with the African States. Russia provides African countries with extensive preferences in trade."
Russian Foreign Affairs Ministry has posted an official report on its website that "traditional products from least developed countries (including Africa) would be exempted from import tariffs. The legislation stipulates that the traditional goods are eligible for preferential customs and tariffs treatment."
As far back as 2008, the African Development Bank (AfDB) said in a report that the importance of Russia as a trading partner to African countries is quite minimal when compared to other developed countries and emerging markets such as the European Union, the United States, China, India, and Brazil. Bilateral trade between Russia and Africa reached its peak of US$ 7.3 billion in 2008.
That is understandable. However, Georgi Petrov, vice president of the Chamber of Commerce and Industry of the Russian Federation said at the executive board meeting of the Coordinating Committee for Economic Cooperation with African Countries (AfroCom) held in April 2015, that Russia's trade with Africa, south of the Sahara, was only US$3.2 billion. The fact still remains that African trade has been minimal in the Russian Federation. And unbelievably, African trade figures with Russia are very hard to find from both African and Russian sources.
For trade relations between Russia and Africa to improve appreciably, Professor Dmitri Bondarenko, deputy director of the Institute for African Studies, also confirmed to Buziness Africa that "Russia gives some trade preferences to African countries – for example, tax exceptions or reduction among other measures. This can become an effective political step to strengthen trade relations with African countries."
According to the views of Jimmy Saruchera, a director at Schmooze Frontier Markets, an investment fund that works to support small-and-medium sized businesses in new emerging markets, both Russia and Africa need work on a good trade policy, stable and transparent institutions that are fundamental ingredients, then tools such as credits and export guarantees can be more effective in boosting trade to both regions.
Experts have repeatedly called for state support and for radical corporate trade initiatives that can systematically bolster private African entrepreneurs' efforts not only to raise their economic presence but also to facilitate in making strong inroads into the Russian market.
Russia is a member of the newly created Eurasian Economic Union (which constitutes a huge market and allows free movement of goods among member countries) and the other members include Armenia, Belarus, Kazakhstan and Kyrgyzstan. The Eurasian Economic Union is an economic union of states located primarily in northern Eurasia.
Deeper reforms in Korea will ensure more inclusive and sustainable growth
Short-term prospects for the Korean economy are good, with an uptick in world trade and fiscal policy driving growth, but productivity remains relatively low and the country faces the most rapid population ageing in the OECD area, according to a new report from the OECD.
The latest OECD Economic Survey of Korea looks at recent economic developments, as well as the challenges to ensure that the benefits are shared by all. The Survey projects growth of about 3% for the 2018-19 period, and lays out an agenda for ensuring broader-based and more inclusive growth going forward.
The Survey, presented in Sejong by the head of the OECD Korea/Japan Desk, Randall Jones, highlights the need for new policies to help the government overhaul the traditional export-led growth model and to promote innovation led by SMEs and start-ups. It discusses reforms to the large business groups (chaebols), to achieve higher productivity and more inclusive growth, and proposes policies to enhance dynamism in SMEs and boost entrepreneurship. It also outlines the key challenges for reaching higher levels of well-being.
"Korea has rebounded after several years of sub-par growth, and the expansion is expected to continue," Mr Jones said. "However, the traditional economic model of manufacturing and export-led growth is running out of steam. The challenge going forward will be to develop a new growth model that addresses today's economic and social polarisation and leads to a more sustainable and inclusive economy for all Koreans."
Despite the important role of the large business groups in Korea's economic growth, the Survey says that a more balanced economy with larger roles for services and SMEs would promote inclusive and sustainable growth. The Survey suggests that strengthening product market competition, by relaxing barriers to imports and inward foreign direct investment and liberalising product market regulation, would reduce rent-seeking behaviour by large firms. Corporate governance reform is also necessary.
Beyond chaebol reform, the Survey identifies measures that would enhance dynamism and productivity growth in SMEs, including regulatory reforms, better access to credit, changes to the insolvency framework and improvements to the vocational education system.
The Survey proposes a range of potential reforms to boost well-being in Korea, including measures to expand female employment; labour market reforms to break down the segmentation between regular and non-regular workers; policies to reduce elderly poverty; and the use of economic instruments to reduce greenhouse gas emissions and air pollution.
Extending people's working lives could add US$3.5 trillion to OECD GDP in long run
Extending people's working lives to reflect the ageing of their populations could release massive untapped value for their economies to the tune of US$3.5 trillion across the OECD as a whole in the long run.
Iceland, New Zealand and Israel are the leaders in boosting employment rates among older workers, setting a model for others to follow, according to the latest research by PwC.
Between 2015 and 2050, it's estimated that the number of people aged 55 and above in the 35 OECD countries will increase by almost 50% to over 500 million. But how many of these half a billion people will be working?
PwC's Golden Age Index benchmarks, ranks and analyses the performance of OECD countries in fostering older people's participation in the workforce through employment and training data. It reveals how large potential economic gains are available if employment rates for those over 55 can be raised to those of the top performers.
Current employment rates for workers aged 55-64 vary dramatically across the OECD, from 84% in Iceland and 78% in New Zealand to 38% in Greece and 34% in Turkey.
For example, increasing the over-55 employment rate to New Zealand levels could deliver a long-run economic boost worth around US$815 billion in the US, US$406 billion in France and US$123 billion in Japan – with the total potential gain across the OECD adding up to around US$3.5 trillion. This economic uplift would be combined with significant social and health benefits from older people leading more active lives and having higher self-worth through continuing to work where they wish to do so.
John Hawksworth, Chief Economist at PwC UK, comments:
"Of course, it's good news that we're living longer. But an ageing population is already putting significant financial pressure on health, social care and pension systems, and this will only increase over time. To help offset these higher costs, we think older workers should be encouraged and supported to remain in the workforce for longer. This would increase GDP, consumer spending power and tax revenues, while also helping to improve the health and wellbeing of older people by keeping them mentally and physically active."
For governments, ways to realise these benefits include reforming pension systems and providing other financial incentives to encourage later retirement – steps that several countries are already prioritising.
Significantly, the top-performing countries on the Index tend to share a number of characteristics, including a labour market that supports flexible working and the implementation of reforms targeted at older workers, such as redesigning jobs to meet physical needs. Successful policy measures include increasing the retirement age, supporting flexible working, improving the flexibility of pensions, and providing further training and support help older workers become 'digital adopters'.
To help governments take the right actions, PwC has used this year's update of the Golden Age Index to carry out a rigorous statistical analysis of the underlying drivers of higher employment rates for older workers across 35 OECD countries.
The findings from this analysis include that financial incentives like pension policy and family benefits can influence people's decision to stay employed, and that longer life expectancy is associated with longer working lives. The study also shows that flexible working and partial retirement options can pay dividends for employers, as can redesign of factories, offices and roles to meet the changing needs and preferences of older workers.
A further area that the latest Golden Age Index examines concerns the implications for older workers of rising use of artificial intelligence (AI) and related automation technologies in the workplace. It finds that these technologies raise both potential opportunities and challenges for the over-55s.
Up to 20% of the existing jobs of older workers could be at risk of automation over the next decade, so retraining and lifelong learning will be critical to enable older workers to take up the many new job opportunities that AI and related technologies will create.
PwC UK Chief Economist John Hawksworth explains: "AI technology can boost economic growth, generate more labour demand and support longer working lives, for example through the use of digital platforms that allow older workers to market their skills more widely. However, our estimates suggest that older workers do face a higher risk of job automation compared to other age groups, with up to 20% of the existing jobs of over-55s at potential risk of automation over the next decade. Measures to support lifetime learning and retraining for older workers will be critical to maximising the gains from these technologies while mitigating the costs."
Further reforms needed for a stronger and more integrated Europe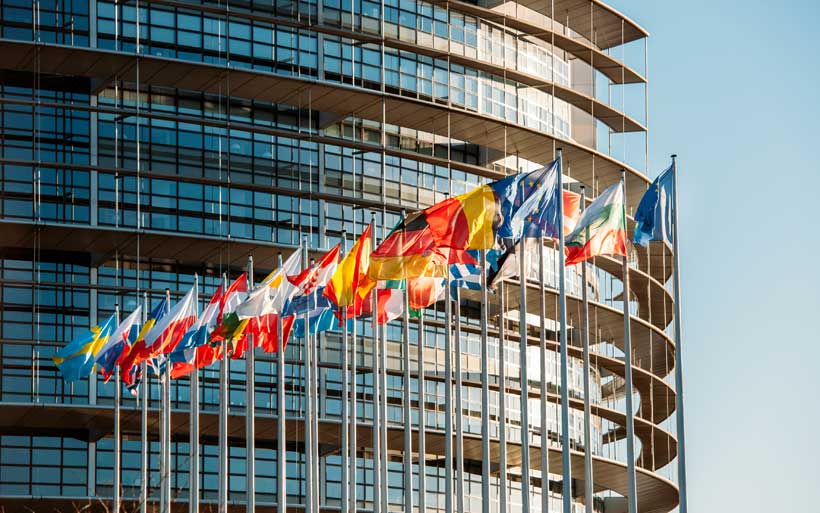 The European economy is growing robustly, helped by accommodative monetary policy, mildly expansionary fiscal policy and the global acceleration. The current economic expansion should be used to speed up implementation of reforms to the euro area architecture and EU policies that would support greater European integration and ensure stronger, more inclusive long-term growth, according to two new reports from the OECD.
The latest OECD Economic Survey of the European Union and Economic Survey of the Euro Area look at the factors behind the strong recovery, as well as the challenges facing Europe. The Surveys project growth topping 2% for the 2018-19 period, and lay out an agenda for boosting long-term growth and living standards across Europe.
The Surveys, presented in Brussels by OECD Secretary-General Angel Gurría, highlight the need for EU budget reform, more efficient cohesion policies to reduce regional divides and further efforts to deepen the single market. The OECD also discusses how completing the banking union, creating a common fiscal support scheme and simplifying fiscal rules would strengthen the euro area by making it more resilient to economic shocks.
"After years of crisis, positive economic momentum has taken hold across Europe," Mr Gurría said. "Growth continues at a solid pace, and has broadened across sectors and countries. The conditions are right for a new wave of reforms to revive the European project and ensure that the benefits are shared by all."
The Surveys say that macroeconomic policy must be tailored to support economic expansion while reducing imbalances. Monetary policy should remain accommodative until inflation is durably back to the objective, even as the ECB prepares for a very gradual normalisation of its policy. With an economic expansion under way, governments should reduce debt-to-GDP ratios. Simplified fiscal rules and a stronger focus on expenditure growth should help achieve this objective without derailing the recovery.
Ensuring the stability of the monetary union and enhancing the common currency's resilience to downturns will be critical to future economic progress. More risk sharing will be necessary. The Survey calls for a European unemployment reinsurance scheme to cope with economic shocks too large to be dealt with solely by national fiscal policies or monetary policy. Reforms to develop the capital markets union along with a rapid reduction of non-performing loans are also important to allow a better functioning of the Economic and Monetary Union.
Additional reforms to complete the banking union are also necessary, in particular the setting up of a common European deposit-insurance scheme and using the European Stability Mechanism as a backstop for the Single Resolution Fund; both reforms would help prevent any future banking crisis developing into a sovereign debt crisis. The introduction of additional capital charges for banks holding high levels of government debt from their own country should occur alongside the creation of a new European safe asset. This would favour the diversification of banks' exposure to government debt and mitigate negative feedback loops between weak banks and stressed public finances.
Reforms to the EU budget can enhance growth and make it more inclusive. There is scope to increase member states' contributions, including by reassessing how the European budget is financed, as the current financing does not reflect countries' ability to pay. The EU Survey suggests that resources to finance growth-enhancing spending, including R&D, be freed up by phasing out production-based payments in the Common Agricultural Policy and better targeting regional policy to lagging regions.
Improving the functioning of the Single Market would boost growth and living standards, the Surveys said. There is scope to ease regulatory burdens and address barriers to trade in services, improve cross-border cooperation in the energy sector through better power system operation and trade, and help member states boost digital skills acquisition.