Selective Grief and Outrage: Ideology, Religion and Political Hypocrisy
After the vile assault on Paris the 13th of November 2015, the second in less than ten months, we can now expect demagogues, bigots and extreme right-wing political groups, which have been multiplying in the EU in the last decade, of the ilk of Marine Le Pen, to take advantage of the event as a powerful excuse to blame not only the fascistic extremists who carried it out, but the religion which allegedly supports it.
We will hear the usual comments such as "another attack in the name of religion." After all, this is quite popular in a Europe that, beginning with the Enlightenment and Voltaire's "gothic" designations has downgraded religion to the status of obscurantism and barbarism. True to form, that statement has already been uttered by various journalists and pundits who while approving the condemnation of jadist ideologies by the opportunistic politicians chide their failure to condemn Islam as a nefarious religion.
The actual evidence is instructive. It shows that less than two percent of terrorist attacks from 2009 to 2013 in the E.U. were religiously motivated. In 2013, just one percent of the 152 terrorist attacks were religious in nature; in 2012, less than three percent of the 219 terrorist attacks were inspired by religion. The vast majority of terrorist attacks in these years were motivated by ethno-nationalism or separatism. In 2013, 55 percent of terrorist attacks were ethno-nationalist or separatist in nature; in 2012, more than three-quarters (76 percent) of terrorist attacks were inspired by ethno-nationalism or separatism. These facts, nonetheless, have never stopped biased pundits from insisting otherwise and holding on to their bias against religion in general.
On Friday the 13th of November, once again militants massacred at least 127 people in Paris in a series of heinous attacks. There are many layers of hypocrisy in the public reaction to the tragedy that must be sorted through in order to understand the larger context in which these horrific attacks are situated — and, ultimately, to prevent such attacks from happening in the future.
As soon as the news of the attacks broke, even though there was no evidence and practically nothing was known about the attackers yet, a plethora of right-wing pundits immediately latched on to the violence as an opportunity to demonize Muslims and refugees from Muslim-majority countries. In a disgrace to the victims, a shout chorus of reactionary demagogues exploited the horrific attacks to distract from and even deny domestic problems. They flatly told Black Lives Matter activists fighting for basic civil and human rights, fast-food workers seeking livable wages and union rights, and students challenging crippling debts that their problems are insignificant because they are not being held hostage at gunpoint.
More insidiously, when evidence began to suggest that extremists were indeed responsible for the attacks, and when ISIS eventually claimed responsibility, the demagogues implied or even downright insisted that Islam — the religion of 1.6 billion people — was to blame, and that the predominately Muslim refugees entering the West are only going to carry out more of such attacks. In fact, every time Islamic extremists carry out an attack, the world's 1.6 billion Muslims are expected to collectively apologize; it has become a cliché at this point. The other cliché is that when an attack occurs one automatically goes to bomb Isis in Syria and pour more gasoline on the fire.
The question arises: when the Nazis, Stalinists, Khmer Rouge, the Shining Path or the Weathermen committed violence, did we lament, "Another attack in the name of ideology"? Did we hear "Ideology is the problem"? That would be about as helpful as going to a doctor with a dreadful illness and, upon asking him what the problem is, his responding "Your state of health."
Like ideology, religion is a category, not a creed. As with states of health, which occupy a continuum from excellent to awful, they both contain the good, the bad and the ugly. But modern man, not wanting to place an onus on a faith or seem a "religious" chauvinist — which is often contrary to his relativistic ideology — is a bad physician who refuses to name the disease or the cure. So depending on how he is emotionally disposed, we may hear utterances such as "Children need some religion" or "Religion breeds violence" or "religion is the opium of the people." Ancient Aztec children had "religion," and they learned well how to sacrifice thousands of innocents a year to Quetzalcoatl on bloody altars. And Amish children have "religion," and peace and charity define them.
Conservatives exhibit this problem as well. So many will say "Islam is not a religion; it's a destructive all-encompassing ideology," or some variation thereof. They treat "religion," that broad category, as if it's good by definition. Not that this isn't understandable. Raised in a relativistic and pluralistic society, they want to get along with their neighbors; so they tacitly accept an unwritten agreement stating "I won't say my religion is better than yours if you don't say yours is better than mine!" The trouble is that this solves nothing — and its implications are more dangerous than jihad.
Starting out simply, note that most of the "religions" man has known were more in the nature of the Aztecs' bloody faith than what we generally embrace today. But many will assert that this is the point: can't we say all our mainstream faiths are "good," practically speaking? Can't we just omit from their category any "religion" not considered good? Well, we can say and do many things, but ideas have consequences. And a civilization with a corrupted philosophical foundation will not long stand.
Another crucial question arises: Who benefits most from such clampdown on Muslims and refugees? Two primary groups: One, Islamic extremist groups themselves, who use the clampdown as "evidence" that there is supposedly no room for Muslims in the secular West that has declared war on Islam; and two, Europe's growing far-right, who will use the attacks as "evidence" that there is supposedly no room for Muslims in the secular West that should declare war on Islam. President Hollande of France who is no right-winger, before all the evidence is even in, has already declared the attack an act of war.
Although enemies, both groups share a congruence of interests. The far-right wants Muslims and refugees from Muslim-majority countries (even if they are not Muslim) to leave because it sees them as innately violent terrorists. Islamic extremists want Muslim refugees to leave so they can be radicalized and join their caliphate. More specifically, to name names, ISIS and al-Qaeda will benefit from the clampdown on Muslims and refugees, and Europe's growing far-right movement will continue to recruit new members with anti-Muslim and anti-refugee propaganda.
ISIS has explicitly stated that its goal is to make extinct what it calls the "grayzone" — that is to say, Western acceptance of Muslims. By making ISIS go viral, we are only helping them accomplish their sadistic goals. In the meantime, France's extreme right-wing National Front party stands to gain in particular. The party — which was founded by a neo-Nazi and is now led by his estranged daughter Marine Le Pen — constantly rails against Muslims, whom it hypocritically characterizes as Nazi occupiers. In 2014, a Paris court ruled that it was fair to call the National Front "fascist." Before the Paris attacks, Le Pen's extreme-right movement was France's second-largest party. Now it may well become the first.
Consider another question: what makes some ideologies better than others? It's that they espouse different values. But what of "religions"? They also espouse different values. Thus, not all "religions" can be morally equal unless all values are so. This is important to understand. Every time we treat "religions" as if they are all morally equal, every time we spread that idea explicitly or implicitly — no matter how good our intentions — we're transmitting the notion that all values are equal. And consider the implications: if all values are equal, how can peace be better than jihad? How could respect for life be better than disdain for it? How could Western law be better than Sharia law? Of course, this means all ideologies would have to be equal as well, from Nazism to Marxism to conservatism to liberalism to libertarianism. Upon embracing relativism, you have no sound intellectual foundation from which to critique or combat anything though you can certainly fake one without blinking, as relativism deems deception no worse than sincerity. One may ask, why does this matter? Because this kind of relativism has robbed us of an intellectual argument for defending Western civilization.
It is the philosophical fifth column that has opened the door to destructive, inassimilable foreign elements and it is done via multiculturalism understood not as cultural tolerance but as devaluation of values. But it's as with "religion" and ideology: since different cultures espouse different values, not all cultures could be morally equal unless all values were so. The distinction between "religious" and "secular" is largely a false one. There is only one distinction that truly matters: the true and the untrue. "Secular" and "religious," especially in the sense we use them, are relatively modern terms. There was a time when beliefs were not "secular" or "religious" — or even liberal or conservative, or right or left — but simply true or untrue. And this is the only perspective that makes sense. Think about it: if God exists, is it significant that we call recognition of this reality "religious" or that it's true? If communism is essentially false, is it significant that we call recognition of that reality "secular" or that it's untrue? There is only Truth and everything else — and everything else, no matter how you dress it up linguistically, is nothing at all.
In a way, pusillanimous moderns are much like pious Muslims. Muslim theology entertains the curious notion of "dual truth," the idea that what may be true "religiously" may not be true in nature. This silliness was rejected by Aquinas and other Western thinkers in the Middle Ages; now, however, something smacking of it has been embraced by their descendants, who may say things such as "A little 'religion' is okay, as long as you don't go overboard." Or they may compartmentalize faith, thinking it must be left outside the government-building door or even relegate it to one hour a week of "worship services," as if it's mere recreation or an unhealthful indulgence only to be taken in moderation. But if your faith is the Truth — if it reflects the will of the Creator of the Universe — you have an obligation to govern yourself, and infuse your every institution, with it. And if it be a lie, it belongs nowhere but the bowels of Hell.
Of course, if, like most Westerners, we believe everything is relative, then none of this matters. Then tolerance and intolerance, multiculturalism and cultural chauvinism, charity and barbarity, the "religious" and the "secular" are all equal. And then those darkly clad men with AK-47s in Paris on Wednesday couldn't really have been "wrong." They just had a different perspective.
If we don't really believe this, then it's time to grow up. It's time to understand that if everything is relative, then what we say is relative, too, and thus meaningless. So let's talk about what is meaningful. We can start by accepting that culture isn't bad, but there are better and worse cultures. "Religion" isn't bad, but there is bad "religion." And tolerance, correctly defined as the abiding of perceived negatives, isn't bad — except when those perceived negatives are objectively negative and, instead of just being tolerated, could actually be wiped out. Willful tolerance of evil is evil itself.
The Muslims have bad "religion." We have bad philosophy. Both our civilizations believe in things that are untrue. It's the "tolerant" meeting the intolerable, a match made in Hell — and poised to create exactly that on Earth.
There are hundreds of terrorist attacks in Europe every year. The ones that immediately fill the headlines of every news outlet, however, are the ones carried out by Muslims — not the ones carried out by ethno-nationalists or far-right extremists, which happen to be much more frequent. Yet it is not just right-wing pundits and the media that give much more attention to attacks like those in Paris; heads of state frequently do so as well. Notable was the official silence surrounding another horrific terrorist attack that took place only the day before. Two ISIS suicide bombers killed at least 43 people and wounded more than 230 in attacks on a heavily Shia Muslim community in Beirut on November 12. President Obama did not address the world and condemn the bombings, which comprised the worst attack in Beirut in years.
In fact, the opposite happened; the victims of the ISIS attacks were characterized in the U.S. media as Hezbollah human shields and blamed for their own deaths based on the unfortunate coincidence of their geographical location. Some right-wing pundits even went so far as to justify the ISIS attacks because they were assumed to be aimed at Hezbollah.
Nor did the White House interrupt every news broadcast to publicly condemn the ISIS massacre in Turkey in October that left approximately 128 people dead and 500 injured at a peaceful rally for a pro-Kurdish political party. More strikingly, where were the heads of state when the Western-backed, Saudi-led coalition bombed a Yemeni wedding on September 28, killing 131 civilians, including 80 women? That massacre didn't go viral, and Obama and Hollande did not apologize, barely acknowledging the tragedy. Mere days before the January Paris attacks, the global community largely glossed over another horrific tragedy: the slaughter of more than 2,000 Nigerians by Boko Haram. The African victims didn't get a march; only the Western victims of Islamic extremism did. Do French lives matter more than Lebanese, Turkish, Kurdish, Yemeni or African ones? Were these not, too, "heinous, evil, vile acts"?
A little-discussed yet crucial fact is that the vast majority of the victims of Islamic extremism are themselves Muslim, and live in Muslim-majority countries. A 2012 U.S. National Counterterrorism Center report found that between 82 and 97 percent of the victims of religiously motivated terrorist attacks over the previous five years were Muslims. The West frequently acts as though it is the principal victim, but the exact contrary is true. Never interrogated is why exactly are so many refugees fleeing the Middle East and North Africa. It is not like millions of people want to leave their homes and families; they are fleeing violence and chaos — violence and chaos that happens to almost always be the result of Western military intervention.
Western countries, particularly the U.S., are directly responsible for the violence and destruction in Iraq, Afghanistan, Libya, and Yemen, from which millions of refugees are fleeing. Syria is a bit more complicated. Many refugees in the country, which has been torn apart by almost five years of bitter war, are fleeing the brutal repression of the Assad government. Western countries and their allies, however, share some of the blame. Allies such as Saudi Arabia and Turkey have greatly inflamed the conflict by supporting extremist groups like al-Qaeda affiliate al-Nusra. And it should go without saying that millions of Syrian refugees are fleeing the very same terror at the hands of ISIS that the group allegedly unleashed upon Paris. By suppressing Syrian and Iraqi refugees fleeing the ruthlessly violent extremist group, France and other Western countries will only be further adding to the already shocking number of its victims.
The imperialist West always try to dislocate the blame. It's always the foreigner's, the non-Westerner's, the Other's fault; it's never the fault of the enlightened West which considers itself modern and therefore disdainful of religion. Islam is the new scapegoat. Western imperial policies of ravaging entire nations, propping up repressive dictators, and supporting extremist groups are conveniently forgotten. The West, incapable of addressing its own imperial violence, points its blood-stained finger accusingly at the world's 1.6 billion Muslims and tells them they are the inherently violent ones.
The horrific and unjustifiable yet rare terrorist attacks we in the West experience are the quotidian reality endured by those living in the region our governments brutalize. This does not mean we should not mourn the Paris attacks; they are abominable, and the victims should and must be mourned. But we should likewise ensure that the victims of our governments' crimes are mourned as well. If we truly believe that all lives are equally valuable, if we truly believe that French lives matter no more than any others, we must mourn all deaths equally. The West, in its addiction to militarism, played into the hands of the extremists, and today we see the rotten fruit borne of that rotten addiction: ISIS is the Frankenstein's monster of Western imperialism.
The far-right will continue to grow. Neo-fascism, the most dangerous development in the world today, will continue to gain traction. The incidence of attacks inspired by ethno-nationalism or far-right extremism, already the leading cause of European and American terror, will increase even further. The pundits will boost anti-Muslim bigotry and feed the anti-refugee fervor. In doing so, they will only make matters worse. Those who promote militarist policies and anti-Muslim and anti-refugee bigotries in response to the Paris attacks are only going to further propagate violence and hatred. Things may have to get worse before they get better. Time will eventually tell. Meanwhile, let those who have ears, let them hear.
Note: The above article has appeared in Ovi magazine on the 9th of November 2015.
The 30th Anniversary of the Visegrád Group: The Voice of Central Europe
The Visegrád group or V4 is a cultural and political union created in 1991, during a conference in the city of Visegrád in Hungary. V4 has been a symbol of Central Europe's international activity and a new way of coordinating regional cooperation. Czechia, Hungary, Poland, and Slovakia's location in the Central European region provides shared cultural and intellectual roots, which they wish to, preserve and further strengthen.
The aim has been clear since the beginning of the cooperation: to eliminate the remnants of the Communist bloc in Central Europe and to accomplish the necessary transformation to further European integration. V4 accessed the EU membership together on May the 1st 2004. Once the goal – EU and NATO membership – had been reached, the Visegrád group did not disappear, as it was and still is also a way for those 4 countries to have a bigger voice by cumulating their strengths. However, some uneasiness and gloom can now be felt in this axis connecting the Baltic, the Adriatic, and the Black Sea.
Relationship with the EU
The construction of the Nord Stream 2 pipeline, which is being opposed by several central and eastern Europeans as well as the United States, is a contentious subject for the V4. Its completion would bypass the V4 region, causing economic and geopolitical harm. It's not only about falling income from gas transit fees to Western Europe; it's also about the overall "geopolitical rent" for the Central European area, which would dwindle correspondingly as the present gas pipelines' relevance decreases.
In Brussels, "Europe" usually means Western Europe. Yet V4countries are, in terms of national progress, becoming the equals of, and even superior to, France and Germany—two EU founders and its two largest, wealthiest members. Recent statistical measures of economic growth, employment, and terrorism all show that four ex-Soviet satellites on the EU's eastern frontier demonstrate better performance than France or Germany in almost every benchmark metric.

The gross domestic product (GDP) of the V4 grew an average of 4.3 percent in 2018, compared to 1.6 for France and Germany. In both Hungary and Poland, the growth of GDP was 5.1 percent, more than three times the average rate for France and Germany. The worst growth rate among the V4—Czechia's 3.0 percent—was still double Germany's growth rate. Given Germany's stellar reputation as Europe's economic powerhouse, this is significant. Yet inflation remained mild across all four Visegrád countries, ranging from 1.7 percent in Poland to 2.9 percent in Hungary.

Western Europe still sports larger economies, higher incomes, and longer life expectancies, but these represent a fading legacy of decades of prosperity and peace that was denied to the EU's eastern members. The indicators, in which some CEE states still lag, like corruption or pollution, are similarly an inheritance of ex-communist rule. Pre-pandemic economic and social progress looked very good for Czechia, Hungary, Poland, and Slovakia, and troubling for Germany and France. If these trends resume—and there is no reason to think they won't—the East will soon outshine the West.
Despite the fact that Germany is the largest net contributor of EU funds, its economy has benefited the most under the euro, gaining €1.9 trillion from 1999 and 2007, or about €23,000 per German. Berlin's economy benefits from the EU's euro zone in many ways, according to Bertelsmann Stiftung, a respected German think-tank. By 2025, the benefits could amount to €170 billion more for Germany. Observers often refer to the V4 as "two plus two," because of their differing attitudes to European integration. Czechia and Slovakia are more Europe-friendly than Poland and Hungary, which are far more eurosceptic.
Conclusion
The V4 do not share the post-World War II view of the EU embraced by dominant decision-makers in Western Europe, such as France, and Germany. Hungary and Poland's authorities have generated front-page headlines in recent months for disregarding EU regulations. Their vision for Europe is for a robust and strong nation-state. The V4 has emerged as a non-institutional organization but is increasingly present as a separate agent in European and global politics. The upcoming year, with all its challenges, will certainly reveal more about this partnership. Central Europe needs to be strong within the European Union, and this requires a functioning Visegrád, and the willingness to find common results.
EU: The stalemate in negotiations brings Serbia ever closer to Russia and China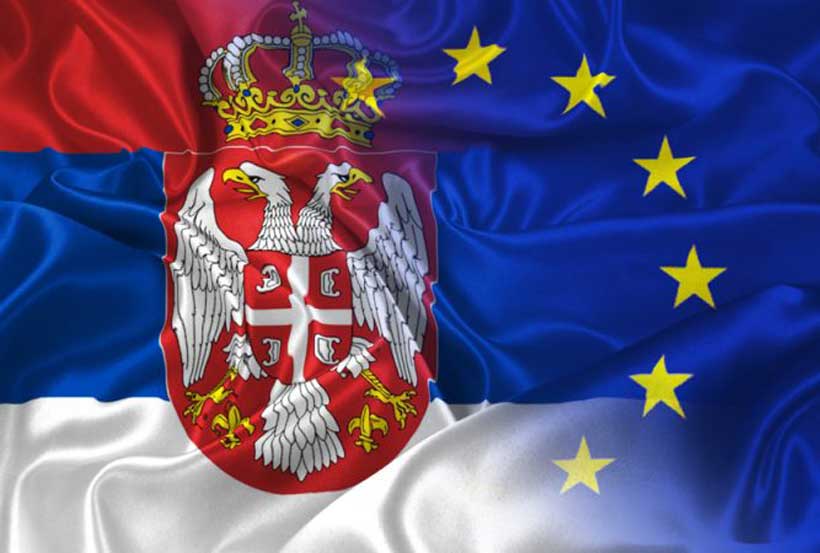 Serbia has been waiting since 2012 for the European Union to respond to its application to become a full member of the EU.
In spite of exhausting negotiations, this response is slow in coming and the main cause of the stalemate has a clear name: Kosovo. Before accepting Serbia's application for membership, the EU requires a definitive solution to the relations between Serbia and that region that broke away from it after the 1999 conflict – when NATO came to the aid of the Kosovo Albanians – and proclaimed its independence in February 2008.
Serbia has never recognised the birth of the Kosovo Republic, just as many other important countries have not: out of 193 UN members, only 110 have formally accepted the birth of the new republic, while the rest, including Russia, China, Spain, Greece and Romania – to name just the most important ones – refuse to recognise the independence of the Albanians of what was once a region of Serbia.
The European Union cannot accept that one of its members is in fact unable to guarantee control over its borders, as would be the case for Serbia if its membership were accepted.
In fact, since the end of the war between Kosovo and Serbia, there is no clear and controlled border between the two countries. In order to avoid continuous clashes, Kosovo and Serbia have actually left the border open, turning a blind eye to the 'smuggling economy' that thrives on both sides of the border.
In this situation, if Serbia were to become a full member of the European Union, it would create a gap in the borders of the entire Schengen area, as anyone passing through Kosovo could then move into all EU countries.This is not the only obstacle to Serbia's accession to the European
Union: many European chancelleries are wary of Serbian foreign policy which, since the dissolution of the Yugoslav Federation, has maintained a privileged relationship with Russia, refusing to adhere to the sanctions decided by Europe against Russia after the annexation of Crimea to the detriment of Ukraine.
During the Covid-19 pandemic, Serbia even agreed to produce the Russian vaccine 'Sputnik V' directly in its own laboratories, blatantly snubbing EU's vaccine offer.
For the United States and some important European countries, Serbia's formal accession to the European Union could shift the centre of gravity of Europe's geopolitics towards the East, opening a preferential channel for dialogue between Russia and the European Union through Serbia.
This possibility, however, is not viewed unfavourably by Germany which, in the intentions of the CDU President, Armin Laschet, the next candidate to succeed Angela Merkel as Chancellor, has recently declared he is in favour of a foreign policy that "develops in multiple directions", warning his Western partners of the danger resulting from "the interruption of the dialogue with Russia and China". In this regard, Laschet has publicly stated that 'foreign policy must always focus on finding ways to interact, including cooperation with countries that have different social models from ours, such as Russia, China and the nations of the Arab world'.
Today we do not know whether in autumn Laschet will take over the leadership of the most powerful country in the European Union, but what is certain is that Serbia's possible formal membership of the European Union could force Europe to revise some of its foreign policy stances, under the pressure of a new Serbian-German axis.
Currently, however, Serbia's membership of the European Union still seems a long way off, precisely because of the stalemate in the Serbia-Kosovo negotiations.
In 2013 Kosovo and Serbia signed the so-called 'Brussels Pact', an agreement optimistically considered by European diplomats to be capable of rapidly normalising relations between Serbia and Kosovo, in view of mutual political and diplomatic recognition.
An integral part of the agreement was, on the one hand, the commitment of Kosovo's authorities to recognise a high degree of administrative autonomy to the Kosovo municipalities inhabited by a Serb majority and, on the other hand, the collaboration of the Serbs in the search for the remains of the thousands of Kosovar Albanians presumably eliminated by Milosevic's troops during the repression that preceded the 1999 war.
Neither of the two commitments has so far been fulfilled and, during the meeting held in Brussels on July 21 between Serbian President Alexander Vucic and Kosovo's Prime Minister Albin Kurti, harsh words and reciprocal accusations were reportedly exchanged concerning the failure to implement the 'Pact', to the extent that the Head of European foreign policy, Josep Borrel, publicly asked the two parties to 'close the chapter of a painful past through a legally binding agreement on the normalisation of mutual relations, with a view to building a European future for its citizens'. This future seems nebulous, to say the least, if we consider that Serbia, in fact, refuses to recognise the legal value of degrees and diplomas awarded by the Kosovo academic authorities also to members of the Kosovo Serb minority.
Currently, however, both contenders are securing support and alliances in Europe and overseas.
Serbia is viewed favourably by the current President of the European Union, Slovenian Janez Jansa, who is a supporter of its membership because "this would definitively mark the dissolution of the Yugoslav Federation". The vast majority of European right-wing parties, ranging from the French 'Rassemblement National' to the Hungarian 'Fydesz', also approve of Serbia's membership application and openly court the Serbian minorities living in their respective countries while, after the years of US disengagement from the Balkans under Presidents Bush, Obama and Trump, the Biden administration has decided to put the region back on the list of priority foreign policy commitments, entrusting the 'Serbia dossier' to the undersecretary for European and Eurasian Affairs, Matthew Palmer, an authoritative and experienced diplomat.
With a view to supporting its application for European membership, Serbia has also deployed official lobbyists.
Last June, Natasha Dragojilovic Ciric's lobbying firm ND Consulting officially registered in the so-called EU 'transparency register' to promote support for Serbia's membership. ND is financed by a group of international donors and is advised by Igor Bandovic, former researcher at the American Gallup and Head of the Belgrade Centre for Security Policy, by lawyer Katarina Golubovic of the 'Committee of Human Rights Lawyers' and Jovana Spremo, former OSCE consultant.
These are the legal experts deployed by Serbia in Brussels to support its application for formal European integration, but in the meantime Serbia is not neglecting its "eastern" alliances.
Earlier this month, the Head of the SVR, the Russian Foreign Intelligence Service, Sergey Naryshkin, paid an official visit to Belgrade, a few weeks after the conclusion of a joint military exercise between Russian special forces (the "Spetznaz") and Serbian special forces.
In the Serbian capital, Naryshkin not only met his Serbian counterpart Bratislav Gasic, Head of the 'Bezbednosno Informativna Agencija', the small but powerful Serbian secret service, but was also received by the President of the Republic Alexander Vucic with the aim of publicising the closeness between Serbia and Russia.
The timing of the visit coincides with the resumption of talks in Brussels on Serbia's accession to the European Union and can clearly be considered as instrumental in exerting subtle diplomatic pressure aimed at convincing the European Union of the possibility that, in the event of a refusal, Serbia may decide to definitely turn its back on the West and ally with an East that is evidently more willing to treat the Serbs with the dignity and attention that a proud and tenacious people believes it deserves.
A piece of news confirming that Serbia is ready to turn its back on the West, should Europe continue to postpone the decision on its accession to the European Union is the fact that China has recently signed a partnership agreement with Serbia in the field of pharmaceutical research, an agreement that makes Serbia one of China's current largest commercial partners on the European continent.
When the Soviet Union collapsed and the Warsaw Pact died, there was much speculation that NATO would consider itself redundant and either disappear or at least transmogrify into a less aggressive body.
Failing that, Moscow at least felt assured that NATO would not include Germany, let alone expand eastwards. Even the NATO Review, NATO's PR organ, wrote self-apologetically twenty-five years after the fall of the Berlin wall: "Thus, the debate about the enlargement of NATO evolved solely in the context of German reunification. In these negotiations Bonn and Washington managed to allay Soviet reservations about a reunited Germany remaining in NATO. This was achieved by generous financial aid, and by the '2+4 Treaty' ruling out the stationing of foreign NATO forces on the territory of the former East Germany. However, it was also achieved through countless personal conversations in which Gorbachev and other Soviet leaders were assured that the West would not take advantage of the Soviet Union's weakness and willingness to withdraw militarily from Central and Eastern Europe."
Whatever the polemics about Russia's claim that NATO broke its promises, the facts of what happened following the fall of the Berlin wall and the negotiations about German re-unification strongly demonstrate that Moscow felt cheated and that the NATO business and military machine, driven by a jingoistic Cold War Britain, a selfish U.S. military-industrial-congressional complex and an atavistic Russia-hating Poland, saw an opportunity to become a world policeman.
This helps to explain why, in contrast to Berlin, NATO decided to keep Nicosia as the world's last divided city. For Cyprus is in fact NATO's southernmost point, de facto. And to have resolved Cyprus' problem by heeding UN resolutions and getting rid of all foreign forces and re-unifying the country would have meant that NATO would have 'lost' Cyprus: hardly helpful to the idea of making NATO the world policeman. Let us look a little more closely at the history behind this.
Following the Suez debacle in 1956, Britain had already moved its Middle East Headquarters from Aden to Cyprus, while the U.S. was taking over from the UK and France in the Middle East. Although, to some extent under U.S. pressure, Britain was forced to bring Makarios out of exile and begin negotiating with Greece and Turkey to give up its colony, the U.S. opted for a NATO solution. It would not do to have a truly sovereign Cyprus, but only one which accepted the existence of the Sovereign Base Areas (SBAs) as part and parcel of any settlement; and so it has remained, whatever the sophistic semantics about a bizonal settlement and a double-headed government. The set of twisted and oft-contradictory treaties that have bedevilled the island since 1960 are still afflicting the part-occupied island which has been a de facto NATO base since 1949. Let us look at some more history.
When Cyprus obtained its qualified independence in 1960, Greece and Turkey had already signed, on 11 February 1959, a so called 'Gentlemen's Agreement', agreeing that they would support Cyprus' entry into NATO.1 This was, however, mere posture diplomacy, since Britain—and the U.S. for that matter—did not trust Cyprus, given the strength of the Progressive Party of Working People (AKEL) and the latter's links to Moscow. The Ministry of Defence (MOD) wrote: 'Membership of NATO might make it easier for the Republic of Cyprus and possibly for the Greeks and Turks to cause political embarrassment should the United Kingdom wish to use the bases […] for national ends outside Cyprus […] The access of the Cypriot Government to NATO plans and documents would present a serious security risk, particularly in view of the strength of the Cypriot Communist Party. […] The Chiefs of Staff, therefore, feel most strongly that, from the military point of view, it would be a grave disadvantage to admit Cyprus to NATO.'2 In short, Cyprus was considered unreliable.
As is well known, the unworkable constitution (described as such by the Foreign Office and even by David Hannay, the Annan reunification plan's PR man), resulted in chaos and civil strife: in January 1964, during the chaos caused by the Foreign Office's help and encouragement to President Makarios to introduce a 'thirteen point plan' to solve Cyprus' problems, British Prime Minister Douglas-Home told the Cabinet: 'If the Turks invade or if we are seriously prevented from fulfilling our political role, we have made it quite clear that we will retire into base.'3 Put more simply, Britain had never had any intention of upholding the Treaty of Guarantee.
In July of the same year, the Foreign Office wrote: 'The Americans have made it quite clear that there would be no question of using the 6th Fleet to prevent any possible Turkish invasion […] We have all along made it clear to the United Nations that we could not agree to UNFICYP's being used for the purpose of repelling external intervention, and the standing orders to our troops outside UNFYCYP are to withdraw to the sovereign base areas immediately any such intervention takes place.'4
It was mainly thanks to Moscow and President Makarios that in 1964 a Turkish invasion and/or the island being divided between Greece and Turkey was prevented. Such a solution would have strengthened NATO, since Cyprus would no longer exist other than as a part of NATO members Greece and Turkey. Moscow had issued the following statement: 'The Soviet Government hereby states that if there is an armed foreign invasion of Cypriot territory, the Soviet Union will help the Republic of Cyprus to defend its freedom and independence against foreign intervention.'5
Privately, Britain, realising the unworkability of the 1960 treaties, was embarrassed, and wished to relieve itself of the whole problem. The following gives us the backstage truth: 'The bases and retained sites, and their usefulness to us, depend in large measure on Greek Cypriot co-operation and at least acquiescence. A 'Guantanamo'6 position is out of the question. Their future therefore must depend on the extent to which we can retain Greek and/or Cypriot goodwill and counter USSR and UAR pressures. There seems little doubt, however, that in the long term, our sovereign rights in the SBA's will be considered increasingly irksome by the Greek Cypriots and will be regarded as increasingly anachronistic by world public opinion.7
Following the Turkish invasion ten years later, Britain tried to give up its bases: 'British strategic interests in Cyprus are now minimal. Cyprus has never figured in NATO strategy and our bases there have no direct NATO role. The strategic value of Cyprus to us has declined sharply since our virtual withdrawal from east of Suez. This will remain the case when the Suez Canal has reopened.8
A Cabinet paper concluded: 'Our policy should continue to be one of complete withdrawal of our military presence on Cyprus as soon as feasible. […] In the circumstances I think that we should make the Americans aware of our growing difficulty in continuing to provide a military presence in Cyprus while sustaining our main contribution to NATO. […]9
Britain kept trying to give up the bases, but the enabler of the Turkish invasion, Henry Kissinger, did not allow Britain to give up its bases and listening posts, since that would have weakened NATO, and since Kissinger needed the bases because of the Arab-Israel dispute.10
Thus, by the end of 1980, in a private about-turn, Britain had completely succumbed to American pressure: 'The benefits which we derive from the SBAs are of major significance and virtually irreplaceable. They are an essential contribution to the Anglo-American relationship. The Department have regularly considered with those concerned which circumstances in Cyprus are most conducive to our retaining unfettered use of our SBA facilities. On balance, the conclusion is that an early 'solution' might not help (since pressures against the SBAs might then build up), just as breakdown and return to strife would not, and that our interests are best served by continuing movement towards a solution – without the early prospect of arrival [author's italics]11.
And so it is today: Cyprus is a de facto NATO territory. A truly independent, sovereign and united Cyprus is an anathema to the U.S. and Britain, since such a scenario would afford Russia the hypothetical opportunity to increase its influence in the Eastern Mediterranean.
From our partner RIAC
[1] Ministry of Defence paper JP (59) 163, I January 1960, BNA DEFE 13/99/MO/5/1/5, in Mallinson, William, Cyprus, a Modern History, I.B. Tauris (now Bloomsbury), London and New York, 2005, 2009, 2012, p.49.
[2] Ibid.
[3] Memorandum by Prime Minister, 2 January 1964, BNA CAB/129/116, in ibid, Mallinson, William, p.37.
[4] British Embassy, Washington, to Foreign Office, 7 July 1964, telegram 8541, BNA FO 371/174766, file C1205/2/G, in ibid.', Mallinson, William, p. 37.
[5] Joseph, Joseph S., Cyprus, Ethnic Conflict and International Politics, St Martin's Press, London and New York, 1997, p. 66.
[6] In 1964, Cuba cut off supplies to the American base at Guantanamo Bay, since the US refused to return it to Cuba, as a result of which the US took measures to make it self-sufficient.
[7] Briefing paper, 18 June 1964, BNA-DO/220/170, file MED 193/105/2, part A. Mallinson,William, Kissinger and the Invasion of Cyprus, p. 127.
[8] 'British Interests in the Eastern Mediterranean', draft paper, 11 April 1975, BNA-FCO 46/1248, file DPI/515/1.
[9] Cabinet paper, 29 September 1976, in op. cit. Mallinson, William, Kissinger and the Invasion of Cyprus, p.134.
[10] Mallinson, William, Britain and Cyprus: Key Themes and Documents, I.B. Tauris, London and New York, 2011, and Bloomsbury, London and New York, 2020, pp. 87-121.
[11] Fergusson to Foreign Minister's Private Secretary, minute, 8 December 1980, BNA-FCO 9/2949, file WSC/023/1, part C.