Selective Grief and Outrage: Ideology, Religion and Political Hypocrisy
After the vile assault on Paris the 13th of November 2015, the second in less than ten months, we can now expect demagogues, bigots and extreme right-wing political groups, which have been multiplying in the EU in the last decade, of the ilk of Marine Le Pen, to take advantage of the event as a powerful excuse to blame not only the fascistic extremists who carried it out, but the religion which allegedly supports it.
We will hear the usual comments such as "another attack in the name of religion." After all, this is quite popular in a Europe that, beginning with the Enlightenment and Voltaire's "gothic" designations has downgraded religion to the status of obscurantism and barbarism. True to form, that statement has already been uttered by various journalists and pundits who while approving the condemnation of jadist ideologies by the opportunistic politicians chide their failure to condemn Islam as a nefarious religion.
The actual evidence is instructive. It shows that less than two percent of terrorist attacks from 2009 to 2013 in the E.U. were religiously motivated. In 2013, just one percent of the 152 terrorist attacks were religious in nature; in 2012, less than three percent of the 219 terrorist attacks were inspired by religion. The vast majority of terrorist attacks in these years were motivated by ethno-nationalism or separatism. In 2013, 55 percent of terrorist attacks were ethno-nationalist or separatist in nature; in 2012, more than three-quarters (76 percent) of terrorist attacks were inspired by ethno-nationalism or separatism. These facts, nonetheless, have never stopped biased pundits from insisting otherwise and holding on to their bias against religion in general.
On Friday the 13th of November, once again militants massacred at least 127 people in Paris in a series of heinous attacks. There are many layers of hypocrisy in the public reaction to the tragedy that must be sorted through in order to understand the larger context in which these horrific attacks are situated — and, ultimately, to prevent such attacks from happening in the future.
As soon as the news of the attacks broke, even though there was no evidence and practically nothing was known about the attackers yet, a plethora of right-wing pundits immediately latched on to the violence as an opportunity to demonize Muslims and refugees from Muslim-majority countries. In a disgrace to the victims, a shout chorus of reactionary demagogues exploited the horrific attacks to distract from and even deny domestic problems. They flatly told Black Lives Matter activists fighting for basic civil and human rights, fast-food workers seeking livable wages and union rights, and students challenging crippling debts that their problems are insignificant because they are not being held hostage at gunpoint.
More insidiously, when evidence began to suggest that extremists were indeed responsible for the attacks, and when ISIS eventually claimed responsibility, the demagogues implied or even downright insisted that Islam — the religion of 1.6 billion people — was to blame, and that the predominately Muslim refugees entering the West are only going to carry out more of such attacks. In fact, every time Islamic extremists carry out an attack, the world's 1.6 billion Muslims are expected to collectively apologize; it has become a cliché at this point. The other cliché is that when an attack occurs one automatically goes to bomb Isis in Syria and pour more gasoline on the fire.
The question arises: when the Nazis, Stalinists, Khmer Rouge, the Shining Path or the Weathermen committed violence, did we lament, "Another attack in the name of ideology"? Did we hear "Ideology is the problem"? That would be about as helpful as going to a doctor with a dreadful illness and, upon asking him what the problem is, his responding "Your state of health."
Like ideology, religion is a category, not a creed. As with states of health, which occupy a continuum from excellent to awful, they both contain the good, the bad and the ugly. But modern man, not wanting to place an onus on a faith or seem a "religious" chauvinist — which is often contrary to his relativistic ideology — is a bad physician who refuses to name the disease or the cure. So depending on how he is emotionally disposed, we may hear utterances such as "Children need some religion" or "Religion breeds violence" or "religion is the opium of the people." Ancient Aztec children had "religion," and they learned well how to sacrifice thousands of innocents a year to Quetzalcoatl on bloody altars. And Amish children have "religion," and peace and charity define them.
Conservatives exhibit this problem as well. So many will say "Islam is not a religion; it's a destructive all-encompassing ideology," or some variation thereof. They treat "religion," that broad category, as if it's good by definition. Not that this isn't understandable. Raised in a relativistic and pluralistic society, they want to get along with their neighbors; so they tacitly accept an unwritten agreement stating "I won't say my religion is better than yours if you don't say yours is better than mine!" The trouble is that this solves nothing — and its implications are more dangerous than jihad.
Starting out simply, note that most of the "religions" man has known were more in the nature of the Aztecs' bloody faith than what we generally embrace today. But many will assert that this is the point: can't we say all our mainstream faiths are "good," practically speaking? Can't we just omit from their category any "religion" not considered good? Well, we can say and do many things, but ideas have consequences. And a civilization with a corrupted philosophical foundation will not long stand.
Another crucial question arises: Who benefits most from such clampdown on Muslims and refugees? Two primary groups: One, Islamic extremist groups themselves, who use the clampdown as "evidence" that there is supposedly no room for Muslims in the secular West that has declared war on Islam; and two, Europe's growing far-right, who will use the attacks as "evidence" that there is supposedly no room for Muslims in the secular West that should declare war on Islam. President Hollande of France who is no right-winger, before all the evidence is even in, has already declared the attack an act of war.
Although enemies, both groups share a congruence of interests. The far-right wants Muslims and refugees from Muslim-majority countries (even if they are not Muslim) to leave because it sees them as innately violent terrorists. Islamic extremists want Muslim refugees to leave so they can be radicalized and join their caliphate. More specifically, to name names, ISIS and al-Qaeda will benefit from the clampdown on Muslims and refugees, and Europe's growing far-right movement will continue to recruit new members with anti-Muslim and anti-refugee propaganda.
ISIS has explicitly stated that its goal is to make extinct what it calls the "grayzone" — that is to say, Western acceptance of Muslims. By making ISIS go viral, we are only helping them accomplish their sadistic goals. In the meantime, France's extreme right-wing National Front party stands to gain in particular. The party — which was founded by a neo-Nazi and is now led by his estranged daughter Marine Le Pen — constantly rails against Muslims, whom it hypocritically characterizes as Nazi occupiers. In 2014, a Paris court ruled that it was fair to call the National Front "fascist." Before the Paris attacks, Le Pen's extreme-right movement was France's second-largest party. Now it may well become the first.
Consider another question: what makes some ideologies better than others? It's that they espouse different values. But what of "religions"? They also espouse different values. Thus, not all "religions" can be morally equal unless all values are so. This is important to understand. Every time we treat "religions" as if they are all morally equal, every time we spread that idea explicitly or implicitly — no matter how good our intentions — we're transmitting the notion that all values are equal. And consider the implications: if all values are equal, how can peace be better than jihad? How could respect for life be better than disdain for it? How could Western law be better than Sharia law? Of course, this means all ideologies would have to be equal as well, from Nazism to Marxism to conservatism to liberalism to libertarianism. Upon embracing relativism, you have no sound intellectual foundation from which to critique or combat anything though you can certainly fake one without blinking, as relativism deems deception no worse than sincerity. One may ask, why does this matter? Because this kind of relativism has robbed us of an intellectual argument for defending Western civilization.
It is the philosophical fifth column that has opened the door to destructive, inassimilable foreign elements and it is done via multiculturalism understood not as cultural tolerance but as devaluation of values. But it's as with "religion" and ideology: since different cultures espouse different values, not all cultures could be morally equal unless all values were so. The distinction between "religious" and "secular" is largely a false one. There is only one distinction that truly matters: the true and the untrue. "Secular" and "religious," especially in the sense we use them, are relatively modern terms. There was a time when beliefs were not "secular" or "religious" — or even liberal or conservative, or right or left — but simply true or untrue. And this is the only perspective that makes sense. Think about it: if God exists, is it significant that we call recognition of this reality "religious" or that it's true? If communism is essentially false, is it significant that we call recognition of that reality "secular" or that it's untrue? There is only Truth and everything else — and everything else, no matter how you dress it up linguistically, is nothing at all.
In a way, pusillanimous moderns are much like pious Muslims. Muslim theology entertains the curious notion of "dual truth," the idea that what may be true "religiously" may not be true in nature. This silliness was rejected by Aquinas and other Western thinkers in the Middle Ages; now, however, something smacking of it has been embraced by their descendants, who may say things such as "A little 'religion' is okay, as long as you don't go overboard." Or they may compartmentalize faith, thinking it must be left outside the government-building door or even relegate it to one hour a week of "worship services," as if it's mere recreation or an unhealthful indulgence only to be taken in moderation. But if your faith is the Truth — if it reflects the will of the Creator of the Universe — you have an obligation to govern yourself, and infuse your every institution, with it. And if it be a lie, it belongs nowhere but the bowels of Hell.
Of course, if, like most Westerners, we believe everything is relative, then none of this matters. Then tolerance and intolerance, multiculturalism and cultural chauvinism, charity and barbarity, the "religious" and the "secular" are all equal. And then those darkly clad men with AK-47s in Paris on Wednesday couldn't really have been "wrong." They just had a different perspective.
If we don't really believe this, then it's time to grow up. It's time to understand that if everything is relative, then what we say is relative, too, and thus meaningless. So let's talk about what is meaningful. We can start by accepting that culture isn't bad, but there are better and worse cultures. "Religion" isn't bad, but there is bad "religion." And tolerance, correctly defined as the abiding of perceived negatives, isn't bad — except when those perceived negatives are objectively negative and, instead of just being tolerated, could actually be wiped out. Willful tolerance of evil is evil itself.
The Muslims have bad "religion." We have bad philosophy. Both our civilizations believe in things that are untrue. It's the "tolerant" meeting the intolerable, a match made in Hell — and poised to create exactly that on Earth.
There are hundreds of terrorist attacks in Europe every year. The ones that immediately fill the headlines of every news outlet, however, are the ones carried out by Muslims — not the ones carried out by ethno-nationalists or far-right extremists, which happen to be much more frequent. Yet it is not just right-wing pundits and the media that give much more attention to attacks like those in Paris; heads of state frequently do so as well. Notable was the official silence surrounding another horrific terrorist attack that took place only the day before. Two ISIS suicide bombers killed at least 43 people and wounded more than 230 in attacks on a heavily Shia Muslim community in Beirut on November 12. President Obama did not address the world and condemn the bombings, which comprised the worst attack in Beirut in years.
In fact, the opposite happened; the victims of the ISIS attacks were characterized in the U.S. media as Hezbollah human shields and blamed for their own deaths based on the unfortunate coincidence of their geographical location. Some right-wing pundits even went so far as to justify the ISIS attacks because they were assumed to be aimed at Hezbollah.
Nor did the White House interrupt every news broadcast to publicly condemn the ISIS massacre in Turkey in October that left approximately 128 people dead and 500 injured at a peaceful rally for a pro-Kurdish political party. More strikingly, where were the heads of state when the Western-backed, Saudi-led coalition bombed a Yemeni wedding on September 28, killing 131 civilians, including 80 women? That massacre didn't go viral, and Obama and Hollande did not apologize, barely acknowledging the tragedy. Mere days before the January Paris attacks, the global community largely glossed over another horrific tragedy: the slaughter of more than 2,000 Nigerians by Boko Haram. The African victims didn't get a march; only the Western victims of Islamic extremism did. Do French lives matter more than Lebanese, Turkish, Kurdish, Yemeni or African ones? Were these not, too, "heinous, evil, vile acts"?
A little-discussed yet crucial fact is that the vast majority of the victims of Islamic extremism are themselves Muslim, and live in Muslim-majority countries. A 2012 U.S. National Counterterrorism Center report found that between 82 and 97 percent of the victims of religiously motivated terrorist attacks over the previous five years were Muslims. The West frequently acts as though it is the principal victim, but the exact contrary is true. Never interrogated is why exactly are so many refugees fleeing the Middle East and North Africa. It is not like millions of people want to leave their homes and families; they are fleeing violence and chaos — violence and chaos that happens to almost always be the result of Western military intervention.
Western countries, particularly the U.S., are directly responsible for the violence and destruction in Iraq, Afghanistan, Libya, and Yemen, from which millions of refugees are fleeing. Syria is a bit more complicated. Many refugees in the country, which has been torn apart by almost five years of bitter war, are fleeing the brutal repression of the Assad government. Western countries and their allies, however, share some of the blame. Allies such as Saudi Arabia and Turkey have greatly inflamed the conflict by supporting extremist groups like al-Qaeda affiliate al-Nusra. And it should go without saying that millions of Syrian refugees are fleeing the very same terror at the hands of ISIS that the group allegedly unleashed upon Paris. By suppressing Syrian and Iraqi refugees fleeing the ruthlessly violent extremist group, France and other Western countries will only be further adding to the already shocking number of its victims.
The imperialist West always try to dislocate the blame. It's always the foreigner's, the non-Westerner's, the Other's fault; it's never the fault of the enlightened West which considers itself modern and therefore disdainful of religion. Islam is the new scapegoat. Western imperial policies of ravaging entire nations, propping up repressive dictators, and supporting extremist groups are conveniently forgotten. The West, incapable of addressing its own imperial violence, points its blood-stained finger accusingly at the world's 1.6 billion Muslims and tells them they are the inherently violent ones.
The horrific and unjustifiable yet rare terrorist attacks we in the West experience are the quotidian reality endured by those living in the region our governments brutalize. This does not mean we should not mourn the Paris attacks; they are abominable, and the victims should and must be mourned. But we should likewise ensure that the victims of our governments' crimes are mourned as well. If we truly believe that all lives are equally valuable, if we truly believe that French lives matter no more than any others, we must mourn all deaths equally. The West, in its addiction to militarism, played into the hands of the extremists, and today we see the rotten fruit borne of that rotten addiction: ISIS is the Frankenstein's monster of Western imperialism.
The far-right will continue to grow. Neo-fascism, the most dangerous development in the world today, will continue to gain traction. The incidence of attacks inspired by ethno-nationalism or far-right extremism, already the leading cause of European and American terror, will increase even further. The pundits will boost anti-Muslim bigotry and feed the anti-refugee fervor. In doing so, they will only make matters worse. Those who promote militarist policies and anti-Muslim and anti-refugee bigotries in response to the Paris attacks are only going to further propagate violence and hatred. Things may have to get worse before they get better. Time will eventually tell. Meanwhile, let those who have ears, let them hear.
Note: The above article has appeared in Ovi magazine on the 9th of November 2015.
Who are the 'Willing' in Central Europe – Axis of the 1930s coming back ?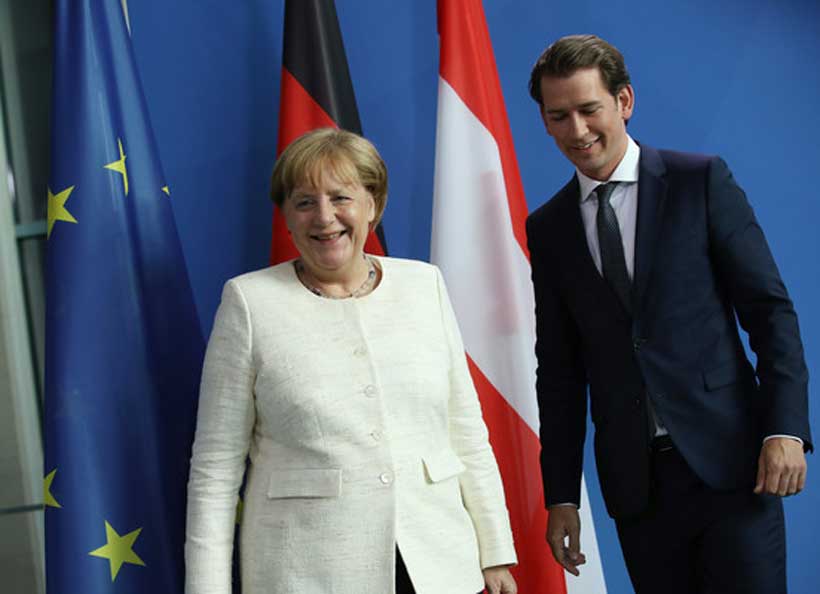 The idea of an "axis of the willing against illegal migration" between Italy, Germany and Austria has been proposed by Sebastian Kurz, Austria's right populist leader. He spoke about it with German Interior Minister Horst Seehofer, a Bavarian conservative who shares the Austrian chancellor's views on tighter border control. Kurz said fighting illegal immigration will be a top priority for Vienna's EU presidency from July 2018. Kurz and Seehofer met on the same day as Merkel's "integration summit," leading to media reports about serious political clashes between Germany's coalition parties.
"We shouldn't wait until we have a catastrophe, like in 2015," Kurz said, referring to the refugee crisis when German Chancellor Angela Merkel opened her country's borders to hundreds of thousands of migrants. "Instead it is important to act on time."
Kurz's meeting with Seehofer means the German minister was unable to attend Merkel's "integration summit" happening the same day in Berlin. Referring to media reports that this was meant as a snub to the German leader, Seehofer said his reason for not attending was the presence of a journalist, Ferda Ataman, who opposed German deep state and has compared his policies on migration to the Nazis.
"I cannot be part of an integration summit where there is one participant who in an article compared my strategy on homeland to the homeland understanding of the Nazis," Seehofer told reporters.
Seehofer takes a much harder line than Merkel on immigration and was expected to present a "migration master plan" this week. That has been postponed, but Merkel's Christian Democrats (CDU) and Seehofer's Christian Social Union (CSU) hope to find a compromise on the plan this week, Seehofer said.
"From my point of view, it would be ideal to secure the external borders of the European Union," Seehofer said after the meeting with Kurz. Dismissing voices about the brewing putch within the German ruling coalition, he continued: "I promised Chancellor Kurz that on the question of strengthening the external borders he has my full support as interior minister."
Seehofer, after talks with yet another government that of Italy, notably with a populist Interior Minister Matteo Salvini, said the new government in Rome is also keen to build a partnership with Vienna and Berlin on security, counterterrorism and migration. Seehofer and Salvini are in 'full agreement' on how to secure the EU's external borders, the German minister said.
Concluding, youngish and hawkish chancellor Kurz said: "In our opinion we need an axis of the willing in the fight against illegal migration."
This choice of words raised a few eyebrows, as a previous "Axis" between those three countries carries much darker historical undertones, as does former US President George W. Bush's "coalition of the willing" in Iraq. But the Austrian chancellor didn't seem to care.
Home troubles
An "axis of the willing" would inevitably be seen as an anti-Merkel alliance. Even further, "perhaps the end of the grand rapprochement between the Atlantic and Central Europe" – says prof. Anis H. Bajrektarevic whose long standing claim is that one EU turns into five Europes in times of crisis and externally induced stress.
Mr. Salvini, who heads the far-right League, attacked Ms. Merkel during Italy's recent election campaign and demonstrated his harsh stance on immigration by refusing to let a rescue boat with more than 600 migrants dock in the country. He stands for pretty much everything Ms. Merkel opposes: unilateral national action and a merciless approach to asylum-seekers. "The good life is over for the illegals, they're going to have to pack their bags," he said recently.
And on top of a new cross-border alliance against her, Ms. Merkel is facing enough domestic troubles as defiant conservatives are pressuring her into toughening her immigration policy by means fair and foul.
Mr. Seehofer, whose right-wing Christian Social Union is trying to woo sympathizers of the anti-immigrant Alternative for Germany (AfD) ahead of a regional election in the CSU's home state of Bavaria in October, has drafted a package of measures to curb the number of asylum-seekers coming to Germany.
They include turning away refugees at the border if they have already registered in another EU country — a step that Ms. Merkel rejected on Monday because it would amount to a reversal of her open-border policy and undermine her efforts to find a pan-European agreement on how to deal with refugees. The chancellor's veto was the spark that reignited the simmering asylum dispute with her Bavarian ally.
Über-muttisummoned
The two held late-night crisis talks on Wednesday with Markus Söder, Mr. Seehofer's successor as Bavarian premier, and with Hesse state premier Volker Bouffier, a senior figure of Ms. Merkel's Christian Democratic Union who is running for re-election in the fall.
However, the two-and-a-half-hour talks failed to deliver a breakthrough. Ms. Merkel did compromise with the CSU's plan to turn away asylum seekers at the border, but she also proposed this to be first agreed bilaterally with other European countries during the upcoming EU summit later this month, in order to avoid unilateral decisions from Berlin that could further jeopardize the EU's shaken unity. "It makes sense to wait two more weeks until the summit to find solutions jointly with partner countries," she said.
For the Bavarians, however, that offer wasn't enough. Mr. Söder said on Thursday that hoping to reach bilateral deals so soon was unrealistic. "We don't believe that in two weeks it will be possible to achieve something that has been impossible for three years," he said. The hawkish Bavarian leader added that instead, creating a fait accompli as soon as possible might force the rest of the EU to adopt a common solution at last.
Rescue plan
An unbending CSU is instead looking into ways to strong-arm Ms. Merkel's CDU into adopting its proposed immigration plan in the days ahead. The Bavarians are mulling submitting it to a vote within the CDU/CSU parliamentary group in the Bundestag on Friday, as they believe a majority of Ms. Merkel's CDU lawmakers would side with them. They were probably looking at a survey tabloid Bild published on Thursday. The country's most-read daily asked all 246 conservative lawmakers in the Bundestag whether they sided with Ms. Merkel or with the Bavarians. Of the 70 who answered, just three backed the chancellor. But that was before she made her compromise on Wednesday night.
On Thursday, CDU lawmakers abruptly interrupted a parliamentary session to hold a group meeting on Ms. Merkel's latest offer. It turns out that, after Bundestag President Schäuble, who long served as Ms. Merkel's finance minister, gave a "moving" speech on the future of Europe, the Christian Democrats overwhelmingly endorsed their leader's proposal after all.
The Bavarians are still digging in their heels, though. The CSU announced that it will make its next move known after an internal summit scheduled for Monday. Some are saying that Mr. Seehofer could disobey the chancellor, his boss, and enforce his plan. The Bavarian party could also break with its sister party, the CDU, as a last resort — but this highly unusual move in Germany's post-war history could topple the chancellor and plunge the country into a political crisis.
Or Mr. Seehofer still has his axis with Mr. Kurz and Mr. Salvini to fall back on. In the long run, the trio may indeed find a way to defeat a weakened Ms. Merkel and march the EU into unknown.
The Aegean Dilemma: Turkish-Greek Complexity Challenging European Solidarity
On the 12th of February2018, a Turkish coast guard patrol rammed into a Greek patrol boat near the Imia islands (Kardak in Turkish). The pair of uninhabited islands has been a source of dispute between Greece and Turkey since a military crisis in 1996, which almost resulted in war. The collision has been the climax of a number of Turkish violations on Greek territorial waters and airspace, which have damaged Greek-Turkish relations and escalated the tensions between the two countries. In this article I argue that Turkey's geopolitical advantages over the US and the EU embolden it to pursue an ambitious foreign policy in the Aegean Sea, while its toxic domestic politics necessitates that it must do so. This combination creates a ticking time bomb for crisis in the Aegean Sea.It is time for the EU to act.
Turkey's control of refugee flows has EU hands tied
The Syrian crisis has increased Turkish power over European nations that receive the greatest part of refugee flows. Currently, over 2.5 million Syrian refugees reside in Turkey. Turkish officials have threatened to force an influx of Syrian refugees into Europe, a situation that would destabilize already complex tensions within European states and further the far-right political crisis of Europe. The potentiality of this development provides Turkey with a favorable bargaining position over many Western European governments, which are interested in actively averting extremist actions against immigrant populations in order to prevent sectarian divide.
In addition, the waning desire of the Turkish administration to join the EU has removed any leverage the EU had over Turkey. In the past, Turkey has been willing to engage in bilateral talks with Greece over territorial disputes, mainly in an effort to withdraw Greece's veto over its potential membership in the EU. However, Brexit and the emergence of anti-European movements in founding members like France and Italy, has caused Turkish officials to have second thoughts about the prospect of joining a union on the verge of collapse, according to reports. This development has reduced the bargaining advantage Greece previously enjoyed.
The US is unlikely to react in the event of a crisis
Since the time of the Cold War, American policymakers have viewed Turkey as a key ally against the Soviet Union and now Russia. The proximity of Turkey to Southern Russian cities favors the deployment of strategic nuclear weapons, while, most significantly, the Bosporus and Dardanelles straits create a double chokepoint that checks Russian maritime activity from the warm ports of the Black Sea. This means that in the case of conflict, if Turkey cooperates, Russia's supply lines from the south could be shut down.
The location of Turkey, north of the Levant, gives Turkish leaders influence in Middle East matters as well and the ability to affect the political situation in both Syria and Iraq. The proximity of Turkey to the Syrian conflict allows it to intervene militarily as it did through Operation Olive Branch in Afrin in January. Turkey also holds a large portion of the Tigris and Euphrates river basins, which hydrate the majority of agricultural land in Syria and Iraq. In the past, Turkey has used its control over these river flows as a bargaining tool to curb Kurdish militant activity along its borders with the two countries.These geopolitical facts give Turkey a unique advantage in influencing politics in the Middle East, both directly through military operations and indirectly through river flows.
Turkey's capacity to contain the Russian navy in a time of a crisis, its ability to directly get involved in the Syrian war, and its influence on the prosperity of Iraq, gives influence over key American strategic objectives: namely, keeping Russia under control, maintaining peace in the Middle East, and ensuring the stability of oil outflows. Despite the status of both Greece and Turkey as members of NATO, the US is unlikely to risk bringing Turkey and Russia closer diplomatically and tempting Turkey to intervene more often in the Middle East.
How are Turkish domestic politics exacerbating the conflict?
Turkey's militarism is informed by the institutional friction between Turkish politicians and the Turkish army. Since the death of Ataturk, the Turkish army has assigned itself the role of the protector of Ataturk's ideals. Frequent army intervention in Turkish politics through coups has made politicians apprehensive of the army and ready to externalize the army's domestic pressure into international operations. After the coup attempt of 2016, President Erdogan has become increasingly determined to preoccupy the army with military operations and maintain stability domestically, as he concentrates power through institutional change and purges political and intellectual dissidents. Turkey's leaders have also been empowered by public support. The Turkish public has a deep historical understanding of the Turkish identity, the memory of the Greek invasion of 1919, and the unfairness of the Treaty of Lausanne. President Erdogan's popularity after the failed coup attempt of 2016 has enabled him to empower these conservative opinions and silence opposing Euro-friendly voices in Turkey.
Greek leadership has also done its part to worsen the tensions. The Greek Minister of Defense, Panos Kammenos, leader of the nationalist minority party in Greece's coalition government, has been vocal on Greece's expansion of territorial waters, mainly as a feat to maintain his party's share of the vote. Historical tensions between the two countries, as well as President Erdogan's public and institutional empowerment and Greece's current diplomatically inept administration have fueled Turkish nationalist sentiment against Greece, counterbalancing against public support for European integration, and emboldening Turkey's aggressions in the Aegean.
What are the objectives of Turkey?
Turkish perceptions and expectations of European and American passivity embolden Turkey to act in calculated aggression according to its favorable estimation of the balance of power. Turkey's primary goals are to increase its claim on maritime territory that may contain potential oil reserves in the Aegean Sea and to hinder Greek efforts to expand territorial waters according to proposed international law [1]. These objectives constitute a reversal of the Treaty of Lausanne, which gave Greece control of the entire Aegean archipelago, and essentially landlocked the Turkish western coast. In a highly complex domestic climate, if Turkish policymakers judge that tensions have risen enough to even minimally justify translation of rhetoric into action, then Turkey is likely to annex the Imia-Kardak islands in a symbolic statement of intent, or even to potentially claim control over Kastelorizo, which would extend Turkey's continental shelf into the southeast Mediterranean Sea.
Why should the EU care? What can be done?
In an environment of European reluctance and American rejection of involvement, the clock is ticking before the Turkish administration could make bolder moves. The crucial coming election could be the catalyst in materializing Turkish threats over the annexation of disputed territory. In the ever-increasing tense domestic politics of Turkey, political rivals try to outdo each other on anti-Greek rhetoric, resulting in heightened public expectations of conflict. Under the current circumstances, if Turkey escalates the conflict, then the EU stands to lose in all possible scenarios. If the EU intervenes, then Turkey may retaliate with the release of Syrian refugees into the continent, which will increase the influence of the far-right and break the EU from within. If the EU fails to act, then trust in its institutional power will wane, discouraging potential members from joining and increasing the separatist sentiments inside member countries.
The Aegean Dispute sheds light into the most important institutional anomaly of the EU: the absence of political unification to support economic integration.The European experiment has been successful in integrating economic activity within the continent. However, it now teeters with an unstable equilibrium, between further integration and outright demise. The Aegean dispute offers both a challenge and an opportunity for Europe: EU policymakers must look into ways of integrating security strategy, through cooperation agreements, security guarantees and investment into border control, while also moving towards an integrated and centrally-organized immigration plan for Europe. Tighter border security in the Balkan Peninsula will stop Turkey's use of refugee flows as a bargaining chip and also appease nationalist sentiment in European countries, while security agreements will halt Turkish aspirations in the Aegean Sea and improve public trust in the EU's institutional power. If the EU wants to remain relevant far into the future across the greater European continent, then it must start behaving as boldly and strategically as Turkey has over the past several years. If it doesn't it will simply be outmaneuvered and, potentially, replaced as a major political voice in the global community.
[1] Wolff  Heintschel von Heinegg Der Ägäis-Konflikt: Die Abgrenzung des Festlandsockels zwischen Griechenland und der Türkei und das Problem der Inseln im Seevölkerrecht. (Berlin: Duncker und Humblot, 1989)
Catalonia would have been facing severe problems had it broke away from Spain
Catalan independence referendum, held in late-2017, had thrown Spain and Catalonia into severe political crisis and has created uncertainly for the foreign investors inside Catalonia.
What fate would the Catalans have embraced had Catalonia broke away from Spain after referendum?
Catalans from all walks of life would have suffered severe problems had the pro-independence camp got what they wished for in the referendum.
Here's some food for thought for the Catalans who voted in the referendum and who didn't, and for the ones who had been a keen spectator from Europe and elsewhere.
State Structures
Inception of an independent state requires the setting up of the essential state structures, including central bank, tax authority, judicial system, social security, a diplomatic service, a central bank and even an army.
Though most of these state structures/elements are available to Catalonia as an Spanish state/province, there are obvious concerns whether these elements are self-sufficient and mature enough to take the responsibilities of a newly born state.
Chaos
Had Catalonia become a sovereign state, a greater political uncertainty would have arose. There would be political chaos between the ones who opted for independence and the ones who didn't.
The ones who sought to remain with Spain, or atleast didn't actively support pro-independence campaigns, could have ended up facing rage and infuriated gestures from the opposite camp immediately after independence (had it been achieved).
Debt, currency, exodus of businesses
Moreover, Catalans would then have to assume a significant part of Spain's debt. They would have to find a currency other than the Euro, as Spain would veto Catalan membership in the Euro Zone.
Without a confirmed currency in the market and with political uncertainty, there would have been a likely evacuation of multinational and Spanish companies from Catalonia to other parts in Spain. Already some multinational and Spanish companies either left or declared to leave Catalonia immediately after last independence referendum.
Access to EU market
If the membership to the European Union (EU) was delayed after Catalonia's independence, Catalan products would have lost the privilege of unrestricted access to the EU market.
This newly independent state would have lost the leverages of entering into the EU member states' markets as a free trade zone – a leverage its commercial products enjoy now as Spanish products.
Duties on Catalan goods and services would have been imposed not only by Spain, but also by other EU member states. Moreover, in times of economic disasters, Catalonia could not have called upon the help of the European Stability Mechanism (ESM) and the European Central Bank (ECB).