Europe's new geopolitics following the Russian presence in Syria and Iraq
After the shooting down of the Russian Su-24 aircraft by a Turkish F-16 fighter, some analysts are envisaging a future scenario of waged war.
Nothing can be ruled out, but the possibility of a third world war – visible and bitterly fought with real weapons – for Mesopotamia, the area in which, however, the Eurasian identity was born, is not fully rational.
What is certain is that the Russian Su-24M aircraft was shot down at 10.24′ Moscow time. There is no evidence of the ritual communications between two countries which are not at war with each other, as always happens in these cases and, however, the NATO rules are strict on these issues. Russia stated that its plane was shot down four kilometers from the Turkish border.
Moreover, we do not know yet what happened to the Russian helicopter Mi-8AMTSh which had rushed to the rescue of the Su-24 pilots and was attacked, presumably not only by the "Turkmen" operating on the edge of the Latakia region, with the final destruction of the helicopter with US-made TOW anti-tank missiles, which probably ended up there as a result of some triangular operation between the Gulf region, Cyprus and Turkey.
The Russian Federation has already deployed several S-400 missiles for air defence in al-Humaymin, on Syrian territory and, in all likelihood, they will be the first military asset against a Turkish attack, unless Turkey does not organize a "children' crusade" of EU countries still eager – after the terrible massacre in Paris – to "bring democracy" to Syria.
The problem does not lie in the point where the Fencer – as NATO calls the Sukhoi 24 – fell down, but in the political logic underlying this fact.
Now, with their documents, the news agencies in Moscow demonstrate that the low-flying Russian bomber was downed within the Syrian borders, but again this is not the core of the issue: Turkey, the largest Islamic country of Eurasia, the second NATO military power after the United States, wants to make the Atlantic Alliance fall into in the Syrian-Iraqi chaos, with the results we can easily imagine.
So far the United States have supported Turkey which, however, should be the NATO future geopolitical pivot against Russia.
The United States look to China and, in the meantime, surround the Russian Federation with advanced electronic weapons systems.
Although probably not fully aware of this, the United States want to separate the Eurasian peninsula from the central Sino-Russian system – a new edition of the Atlantic system, but without a US military presence on site.
And even without those guarantees which enabled the Cold War to full enter into the "thirty glorious years", as the economist Jean Fourastié called the years from 1943 to August 15, 1971, the date marking the end of the Bretton Woods system, based on fixed parities between the US dollar and the currencies of Europe, Canada, USA and Japan.
What remains of the "Invertebrate Europe" today, in a context in which the US walk out and, indeed, design the Transatlantic Trade and Investment Partnership (TTIP) – a complex and still secret commercial treaty – the Middle East is on fire and the Maghreb region is becoming – after the Libyan disaster – a gun aimed at Italy and Europe which, however, does not realize it?
Nothing, but it is a nothing deprived of any strategic rationality.
Nevertheless we may think of common intents between the European Union, Russia, China and some Central Asian countries.
Nothing is ever certain in today's intelligence war between Turkey and Russia, but some consequences are easy to infer from the context of the operations over the skies of Latakia: 1) Turkey wants to internationalize the Syrian-Iraqi conflict, by possibly involving the Jewish State.
The latter, however, would have no place where to stay. Certainly it cannot side with the Russian-Syrian-Iranian coalition – the collection of its fiercest and most traditional enemies, except for Russia.
2) The State of Israel cannot even side with the Coalition of "rebels" ranging from the Jabat al Nusra Front – the Qaedist branch in Syria – to the "Division 30" trained by the United States and then immediately included in the Caliphate's forces, or with the United States which sometimes clash with the sword jihad and sometimes help it against Bashar El Assad.
Without a project, without a strategic idea, without real allies and, however, without guarantees for the Jewish State – the only Middle East centre we can trust.
Everyone wages and fights its war on the same ground, without a serious geopolitical goal: the United States want to oust the Syrian "tyrant" Assad – obviously the fall of the "tyrant" Saddam Hussein did not teach anything to them, not to mention the fight against the other "tyrant", Muammar Al Minyar El Gaddafi, which ended as we all know. Everybody knows that in the Middle East tyrants do not exist.
It seems that the United States still want to blindly apply – in the Arab-Islamic world – the same splitting up theory that Zbigniew Brzezinski had managed effectively in the Balkans' case.
Brzezinski, one of the most brilliant foreign policy analysts of the last decades, was born in Poland and had the same anti-Communist ideas of General Pilsudski, who thought that revolutionary Russia could be destroyed by breaking it up by ethnic lines and groups.
Today, in the market-world and in global finance, such projects are bound to end quickly: the small countries are intended to be either self-sufficient – and then survive – or, when this does not happen, Mozart's famous "stone guest" – namely organized crime – comes and leads them to death.
Hence if we do not think in a radically new way, it will be impossible to redesign the world order effectively.
Moreover, with its operations in Syria, the Russian Federation has sealed the geopolitical space of the Eurasian peninsula.
3) Russia has closed the European geopolitical space from both directions.
Along the border of the former Warsaw Pact, Russia is sufficiently armed to be able to deter an increasingly weak and confused NATO.
In the Middle East, with its presence in Syria, Russia can easily and safely negotiate a peaceful management and settlement of the dispute with Ukraine and still close the East to the European Union.
This is exactly what it needs, with President Xi Jinping's new Chinese policy of the "new Silk Road".
The United States are now clearly withdrawing, thus leaving Mesopotamia to the clash between Shiites and Sunnis, with a European Union which, recklessly, is already full of Islamic people who can be often radicalized or full of "travel companions."
The solution could be a Eurasian pact with Russia.
Obviously Eternal Russia targets the Eurasian peninsula presenting itself as a "Third Rome", according to the Eurasian fascinating theories by Alexander Dugin, a close and trusted advisor to President Vladimir Putin. Nevertheless, Putin must be reminded of the fact that two great European politicians (dare I say strategists) spoke – before anyone else – of the union between the peninsula and the Heartland.
One was Pope John XXIII, whose experience as a diplomat and political theorist of the Vatican foreign policy in terrible years and during the Cold War is scarcely recalled.
Pope John XXIII spoke of "Europe from the Mediterranean to the Urals", while the other supreme statesman planned to unite "Europe from the Atlantic to the Urals".
It was not a threat to the unity of the USSR, as only a naïve interpretation could lead us to assume.
It was the idea of a continuum of civilizations spanning from the First to the Third Rome, possibly through the second, Constantinople, which regards many nations' deep interest.
Russia of European ethnicity cannot be part of peninsular Europe, while the large steppes dominated in the past by the "Golden Horde" must still be exploited and managed with the wisdom of the Roman Empire.
Without this union, the Islamic world will engulf us, regardless of the US presence in the Euro-peninsular region.
How a U.S. Colony Works: The Case of Germany
On 15 July 2022, Britain's Reuters news agency headlined "70% of Germans back Ukraine despite high energy prices, survey shows", and reported that "Some 70% of those polled backed Germany's support for Ukraine, … found the survey conducted between July 12-14 by broadcaster ZDF." ZDF is funded by the German Government — German taxpayers.
Germany's AfD Party is one of the two Parties in Germany that are less than enthusiastically backing Germany's anti-Russia position, the other such Party being "Die Linke" or "The Left" Party, which is Germany's only socialist democratic Party, despite West Germany's "Social Democratic Party" calling itself "democratic socialist" while being neither.
The AfD Party issued a press release, on 25 August 2022, "Stephan Brandner: Skandalöse "Politische Filter" beeinflussen NDR-Berichterstattung" or "Stephan Brandner: Scandalous 'political filters' influence NDR reporting." It reported that Mr. Brandner, who is an AfD Member of the German Parliament, said that
After the self-service affair about the now hated RBB director Schlesinger, reminiscent of feudal structures, an online magazine now reports that employees on North German radio complain about 'political filters' from their superiors. According to the report …, public service broadcasting executives act like 'ministerial press officers'. …
As an AfD politician I am not surprised. After all, ARD and ZDF only report on the AfD with a 'political filter' and, for example, no longer invite AfD politicians to talk shows. … Compulsory contributions [by taxpayers, to 'public broadcasting'] should be abolished.
Mr. Brandner provided no evidence for any of his allegations. (That's the way politics is in a dictatorship. How can the public vote intelligently if they are routinely accepting allegations that are being made without supplying documentation? That's a dictatorship by lies and liars, and no democracy-capable public would accept it. In science, what is not documented to be true is assumed to be false — not assumed to be true. A democratic country operates on the basis of science, not on the basis of faith.)
However, this doesn't mean that Mr. Brandner's allegations there are necessarily false. One reason why they could very well be true is that there are six Parties in Germany, and the current governing coalition consists of the three that take the hardest line against Russia, and for America, and for the post-2014, U.S.–coup, anti-Russian, Ukrainian Government. The ruling coalition, those three Parties, are called the "traffic-light coalition", and include the rabidly neoconservative (or pro-U.S.-empire) anti-Russian Green Party, plus the U.S. Democratic Party-allied so-called "Social Democratic Party," plus the rabidly libertarian or "neoliberal" (pro-free-market, anti-regulation, and generally U.S.-Republican-Party-allied) Free Democratic Party; and they EXCLUDE (or give the red light to, and prevent from participating in the Government) the three least-anti-Russian Parties, which are The Left Party (the authentic democratic socialists, or progressives, ideologically opposed to any imperialism), the AfD Party (nationalists), and the U.S.-Republican-Party-allied CDU/CSU Christian Democratic and Christian Social Union Party.
Brandner raised an important question, without providing any evidence regarding its solution. But here are some relevant facts, regarding the extent to which Germany's Government tolerates corruption (which includes corruptness of a Government and of its 'news'-media):
On 14 December 2021, I did an analysis comparing the anti-corruption laws in three nations, and headlined "Political Corruption in U.S., Germany, and Russia". I concluded that
Although this is a very incomplete indicator of a country's corruptness, it does present the U.S. in a very favorable light, and present Germany (11 out of 12 "No"s [meaning no law against corruption]) as being rather astoundingly corrupt. Russia is midway between those two, perhaps because after Yeltsin's abominable rule, Putin cleaned up Russia's Government, but a lot of that job still remains undone, even after 21 years.
Germany's Government was more shaped by Truman than perhaps any in the world except America's own Government. But, from the present indicator, America's vassal nations would appear to be even more corrupt than the imperial center, the U.S., itself, is — at least insofar as their political campaign-finance laws ("what's written in black and white" in the lawbooks) are concerned.
Here was the summary, specifically regarding Germany:
Following here will be answers that are solidly grounded in the written laws of each of these three countries (though not necessarily reflecting how those laws are enforced — or not), regarding the 12 most clearly important questions that were studied. I present those dozen questions in the order that seems to me to provide the clearest sequence in order for the reader to interpret them, not in the order that was employed by the source:
"8. Is there a ban on anonymous donations to candidates?" "There are no explicit provisions regarding donations to candidates."
"2. Is there a ban on donations from foreign interests to candidates?" "There are no explicit provisions regarding donations to candidates."
"18. Is there a limit on the amount a donor can contribute to a candidate?" "There are no explicit provisions regarding donations to candidates."
"10. Is there a ban on donations from corporations with government contracts to candidates?" "There are no explicit provisions regarding donations to candidates."
"4. Is there a ban on corporate donations to candidates?" "There are no explicit provisions regarding donations to candidates."
"6. Is there a ban on donations from Trade Unions to candidates?" "There are no explicit provisions regarding donations to candidates."
"5. Is there a ban on donations from Trade Unions to political parties?" "There are [is] no explicit … ban on donations from Trade Unions to political parties"
"3. Is there a ban on corporate donations to political parties?" "Ban on donation from corporate bodies, but accepted if it is a business enterprise, of whose shares more than 50 per cent of shares are owned by Germans …"
"9. Is there a ban on donations from corporations with government contracts to political parties?" "No."
"14. Is there a limit on the amount a donor can contribute to a political party during a non-election specific period?" "No."
"16. Is there a limit on the amount a donor can contribute to a political party during an election?" "No."
"27. Are there provisions requiring donations to go through the banking system?" "No."
Consequently, Brandner's allegations might be expected to be true, simply because Germany, especially after the U.S. Government blew up the Russian gas pipelines to Germany and yet Germany's Government continues to be a U.S. vassal-nation, despite that U.S. act of war against both Germany and Russia. This indicates Germany's Government to be extremely corrupt, willing to ditch its own population in order to please its U.S. masters.
Europe's former imperial countries are now desperate U.S. colonies
India is no longer a colony of the UK, but Germany and other European countries have become — now quite obviously — colonies of the United States, and their economies will be financially bled by the world-bestriding U.S. imperialist center, just like the UK and other European nations had previously (and infamously) exploited India and its other colonies.
The U.S. Government's having blown-up the Nord Stream gas pipelines from Russia to Europe — after years of efforts to sabotage them more subtly by other, more 'diplomatic' (but less permanent), means — will leave Europe permanently forced to pay vastly higher rates to America and other liquefied natural gas (LNG) suppliers, and no longer with even a hope of receiving the far less-expensive Russian gas, which, until recently, fueled so many European firms to international competitiveness. Now, there's no longer even a hope for Europe to avoid sliding into the usual model of colonies, as being banana republics, of one sort or another.
It was so natural for Russia to be Europe's main energy-supplier, because Russia is a part of Europe, on the same continent as the other European nations, and therefore could pipeline its energy to them, and Russia had a surfeit of energy while the other European nations had a surfeit of need for it. That's the way international capitalism is supposed to function, but imperialistic capitalism is instead international fascism, and it survives and grows only by exploiting other nations. From now on, the European nations, other than Russia, will, for at least a long time (because those giant gas-pipelines have been destroyed) be paying the world's highest prices for energy (containerized and shipped, instead of simply pipelined), and buying much of it from Europe's imperial center, which is increasingly recognizable now as being Europe's real enemy: America. They will be paying tribute to the emperor — the billionaires who control the USA. These are the puppet-masters behind "the free world" (as their 'news'-media refer to it), which is actually the new international-fascist empire. As Barack Obama called it, America is "the one indisensable nation," which means that all other nations (in this case, the ones in Europe) are "dispensable." Now, these former imperial nations will finally get a taste of what it's like to be a "dispensable nation."
Here are some of the key U.S. operatives in Europe, who managed this situation, for the U.S. owners — brought this situation about (before Joe Biden's agents ultimately just pulled the plug on the whole operation):
Boris Johnson, Olaf Schulz, Annalena Baerbock, Robert Habeck, Ursula von der Leyen, Josep Borrell, Anders Fogh Rasmussen, Jens Stoltenberg, Emmanuel Macron, Mario Draghi — and, of course, behind the scenes, the billionaires who funded those leaders' political careers (via political donations, plus those billionaires' news-media and their other mass-public-opinion-forming organizations). These key agents will no doubt be paid well, in their retirements, regardless of what the public might think of them after their 'service to the public' is over.
Exporting Religious Hatred to England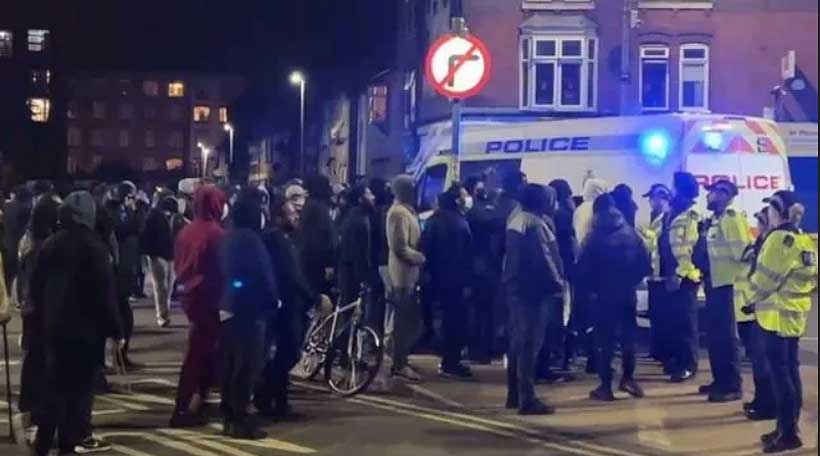 Not a place hitting the main news channels often, Leicester is a small town of 250,000 inhabitants about a hundred miles north of London and 40 miles east of Birmingham the UK's second largest city.
But an imported ideology is now the cause of religious violence that has profoundly affected Leicester's ethnic community of South Asians. This Hindutva ideology represents a belief in the transcendence of Hinduism and its culture.
Leicester prides itself as a city of tolerance and diversity where different religions and races all live together in relative harmony — a sort of 'live and let live and mind your own business' philosophy that had worked until recently. But under the surface simmering tensions burst forth recently. The trigger was a South Asia Cup cricket match between Indian and Pakistan held in Dubai and won by India.
Couple Hindutva with India's win and groups of Hindu young men were keen to demonstrate their might, and did so on isolated young Muslims. The latter then formed their own groups ready for revenge.
Where were the police one might ask. Well, a couple of beaten up Asian teenagers did not register as exhibiting anything more than random teenage violence. They were slow to react and did not discuss the ominous truth of religion as the prime mover behind the violence.
Civic leaders on both sides are now trying to quell the attacks. But the damage has been done and the seeds of ill-feeling have been sown within the community meaning Hindus vis-a-vis Muslims and vice versa.
India's per capita GDP is higher than for Pakistan or Bangladesh, the two countries bordering it, which together constitute the subcontinent. Thus the three countries are similar culturally. The next question to ask is why then is India hugging the bottom on the 2020 World Happiness Report, next to ill-fated war-torn places like Yemen. India is ranked 144 while its rival and neighbor Pakistan, although lower in per capita GDP, ranks a shocking (for India) 66. Bangladesh also ranks much higher than India at 107, despite its devastating floods and typhoons.
Perhaps the answer lies in the pervasive hate that is the currency of the ruling BJP (Bharatia Janata Party), a currency spent liberally during general elections to the detriment of the Congress Party, which has stood for a secular India since independence.
But hate yields more votes as BJP leaders Norendra Modi and Amit Shah know well. After all, they came to power via the destruction of the historic nearly five century old Babri Mosque, built on a Hindu holy site in an effort to ally Hindus by an astute Babur, the Mughal whose hold on India, just wrested from the Muslim Pathan kings, was still weak. It worked for Babur then; its destruction worked for the BJP in the 21st century
Has India become more civilized since?