Beijing -Taipei Rapprochement or Rhetoric
Having series of conflicts, crisis and tensions in Taiwan Strait, it seems land bodies around the blue water are willing to forge a peace mechanism. This has come to a time when President Ma Ying-jeo is supposed to leave the office in couple of months. Whereas, Beijing has witnessed this move as another pragmatic, confident and conscious step from the office of President in subsequent order of events.
Though Beijing and Taipei had been involved in negotiations on party level, however supreme leadership has met first time in after Chinese Revolution. This has once again advanced and proved the notion that President Xi Jinping enjoys a certain degree of independence in exercising authority than his predecessors. Keeping office of the General Secretary of the party, Chairman of the Central Military Commission and President of the mainland, President Xi is beyond doubt consolidating maximum degrees of powers. However as a famous saying goes, 'Power tends to corrupt and absolute power corrupts absolutely', there are risks and chances of mishandling of issues.
In this short piece of writing I have tried to discuss President Xi's multi-dimensional initiatives, ranges both at domestic, regional and global levels. Precisely, I will mention his maneuvering at these three levels in general and specifically argue that though this meeting may not serve as a formal mechanism for peace and issue of legitimacy. However, akin to agreed and practiced '1992 Consensus', this meeting will surely form informal normative ways to reduce the gap between two parties across Taiwan Strait.
Changing dynamics of the regional and global politics requires new pattern of agreed principle between two to exist peacefully. President Ma has taken several steps and defended his rapprochement towards mainland China on every stages in his both terms as President. China has become largest trade partner of Taiwan and more cooperation is being forged despite concerns and unrest by the protesters last year in March. Trade between two has doubled in a period of 7 years from 2008 to 2015 and constitute roughly more than 2/5th share of Taiwan's exports and imports from China (including Hong Kong).
President Xi has consolidated his powers at home first and launched campaign against corrupt elements, furthermore Belt and Road Initiative along with Asian Infrastructure Investment Bank are significant regional maneuvers to install endurable peace as an outcome of development and prosperity in the region. In annual session of the United Nations, China won the stage by not only promising $ 2 billion of funds for post development goals and softening debts to leas developed states but also superseded the Security Council members by announcing 8000 permanent blue helmets to UN peace Keeping missions.
Gone the time when Taipei and Beijing were engaged in hostility and immense fortification of lands across the Taiwan Strait. Despite having issue of legitimacy both Kuomintang and Communist party share history of fight against Fascist Forces. Both participated in several years struggle in People's war of Resistance against foreign aggression. Thus, Beijing takes ease in dealing with Kuomintang as party in power in Taipei. President Ma took tangibly identical position with mainland on disputed Senkaku or Diaoyutai Islands. Though, he claimed Republic of China's sovereignty over isles, however this reduced firestorm ignited by the first democratically elected President Lee Teng-hui of Taiwan, who publically announced that the isles belongs to Japan.
Truth is that there is no formal communique, however handshake and tacit notion of one China by President Xi, as he said 'We are one family, We are brothers who are still connected by our flesh even if our bones are broken', responded positively by President Ma, as he replied, 'We follow different political systems but we have developed military and economic cooperation. We have replaced conflict with dialogue'.
However, upcoming presidential election 2016 in Taiwan, Tsai Ing-wen chairperson of Democratic Progressive Party assumed as wining candidate and is believed to be hardliner towards Beijing. Although, Tsai Ing denounce Consensus 1992 publically, it has become a de facto instrument to recognize 'One China' with different interruption. In real terms, post-election scenarios would be a real challenge for both sides across Taiwan Strait to hold on the agenda for peace and enhance mutual trust.
Another argument echoing in Taiwan is that KMT has already lost its grounds in upcoming election. Referring to Umbrella Revolution last year, critics are of the view that one country two systems has exposed miserably. DPP and its supporters are of the view that too much engagement with Beijing would cost huge knockback to Taipei. Thus, Taipei should not engages itself overwhelmingly with Beijing up to a level that undermines its legitimacy.
Whatsoever, political mentors and pundits deduce from this meeting, negotiations should be carried on. In mainland China, people are of the view that issue between China and Taiwan is not about identity, rather it's about the legitimacy. Such informal understating and communique would bridge the gap between two and will pave the pathway for strong mechanism to deal across strait relations. CCP's goal to integrate Taiwan by 2020 would be a critical challenge in coming future however.
China is not alone in fighting against the Coronavirus epidemic
Authors: Yang Yizhong & Paul Wang
Since the coronavirus outbreak was officially announced several weeks ago, it has stirred many concerns and uncertainties within China and around the world. For example, there are quite a few criticisms and discrimination about human rights violation, political inefficiency and economic policy of China due to this virus crisis throughout the country. However, it is self-evident that China is not alone in the fight against the coronavirus epidemic, also called "The COVID-19". As Sivanka Dhanapala, United Nations High Commissioner for Refugees (UNHCR) Representative in China, put it "Let me say straight away, this is a time for solidarity, for international solidarity. Now it's important, really important, that we need international solidarity and cooperation to share and to pool resources where they are most needed and to make sure vulnerable people get the help that they need. It needs to come together, as an international community, in fighting the virus."
Under such circumstances, Chinese Foreign Minister Wang Yi spoke at the 56th Munich Security Conference on 15 February, reiterating the Chinese resolve, confidence and goal which could be put into the official line: "Under the strong leadership of China, the 1.4 billion people are united as one in fighting the sudden outbreak of a novel virus; and the final goal is only: to win this non-conventional war." In light of so dangerous uncertainties ahead, it is necessary to understand China's strategy, capability and approaches as well.
Obviously, the leading elite and the people of China have demonstrated firm resolve in dealing with the epidemic. The high speed and massive scale of China's response are rarely seen in the world. More accurately, Chinese President Xi Jinping has urged medical staff from the Chinese armed forces to move towards Wuhan and the other virus-hit cities to protect the locals and called for enhanced coordination between local authorities and the military. Until this point, a total of over 4,000 medical staff from the Chinese armed forces have been dispatched to this area. As a result, all relevant parties have taken effective measures to stop the spread of the virus, including requiring the Chinese military to bear the responsibility to make sure of the prevention and control of the outbreak of pneumonia caused by the novel coronavirus. For sure, their efforts are consistently supported by medical and pharmaceutical researchers who have been working day and night, isolated the first virus strain and developed the test reagent in less than seven days. Hailed as heroes in harm's way, over 20,000 healthcare workers in 100 plus medical teams converged in Hubei, the hardest hit province, from across the nation to support epidemic control. Exemplifying professional dedication, all medical workers are saving and protecting lives around the clock despite the risk of infection and exhaustion from overwork. Here overseas Chinese around the globe have continued rushing to make donations in cash and all kinds to help combat the virus outbreak.
Meanwhile, China has timely released the latest information about situation of the disease and called for deepened international cooperation, such as working closely with WHO, inviting international experts to join our ranks, and providing assistance and facilitation to foreign nationals in China. To date, confirmed cases outside China account for less than one percent of the world's total. It means China has effectively curbed the spread of the outbreak beyond our borders. For that, China has made extraordinary efforts and a heavy sacrifice as well. That said, China is not fighting alone. The international community has given China valuable moral and material support. For example, Russia, Belarus and the ROK swiftly delivered badly needed medical supplies to Wuhan through chartered flights. Pakistan sent its Chinese brothers virtually all the masks in its stock. At the peak of the outbreak, Prime Minister Hun Sen of Cambodia paid a special visit to Beijing to offer his staunch support for China. The leaders of some countries, such as Thailand, Sri Lanka, and Italy, also conveyed their warm messages in support of China's epidemic response.
Here is self-evident to mention that Japan, as the most wealthy neighbour of China and also having the long-time historical and territorial disputes with China, has sent huge assistance supplies to China, attached with ancient Chinese poetic lines: "Fear not the want of armour, for mine is also yours to wear", conveying a touching message of empathy from an ancient Chinese poem. In other parts of the world, Americans from all walks of life donated medical items and supplies; not to mention the emergency aid supplies to China from EU countries. Individually speaking, Philippe Klein, a French doctor working in Wuhan, did not hesitate to stay and fought alongside the Chinese colleagues. He revealed that he kept a bottle of champagne to be popped open for celebrating the end of the epidemic. It was also reported that a Zimbabwean student who lived in Wuhan for three years, chose to stay and signed up to be a volunteer. As the Chinese are a grateful nation, they will remember and hold dear every act of support. What are discussed here aim to remind all that we live in a time when traditional and non-traditional security issues are entwined, and when local issues easily become global and vice versa. No country can prosper in isolation or meet all challenges on its own, as our interests are closely inter-connected in the age of globalization. Now for virus respects no borders, it requires a collective response from the international community.
In sum, it is true that now in China Xi wields near-absolute political power over the ruling party and the Marxist-directed state. Arguably, only an socialist regime could have pursued the draconian methods that China has in trying to control the virus since January. Yet, time will tell how effective these measures ultimately prove to be. What is certain, however, is that the crisis, once resolved, will not change the goal that China is going to achieve in the near future.
As China holds that as human society has entered the age of globalization, it is necessary to transcend the old concept of East-West divergence and the North-South divide, to see our shared planet as a community for all. In so doing, China argues for all nations go beyond the ideological gap and accommodate historical and cultural differences. During the crisis moment, it is sensible to see that repeated relationships can nurture co-operative restraint and reciprocity. Yet, the COVID-19 epidemic has inspired cover stories across the world. Some focused on the virus, others described the life changed by the quarantine measures, but among them, Time magazine predicted that disease could "Derail the China Dream," and Bloomberg Businessweek warned that there is a "Fragile China" that we need to "Handle with care." However, the China collapse theory is doomed to fail as China and its people have showed much of the strength and creativity in the epidemic time and again.
In this contest, IMF chief Georgieva said recently, it was "too early" to assess the full impact of the epidemic but acknowledged that it had already affected sectors such as tourism and transportation. If the disease is "contained rapidly, there can be a sharp drop and a very rapid rebound", in what is known as the V-shaped impact, she said. To be fair, China has done a good job so far in responding to the epidemic. Obviously, President Xi's management of the coronavirus crisis at home, and of politically totemic projects such as 5G expansion abroad, assumes a critical new significance.
The current relations between the United States and the Democratic People's Republic of Korea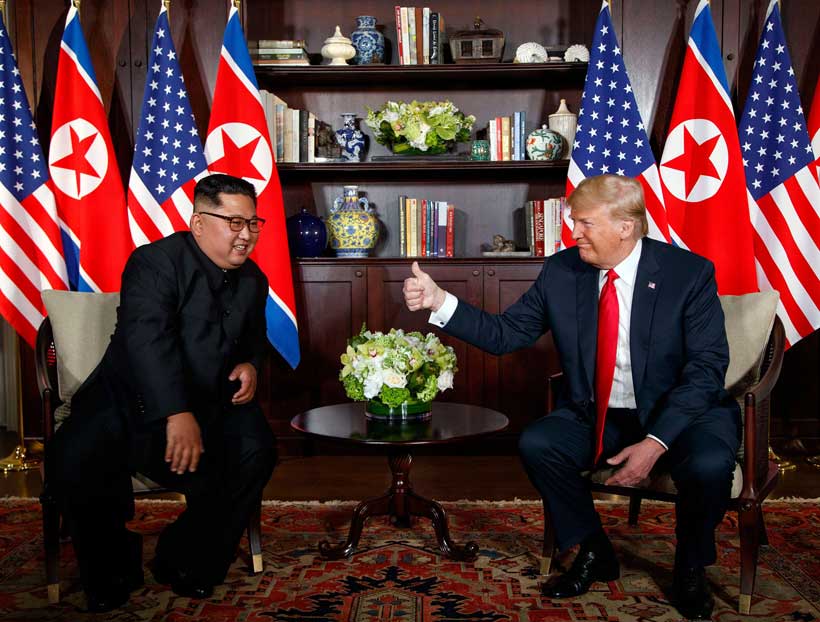 As is well known, Kim Jong-Un imposed precise time and political limits on negotiations with the USA by the end of 2019.
Moreover, at that stage, the US intelligence community was discussing North Korea's adoption of a new short-range missile, which would make its appearance at Christmas 2019.
For the leadership of the Democratic People's Republic of Korea, it is important to finalise – as soon as possible – the strategic and above all economic negotiations with the United States or at least put them on a stable track.
Some substantiated Western sources also believe that the North Korean leadership is putting pressure on Kim Jong-Un himself to harden relations with Donald J. Trump's Presidency.
Time is ripe and there have been negotiations, but the US indeciveness on Korean issues risks putting the whole US strategic and economic system in the Pacific in crisis.
Indeed, the US stance on the North Korean issue and the related economic sanctions, the lawfulness of which is to be debated and called into question, has been swinging – just to say the least.
Kim Jong-Un had created – or at least this is what he believed – the conditions for full, fast and complete negotiations with the United States, especially at the meeting held in Hanoi in February 2019, where reference was made to the complete denuclearisation of the Korean peninsula, the first of the items on the agenda, even in Kim Jong-Un's daily schedule.
President Trump also noted that "the idea of denuclearisation they have in North Korea is not the same as we have", which is also true. Hence negotiations ended without reaching any particular results.
On January 11 last, however, in a press report an important adviser to the Foreign Minister, Kim Kye Gwan, pointed out that reopening negotiations between the Democratic People's Republic of Korea and the United States will be possible only if the latter adheres to the previous Singapore and Hanoi agreements, as it has already shown to do.
Hence to the denuclearisation of the entire Korean peninsula and to the immediate lifting of sanctions.
In short, North Korea does not want to fall by the wayside and wants, above all, to resume negotiations with the United States both on nuclear issues and on economic sanctions.
As already noted, the lawfulness of sanctions sounds dubious to us.
After the Singapore meeting, however, President Trump felt that Kim Jong-Un "would return back home to start a process that would make his people very rich and very happy".
Psychologism, besides being a severe philosophical mistake – at least on the basis of what Husserl and his Phenomenology taught us – is also the terrible flaw of US diplomacy and intelligence.
Just at that time, however, President Trump had also declared that "there was no nuclear threat from North Korea", obviously for the United States.
Of the two, one. Either we want the end of the Democratic People's Republic of Korea – an absolutely improbable goal – or serious negotiations are held, which presupposes a reasonable lifting of sanctions.
In the meeting held in Singapore in 2018, President Trump told us that Kim Jong-Un had adhered to the project of "complete denuclearisation" of the Korean peninsula.
In the US or North Korean version, which are very different from each other? We will never know.
However, there are no data regarding other strategic or economic concessions between the two parties.
This makes it hard for us to believe in Kim Jong-Un's conversion to strategic masochism.
Therefore, we are still at the terms of Kim Jong-Un's last "New Year's speech", the one in which the North Korean leader stated that he would not denuclearize North Korea if the USA did not stop its "hostile policies".
Hence either the United States explicitly accepts a linkage between the denuclearisation of the Korean peninsula and the end of sanctions, or North Korea will slowly, but surely, return to its nuclear strategy, which, at that point, will cost him nothing.
But is President Trump's willingness to cease hostilities with North Korea and thus rebuild the stability of the entire Korean peninsula serious?
We donot know yet. For somebody, like the old British Prime Minister Tony Blair, the US President is now completely uninterested in Korean affairs.
And he is wrong, we might add.
In fact, if Kim Jong-Un were to quickly rebuild his nuclear arsenal, which seems currently possible, the possibility of attacks on U.S. territory would still be remote, certainly, but the US establishment would interpret a North Korean attack on the U.S. military positions in the Pacific as a kind of suicide for North Korea. Are we sure that China and Russia would not put very credible pressure on the United States? Are we sure that a North Korean attack in the Pacific would not, technically, be a success?
But, in fact, it is not: a possible attack by North Korea on the US and its allies' bases in the Pacific would be highly destructive, politically very dangerous, but finally capable of unleashing the Russian and Chinese reactions in the region.
In January 2020, Kim Jong-Un asked his ruling class to follow and take unspecified "offensive measures" to break the deadlock in negotiations with the USA.
If the United States currently believes that North Korea is a quantité négligeable in the Asian equilibria, it is sorely mistaken.
China will never accept an unarmed Democratic People's Republic of Korea, which would bring China into a close border contact with the USA and South Korea, given that the maritime area that North Korea is securing is also essential for the security of the Belt and Road Initiative.
Neither will Russia ever accept an unstabilized and reduced US presence on the Korean peninsula, which is also a strategic life insurance policy for the Russian operations between the Indian Ocean and the Greater Middle East.
Probably Kim Jong-Un will currently accept, with difficulty, a stable progression of the agreements with the USA on its nuclear power, both to revive the North Korean economy and to stabilize equilibria in the Far East.
It will, however, be a negotiation that will see – in place of the unruly Americans – many and more willing South Koreans, Japanese, Chinese, Indians, Russians, and even the pale and weak foreign policy of some surviving European countries.
If President Trump believes he can wait for the global economic crisis to reach North Korea, he has not well analysed all the terms of Kim Jong-Un's strategic equation.
The possible crisis in the Democratic People's Republic of Korea will be supported to a large extent by Russia and China but, in all likelihood, there will be other new supporters.
Therefore, without pretences, President Donald J. Trump's attempt to denuclearize the Korean peninsula in words has currently failed.
On the other hand, Kim Jong-Un's speech of December 31, 2019, in which he spoke of a "new path" and assumed new and more advanced strategic weapons, in addition to a long confrontation with the USA, shows that the U.S. policy vis-à-vis North Korea has, once again, failed.
By now we know that the concept of "denuclearization" between the two sides has never been a common criterion.
Hence, if the North Korean concept is accepted, the military alliance between the USA and South Korea shall be broken. However, if denuclearization does not concern only South Korea – as the US diplomacy sometimes seems to suggest – there is no other way for North Korea if not to continue its nuclear program and, indeed, even to expand it.
If we proceed with the old logical and diplomatic mechanism – i.e. the simple freezing sine conditione of North Korea's nuclear program, no concrete objective will be achieved, since North Korea uses its strategic nuclear system precisely to overcome sanctions, and vice versa.
Hence either the denuclearisation of the entire Korean peninsula, or the North Korean nuclear program will go ahead smoothly – a program capable, however, of stopping or weakening the U.S. Japanese, Vietnamese and Indian operations in the Pacific. Does this make sense?
Moreover, the moratorium on strategic weapons, formally still in place, imposed by the North Korean government itself, still enables Kim Jong-Un to have an excellent relationship with China and Russia, which certainly do not want too much noise in the East.
Make a sound in the East, then strike in the West, as stated in the fifth Stratagem of Sun Tzu's Art of War.
Hence now Kim Jong-Un does not want to put aside the South Korean leader, he never mentions in his last speeches, but also keeps a door open even with the USA. The North Korean leaderdoes not say, in fact, he will automatically resume his actions with short-range and intermediate-range missiles, but makes it clear that the Democratic People's Republic of Korea will soon rebuild its nuclear system and even expand it.
In other words, currently North Korea capitalizes on its possible medium-long term threat, while pointing outit can deal with a tactical, rather than strategic, short or medium range threat.
That is the best we can currently expect. Kim Jong-Un has not closed all doors, but he is careful not to open the door of divine fear, as in the I Ching's hexagram "discard the revolt, grab the yield and surrender".
Meanwhile, the North Korean leader Kim Jong-Un has not ordered any special launches or operations in recent months. This is also an important sign.
From a strictly economic viewpoint, which is only one of the criteria with which to study a State like North Korea, the recession – both stimulated by sanctions and imported from the global market -accounts for about 4.7% per year of the North Korean economy.
Neither China, especially today with the coronavirus epidemic, nor certainly the Russian Federation can replace the share of North Korea's economy integrating with the world market.
Nevertheless, it is also hard to think – for a rational strategic player – of a country, the USA, which creates basic economic difficulties in North Korea, and then discounts them downwards at the negotiating table on nuclear power.
This is, however, a negotiation that neither Russia nor China would allow in any way.
President Trump, in fact, has to do with a significant part of the State Department, as well as CIA, which are pressing for an immediate, complete and fully verifiable nuclear decommissioning of North Korea. Then comes what may of North Korea's economy, for the better or for the worse.
Only at the end of this dismantling process, which should reasonably last at least eight years – if all goes well, but we doubt it – could the sanctions be unilaterally lifted. With what guarantees?
Are we sure?
What other option would inevitably be put forward by the USA to further weaken the lifting of sanctions? As Kim Jong-Un thinks, what could be the mechanism forcing the USA to lift sanctions and further end the pressure on North Korea's foreign policy?
Trump Administration's more possibilist factions, vis-à-vis the North Korean politics, now have vague and unreliable plans.
We also need to consider the Iranian issue, in which, once again, the USA proposes an improbable and impossible total and radical denuclearization, if not with a local war. However, the same project applied to North Korea simply means the destabilization of the North Korean regime and its implosion, without knowing – as will also happen in Iran – when, how and where the trade sanctions will be lifted.
No state commits suicide so easily.
What could be a reasonable solution? The immediate temporary and conditional suspension of the primary economic and trade sanctions against North Korea.
There could also be an agreement between the EU, the USA, Japan and South Korea to phase out the North Korean nuclear system.
But inevitably North Korea must be reassured of its permanence as a State, as well as of its controlled and, probably, partial denuclearisation, and of a complete and rapid integration into the world market. It must also be reassured of the cessation of the clear and conventional nuclear threat coming from the South, the Pacific and the US bases in South Korea and in the region.
If the negotiation does not evaluate these options, it will be completely useless.
Russia and China will continue to make it clear they do not want the US Armed Forces at their borders. Hence North Korea will have to rely on its nuclear weapons to make up for its strategic weakness, which Kim Jong-Un knows very well it would not be fully offset by Russia or China. Finally, the strange US and EU sanctions will indefinitely stop the development of a decisive area for the whole of South-East Asia, which could also guarantee shared security in an area which, in a short time, will become central to global economic development.
The Uyghur issue in early 2020
The Uyghur issue is now a very important asset for global anti-Chinese propaganda, both by the United States and by other European or Asian countries.
If we do not understand the strategic importance of the Belt and Road Initiative, which inevitably passes through Xinjiang, we do not even understand the central role currently played by the Western propaganda in favour of the Uyghurs in Xinjiang.
The basic criterion – certainly originally coming from the U.S. State organizations themselves – is that of comparing the Nazi concentration camps to the Uyghur re-education camps in China.
This is a criterion of "grey propaganda" which is by now very widespread: relatively scarcely widespread news, regardless of its factual truth, is associated with tragically true news, but very widespread throughout the world.
Hence the "truth effect" passes from the "major premise", which is certainly true, i.e. the Jewish Shoah during the Third Reich, to the minor premise, not fully verifiable, as happens in Aristotelian syllogisms – hence, in this case, the supposed truth of the "repression" (another key propaganda term) of the ethnic group of Turkish origin living in Xinjiang.
By now all open sources – whether journalistic or para-analytical ones – have revised figures significantly: until about a year ago, everywhere there was talk about three million Uyghurs detained in camps, but now all U.S. journalistic sources refer only to one million prisoners, but with the other two million ones of Turkish ethnic origin who are, in fact, "under the Chinese iron heel"- just to use Jack London's old metaphor.
However, the matter of the documents coming from "Chinese sources", translated and published by the main U.S. newspapers in November 2019, makes us revise also this figure: allegedly, in fact, there were about 500,000 Uyghurs in the Xinjiang camps from 2017 until November 2019.
Nevertheless, even this figure should probably be revised, although there are certainly camps in which the unruliest Uyghurs are temporarily interned, and certainly in very different ways from the tragic ones typical of the Jewish Shoah.
Furthermore, the Uyghur jihad- strengthened with the new displacement of Turkish jihadists, led by the Turkish MIT, towards Libya – has always been a very serious and very dangerous problem.
According to some Russian sources, in late 2016 the World Uyghur Congress (WUC), still based in Munich, directly organized para-military operations against the Chinese territory and positions.
At least since 2015 the WUC has had direct relations with the Turkish government.
Until August 2019 over 18,000 Uyghur Islamists were in fact sent for training in Syria, with the support of the Turkish intelligence Services alone.
Now a part of these militants is being relocated to al-Sarraj's Tripolitania, with a view to defending al-Sarraj's pro-Western and UN-recognized government, which has always been supported by the Muslim Brotherhood.
The partial and very weak support to al-Sarraj is a perfect fig leaf for the operations of the Muslim Brotherhood and of its reference State, which is currently Turkey.
Qatar, another State linked to the Islamist Ikhwan, funds operations and arms purchases.
Nevertheless many of these 18,000 "Turkmen" jihadists or, however, from Xinjiang are still in Al-Zanbaki, Governorate of Idlib, supported by German and French non-governmental organizations.
On December 7-9, 2019 a closed-door meeting was held in Brussels on Uyghur issues, while the following day, on December 10, there was a conference at the European Parliament organized by the French MP, Raphaël Glucksmann, attended by Dolkun Isa, the current President of the World Uyghur Congress based in Munich.
As can easily be predicted, the EU as a screen for the expansion of a "good" or"moderate" Islamism – as the United States maintains – which the EU believes will serve the interests of a weak, ineffective and misinformed Europe.
This is very unlikely to happen.
Currently the primary variable to be kept under control is Tunisia.
On December 25, 2019, in fact, Turkish President Erdogan – who fell in love with the Uyghurs when he was mayor of Istanbul -paid a visit to the Tunisian President, Kais Saied, an "independent" jurist elected also with the votes of the Muslim Brotherhood in Tunis and of its political arm, Ennahda.
Turkish President Erdogan was accompanied by the Head of Turkish intelligence Services, Hakan Fidan, and by the Foreign and Defence Ministers.
The bone of contention was the possibility for the Turkish intelligence Services to use the airport and the port of Djerba for the mass transfer of jihadists, organized by the Turkish MIT, from Syria to Libya and, probably, also to other areas of the Maghreb region, besides Tunisia itself.
The new phase of Uyghur jihadism will therefore affect the whole Middle East and the Maghreb region, in addition to an increasing share of jihadists of Turkish origin who will be operating in South-East Asia.
At first the Maghreb region will be affected, with a sequence of attacks by the new jihad on the economic, oil and tourist resources of the most modernized countries of the Maghreb region, irrespective of these resources belonging to the West or not. Later there will be a wave of "sword jihad" actions between the Maghreb region and sub-Saharan Africa, with direct effects on the migration routes from "black" Africa, and then sequences of attacks will reach Southern Europe.
The attacks will initially be organized by groups particularly specialized in "hybrid" warfare and terrorist operations. Later there will be a resurgence of massive and very low intensity actions so as to cover other types of actions.
These attacks, however, will be different from the old Qaedist logic: the jihadists will target the production, transport and logistics systems, with the least possible impact on civilians.
We cannot even rule out the possibility of an action against the local and foreign Armed Forces, i.e. French, British and U.S. Forces (which have certainly not left Africa) and other countries' ones.
In this future scenario, there will probably be a new military role for Saudi Arabia which will possibly reactivate its "ad hoc" jihadist networks to counter the "Allah's warriors " supported by its strategic competitors: Iran which, however, will not play all its cards here; Egypt, which will protect its Nile Sources and the two Suez canals, the area of Djibouti and the Horn of Africa, where the local jihad will mobilize against Somalia and Eritrea.
Moreover, as we noted above, the data on Xinjiang's economy is not at all consistent with what has been propagandized as "mass detention" of Uyghurs by the Chinese authorities.
The latest reliable statistics, dating back to 2018,points to an annual GDP of the Xinjiang Autonomous Region equal to 1.22 trillion yuan, with a 0.11 trillion increase compared to 2017.
It is unlikely if we consider the data released by Western media on the Uyghurs detained in various "re-education camps".
Moreover, very significant investment has always been made in the Xinjiang region, in three Chinese five-year programmes: the 2006-2010 one and the 12thplan of 2011-2015, as well as the current one.
At the beginning of China's planning policy, about 97% of the population lived in a territory covering only 8% of the Autonomous Region' surface.
The 12thplan focused on 12 Chinese areas and regions, obviously including Xinjiang, with a view to enhancing economic growth, infrastructure and public services, as well as to implementing a vast environmental protection of the region: since 2015 forests have been covering over 20% of the Uyghur territory.
As we saw during the last years of the Shah's government in Iran, the fast modernization of the economy often leads to cultural and identity imbalances which may probably explain much of the ideological background of Islamism in Xinjiang.
An Islam which is, however, a vast operation of some countries against China – obviously not only Western ones.
Furthermore, it has been demonstrated that the Turkish majority areas in the Chinese Autonomous Region are much less radicalized or even less tied to ancestral religious traditions, precisely in Xinjiang, where the oil and gas fields are located.
However, there is no close and consequential link between the public security operations in Xinjiang and the progress in oil and gas extraction.
Hence, currently the only possibility to destabilize Xinjiang against China is to put pressure on the Uyghur minorities living in the neighbouring countries, mainly in Kazakhstan.
We also need to carefully consider the cultural, symbolic and historical problems emerging in China with regard to the Uyghur issue.
China is a powerful culture State: you can certainly be Chinese from an ethnic viewpoint – han or the other over fifty-five minorities accepted – but obviously what really matters is the sharing of a great cultural, identity and historical heritage.
From Mao Zedong to date, there has been no political program, nor leaders' speech, nor CPC messages not referring to facts and people of China's very long history.
Twenty-two centuries cannot certainly be wiped out.
The White Paper published in August 2019 by the State Council's Information Office, regarding Uyghur culture and traditions, also states that, at the beginning, Islam was "imposed by force" on those populations.
The Turkish minority in Xinjiang has been living there since well before its Islamization. It is also true that currently the customs of the non-han populations in the region are certainly linked to Islam.
It is equally true, however – and here the White Paper realistically identifies the problem – that the symbolic radicalization of the Uyghur population has come after the often clumsy attempts of forced and violent Sinicization of this Turkish ethnic group.
All those attempts were made before the founding of the People's Republic of China. The two Uyghur republics, the pro-Soviet and pro-Chinese factions, as well as the divisions between tribes and cities, are all traditions that the Uyghur Islam has had since before the establishment of the han-Chinese Communism.
Islam has been living in the Uyghur population of Xinjiang for about 900 years.
In other areas, Islam is certainly much older: just think of the Maghreb region, the frontline of the "sword jihad" of the Rashidun Caliphs, the so-called "rightly-guided" ones after Prophet Muhammad.
Furthermore – and here we find, once again, the Marxist roots of the Chinese regime – the White Paper also maintains that Islam was imposed on the Uyghurs with violence and "by their ruling classes".
It is partly true, but not even Muhammad did peacefully impose Islam on his first converted populations.
In the Islamic tradition there are as many as 43 murderers of Prophet's enemies – all assassinations explicitly ordered by Muhammad himself.
We do not want to focus on the long-standing issue of the violent nature of Islam, in which we are not interested at all.
The real problem is that the White Paper makes it clear that Communist China is liberating Uyghurs from their Islam and therefore from their old ruling classes.
It should also be recalled that – even after its Communist revolution – China is still linked to an imperial theory of sovereignty, which emphasizes how power is a "Mandate of Heaven". The Emperor is the Party, the Party is the Leader and the Leader represents – almost mystically – all the people, thus protecting them precisely with his Mandate of Heaven.
It is evident that such a theory, although secularized by Marxism-Leninism and by Mao Zedong, cannot absorb but only contain Xinjiang's Islam.
In the traditional Chinese political culture, the Mandate of Heaven, also in its "materialistic" version, is what saves from civil war, from inter-State and ethnic clashes, as well as from the "period of warring kingdoms".
A phase that, in pre-Communist Chinese history, has occurred cyclically every 200-300 years.
Hence the concept of harmony has precise historical and anthropological foundations.