Russia: Attempting a Bridge to Africa
While Russia's interest in the sub-Saharan Africa is nothing new, Russian authorities have realized that it's time to move back primarily to reclaim its economic footprints and to find old Soviet-era allies, but that step comes with new challenges especially from other foreign players and the changing internal political and economic conditions in Africa.
For the past few years, Russia authorities have taken steady and strategic steps at the possibility of pushing huge investments in lucrative sectors as ways to strengthen bilateral relations and expand economic cooperation in a number of African countries.
That show of corporate investment and business interests have been sealed into various agreements, for instance, were the results from high-powered state delegations that frequently visited both regions, Russia and Africa, last year and during the first half of 2015.
Keir Giles, an associate fellow of the Royal Institute of International Affairs (Chatham House) in London explained to me in an email interview that "Russia's approach to Africa is all about making up for lost time. The Soviet Union's intense involvement in African nations came to an abrupt halt in the early 1990s, and for a long time Moscow simply didn't have the diplomatic and economic resources to pay attention to Africa while Russia was consumed with internal problems."
According to Giles "that changed in the last decade, thanks to two things: the arrival of President Vladimir Putin with a new foreign policy focus, and the massive influx of cash on the back of increased oil prices, which transformed Russian state finances. Russia is interested both in economic opportunities and in rebuilding political relationships that had in some ways been on hold for over a decade."
In order to raise Russia's economic influence and profile in Africa, in June 2009, the Coordinating Committee on Economic Cooperation with Sub-Saharan Africa, popularly referred to as AfroCom, was created on the initiative of the Russian Federation Chamber of Commerce and Industry and Vnesheconombank to help promote and facilitate Russian business in Africa. Since its creation, it has had full-fledged support from the Russian Government, the Federation Council and State Duma, the Ministry of Foreign Affairs and the African diplomatic community.
The vice-president of the Chamber of Commerce and Industry of the Russian Federation, Georgi Petrov, noted at the AfroCom's annual executive meeting held in April 2015 that "in view of the current geopolitical situation in the world and the economic situation in Russia Russian businesses have to look for new markets. In this regard, of particular interest is the African continent, which today is one of the fastest growing regions in the world with an annual GDP growth – 5%. In addition, opportunities for projects in Africa are opened with the accession of South Africa to the BRICS bloc." Brazil, Russia, India and China are members of BRICS.
Reports also showed that Russia has started strengthening its economic cooperation by opening trade missions with the responsibility of providing sustainable business services and plans to facilitate import-export trade in a number of African countries.
But, these Russian trade centers must necessarily embark on "Doing Business in Africa" campaign to encourage Russian businesses to take advantage of growing trade and investment opportunities, to promote trade fairs and business-to-business matchmaking in key spheres in Africa.
Maxim Matusevich, an associate professor and director, Russian and East European Studies Program at the Seton Hall University, told me in an interview discussion that "in the past decade there was some revival of economic ties between Africa and Russia – mostly limited to arms trade and oil/gas exploration and extraction. Russia's presence in Africa and within African markets continues to be marginal and I think that Russia has often failed to capitalize on the historical connection between Moscow and those African elites who had been educated in the Soviet Union."
"It is possible that the ongoing crisis in the relations between Russia and the West will stimulate Russia's leadership to look for new markets for new sources of agricultural produce. Many African nations possess abundant natural resources and have little interest in Russia's gas and oil. As it was during the Soviet times, Russia can only offer few manufactured goods that would successfully compete with Western-made products. African nations will probably continue to acquire Russian-made arms, but otherwise, I see only few prospects for a diversification of cooperation in the near future," added Maxim Matusevich.
As Buziness Africa gathered in May 2015, Russian Foreign Minister Sergei Lavrov has held talks during the first quarter of this year with a number of state delegations at various levels and that included Foreign Ministers from Burundi, Tanzania, Algeria, Gabon, Guinea, Madagascar, Libya and Zambia.
And also at the start of this year, the high-ranking Russian delegation headed by special presidential representative for the Middle East and Africa, Mikhail Bogdanov, participated in the 24th Ordinary Session of the Assembly of Heads of States and Governments of the African Union and on the sidelines held series of diplomatic discussions with representatives from some African countries in Addis Ababa, Ethiopia.
"On the sidelines of the forum, Mikhail Bogdanov had meetings and talks with President of the Republic of the Congo Denis Sassou Nguesso, President of Mauritania, Mohamed Abdel Aziz, President of Madagascar Hery Rajaonarimampianina, President of Equatorial Guinea Obiang Nguema Mbasogo, President of Gabon Ali Bongo, Vice President of Angola Manuel Vicente, Deputy Secretary General of the Arab League Ahmed Ben Helli."
"The parties discussed current bilateral and regional agendas, further improvement of diverse cooperation between Russia and Africa, including cooperation with sub-regional organizations of the continent," according to the transcript posted to the official website of the Foreign Ministry.
Further to that, Lavrov held a meeting on the sidelines of the 69th session of the United Nations General Assembly in New York. The meeting was attended on the SADC side by representatives of Zimbabwe (the SADC presiding country), Angola, Zambia, Namibia, Mauritius, Malawi, Mozambique, Seychelles, Tanzania, the Republic of South Africa, as well as SADC Executive Secretary.
Without doubts, Russia's strategic return to Africa has sparked academic discussions at various levels where academic researchers openly admitted that political consultations are on track, arms exports has significantly increased, but other export products are extremely low. Russia's involvement in infrastructure development has also been low for the past decades on the continent.
In an interview, Themba Mhlongo, Head of Programmes at the Southern Africa Trust, thinks that Africa should not expect higher trade flows with Russia simply because Africa has not engaged Russia.
Mhlongo told Buziness Africa media that "there is still low Africa-Russia Dialogue or mechanism for dialoguing with Russia, and on the otherhand, Russia has not been as aggressive as China in pursuing opportunities in Africa because Russia has natural resources and markets in Eastern Europe, South West Asia. Russian exports to Africa might be dominated by machinery and military equipment which serves their interest well."
He suggested that Africa must engage all BRICS members equally including Brazil and Russia in order to build alliances and open trade opportunities including finance and investment opportunities. Also African countries must not seem to show preferences in their foreign policy in favour of Western Europe if they want to benefit from trade relations with Russia. They must learn to be neutral!
Mhlongo suspects that Africa still holds an old view about Russia being a communist state and less technologically developed or unsophisticated compared to Western Europe. But, Russia never colonized Africa and therefore there are no colonial ties between the two.
"If you look at African trade flows to Europe they reflect colonial ties most of the time. However, modern Russia is now one of the important emerging market countries and a member of BRICS. The Russian society is also closed and orientation is towards Western Europe in particular the United States (probably as a result of the period of bi-polar global power system that existed before). Although Russia exports to Africa but rarely sets up businesses. The language (or culture in general) could be one of the barriers to the development of trade relations with Russia," he pointed out.
He further proposed that both Africa and Russia can initiate a dialogue in the form of Africa-Russian business summit to explore economic opportunities between them. However, there are other avenues to engage each other through the BRICS bloc or through bilateral diplomatic channels. Russia has embassies in Africa and African countries have diplomatic representations in Russia. Africa may have to pay special attention to cultural issues and try to understand Russia in this ever changing environment and find an entry point to engage Russia.
On her part, Alexandra Arkhangelskaya, a senior researcher at the Institute of African Studies under the Russian Academy of Sciences and a staff lecturer at the Moscow High School of Economics told Buziness Africa in an interview that Russia and Africa needed each other – "Russia is a vast market not only for African minerals, but for various other goods and products produced by African countries."
The signs for Russian-African relations are impressive – declarations of intentions have been made, important bilateral agreements signed – now it remains to be seen how these intentions and agreements will be implemented in practice, she pointed out in the interview.
The revival of Russia-Africa relations should be enhanced in all fields: political, economic, trade, scientific, technological, and cultural. Obstacles to the broadening of Russian-Africa relations should be addressed. These include in particular the lack of knowledge in Russia about the situation in Africa, and vice versa, suggested Arkhangelskaya.
"As we witness rapid deterioration of relations between Russia and the West unfold, Russia's decision to ban the import of some agricultural products from countries that have imposed sanctions against Moscow offers great opportunities for the expansion of trade of such products from Africa," the academic professor observed in her discussion.
Experts, who have researched Russia's foreign policy in Africa, at the Russian Academy of Sciences' Institute for African Studies, have reiterated that Russia's exports to Africa can be possible only after the country's industrial based experiences a more qualitative change and introducing tariff preferences for trade with African partners. As a reputable institute during the Soviet era, it has played a considerable part in the development of African studies in the Russian Federation.
"The situation in Russian-African foreign trade will change for the better, if Russian industry undergoes technological modernization, the state provides Russian businessmen systematic and meaningful support, and small and medium businesses receive wider access to foreign economic cooperation with Africa," according the views of Professor Aleksei Vasiliev, the director of the RAS Institute for African Studies and full member of the Russian Academy of Sciences, and Evgeny Korendyasov, an expert at the RAS Institute for African Studies.
Statistics on Africa's trade with foreign countries vary largely. For example, the total U.S. two-way trade in Africa has actually fallen off in recent years, to about $60 billion in 2013, far eclipsed by the European Union with over $200 billion and China, whose more than $200 billion is a huge increase from $10 billion in 2000, according to a recent "Africa in Focus " website post by the Brookings Institution. According to the Chamber of Commerce and Industry of the Russian Federation, Russia's trade with Africa, south of the Sahara, is only $3.2 billion.
In one of his speeches posted to the official website, Russian Foreign Minister Sergei Lavrov noted frankly in remarks: "it is evident that the significant potential of our economic cooperation is far from being exhausted and much remains to be done so that Russian and African partners know more about each other's capacities and needs. The creation of a mechanism for the provision of public support to business interaction between Russian companies and the African continent is on the agenda."
Scientific and trade cooperation between China and Africa
China was crumbling into misery, degradation and despair, in the middle of that 109-year period (1840-1949) known as the era of semi-wild and semi-colonial China. As early as 1840, the year of the Opium War, declared by Britain on China to bring in the drugs that the Chinese refused, China's history had been one of rapid ruin.
The ruin was not only material, caused by the vampirism of colonial power that exploited the Middle Empire with weapons, forcing it to accept unjust treaties, burning Beijing palaces, beating and massacring the people with the British Sikh policemen, claiming huge "compensation payments" for wars waged against it. It was also spiritual ruin. None of the old values and traditions could curb that wave of destruction.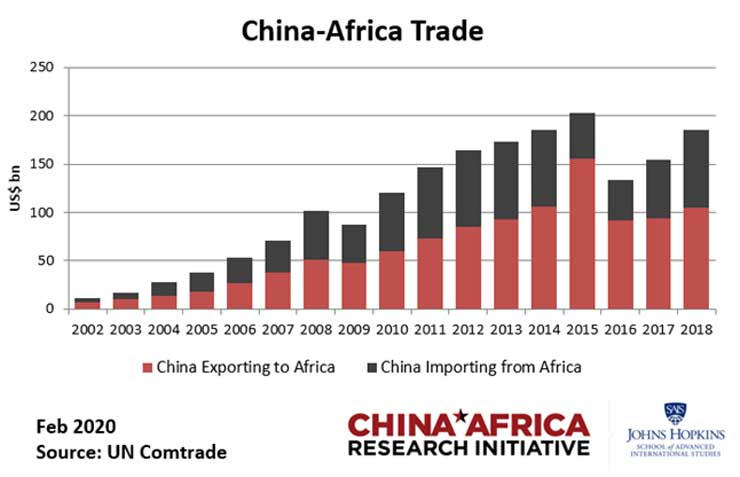 However, over the last seventy years, things have changed and the main contradiction between the pious sermons of Western democracy and the simultaneous indiscriminate exploitation of China has disappeared with the expulsion of Jiang Jieshi (Chiang Kai-shek). It has disappeared in all fields.
On December 6, 2019, during the 5th South Africa Science Forum (Pretoria, December 4-6, 2019), Chinese Ambassador Lin Songtian was invited to participate in the Forum parallel workshop,"China-Africa Scientific and Technological Cooperation: Impact and Prospects", and delivered the opening speech. The major media widely and proactively reported the diplomat's words, claiming that China's investment in Africa was second to none.
Ambassador Lin Songtian said that the Belt & Road Initiative proposed by Chinese President Xi Jinping had effectively promoted Africa's development. China's cooperation with Africa has always followed the principle of truthfulness and honesty, justice and mutual benefit. China has always been committed to achieving win-win cooperation and joint development with Africa. This stands in stark contrast to Western countries that pursue their own interests first and not those of equal and mutual benefit.
The United States, Japan and the EU are not involved in every large-scale infrastructure. Only China has invested and provided massive amounts of funds. Ethiopia, for example – once one of the poorest countries on the African continent – has become one of the fastest growing economies in the world after over ten years of development.
Several well-known scientists from the South African Republic participated in the Forum, maintaining that China – also a developing country – fully understands Africa's needs and its willingness to open the door to cooperation in the field of scientific and technological innovation on an encouraging basis.
The joint scientific research conducted by China and Africa is able to strongly promote the development of the African continent. Africa has missed the first three industrial revolutions and cannot miss the fourth. China has many useful experience gained with Africa to teach.
If China can create scientific and technological companies for training African entrepreneurs, the Black Continent will certainly be able to offer valuable candidates; with the hope that Africa will also achieve scientific, technological and managerial independence.
Some scholars have also pointed out that the survey conducted by Afrobarometer has shown that because China's aid and investment in Africa have promoted the building of infrastructure, Chinese products are high-quality and cheap, and that 63% of Africans believe that China has a positive influence on Africa. 15% of Africans have a negative attitude towards China because they know very little about it and are influenced by irresponsible news from the former colonial media criticising the People's Republic of China.
The imperialist drug dealers, the exploitative colonialists and the pimps of the past, in new guises, complain about the lack of democracy, only because they have seen their centuries-old banquetat the expense of the Chinese people precluded.
At the same time, Africa, as China's economic and trade partner, has brought huge mutual benefits. Africa has the 53 most important minerals on the planet and some rare strategic resources, but the rate of development and use of arable land is lower than 30%. Although China is the world's richest country for mineral resources, its per capita share is less than half of the world's level. Hence, together with the regular distribution of mineral resources, it is also necessary to establish greater China-Africa relations to broaden the trade channels for these resources.
Although the African market has a high rate of return, it also has a certain degree of risk, which requires foreign companies to have better conditions to withstand fluctuations in the African market.
The benefits of China's investment in Africa are indisputable. Nevertheless, the Belt & Road Initiative has always been questioned by Western countries.
Over and above the politically correct dispute over the Asian country's lack of democracy, the main controversy has focused opportunistically on whether China has increased its risks of debt to recipient countries and whether these projects have adequate environmental protection plans.
Some Western theories argue that China uses "debt trap diplomacy", a means of providing a large amount of loans that beneficiaries cannot repay, so as to influence developing countries' policies.
However, in reality, the external debt profile of the beneficiary countries is very varied. Before Africa was hit by the Covid-19 epidemic, the average debt of the ten largest beneficiary countries was 36.5% of China's total income, close to 37.2% of the rest of Africa. Moreover, the situation in each country is different: these ten countries include high debtors such as Zambia and other countries with very low debt such as Angola, Kenya and Nigeria.
The loan initiative has always been in the hands of African countries which – when the funds and blackmail of multinational financial institutions do not meet their needs – have the right to rely on China to build the necessary infrastructure.
Therefore, to a certain extent, the high demand for loans is adapted to the development needs of African countries, which would remain blocked by the inertia of the West and its financial institutions.
At present, the method for financing the building of infrastructure is relatively simple. In general, governments obtain preferential loans from the Export-Import Bank of China or the China Development Bank, with the hiring of Chinese building contractors.
Furthermore, the Chinese government and private companies are paying increasing attention to environmental protection. For example, in April 2019 the Chinese Ministry of Ecology and Environment published Guidelines on the promotion of works and a cooperation plan for environmental protection.
China has understood the importance of the eco-environmental issue in transforming the green economy and promoting the sustainable development goals developed by the United Nations, and has further improved and implemented a range of risk prevention policies and measures.
The Chinese government is also making greater efforts to regulate private companies' behaviours. The number of these companies is much higher than reported by the statistics of the Ministry of Commerce and almost all of them use their own capital. If the Chinese government can provide more funding channels for private companies, it will have more say in encouraging private companies to pay attention to social responsibility.
According to the International Energy Agency's report, in 2019 almost 70% of the world's energy-deficient population lived in Africa and energy development is a huge driving force for economic growth. This means that the energy market will become an important area of China-Africa economic cooperation.
In a situation in which sustainable development has become a global trend, China-Africa economic cooperation shall inevitably adapt: from traditional energy extraction to alternative energy development; from large loans to the development of human capital. The focus on sustainability will not only lead to short-term contractual relations, but also to long-term partnership.
'Full scale' humanitarian crisis unfolding in Ethiopia's Tigray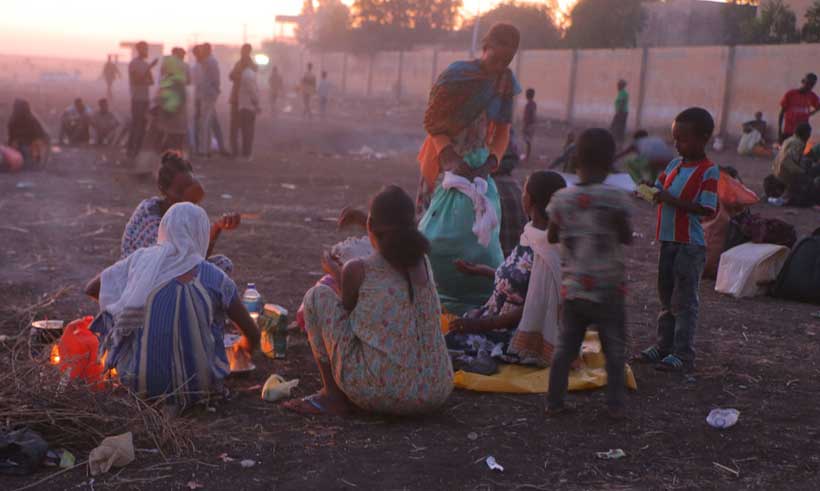 A "full-scale humanitarian crisis" is unfolding as thousands of refugees flee ongoing fighting in Ethiopia's Tigray region each day to seek safety in eastern Sudan, the UN refugee agency (UNHCR) reported on Tuesday.
More than 27,000 have now crossed into Sudan through crossing points in Kassala and Gedaref states, as well as a new location further south at Aderafi, where Ethiopian refugees started crossing over the weekend, according to UNHCR.
The scale of the influx is the worst that part of the country has seen in over 20 years, according to the agency.
"Women, men and children have been crossing the border at the rate of 4,000 per day since 10 November, rapidly overwhelming the humanitarian response capacity on the ground," said Babar Baloch, UNHCR spokesperson, briefing reporters in Geneva.
"Refugees fleeing the fighting continue to arrive exhausted from the long trek to safety, with few belongings", he added.
According to news reports, Ethiopian Prime Minister Abiy Ahmed, has indicated the military operation that was launched in response to the reported occupation of a Government military base by Tigrayan forces nearly two weeks ago, would continue, although he said it was now in its "final phase".
'Needs continue to grow'
UN agencies, along with relief partners have ramped up assistance – delivering food rations, hot meals and clean water, as well as setting up latrines and temporary shelters. They are also supporting the Sudanese Government in its response. But the needs continue to grow.
The UN World Food Programme (WFP) is also supporting other humanitarian workers in its response, providing fuel for vehicles and generators in remote locations. The UN Humanitarian Air Service, managed by WFP, has also increased flights from three times per week to daily flights for aid workers.
Since Saturday, UNHCR has relocated 2,500 refugees from the border to Um Raquba settlement site, in eastern Sudan. There is however, a "critical need" to identify more sites so that refugees can be relocated away from the border and can access assistance and services, said Mr. Baloch.
UNHCR has also issued an emergency fundraising appeal, through which people can help provide urgent, lifesaving assistance to refugees. Click here to make a donation
'On standby' in Tigray
Meanwhile in the Tigray region of Ethiopia itself, lack of electricity, telecommunications, fuel and cash, continue to severely hamper any humanitarian response, the UNHCR spokesperson said.
"After nearly two weeks of conflict, reports of larger numbers of internally displaced grow daily, while the lack of access to those in need, coupled with the inability to move in goods to the region, remain major impediments to providing assistance," he said.
UNHCR and partners are on standby to provide assistance to the displaced in Tigray, including basic items, when access and security allow.
The conflict is also a major ongoing concern for the Eritrean refugee population of nearly 100,000 in Tigray, who are reliant on assistance from UNHCR and partners.
"Potential for further displacement of refugees inside the country is increasingly a real possibility … The humanitarian situation as result of this crisis is growing rapidly" he warned, reiterating UNCHR's call for peace and urge all parties to respect the safety and security for all civilians in Tigray.
Russia to Build Naval Facility in Sudan
Emerging from the first Russia-Africa Summit held in Sochi a year ago, Russia will make one huge stride by establishing a naval facility in Sudan. This marks its maritime security presence in the Mediterranean and the Red Sea region. Sharing a northern border with Egypt, Sudan is located on the same strategic coastline along the Red Sea.
According to the executive order, the published document says "the proposal from the government of the Russian Federation to sign an agreement between the Russian Federation and the Republic of Sudan on creating a facility of the Navy of the Russian Federation in the territory of the Republic of Sudan be adopted."
It also authorizes "the Defense Ministry of Russia to sign the aforementioned agreement on behalf of the Russian Federation." The document stipulates that a maximum of four warships may stay at the naval logistics base, including "naval ships with the nuclear propulsion system on condition of observing nuclear and environmental safety norms."
Earlier, Prime Minister Mikhail Mishustin approved the draft agreement on establishing a naval logistics base in Sudan and gave instructions to submit the proposal to the president for signing. The draft agreement on the naval logistics facility was submitted by Russia's Defense Ministry, approved by the Foreign Ministry, the Supreme Court, the Prosecutor General's Office and the Investigative Committee of Russia and preliminary agreed with the Sudanese side.
As the draft agreement says, the Russian Navy's logistics facility in Sudan "meets the goals of maintaining peace and stability in the region, is defensive and is not aimed against other countries."
The signing of the document by the Russia president shows the positive results of negotiations, the possibility of constructing a naval base in the region, over the years with African countries along the Red Sea and in the Indian Ocean.
During a visit by then-President of Sudan Omar al-Bashir to Moscow in November 2017, agreements were reached on Russia's assistance in modernizing the Sudanese armed forces. Khartoum also said at the time it was interested in discussing the issue of using Red Sea bases with Moscow.
On the Red Sea and the Gulf of Aden, Russia had a naval base in Somalia during the Soviet days. Currently, Djibouti hosts Chinese and American naval bases. China's military base in Djibouti was set up to support five mission areas. India is another Asian nation that has increased its naval presence in Africa. In order to protect its commercial sea-lanes from piracy, it has established a network of military facilities across the Indian Ocean.