Protection from Terror: killer bees & 'queen bees'
This is the great security threat of our age; the radicalization of frustrated Sunni Muslim youth in our homelands by a false narrative that they are under 'attack' physically, culturally and religiously from the West and so act aggressively often violently against 'the West' (non-Muslim), its sense of superiority and its icons of success whether they be transport systems, capital cities or our cosmopolitan lifestyles and places of recreation.
Many therefore say the West is in a war against global Islamic terrorism. That is not quite accurate and has the danger of slipping into a paradigm of the West is at war with Islam ( the Wahhabi Salafi narrative) and so our revulsion and response may best be channeled not just into bombing their strongholds (akin to killing wasps or bees) but even more importantly "bombing" their ideology (their nest/their 'Queen bee'). The West doesn't know there's a queen bee. For that you have to go to the Muslim world and ask them.
The figures show that both the intensity and breadth of terrorism is increasing at alarming rates and it kills more Muslims in their homelands than people from the West and that it is linked to the extremely fanatical Wahhabi Salafi Takfiri Jihadi sect within Islam.
For example, my heart aches for those school children in Pakistan murdered by the Taliban and the poor people in Nigeria suffering at the hands of the monstrous Boko Haram fanatics. Just this past week they massacred 2,000 mainly Christian innocents " a senior government official in Borno, said Boko Haram killed more than 2,000 people which, if true, would mean the group equaled its total kill count last year in one attack. More were said to have drowned in Lake Chad while attempting to swim to a nearby island. Some estimates said more than 20,000 people are now displaced as a result of what one reporter called Boko Haram's "most horrific act of terrorism yet."
How can we defeat Terror?
First you have to name it, know what it is or else you'll do more harm than good by attacking everything Islamic.
Prime Minister David Cameron has done (20th July 2015) in his speech what President Obama refuses to do; state that the root of today's terrorist problem is extremist Islamist ideology.
In what will go down as the seminal speech to unmask the ideological drivers of modern terrorism and social unrest in the West, David Cameron spoke boldly and incisively at the Nonestiles School in Birmingham about the scourge of extremism sweeping the UK's Muslim communities.
It's no accident that he chose this school in this are to deliver his speech. It is here where there has been a vipers nest of Wahhabi Salafi extremists that have been the engine room of hate preachers and extremism in the UK including those involved in the: Birmingham 6 Terror plot and the Trojan Horse affair.
The UK government is now going to actively encourage the reforming and moderate Muslim voices in its strategy to wipe out extremism in the UK homeland. The PM understands that in the past, governments have been too caught up with political correctness and cries of Islamophobia to challenge the extremist religious ideology and were too quick to dismiss the religious aspect of Islamist extremism. It is undeniable the PM said that there is a religious justification for terrorism of recent times not just in the UK but globally because these extremists are
"Self-identifying as Muslims. The fact is from Woolwich to Tunisia, from Ottawa to Bali, these murderers all spout the same twisted narrative, one that claims to be based on a particular faith."
Because the Wahhabi Salafi ideology leads to violence, social unrest and discrimination and hatred is enough to clamp down on those who spread it in our homelands. This is a mega-leap in honesty and the right direction to stop the barbarism of Syria and Iraq continuing to appear on the streets of our Homelands.
Mustafa Kail aka Abu Hamzah al-Masri when he was head of a Wahhabi Salafi front called the Partisans of the Sharia Organization, wrote a book called
Terrorism is the Solution and preached in his Salafi mosques in London and the US that terrorism against the West was a religious imperative for all Muslims because of the false narrative that the West was oppressing Muslims and seeking to humiliate then destroy Islam. (He is now serving life in a US prison for terrorism).
We can detonate their false narratives by and through the majority of moderate Muslims and their intelligentsia/scholars and rational leadership in our homelands and globally who are under attack by the extremists as much as we are. We can give them a voice, protect them from reprisals by Salafi thugs and protect their mosques from the poison pill of Saudi charitable funds by donating money to Islamic Universities and Muslim schools of learning based on moderate Islam.
The war actually is within Islam itself and we are the collateral damage (if you look at total numbers of terrorist incidents, you will see that most are Wahhabi Salafi against other Muslims).
One strategy to consider is to ally and support the moderate Muslims against the puritanical Wahhabi Salafi. We have a common interest. Our only hurdle is prejudice, KSA and politicians aligned with oil.
Unless we help the Muslims resist this Wahhabi Salafi attempt to take over Islam globally, radicalization of 1.5 billion Muslim people spells doom for humanity.
Egypt's President al Sisi recognizes the "queen bees" are the root cause of terrorism, and joins PM Lee in calling for a 'religious revolution' in Islam at Cairo's Al Azhar University back in January 2015.
David Cameron UK PM thinks the attraction of the 'caliphate' can be tackled with counter-narratives that debunk al-Baghdadi's Islamist interpretation of Islam. The gulf between the brutal reality on the ground and the propagandised fantasy Isil spin on social media can be exposed. The positive things the UK provides for all its citizens can be promoted, in order to show the alternatives to living in a fascistic theocracy.
In a 2003 interview with Fareed Zakaria of Newsweek, Singapore's former Prime Minister Lee Kuan Yew warned that Americans are mistaken in seeking a largely military solution to combat Islamic terrorism.
"In killing terrorists, you will only kill the worker bees. The queen bees are the (hate) preachers, who teach a deviant form of Islam in schools and Islamic centers, who capture and twist the minds of the young."
Retired Malaysian diplomat Dennis Ignatius made the following observations :"Even if ISIS is degraded, Saudi export of Wahhabism will continue to spawn new ISIS type jihadists in Asia, Africa, South America and elsewhere… it is Saudi-exported Islamic extremism. …Young Southeast Asian Muslims from Indonesia, Malaysia, Singapore, Philippines and elsewhere are radicalizing and joining jihad in Syria and Iraq, with ISIS even forming a military unit for Malay-speaking fighters—Katibah Nusantara Lid Daulah Islamiyyah (Malay Archipelago Unit for the Islamic State in Iraq and Syria)….He attributes the sole cause of extremism in Southeast Asia to Saudi Arabia's aggressive export of Wahhabi ideology, spending more than US$100,00 billion the past few decades to export a culture of "intolerance, hate and violence" to all corners of the globe…."
Ignatius echoes Singapore's former Prime Minister Lee Kuan Yew who also pointed to 'Saudi Arabia as the "queen bee" spawning terrorism in Asia'.
According to Lee, 'Muslims in Southeast Asia were traditionally moderate and tolerant. But beginning in the 1970s, awash with petrodollars, Saudi Wahhabis began to export this "venomous religion" via thousands of mosques and madrasas that has radicalized Muslims in South and Southeast Asia. As a result of Saudi proliferation of WMDs—or Wahhabis of Mass Destruction—Afghanistan, Pakistan, Indonesia, Malaysia, Singapore and Philippines have fallen victim to Wahhabi-driven extremists groups such as Jemaah Islamiah, Abu Sayyaf, MILF, ISIS, Taliban, and others.'
Ignatius views the Saudi-Wahhabi nexus has such a stranglehold on Sunni religious discourse, having polluted thousands of mosques, seminaries, universities, schools and community centers that "unquestionably, the Saudi-Wahhabi nexus has become the greatest single threat to peace and stability in the world today."
In a September 2014 Indian Defence Review article, retired Indian general Afsir Karim shares Lee Kuan Yew's concerns that Saudi Wahhabis are trying to exert domination over other strands of Islam (e.g., Sufi, Shia, etc.) and proclaim themselves as the gold standard for what it means to be a "good" Muslim…General Karim exposes how Saudis are using the Wahhabism weapon to dominate India, pumping millions of petrodollars into madrasas and mosques to propagate Wahhabi theology and that "anyone outside the Wahhabi sect is a heretic and will burn in hell."
This doctrine of intolerance and violence is now polarizing Indian society and radicalizing its Muslims, projected by Pew Research to be the largest Muslim population in the world by 2050, even surpassing Indonesia.
Thus with the double onslaught of potential ISIS bases and Saudi-sponsored radicalization of Asian Muslims casting a long shadow…The growing conflict between the Shia and Sunni sects across the world is a direct result of the increasing influence of Wahhabism.
Above section largely taken from article Dr Christian Lin Fellow at the Centre for Transatlantic Relations at SAIS-John Hopkins University article highlighting the Saudi threat to Asian stability and security, and calls it the "Saudization" of Southeast Asia.
Post Script: The Wahhabi Salafi drivers
Long before ISIS became one of their brand names, one of their leaders Juhayman al Uteybi (Otaybi) and a band of 500 Wahhabi zealots attacked the Grand Mosque in Mecca itself on November 20, 1979. Otaybi, was part of a Salafi group called Al-Jamaa Al-Salafiya Al-Muhtasiba (The Salafi Group That Commands Right and Forbids Wrong). The Salafi group was headed by the Islamic University's president, Abd al-Aziz ibn Baz . He was a Saudi Arabian Islamic scholar and a leading proponent of theSalafi form of Islam. He was the Grand Mufti of Saudi Arabia from 1993 until his death in 1999. His "immense religious erudition and his reputation for intransigence" gave him such prestige among the pious population of Saudi Arabia, that his fatwas endorsing government policy greatly strengthened the Saudi Arabian government,endorsement of In Defense of Muslim Lands, principally written by Osama bin Laden's hero Abdullah Azzam, was a powerful influence in the successful call for jihad against nation states that harmed Muslims or attacked Muslim lands. Source
The seizure of Islam's holiest site, the taking of hostages from among the worshipers, and the deaths of hundreds of militants, security forces and hostages caught in crossfire in the ensuing battles for control of the site, all shocked the Islamic world. The siege ended two weeks after the takeover began and the mosque was cleared. Following the attack, the Saudi state implemented a stricter enforcement of Islamic code and tried to protect their throne by a deal with the Wahhabi fanatics that they leave the monarchy alone if the Monarchy fund their global Wahhabization of the Ummah.
That event so scared the monarchy (then led by Khalid bin Abdulaziz Al Saud) that they have pandered to the Wahhabi Salafi extremists ever since and allowed them and their Saudi funded extremist mosques free reign so long as they operated far away from the KSA in the hope that they would leave the monarchy alone.
"Saudi rulers, terrified by what Uteybi represented, essentially gave in to his demands that the country's drift toward liberalization be reversed. Women were taken off television, theaters were closed, and huge amounts of cash were disbursed to the country's most xenophobic, reactionary preachers and teachers. Therein lie the roots of the terrorism that arose from Saudi Arabia two decades later and brought down the twin towers of the World Trade Center."
When you realize that in the Wahhabi Salafi mindset:
people who talk to members of the opposite sex outside marriage should be killed or
girls be allowed to burn to death in a school fire because firemen were barred from entering because the girls were not veiled and
a man can be lashed almost to death for tweeting that that Muslims, Jews, Christians, and atheists are all equal,'
you appreciate that support by the rich and powerful in KSA for ISIS and Al Qaeda utopia of enforcing puritanical Islam globally is an easy step to take.
There are many Saudi's (the last King among them) who have tried to bring this important ally of the US out of certain backwardness and intolerance in it's society, however the Saudi State must free itself from the extremist Wahhabi clerics who condone terror either directly or indirectly by propounding a false narrative about the West if it is to be a true ally and peacemaker in the Middle East and also free itself from the inevitable clash with the Wahhabi Salafi Takfiri Jihadi ISIS frankenstein they helped create.
"Whether or not Saudi Arabia did indeed willingly partake in the creation of IS, it is evident that it contributed to its inception by entertaining the idea of a reactionary Sunni Islam. (Whilst) it did not intend for IS to become the monster we all have learned to fear, IS's very inspiration, its quest for the establishment of an all-mighty Islamic State over the nations of the world stems back from Wahhabi Islam's core ideology. Both share the same hatred for Shia Islam, Iran and all faith denominations that do not fall within the realm of Sunni Islam…. While Saudi Arabia plays catch up with the very elements its religious school of thought gave birth to, trying to control the plague it realises it helped unleash on to the world, many wonder if it is not the son rather who will strike down his father, so mighty his reach has become." Catherine Shakdam
We in the West must insulate our Muslim populations from this extremism and use all our diplomatic and economic efforts to assist the Saudi's to break free of the terminal Wahhabi Takfiri embrace for their sake and for ours.
Role of Pak-Military in Combating Terrorism: Post-2017 Analysis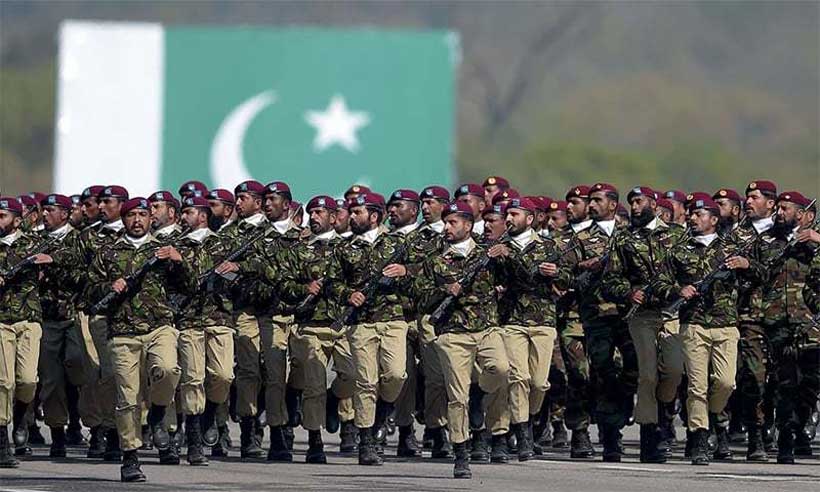 Over the past 20 years, Pakistan has continued to be a target of terrorism. It has endured a great deal of hardship as a frontline nation in the fight against terrorism being led by the United States. In the past 20 years, the bloodstained war against terrorism has claimed thousands of lives, including both civilians and security force members. Pakistan adopted a comprehensive plan and carried various operations to eradicate terrorism from its territory. The importance of Pakistan's military cannot be overstated, especially given how successful that country has been in the last five years in combating terrorism.
In reaction to an increase in "terrorist attacks," The Pakistani government declared a nationwide military operation with the codename Radd-Ul-Fasaad on February 22, 2017. This operation was not restricted to one area, but had been carried out across whole Pakistan and succeeded in driving out terrorist elements from Lahore, Sehwan Sharif, Khyber Pakhtunkhwa, and the former FATA. The operation included the involvement of Pakistan's air force, Pakistan's navy, Pakistan's police and other civil armed forces however, the Rangers performed special tasks 'to operate in Lahore and different parts in the province of Punjab.
Similar to this, the Pakistani army began Operation Khyber-IV in July 2017 to purge the Rajgal Valley of militants in the Khyber tribal district. The primary objective of Khyber-IV was to eliminate the threat of IS in the tribal district of Khyber Pakhtunkhwa. the declared the Operation was concluded On August 21, 2017.
According to sources (PIPS), systematically compile data on militant and anti-state violence in Pakistan claim that 2018 saw an improvement in the overall security situation compared to previous years. The total number of raids and operations carried out against militants in 2018 were 31 as compared to 2017 i.e. 75. In addition to these operational assaults, security forces and militants engaged in 22 armed confrontations in 2018. This represents a 68% drop from 2017 levels.
In accordance with data from the Global Terrorism Index, terrorist attacks have decreased in Pakistan since 2018. The total number of terrorist incidents decreased from 369 in 2018 to 279 in 2019. While the number of terrorist deaths in Pakistan I.e.300, reached its lowest annual total since 2006.
The nature of the violence in 2018 was diverse the figure below presents a breakdown of the nature of violent incidents and the number of casualties' recorded in 2018:
Source: PIPS, Pakistan Security Report 2018, 6 January 2019, p. 20
In comparison to 2018, the security situation was even better in the first half of 2019. Numerous counterterrorism operations captured several top commanders from various militant organisations, including the Tehrik-e Taliban Pakistan (TTP) and the Islamic State Khorasan Province (ISKP). According to the data, the security forces engaged in 23 operations against militants in the first seven months of 2019. In addition to these operational assaults, security forces and militants engaged in 15 armed encounters.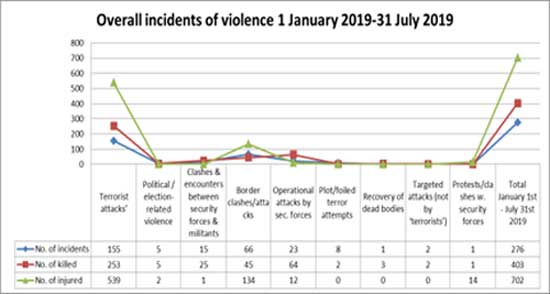 Source: 2019-EASO-Pakistan-Security-Situation-Report.pdf
There were 276 total violent incidents in the first seven months of 2019. As a result, 403 people died and 702 were hurt. A breakdown of the types of violent incidents and the number of fatalities reported in 2019 can be seen in the figure above.
In 2019, the Pakistani government also contributed positively to the US-Taliban negotiations. Moreover, the National Counter Terrorism Authority (NACTA) and the United Nations Office on Drugs and Crime (UNODC) collaborated to develop Pakistan's Action to Counter Terrorism (PACT) with a specific focus on Sindh in order to equip the criminal justice systems with the tools necessary to prevent and combat terrorism in a proactive manner. The goal of PACT Sindh is to improve the capabilities and coordination processes of national and local counterterrorism and criminal justice institutions. PACT Sindh's primary goal is to enhance the criminal justice system's investigation, prosecution, and adjudication procedures. By working with other departments, it will increase the ability of the police, prosecutors, and judiciary. These counter terrorism efforts of the security forces and especially Pakistan Army are significant indeed, considering the ratio that Pakistan faced in the last two decades.
Terrorism intensifying across Africa, exploiting instability and conflict
The growth of terrorism is a major threat to international peace and security, currently felt most keenly in Africa, the deputy UN chief told the Security Council on Thursday. "Terrorists and violent extremists including Da'esh, Al-Qaida and their affiliates have exploited instability and conflict to increase their activities and intensify attacks across the continent", Amina Mohammed said on behalf of Secretary-General António Guterres.
"Their senseless, terror-fuelled violence has killed and wounded thousands and many more continue to suffer from the broader impact of terrorism on their lives and livelihoods".
Spreading terror
With misogyny at the core of many terrorist groups' ideology, women and girls in particular, are bearing the brunt of insecurity and inequality.
And over the last two years, some of the most violent affiliates of Da'esh have expanded, increasing their presence in Mali, Burkina Faso and Niger as well as southward into the Gulf of Guinea.
"Terrorist and violent extremist groups aggravate instability and human suffering. And they can plunge a country emerging from war back into the depths of conflict", reminded the senior UN official.
Threatening States
Meanwhile, terrorists, non-State armed groups and criminal networks often pursue different agendas and strategies, fuelled by smuggling, human trafficking and other methods of illicit financing – sometimes impersonating legitimate armed forces.
And as digital tools spread hate and disinformation, terrorists and other criminal groups are exploiting inter-communal tensions and food insecurity triggered by climate change.
Globalization of terrorism
In today's hyper-connected world, Ms. Mohammed remined that the spread of terrorism in Africa is "not a concern for African Member States alone".
"The challenge belongs to us all. Countering international terrorism requires effective multilateral responses", she flagged.
From the climate emergency to armed conflict and poverty and inequality to lawless cyberspace, and the uneven recovery from COVID-19, she also pointed out that terrorism is converging with other threats.
For a holistic, comprehensive approach, the deputy UN chief cited the New Agenda for Peace – part of the Our Common Agenda report.
Amidst increasing polarization, she maintained that it proposes ways to address risks and revitalize our collective peace and security system.
Pushing back on terror
Outlining five suggestions to advance counter-terrorism efforts in Africa, Ms. Mohammed reminded that "prevention remains our best response".
"We must address the instability and conflict that can lead to terrorism in the first place, as well as the conditions exploited by terrorists in pursuit of their agendas".
Secondly, she called for community-based, gender-sensitive "whole-of-society" approaches.
Noting "complex links between terrorism, patriarchy and gender-based violence", she said counter-terrorism policies needed to be "strengthened by the meaningful participation and leadership of women and girls".
She underscored in her third point that "countering terrorism can never be an excuse for violating human rights or international law" as it would "only set us back".
Fourth, she stressed to importance of regional organisations which can address challenges posed by terrorist and violent extremist groups in the local context.
Finally, Ms. Mohamed called for "sustained and predictable funding" to prevent and counter terrorism.
From economic deprivation to organized crime and governance challenges, "the magnitude of the problem calls for bold investment", she told ambassadors.
In closing, the Deputy Secretary-General welcomed the planned October 2023 Summit on counterterrorism in Africa as an opportunity to consider ways to strengthen the UN's efforts across the continent overall.
She expressed confidence that today's debate would offer insights for the summit, and "help to build peaceful, stable communities and societies across the continent".
Restoring authority: Ghanaian President
Chairing the meeting with his country assuming the presidency of the Council for November, Ghanaian President Nana Addo Dankwa Akufo-Addo, attested to the importance of restoring effective State authority and promoting inclusive governance across the continent. He also urged the Council to support AU-led counter-terror operations, including with predictable funding.
African Union (AU) Commission Chair, Moussa Faki Mahamat, drew attention in his briefing, to the daily physical and psychological damage caused by terrorism and reminded that conventional responses and old models are no longer relevant to counter evolving threats on the ground.
And as terrorism extends to new parts of the continent, Benedikta von Seherr-Thoss, Managing Director for Common Security and Defence Policy and Crisis Response with the European Union's diplomatic wing (European External Action Service) noted the need for security support while underscoring the role of sustainable development for nourishing peace.
Comfort Ero, President and CEO of the International Crisis Group, also briefed the Council, and maintained that technical and military solutions would not end terrorist threats on their own, calling for a new counter-terror toolkit that includes more dialogue with armed groups and can promote local ceasefire arrangements.
Crime and terrorism thriving again in Afghanistan amid economic ruin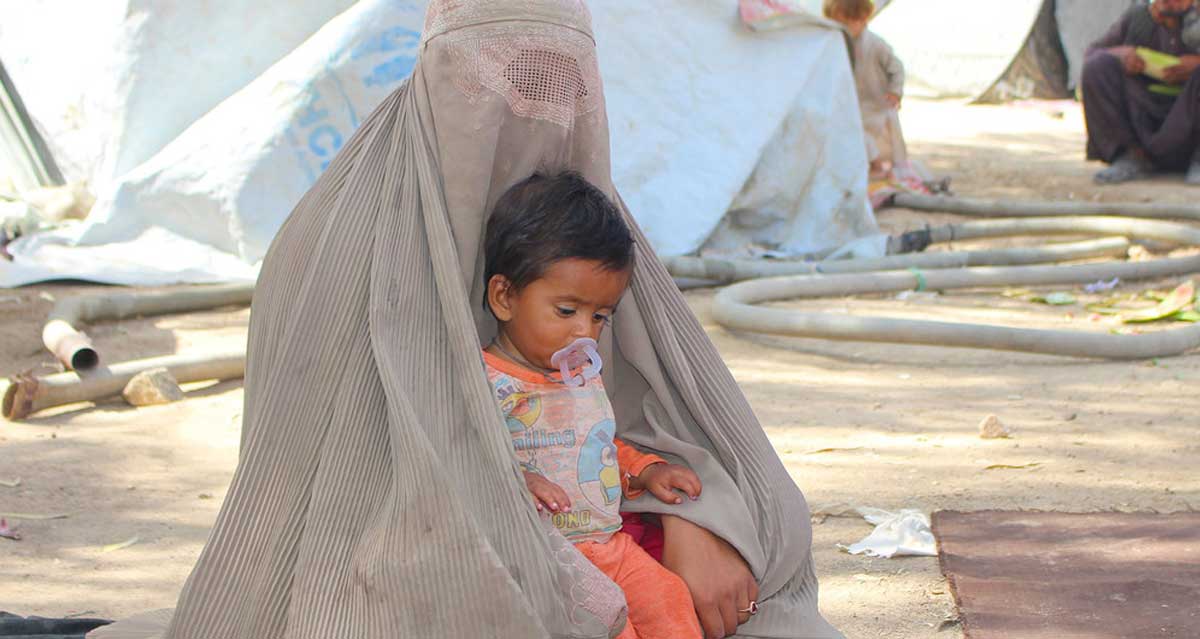 Two-thirds of Afghans are going hungry, with girls' education subject to "random edicts" of the Taliban, while crime and terrorism are thriving once more buoyed by a large spike in opium production, warned the President of the UN General Assembly on Thursday.
Csaba Kőrösi painted a near apocalyptic picture of ordinary life in the Taliban-ruled nation that has endured almost five decades of "relentless conflict", urging the international community to make up the $2.3 billion shortfall in the UN humanitarian appeal for $4.4 billion.
'Moral imperative'
In a powerful speech to ambassadors in New York, during a full session of the UN's most representative body, he said that there was "a moral and also a practical imperative for the international community to support an inclusive and sustainable peace in Afghanistan."
The resolution expressed deep concern over Afghanistan's current trajectory and the volatility there since the Taliban takeover.
It urges Afghanistan to honour and fully respect and implement all treaties, covenants or conventions, bilateral or multilateral, which is has signed up to.
Drugs and terror
Beyond the disastrous humanitarian and human rights situation, he said the country was now "awash with heroin and opium."
"Organized crime and terrorist organizations are thriving once again. Afghanistan is facing complex and interlinked challenges that the Taliban have shown they cannot – or would not – solve."
Now is the time to come up with some concrete solutions that put the Afghan people first, he said, suggesting one concrete way the General Assembly could help right away:
"I encourage the country's reengagement with the international science community. And to allow women who used to be respected members of the country's science community, to resume their research and their studies.
Alone in denial
Afghanistan is now the only State in the world, denying girls the right to a full education, he added, noting that their prospects are totally uncertain, "amid seemingly random edicts from the Taliban."
For even the most powerful women in the country, "dreams of becoming President have been replaced by the reality of child marriage. Arrests if women and girls leave their home without a male chaperone.
Protect all Afghans
"I reiterate my call for the protection of fundamental rights and freedoms of all Afghans, especially women and girls."
Mr. Kőrösi urged the Taliban to ensure the safety of all Afghans – regardless of gender, ethnicity, religion or politics – protection for journalists and civil society members, and the unhindered delivery of aid.
Amid the economic meltdown, he pointed out the shocking fact that narcotics constitute the biggest sector in the country, with the UN Office on Drugs and Crime, revealing a 32 per cent growth in illegal opium cultivation.
"We know where these drugs are sent. And we know who profits from these drugs. The threat from drug trafficking is linked with the threat of terrorism, regional and global security."
Get serious
He said Taliban leaders needed to engage in serious dialogue about counter-terrorism to reverse the flow of foreign extremists into the country – and prevent their own from becoming foreign terrorist fighters elsewhere.
"Afghanistan must never again become a breeding ground and safe haven for terrorists. I call on the Taliban, other Afghans and members of the international community to cooperate with the Special Representative (for UN Assistance Mission, UNAMA) as she implements the Mission's mandate.
After debating the resolution, it was adopted by the General Assembly with 116 votes for, and 10 abstentions – Belarus, Burundi, China, the Democratic People's Republic of Korea, Ethiopia, Guinea, Nicaragua, Pakistan, Russia and Zimbabwe.