The March of Huntington's Martyrs: What the REAL Clash of Civilizations Is
As people the world over shout out in unison their unwavering support and sympathy for the victims across Paris, we are remiss to not connect and unify the similar atrocities that occurred just before and just after France in Lebanon and Kenya.
This is not an insipid American liberal diatribe, trying to shame people for caring about the 'white Western' victims while barely paying attention to the 'less white Middle East' victims and even 'lesser white African' victims. That type of limited and mind-numbingly ignorant categorizing needs to stop in what is truly a civilizational battle for the soul of the globe. Make no mistake: all of these victims that crossed the spectrum geographically, religiously, racially, ethnically are forming an ever-lengthening line. And it is a line that should only be considered the march of Huntington's martyrs.
Samuel Huntington, with his seminal and polarizing musings on 'the Clash of Civilizations,' was both prophetically right and disturbingly wrong. Indeed, his thesis basically engineered an entire generation of academics dedicated solely to either making him a deity or decrying him a demon. The ironic thing is he was neither: his work simply pointed in a direction for future conflict that would often prove true while also making major errors in just how the shape and scope of that actual conflict would emerge. What we have today is not 'civilizational' conflict as Huntington described where Islamic civilization is trying to destroy Western civilization. That is an unsubtle and inaccurate characterization. The people and their worldviews behind the disgusting and pathetic acts in France, Lebanon, and Kenya are not fighting 'Western civilization' or 'Western citizens.' What these attacks represent is a brazen attempt to undo the civilization we should all be calling ENLIGHTENED MODERNITY.
It is this civilization that has swept across the world, across almost all countries, been infused within almost all people, and represents the simple desire to live openly and peacefully and successfully, where people offer no interference to others pursuing the same while expecting no interference in their own similar pursuits. It does not matter from where this civilization's ethos first emerged: every country and culture has largely adopted and adapted it to its own colorings and style. It is truly a global endeavor now. Enlightened Modernity is the civilization that was in the music theatre in Paris, the hospital in Beirut, and the university in Garissa. It is now a civilizational ethic that unifies all people regardless of location, upbringing, color, or creed: it is the desire to make oneself better while living without fear of unjust atrocity and expecting protection from baseless violence.
Standing against this civilization, engaged in a nihilistic battle of annihilation with it, is what I simply call the ZEALOT ETHIC. It is this civilization that offers no room for negotiation, no space for peaceful coexistence, and breeds an orgiastic passion to destroy anything that does not conform. It is the world of the zealot that ran through the streets of Paris, Beirut, Garissa, and many other places we have either forgotten about or never even bothered to make note of, with guns and home-made explosive devices aimed to do one very elementary thing: destroy enlightenment and modernity and wash the world in the fear of zealous outrage, blind ignorance, and violent judgment. It is this battle that must be waged holistically. The old battle lines of traditional warfare must be erased: the ones that make states and cultures and religions and peoples try to fight the battle individually, on their own, left to their own devices and methods, when only a truly unified and global bombardment can succeed.
Indeed, the members of the ZEALOT ETHIC have capitalized on our own prideful ignorance now for decades. Historically, it has always been the 'high culture,' the colonizers and imperialists, who deftly employed a divide-and-conquer strategy to maintain leverage and sow discord wherever they wanted advantage. What we have failed to realize is how the Enlightened Modern World has fed directly into this mistake against the Zealots. The Christians do not fight this war together with the Muslims, Buddhists, and Hindus. The Americans do not fight these battles together with the Russians or the Chinese. Everyone earnestly pledges sympathy and unity in the face of atrocity after atrocity while simultaneously refusing to put aside old grudges (even temporarily) to tackle the greater enemy and threat. This stubborn arrogance to go it alone benefits only the zealots, who have far softer targets for killing, far lower thresholds for success, and far easier standards for declaring victory. Back in the 1990s, when Russia was neck-deep in repulsing a religious jihad waged by Chechen mujahideen, one Russian general was famously attributed as saying, 'how do you deter an enemy when he can stare straight down the barrel of your gun and see only Paradise?' This is the single basic reality of zealots that enlightened moderns often confuse or are simply too uncomfortable to admit: this battle cannot be for conversion or epiphany or deterrence. It is to the death simply because one side wants it that way.
This should be reminiscent to all of the painstaking effort George W. Bush made time and time again after 9/11, telling everyone that the Global War on Terror was NOT a war against Muslims or a war against Islam. Many people in America took that to be simply a necessary nod to diplomatic political correctness, while others found the remark accurate and inspiring. Bush was adamant, in a non-deferential rejection of Huntington, that America was NOT fighting a war against Islamic civilization. The problem, of course, was that Osama bin Laden was on the other side of the world preaching the exact opposite. For him and his followers, that is exactly what they were engaged in and exactly what they were trying to craft: a millenarian struggle to bring the apocalypse about which they rapturously fantasize. Unfortunately, just like love, war does not need consensus: if one side is saying it is a battle for civilization, then it is, plain and simple. You need two people to be in love, but only one to fall out of it. You need two people to sustain meaningful and lasting peace, but only one person to utterly destroy it. The mistake we have made for nearly two decades now is that we have ignorantly drawn up civilizational lines based on geography, political ideology, state/religious boundaries, even economic strategies. These lines have allowed us to divide ourselves into ever smaller camps, making the undersides of our societies ever easier and more susceptible to bloodshed and horror. In this battle it has never been the West against the Rest. It has never been white against color. It has never been the Global North against the Global South. It has ALWAYS been the Moderns against the Zealots. Until the world embraces this reality and begins to smash its own self-imposed boundaries of nationalism, statehood, religion, ethnicity, and geography, it will constantly be putting itself in a limited and exposed position against this enemy. And scenes like the ones played out in France, Lebanon, and Kenya will continue.
This is a hard thing to come to terms with, a deeply sorrowful conclusion to make for a Modern. Enlightened Modernity has always prided itself on being a belief system and a worldview that can literally embrace all people and all regions. It was with the sincerest of good-intentions that it believed the only thing necessary was honest and transparent exposure to its ideals and the intense shining light of rational freedom would carry the day. For the most part, and this is important, it is true: the civilization of Enlightened Modernity can be found in almost every country and most certainly within the majority of every people. But it is in the desire to see TOTAL acceptance, to see the absence of any exceptions to that acceptance, which has pushed Moderns from the path of reality. The Zealots of this world were never going to be converted. They will never achieve the epiphany for which Enlightened Moderns hope. And because of the very nature of zealotry, deterrence of such a group is not possible. This simple lesson in logic is what the world needs to remember now more than ever. While this fight is civilizational we must finally recognize what the civilization actually is that we are fighting and what options are, and are not, available for the fight. In the end, one bitter but eternal fact must be accepted: you cannot grant life to an enemy that only wants death.
Western strategic mistake in the Middle East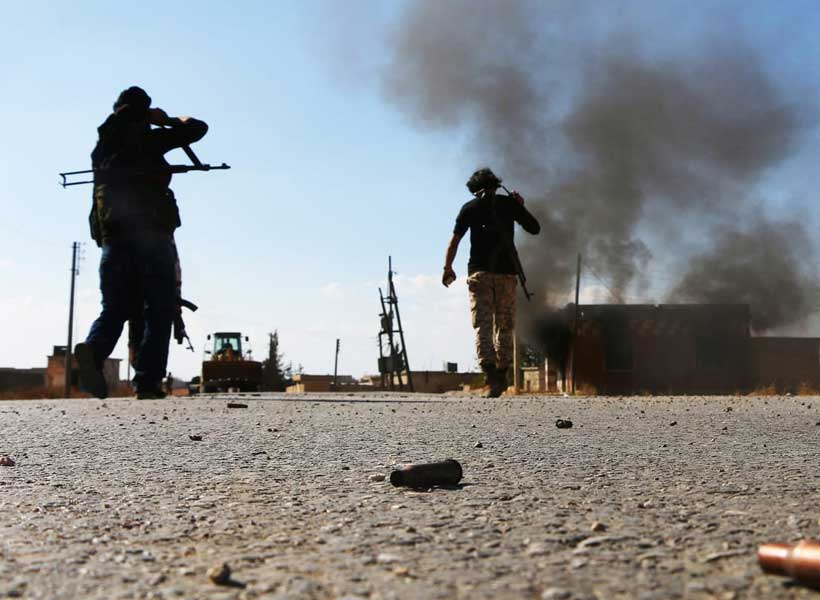 The widespread terrorist acts and catastrophic events of 2016 in Europe have revealed new approaches to extremist and radical groups to create fears among Westerners.
The investigation of the destructive actions of two past years has shown that such terrorist operations were based on networked and coordinated approaches. That is, the terrorist cells carried out their destructive actions based on a timetable group plan. In such circumstances, it is possible to observe such behaviors, given the familiarity of security guards and intelligence agencies in Europe, but it is difficult to change the approaches to monitoring such actions in the two past year. Instead of taking collective action, terrorists use the means of mass destructive actions in their new ways. In such a situation, a person kills public places instead of communicating with the supporters or members of terrorist currents such as ISIL with the aim of shedding people's blood. Events like the French Nazi Crusade, or the accumulation of people in Germany, have been blamed for such an approach. Naturally, the use of such methods and the use of public transport vehicles, or even sticks and gadgets, has provided security and intelligence agencies with a great deal of difficulty in detecting criminal agents.
Evidence suggests that in the new approaches of the ISIL, they are seeking to use any means to achieve their goals, and it is natural that in these circumstances the concept of security in Europe has a change undergone. From another perspective, the use of such practices shows that the Isis are seeking to use any means to demonstrate their power and, along with this issue, to supporters and groups that want to recruit and join terrorist groups. They order that they do not necessarily have to endure the journey to accompany them, but that pro-active agents can arrange their subversive moves at the same location. The facts indicate that the only wolves used for ISIS terrorist groups are the instigation of this issue to Westerners, which, despite the efforts of some countries to eliminate ISIS's fears, and fears of Europeans from recurring events the terrorists will not end.
ISILs are always trying to organize people from the corners of the world for terrorist acts; those who are known for wolves only because of the nature of isolation and psychological frustration. That is why, with many beliefs, this group is now considered to be the most dangerous terrorist organization. In the current situation, although the possibility of reversing and defeating ISIL in the region and eliminating the danger of the formation of the Islamic Emirate of Iraq and the Shamal seems probable, it is important to understand that different groups, including ISIS and other organized terrorist groups, are based on ideological. It seems that in such a case, the disintegration of the organization will not eliminate ISIL's thoughts, but those who have such intellectual foundations will underground forms of state-controlled current state of affairs. Continue their terrorist operations.
While the West's false policy on dual use of terrorism against the developments in the region, especially in Iraq, Yemen, Syria and Libya, is a major contributor to terrorism, the immigration of citizens from different countries, including Europe to Syria and the return of Western terrorists to Europe. Today, more than any other country in Europe is the target of ISIS attacks in Europe, which in the developments in Syria, we saw that the country adopted the strongest positions in support of irresponsible armed groups and some terrorist groups.
We are now witnessing an unholy unity among apparently secular currents claiming liberty with radical Fascist currents and their consensus over the limitation of Islamic groups and the suppression of Muslims. In fact, now, the West is not only captured by ISIS terrorist incidents, but is also threatened by extremist rightwing people who have received a high vote in some elections because of Islamophobia. The same groups that have tackled the asylum seekers have been slogans for victorious dynasties.
On the one hand, non-Muslims who carry out acts of terrorism on the basis of personal or even religious beliefs carry out terrorist acts, the westerners regard the disciples, but at the same time, any Muslim who subjugates propaganda acts based on non-Islamic and non-religious ideas of the Islamic State is a circle Muslims consider his actions taken from Quranic teachings.
Along with this, it should be noted that the West is fully aware of Saudi Arabia's role in current supporting terrorist. The evidence clearly shows the country's financial and spiritual backing of the jihadist Salafi in 2001 and Takfiri Salafi since 2011, and the US Senate's 28-page report contends. However, an attempt by Western countries to pressure Saudi Arabia or change it's political, military, and economic relations with the country does not take place.
At the beginning of the formation of ISIS, the West had the hope that with the issuance of radical Islamists to Syria and Iraq and the emergence of conflicts among Islamic countries, the Takfiris' duty would be completely determined, and the countries of the region would be involved in tribal conflicts. The formation of such a subjectivity in the West, of course, was due to the fact that the insecurity of the region would provide a platform for Islamism and their more active presence in the Middle East and West Asia, but we saw that prostitutes of the chickens return to the nest in Europe, and that the boomerang ISIS sat back in the heart of Europe.
Of course, not all terrorist attacks in Europe can be attributed to the organization of ISIS, and it seems that the basic premise of terrorists is based mainly on the basis of their thinking and reasons, such as family and mental problems, on subversive acts. ISIS, however, uses all its media capabilities to take advantage of these actions, and it has tried to magnify its operational capability by assigning individuals who have sometimes died as a result of terrorist acts and suicide attacks.
On the other hand, terrorism should be viewed as a global issue, and at the same time it should be emphasized that foreign policy of some countries and their interference in the affairs of other countries is one of the factors of the emergence and spread of terrorism. These countries must rethink their policies in order to provide a ground for the elimination of terrorism.
UN launches new framework to strengthen fight against terrorism
United Nations Secretary-General António Guterres launched a new Organization-wide framework on Thursday to coordinate efforts across the peace and security, humanitarian, human rights and sustainable development sectors.
Termed the UN Global Counter-Terrorism Coordination Compact, the framework is an agreement between the UN chief, 36 Organizational entities, the International Criminal Police Organization (INTERPOL) and the World Customs Organization, to better serve the needs of Member States when it comes to tackling the scourge of international terrorism.
Speaking at the first meeting of the Compact's Coordination Committee, at the UN Headquarters, in New York, Mr. Guterres highlighted the need to ensure full respect for international human rights standards and rule of law in countering terrorism.
"Policies that limit human rights only end up alienating the very communities they aim to protect and which normally have every interest in fighting extremism," he said, adding that as a result "such policies can effectively drive people into the hands of terrorists and undermine our efforts on prevention."
He also urged greater vigilance against the misuse of emerging technologies such as artificial intelligence, drones and 3D (three-dimensional) printing, as well as against the use of hate-speech and distortion of religious beliefs by extremist and terrorist groups.
According to the UN Office of Counter-Terrorism, the Coordination Committee will oversee the implementation of the Compact and monitor its implementation. It is chaired by UN Under-Secretary-General for counter-terrorism, Vladimir Voronkov.
At its meeting, the Coordination Committee also discussed strategic priorities for the next two years, based on the sixth review of the Global Counter-Terrorism Strategy, relevant Security Council resolutions and UN Counter-Terrorism Executive Directorate (CTED) assessments as well as Member States requests for technical help.
It also looked into the organization of work and ways to improve the delivery of an "All-of-UN" capacity-building support to Member States.
The UN Global Counter-Terrorism Coordination Compact Task Force will replace the Counter-Terrorism Implementation Task Force, which was established in 2005 to strengthen UN system-wide coordination and coherence of counter-terrorism efforts.
ISIL's 'legacy of terror' in Iraq: UN verifies over 200 mass graves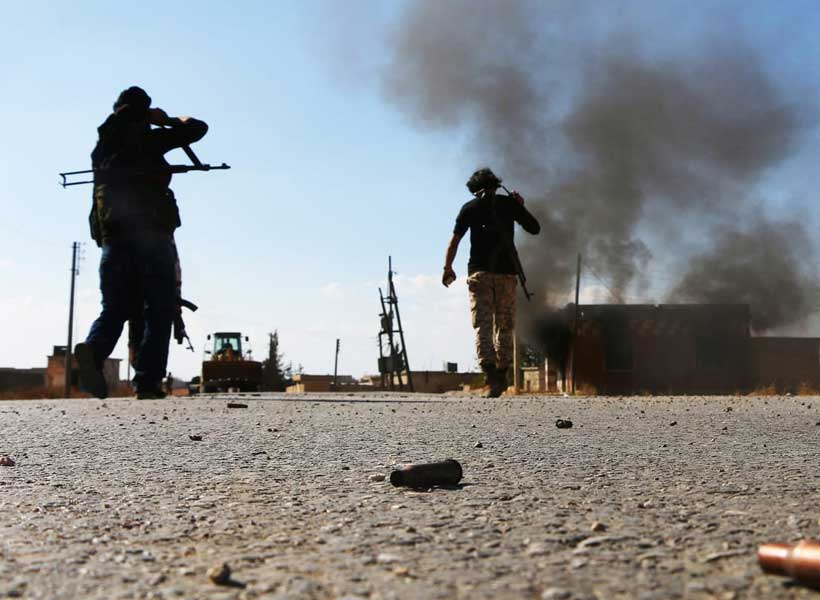 Investigators have uncovered more than 200 mass graves containing thousands of bodies in areas of Iraq formerly controlled by the Islamic State of Iraq and the Levant (ISIL/Da'esh), according to a United Nations human rights report out on Tuesday.
The Office of the UN High Commissioner for Human Rights (OHCHR) and the UN Assistance Mission in Iraq (UNAMI) said the 202 mass grave sites were found in governorates of Nineveh, Kirkuk, Salahuddin and Anbar in the north and western parts of the country – but there may be many more.
In the joint report, Unearthing Atrocities, the UN entities said the evidence gathered from the sites "will be central to ensuring credible investigations, prosecutions and convictions" in accordance with international due process standards.
Ján Kubiš, the top UN official in Iraq and the head of UNAMI, said that the mass grave sites "are a testament to harrowing human loss, profound suffering and shocking cruelty."
"Determining the circumstances surrounding the significant loss of life will be an important step in the mourning process for families and their journey to secure their rights to truth and justice," he added.
Between June 2014 and December 2017, ISIL seized large areas of Iraq, leading a campaign of widespread and systematic violations of international human rights and humanitarian law, "acts that may amount to war crimes, crimes against humanity, and possible genocide," the report states.
Traumatized families have the 'right to know'
The UNAMI-OHCHR report also documents the "significant challenges" families of the missing face in trying to find the fate of their loved ones.
At present, they must report to more than five separate authorities, a process that is both time-consuming and frustrating for traumatized families.
Michelle Bachelet, the UN High Commissioner for Human Rights, underscored that the families "have the right to know."
"ISIL's horrific crimes in Iraq have left the headlines but the trauma of the victims' families endures, with thousands of women, men and children still unaccounted for," she said.
"Their families have the right to know what happened to their loved ones. Truth, justice and reparations are critical to ensuring a full reckoning for the atrocities committed by ISIL."
Victim-centred approach needed
Among its recommendations, the report calls for a victim-centred approach and a transitional justice process that is established in consultation with, and accepted by, Iraqis, particularly those from affected communities.
It also urges a multidisciplinary approach to the recovery operations, with the participation of experienced specialists, including weapons contamination and explosives experts and crime scene investigators.
Alongside, it also calls on the international community to provide resources and technical support to efforts related to the exhumation, collection, transportation, storage and return of human remains to families, as well as their identification, particularly by helping strengthen the national Mass Graves Directorate.