Russia's Caspian Flotilla outflanks the US Military
The past month has seen increasing tensions between Washington and Moscow over the Syria-Assad-DAESH nexus of seemingly perpetual conflict. This tension has not been mitigated by the sometimes-substantive but always-political interventions in the region.
While both the U.S. and Russia increase strategic bombing campaigns and deploy 'special advisors,' neither have revealed anything beyond their strategic commitments. Until October 7th, 2015, that is, when Russia launched 26 Kalibr SS-N-30A cruise missiles from its recently upgraded and largely secret Caspian fleet.
This display of power and capacity is not a windfall moment that tilts the scales dramatically in Russia's advantage. I say this only to offer caution as new or emerging military technology and capabilities often go hand in hand with exaggeration. It is, however, a significant moment for Great Power Politics in the region. The Caspian launch was no mere theatre act and will have implications far beyond military tactics.
The first point to deconstruct is the now obvious gap between Russia's actual capabilities and the American understanding or appreciation of those capabilities. Most of Russia's naval assets in the Caspian are vessels under 1,000 tons. These have been often described as 'patrol craft' or 'local craft' in U.S. military circles. Without meaning any disrespect to the U.S. armed services – this is Navy-speak for this is only the Russian coast guard and therefore not a serious capability. This assertion has now been handily debunked, as Russia's Caspian fleet has quickly proven to be capable of advanced naval operations that extend over 1,500km beyond the Caspian Sea.
Russia did not use its forward-deployed aircraft to conduct this round of bombing. The targets of the Caspian strike (which were reported to be in the areas around Aleppo), could have been more cost-effectively struck with Russian aerial assets already deployed and active in the conflict. Why then was the more difficult road taken? In a word – style. This strike was meant to send a message – not to DEASH, not to Syrian opposition forces, but to the United States. Bryan Clark, who is a senior fellow with the Center for Strategic and Budgetary Analysis, commented that "the Navy should feel embarrassed that they let this happen." We should be reminded that war has many inputs, some of which are unquantifiable. While this maneuver was cavalier and technically unnecessary, morale on Russia's southern front is at an all-time high as this display revealed not only a sense of parity in military might on the world stage, but in some ways a competitive advantage.
The geographic and organizational challenges which Russia overcame are also significant. It is not just technology and military will that sends a missile 1,500km across three countries – but military coordination and regional strategic cooperation are also required. The 26 missiles were not launched in a vacuum, but amidst ongoing conflict, aerial bombardment, and Russian/Syrian ground combat operations. The Caspian naval strike, therefore, is not just a testament to Russia's naval modernization project, but to the nation's ability to conduct complicated combined-arms operations and to organize these efforts in an international theatre. The past month, if taken as a snapshot in time, should not be held up singularly as evidence of a Russian military that matches U.S. capabilities – let alone as an event signifying a return to Cold War conditions. Nevertheless, the relative change in power dynamics and military capacity between Russia and the US, particularly in the conflict in Syria, is significant. It is this point, that of a relative change in local power, where U.S. political rhetoric can be more fully understood. While Washington increases pressure on Moscow over whom the aerial and naval strikes are targeting (e.g. the fact-fencing over whether Russia is targeting DAESH or simply Assad's direct enemies), I find it difficult to believe that the U.S. is singularly concerned over the general ethics of Russia's engagement. It is here where I agree with Bryan Clark, that the US military is embarrassed that they allowed, and were unprepared, for Russia's quick rise to local superiority in the Syrian arena.
In the past two weeks alone the U.S. Senate and House Armed Services Committees have held several hearings related to the intent, readiness, and capacity of the U.S. military – all with a heavy focus on naval positioning and operations. The primary take-away from these hearings, given both Russian and Chinese modernization and regional operationalizing, is that America is statistically ahead but contextually behind. A related take-away is that the U.S. has a surplus of words and a deficit of actions. One highlight came from Defense Secretary Carter when he said, speaking on U.S. naval strategy, that we will go anywhere international law permits. While it may strike many observers as bemusedly ironic that the U.S. is both hinging and invoking international law as the basis of its strategic parameters, this statement points to an emerging theme – when it comes to the geostrategic hot spots, the U.S. chooses words while rivals choose actions.
Foreign policy is supposed to drive military innovation and evolution. However, sometimes that gets inverted and military innovation drives foreign policy (e.g. we do because we can). The past two decades, due to U.S. military hegemony, American foreign policy had no real competitor. Consequently, the U.S. shaped its military predicated upon pax Americana, which created a foreign policy that encompassed everything. To put another way, today America can't geostrategically see the world's trees for its own forest.
Meanwhile, U.S. competitors have crafted a more limited and tailored foreign policy, one that both advances its military capabilities in a more focused fashion and one that is flexible enough to adapt to military innovation. Russia's Caspian flotilla is an example of this – regionally designed and strategically relevant. I expect that this will not be the last innovation-led foreign policy design the U.S. bears witness to in the coming years. The U.S., both politically and militarily, will have to grapple with the fact that victory is neither granted nor guaranteed based on hegemony and that statistically ahead but contextually behind needs to be a moniker it quickly sheds, both in Washington and on the battlefield.
The Battle for the Indian Ocean and Island States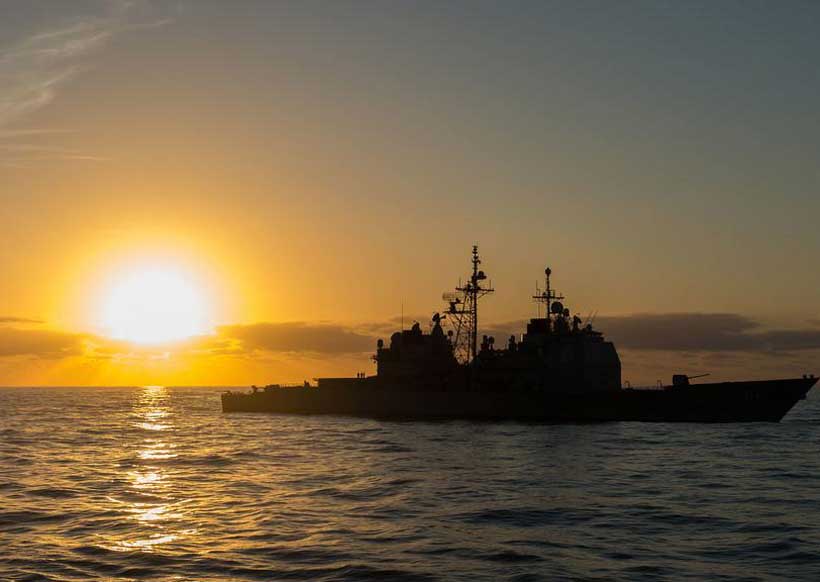 Russia has taken an increasing interest in strengthening consistently its diplomacy with small island States especially Cape Verde, Mauritius, Maldives and Seychelles. Late December, the Kremlin appointed Deputy Director Artem Kozhin at the Foreign Ministry as the new ambassador to the island of Seychelles, signaling the strategic importance it attaches to this island state of Seychelles with an estimated population of 85 thousand, located in the Indian Ocean, northeast of Madagascar and east of Kenya.
Former Russian ambassador to Seychelles, Alexander Vladimirov said the relations between the two countries have been extremely cordial since the two countries established diplomatic relations following the independence of Seychelles in 1976. Russia and Seychelles have seen remarkable developments between the two countries, including the arrival of many Russian tourists. Russian investors have been investing in the country.
On June 30, 2016, Russia and Seychelles marked their 40th anniversary of the establishment of diplomatic relations between the two countries. Over the years, both have pledged to forge mutual cooperation in many spheres, but little is tangibly visible.
Notwithstanding that little progress, an agreement between the Russian Federation and the Republic of Seychelles waiving visa requirements for short-term trips by citizens of both countries was signed in Victoria, Seychelles, on Sept 2, 2015. Under the agreement, citizens of Russia and Seychelles with a valid passport, including a diplomatic or official passport, are exempted from visa requirements and may enter, stay or transit the territory of the other state without a visa for a term of up to 30 days.
As expected, both countries have exchanged official visits and held meetings at different times. During one of such meetings, Russian Foreign Minister, Sergey Lavrov, underscored the mutual interest in and readiness for the development of a joint plan for partnership, including transport and energy between Russia and Seychelles, and that would include the Southern African Development Community.
As far back as March 2015, on the topic that appeared that Russia planned to open military bases in Seychelles, Vietnam, Nicaragua and Cuba, Lavrov vehemently responded: "It is absolutely wrong. We have no plans to create military or marine bases abroad, but to resolve specific tasks: fighting piracy, pirates have appear in many parts of the world. Our fleet makes long-distance voyages. We agreed with some countries, that our ships use the existing infrastructure for calling into ports for maintenance and small repairs, supplementing food and water reserves, and for recreation of crews."
Seychelles has over the years, suffered from sea piracy. However, the island is a key participant in the fight against Indian Ocean piracy primarily committed by Somali pirates. Former president James Michel said: "The pirates cost a great percentage of the Seychelles GDP, including direct and indirect costs for the loss of boats, fishing, and tourism, and the indirect investment for the maritime security." These are factors affecting local fishing – one of the country's main national resources.
As a support base, the island is currently strategic zone for the United States¸ China and India that are already competing in the Indian Ocean. But Sanusha Naidu, a Senior Research Associate at the Institute for Global Dialogue based in Pretoria, South Africa, thinks that it is very strategic for Russia to strengthen engagements with these island States, especially Seychelles.
"Part of this will enable Moscow to have an important maritime security presence from the Indian Ocean Rim on the East Coast to the Atlantic seaboard on the West Coast. This could offer important sea-lanes for Moscow's economic transactions. But, it also represents crucial footprint to keep up with competitors like China and the United States in terms of geo-political interests," Naidu told Modern Diplomacy.
In July 2019, President Vladimir Putin accepted the credentials of 18 newly appointed foreign envoys, among them was Louis Sylvestre Radegonde (Republic of Seychelles). Putin pointed to the fact that Russia maintains friendly relations with the Republic of Seychelles. It counts on further joint work to expand cooperation including tourism, trade, economic and humanitarian spheres, noting strongly that the tourism sector is the primary industry of that country.
Seychelles is ranked high in terms of economic competitiveness, a friendly investment climate, good governance and a free economy. It has strong and friendly relations with various African and foreign countries. Based on this fact, Professor Dmitry Bondarenko, Deputy Director of the Institute for African Studies, explained to me that "as part of the sustainable efforts by Russia with individual African countries, Russia and Seychelles could cooperate in the priority areas such exploring the seabed for minerals, fishing and seafood processing, aquaculture and marine services (including marine finance and marine biotechnology)."
In an emailed interview for this article, Punsara Amarasinghe, who previously held a research fellowship at Faculty of Law, Higher School of Economics in Moscow and now a PhD Candidate in Law from Scuola Superiore Universitaria Sant'Anna di Pisa in Italy, discusses some aspects of Russia's relations with Seychelles.
The diplomatic relation between Russia and Seychelles does not have a long history compared to the robust relations between Russia and other African states. Nevertheless, in its brief history staring from 1976, Seychelles had made a rapport with the USSR. In particular, USSR ships anchored in Seychelles and Seychelles supported Soviet invasion of Afghanistan. However, Russian influence in Indian Ocean waned in the aftermath of the collapse of the Soviet era and Russia's interest in Seychelles consequently diminished.
Recently, Russia's interest in Indian Ocean and African states have been escalated as a part of its global agenda to restore Russia's role. Especially just a week before the assassination of Iranian General Solemani, Russia participated in a naval exercise along with Iran and China in Indian Ocean proving its interest in the maritime expansion in Indian Ocean.
Amarasinghe wrote in his email: "The indispensable importance of Indian Ocean appears as a key factor for any state interested in power expansion. It was not an exaggeration that Robert Kaplan vociferously exclaimed that one who controls Indian Ocean, will control the geo-political center of the world. Currently the only active military base of the US is located in Diego Garcia, 1800Km away from the Seychelles. The geographic position of Seychelles is alluring for Russia's blooming military interests and if Seychelles allows Moscow to initiate a military base in the island, the maritime hegemony upheld by the United States will be undoubtedly challenged."
More importantly, the crucial location of Seychelles parallel to African continent makes it a unique destination as a military base. However, realistically we cannot assume the possibility of seeing a Russian base in Seychelles in near future. Indeed, it is true that Seychelles' main port Victoria was opened for Russian vessels for refueling and other logistical issues. Yet, the same offer was given to many other nations including China and the United States.
On the other hand, Russia's internal economic chaos have significantly hit the military expenditures of the Russian army and it is a fact beyond dispute that the Chinese and the United States military budgets are forged ahead Russian annual military budget. The practical circumstances may not make it an easy task for Russian Federation to build a military base in the Seychelles, even though it has a significant strategic importance, according to Punsara Amarasinghe.
Nevertheless, if Chinese can pursue its fortune in Seychelles, it would be much significant for them as a military access to Indian Ocean and an apt strategic position for maritime Silk road. China has already established a military base in Djibouti and its proximity to the Seychelles will secure Chinese military presence strongly in Indian Ocean challenging the US hegemony. It seems to indicate that rather than thinking of a military base fully controlled by Russia, it is likely to see much of Chinese presence in Indian Ocean, or perhaps, in Seychelles. It will inevitably assist Russian interests too.
Maldives, independent island in the north-central Indian Ocean, while Mauritius is further south, located about 2,000 kilometres off the southeast coast of Africa. Seychelles is ranked high in terms of economic competitiveness, a friendly investment climate, good governance and a free economy. It has strong and friendly relations with various African and foreign countries.
By demographic developments down the years, Seychelles is described as a fusion of peoples and cultures. Seychellois, as the people referred to, are multiracial: blending from African, Asian and European descent creating a modern creole culture. Evidence of this strong and harmonious blend is seen, for instance, in Seychellois food that incorporates various aspects of French, Chinese, Indian and African cuisine. French and English are official languages. Seychelles is a member of the African Union, the Southern African Development Community, the Commonwealth of Nations, and the United Nations.
Searching for a New World
The assassination of Iranian General Soleimani upon the order of the President of the United States on the territory of another sovereign state once again undermined the legal foundations of the entire system of international relations.
No matter how hard the U.S. Administration attempts to justify the decision of its President, it is perfectly clear that the situation in the Middle East and the Persian Gulf has become even more tense and unpredictable. Washington's actions in recent years continue to destroy the legal foundations of international relations and demonstrate the increasingly defiant attempts of the United States to impose its terms, interests and "rules" of conduct on the rest of the world. Consequently, the assassination of the Iranian general is not so much a challenge to Iran as it is a challenge to the entire global community.
This begs the obvious question: Where might Washington's politics lead and is there a way of opposing them without plunging the world into global disaster?
In the United States itself, many people are starting to realise that the course currently being steered by the U.S. Administration may do irreparable damage to the country's own long-term interests. The American public was mostly restrained in its reaction to President Trump's decision to eliminate the Iranian general. The provocative actions of the United States are increasingly isolating the country. Even its traditional allies are beginning to distance themselves, as they feel the consequences of Washington's imperious unilateralism. The implications of the internal struggle currently unfolding over U.S. foreign policy will become apparent after the November presidential elections. However, whatever the outcome, we must concede that it will take a long time to redress the damage that the U.S. Administration has caused to the entire system of international relations.
As for the Middle East and the Persian Gulf, we can expect stronger anti-American sentiment and a general weakening of Washington's influence on regional developments. The general lack of enthusiasm in the Middle East about the regional settlement plan touted by the U.S. Administration as "the deal of the century" suggests that the settlement is likely doomed to failure. In reality, the idea was just a way for the United States to retain its presence in the region.
Most of the United States' allies are taking a "wait-and-see" approach following the dramatic events in the Middle East. Their stance is in some way understandable: they cannot come forward as one and directly criticise the United States, yet individual voices will go unheard. Consequently, most European capitals confined themselves to vague formal statements and general pronouncements. Nevertheless, the United States' allies are becoming increasingly vexed by the unilateral actions of the country's Administration, for which the "America above all" principle has become a way of life. However, for various reasons, the countries of Europe, as well as other allies of the United States, are not ready to oppose Washington's politics on their own. That said, the process has begun, although it promises to be a long and arduous road.
In this context, particular responsibility lies with those few international actors that are capable and, just as importantly, ready to oppose Washington's unrelenting pressure in the interests of global security. The only fully sovereign and independent actors that come to mind here are, of course, Russia and China, permanent members of the UN Security Council that enjoy significant weight in many global and regional issues and have massive combined military containment potential. Russia and China command respect in the global community and therefore bear special responsibility for the future world order.
The international community today—both at the level of public opinion and heads of state and international organisations—is listening with particular attention to the signals coming from Moscow and Beijing, recognising them as essential landmarks for adjusting their own stances and strategies on the key issues of international politics. Given the increased instability and unpredictability of the global environment, the importance of such landmarks increases significantly.
The model of Russia–China bilateral relations is seen as such a landmark in itself, as a demonstration of the feasibility of building ties based on carefully balanced interests without sacrificing national sovereignty and without opposing these relations to other foreign policy priorities. Equally relevant is the practical experience of new multilateral unions, including BRICS and the SCO, which allow states with highly divergent interests (for example, India and Pakistan) to interact successfully and constructively.
The special responsibility that rests on the shoulders of Russia and China entails additional, loftier requirements for the global political cooperation between the two states. Today, the question is how to coordinate the two countries' long-term foreign political strategies more closely and promote joint initiatives that concern the fundamental issues of the future world order.
Naturally, Russia and China cannot claim a monopoly for developing new rules of the game for the future global political system. These rules should emerge from negotiations, consultations and discussions within a wide variety of multilateral formats, from global platforms such as the United Nations to the narrow-format meetings of public organisations and expert communities. Yet, the deeper and more strategic Russia–China coordination is, the more productive multilateral formats can become.
From our partner RIAC
Putin's "January Sermon": Is it a path to democratization of Russia or a hoax?
The volatile political trajectory and its subtle actions in Russia have always created awe among the political pundits in the West who are immensely obsessed with the geopolitical space in Ruski Mir. However, history has always aggrandized Russia as a state that cannot be easily fathomed. Just like how a dull and calm plot reaches its most unexpected culmination in a Dostoyevsky's novel, the political trajectory in Russia has always been thrilling. The most recent political events followed by president Vladimir Putin's annual speech in the state Duma on 15th of January is an epitome for the uncanny political nature of the world largest state.
The speech delivered by president Putin on 15th of January in the Duma was entirely an unexpected political explosion. In his speech, he proposed a serious of constitutional changes that would escalate the powers of the parliament eventually leading to an increase of prime minister's power. Article 83 and 84 of the Current constitution in Russian federation have vested considerable power in the hands of the president over the state duma and the proposed changes would inevitably revoke them. A legitimate question appears before any inquisitive person on Russian politics is "Why Putin would allow Duma to curtail his power ". Political history of president Putin has aptly proven his sharp political acumen as a politician who properly kept his grip. However, this time he opted for rather a completely a different strategy by empowering the state Duma, which is the lower house of Russian parliament to appoint the prime minister who is currently being appointed by the president with Duma's consent.
The increasing the power of a national council happens to be the most notable proposition of these recommendations and Putin indicated the need to strengthen the constitutional role as a crucial factor. The state council was a creation of Putin during his first term in Kremlin. Thus far it has served as an advisory body and it is consisted of regional governors, speakers of the both houses in the parliament and the party leaders. The proposed constitutional recommendations will boost its power and it is still unclear the way it would safeguard Putin from a political ebb. It not clear what role president Putin fancies in empowering the national council from nonentity to a powerful tool in Russian state apparatus. The evasive step taken by the former president of Kazakhstan Nursultan Nazarbayev in 2019 seems like a potential strategy Putin determines to implement. The last holdover from the Soviet era Kazakhstan resigned from the presidency and retained the influential job of leading country's security council as the leader of the nation. Perhaps, Putin will embrace the same strategy of symbolizing an honorable step down while keeping his grip in a different way such a making himself as the head of the national council. Yet, making such an arm chair prediction about his possible strategy to remain in power beyond 2024 may be rather futile as Vladimir Putin has always shown a political unpredictability in his actions.
The appointment of Mikhail Mishustin to the prime minister post after Dmitry Medvedev stepped down along with his cabinet is the next notable incident emerged after 15th of January. Unlike Putin's protégée Medvedev the newly appointed president holds no significant political activism as an ally or at least as a panegyric. He is being described as a technocrat and apolitical figure who was responsible for transforming the aged old Russian tax service into an era of digitalization. From a vantage point, the choice of Putin appears to be a wise move with the meritocratic capability of Mishustin regardless of his lack of affinity with the politics. Since the Ukrainian crisis in 2014, the economy of Russia has been in the doldrums and some economists have described the last decade as a stagnant decade for Russia's economy. Given his solid background in economics and practical experience with taxation may prove his competence to become the premier in midst of an economic stagnation. Mishustin's appointment reminds of the count Sergei Witte's appointment by Tsar Nicolas II in 1905 whose capacity as an econometrician boosted Russia's industrial growth for a shorter period.
The democratic reforms have always been sort of tough moves throughout Russian history. Especially the centralization of political power has always impeded Russia from reaching democratization. The confrontation between president Yeltsin and the parliament in the fall of 1993 eventually ended up in Yeltsin's outrageous move of sending armed tanks to the parliament building. The current Russian constitution which has placed enormous power under in the hands of the president is an offshoot of the constitution adopted in Yeltsin era. Putin's abrupt decision to reduce that will at least theoretically undo the damage wrought by 1993 constitution. In principle, the transition of power from the president to the parliament will pave the way to increase the high chances of check and balance in power crating a greater change in Russian political culture.
All in all, the ostensible motive of the constitutional reforms will assist Russia to get into better strides as a normal democracy without enabling the centralization of power around one man. But can we believe that country that has never undergone a proper western democracy will be adamant for such a mammoth change? The real politic in Russian history has always shown the rise of lesser known political characters to the zenith of power by taking the advantage of chaos. When Russian state was in a verge of extension Mikhail Romanova came out of nowhere and created the house of Romanovs that lasted for three hundred years. When Lenin died creating chaotic power vacuum in 1924, lesser known Stalin exterminated all his foes and tightened the power of newly born USSR and finally made it a super power. The sudden power shift Putin proposed on 15th of January is simply a tranquil sign before a great political storm in Russia and ironically Russians are no strangers for such political storms.