Putin's Possible Libyan Pivot
The bad cloud that portends a perfect storm continues to build. Perhaps the most serious development on the near horizon is a possible Putin pivot from Syria to Libya. It may be in the works – if it is, bad things are bound to happen.
There is no real and historic Russian desire for a mere presence in Southwest Asia. Geopolitical scholars, diplomats, and military thinkers who have put forth such ideas have been rightly criticized but largely for the wrong reason. The fact is that those who believe that Russia has a real and historic desire for a presence in Southwest Asia and those who criticize those that do think this are both wrong. Russia has no desire for a mere presence in Southwest Asia – Russia's desire there is for regional hegemony.
In what here must be a brief examination, it is important to recall two historical developments: the first is the realization that for many Russia embodies the "Third Rome." This is the idea that Moscow (i.e. Russia) is the inheritor of the mantle of Rome transferred to it via Constantinople. As Rome was empire, as Byzantium was empire, so Russia is empire. Coupled with the concept of Third Rome is the acceptance of Russia as the protector of the Orthodox Church (and the Christian Church collectively) throughout the lands previously under control of the Ottoman Empire.
It is noteworthy that the Russian Orthodox Church, through a spokesman, has stated that Russia's presence in Syria is historically consistent with the role Russia "has always played in the Middle East." Alexandr Dugin, an outspoken advocate of Russian expansion who has been rather sensationally dubbed "Putin's Rasputin," has said that Russia should recreate empire and looks to Southwest Asia for Russia's southern expansion.
Besides belief in Russia as the Third Rome, the second important historical position to recall is the assumption of Russia as "Protector of the Persian Crown." Russian expansion southward is no new thing. After victories in the Russo-Persian Wars, Russia was ceded a great deal of territory formerly under Persian control. The Czar was bestowed with the title "Protector of the Persian Crown." In deference to Russia's Eurasian outlook it should be noted that historical titles, possessions, and interests are deeply embedded in the long reachback of Russian memory.
Russia views Southwest Asia geopolitically as a region next door. This is a markedly different understanding from European or American perceptions of Southwest Asia as a much more distant region. When Russian understanding of close geographical proximity and perceived historical duty to protect both Christianity and Persia combine the result can help explain current Russian interest and involvement in the region.
Consider that Mr. Putin has reinvigorated Russia's historically important relationship with Iran and moved boldly into Syria. Surely no one can be naive enough to believe he will stop with these two works in progress. Russia is energized for action and pushback to Russian initiatives has been minimal, ineffective, or both.
The US, the EU, and other concerned nations and bodies must prepare for Russia's next move – and it may well be another bold one. Knowledgeable persons inside European and US intelligence communities are seeing indications of Russian intentions toward Libya begin to solidify.
Mr. Putin has forwarded the notion that Russia has a responsibility to bring stability to the de facto failed state of Syria by supporting the regime of Bashar al-Assad as the legal and legitimate governmental power of Syria. Putin claims that longer term peace can best be achieved when the established government and its adversaries can be brought to the table, not when a state descends into total chaos and there is not even the remnant of recognizable government left to negotiate with. This is his position in Syria and it is a ready-made position for him to adopt in Libya.
Further consider the current Libyan situation. General Khalifah Hafter, the commander of the Libyan armed forces (such as they are), stated that he would be loyal to Libya's Tobruk-based House of Representatives if they did not acquiesce to the Political Accord put forward by Benardino Leon and backed by Western governments and the UN. The House of Representatives (Libya's internationally recognized parliamentary body) rejected the Political Accord. We will now see just how General Hafter will carry out his pledge to root out armed opposition, especially in light of his claim that Russia has offered to support his efforts.
The unraveling of the UN sponsored Political Accord was in part due to what the Libyan House of Representatives viewed as its unwarranted support for the Salifist elements in Tripoli.
The alarm bells should be ringing. Russian and Libya came close to closing a deal for a Russian base in Libya under Muammar Gaddafi. Of course to Libya, this would mean a real Russian presence in the form of arms; only this time armament at a level similar to the Russian arming of Syria. More importantly, a substantial Russian presence in Libya and continued lack of effective US pushback to Putin's initiatives combine to make the Mediterranean much more attractive and tractable to Moscow.
A perfect storm is now in the making. Russia and Iran will continue to test US resolve to hold Iran in strict compliance with the Nuclear Deal through deployments such as the S300 missile system to Iran. No Syrian style red line will be strong enough to keep Iran from unleashing the whirlwind if it continues, with Russian help, to develop truly heavy-lift capability for its ballistic missile program.
Russia is daily strengthening its foothold in Syria and a Putin pivot off of that into Libya may prove to be too much Russia and too little US in a region Russian has long felt is rightfully in their sphere of influence.
If conditions continue toward a perfect storm in Southwest Asia, one must consider the prescience of Alexandr Dugin's claim that "We will have a new Cold War, but maybe not so cold—maybe hot this time."
Putin Welcomes New Ambassadors in Moscow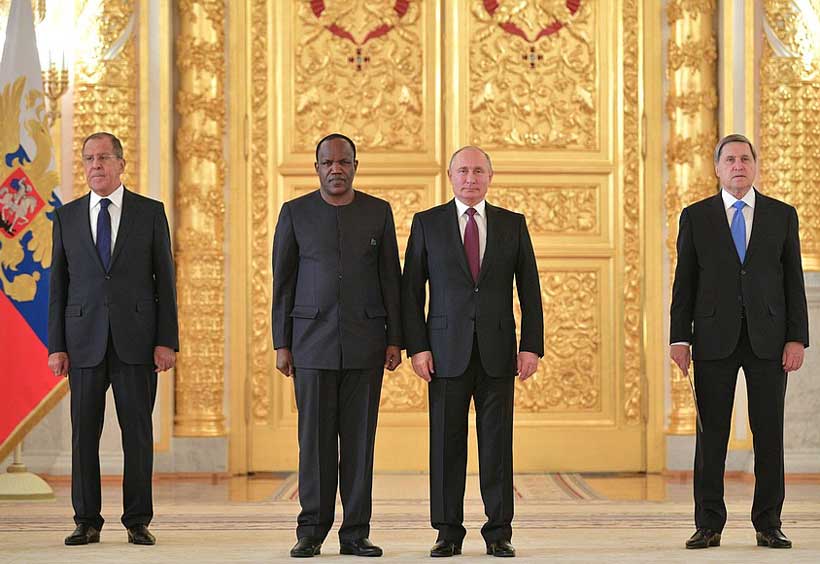 Russian President Vladimir Putin has strongly reminded newly arrived foreign ambassadors of their important mission of promoting relations between their individual countries and Russia, encouraging political dialogue and expanding economic and humanitarian ties.
He received letters of credence from 23 new foreign ambassadors, including four from Africa, in the Alexander Hall of the Grand Kremlin Palace in Moscow. The African ambassadors are: Chol Tong Mayay Jang (Republic of South Sudan), Retselisitsoe Calvin Masenyetse (Kingdom of Lesotho), Komi Bayedze Dagoh (Togolese Republic) and Simon Marco Mumwi (United Republic of Tanzania).
While further addressing them, Putin pointed out that "Russia is dedicated to a peaceful policy and progressively carries out a responsible course in its foreign policy. Russia stands against using politically motivated protectionism measures and sidestepping the norms of international law."
He explained that Russia's active participation in global affairs and openness to mutually beneficial partnerships with all countries and regions were motivated by national interest: to create the most favourable conditions possible for Russia to develop dynamically, to achieve ambitious social and economic goals, and improve quality of life for Russians.
In his speech, Putin told the Tanzanian ambassador, Simon Marco Mumwi, "Russia is open to improving mutually beneficial ties with Tanzania, particularly, in nuclear energy and the military-technical sector. And Kremlin welcomes efforts of the Tanzanian government aimed at maintaining peace and security on the African continent."
Several years ago, Putin rated Tanzania as one of Russia's key partners in Africa and expressed the desire to strengthen ties in a broad range of fields, noting that there was a big potential for cooperation in areas such as exploration and mining operations. That pledged of exploration and mining operations has been re-affirmed many times.
In other fields, Russia and Tanzania have signed an agreement on cooperation in the defense industry, which envisages arms supplies and cooperation in the military goods production. Russia trains Tanzanian citizens in many universities and institutes in the Russian Federation.
Putin told Chol Tong Mayay Jang, who is representing South Sudan in the Russian Federation, that Russia was ready to advocate a prompt resolution of the internal conflict in South Sudan. It would also support the efforts of mediating states, regional organisations and the international community.
In September 2012, Putin acknowledged that building relations with the newly created Republic of South Sudan was an important part of Russia's efforts to contribute to development in Africa. He warmly expressed the hope that the establishment and development of South Sudan and its economy would create many opportunities for carrying out joint projects.
With Ambassador Komi Bayedze Dagoh from the Republic of Togo, the Russian leader indicated that his country is interested in expanding friendly diplomatic ties and has good cooperation prospects in geological exploration and the military-technical area while at the same time continues cooperating in training professionals for the small coastal West African country.
In the context of further development of friendly relations with the Kingdom of Lesotho, Russia would pay attention to implementing joint projects, such as extraction of raw materials using Russian technology and investment. Putin said that Russia was satisfied with the level of coordination on issues on the global and African agenda.
In a friendly traditional atmosphere and due to the fact that Russia attaches great importance to relations with each country, Putin concluded by giving the highest assurance in making [the ambassadors] diplomatic activities as productive as possible and that all their initiatives would be supported, at all times, by the Russian leadership, executive bodies, businesses and society.
The "Russian Card" in the International Game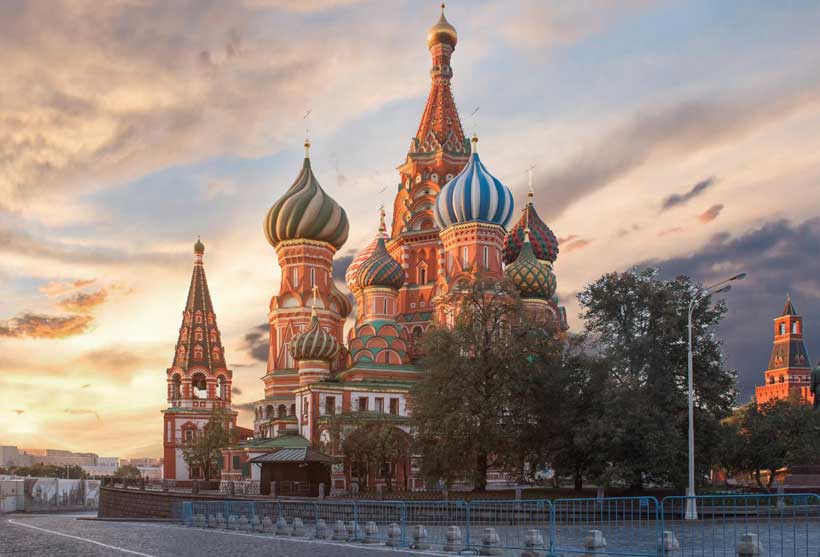 In recent years, Russia has unfailingly found itself the focus of the international community's attention: Russia makes newspaper headlines, appears in TV reports and is the topic of heated public debates throughout the world. It would seem that such popularity is reason to rejoice. However, this attention is becoming rather unhealthy: various political forces actively use the "Russian card" to achieve their domestic and foreign political goals, which are sometimes rather self-serving.
Russia needs to be clearly aware of the fact that they are indeed sharps, unconscionable and mostly unprincipled politicians attempting to make their play using the current political situation. These politicians are ready to paint themselves as either the enemies or best friends of Moscow; they can proclaim right-wing or left-wing slogans, appeal to the future or capitalize on the past. In any case, for them, Russia is nothing more than a convenient instrument for manipulating public sentiments at home or a lever to exert pressure on other global political actors.
In recent years, Russia has unfailingly found itself the focus of the international community's attention: Russia makes newspaper headlines, appears in TV reports and is the topic of heated public debates throughout the world. It would seem that such popularity is reason to rejoice. However, this attention is becoming rather unhealthy: various political forces actively use the "Russian card" to achieve their domestic and foreign political goals, which are sometimes rather self-serving.
While doing so, they sacrifice the interests of Russia and the interests of international stability and truth, and even neglect basic logic and common sense. Let us list but a few recent examples.
In Washington, amidst almost completely suspended Russia–U.S. relations, Republicans and Democrats routinely use the "Russian card" as an instrument in their power struggle. The parties are so taken with introducing various acts and bills and making other decisions intended to hurt the Russian leadership as much as possible that they are becoming oblivious to the interests of their own country, including its immediate security concerns.
In Kiev, the "Russian card" is nearly the principal trump card for national self-assertion, the key argument justifying the inability of the current Ukrainian leaders to make any kind of progress in resolving pressing socioeconomic problems. Therefore, it is vital for Kiev that the high level of tensions in their relations with Moscow is maintained. And we see over and over again that when it comes to achieving this goal, anything goes.
London, still haunted by the ghost of its former power, attempts to find a new place for Britain in the changing global power configuration. Who would be a good opponent for London? Brexit did major damage to Britain's relations with many European countries. Placing itself in the lead of an anti-Russian coalition and calling upon partners to show solidarity with the "victim of Russian meddling," London can divert attention away from the painful and thus far not entirely successful "divorce from Europe."
In many European countries, populist parties actively use the "Russian card," profiteering, in particular, from the costs of the anti-Russian sanctions to their countries. At the same time, however, they do not offer a well-thought-out, long-term vision of the development of their countries' relations with Russia. If they do come to power, they become less interested in the matter or use it as a trump card in their bargaining with Brussels on other issues that are of greater importance for them.
In Ankara, the "Russian card" emerges from the sleeve each time Turkey has a problem with the United States and its other NATO allies. A possible strategic partnership with Moscow is put forward as a possible alternative to Turkey's Atlantic orientation. However, there are no reasons to expect Ankara to make a strategic turn towards Moscow right now.
The list of countries and political forces that include the "Russian card" in their diplomatic arsenal can go on and, unfortunately, it is becoming longer. And the "Russian card" is being played not only along the Russian borders, but even in more faraway regions.
Why is the "Russian card" so popular today? We should bear in mind the fact that, in the coming years and maybe even decades, the shaping of a new stable world order will be incomplete, and international relations will be in a state of permanent turbulence. Such a state is fertile ground for politicians who are ready to use any means to achieve profits here and now.
The foreign policy of the current U.S. administration is the starkest example of this state of affairs. Violating international law and treaties, imposing unilateral sanctions, introducing protectionist measures and intervening in the domestic affairs of other countries has just about become the norm of U.S. international conduct. If playing the "Russian card" becomes a norm, too, it will do progressively greater damage to Russia's standing in the international community and will limit Russia's options in conducting an active foreign policy.
What about Russia? What should our response to the various games played by political card sharps be?
First, Russia needs to be clearly aware of the fact that they are indeed sharps, unconscionable and mostly unprincipled politicians attempting to make their play using the current political situation. These politicians are ready to paint themselves as either the enemies or best friends of Moscow; they can proclaim right-wing or left-wing slogans, appeal to the future or capitalize on the past. In any case, for them, Russia is nothing more than a convenient instrument for manipulating public sentiments at home or a lever to exert pressure on other global political actors. Therefore, it would be a big mistake to bet on those powers and count on long-term strategic collaboration with them.
Second, the best way to knock the "Russian card" out of the hands of political profiteers is to implement a well-balanced, long-term and consistent strategy of Russia's relations with a specific state or groups of states. The most instructive case is Russia–China relations. There have been and there will be many attempts to sow doubts or mutual suspicions, to resurrect old grievances and contradictions, but they all come to naught because of a solid edifice of bilateral relations that has been consistently constructed in recent years and which possesses clearly defined strategic benchmarks.
As far as Russia's relations with the European Union are concerned, attempts to force political manipulators to cease and desist have thus far been unsuccessful. In the early 2000s, Russia and Europe built their relations with the common goal of achieving strategic partnership. Over the course of several years, the parties created a solid legal framework for their relations, increased their trade turnover, reached a new level of mutually beneficial cooperation and expanded educational, academic and public contacts. As these positive trends shrank and the clear benchmarks in Russia–EU relations were lost, the temptation to exploit the topic of Russia began to rear its head. It is a known fact that fishing in troubled waters is a favourite pursuit of many, and this is what we are seeing today in various European countries.
The only way to pull the rug from under the feet of these political profiteers is to develop a constructive dialogue between Moscow and Brussels, define clear and unequivocally exactly what Russia's interests in Europe are, and abandon unconditionally all attempts to achieve tactical victories by playing on the contradictions between individual EU member countries. Such a principled approach is applicable in other areas of Russia's foreign policy as well.
Third, we see that all kinds of provocations are one of the main instruments used by those who attempt to play the "Russian card." These provocations include unilateral sanctions and illegal actions against Russian citizens, Russian businesses, and Russia's property, spreading false information, etc. The intent here is simple: to draw Russia into a fruitless discussion and an endless "exchange of blows," forcing it to divert significant political and material resources from resolving truly important problems in the country's internal development and promoting Russia's interests on the international arena.
How should Russia react to these provocations? We should remember here that a provocation is only successful when people take the bait. Once again, we could look at China here, whose resolve is also tested on a regular basis. In every instance, China does not react in an emotional manner; rather, its responses are always weighed and thought out thoroughly. In some cases, China will retaliate in kind (as with the United States unilaterally increasing tariffs). In other cases, when such a response is justified, China offers a token display of power. Sometimes, Beijing pretends not to pay any attention to the attacks, but the response may be forthcoming at an opportune moment.
Fourth, much in counteracting anti-Russian attacks depends on the reactions to those attacks in the Russian media. Sometimes, one gets the impression that certain printed media and TV channels are waiting for such provocations to engage in lengthy and aggressive discussions on the subject, provoke an international scandal and to call upon the Russian leadership to respond in the harshest possible manner. Such behaviour, on the one hand, instils the false impression in the public consciousness that Russia is surrounded by enemies and needs to brace itself for the worst and, on the other, it objectively prompts the authorities to take sometimes emotional and hasty actions. Of course, a response is necessary. However, this response should not consist of screaming wildly. It should instead consist of dignified and convincing arguments based on Russia's long-term interests. Haste in such matters is inappropriate at the very least.
Of course, there are no universal recipes that work in every situation. Every day, we are greeted by a new surprise. But it is important to be guided in every specific case by the key principle: nothing must be done today that could create even greater problems for Russia tomorrow. And let those who love using the "Russian card" passionately build their political houses of cards. Historical experience shows that those houses are unlikely to last.
First published in our partner RIAC
Is Russia a real national security threat to the west or is it only a paper tiger?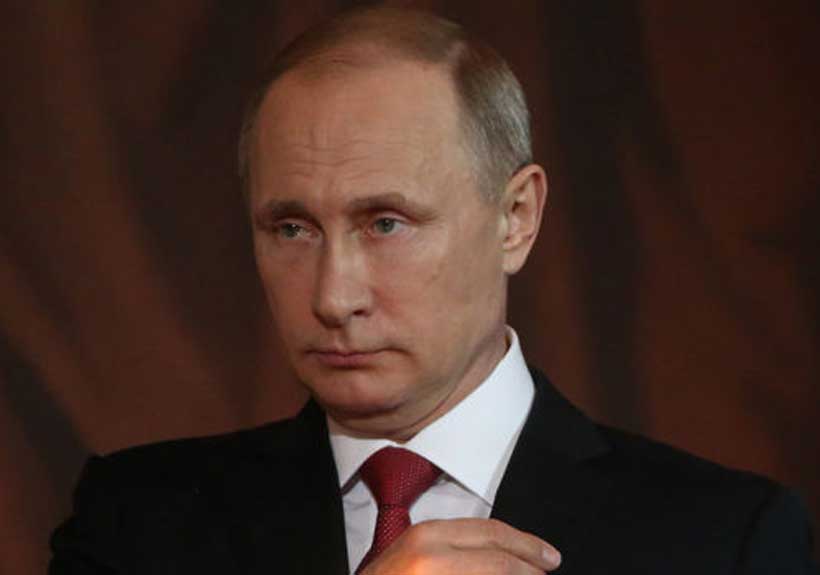 Since, the 2008  Presidential elections debate of America, the American political elite and the deep-state consider Russia a number one geo-political threat, to the national security of west in general and of the US in particular.
Throughout, the electoral campaign and televised discussion among numerous presidential candidates, "Russia as a geopolitical rival", was the main focused topic. Mitt Romney one of the frontrunner of the US presidential elections, labeled  Russia more than a dozen time, narrating that, Russia is the number one geo-political enemy of the United States. All through, the Obama Administration, Russia was mentioned as a counterbalance to the US foreign policy objective. Hillary Clinton the former foreign secretary and democratic top-dog hat always smacked the Russo-phobic dram.  Seeing as, annexation of Crimea, US instituted a large number of sanctioned on Russia, Russia was doomed with sanctions time and again. It is said when it rains it pours.
In recent move, the US Senate legislation proposed to target Russia's state-controlled banks by freezing their access to dollars—a step which could genuinely damage the Russian economy.
In response, Russian Prime Minister Dmitry Medvedev issued a statement emphasizing that Moscow would "counter this war, by economic means, by political means and if necessary by other means." He viewed the imposition of dollar sanctions, as a crossing of red-line and threat to the national security of Russian federation. However, he did not make it crystal clear, what measures would and could Kremlin embark on to mock the said sanctions.
To facilitate, it is music to ones ear to reveal the strengths and weaknesses of Russia, whether the country is capable of posing threats, to west and especially to the United States. Hence, I begin with the analysis of some political observers and the assessments of Counter Narco-terrorism Alliance Germany.
The measures Kremlin can undertake
Initially, Russia might respond in cyberspace. Microsoft recently reported that hackers tied to the Russian military already launched so-called "spear-fishing" campaigns against three candidates already running in the 2018 elections. Additionally, Director of National Intelligence Dan Coats argued that Moscow remained committed to undermining American democracy, warning that the "system is blinking. And it is why I believe we are at a critical point."
Moreover, while Russia reportedly hasn't yet hacked into actual state-level election systems, Moscow targeted this infrastructure in 2016. And as election security experts have warned, Russia might even possess the ability to materially influence the outcome of the 2018 elections. Given the antipathy between Republicans and Democrats, if control of the House or Senate were at stake, it's easy to imagine how this could lead to mass confusion, multiple lawsuits and the type of partisan hostility that would make the 2000 Bush versus Gore Florida recount look like a walk in the park.
The Kremlin could also respond with nuclear saber rattling. During Putin's March speech to Russia's Federal Assembly, he announced the development of several new nuclear missiles, while also playing a video simulating a nuclear attack on Florida. It would be easy for The Kremlin to heighten tensions by upping its nuclear rhetoric again. More concretely, the Russians might decide to formally withdraw from the 1987 Intermediate-Range Nuclear Forces (INF) Treaty and/or refuse to entertain an extension of the New START Treaty. These steps might represent the starting gun for a new nuclear arms race.
Moscow might also escalate its war against Ukraine. For example, Moscow could move additional Russian troops and weaponry into Eastern Ukraine's Donbass region to increase military pressure on Kiev there. Alternatively, Russia might also move to take full control of the Sea of Azov. Moscow has reportedly deployed forty of its naval vessels in the Sea of Azov, and Russian forces continue to stop and harass both Ukrainian and international merchant ships traveling through the Azov to Ukrainian ports. Ukraine has increased its naval patrols in response, and it's easy to envision Russia provoking an armed confrontation in the Sea of Azov that could serve as a pretext for a significant Russian military escalation in the region—a step right out of Moscow's 2008 playbook for its war in Georgia.
Russia could also increase military tensions elsewhere in Europe as well. It could for example move nuclear-armed missiles into Kaliningrad, a Russian enclave that borders Poland and Lithuania. Alternatively, Russia could use Kaliningrad as a base for large-scale military exercises that simulate an attack on NATO's Baltic members and involve occupying the strategic Swedish island of Gotland in the Baltic Sea.
Putin doesn't even need to rely on his military to harm American interests either. He could choose to openly increase economic and political support for North Korea, thereby weakening Washington's ability to pressure North Korea to curtail its nuclear program. Given that North Korea remains on the cusp of being able to reach the continental United States with a ballistic missile this would constitute a significant setback for American interests.
Putin could also administer the coup de grace to Bosnia's 1995 Dayton Accords—a major American diplomatic success that ended Bosnia's bloody civil war—by openly supporting independence for Republika Srpska. This could give Putin a trifecta: establish Republika Srpska as a Russian client state in the heart of the Balkans; reignite the civil war in Bosnia; and push Serbian politicians to support Republika Srpska, thereby torpedoing Belgrade's chances to enter the European Union. To be clear, Medvedev's threats may be mere bluster, and Moscow could respond to dollar sanctions by hunkering down even further and try to ride out the economic and political storm.
Should the United States — and the West — worry that Russian power is on the rise?
In fact, Russian power is brittle. Masked by the country's meddling in Western politics, invasion of Ukraine and support for Syria's Bashar al-Assad, Russia is facing profound societal and economic problems. The country's aging population and economic weakness are at odds with its military spending and global aspirations. In fact, domestic issues overlooked by the regime will soon restrict Putin's ability to adventure abroad and project military force. Put simply, Russia lacks the resources to fund its great power pretensions. Consider these five factors.
Russia's economy is weak
Let's start by remembering that the U.S. economy is ten times the size of Russia's. Even during the heady days of high oil prices, Russia was unable to compete with American economic might.
Those days are now long gone. Over the past decade, hydrocarbon exports accounted for roughly 50 percent of government revenue. With oil prices hovering above $100 a barrel for most of the past five years, Russia experienced an economic boom. Indeed, between 2000 and 2013, Russia's GDP grew almost nine fold, one reason for Putin's considerable support.
But the recent collapse in global energy prices hit Russia hard, wiping out many of the economic gains of recent years and sending the economy into recession. Moreover, the outlook will not improve any time soon as Russia's economic growth in 2018-2019 is expected to be minimal.
To prepare for the post-oil era, the Kremlin created a "rainy day" reserve fund from surplus oil and gas revenue in the 2000s. With the drop in oil prices, the government dipped into the fund repeatedly. Since 2014, Russia's national nest egg has decreased from $87 billion to barely $16.18 billion. The country has another sovereign wealth fund that contains $73 billion, but much of that money has already been allocated.
The economic downturn has already had significant consequences. The World Bank reports that 21.4 million Russians, or 14.6 percent of the population, now live below the national poverty line and the number of Russians earning less than $10 a day has increased 8 percent. In fact, a recent survey found that 41 percent of Russians had difficulty saving enough to buy food and clothes. The Economic Ministry predicted that there would be no improvement to average living standards before 2035.
Russia is facing a demographic crisis
Russians are not having enough children. The country's fertility rate stands at 1.7 births per woman, far short of the 2.1 births needed just to ensure population replacement. Moreover, Russia's young men are dying far too early. The average male life expectancy is 64 — lower than that of North Korea and a full 15 years less than that of Germany, Sweden or Italy. This is due to unusually high rates of alcoholism, smoking, untreated cancer, suicide, tuberculosis, AIDS and violence.
In 2012 the WHO attributed 30 percent of all deaths in the country to alcohol; 12 million Russians regularly ingest surrogate alcohol such as medical ethanol, window cleaner and perfume. Russia is suffering an AIDS epidemic, and in the country's third-largest city, Yekaterinburg, one citizen in 50 has HIV. Similarly, Russia's homicide rate is 11.3 per 100,000, much higher than the OECD average of 4.1 (Britain's homiciderate is 0.2).
As a result, Russia's population is expected to shrink by 16 percent, or 23 million, by 2050, leading to a 25 percent reduction in the labor force. Fewer workers will inflate Russia's annual pension deficit, which at $54 billion already threatens to bankrupt the government.
Russia can no longer afford to buy off its troubled regions
Russia continues to spend up to $10 billion a year on subsidies to problematic regions such as Chechnya or Crimea. As the handouts dry up, tensions between Moscow and outer regions may boil over, potentially reigniting conflict in the North Caucasus.
Moreover, Russia's economy is highly regionalized. Just 14 of Russia's 83 regions add more to the federal budget than they receive in subsidies. Continuing transfers to remote or non-Russian regions may provoke a popular backlash and will restrict Moscow's ability to prop up separatist enclaves in Ukraine, Georgia or Moldova.
Russia will have to reduce military spending
The state of Russia's economy largely determines its military spending. In 2017 Russia will spend 30 percent of its budget on the military and security services, with only 2.3 percent going toward health care. Because of economic stagnation, in 2016 Russia's defense spending declined for the first time since the 1990s. By 2020, Russia is projected to spend only $41 billion on the military. That's less than France spends, with only 46 percent of Russia's population. Furthermore, spiraling costs in Syria and Ukraine could either force early Russian withdrawal or bankrupt the regime. Indeed, a Russian newspaper recently revealed that the government spends $1.8 billion a year just on military contractors in Syria.
Compare that $41 billion to NATO's military spending of $892 billion in 2015. That's a big gap, which looks set to widen. Russia simply cannot outspend — or even match up to — a well-funded and unified Alliance.
Right now, Putin can be assertive because the Russian budget prioritizes guns over butter. Putin's regime has effectively traded economic well-being and social spending for military might. This bargain cannot hold indefinitely.
Consider, for instance, Russia's crisis in health care. Roughly 85,000 rural communities have no medical infrastructure whatsoever. Russia came last in Bloomberg's latest health-care efficiency survey, behind 54 other developed economies. Yet the government plans to cut health spending by 33 percent next year, bringing spending down to just $5.8 billion. The Ministry of Health will receive less than 2 percent of the funding requested for 2017-2025. Salaries for doctors in the poorest regions can be as low as $250 a month and will probably drop further.
Chronic social problems will ultimately upend Russia's politics
Russians are famously stoic, but they are not automata. Putin's popularity is founded not just on media manipulation and drum-thumping jingoism but on real economic gains. As Daniel Treisman has shown, even in authoritarian states, economic growth is tied to popular approval.
Indeed, work-related protests are already on the rise. And in a recent survey of Russian citizens, 32 percent of respondents said they might protest if a demonstration occurred in their home town. That's the highest proportion since Putin first came to power in 1999.
Russia is not a Stalinist dictatorship but a "managed democracy." A prolonged economic downturn will change attitudes. No matter how powerful or threatening Russia may seem right now, the current situation can't last. Russian stability — and Putin's regime — rest on shaky foundations and the cracks are beginning to show. It is said every cloud has a silver lining.