Turkey's Changing Dynamics Over Syria: From "Zero Problem" to "Zero Tolerance"?
Several conflicts happening in various capacities over the region of North Syria has been practicing since the mid-Arab Spring. The issue has become supraterritorial case and Turkish political environment is also being affected from the contemporary developments.
How are the domestic status quo and strategic maneuvers of Turkish foreign policy towards Northern Syria changed? By two diverse developments in external and internal agenda. On one hand, soft power politics have failed and could not meet Turkish national interests anymore. On the other, dominant politicians in the conservative right are beating the drum of national security; they have exceeded country's threat level in order to overshadow disappointing results of last election and regain their political popularity once again.
The decision matrix of foreign policy moves provides many options to states in order to implement in different environments and centuries. Variables of international conjuncture and geographical status quos have been playing crucial roles in accordance with these developments. For instance, although dreadnought diplomacy or Bismarck-oriented "realpolitik" was perceived as an operative solution until early 20th century world affairs, late 20th century politics have validated that soft power ideology and cultural diplomacy could also occupy a prominent position within the modern foreign policy statecrafts. Nevertheless, compact geographical hostilities generating large scale imbalances may "force" states to switch their insights towards the sphere of influence that they decided to apply soft power politics. Against this theoretical backdrop, the Arab Spring could provide a case for assessing possible changes in Turkish foreign policy calculations and behaviours. It can be put forward that until, Muhammad Boazizi's, an average street vendor, self-immolation in 2010, Turkey's external relations with its close neighbours in the upper Saharan region were following principles of reciprocal understanding and tolerated politics which chiefly based on pragmatic soft power implications such as "cultural proximity" and "role modeling figure" under neo-liberal Islamism doctrine.
As Arab Spring phenomenon has been extended its impacts within defined geography and proved its continuance in the region, driving forces of Turkish foreign policy have altered in parallel to changing equilibrium within Middle East. In this sense, the level of gradual shifts in Turkish foreign decisions over Middle East has been composing of many diverse ways. To exemplify the notable shift it can be argued that while Turkey's insightful politics on Assad regime were depending on regional cooperation principle and even strategic partnership, present-day's "zero tolerance" tendency was out of the question. At the beginning of the Arab Spring, the international community observed that Turkey, under the rule of the Justice and Development Party (AKP) established close bonds with Syria and trying to persuade the Assad regime to solve social unrest by implementing smoother and inclusionary internal politics rather than exacerbating the crisis.
On the basis of the dialog platform, Turkey has comprehended that soft power diplomacy with Syria could serve to establish collective interests of both countries since the idea has proved its effectiveness in terms of improving twofold commerce or cultural interaction between countries for many years. Throughout this dialog process, Turkey's foreign trade with Syria surpassed 400 million dollar per year1 and tourism between two countries rose by an average of 3% per year2 until 2011. Although soft power politics can contribute enhancing trade activities and enlargement of cultural ties, it may fail to launch critical dialogues on delicate topics which may pave the way to question countries' sovereignty and lawfulness such as massive killings or religious clashes. Therefore, it should have been premeditated by Turkish policy makers that overlooking the main reasons of civil unrest and offering democratic solutions to such a complex internal anxiety would not be internalized by Baath hardliners who came to power by 1963 Syrian coup d'état. A soft power oriented "Zero Problem" doctrine was satisfactory for Turkish government in order to enhance regional trade partnership in Middle East and the ideology was supported by the AKP. After threatening cases were crossed over as the increasing tensions around Turkish Embassy of Damascus in 2011 regional leadership politics, state sovereignty issues were started to be concentrated around Assad's legitimacy.
Turkey's "practical advice" policy which was developed to ease tensions between the Assad regime and rebels fractionally gave its way to "sovereignty" dialogues discussing Syria's legitimacy to use national army against insurrectionists. The case attested that economic benefit and role modeling figure objectives, under soft power ideology as a foreign policy, could not achieve Turkey's regional balance of power role per se because uncontrolled internal violence in Syria was signaling further armed confrontation between opposition groups which have been clashing since "The Damascus Spring" in 2001. In parallel to this process, considering the longest border with Syria, the Turkish attitude has modified neorealist "self-help" strategy which mainly based upon martial coercion against the Assad regime as a dissident player. This movement was supported by implementing security discourses to national agenda on Syria which has been driven by the recent issues such as Pro-Assad groups' attacks to Turkish Embassy in Damascus in 20113, following to that Turkish F-4 plane crash in 20124 and the huge influx of Syrian refugees5 apart from the past practices of water sources crises6, Hatay province case7 and father Assad's support to PKK extensions in Syria8. By virtue of decline in soft power politics and recent disputes, the new parameter has become as the new and most effective variable: the Turkish parliamentary elections of June 2015.
During the last single party rule of AKP, Turkish external policies over Northern Syria have warned for an escalation in the severity of armed clashes-toughness in this region. Critical media organs' assertions such as providing logistic support to radical religious groups9 and National Intelligence Service's truck scandal which was accusing National Intelligence about carrying supplies to ISIS10 were deepened Turkey's challenging situation over Northern Syria. Besides this politically tight shape, after thirteen years of majority in the parliament, the parliamentary election results marked a psychological turning point for the single party government. AKP lost its majority in the parliament and was required to looking into forming a coalition government. AKP élites thought that they lost their ideological endorsement coming from legitimate voting.
Consideration of "politico-military" choice which was designed to suppress opposite voices has begun to be discussed among AKP officials. To regain political support from grassroots by politico-military actions, national security dialogues and concerns about regional organizations as People's Protection Units (YPG) in Northern Syria and Islamic State of Iraq and the Levant (ISIS) were intensified by provisional government right after the election results were released. There are many potential reasons behind this attitude change over the Northern Syrian case. First, as it was argued, while soft power fails in foreign policy, realism appears to be a "stabilizer"11 (Burchill, 2001:70). In this direction, inadequate politics over Northern Syria triggered AKP's national popularity to decline. In addition to this political decision, AKP decided to securitize the national agenda in order to stabilize its decreasing per cent of votes which were dispossessed by Kurdish dominated People's Democratic Party (HDP). Similarly, AKP's changing policy reflects their martial agenda discourse since securitization of issues can thus be seen as a more extreme version of politicization12 (Buzan, 1998:23).
On the other hand, last election results have warned AKP dominated Turkish decision-makers about the opportunity that, in theory, foreign interventions may bring consolidation of political power and may help to stabilize it which was lost in last elections. By securitization of politics justifies extraordinary actions such as cross border military operations and state of emergency law can be legalized by a government in political distress in order to occupy agendum and postpone nationwide expectations of following the elections. Secondly, national security unifies the nation against a common enemy13 (Huntington, 1997: 350-375). This step also appears as a modern statecraft of national politics to regain fallen political popularity once again. Within this framework it can be deducted that the idea of a potential intervention in Syria is much more linked to what national security "means" rather than what national security "does". According to interpretations of the Copenhagen School which works on how security dialogues function in international system, having a security agenda could provide opportunities for political groups to overflow regular national politics and create special justifications for political actions14 (Guzzini and Jund, 2004: 1-13).
In light of these assertions it can be argued that if the Turkish government would militarily intervened in Northern Syria before the June 2015 elections, the political costs of intervention for the ruling AKP would have been extremely high. Post-elections, however, a possible intervention has become a viable solution for the AKP to recover political popularity and making the party look like a "national hero". Equally significant, the developed anti ISIS coalition under the leadership of the US has provided Turkish policy makers with an opportunity to boost its relations with the West. Although the Western powers have been critical to Turkey's Syrian policy, by getting support from the new strategic alliance, Turkey has started to act more flexible over non-ISIS targets like YPG positions situated in Northern Syria and Iraq until Incirlik Airbase in Malatya has started to be used by US jets. It could be claimed that military actions and tough regulations in Southeastern Turkey could shake Turkey's "soft power leadership" and remit the political achievements of Turkey in the region where the cultural popularity and political legitimacy of actions were established to strengthen the country's regional power.
However, circumstances have changed in accordance with the decline in soft power variables and Turkish internal political dynamics. Ongoing activities highlighted that the intervention agenda on the Northern Syria issue will continue to remain on both the internal and external agendas of Turkey as an inefficient and questionable martial involvement which appears as of AKP's main asset even there is no definite enemy of Turkey in the region because of ever-changing domination struggles among groups. Presently, unstable internal political dynamics, security agenda headlines and de facto neighbor fears are transforming Turkey's neo-liberal soft power image to hardliner state portrait. It may be deduced from these progresses that AKP's "Zero Problem" paradigm progressively has evolved into a "Zero Tolerance" mentality over the Syrian conflict.
NATO and the puzzle of a nuclear deal with Iran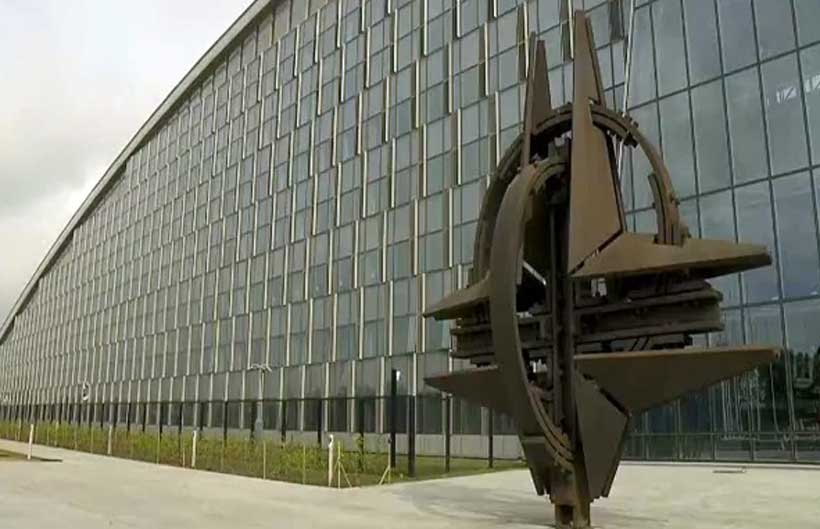 A meeting of NATO (North Atlantic Treaty Organization) Heads of State and Government was held on Wednesday 11 and Thursday 12 July 2018 in Brussels, Belgium. NATO leaders met in Brussels amidst a terse environment that threatens to further weaken the post-war order.
This year's meeting came at a tense time for transatlantic relations since the US president is set to sit down one-on-one with Russian president Vladimir Putin on May 16 in Helsinki. One of the topics the US president sought to discuss with his Western counterparts in Brussels was "the nuclear deal with Iran" and its fate.  Regarding this controversial issue Time wrote:
"After ripping up the Iran nuclear deal in May, the Trump Administration is fanning out across the globe to rally support for a return to economy-crippling sanctions against Tehran."
It continues: "The effort comes ahead of President Donald Trump's trip next week to Europe, where he is expected to pressure leaders into joining the far-reaching campaign to handcuff major aspects of Iran's economy, including driving oil exports to zero. If European allies don't join, Trump has threatened secondary sanctions on any company that does business with Tehran."
According to the Time and other Western sources, Donald Trump intends to press NATO leaders over the Joint Comprehensive Plan of Action (JCPOA), and "The president hopes his bare-knuckled approach will coerce European leaders to unite behind him, even as they publicly oppose a return to sanctions and scamper to salvage the existing nuclear deal without American participation. This is while the White House keeps to press its European allies for increasing the military and defense budget (to 2% of their GDP).
While the transatlantic tensions are raising day by day due to the imposition of tariffs on steel and aluminum imported from Europe, what meaning can negotiations on the JCPOA imply? Does Trump intend to make a deal with his European partners in this regard? Do NATO's European members welcome the integration of the JCPOA amid their conflicts with the US?
The British Prime Minister Theresa May has recently asked other European countries to remain silent against Trump's actions in imposing tariffs on imported goods from Europe, and not to seek retaliatory measures. She also asked European authorities to negotiate with the US president on the JCPOA. Indeed, what's going on among NATO members?
The truth is that in near future, the JCPOA will turn to the Europe's leverage for making deals with the United States in security grounds, an issue witch its signs we could well see in the Brussels summit. It shouldn't be forgotten that in its calculations, the EU is still regarding itself as dependent to the United States. Those like Theresa May, Emmanuel Macron and Angela Merkel are adjusting their policies in the international system based on their security dependence on the United States. It might be possible that the European officials agree on "restraining Trump", but that's all, and we can't expect them to go further as to fulfil their obligations in this regard. The EU would never confront the US seriously, since "resisting against the White House" is in no way defined in Europe's strategies and tactics.
In the course of the G7 recent meeting in Canada, Donald Trump discussed various subjects with Angela Merkel, the German Chancellor, including Iran nuclear deal, tariffs on steel and aluminum imported from Europe, and the increase of NATO defense budget. But these talks resulted in the intensified disagreements among EU member states and Trump. The tensions were so high that the meeting ended with no final statement. Now the US president is pursuing the same approach I dealing with NATO states.
Trump and the European countries both regard the tensions raised in the international system as a "single package". In this equation, Trump asks the European authorities to cease their support for the JCPOA and the continuation of the nuclear deal in exchange for a decrease in the US economic and security pressures. It should be noted that one of the main reasons for the European leaders' refusal of offering a conclusive, detailed and effective package to Iran regarding the JCPOA was their secret negotiations with the American officials. Since the U.S. withdrawal from the nuclear deal, Mike Pompeo the American Secretary of State had been constantly in contact with the European troika's foreign ministers, and announced them the exact positions and policies of the US government.
In the course of the NATO summit, we witnessed the continuation of the Europe's paradoxical game playing towards the JCPOA. It shouldn't be forgotten that the EU's main strategy towards Iran and the JCPOA, is to make us remain as part of the nuclear deal as long as possible, and without benefiting from its advantages, so that the influence of the US sanctions would be multiplied. The offering of the EU's unacceptable and useless package of proposals is also to be analyzed in the same vein; a weak package which is resulted from the special relations between the US and Europe.
First published in our partner MNA
God's Grace: Reichstag Fire and July 15 Military Coup
"By the grace of God!" Some rulers use the cry to explain why certain events happen and why they play out as they do. They will argue that God, in allowing the events to happen, has bestowed his grace upon the ruler. Two rulers and two events—the Reichstag fire in Germany on February 27, 1933,and the military coup attempt in Turkey on July 15, 2016—illustrate the devastating consequences this twisted logic can have on the lives of ordinary people.When Adolph Hitler arrived at the scene, he told German Chancellor Franz von Pape, "This is a God-given signal" to crush Communists (and later opponents). Immediately after the failed military coup, Recep Tayyip Erdogan announced that the event was "a gift from God" and justification for Erdogan to start cleansing the military (and later purging opponents).
The similarities between the two events are striking in terms of beneficiaries, consequences and suspicions about the rulers' true intentions going forward. Soon after the fire, Hitler started to consolidate his powers in the name of protecting the state's security and democracy. To do so, Hitlersuspended civil liberties and shut the door on the rights and freedom of the country's citizens. The fire in the heart of the countrywas used to justify the notion that the country was in a great danger. With decrees, Hitler purged his opponents, even though there was only one person considered to be responsiblefor the fire. Erdogan followed a similar path when he has declared a state of emergency after the coup attempt and consolidated his powers with radical changes in the country's political and legal systems. With decrees, Erdogan purged hundreds of thousands of people under the guise of protecting the country's security and democracy—even though soldiers who allegedly were involved in the coup attempt that night already had been into custody.In the political arena, Hitler increased the number of votes he received in the election that took place a week after the fire. Similarly, public support for Erdogan increased after the coup attempt. History does, indeed, repeat itself. These are two of many examples that could have been cited.
It may not be possible to know for sure who staged and orchestrated the Reichstag fire orthe military coup attempt; however, it is clear that the rulers' purported motives are suspicious and their explanations filled with inconsistencies, given the many controversies arising from both events.The Reichstag firehas been discussed by scholars and historians who concluded that Hitler and his team—either directly or indirectly—helped to instigate the fire. Indeed, the arsonist responsible for the fire was pardoned years later. The military coup in Turkey wasa terrorizing and wicked deed against humanity and democracy, and the persons responsible must be identified and punished based on the rule of law and democratic values. It is, however, a Herculean task. Too many loopholes and controversies about the coup attempt need to be clarified. Erdogan should provide evidence-based, honest and objective explanations to remove the suspicions surrounding the coup attempt. Many answers are needed. For example,why did Erdogan refuse to answer questions from the major opposition party (the Republican People's Party, or CHP) about the coup? Why has the investigation case report and the report of the parliament's investigation committee deemed inappropriate and unsatisfactory even by some members of the committee? More important, why has an international committee not been allowed to investigate the case? Questions such as these highlight the many mysteries and suspicions that still surround the event two years after it occurred.
An independent international investigation committee should be established by the United Nations to examine the coup attempt and eliminate possible suspicions about Erdogan and his governing team. The committee also should determine whether thousands of people were responsible for organizing the coup attempt, as the government alleges, and clarify the following: whether some U.S. citizens, such as Andrew Brunson, who is still in jail, were among the primary plotters of the coup; whether some other U.S. citizens for whom bounties were offered were behind the coup attempt; and whether the United States was behind the coup attempt, as Turkish politicians and government officials claim—even though the United States has denied any involvement in the event.
Another independent international investigation committee should be established by the U.N.(or some other internationally accepted institution)to investigate the aftermath of the coup. Violations of internationally accepted human rights (as reported by credible human rights organizations such as Amnesty International and Human Rights Watch) that have been committed by government security and intelligence officials since the coup attempt should be investigated. The committee also should also determine whether persons victimized in any way (such as imprisonment, job loss, inhumane treatment, and deprival of constitutional rights and freedoms)were based on evidence or resulted from the arbitrary application punishment. A final task of the committee should be to investigate allegations of abductions, extrajudicial executions and torture by government security and intelligence agencies. As John Dalhuisen,Amnesty International's Europe director, has said, "It is absolutely imperative that the Turkish authorities halt these abhorrent practices and allow international monitors to visit all these detainees in the places they are being held."
An independent and objective domestic committee that consists of members from every political party in the country—regardless of the parties' percentage of the vote among constituents—should be established to investigate the same issues the two international committees need to review. Care must be taken to ensure that the members of this domestic committee—unlike those serving on the committee that was formed after the coup attempt—can maintain their objectivity and are aware of their responsibilities. The committee should be transparent and its actions and discussions observed and by international representatives of the U.N., the Organization for Security and Co-operation in Europe, the European Union, and individual countries and/or journalists.
Finally, the European Court of Human Rights, an internationally accepted high court of which Turkey is a member,should determine for itself—rather than rely solely on the response from government officials—whether the country's domestic legal and judicial system can be accessed openly and freely by all citizens and the attorneys representing them in legal matters.
It is only through these independent international and domestic investigations that the truth about the failed coup attempt can come to light.
Ghassan Kanafani, the Palestinian Pioneer Author of Resistance Literature
The eighth of July marks the 46th martyrdom anniversary of Ghassan Kanafani, who was assassinated by the Zionist Intelligence;  Mossad, along with his 17-year-old niece Lamees. Days before their martyrdom, Lamees had asked Kanafani to diminish his activitism and to concentrate on his writings. He answered her," I write well because I believe in a cause, in principles. The day I leave these principles, my stories will become purposeless. If I were to leave behind my principles, you yourself would not respect me."
Kanafani was born in 1936, in Palestine, to a father who was a national activist in the resistance against the British colonialism. After the 1948 Zionist occupation, his family sought refuge to Syria, when he was 12-year-old. In the refuge camps, Kanafani wrote most of his novels which highlights the sufferings that the Palestinians endure in the diaspora. He won multiple awards for his works both during his life and posthumously. For instance, in "Umm Saad," Kanafani's protagonist is a symbol of the Palestinian women in the refugee camps.
Kanafani was inspired by Jamal Abd al-Nasser's ideas of national independence and defiance of imperialism. Due to the decline of Nasserism after the 1961 failure to consolidate Egypt and Syria under a unified United Arab Republic, the ascendancy of imperialism and Zionism and the rise of communism; Kanafani, along with his comrade George Habash, resolved to adopt Marxism. They belived that the political crisis in the Arab world could only be solved by turning the anti-imperialist struggle into a social revolution.
In Lebanon, Kanafani adopted the Communist philosophy and become a leading member of the Marxist-Leninist Popular Front for the Liberation of Palestine (PFLP). He says, "The Palestinian cause is not a cause for Palestinians only, but a cause for every revolutionary, wherever he is, as a cause of the exploited and oppressed masses in our era."
Besides, he was a prolific creative and brilliant novelist and the first to anticipate the "resistance literature" genre. His literary products and fictitious works have inspired a whole generation of resisting youth, both during and after his lifetime as they are greatly rooted in the Palestinian culture and cause. Kanafani dedicated his works to reflect on the Palestinians' lives and the challenges they face under the Zionist occupation. He states, "My political position springs from my being a novelist. In so far as I am concerned, politics and the novel are an indivisible case and I can categorically state that I became politically committed because I am a novelist, not the opposite."
The assassination of Ghassan Kanafani was the result of his commitment to the Palestinian cause and the resistance methodology. Today, his legacy echo within every free revolutionary who devoted his life to confront the imperialist conspiracies. Indeed, Kanafani was murdered merely because he had constituted an intellectual threat to the Zionist entity. He refused the negotiations with the enemy, pointing that it would be "a conversation between the sword and the neck […] I have never seen talks between a colonialist case and a national liberation movement."
The chief thematic field of Kanafani's writing was inseparably connected to the anti-imperialism struggle. He stressed that the Palestinian cause could not be resolved in isolation of the Arab 's social and political crisis. Further, he insisted on developing the resistance movement from being a nationalist Palestinian liberation movement into being a pan-Arab revolutionary socialist movement of which the liberation of Palestine would be a vital component.
Definitely, Kanafani played an influential role in raising consciousness on the issue of imperialism. He maintains, "Imperialism has laid its body over the world, the head in Eastern Asia, the heart in the Middle East, its arteries reaching Africa and Latin America. Wherever you strike it, you damage it, and you serve the world revolution. "Shortly after Kanafani's obituary in Lebanon, "The Daily Star" stated, "He was a commando who never fired a gun, whose weapon was a ball-point pen, and his arena the newspaper pages."