NATO Expansion: Strategic Opportunities and Risks
When recently appointed Chairman of the Joint Chiefs of Staff, Gen. Joseph Dunford, named Russia as the greatest threat to U.S. national security during his confirmation hearing this past July, he caught some by surprise.
Russia's March 2014 annexation of Crimea represented a disturbing shift in Russian foreign policy that sent shock waves throughout the NATO alliance and until quite recently one could have argued that Dunford's assessment was unduly alarmist. In March, President Obama referred to Russia as a "regional power that is threatening some of its immediate neighbors, not out of strength but out of weakness…" He also went on to say that Russia is not the United States' top national security threat and that he was more concerned about a nuclear weapon detonating in New York City. With Russia's surprise military intervention in Syria, it is now clear that Dunford's assessment was more accurate than some believed. It may be a regional power acting out of weakness, but Russia has demonstrated that it can profoundly alter the geopolitical status-quo not only in Europe, but in the Middle East, too, having built an "arc of steel" ranging from the Arctic to the Mediterranean Sea.
When superimposing this so-called arc-of-steel over a map of Europe, we find that geography still matters, especially when contemplating strategies to counter the Russian strategy of undermining NATO's influence and credibility. These air, land and maritime spaces are being increasingly contested as Russia increases its operational tempo with the use of conventional and hybrid capabilities. What is likely already obvious to NATO planners is the fact that there are gaps where controlling, or at the least, influencing these contested spaces, could prove exceedingly difficult by virtue of the fact that they are situated in strategically important non-NATO states. Well to the north are Sweden and Finland, both occupying strategically vital maritime spaces and the latter sharing a large land border with Russia. To the south and southeast of NATO's flanks are Montenegro and Georgia, respectively, the latter having been invaded by Russia in 2008. These states are considering (Sweden and Finland) or actively seeking (Montenegro and Georgia) NATO membership.
For NATO, the question of further enlargement should largely hinge on three considerations: The strategic value of admitting new members – Russia's potential reaction – and whether systemic problems within the Alliance undermine the strategic value of expansion.
The Strategic Value of New Members
A logical starting point for evaluating the strategic value of new members is to assess the current military balance between NATO and Russia. In recent years Russia has undertaken comprehensive military reforms which are translating into a more active, more battle-ready, and better suited military to support itsincreasingly assertive foreign policy. Although it is believed that Russia's military can be checked in certain qualitative terms, these advantages apply to only a few European NATO states. NATO's largest European members – Germany – the UK and France – have militaries with clear qualitative advantages over Russia, but serious questions surround deployability, preparedness and logistics, which could erase any qualitative advantages.
That said, NATO as a whole maintains a distinct quantitative and qualitative advantage in naval forces. Submarine forces aside, Russia does not possess the ability to seriously challenge NATO naval forces at sea. Russia places great value on its strategic ballistic missile submarines, which would require substantial naval surface forces for protection in any conflict. Similarly, Russia would have little capability to disrupt transatlantic logistical supply lines between the US and Europe, but this could change given that Russia has embarked on an ambitious submarine building program that in 2015 added two nuclear ballistic subs, three nuclear hunter-killer subs and two conventional subs.
Assessing the balance of air and land forces is more difficult, particularly for the latter. The British and French have the only European air forces that have demonstrated the ability to carry-out the full range of combat air missions. Other European air forces suffer from a broad lack of capabilities that limit them to narrow roles. Furthermore, Europe has decommissioned most of its land-based air-defense systems and is phasing out aging aircraft over the next decade with no plans for replacement. Although smaller, the Russian air force is a homogeneous force that is accustomed to acting unitarily. Like the British and French, it iscapable of performing all missions and roles of modern air warfare, with the possible exception of precision and deep strike capability. Russian command, control, communications, computers, intelligence, surveillance and reconnaissance (C4ISR) is markedly inferior to US capabilities, but without US expertise and support, European air forces (France and UK aside) also lag far behind.
Measuring the balance of land forces is much more difficult. Indeed, Europe has far more military personnel than Russia, but this is due largely because of Europe's generously staffed defense bureaucracy. Questions persist pertaining to training and readiness for both European and Russian land forces. Indeed, despite Russia's massive efforts to reform its military, European analysts estimate that only 65-percent of their new combat brigades are truly combat-ready. Whatanalysts overlook, however, is that the European Defense Agency rated European land forces as 30.9 percent combat ready and 7.5 percent sustainable deployable. While both European and Russian militaries are beset with numerous challenges, they appear to be moving on opposite trajectories.
For an alliance founded on the core concept of collective defense, the notion that prospective member states should be able to contribute to the overall security of NATO seems rather obvious. Even so, NATO has enlarged itself for purelystrategic and ideological reasons during the Cold War as was the case with Greece and Turkey in 1952 and again with Spain in 1982. Arguably none were in any position to greatly add to NATO's overall security, but this was an era in which the U.S. was perfectly willing and able to cover Europe with a security (conventional and nuclear) umbrella. Similarly, the more recent rounds of enlargement, which included the Baltic States, Poland and others, was politically driven as there was thought to be no serious security threats to NATO at the time, most notably, from Russia. Clearly times have changed. As NATO's roster has more than doubled from 12 to 28 countries since its founding in 1949, its military capabilities have slowly atrophied over the past 25 years, while its collective security commitments have steadily increased. Consequently, any discussions within NATO about future enlargement must answer this question affirmatively: Will this new country add to the overall security of the alliance? When posing this question to prospective member states Sweden and Finland, a strong argument can be made for why they should be invited into NATO – assuming membership is what they want.
In this context, admitting Sweden and Finland to NATO would shore up the Alliance's northern flank. In fact, defending the Baltics against a Russian incursion would be extremely difficult, if not impossible, without significant aid from Sweden and Finland, the latter having been attacked by the Soviet Union at the start of World-War II. Controlling the Baltic Sea, the Gulf of Finland and the large land border between Finland and Russia would be essential to any campaign defending the Baltics. Moreover, as Sweden and Finland lean more toward NATOthey are apparently asking themselves the same question: Will NATO membership add to our overall security? Increasingly the answer appears to be yes. Nevertheless, NATO membership is far from certain as the Alliance seems to be experiencing expansion fatigue and Sweden and Finland remain reluctant to fully embrace membership.
However, the strategic value of admitting Montenegro and, especially Georgia, is even more uncertain. Even though Vice-President Joseph Biden recently voiced support for Montenegro's admission to NATO, whether it adds to the Alliance's overall security remains unclear. Despite being a very small country with few resources, what Montenegro's membership could do is definitively derail Russia's plans to construct a naval base there – preventing Russia from gaining greater access to the Mediterranean. Does that add to NATO's overall security? Perhaps. NATO is scheduled to make a decision on Montenegro's membership this December.
Georgia, however, is altogether different. On the one hand, Georgia has met virtually every requirement for admission into NATO. It has a very capable military and has actively participated in NATO missions, but because of its 2008 war with Russia, several NATO members are concerned that Georgia's membership could present a serious security risk. As one Eastern European diplomat put it: "If a country such as Georgia joins NATO, we have to be ready to defend it." In many respects Georgia would be an excellent addition to NATO, but because of its volatile history with Russia and the very real possibility that it could invoke NATO's Article V in defense against Russia, membership appears unlikely for the foreseeable future.
Russian Potential Reaction to Enlargement
Any further enlargement must consider how Russia would respond. At play is the classic security dilemma – as one party takes steps to make itself more secure (NATO), the other (Russia) interprets those steps as provocative, leading to the possibility of war. Russia has been unequivocal in saying that it opposes any further NATO enlargement. Precisely how it would respond is unclear, however. Responding directly to Sweden's consideration to joining NATO, Russia's ambassador to Sweden, Viktor Tatarintsev, said that "Russia would adopt countermeasures … Putin pointed out that there will be consequences, that Russia will have to resort to a response of the military kind and re-orientate our troops and missiles. The country that joins NATO needs to be aware of the risks it is exposing itself to." Moreover, Russia's envoy to NATO, Alexander Grushko, expressed the same view with respect to eastward expansion saying there would be "catastrophic consequences" and "[a]ny political game concerning NATO expansion into Georgia and Ukraine is filled with the most serious, most profound geopolitical consequences for all of Europe." NATO, therefore, faces the extraordinary challenge of shoring-up its security, while avoiding direct military confrontation with Russia.
NATO's Systemic Problems
As the Alliance contemplates further enlargement it must view the strategic value of doing so, along with Russia's possible responses, through the prism of its existing systemic problems. Simply stated – there are serious questions surrounding NATO's ability to provide collective defense for its existing 28 members. Spending has fallen to dangerous levels as only 5 members are reaching the 2% of GDP spending target on defense. This does not portray a complete picture, however. Belgium spends about 1.1% of GDP on defense, with nearly three-quarters going to personnel costs, a quarter going to operating expenses and barely 1% to acquiring new equipment and modernization. Elsewhere in NATO, whole divisions and weapons systems have been eliminated over the past few decades. This has led to serious interoperability problems as many NATO members are increasingly unable to operate with U.S. forces, the latter being decades ahead of many European counterparts in defense technology.
Additionally, there is perhaps no greater fundamental problem besetting NATO than a lack of common vision among its members and a lack of consensus on how to address the threats confronting the Alliance. Instead, there is a growing consensus within some member states that is deeply troubling. A recent Pew study exposed potentially deep fissures within NATO. It revealed that "at least half of Germans, French and Italians say their country should not use military force to defend a NATO ally if attacked by Russia." This is arguably the root cause of NATO's systemic problems and the reason why the Alliance should not undertake further enlargement for the foreseeable future. Admitting new members to an alliance lacking a common vision and anything less than a full commitment to collective defense would further weaken an increasingly overstretched NATO.
This analysis was originally posted on the Streit Council's blog
After MSC: A New EU and a New Strategic NATO concept?
There are many reactions to the Munich Security Conference and the speeches of Macron, Pompeo, Laschet and Steinmeier. Two are documented here. Firstly, the more pro-Russian perspective in the person of Dr. Alexander Rahr, who calls for a reinvention of the EU and proposes a Franco-German working group that, based on the eroding power and cohesion of the West, has a more European orientation along Macron's proposals, wants compromises in adhering to liberal values ​​and seeks a balance with Russia.
The conclusion of this year's Munich Security Conference is that the US is ruthlessly fighting to maintain its global monopoly on power and the status of the only world order power. The EU-Europeans cling desperately to the idea of ​​the liberal order of values ​​under Western leadership, which is waning every year. China and Russia enjoy their power roles, but are still too weak to put their sole stamp on the new world order.
The EU complains about the lack of multilateralism. But what does the EU mean by this: the sole power of the West? Russians and Chinese complain that the EU only hopes for America's appreciation, but does not want Russia and China to shape the new world order. Meanwhile, the United States is demanding that Germany and other Europeans mercilessly ostracize Russia and China as opponents and stop all technology and gas deals with them. The American Secretary of State Pompeo spoke of the permanent victory of the West, but meant only "America first".
The helplessness of the EU results in the fact that it continues to lose its role in shaping world politics. Steinmeier, Kramp-Karrenbauer, Maas – they all complained and complained. But today the EU is militarily weak, meanwhile also economically battered and weakened by internal conflicts. Despite constant calls from French President Macron, it lacks the will to take control of the action itself.
Macron tried to wake up the EU at the Munich Security Conference. He envisions a new European architecture that also includes Russia. But the other EU countries do not follow him; if they move closer to Russia, they fear the weakening of the transatlantic community and the sell-off of their beloved liberal values.
The liberal European elites, the powerful media and the business world lack the imagination to emancipate themselves from America. This reveals what the sovereignty of the EU actually was in the post-war years and the 30 years after the turnaround. The pressure to act is not yet strong enough for the EU. The transatlantic navel show of a western elite at the Munich Security Conference, which is convinced that it is not doomed, reminds outsiders of the warning words of the late Foreign Minister Westerwelle about late Roman decadence.
France and Germany should quickly set up an informal working group to develop the concept of a future European architecture. The prerequisite is that the group is not dominated by transatlantic think tanks or representatives of Soros foundations. After a lively exchange with Russians, Britons and Central Eastern Europeans, the results would then be presented to the heads of state for further use. Time is short: the EU has to learn to think outside the box, even if it has to cut back on its liberal focus on values. "
The second major contribution is from General ret. Wittmann in the Tagesspiegel, who criticizes the speechlessness of the EU and NATO and calls for a new strategic NATO concept in the tradition of the Harmel report:
"President Macron's description of NATO as" brain dead "was certainly unsuccessful. But, critical reference to inadequate consultation and coordination in the alliance was justified. This does not only apply to specific occasions, such as the uncoordinated withdrawal of US troops from northern Syria and their invasion by Turkey. There has always been a debate culture in NATO that spares many sensitive issues. On existentially important questions such as Iran's nuclear weapons ambitions or China's rise there have never been any serious consultations in the NATO Council. The reason appears to be twofold To be concerned: Disagreement leads in public to the assumption that NATO stands before the breaking up or dealing with a region outside of NATO territory creates suspicion that NATO wants to intervene militarily there, and the alliance must free itself from such inhibitions. It should raise "consultation" on a new core function of NATO – in addition to the three core functions defined in the strategic concept of 2010: collective defense, crisis management and cooperative security.
That would be an explicit revaluation and activation of Article 4 of the Washington NATO Treaty. Already in the short "London Declaration" of the heads of state and government after its meeting on the 70th anniversary of NATO in December 2019, there was twice talk of "consultation": It was reaffirmed that NATO is the essential forum for security consultations and decisions. And the Secretary General was asked to put forward the proposal for a "forward-looking process of reflection" to further strengthen "the political dimension of NATO, including the consultations". This is an emaciated version of the proposal, the president Macron and Secretary of State Maas had done. They wanted a more fundamental strategy debate. So it is to be hoped that the "reflection process" leads to the decision leads to renew the strategic concept of NATO .
This is the basic document of NATO, which has so far been decided about every ten years as the decisive specification of the NATO Treaty. The current one dates from 2010 – long before the Russian aggression against Ukraine, which catapulted NATO "back into the Article 5 world" to the question of the alliance case. The pendulum moved for more than two decades priorities for NATO and member states' armed forces towards foreign missions. Defense of the country and the alliance no longer seemed to be necessary. In 2014, given the concerns particularly in Poland and the Baltic States, it had to be demonstrated convincingly: If NATO could not help its partner Ukraine militarily, every square meter of NATO territory is taboo for Russia. With the Wales Summit in 2014, NATO's greatest reorientation began since the fall of the Berlin Wall: once again towards national and alliance defense.
The consequences affected aspects such as operational readiness, reinforcement planning, exercise, leadership, air surveillance – up to the "improved front presence" with multinational NATO battalions in Poland, Estonia, Latvia and Lithuania. All of this and the new look at Russia is not reflected in the current strategic concept, nor is the development of the past ten years in terms of threats, such as new weapon technology, cyber threats, security-related consequences of climate change, militarization of space and "hybrid warfare". The latter is not a completely new phenomenon, but it is a new challenge: a method that combines open and covert military and non-military resources and that can (and should) make it difficult for the Alliance to respond collectively. In the Ukraine conflict, Russia demonstrated the seamless orchestration of military and non-military instruments: military threats beyond the Ukrainian border, use of paramilitary units without sovereignty badges, cyberattacks against Ukrainian infrastructure and the support of "separatists" with military equipment.
The threats mentioned are to be countered increasingly by strengthening the "resilience" of societies, military structures and critical infrastructure. This keyword, borrowed from psychology, means resilience and flexible responsiveness. This task of NATO is so crucial that it should also be included as an additional core function in a new strategic concept. Why are you not yet in the process of designing a new strategic concept? Like over ten years ago, there is a fear that this work will be a "divisive process". Secondly, one wants to avoid a debate on the political and strategic foundations of NATO during Trump's presidency. On the military side of the headquarters, in the responsibility of the military committee, at least the military strategy policy document MC 400 was revised.
But it cannot remain there, not least because this document is classified as "NATO-confidential". With the decision at the time to publish the strategic concept of 1991, NATO opted for transparency and confidence-building the public. She owes the world her right to exist, discloses the threats and skills required under the circumstances that have changed since 2010. It is time for a new strategic concept for the transatlantic alliance. This was also intended to counter the nonsensical talk about an "identity crisis" of NATO. The new strategic concept must analyze the changed conditions in the field of security policy, represent the interaction between institutions and actors, and convincingly explain the continuing importance of the transatlantic link and the growing responsibility of Europe for its own security. "Consultation" and "Resilience (Development)" should finally be understood as core functions.
Also needed is a new strategic concept that substantiates the role of the "European pillar" in NATO, based on the "Common Security and Defense Policy" of the EU, which can only be successful, complementary, not competitive with NATO. The strategic challenge should also face up to the challenge posed by China and Russia's place in the European security order. A Dedicate concept – provided that Russia ends the violation of the rules agreed for them. The range of dialogues offered by NATO based on the harmony philosophy (defense and relaxation, firmness and willingness to talk) should be specified."
Brigadegeneral Retired Dr. Klaus Wittmann is a senior fellow of the Aspen Institute Germany and teaches contemporary history at the University Potsdam.
A new NATO concept expanded to include the functions of consultation and resilience is certainly necessary, as well as paired with a new version of the Harmel report (the latter has also been suggested by General ret. Kujat). In my opinion, however, this will not happen while Trump is still in office, as the transatlantic relationship after him will no longer be the status quo ante. In addition, the suggestion of Prof. Alexander Rahr is interesting no longer to wait, but to set up a Franco-German working group that at least design an architecture of the European pillar that was in line with Macron's proposals, so that one finally has a basis for discussion. This is no longer expected under Merkel, but hopefully the next black- green government will tackle this question. Armin Laschet accused the current Merkel government of inactivity in Europe on the MSC, while, despite being invited, Spahn and Merz never even came to the MSC.
However, Merz who is considered to be more transatlantic than Laschet due to his former position as chief of the Atlantic Bridge and member of Blackrock also pointed out that Germany and the EU should now actively react to Macron´s proposal as in the future there won´t be a better and more pro-European French president and Marine Le Pen was just waiting for her chance in the next presidential elections. And Merz is now also a supporter of a China Bridge, a new organization pushed by former CSU minister Friedrichs. At the MSC Laschet and Baerbrock had a panel together, but Baerbrock has no concrete ideas except the normal phrases that she was for "more Europe" and for human rights. While the Greens would have with Omnid Omnipour or even with Cem Özdemir an excellent foreign minister, their time is over at the Greens. Hopefully, Laschet or Merz as next chancellor will make foreign and security policy a chief issue and not delegate it to green idealists.
Remember the last green foreign minister, Joschka Fischer, who made no significant contributions except for the Yugoslavia war and the Iraq war, and Schröder made clear to him who was the waiter and who was the chief and cook, especially in relations with China and Russia, in which Eurasianist Schröder had even the Eurasiazisation of the G7 to a G9 with Russia and China in mind. The Green Fischer was more the liberal human rights transatlantic and had a strong ally in Madeline Albright, who later included him in her consulting firm and as a lobbyist for the Nabucco pipeline, while Schröder accepted positions with Putin, Gazprom and Rosneft as well as Rothschild, whereby Macron was also employed by Rothschild before he started En Marche.
AKK, which had already unsuccessfully wanted EU or NATO missions in northern Syria, was also speaking at the MSC and their suggestion of an EU mission in the Persian Gulf with German participation was gratefully received by Macron as France is already there with the first warships and Macron proposed a vote in the EU about such a joint mission to get a picture of the mood, as well as sending a Coalition of the Willing as the first European mission to set a precedent. However, the Europeans do not want to participate in the US mission in the Persian Gulf, since they do not share Trump's maximum pressure policy and the termination of the Iran deal and do not want to be drawn into a U.S.-Iranian war, but first only to secure the international trade routes and their own ships Which position a Brexit-Gb under Johnson will take remains to be seen.
Three comments on General Wittmann's contribution to a new strategic NATO concept in the Tagesspiegel. The Harmel report proposed a new NATO strategy based on the transition from Mutual Assured Destruction (MAD) to flexible response and the willingness to engage in dialogue with the Eastern Bloc. Similarly, one might also have to expand the flexible response, also based on the new weapon systems and new international players
Furthermore, the question arises to what extent a new strategic NATO concept also takes into account the questions that Michael O Hannon raises in his recently published book "The Senkaku Paradox" – that is, how NATO will react to a limited hybrid warfare of Russia, be it in the Baltic Gaps or on the part of China around Taiwan, the South China Sea or the East China Sea- whether NATO and the USA respond massively to this or contain the local aggression of small stakes and respond with massive economic warfare, as he outlines in his book:
America needs better options for resolving potential crises
In recent years, the Pentagon has elevated its concerns about Russia and China as potential military threats to the United States and its allies. But what issues could provoke actual conflict between the United States and either country? And how could such a conflict be contained before it took the world to the brink of thermonuclear catastrophe, as was feared during the cold war?
Defense expert Michael O'Hanlon wrestles with these questions in this insightful book, setting them within the broader context of hegemonic change and today's version of great-power competition.
The book examines how a local crisis could escalate into a broader and much more dangerous threat to peace. What if, for example, Russia's "little green men" seized control of a community, like Narva or an even smaller town in Estonia, now a NATO ally? Or, what if China seized one of the uninhabited Senkaku islands now claimed and administered by Japan, or imposed a partial blockade of Taiwan?
Such threats are not necessarily imminent, but they are far from inconceivable. Washington could be forced to choose, in these and similar cases, between risking major war to reverse the aggression, and appeasing China or Russia in ways that could jeopardize the broader global order.
O'Hanlon argues that the United States needs a better range of options for dealing with such risks to peace. He advocates "integrated deterrence," which combines military elements with economic warfare. The military components would feature strengthened forward defenses as well as, possibly, limited military options against Russian or Chinese assets in other theaters. Economic warfare would include offensive elements, notably sanctions, as well as measures to ensure the resilience of the United States and allies against possible enemy reprisal.
The goal is to deter war through a credible set of responses that are more commensurate than existing policy with the stakes involved in such scenarios."
The third question is to what extent such a new Harmel report also considers the possibility of diplomatic solutions in the sense of a New Eastern Policy with Russia, as well as arms control agreements after the terminated INF contract, the possible termination of START and other new weapon systems for which there are still no arms restrictions as cyber or space weapons. At the moment, all the militaries in the world are currently busy modernizing their weapon systems and China has announced that, on the one hand, it wants to increase the scope and, on the other hand, it will only be ready for armaments agreements once the modernization has been completed and negotiations should take place on this new basis.
From our partner RIAC
"Westlessness" of the West, and debates on China during Munich Security Conference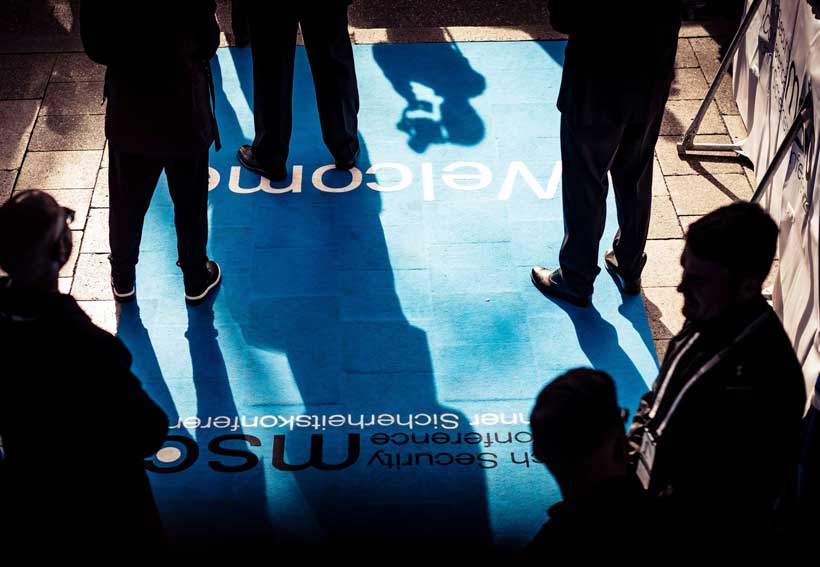 The Munich Security Conference, which traditionally brings together heads of state and government, foreign and defense ministers in February, is usually expected to bring some kind of intrigue. This time round, the role was claimed by the conference report, titled "Westlessness," whose main message was the loss by Western countries of their global leadership and, as a consequence, the growth of nationalist sentiment in Western countries and the loss of their monopoly on resolving international conflicts.
Expectably enough, Russia and China were blamed for the world and the West itself becoming "less Western." The organizers of the Munich Conference urged China to responsibly handle its role as the world's new non-Western center of power, and expressed hope that China would over time "adopt liberal values and become a "responsible stakeholder" in a liberal world led by the West."
A pretty unlikely scenario though. A separate chapter in the report's "Actors" section is devoted to China. Describing China as the "Meddle Kingdom" (similar to the Middle Kingdom), the authors view the country's growing economic might and political sway as a potential threat to the world order that exists today.
The authors are concerned about looming Chinese superiority in foundational emerging technologies like artificial intelligence, quantum computing, and connectivity technology, as well as surveillance technology and "know-how" in the field of internet regulation. In the case of 5G, they write about an intense debate over how to balance close economic ties with China amid growing security concerns. And, in a truly Freudian slip, they write about "the growing concern that the future holds a technological segregation of the world into those countries operating on Western technologies and norms and those running on Chinese ones."
The section of the report on China is chock-full of graphs, charts and diagrams reflecting European fears of Chinese technology and investments. However, when carefully examined, these charts show that despite strong opposition from Washington and Brussels, more than half of "respondents" perceive technologies and investments from China positively.
The participants in the Munich Conference also spent a lot of time trying to present the coronavirus epidemic as a "Chinese threat," even though China's Foreign Minister Wang Yi said in Munich that his country would soon be able to check the spread of COVID-19.
Speaking at the conference, Russia's Foreign Minister Sergey Lavrov emphasized: "We are prepared to join efforts on other pressing issues of the global agenda, including epidemiological threats. We are ready to work together on other pressing issues on the world agenda, including epidemiological threats. In this regard, I would like to note China's open and responsible approach to international cooperation in combating the spread of the coronavirus."
The Munich conference never found a cure to the problem of "Westlessness" though. Well, maybe they should look at themselves instead of faulting China, Russia and others? At least, Russian and Chinese representatives reaffirmed their readiness to engage in a constructive and inclusive dialogue.
From our partner International Affairs
Does NATO respond positively to the Turkish supererogation?
Turkey is once again turning to the West, while over the past two years, it had been distancing from the West and trying to collaborate with Russia due the success of the Astana peace process on the Syrian conflict.
Damascus's strategic patience is over because Ankara has failed to fulfill its commitments regarding retaking the areas captured by terrorists backed by Turkey. The Syrian army's widespread advances over the last two weeks in areas occupied by terrorist forces in the northwest have led to Ankara's reaction and increased tensions between Syria and Turkey. Along with wresting control over the strategic Damascus-Aleppo highway, the Syrian army carried out successful operations in recapturing 1500 km2 of Syrian territory and about 100 towns and villages in west and south Aleppo, especially key towns of Khan Tuman and Saraqib. Following the Syrian army's operations, the Turkish government has sent thousands of troops and military equipment to the outskirts of Idlib to prevent the continued advance of the Syrian forces.
Turkey's moves were due to greenlight by the U.S., NATO, and the EU, which have so far not been in Ankara's favor; rather they have resulted in massive casualties and the loss of six military bases in Syria's territory.
Recently, Turkish Defense Minister Hulusi Akar called on the North Atlantic Treaty Organization to support the Turkish military in order to halt the Syrian army's offensive against Idlib, the stronghold of the latest Turkish-backed terrorist elements.
Obviously, the move by Turkey has broken the commitments to the Sochi agreement and the Astana process, with the aim of holding its place in NATO. This is a wish that seems unlikely to come true, given the chaotic situation of NATO and the West's distrust of Turkey.
Accordingly, it is certain that Idlib and its outskirts will soon be completely liberated because of the high motivation and ability of the Syrian army. The liberation will definitely thwart all hostile policies that Turkey has adopted in Syria for many years and will bring heavy defeat for Ankara.
The developments in Syria in recent days shows that Turkey is no longer trustworthy as it has explicitly violated Syria's sovereignty as an independent state. There have been some accords on Syria, such as the Sochi agreement, regarding the establishment of a safe zone in Idlib, while Turkey has not considered the slightest value for the agreements.
From our partner Tehran Times