Diplomatic Duplicity: China and Nuclear Non-proliferation
China's application of non-proliferation controls has been the subject of intense and ongoing criticism from the West, yet it has continued to be allowed growing non-proliferation commitments.
China remains a member of multiple non-proliferation groups while continuing to either deny its involvement in the proliferation of nuclear weapons technology or pushing the envelope with transactions involving other countries that are not members of the Nuclear Non-Proliferation Treaty, like Pakistan. China has had continuous involvement in the proliferation of technologies and weapons to Pakistan, with the relationship spanning over 4 decades, beginning in the mid-1970s. China recently confirmed that it is involved in at least six nuclear power projects in Pakistan, which underscore the long-standing concerns over the manner in which China goes about making relations with such nations and the lack of transparency that infuses the entire engagement. This relationship is not only a threat to surrounding counties like India, but the very security of the world. China's continued clandestine cooperation with such nations, all while being a proponent and member of non-proliferation nuclear weapons treaties, undermines the very nature of the international institution and brings into question why the United States does not place more of a critical focus on such behavior.
The affiliation between China and Pakistan goes against numerous guidelines, most notably the Nuclear Suppliers Group (NSG), a 48-nation body that regulates the export of civilian nuclear technology and prohibits the export of such technologies to countries like Pakistan who have not adopted full-scope international atomic energy agency (IAEA) safeguards. Regardless, China has accelerated nuclear commerce with Pakistan while insisting that its actions are in compliance with NSG guidelines. As such, China not only stands in violation of nuclear non-proliferation, but also puts forth the most convincing evidence of the ineffectiveness of the non-proliferation treaty rules and regulations. If one of the founding signatories is so willing to go against the stipulations with little to no consequence, then how relevant is this institution?
China's involvement with Pakistan's nuclear program is aimed to operate effectively outside of mainstream scrutiny, as opposed to the United States and Indian Nuclear Agreement of 2005, which was designed to bring India into mainstream nuclear commerce and global nonproliferation regulations. The United States has spent considerable energy for years consulting with its NSG partners to secure a special waiver for India, which exempted it from constraining conditions of full-scope safeguards, whereas the Sino-Pakistani nuclear engagement is very much a mystery to the international community. Ultimately, China's involvement was pivotal in Pakistan's pursuit of the nuclear bomb, with China providing Pakistan 50 kilograms of weapons grade uranium in 1982 and then providing the following year the complete design for a 25 kiloton nuclear bomb. Previous to this, the first official signs of a Sino-Pakistani nuclear cooperation were in 1977, when the U.S. government noted China's commitment to Pakistan in providing fuel services and Chinese technicians to the Karachi Nuclear Power Plant. The following year small quantities of enriched reactor grade uranium was produced there.
The question remains: why does the United States choose to not act more against these violations? The U.S. Atomic Energy Act requires the termination of U.S. nuclear exports if the countries involved are determined to be assisting non-nuclear weapons states in the acquiring of nuclear weapon capability. Despite the fact that multiple United States administrations have been aware of Pakistan and China's clandestine nuclear cooperation, they did not significantly press either China or Pakistan about this cooperation, nor did they threaten to terminate nuclear commerce with China.
Despite the adoption in 2002 of what many considered comprehensive export controls, Chinese entities continue their Pakistani engagement. The U.S. at this point is frustrated by the lack of action by the Chinese administration to clamp down on this proliferation by state and private entities and has begun to attempt to constrain China's companies by cutting them off from the U.S. economy and international financial markets. In the past few years, the role of state-owned enterprises involved in proliferation has appeared to decline, likely due to the desire to be removed from U.S. sanction lists, yet there remain three important categories of proliferation that continue prominently: nuclear transfers to Pakistan; a list of serial proliferations involving infamous individuals like Karl Lee; and the final category relates to individual transactions or group transactions that are exported to prohibited end uses. China seems unwilling or unable to take any definitive action against these three categories of proliferation, despite releasing a joint statement with France, Russia, The UK, and the US this year when it stated that …"we rededicate ourselves to the NPT and its three mutually reinforcing pillars – disarmament, nonproliferation, and the peaceful uses of nuclear energy – we also pledge our support for efforts to ensure the Review Conference builds on the success of the 2010 Action Plan and encourages further cooperation on steps to strengthen all three pillars of the Non-Proliferation Treaty (NPT)."
Even when the United States has attempted to place diplomatic pressure, like in 1990 when the U.S. government refused to certify that Pakistan had not assembled a nuclear device, thus resulting in the suspension of military and economic aid from the United States (in accord with the Pressler Amendment requiring the President to certify every year that Pakistan does not have nuclear weapons), this has done little to impact constant Chinese assistance to Pakistan. Incredulously, at the same time China began its move toward becoming a signatory to the NPT in January 1992, it also announced that it was constructing a nuclear power plant in Pakistan. This kind of diplomatic duplicity has always gone unpunished.
China's involvement has had serious implications to other nations like India. The waters for India became muddled with the creation of the NPT. The NPT required that only internationally-traded nuclear material and technology be safeguarded. This was something that India was willing to accept, although they declined to disarm and join the NPT as a non-weapon state. However, in 1992, as a means to induce expanded participation in the NPT, the Nuclear Suppliers Group decided as a matter of policy to prohibit all nuclear commerce with nations that had not agreed upon full-scope safeguards. What this meant to India was that it became exiled in the world of nuclear commerce. As a result, India has always sought to intensify its self-reliance and continue to maintain a nuclear deterrence presence, while simultaneously expanding its pursuit of peaceful nuclear energy.
China's clear and steadfast involvement with the proliferation of nuclear technology and weapons to nations like Pakistan has been in stark defiance of the non-proliferation treaties that it is willingly a part of. These actions are not only dangerous to Pakistan's neighbors, but are a threat to global security overall. Furthermore, China's unwillingness or inability to stop private and state entities from continued commercial proliferation is even more worrying: though the United States has placed pressure on China to cease these activities, the problem continues, begging for a new strategy to force China's hand. Otherwise, the idea of nuclear non-proliferation as a serious international institution may end up being simple folly. Duplicity wins out.
Post pandemic: US, China and their deteriorating relationship
In the aftermath of the coronavirus pandemic, there has been an increasing clamor, for reducing imports, especially of essential commodities from China, and for exploring new supply chains.
The US has proposed an 'Economic Prosperity Network' consisting of US, India, Vietnam, Australia, New Zealand, Japan, South Korea. US Secretary of State, Mike Pompeo while speaking to the media, reiterated the need for greater cooperation between these countries for pushing forward the global economy, in a post corona world, and also to change existing supply chains.
Similarly, a number of members of the CPTPP (Comprehensive Partnership Trans Pacific Partnership), especially Japan, Singapore and Australia, worked closely, to keep supply chains intact in the midst of covid19 (Japan has also been seeking to expand the CPTPP with the aim of alternative supply chains).
Reducing dependence upon Chinese technologies
Apart from supply chains of essential commodities, steps are being taken to create an alternative to Chinese technologies. UK has recently proposed, that 10 countries work together to counter China's technologies – especially 5G. This network, Britain has proposed, should include G7 countries (United States, Italy, Germany, United Kingdom, Japan, Canada, France) + South Korea, India and New Zealand. US President Trump further stated, that G7should be expanded to include India, South Korea, Russia, New Zealand.
Resumption of International travel
While there have been numerous discussions on shifting supply chains from China, another challenge posed by the pandemic is likely to be the resumption of international travel. Interestingly, the US has international flights with China from June 16, 2020. This is in line with the US President's aggressive stance vis-à-vis China. The reason cited for the US President's decision was China's refusal to allow US carriers to fly to China (American companies on the other hand have been lobbying for the resumption of flights). China was then compelled to take back on its decision of US airlines.
China has recently allowed business executives to fly in from Germany and South Korea (China and South Korea have also signed a fast track arrangement to reduce the quarantine period for executives travelling).
Domestic flights within Asia
A number of countries in Asia, including Vietnam and India have opened domestic travel (the latter is likely to resume international flights from June 9 to US and Canada). Vietnam had resumed domestic travel after the easing out of social distancing measures, (since then over 500,000 domestic passengers have flown). The ASEAN nation began by opening out five tourist destinations. India resumed domestic Air travel on May 25, 2020 and between then and June 1, 2020 over 4,000 flights have been operated.
Japan seeking to revive air travel
Apart from China, one more country which is working towards resuming air connectivity with other countries is Japan (restrictions will remain in place for some time for US, China and South Korea). The countries, with which Japan is exploring the possibility of air travel are; Australia, Vietnam, New Zealand and Thailand. Japan shares close economic linkages with Australia, Vietnam and Thailand(over 1500 Japanese companies operate in the two ASEAN nations, while Japan is dependent upon Australia for farm products). Japan also receives a large number of tourists from these countries. The East Asian nation is focusing on resuming air connectivity with the above countries for kickstarting the economy, but it is likely to do so in a phased manner; international flights will begin first for business men, then students and finally tourists.
Countries like China, India, Japan, Thailand and Vietnam are looking to revive economic activity and air connectivity, both domestic and international, is essential for the same. It is important, not just to resume air connectivity, but also to learn best practices with regard to precautions.
While all the above steps are welcome, the real challenge for governments, globally, is likely to be in the months of August and September 2020, when students from different parts of the world, need to travel to the west (especially, US, UK and Canada) for pursuing higher education.
Conclusion
The efforts of Japan, New Zealand, Vietnam and Australia yet again reiterate the point, that while all eyes have been on the US and China and their deteriorating relationship, a number of countries have been seeking ways to foster cooperation, not just in dealing with the pandemic, but also for giving a boost to economic ties, and resuming air connectivity.
Exposure of Ulterior Motives Behind Stigmatization of China with COVID-19
As the COVID-19 outbreak continues to rage across the US, the American people are complaining about the White House's "lack of action" in the critical period of pandemic prevention and control, to which, however, Pompeo and his fellow politicians have kept finding excuses for themselves.
To be fair, these politicians have truly had a full plate since the outbreak, although on their plate is not how to control the pandemic at home, but how to make trouble for other countries.
When China, the country first hit by the virus, was busy containing its spread, the US politicians tried to stick their nose into China's Xinjiang, Taiwan, and Hong Kong and brazenly interfered in the internal affairs of the country by passing the so-called "acts". On the other hand, they put out a number of ludicrous assumptions like "China made the virus" and "China covered up its pandemic situation", in an attempt to stigmatize China in the international community and corner it to a moral predicament. Washington leaves no stone unturned when it comes to the use of these ugly tricks.
This isn't the first time that politicians like Pompeo are trying to loot a burning house – they always jump at the first sign of sniffing such an opportunity. They rolled out sanctions against Iran during its domestic turbulence; they tried to have it both ways when Qatar was on bad terms with countries like Saudi Arabia; and they, on the pretext of "democracy and human rights", blatantly backed radical and violent criminals in Hong Kong during the riot and unrest caused by the expatriation law amendment bill.
If we go into their ploys seriously, Pompeo and his like are not only professional looters of burning houses, and they set the fire themselves! They first set the house on fire and flame it up, then loot it while occasionally making a gesture of putting out the fire. They are so good at playing "good cop and bad cop" games and busy putting on their farcical performances.
Just take a look at what the US has done in the Middle East. The wars it waged against Iraq and Afghanistan left the two countries in lasting turmoil; the Arab Spring it much-trumpeted left Egypt and Syria in prolonged instability; and its instigation and flame-fueling have led to the growing escalation of Palestine-Israel conflicts, in which the US had sowed seeds.
Yet certain American politicians have the nerve to reap geopolitical gains where they set fire in the first place. Pompeo and his like even posed as saviors or angels claiming to have brought peace to those areas they left in ruins.
How ridiculous and shameful they are! These politicians are accustomed to being cops in name but thieves in nature, calling "stop thief" on the one hand while being that thief on the other. They beautify hegemony as justice and dress up rumor-mongering as freedom of speech.
Pompeo and his like are doomed to a pathetic end. As an old Chinese saying goes, good and evil will meet their karma one day or another, which has been verified on Pompeo and his like over and over again. In the Middle East, for instance, America's credibility has been irreversibly destroyed no matter how hard Pompeo and his like are trying to bloat their bubble.
The COVID-19 outbreak wouldn't and shouldn't have spread so fast and widely across the US had Pompeo and his like devoted a tiny part of their energy and time into what they should have done. The chaotic disaster of Washington's epidemic control has made millions of Americans suffer, and a growing number of the righteous people are voicing their questions and protests. In contrast, the US media has named Pompeo one of the worst Secretaries of State ever in American history.
Turning a blind eye to the chaos and loss of lives at home, Mike Pompeo and his like, adamant on making trouble for the world, have kept disrupting international cooperation and undermining peace undertakings. They have become the common enemy of world peace and are doomed for a pathetic end. The burning house looters will eventually get burned themselves.
"Mask Diplomacy" and Understating China's Confucian Strategy in International Relations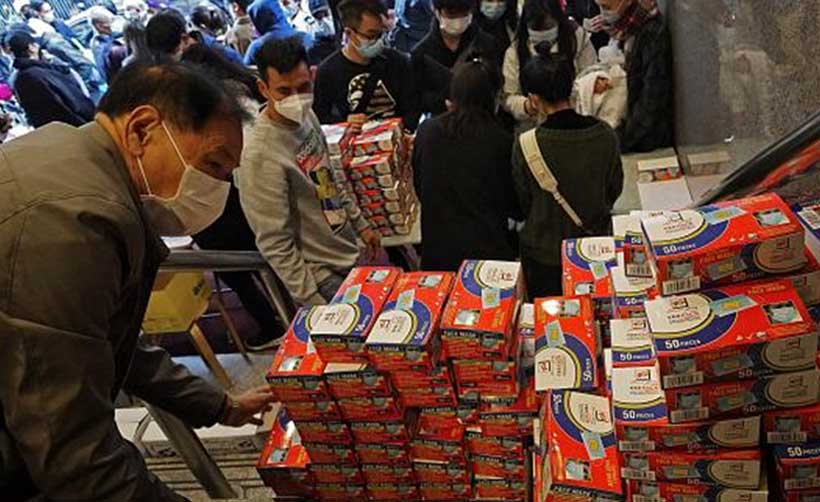 It is by no means a hyperbolic phase to call the year 2020 as Anus Horribilis by virtue of the events that have befallen from the very first month. The new year bells rang amid the bush fires in Australia and within seventy-two hours after new year eve the US assassinated Iranian top General Soleimani in Iraq creating an extremely tense situation. Then within a week, the greater disturbance escalated into a worse scenario when Iran launched an attack on the US bases in Iraq.
However, all the above-mentioned events became less significant and probably forgotten when COVID 19 became an unmitigated disaster creating chaos around the world. But when it emerged in China at the end of 2019 the morbid fascination shown by the US foreign policy analysts was a palpable factor as the US perceived that repercussions of COVID 19 in Wuhan may inevitably stagnate the magic economic growth that China has been witnessing. But this irrational jubilation was short lived as it ultimately turned to irrational disappear with rapid spread of COVID 19 as a global pandemic which has now brutally wounded the USA making it as the current epicenter whereas China has slowly begun to recover from its eleventh-hour moment. The unexpected situation erupted in the West before coping with the corona virus was followed by China's evasive global aid campaign against Coronavirus as Chinese opted for "mask diplomacy" by sending medical supplies to European countries and the portrayal of China as the scapegoat was vindicated by these actions.
So, it is intriguing that, especially the growing emphasis on China's liability for concealing the corona virus when it emerged in Wuhan from the global community, that China gleefully clung to its mask diplomacy across Europe when European solidarity was at stake. Especially, China's gusto in supplying medical aid and masks to Italy was a notable factor as it has altered the hostile public perception pervaded in Italian society towards China's BRI (Belt and Road Initiative). For example, there was a massive criticism on Chinese BRI project in Italy, particularly in relation to its potential threat to debilitate Northern Italy's economy. China seized the moment in such a berating atmosphere towards them in Italy as the good Samaritan. China's massive medical supply and masks to Italy even as European Union failed to rally around one of is leading economies played a crucial role in China's position in Italy. In fact, Italy was just one example showing the astuteness of China's mask diplomacy amid many COVID crisis.
Nevertheless, the causes rooted in Chinese bonhomie seems to have been propelled by Xi Jin Ping's biggest dream of leading China to the global political realm and the apathy shown by the USA contrary to its historical Atlantic alliance with Europe boosted China's "Mask's Diplomacy" significantly. While ascertaining the Chinese strategy amid the COVID crisis to uplift their good name in the Western world, one cannot forget the trajectories shaped up Chinese foreign policy that have mainly derived from Modern Chinese infatuation with their ancient Confucian values in diplomacy. The Gift giving has been depicted as rather essential feature in Confucian ethics and it was well applied by several dynasties in imperial China to expand Chinese influence beyond its frontiers. China's ethical guru Confucius venerated ethics over law.In emulating the principle of virtue, the importance given to ritual has played a significant one, because in the Chinese ancient book of rites, the governance and giving were linked to ritual. It was believed that gift giving as a ritual was filled with reverence and sense of generosity and also it was expected to receive blessings from the receiver.
The Confucian ethics prevailed in imperial China reached its nadir after the formation of People's Republic of China grounded on Communism. Yet, its importance came back to the practice with steeping growth of China as a global political, economic and military power in the late 20th century. In particular, the famous gift giving strategy adopted by Chinese leader Deng Xiaoping in the 80's to make comity with the USA was known as Panda Diplomacy which resulted in a considerable diplomatic triumph for China.
From a vantage point the Chinese strategy of sending medical aid and masks to foreign countries, especially to EU states is akin to how Chinese approach to develop foreign relations under Confucian values, but its deeper political expectations seem to have been envisaged by the west with a sense of doubt. Especially, China's act of sending masks and medical aid was seen as a way to extend Beijing's political leverage to other countries and divert world attention from discussing China's culpability for spreading corona virus. The Chief of the European Union Joseph Borell has described this phenomenon as "the politics of generosity", simultaneously the West has lampooned China for conducting provocative campaigns against neighboring countries from Taiwan to Japan by taking the advantage of corona chaos. The criticism focusing on Beijing's actions are been propelled by China's contemporary attitude to increase its participation in global politics contrary to its initial claim on peaceful rise, which used to be the mantra of Chinese depiction of their yearning to become a super power under Hu Jintao.
Given this situation of West's ambivalence to view Chinse "Mask Diplomacy" as an evasive action to change the global attitude towards China, the Confucian ideals need to be reexamined as it guides foreigners to fathom how Chinese vision works. As I stated above gift giving culture played a dominant role in ancient China under Confucian ethics to underpin the social harmony. Throughout its civilizational saga, China always called herself the middle kingdom and kept paternal relations with the neighboring states. Thus, it is justifiable to argue the way Chinese have been using the the Mask Diplomacy is not entirely an act of manipulation of opportunities as it has been vehemently critiqued by the West. Indeed, its roots have derived from China's unique civilizational approach to international affairs.