Malaysia in political stalemate
Malaysia's Prime Minister Najib is facing accusations of fraud with the 1MDB fiasco, and the murder of Mongolian model Altantuya Shaaribuu, while the economy is going into a 'nosedive'.
After six and a half years in office, Premier Najib presides over a nation with contracting growth, rising inflation, growing unemployment, a Ringgit at a 20 year low against the US Dollar, significant capital flight, a massive debt problem, disappearing sources of income, and low consumer confidence.
Although some of these problems are the result of global factors such as declining oil and gas prices, low commodity prices, and sluggish growth of major trading partners, Malaysia's problems also greatly exist today as the result of policy failures. Extremist policies have also led to social and ethnic tensions within the country. In addition, the depreciation of the Ringgit and introduction of the GST have put undue hardships on the people.
Malaysia is going through a very intense period of political infighting at the highest echelons of power within the dominant party within the Barisan Nasional (BN), UMNO. Premier Najib recently sacked his Deputy Muhyiddin Yassin, and other ministers and officials in desperation to maintain his grip on power, while the former PM Dr. Mahathir is leading a vanguard of senior UMNO stalwarts to remove Najib from office.
Within corporate Malaysia, there is now a deep realization about how fast Malaysia is falling behind the rest of the world. Many believe that the Prime Minister has not grappled with the real problems facing the nation. This thinking according to sources goes right to the board rooms of companies like Sime Darby and Petronas, some of the premier financial institutions of the land, as well as a number of Royal Households.
However there is a large split in thinking about how to solve the problem, as the Mahathir forces are still viewed with great suspicion by many sections of royalty. Thus any possibility of him being an immediate interim prime minister would never be considered. There is also a general distain for the weak and incompetent opposition in the country, which instead of showing leadership has allowed infighting to surface publicly and dissolve the Pakatan Rakyat.
Consequently, there is no planned takeover of power, coup, of method to remove Najib from office in existence. The prevailing view is one of being stunned and a feeling of impotence, as Premier Najib has managed to centralize most power in the country around the Prime Minister's position.
The immediate task at hand for Premier Najib was to deliver a national budget. There has been massive revenue shrinkage due to falling oil revenue and a corresponding reduction of dividends paid by Petronas to government consolidated revenue. The unpopular GST will not make up the projected short falls over the coming years, which will increase the budget deficit, if government spending is not drastically reduced. This would be politically unpalatable, particularly at a time when Najib is so unpopular. Najib also has to contend with growing unemployment and will be pressured to maintain infrastructure spending, so lucrative contracts can continue to be given out to his supporters.
The flip side for Najib is that with the falling Ringgit, and rising debt, ratings agencies will be looking for fiscal responsibility in the budget. A fiscally irresponsible budget could increase capital flight which is already a major problem for Malaysia's balance of payments.
Najib has tried to do all this. He has chosen the path to spur the economy through nine infrastructure projects, of which a high proportion are in rural areas, Sabah and Sarawak. In addition, a lot of 'sweeteners' have been added into the budget, which are no doubt aimed at shoring up his popular base. From this point of view, it could be construed as an election budget, giving Najib the option to call a snap election, if necessary. At the same time a number of reforms for the civil service have been announced as well as a projection of a lower budget deficit of 3.2% of GDP, down from 6.7% the year before, in an attempt to win support of ratings agencies.
It's a budget that BN members of Parliament would find it difficult to vote against, due to the large numbers of specific programs benefitting their individual electorates.
The weak opposition has become Premier Najib's great strength. PAS President Aman Hadi's push for HUDUD laws eventually broke up the opposition alliance, Pakatan Rakyat. In addition Hadi's indecisiveness on whether PAS would support any no confidence motion against Najib in parliament this week was seen by many in the opposition as treacherous.
The handling of the no confidence motion showed complete incompetence. The fact that DAP MP Hee Loy Sia filed a motion of no confidence before PKR leader Wan Azizah, has led to questions in the local media about whether the new alliance Pakatan Harapan actually wants to remove Najib from office. The opposition seemed to be more interested in who would make the motion of no confidence, rather than actually making this symbolic move in parliament, which would have failed anyway, due to lack of numbers of support the motion.
Others felt that the whole matter of a no confidence motion was just a waste of time, as there is no chance of and mass defection of Barisan MPs. UMNO backbenchers have shown no sign of wavering, as have Sabah and Sarawak MPs, along with Gerakan and MCA members.
There is also worry about the opposition's policy proposals to solve the financial crisis. The opposition proposal to put 1MDB into administration in Wan Azizah's budget speech would only lead to an asset fire sale. In addition, blocking TNB from taking over 1MDB assets is just sabotaging any initiatives to reduce debt.
There is no end game in sight.
It is rumoured that Najib's mother and at least one brother has asked him to make a deal with Dr. Mahathir on safe passage out of Malaysia and immunity from prosecution. However, upon Najib's wife, Rosnah's insistence, he is taking up the fight to survive with a new and ruthless political secretary in charge. Such a deal anyhow would provide Najib with no guarantee, as Dr. Mahathir has no legal or political standing to make such a deal.
No doubt, Najib will pass through this session of parliament with the partisan speaker Pandikar Amin Mulia, and the UMNO AGM in December. In theory Najib can continue right up to 2018 as party president and prime minister. However, the pressure of a quickly deteriorating economy and a poor budget reception could change that timing, particularly is any other unforeseen event arises over the next few months.
The advantage to Najib is the extremely poorly coordinated opposition that has shown itself to be in disarray with the PAS/Parti Amanah Negara (PAN) split. Ironically, Dr. Mahathir looks and appears to be the only effective opposition leader in Malaysia today. Yet the Mahathir forces themselves are also impotent (something he admitted himself) against the Najib forces which control the powerful PM's office, ministers, UMNO, and police.
Overall, Mahathir has been disappointing in his handling of Najib, which has only in reality showed up his impotence in standing up to his old protégé. He has failed to show the strength he once had as a leader and politician.
Muhyiddin and Tunku Razaleigh have primarily been on the side-lines, unwilling to take any lead.
Najib's best action would be to go for an immediate snap election after the budget and catch the opposition 'off guard', and weaken them further. By placing his people in winnable seats, Najib could further his strength within UMNO and government, and even weaken the Mahathir forces mortally.
The recent poll stating the unpopularity of UMNO and its leader with the Malay electorate was urban biased, thus such a result would be expected. The general election is won or lost in the heartland, not the urban areas, so UMNO can still win.
However, there would be very little incentive to do this as parliament still has two years to run until an election is needed. Nevertheless, it could be tempting to wipe out PKR, PAS, and Harapan Baru all at once, as PAS is likely to stand candidates against PKR and DAP leading to three-cornered contests. The opposition also has a major credibility gap with the Malaysian public.
A new parliament after an election would most probably be dominated by UMNO and DAP, which is set to make massive gains.
Najib's best and only option open to him at the moment is to stay in power to protect himself, and the interests of his family's businesses, controlled by his brothers Nazir, Ahmad Johari, Mohamed Nizam, and Mohamed Nazin Razak. These business interests include a number of high profile corporate assets, entangled with a number of close associates including Tan Kay Hock, Shahril Shamsuddin, Mohamed Azman Yahya, Rohana Mahmood, Azman Mokhtar, Mohd. Nadzmi Mohd. Salleh, and others, who could stand to lose many of their assets should Najib no longer be prime minister.
Najib seems very hesitant to go the election track and may rely on police repression to maintain his grip on power for the time being. Najib's new DPM Zaid is like a 'pitball' and his new political secretary Muhd Khairun Aseh Che Mat has shown himself to be a ruthless political operator. Attacks on dissenters and the arrests of those trying to expose Najib, like Khairuddin and Matthius Chang under the anti-terror SOSMA laws, shows what Malaysia may be install for in the near future.
This would leave the leadership crisis in stalemate, where Najib can choose his own time to step down, while the economy continues to deteriorate into the foreseeable future.
To this point in time, primarily due to the lack of incentive to unite, Najib's detractors are powerless to make any decisive constitutional moves against him.
No one is able to convince to UMNO/BN politicians, except for the Najib forces, who are keeping a tight rein on them. So any move by former senior UMNO leaders to push for an interim government through the parliament and constitution is not a possibility.
Najib, who was once Dr. Mahathir's protégé has proven himself to be more skilful and cunning than the master.
Yet the biggest tragedy for Malaysia is that the Najib regime has no vision for Malaysia, and thus the longer he stays, the more damage that will be done.
There is also little hope in any post-Najib era as well. The opposition is only coming out with ad hoc policy measures, which may even make worse some of the problems, and the Mahathir forces are totally silent about what they would do.
Political advantage through aid or trade: India's knee jerk on Malaysia and Turkey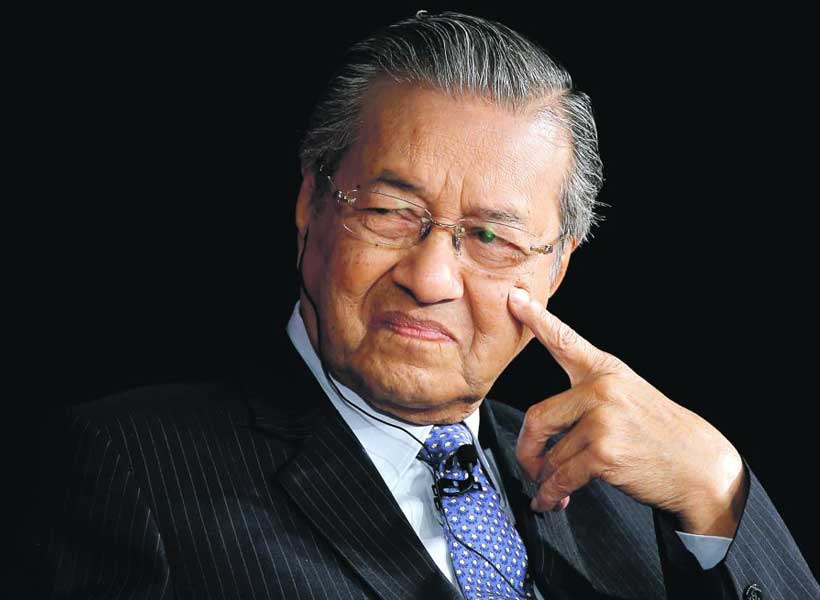 In today's market economy, no country can live in economic isolation (sakoku). The USA (or its proxy India) has a flexible format to dub or delete a country as axis of evil, sponsor of terrorism or pariah (Tamil paraiyar, outcastes), or rogue (Iran, Sudan, North Korea, Cuba, Venezuela). Ottoman Empire was persecuted as an outcast by European States since the Treaty of Westphalia in 1648 until the nineteenth century on a `religious basis'.
Geldenhuys points out criteria for declaring a state pariah._ having 'artificial borders' (Iraq), siege mentality, anti-West sentiments and desire to subvert the international status quo (Pakistan?), or not being a considerable `world power'. China being a `world power' is not pariah despite its human-rights complaints in Xinjiang.
Through aid to or trade with states, India is now influencing not only internal but also external policies of countries: Rafale deal with France, likely helicopter and air defence deal with USA, trade relations with Saudi Arabia and the United Arab Emirates.
In Sri Lanka, India brokered to remove Mahinda Rajapaksa from office 2015. Rajapakse had given China strategic entry into Sri Lanka, by leasing out Hambantota port to China and allowing it to build Colombo port and dock its submarines in Sri Lanka. Now Sri Lanka has handed over control of Humbantota to India. India gave $45.27 million aid to develop KKS harbour in Sri Lanka (Jan 12, 2018).
India extended 2.1-billion Nepalese Rupee (NR) aid to Nepal as reimbursement of the first tranche of housing support to 42,086 governments of India- supported beneficiaries in Nuwakot and Gorkha districts. It pledged Nepal US $1 billion aid and soft loan (25%) for Nepal's post-earthquake.
She pledged to contribute Rs 4500 crore to Bhutan's 12th five-year plan (2018 to 2023). It completed Mangdhechu Hydroelectric project and Ground Earth Station for South Asia Satellite and launch of RuPay card in Bhutan. Besides, it committed assistance of Rs 4,500 Crore for implementation of development projects and Rs 400 Crore for transitional Trade Support Facility during Bhutan's 12th Five Year Plan (2018 – 2023). Under the 12th 5-Year Plan, 51 large and intermediate projects and 359 Small Development Projects (SDPs)/High Impact Community Development Projects (HICPDs) are being carried out. India's commitment to the 12th Plan constitutes about 14.5 per cent of the Plan outlay which is around 38.75 per cent of the capital outlay and 71 per cent of the total external assistance.
To Bangladesh, India extended three $8 billion loans. A total of 1.16 gigawatts of power is now being supplied by India to Bangladesh. The increase, in the reckoning of the Prime Minister, signifies a "quantum jump from megawatts to gigawatts and is symbolic of a golden era" in bilateral ties. Markedly, Mamata Banerjee has pledged to raise the power supply to Bangladesh to 1,000 MW. Though electricity will not be a substitute for Teesta water, the plan to boost power supply is on anvil.
Launching the 'Act Far East' policy, India's Prime Minister Narendra Modi announced (September 5, 2019)that India will give a line of credit worth US$ 1 billion to Russia for the development of Far East.
India has provided Lines of Credit worth $ 96.54 million to Niger for projects in transport, electrification, solar energy and potable drinking water. It granted $15 million to Niger for organising African Union Summit
Opposed to China's Belt-Road Initiative, India and Japan, meanwhile, have launched their own joint initiative in the shape of Asia-Africa Growth Corridor (AAGC) for undertaking development and cooperation projects in the African continent.
Relations with Malaysia and others
Malaysian prime minister Mahathir Mohamad views on Kashmir and the Citizenship (Amendment) Act (CAA) irked India. He had said in September that India had "invaded and occupied" Kashmir. He was joined by Turkey's President Recep Tayyip Erdogan, who said that India had virtually imposed "a blockade" on Kashmiris. About Citizenship Amendment Act, he commented he was "sorry to see that India, which claims to be a secular state, is now taking action to deprive some Muslims of their citizenship". India lodged a formal protest stating that it went against the accepted diplomatic practice of "non-interference in each other's internal affairs".
Already, India was angry as Malaysia refused to hand over Indian Islamic tele-evangelist Zakir Naik. He was given asylum in Malaysia in 2018 despite the Indian allegations of money laundering and "hate speech". Prime Minister Mahathir Mohamad's views on Kashmir and the Citizenship Amendment Act irked the Indian government, which retaliated by unofficially stopping the import of palm oil from the country.
Nepal, too, will be affected by the de facto Indian ban on Malaysian palm oil. Malaysian palm oil is refined in large quantities in Nepal and exported to India.
Malaysia may retaliate if India is unrelenting in its decision to stop the import of palm oil. Mahathir Mohamad's media adviser has called for tighter regulations for Indians working in the country and a reciprocal ban on the import of Indian products. More than 100,000 Indians are employed in Malaysia, constituting more than 6 per cent of the foreign workforce.
The Indian government has also sought to penalise Turkey by not allowing it to bid for construction contracts.
Mahathir Mohamad, along with Erdogan and the Pakistan Prime Minister, Imran Khan, had in fact agreed to organise a "global Islamic forum" to highlight the major issues facing the Islamic community worldwide, including in Palestine and Kashmir. Under pressure from Saudi Arabia and the United Arab Emirates, Imran Khan cancelled his visit to the Islamic Forum meeting in Kuala Lumpur in December at the eleventh hour even though Kashmir was sought to be highlighted. Erdogan said that the Saudis had threatened to withdraw their financial backing to Pakistan and send back the large numbers of Pakistanis working in the kingdom.
Indonesia, too, succumbed to pressure from the Arab monarchies and excused itself from the three-day meet at the last minute.
While all peripheral countries are growing by leaps and bounds, Pakistan is engrossed in bail-out-centred siege mentality. To avoid being isolated, Pakistan should promote national harmony to emerge as a `world power' to be reckoned with as a beacon of democracy.
Youth for Youth: YALPI in Thailand
BANGKOK – 100 young people from all over ASEAN and Asia spent their weekends in Chulalongkorn University, Thailand thinking of the best possible ways to improve ASEAN integration.
Founded four years ago by a group of students at Political Science Faculty, Chulalongkorn University, the oldest university in Thailand, the Young ASEAN Leaders Policy Initiative has grown in size and scope.
From a handful of students volunteered aspired to make their voices heard and created to make positive space for their fellow Political Science students, YALPI has become a vibrant avenue attracting students to come from all over the region and wide range of disciplines.
Ms. Artima Sompor, 3rd Year Political Science student said the crux of YALPI was students-led activity for better students engagement.
The four days event was packed with solid discussion from well-rounded speakers all over Thailand – ranging from the issues of political participation of youth to access to education to gender equality.
More importantly, there were critical spaces for brainstorming session such as on Wealth Inequality and Education Inclusion. Delegates engaged in rich discussion on the most pressing issues of the region and provided the time and space to think of possible solutions.
Students across the region sat around the table into the late nights and early mornings to debate and discuss the possibility to improve social problems. As the mentor of the Education team, I was impressed by the depth of knowledge, commitment to solve educational problems and creativity of the members of the group.
The lack of English was identified as the barrier to achieve greater economic integration, delegates from Myanmar, Laos, Thailand, Cambodia, Vietnam, Malaysia and Taiwan came up with an idea to create a social English club to improve the level of English in their respected country.
Endowned with different levels of English, the delegates discussed how best to attract volunteers and how well they can execute curriculums that will be conducive to the development of ASEAN. They debated rationale, they debunk myths and they offered a breath of fresh air to the old problems.
The rooms were filled with energy, enthusiasm and optimism. But the debates were heated with issues of feasibility and implementation.
For the delegates, this space allowed them to hone their critical thinking, communication and creative skills. It allowed them to form networks of like-minded youth to move the region forward. Students are required to problematize the issues, debates for solutions and draft a concrete plan.
For the organizers, this event makes their university life meaningful. Students from across faculties had the opportunities to discuss, share, plan and work together for a common cause. They need to be creative in solving organizational issues, they need to be confident in raising the funds and finding sponsors, they need to be critical in creating such solid agenda for everyone else to enjoy.
Thirwan Manleka, the co-president of YALPI and the 3rd year Political Science student, said "the team is working to create the space that preserves youth energy. We are dedicated and committed to do big things".
And they succeeded.
The sheer spirit of teamwork that this YALPI organizing team exhibited is second to none. The power of the young is more eminent when they work in teams. No books can teach them this except the transformative experience of them actually working with other peers, colleagues, classmates and friends.
From an educator and youth advocate standpoint, more and more spaces and opportunities like this are needed across Thailand and the region. Everyone learns so much more when they actually – meet – discuss – act and share. In the age of uncertainty, such educational space that provokes them to think outside the box and beyond comfort zone but in such a safe space is needed more than ever before.
ASEAN integration sounds like an elusive dream that is written on the charter for a region rife with neighbouring conflicts, border issues and economic competition, but the friendship emanated from this four days event is a hopeful reminder the every big dream begins small and every success starts with a great team.
Formal Recognition for the Rohingya Genocide
Today, January 31st, is Franz Schubert's birthday and, as I write, the strains of the final movement of his last symphony "The Great" play in the background — the urgency in the melody, the insistent measured beat, holding one in thrall through to the climax.
From transcendental beauty to horrific ugliness for, sadly, Schubert's countrymen became unwitting accomplices to a Nazi party's hatred and extermination of Jews a century after his death. On a much smaller scale and less systematically organized has been another onslaught on a different religious minority, in a different part of the world.
The killing of the Rohingya by the Burmese military, and by local militants, instigated by a vitriolic Buddhist monk, grabbed headlines a few years ago. Survivors escaped to Bangladesh and wherever else possible.
Fulfilling criteria for genocide, a case was brought by Gambia against Burma (also now known as Myanmar). The latter was defended by Aung San Suu Kyi, Nobel Peace Laureate and Myanmar's defacto leader, although in the shadow of its powerful military, which she was defending.
The International Court of Justice (ICJ) is unique in that it hears cases between countries. Ms. Suu Kyi presented the usual defense of renegade, random acts of communal violence. But the evidence against her country was, and is, overwhelming, the barbarity horrifying — the means including murder, rape, burning of villages, sometimes with occupants of houses trapped within. Victims numbered not in dozens or hundreds but in thousands causing some three-quarters of a million to flee for their lives. Those ending up in India are not eligible for citizenship under Mr. Modi's new law specifically barring Muslim refugees.
The ICJ has now issued its ruling. It rebukes Aung San Suu Kyi, and noting the "extremely vulnerable" and precarious situation for the Rohingya, it calls on the Myanmar government to protect them from the military. Unfortunately, the court does not have an enforcement mechanism. It simply transmits its finding to the UN Security Council, where, in Myanmar's case, its friend and protector China is a permanent member and has a veto.
All the same, the court's decisions are binding, so the UN General Assembly can introduce a resolution, or the Human Rights Council based in Geneva could be interested. The court also set up a reporting requirement for Myanmar's government to account to it for whatever is going on with respect to the Rohingyas — in the first instance after four months, and then every six months … much like a delinquent or a parolee reporting at intervals.
Myanmar has also been warned not to destroy evidence. In the past, aerial photos have shown that they have. Much will depend on how much international pressure develops to force it to comply, and any attempts by Myanmar to evade or subvert the ruling will only increase it.