Malaysia in political stalemate
Malaysia's Prime Minister Najib is facing accusations of fraud with the 1MDB fiasco, and the murder of Mongolian model Altantuya Shaaribuu, while the economy is going into a 'nosedive'.
After six and a half years in office, Premier Najib presides over a nation with contracting growth, rising inflation, growing unemployment, a Ringgit at a 20 year low against the US Dollar, significant capital flight, a massive debt problem, disappearing sources of income, and low consumer confidence.
Although some of these problems are the result of global factors such as declining oil and gas prices, low commodity prices, and sluggish growth of major trading partners, Malaysia's problems also greatly exist today as the result of policy failures. Extremist policies have also led to social and ethnic tensions within the country. In addition, the depreciation of the Ringgit and introduction of the GST have put undue hardships on the people.
Malaysia is going through a very intense period of political infighting at the highest echelons of power within the dominant party within the Barisan Nasional (BN), UMNO. Premier Najib recently sacked his Deputy Muhyiddin Yassin, and other ministers and officials in desperation to maintain his grip on power, while the former PM Dr. Mahathir is leading a vanguard of senior UMNO stalwarts to remove Najib from office.
Within corporate Malaysia, there is now a deep realization about how fast Malaysia is falling behind the rest of the world. Many believe that the Prime Minister has not grappled with the real problems facing the nation. This thinking according to sources goes right to the board rooms of companies like Sime Darby and Petronas, some of the premier financial institutions of the land, as well as a number of Royal Households.
However there is a large split in thinking about how to solve the problem, as the Mahathir forces are still viewed with great suspicion by many sections of royalty. Thus any possibility of him being an immediate interim prime minister would never be considered. There is also a general distain for the weak and incompetent opposition in the country, which instead of showing leadership has allowed infighting to surface publicly and dissolve the Pakatan Rakyat.
Consequently, there is no planned takeover of power, coup, of method to remove Najib from office in existence. The prevailing view is one of being stunned and a feeling of impotence, as Premier Najib has managed to centralize most power in the country around the Prime Minister's position.
The immediate task at hand for Premier Najib was to deliver a national budget. There has been massive revenue shrinkage due to falling oil revenue and a corresponding reduction of dividends paid by Petronas to government consolidated revenue. The unpopular GST will not make up the projected short falls over the coming years, which will increase the budget deficit, if government spending is not drastically reduced. This would be politically unpalatable, particularly at a time when Najib is so unpopular. Najib also has to contend with growing unemployment and will be pressured to maintain infrastructure spending, so lucrative contracts can continue to be given out to his supporters.
The flip side for Najib is that with the falling Ringgit, and rising debt, ratings agencies will be looking for fiscal responsibility in the budget. A fiscally irresponsible budget could increase capital flight which is already a major problem for Malaysia's balance of payments.
Najib has tried to do all this. He has chosen the path to spur the economy through nine infrastructure projects, of which a high proportion are in rural areas, Sabah and Sarawak. In addition, a lot of 'sweeteners' have been added into the budget, which are no doubt aimed at shoring up his popular base. From this point of view, it could be construed as an election budget, giving Najib the option to call a snap election, if necessary. At the same time a number of reforms for the civil service have been announced as well as a projection of a lower budget deficit of 3.2% of GDP, down from 6.7% the year before, in an attempt to win support of ratings agencies.
It's a budget that BN members of Parliament would find it difficult to vote against, due to the large numbers of specific programs benefitting their individual electorates.
The weak opposition has become Premier Najib's great strength. PAS President Aman Hadi's push for HUDUD laws eventually broke up the opposition alliance, Pakatan Rakyat. In addition Hadi's indecisiveness on whether PAS would support any no confidence motion against Najib in parliament this week was seen by many in the opposition as treacherous.
The handling of the no confidence motion showed complete incompetence. The fact that DAP MP Hee Loy Sia filed a motion of no confidence before PKR leader Wan Azizah, has led to questions in the local media about whether the new alliance Pakatan Harapan actually wants to remove Najib from office. The opposition seemed to be more interested in who would make the motion of no confidence, rather than actually making this symbolic move in parliament, which would have failed anyway, due to lack of numbers of support the motion.
Others felt that the whole matter of a no confidence motion was just a waste of time, as there is no chance of and mass defection of Barisan MPs. UMNO backbenchers have shown no sign of wavering, as have Sabah and Sarawak MPs, along with Gerakan and MCA members.
There is also worry about the opposition's policy proposals to solve the financial crisis. The opposition proposal to put 1MDB into administration in Wan Azizah's budget speech would only lead to an asset fire sale. In addition, blocking TNB from taking over 1MDB assets is just sabotaging any initiatives to reduce debt.
There is no end game in sight.
It is rumoured that Najib's mother and at least one brother has asked him to make a deal with Dr. Mahathir on safe passage out of Malaysia and immunity from prosecution. However, upon Najib's wife, Rosnah's insistence, he is taking up the fight to survive with a new and ruthless political secretary in charge. Such a deal anyhow would provide Najib with no guarantee, as Dr. Mahathir has no legal or political standing to make such a deal.
No doubt, Najib will pass through this session of parliament with the partisan speaker Pandikar Amin Mulia, and the UMNO AGM in December. In theory Najib can continue right up to 2018 as party president and prime minister. However, the pressure of a quickly deteriorating economy and a poor budget reception could change that timing, particularly is any other unforeseen event arises over the next few months.
The advantage to Najib is the extremely poorly coordinated opposition that has shown itself to be in disarray with the PAS/Parti Amanah Negara (PAN) split. Ironically, Dr. Mahathir looks and appears to be the only effective opposition leader in Malaysia today. Yet the Mahathir forces themselves are also impotent (something he admitted himself) against the Najib forces which control the powerful PM's office, ministers, UMNO, and police.
Overall, Mahathir has been disappointing in his handling of Najib, which has only in reality showed up his impotence in standing up to his old protégé. He has failed to show the strength he once had as a leader and politician.
Muhyiddin and Tunku Razaleigh have primarily been on the side-lines, unwilling to take any lead.
Najib's best action would be to go for an immediate snap election after the budget and catch the opposition 'off guard', and weaken them further. By placing his people in winnable seats, Najib could further his strength within UMNO and government, and even weaken the Mahathir forces mortally.
The recent poll stating the unpopularity of UMNO and its leader with the Malay electorate was urban biased, thus such a result would be expected. The general election is won or lost in the heartland, not the urban areas, so UMNO can still win.
However, there would be very little incentive to do this as parliament still has two years to run until an election is needed. Nevertheless, it could be tempting to wipe out PKR, PAS, and Harapan Baru all at once, as PAS is likely to stand candidates against PKR and DAP leading to three-cornered contests. The opposition also has a major credibility gap with the Malaysian public.
A new parliament after an election would most probably be dominated by UMNO and DAP, which is set to make massive gains.
Najib's best and only option open to him at the moment is to stay in power to protect himself, and the interests of his family's businesses, controlled by his brothers Nazir, Ahmad Johari, Mohamed Nizam, and Mohamed Nazin Razak. These business interests include a number of high profile corporate assets, entangled with a number of close associates including Tan Kay Hock, Shahril Shamsuddin, Mohamed Azman Yahya, Rohana Mahmood, Azman Mokhtar, Mohd. Nadzmi Mohd. Salleh, and others, who could stand to lose many of their assets should Najib no longer be prime minister.
Najib seems very hesitant to go the election track and may rely on police repression to maintain his grip on power for the time being. Najib's new DPM Zaid is like a 'pitball' and his new political secretary Muhd Khairun Aseh Che Mat has shown himself to be a ruthless political operator. Attacks on dissenters and the arrests of those trying to expose Najib, like Khairuddin and Matthius Chang under the anti-terror SOSMA laws, shows what Malaysia may be install for in the near future.
This would leave the leadership crisis in stalemate, where Najib can choose his own time to step down, while the economy continues to deteriorate into the foreseeable future.
To this point in time, primarily due to the lack of incentive to unite, Najib's detractors are powerless to make any decisive constitutional moves against him.
No one is able to convince to UMNO/BN politicians, except for the Najib forces, who are keeping a tight rein on them. So any move by former senior UMNO leaders to push for an interim government through the parliament and constitution is not a possibility.
Najib, who was once Dr. Mahathir's protégé has proven himself to be more skilful and cunning than the master.
Yet the biggest tragedy for Malaysia is that the Najib regime has no vision for Malaysia, and thus the longer he stays, the more damage that will be done.
There is also little hope in any post-Najib era as well. The opposition is only coming out with ad hoc policy measures, which may even make worse some of the problems, and the Mahathir forces are totally silent about what they would do.
Explaining Gendered Wartime Violence: Rohingya Ethnic Cleansing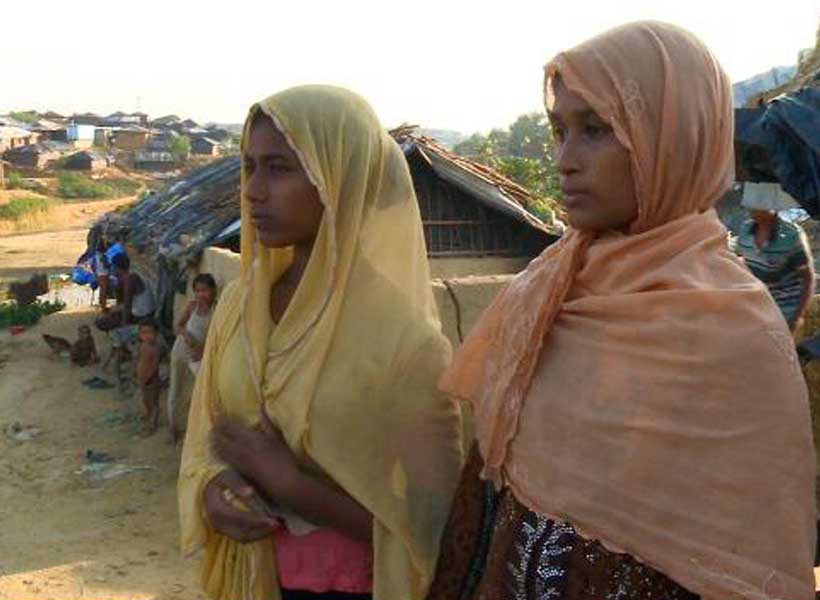 The United Nations described Rohingyas as 'amongst the most persecuted minority groups in the world.' News reports and refugee testimonies have confirmed that the plight of Muslims in Rakhine State of Myanmar is atrocious. The humanitarian crisis taking place in the Rakhine state has led to the death of an appalling number of Rohingya's Muslims. It has been reported, that nearly 500,000 people have fled destruction of their livelihood and, are currently living in refugee camps in Bangladesh. The UN reports suggest that Rohingyas have faced "killings, torture, rape and arson", by Burmese troops. It has been categorised as a 'textbook case of ethnic cleansing' of Muslims in Myanmar.
Rohingya Muslims represent the largest percentage of Muslims in Myanmar, and the majority lived in Rakhine state before the violence broke out. Myanmar is predominantly a Buddhist country which has for decades denied Muslims citizenship, they have been subjected to brutal government and police violence, and their identity has been decreased to that of an 'illegal immigrant.' On the 25th of August, 2017 the Rohingya militant army launched a deadly attack on the Muslims which has culminated into a systematic case of ethnic violence, turning into ethnic cleansing. They have slowly, but successfully forced majority of the Muslims to flee the country, resulting in one of the deadliest case of violence in the 21st century.
Within this Muslim minority exists another kind of minority, 'Rohingya Women' who have been subjected to sexual violence and rape by the army militants. It has been reported that tens of thousands of young girls and women of the Muslim community have been sexually violated and raped by the army militants In the report prepared for the UN Commission on Human Rights, Gay J. McDougall defined wartime rape as "a deliberate and strategic decision on the part of combatants to intimidate and destroy 'the enemy' as a whole by raping and enslaving women who are identified as members of the opposition group." However, wartime rape is not a new phenomenon. Many historical and anthropological researchers have provided us with evidence that rape during war can be traced back to earlier wars. It was reported that during the Second World War, the city of Berlin witnessed extremely high levels of rape and sexual violence against women by the Soviet forces. It has been estimated that around 900,000 women were raped and violated during the war.The infamous 'Rape of Nanking' is another case where Japanese soldiers reportedly raped an estimated 20,000 to 80,000 women in the city of Nanjing, China in 1937.
According to the Human Rights Watch report titled 'All of My Body was in Pain: Sexual Violence against Rohingya Women and Girls in Burma', women and girls are brutally being raped and sexually violated, humiliated, beaten up and even killed by the Burmese militants. They also suffer from the ordeal of seeing their children, parents or partners being murdered in front of them. The Burmese militant army is using systematic rape as a weapon of war in the massacre of the Rohingyas – using women to be the easy target, and thereby making the Rohingya crisis a grave gender concern. Priyanka Motaparthy, a senior researcher in the Emergencies division of the Human Rights Watch, mentions in a Human Rights Watch report, "These horrific attacks on Rohingya women and girls by security forces add a new and brutal chapter to the Burmese military's long and sickening history of sexual violence against women."
It is believed that sexual violence and rape is systematically used against women during wartime due multiple reasons. In addition to women being 'easy targets', they are subjected to this ordeal in order to break down the reproductive cycle of an ethnicity, which thereby can result in eliminating that ethnic population altogether. It is also used to decrease or break down the morale of their enemy population, who are responsible for securing their women and girls, thus weakening their opponents. Therefore, the connecting factor between 'gender based violence' and 'wartime' are the underlying patriarchal values that persists in societies and dictates their culture. Within this structure, it is often assumed that a woman's honor resides in her reproductive system, violating her reproductive system is seen as a way of stripping her honor, subjecting her to humiliation and furthermore gaining 'power.' It is a way of systematically destroying a community as a whole.
This is not the first time the world is witnessing gender based violence. However, the silence on the issue and lack of action by international authorities such as the United Nations is alarming. Urgent and crucial steps need to be taken by the Burmese government along with other International Organizations to bring relief to these women and girls. There is also an urgent need to implement stringent policies and necessary actions must be taken against people who use of sexual violence during wartime. However, the most urgent need of the hour is to overthrow patriarchal values from societies all across the world. Even though this is optimistic, it is important to instill a sense of equality between men and women, which in turn could help in eliminating the use of sexual violence as a weapon of war.
Malaysian-Saudi relations: A lesson in the pitfalls of authoritarianism and autocracy
Embattled former Malaysian prime minister Najib Razak was the main loser in last month's election upset that returned Mahathir Mohamad to power as his country's anti-corruption crusader. Yet, Mr. Razak is not the only one who may be paying the price for allegedly non-transparent and unaccountable governance.
So is Saudi Arabia with a Saudi company having played a key role in the 1Malaysia Development Berhad (1MDB) scandal in which Mr. Razak is suspected to have overseen the siphoning off of at least US$4.5 billion and the Saudi government seemingly having gone out of its way to provide him political cover.
While attention has focussed largely on the re-opening of the investigation of Mr. Razak and his wife, Rosmah Mansor, both of whom have been banned from travel abroad and have seen their homes raided by law enforcement, Saudi Arabia has not escaped policymakers' consideration. Mr. Razak has denied all allegations of wrongdoing.
The geopolitical fallout of the scandal is becoming increasingly evident. Defence Minister Mohamad Sabu suggested this week that Malaysia was re-evaluating the presence of Malaysian troops in Saudi Arabia, dispatched to the kingdom as part of the 41-nation, Saudi-sponsored Islamic Military Counter Terrorism Coalition (IMCTC).
"The ATM (Malaysian Armed Forces) presence in Saudi Arabia has indirectly mired Malaysia in the Middle East conflict… The government will make a decision on the matter in the near future after a re-evaluation has been completed," said Mr. Sabu, who is known for his critical view of Saudi Arabia.
In a commentary published late last year that suggests a potential Malaysian re-alignment of its Middle Eastern relationships, Mr. Sabu noted that Saudi wrath has been directed "oddly, (at) Turkey, Qatar, and Iran…three countries that have undertaken some modicum of political and economic reforms. Instead of encouraging all sides to work together, Saudi Arabia has gone on an offensive in Yemen, too. Therein the danger posed to Malaysia: if Malaysia is too close to Saudi Arabia, Putrajaya would be asked to choose a side."
Putrajaya, a city south of Kuala Lumpur, is home to the prime minister's residence.
Mr. Sabu went on to say that "Malaysia should not be too close to a country whose internal politics are getting toxic… For the lack of a better word, Saudi Arabia is a cesspool of constant rivalry among the princes. By this token, it is also a vortex that could suck any country into its black hole if one is not careful. Indeed, Saudi Arabia is governed by hyper-orthodox Salafi or Wahhabi ideology, where Islam is taken in a literal form. Yet true Islam requires understanding Islam, not merely in its Quranic form, but Quranic spirit."
Since coming to office, Mr. Sabu has said that he was also reviewing plans for a Saudi-funded anti-terrorism centre, the King Salman Centre for International Peace (KSCIP), which was allocated 16 hectares of land in Putrajaya by the Razak government. Mr. Sabu was echoing statements by Mr. Mahathir before the election.
Compounding potential strains in relations with Saudi Arabia, Seri Mohd Shukri Abdull, Mr. Mahathir's newly appointed anti-corruption czar, who resigned from the Malaysian Anti-Corruption Commission (MACC) in 2016 as a result of pressure to drop plans to indict Mr. Razak, noted that "we have had difficulties dealing with Arab countries (such as)…Saudi Arabia…"
The investigation is likely to revisit 1MDB relationship's with Saudi energy company PetroSaudi International Ltd, owned by Saudi businessman Tarek Essam Ahmad Obaid as well as prominent members of the kingdom's ruling family who allegedly funded Mr. Razak.
It will not have been lost on Saudi Arabia that Mr. Mahathir met with former PetroSaudi executive and whistle blower Xavier Andre Justo less than two weeks after his election victory.
A three-part BBC documentary, The House of Saud: A Family at War, suggested that Mr. Razak had worked with Prince Turki bin Abdullah, the son of former Saudi King Abdullah, to syphon off funds from 1MDB.
Saudi foreign minister Adel al-Jubeir came to Mr. Razak's rescue in 2016 by declaring that US$681 million transferred into the prime minister's personal bank account was a "genuine donation with nothing expected in return."
The Malaysian election as well as seeming Saudi complicity in the corruption scandal that toppled Mr. Razak has global implications, particularly for the United States and China, global powers who see support of autocratic and/or corrupt regimes as the best guarantee to maintain stability.
It is a lesson that initially was apparent in the 2011 popular Arab revolts that toppled the leaders of Tunisia, Egypt, Libya and Yemen.
The rollback of the achievements of most of those revolts backed by autocratic leaders in Saudi Arabia and the United Arab Emirates bent on reshaping the Middle East and North Africa in their mould has contributed to the mayhem, violence and brutal repression engulfing the region.
In addition, autocratic rule has failed to squash widespread economic and social discontent. Middle Eastern states, including Algeria, Morocco, Egypt, Lebanon Iran, and most recently Jordan have witnessed  protests against rising prices, cuts in public spending and corruption.
"The public dissatisfaction, bubbling up in several countries, is a reminder that even more urgent action is needed," warned Christine Lagarde, the managing director of the International Monetary Fund (IMF).
Elections, if held at all, more often than not fail to serve as a corrective in the Middle East and North Africa because they are engineered rather than a free and fair reflection of popular will. Elections in countries like Iraq and Lebanon serve as exceptions that confirm the rule while Iran represents a hybrid.
As a result, street protests, militancy and violence are often the only options available to those seeking change.
Against that backdrop, Malaysia stands out as an example of change that does not jeopardize stability. It is but the latest example of Southeast Asian nations having led the way in producing relatively peaceful political transitions starting with the 1986 popular revolt in the Philippines, the 1998 toppling of Suharto in Indonesia, and Myanmar's 2010 transition away from military dictatorship.
This is true even if Southeast Asia also demonstrates that political transition is a decades-long process that marches to the tune of Vladimir Lenin's principle of two steps forward, one step backwards as it witnesses a backslide with the rise in the Philippines of President Rodrigo Duterte's authoritarianism, stepped up jihadist activity, the 2014 military coup in Thailand, increasingly autocratic rule in Cambodia, the rise of conservatism and intolerance in Indonesia, and the plight of the Rohingya in Myanmar.
If anything, Malaysia constitutes an anti-dote.
"Malaysia's institutions proved more resilient…and descent into authoritarianism has been averted – offering a lesson not only to aspiring dictators, but to those in the United States who argue that propping up corrupt leaders is in U.S. interests," said Alex Helan, a security and anti-corruption consultant.
Indonesian Muslim leader signals global shifts in meetings with Pence and Netanyahu
Yahya Staquf, a diminutive, soft-spoken leader of Nahdlatul Ulama, the world's largest Muslim movement, and Indonesian president Joko Widodo's advisor on religious affairs, has held a series of meetings in recent weeks that reflect the Muslim world's shifting attitudes towards Israel and the Palestinians and a re-alignment of socially conservative Muslim and Christian interests.
Just this month, Mr. Staquf, a staunch advocate of inter-faith dialogue and religious tolerance, met in Washington with Vice President Mike Pence, a devout evangelist Catholic who has described himself as "a Christian, a conservative, and a Republican, in that order," and in Jerusalem with Israeli Prime Minister Benyamin Netanyahu.
Messrs. Pence and Staquf were joined by Reverend Johnnie Moore, an evangelist who in May was appointed by US President Donald J. Trump as a member of the board of the US Commission on International Religious Freedom.
Mr. Staquf's discussions would likely raise eyebrows at any given moment.
But they take on added significance because they came in the wake of Mr. Trump's controversial recognition of Jerusalem as Israel's capital, stepped up US support for Israel in United Nations bodies, and in advance of a whirlwind visit to the Middle East by US peace negotiators Jared Kushner and Jason Greenblatt.
Palestinian President Mahmoud Abbas' Palestine Authority has refused to engage with the Trump administration since the US recognition of Jerusalem and Palestinian officials were unlikely to meet with Messrs. Kushner and Greenblatt during their Middle East tour that focused on a draft US plan to resolve the Israeli-Palestinian conflict.
Details of the plan, described by Mr. Trump as the 'deal of the century,' remain under wrap, but Palestinians fear that it will be heavily geared towards supporting Israeli negotiating positions.
That fear has been reinforced by the Trump administration's fiery support of Israel in the UN. The United States this month withdrew from the United Nations Human Rights Council, citing, among other reasons, the council's repeated criticism of Israel.
Whether by design or default, Mr. Staquf's meetings appeared to reinforce efforts by close US allies like Saudi Arabia, the United Arab Emirates and Egypt to stifle opposition to Mr. Trump's approach to Israeli-Palestinian peace. Turkey has been in the forefront of condemnation of US policy that resonates in Muslim public opinion, particularly in Asia.
Frustration with US and Israeli policies has undermined popular Palestinian support for a two-state solution that envisions the creation of an independent Palestinian state alongside Israel.
Hamas, the Islamist group that controls the Gaza Strip, has facilitated weeks of protests along the border between Gaza and Israel in support of the Palestinian right to return to lands within Israel's boundaries prior to the 1967 Middle East war during which Israel captured East Jerusalem, the West Bank, Gaza and the Golan Heights.
Israel has since annexed East Jerusalem and withdrawn from Gaza, which it blockades together with Egypt in a bid to undermine Hamas's rule.
At least 142 Palestinians have been killed by Israeli forces since the protests erupted in late March and some 13,000 wounded.
Mr. Netanyahu trumpeted the political significance of his meeting with Mr. Staquf in a statement following their encounter.
"Muslim states are becoming closer to Israel because of the common struggle against the Iranian regime and because of Israeli technology. … The prime minister hopes that there will be progress in our relationship with Indonesia, too," Mr. Netanyahu's office said.
Indonesia and Israel do not maintain diplomatic relations but do not stop their nationals and officials from travelling between the two countries. Mr. Staquf has insisted that he was visiting Israel in his private capacity rather than as an advisor to the Indonesian president.
Indonesia recently revoked Israeli tourist visas in protest against Israel's hard-handed tactics in Gaza. In response, Israel has threatened to ban tourist visas for Indonesians. Some 30,000 Indonesians, mostly Christian pilgrims, obtain visas to visit Israel each year.
Indonesia in May exempted Palestinian imports from custom duties in a bid to support the Palestinian economy.
Mr. Staquf insisted that his visit to Israel at the invitation of the American Jewish Congress was intended to promote Palestinian independence. "I stand here for Palestine. I stand here on the basis that we all have to honour Palestine's sovereignty as a free country," he said in a statement posted on his organization's website.
Nonetheless, Mr. Staquf did not meet Palestine Authority officials during his visit. Osama al-Qawasmi, a spokesman for Mr. Abbas' Al Fatah group, charged that his visit was "a crime against Jerusalem, against the Palestinians and Muslims in the world, and constitutes support for the criminal Israeli occupier against our fighting and resolute people."
Mr. Staquf was the second NU leader to visit Israel in the past two decades. Abdurrahman "Gus Dur" Wahid travelled several times to Israel before and after his presidency but not while he was Indonesia's head of state.
Muslim leaders, many of which have long reconciled themselves to recognition of the State of Israel's existence, have largely been reluctant to publicly engage with Israeli officials as opposed to non-Israeli Jews as long as Israel and Palestine have not made substantial progress towards peace.
Mr. Staquf like Mr. Wahid before him broke ranks by travelling to Israel, a move that sparked criticism and condemnation on Indonesian social media and from some members of parliament.
While the criticism has focussed on Mr. Staquf's visit to Israel rather than his meeting with Messrs. Pence and Moore, it is also rooted in widespread perceptions of evangelists as purveyors of rising Islamophobia and anti-immigrant sentiment.
Lost in that criticism is the fact that Saudi Crown Prince Mohammed bin Salman is being hailed by some evangelists as heralding a new era with his projection of greater religious openness in the kingdom and his unprecedented statement that both Palestinians and Israelis "have the right" to have their own land.
"You know I couldn't believe my ears actually when I was watching the news report where the crown prince of Saudi Arabia said directly, verbatim, He said this kingdom will become a kingdom for all religions. I had to watch it again and he was crystal, crystal clear.
You know as evangelicals this is a new day for us in the Middle East. Evangelicals are the baby Christians in the region… What we're seeing is a new openness to what evangelicalism is, which I think is a move of the Holy Spirit." Mr Moore said.
Mr. Staquf projected his visit to Israel as promoting the concept of rahma or compassion and mercy as the basis for a solution to the Israeli-Palestinian conflict and the forging of relations between Israel and the Muslim world.
In practice, by design or by default, it supports US and Saudi efforts to impose their will on the Palestinians and the larger Middle East that potentially could produce as many problems as they offer solutions.
In doing so, it pays tribute to Prince Mohammed's ability to project himself as an agent of change in Saudi Arabia even if the precise contours of his vision have yet to emerge.
In a twist of irony, it is a tribute by the leader of a movement that was founded almost a century ago in opposition to Wahhabism, the ultra-conservative Sunni Muslim worldview that long shaped Saudi Arabia and that Prince Mohammed is seen as disavowing.