Cabals, Feudalism, and Apartheid: Will these institutions damn Malaysia's future prosperity?
"I am a businessman, not a politician" Tajuddin Abdul Rahman Deputy Minister of Agriculture and Agro-based Industry at the opening of Herbal Asia, Matrade Exhibition Centre, 1st October 2015.
Unlike most of the rest of the world that is heading along the track of multiculturalism, Malaysia seems to be locked in a limbo of racial introspection it cannot get out of.
This introspection is however more than mere racism, it is the overt part of an elaborate structure that has maintained a small elite in power for over 45 years, since the notorious May 13th riots back in 1969.
The direct discussion of this subject has basically been criminalized since the 1970s and deemed too sensitive to debate, which means there has been little public discourse on the matter of who really exercises power, how, and for whom within the country.
This has helped to enshrine a structure of political-cabalism, based upon a neo-Malay-feudalism, which has used a form of 'Malaysian apartheid' to support this elite in position and privilege over the rest of Malaysians they rule (as opposed to govern).
Ever since the British Colonial era, Malaysia has been divided and described through racial paradigms. The major races that represented the Malay Peninsula got together to negotiate and steer Malaya to independence in 1957, and into the Federation of Malaysia in 1963. Perhaps the most important artefact from this era is the race is still recorded on Malaysian Identity Cards today, which is hurting the sensitivities of a number of Malaysians.
However with a rekindled Malay nationalistic sentiment remerging in the 1960s, an opportunity after the 13th May 1969 racial riots arose for a group of Malay politicans to seize the reigns of power. Mahathir Mohamad, supported by a group of 'ultras' including Syed Nasir Ismail, Musa Hitam, and Tunku Razaleigh, moved to dispose of the then Prime Minister Tunku Abdul Rahman, representing the moderate Malay aristocracy.
(Tun) Abdul Razak Hussein (father of the current Prime Minister) was installed as Prime Minister in what some describe as a 'coup' to succeed Tunku Abdul Rahman in 1970.
As Tunku Abdul Rahman had already invoked a state of emergency in 1969 after the 13th May riots, and ruled by decree through the National operations Council, (Tun) Abdul Razak as Prime Minister through was able to use this short window was to pass through the New Economic policy (NEP) without any hindrance, as parliamentary approval wasn't necessary. The NEP was based upon many ideas within Mahathir Mohamad's book The Malay Dilemma, extremely controversial at the time.
At the time, the NEP was seen, even internationally as a necessary affirmative action policy. The NEP stipulated the use of quotas in granting educational places at school and universities, the use of quotas in the public service, favouritism to Malays in the granting of business licenses, the development of Malay reserve land restricting non-Bumiputera purchases, subsidies on the purchase of real estate, quotas on public equity holdings, general subsidies for Bumiputera businesses, and exclusive Bumiputera mutual funds (ASN, ASB), which gave better rates of return than commercial banks.
When the Malaysian Parliament was reconvened in 1971, both the Sedition and Internal Security Acts were strengthened to limit any discussion about matters concerning Malay special rights, the Malay rulers, and citizenship, under the premise of preserving 'intercommunal harmony'. These restrictions also applied to members of parliament, thus weakening the principal of 'parliamentary immunity', i.e., the NEP was above parliamentary sovereignty, which attracted much international condemnation at the time.
It is during this time that a concerted covert effort was made to create a 'secret leadership' to maintain and support what was called the 'Malay Agenda'. According to an interview with an anonymous high ranking official within the Razak Government at the time, most executive positions, civil service placements, and high ranking police and army personnel were filled with people sympathetic to the 'Malay Agenda'.
The author's source also stated that it was during the Razak era that selected bureaucrats and other people stated creating and acquiring corporate assets with the objective of channelling funds back to UMNO to fight future elections, to ensure victory.
The 'Malay Agenda' meant running government and agencies within government with the objective of looking after 'Malay' interests ahead of others. The 'Malay Agenda' was rarely spoken about in the open but had a wide appeal among all levels of Malay society, including some members of royal families, at the time.
This was the start of crony capitalism in Malaysia, the making of a kleptocracy. This loose ruling political-cabal was developed in the Malay-feudalistic tradition, in the sense that it required giving total loyalty to the leader of UMNO, the Prime Minister, without question.
A very small proportion of this group became very rich through the implementation of this special agenda. These original beneficiaries are now considered socially as the 'old money' in Malay society today.
Malaysia rejected multiculturalism for its own form of ethno-religious form of 'Malaysian apartheid', supported by the Malay-feudalistic social structure that was enhanced rather than dismantled over the two decades after independence from Britain. The mythology that the Chinese, who already control the economy, also aim to take political control of Malaysia was dissipated as propaganda to install a fear into the Malay population. Propaganda became one of the prime tools used by the government with the formation of the Biro Tata Negara (BTN) to indoctrinate civil servants and students on the "Malay agenda".
Section 153 of the Malaysian constitution became the proclaimed legal basis of 'Malaysian apartheid' measures. The Reid Commission had only intended to be a temporary measure, to be reviewed by the parliament within 15 years. Section 153 states that "….it is the responsibility of the Yang Di-Pertuan Agong to safeguard the special position of the Malays and natives of any of the States of Sabah and Sarawak", thus turning Malay into political construct, as there is no single Malay tribal grouping. The authorities over the years attempted to Malayanize the indigenous peoples of the Malay Peninsula, the Orang Asli, through encouraging their conversion to Islam and adoption of Malays customs.
When Dr. Mahathir came to the Prime Ministership in 1981 due to then Prime Minister Hussein Onn stepping down because of poor health, he pursued an ambitious agenda which included extending the business interests of UMNO. Much of these business interests were controlled by proxies and nominees such as Tajudin Ramli and Halim Saad. Further, Dr Mahathir with his Deputy Prime Minister Anwar Ibrahim embarked on a program to produce Malay millionaires who would bring up other Malays into the business sphere.
Ironically under Dr. Mahathir, a period of liberalization came with Wawasan 2020, where the country grew very optimistic under the premise of 'Malaysia Boleh'. There appeared to be a great working relationship between the different racial based parties within the Barisan Nasional, and Malaysian appeared to genuinely have pride in their nation.
These short 'golden years' for Malaysia were soon eclipsed by the Asian economic crisis of 1997 and the sacking by Dr. Mahathir of his then deputy Anwar Ibrahim in 1998. A bitter election was fought between the BN Government and newly formed Barisan Alternative in 1999, leading to the BN Government winning with a greatly reduced majority.
Many misread the Abdullah Badawi period as further liberalization, although he publically fought corruption. However, Badawi still cracked down hard on dissent such as not allowing open discussion on Malaysia's 'social contract', and allowed the police to act heavy handed at the Bersih rally in 2007. A new group of entities entered into the corporate scene which led to a number of scandals, by the notorious 'boys on the 4th floor', who included Khairy Jamaluddin. Dr. Mahathir became Badawi's chief critic. Badawi's poor election performance in 2008, and criticism of his apparent enjoyment of the trappings of power led to his replacement with Najib Tun Razak in 2009.
Najib Tun Razak came to power promising a transformation of government and a completely new paradigm in race relations with the well promoted 1Malaysia slogan. However, after being the vanguard of moderation internationally, his actions domestically showed none of the moderation he had promised. Najib was totally silent when organizations like Pekasa made outlandish statements about race. His greatest modus operandi is silence when government organs and NGOs undertake extreme actions in defending Malays and Islam. Bajib's persona as a moderate leader completely disappeared after the poor election performance in 2013, where he personally blamed the Chinese in his 'Chinese Tsunami' statement on election night.
Post GE13, has seen a definitive return to repression by the BN Government in power. Its closely aligned newspaper organ Utusan Malaysia has been continually allowed to publish headlines and statements, such as 'Apa lagi Cina mahu', which were inflammatory in the post-election environment.
GE13 also weakened the MCA, Gerakan, and MIC to the point where they no longer have any effective say in government, a far cry from their days of great influence within the cabinet during the 1970s and 80s. All political parties became totally subservient groups within an UMNO dominated BN. This is ironically a result of opposition electoral success in 2013.
Extreme groups have been allowed to make anti-Chinese rhetoric and racial insults with impunity under the Najib Government, thus keeping Chinese groups quiet through producing an atmosphere of fear and tension. This is a purposeful tactic to suppress any opposition.
In terms of popular vote, the BN Government is now in reality a minority one, capturing less than 50% of total votes cast. However through the first past the post voting system, the BN is almost ensured to continue winning elections in the future. This is especially the case with the poor electoral strategy that the Pakatan Rakyat employed last election, focusing on the urban areas, rather than the rural areas. To compete with the BN, the opposition must make major changes to its electoral strategy, but will come up against a 'hardened Umno' organization at grassroots level. In addition, the opposition today is in so much disarray, the effective leader of the opposition to the government appears to be Dr. Mahathir.
Rather than reaching out to win the 'hearts and minds' of all Malaysians, UMNO has seen the decline of electoral support for BN component parties as an opportunity to consolidate power within its own right. GE13 has allowed UMNO and the political-cabal that controls it to manoeuvre even more on the 'Malay Agenda'.
Since 2013, economic and social policy has been allowed to degenerate into blatant racial discrimination, and now has become something even more sinister.
The Malaysian civil service is being cleaned out. For example in Sabah, civil servants from ethnic groups like Dusun/Kadazan are slowly being weeded out and replaced. A bureaucratic ethnic cleansing is going on within the civil service. Other indigenous ethnic groups are no longer acceptable. Likewise, the universities are being cleansed of dissidents. There is a purge going on in Malaysia that has even taken the Deputy Prime Minister and attorney general out. This is supplemented with a clampdown on 'whistleblowers, and anybody within existing agencies that have potential to turn against the political-cabal. Any potential resistance, including reporters and the media, to the political-cabal that currently controls the country is being eliminated. Malaysia is now facing a repressive phase in government that one has not seen since Dr. Mahathir's "Operation Lalang" in the late 1980s.Only this time it is much wider.
The effects of this imposed policy of 'Malaysian apartheid' upon the country today are profound, and can be summarized as follows:
1. A feudal social structure has been developed with four sections of populace;
i) The Malay elite who rules the country and their associates,
ii) A Malay middle class which is predominantly urban,
iii) A Malay rural class, and
iv) The rest of the Malaysian population.
Politically, this rural Malay class has kept the Malay elite in power, while the educated middle class is turning away from UMNO.
2. A brain drain is happening from Malaysia at present, which does not only include Chinese and Indian, but Malays as well. The political-cabal of elite leaders aren't really concerned with this brain drain, as this seen as a good opportunity to weaken potential future opposition. This loss of creative and innovative people is leaving a rent seeking mentality within the country, at a time, creativity and innovation is really needed to develop the Malaysian economy. The leadership have intentionally nurtured the development of an unquestioning population, which is reflected in the Malaysian education system, as the best means to maintain a docile electorate that will not look at political issues like corruption very seriously.
3. There has been a general failure to eradicate poverty throughout rural Malaysia, as limited resources have been used to prop up the feudal warlords of UMNO through 'white elephant' rural development projects throughout the country. Many UMNO warlords have made it big through receiving contracts while their areas remain inadequate with basic infrastructure, and rural assistance such as farm extension services and even proper roads and irrigation. There are still large numbers of Malays who cannot afford to attend university, through the lack of any general assistance schemes available in most other countries. Poverty is still a major problem within Malaysia, where the government has been claiming undue successes.
4. The Malaysian economy is skewed with inefficiencies and market restrictions that hinder its transformation into a mature developed sustainable economic system. Companies are allowed to have monopolies, the restricted issuance of import permits has created inefficient markets, and general lack of transparency is making the Malaysian market unattractive to investors. A 2012 Asian Development Bank (ADB) report cites the two main reasons for Malaysia's net capital outflow as the distortions introduced into the economy by the NEP, and the widespread presence and overbearing influence of Government Linked Companies (GLCs). The restriction of tenders to Bumi companies has created an inefficient Ali Baba business model, which raises the cost of both government and business. GLCs and other government owned companies openly compete with entrepreneurs in the market with an unfair advantage, thus stifling innovation, and the willingness of private individuals to take business risks. Malaysia still needs economic growth to absorb new entrants to the workforce in the coming decade.
5. Meritocracy doesn't exist within the Malaysian civil service, universities, or other agencies. People are forced to adopt a feudal stance of seeking favour from superiors to get promotions and survive within these organizations. Under such an environment there is no chance for creativity, critical thinking, or even honesty. 'Ketuanan Melayu' is now turning hegemonic is a dangerous way that can spill off Malaysian shores. This stands Malaysian in a poor position to be internationally competitive in the future.
6. The divide and conquer political strategy of the Government, use of bullying through third party NGOs, and straight threats and arrogance has had a major effect upon the people of Malaysia. Many have lost hope and respect for the leadership of their country. Many are now resentful. There is potential for outbreaks of violence due to the uncontrollability of some extreme 'ultra' groups allowed to roam free in society today. The country thinks in terms of race, even to the point where a near diplomatic incident nearly occurred with China a few weeks ago, the second most powerful country in the world. This is not healthy and will not stand Malaysia well within the international community. The dissent generated by this 'divide and conquer' political strategy is fodder that allows the political-cabal to use state apparatus to strengthen their hold on power, as the current spate of arrests indicates.
7. What the policies of the Government and resulting social structure of society has created is a small elite class of rulers who act upon the axiom that 'we are the law'. Comments by the Defence Minister Hishammuddin Hussein (a cousin of the current prime minister), indicate the ruling elite's distain even for the constitutional monarchy of Malaysia. The elite is now in an unquestionable position of power unable to be dislodged by the rule of law. They are unashamed by scandal and control all the elements of power through their network of loyalists through the civil service, police, armed forces, and judiciary.
8. Finally, it could be argued that Malay self-confidence has been destroyed and replaced with a national inferiority complex, that the elite can use and play to at their whim. There is a condescending attitude by the elite that 'Malays are backward' and need special protection by the BN/UMNO Government. Thus a whole section of the population is continually told they need help. The concept of 'Ketuanan Melayu', according to UKM Professor Noraini Othman has connotations of enslavement, with a Malay master and servant relationship implied. Tun Dr. Ismail Abdul Rahman went further and said that the 'special position of the Malays' in the constitution is a slur on the ability of the Malays.
The political-cabal that was set up in the 1970s by Prime Minister Tun Razak, has been transferred across from leader to leader since that time. Each prime minister inherited a complete network of loyalists to the 'Agenda Melayu'.
This has been their strength. However cracks appeared in this political-cabal when Mahathir tried to make an agreement with both his successors, which according to him have not been kept. In addition, the scandals of the present prime minister are beginning to test those loyal to the "Agenda Melayu', to the point where some may begin to feel guilty about their loyalty to the current leadership of the political-cabal and 'spill the beans'. Hence the sackings, demotions, transfers and arrests of late.
This however will not mean self-destruction to Malaysia's political-cabal. It's a fight over control and not reform. Winner will take all. Perhaps Dr. Mahathir was naïve in thinking that he could still exercise control and influence over this political-cabal, once he stepped down from the leadership of UMNO and the nation. This is one of the biggest mistakes of his political career.
The very nature of UMNO itself, once a party of school teachers, junior civil servants, farmers, and fishermen, which transformed into a party of contractors, small entrepreneurs, and professional rent seekers, will serve Najib well as he tries to consolidate his position. The party is run along feudal lines where booty is distributed around the country through lucrative contracts to those who head the party at state and district levels to maintain their loyalty and support. The influence of this on public policy and development planning is rarely discussed, even though it leads to massive misallocations of funds into projects that have little, if any community or economic benefit. This prevents any policy approach to planning and implementation, drastically lowering the quality of government.
Najib can reward his warlords, maintain their loyalty, and even put more of his loyalists in place for the coming election, win it, and even end up having more power than he has now. This scenario is Dr. Mahathir's worst nightmare, and why he is working so hard to remove Najib before the next election.
To date very few international bodies have heavily criticized this "Malaysian Apartheid". The Malaysian Government will continue to get away with repressing its populace with divide and conquer tactics. There is no front against Malaysia, like there was against South Africa. No one interested in putting sanctions upon Malaysia.
However, Swiss Islamic intellectual Dr. Tariq Ramadan foresees a credibility gap for Malaysia in international affairs where he says "As Malaysian Muslims complaining about discrimination by the West, should first acknowledge the injustices against minorities in their own country". Until Malaysia sorts out its own racism, any stand upon Israel and Palestine seeps into hypocrisy.
This Malaysian Apartheid will continue into the foreseeable future and anybody who tries to oppose it will meet the Roth of bullying tactics to subdue them, as is being played out now with the latest round of arrests. The Malay position will remain a taboo subject for years to come, hence Malaysian sensitivities when any non-Malaysian comments on Malaysian internal affairs.
This also means that the question as to whether the NEP/NDP has been protecting or marginalizing the Malays will not be discussed. This is an important question for the future of Malaysia and the challenges that lie ahead. As former Prime Minister Ahmad Badawi once said "Malays who can't learn how to walk without crutches will end up in a wheelchair". Dr. Mahathir took this further and said "Unfortunately, the protection and privileges accorded by the New Economic Policy (NEP) may weaken the Malays further by lulling the next generation into complacency, thinking that the
NEP's affirmative action will always be there for them to fall back upon….. The NEP can make the users so dependent that their inherent capability regresses."
This dooms the country into the 'middle income trap', where the capabilities, creativity and innovation needed to lift the Malaysian economy into high valued activities, does not exist. Economic and social prosperity is risked so that Kleptocratic rule can continue unabated in Malaysia. Malay self-respect has also been sacrificed in this quest to hold power.
The system of discrimination has only benefitted in preserving a feudal hierarchy within Malaysian society where the new lords are political dynasties which are now fighting each other openly using 1MDB as the platform. This is not about corruption, but which family dynasty and surrounding group rules, rather than any promise of social reform.
Seven Years of UNITE Thailand: Freedom to be Free
BANGKOK – During the peak of Thailand's political warfare between the Red and Yellow shirts, I was a graduate student at Teachers College, Columbia University pursuing a Doctorate in Political Science with a specialization in Comparative and International Education.
As Bangkok's buildings were burnt down, I sat in tears in front of my computer could not comprehend nor tolerate the sights and senses of such catastrophe.
What's happening to Thailand? A place we once called the land of smile.
I put myself together and defended my proposal. I came home for my dissertation research. But once I landed, I began something entirely different.
I called my friends from all walks of lives: academics, businesses, politics and civil society and we started talking about the future of Thailand what to do, what can we do?
Inspired by the KEEPS project at the London School of Economics, where I did my Master of Sciences in Development Studies, we initiated an art project for political liberation.
Something Freire would be proud of.
We took paint colors, brushes and canvases to rural areas and began using art as mean to break political deadlocks – to initiate a conversation. We asked our students to paint the future of Thailand in their visions.
From a humble beginning in 2011, we grew in size and scope. UNITE Thailand is now a global youth networks of like-minded individuals who want to make a difference for Thailand. We are an educational project with 3,000 members.
We have collaborated with the Open Society Foundation in 2012 to create the 1st IDEA Asia Youth Forum where we brought together 200 Asia youth from 22 countries to work with Thai university students in Thailand for 2 weeks.
We have worked with the International Labour Organizations in 2013 – 2014VDO to promote the Sapansiang Campaign that addresses the positive images of migrant workers in Thailand.
Anna Olsen, the Technical Specialist TRIANGLE in ASEAN program of the ILO said, "working with UNITE Thailand allowed us to reach young Thai people with our messages of protection and promotion of the rights of migrant workers who contribute so much to Thai society and development."
Since its inception, MCOT Thailand and the Anandamahidol Foundation have helped to scale up our 20 art camps for our students nation-wide by creating ongoing documentaries that capture the essences of what we try to do on the ground.
Sitting here on the eve of International Youth Day of 2018, I am writing to my students globally that never let anyone tell us what we are and are not capable of. The power of the young is momentous and paramount. Never let your inspiration, motivation and determination die down just because what we think seem impossible or someone else tell us so.
Thailand is far from where we want it to be. It's still rotten with corruption, rampant inequality and lack democracy. But each brush we stroke, each project we strike, we do it with hope and dignity, we do it to empower and we aspire to make a difference.
Mayaclear Aphornsuvan, UNITE Thailand Youth Representative, encapsulates her seven years experiences with the movement.
"Opportunities, dreams, and chances seem so far away when no one is by your side. That's how it felt to me when I was in high school, at least. But I crossed paths with UNITE Thailand by chance, and it was the first time a group of people believed in me. And in turn, this gave me all the strength I needed to believe in myself and others. UNITE Thailand gives opportunities to those who often get ignored. But the first opportunity in one's life is oftentimes the most important.  UNITE Thailand means the world to me, because they gave me a whole new world of opportunity and dreams."
On behalf of UNITE Thailand, we thank our friends from all over the world for showering us with your trust and enabling us to keep dreaming.
We, 3,000 of UNITE Thailand, dedicate this project to His Majesty the King Bhumibol Adulyadej, Rama the ninth to the Chakri Dynasty, our King of Education, for not only sponsoring my transatlantic education through the Anandamahidol Foundation, but for providing Thailand with a necessary guiding light. We wish his soul rest in peace. We wish him well.
We promise to be kind and find peace from within outward.
What are the causes of the current calamity in Laos? An Interview with Dr. Lia Genovese
The Xe Pian-Xe Nam Noy hydropower project is financed by companies from South Korea (SK Engineering and Korea Western Power), Thailand's Ratchaburi Electricity Generating Holding and the Lao government. A statement issued by Mekong Eye on 31 July 2018 stated that Japan is also involved in its financing.
A devastating incident occurred in the Sanamxay district of Attapeu province in southern Laos. On the evening of 22 July 2018, engineers at SK Engineering discovered that one of the project's supporting dams had been partially washed out and notified the Lao authorities. Apparently, efforts to repair the damaged structure were hampered by the state of the roads, which delayed the necessary heavy equipment reaching the area before disaster struck the very next day. On 23 July, the top of a saddle dam at one of the Xe Pian-Xe Nam Noy reservoirs collapsed, releasing billions of cubic feet of water. Over 6,000 people have already been evacuated to emergency shelters. The flood has caused severe damage to private property and infrastructure. The dam collapse has also affected villages downstream in Cambodia.
The precise death toll is still unknown and has oscillated between 31 and 35 victims. On 5 August, the Chinese agency Xinhua stated that 34 people were confirmed dead and scores more are still unaccounted for.
Early official statements calling the catastrophe a natural disaster caused by seasonal rains, are being disputed by experts. During an interview with the BBC World Service on 25 July, Dr. Ian Baird, Associate professor of geography at the University of Wisconsin-Madison, USA, unequivocally attributed the disaster to poor management. Furthermore, the South Korean building company, SK Engineering & Construction, asserts that "it warned the [Lao] government".
The disaster could have been prevented with better management, greater risk assessment and better building standards, according to the Lao government. On 27 July, four days after the dam collapse, the Lao Energy Minister, Mr. Khammany Inthirath, told a press conference in Vientiane that the disaster was caused by substandard construction.
Attapeu province is highly contaminated by unexploded ordnances (UXO, remnants of the Vietnam conflict), and although parts of the province have been cleared of UXO, the UN recommends caution when digging, since cluster bombs are more likely to be buried ('Lao PDR: Flash Flooding in Sanamxay', District Office of the UN Resident Coordinator Situation Report No. 05 (as of 1 August 2018).
Livestock, buffaloes and domestic animals have perished. On 3 August, the Vientiane Times reported the loss at more than 12,000 animals, as well as more than 19,000 chickens and other fowl, while 280 fishponds were damaged.
What are the immediate needs to help rebuild Laos?
Numerous governments have sent funds and humanitarian aid, including Thailand, Vietnam, China, Singapore, Cambodia, the European Union (EU), the US and North Korea. It seems that supplies have reached the affected areas with some difficulty, due to the state of the roads, damaged by the flood and covered in rivers of mud. According to a Voice of America report published on 6 August: "Satellite images show Attapeu lying on a bend of the river with a pre-crisis network of roads, but a later image shows the flooded area as a brown mass of mud with few structures left recognizable".
Cash donations have also been collected. The Lao bank BCEL set up the One Heart fund-raising initiative for people to donate by debit or credit cards. In Thailand, donations collected by Krungthai Bank for the flood victims had reached 25 million baht by the end of July (account number 067-12886-4 of Krungthai Bank, Government House branch, Cash donations are proving effective in helping victims of this disaster, while the delivery of relief aid (blankets, medicines, safe drinking water, food, etc.) is hampered by practical difficulties in accessing the affected areas.
Do you think the country is resilient enough to weather this chaos?
As a concerned citizen of the world, rather than an expert on development strategies, in my view there are good chances that Laos, and particularly the affected areas in Attapeu province, will weather this catastrophe. Laos has much at stake in its chosen development strategy aimed at energy generation. This is a setback in the country's ambitious plan to have a total of 100 dams by 2040. Approximately, 85 percent of the energy generated by these dams is exported.
What needs to be done differently for Laos to recover and sustain?
Since 1971, the UN has classed Laos as a Least Developed Country (LDC), a label the country is trying to shed. Laos is traversed by the Mekong for hundreds of miles, from north to south, before this great river flows into Cambodia and the delta in Vietnam. Laos has said in the past that it is making the best of a punishing geography, due to the country being landlocked.
Yearly, the sale of energy contributes around $650 million to the country's GDP, but still only half of the revenue generated by ore production from mining investment projects approved by the central government, which in 2017 reached around $1.2 billion.
Unlike some of her neighbours (Thailand and the Philippines, chiefly), Laos has shown negligible interest in the potential of renewable energy, despite enjoying an average of 1,800-2,000 hours of sunlight per year, or 200-300 sunlight days per year, particularly in the south of the country. Consequently, progress in sources of renewable energy has been slow and foreign investment has lagged behind, in contrast to the aggressive push for hydropower projects.
What Laos wishes to do is secondary to other countries' vision for Laos. A number of countries, as well as NGOs, environmental and human rights organisations, have expressed their reservations about Laos' stated hydropower goals, because of the cost to the country's ecology, and the human cost caused by the displacement of thousands of families. Laos' potential in generating energy for sale was known to the French colonisers a century ago but, despite a number of surveys shortly after the 1893 annexation of Laos as the fifth province of French Indochina, the French colonial government elected not to exploit the potential of the Nam Theun river, due to the massive investment required in building an often non-existent infrastructure. Only in recent years, was this massive hydropower project built, with funding from the World Bank, among others.
Laos can recover from this tragedy, through its own resources and with help from the international community.
What can the public immediately do to save Laos?
In the immediate aftermath of this man-made disaster, the public should follow events and contribute with cash donations and goods in kind, and pay attention to messages from the Lao government and aid agencies as to the most effective ways to assist the affected communities.
For the longer term, a rethink of Laos' development goals is essential. Much of Laos' energy for sale is exported to its neighbours, where it is squandered on excessive air-conditioning for shopping malls, supermarkets, offices and homes, entertainment places, etc. Laos' energy-hungry neighbours need to understand the hidden "costs" to a poor country like Laos, where the race to become the "Battery of Southeast Asia" is being achieved at the expense of natural resources, human capital and tragedies.
Concerned members of the public can lobby their respective governments for civil society to be respected in Laos, as a forum for free expression. It is essential that Lao citizens are involved in the consultation process for new hydropower projects or other large-scale projects which involve environmental degradation, a high level of risk and loss of a traditional way of life for communities along the Mekong.
Building dams along the Mekong must be discussed as a transnational issue, rather than pertaining to Laos alone, as was made clear in the Xe Pian-Xe Nam Noy disaster affecting downstream villages in Cambodia.
Pressure should be applied on the Lao government to ensure transparency in its investigations of Lao communities affected by the massive flooding in Attapeu province.
The 31 July statement issued by Mekong Watch, mentioned earlier, urges donor countries and development agencies to support the Lao government "in seeking compensation from the dam companies, and re-direct their aid policies that rely on hydropower development".
About Lia Genovese
Lia Genovese holds a PhD from SOAS-University of London for a Dissertation titled 'The Plain of Jars of North Laos – Beyond Madeleine Colani'. Her current research interests include: the Plain of Jars of Laos; French colonial archaeology; the megaliths of South and Southeast Asia; Iron Age mortuary practices; cultural heritage and conservation. She is currently working on a critical biography of the life and work of the French archaeologist Madeleine Colani.
Explaining Gendered Wartime Violence: Rohingya Ethnic Cleansing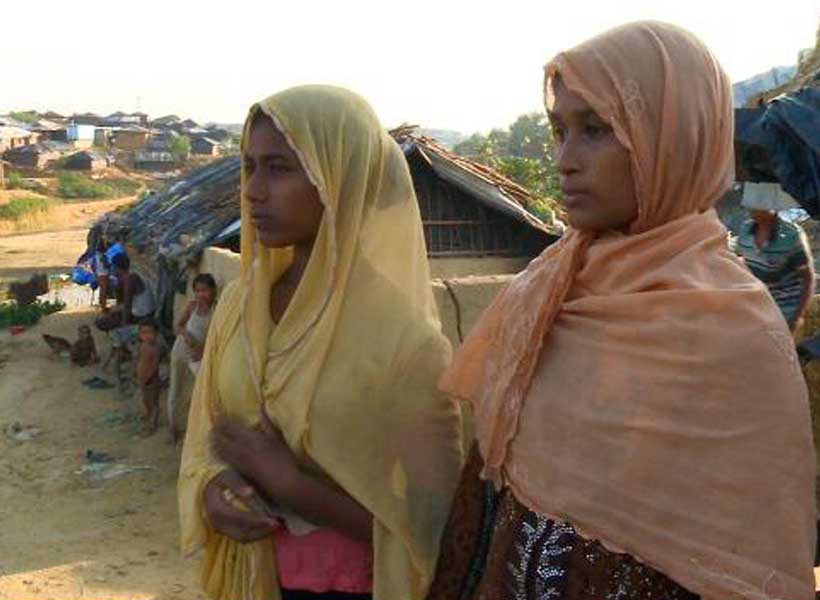 The United Nations described Rohingyas as 'amongst the most persecuted minority groups in the world.' News reports and refugee testimonies have confirmed that the plight of Muslims in Rakhine State of Myanmar is atrocious. The humanitarian crisis taking place in the Rakhine state has led to the death of an appalling number of Rohingya's Muslims. It has been reported, that nearly 500,000 people have fled destruction of their livelihood and, are currently living in refugee camps in Bangladesh. The UN reports suggest that Rohingyas have faced "killings, torture, rape and arson", by Burmese troops. It has been categorised as a 'textbook case of ethnic cleansing' of Muslims in Myanmar.
Rohingya Muslims represent the largest percentage of Muslims in Myanmar, and the majority lived in Rakhine state before the violence broke out. Myanmar is predominantly a Buddhist country which has for decades denied Muslims citizenship, they have been subjected to brutal government and police violence, and their identity has been decreased to that of an 'illegal immigrant.' On the 25th of August, 2017 the Rohingya militant army launched a deadly attack on the Muslims which has culminated into a systematic case of ethnic violence, turning into ethnic cleansing. They have slowly, but successfully forced majority of the Muslims to flee the country, resulting in one of the deadliest case of violence in the 21st century.
Within this Muslim minority exists another kind of minority, 'Rohingya Women' who have been subjected to sexual violence and rape by the army militants. It has been reported that tens of thousands of young girls and women of the Muslim community have been sexually violated and raped by the army militants In the report prepared for the UN Commission on Human Rights, Gay J. McDougall defined wartime rape as "a deliberate and strategic decision on the part of combatants to intimidate and destroy 'the enemy' as a whole by raping and enslaving women who are identified as members of the opposition group." However, wartime rape is not a new phenomenon. Many historical and anthropological researchers have provided us with evidence that rape during war can be traced back to earlier wars. It was reported that during the Second World War, the city of Berlin witnessed extremely high levels of rape and sexual violence against women by the Soviet forces. It has been estimated that around 900,000 women were raped and violated during the war.The infamous 'Rape of Nanking' is another case where Japanese soldiers reportedly raped an estimated 20,000 to 80,000 women in the city of Nanjing, China in 1937.
According to the Human Rights Watch report titled 'All of My Body was in Pain: Sexual Violence against Rohingya Women and Girls in Burma', women and girls are brutally being raped and sexually violated, humiliated, beaten up and even killed by the Burmese militants. They also suffer from the ordeal of seeing their children, parents or partners being murdered in front of them. The Burmese militant army is using systematic rape as a weapon of war in the massacre of the Rohingyas – using women to be the easy target, and thereby making the Rohingya crisis a grave gender concern. Priyanka Motaparthy, a senior researcher in the Emergencies division of the Human Rights Watch, mentions in a Human Rights Watch report, "These horrific attacks on Rohingya women and girls by security forces add a new and brutal chapter to the Burmese military's long and sickening history of sexual violence against women."
It is believed that sexual violence and rape is systematically used against women during wartime due multiple reasons. In addition to women being 'easy targets', they are subjected to this ordeal in order to break down the reproductive cycle of an ethnicity, which thereby can result in eliminating that ethnic population altogether. It is also used to decrease or break down the morale of their enemy population, who are responsible for securing their women and girls, thus weakening their opponents. Therefore, the connecting factor between 'gender based violence' and 'wartime' are the underlying patriarchal values that persists in societies and dictates their culture. Within this structure, it is often assumed that a woman's honor resides in her reproductive system, violating her reproductive system is seen as a way of stripping her honor, subjecting her to humiliation and furthermore gaining 'power.' It is a way of systematically destroying a community as a whole.
This is not the first time the world is witnessing gender based violence. However, the silence on the issue and lack of action by international authorities such as the United Nations is alarming. Urgent and crucial steps need to be taken by the Burmese government along with other International Organizations to bring relief to these women and girls. There is also an urgent need to implement stringent policies and necessary actions must be taken against people who use of sexual violence during wartime. However, the most urgent need of the hour is to overthrow patriarchal values from societies all across the world. Even though this is optimistic, it is important to instill a sense of equality between men and women, which in turn could help in eliminating the use of sexual violence as a weapon of war.