Russia: Time to Finance Infrastructure and Investment Projects in Africa
Over the past few years, Russian companies have shown an increasing interest towards investment and preparedness to compete with other foreign players in Africa, but they have also complained bitterly of lack of state financial support and investment credit guarantees from policy banks and money-lending institutions.
China, India and Japan, and more recently the United States have provided funds to support companies ready to carry out projects in various sectors in African countries.
This situation has sparked discussions among policy experts. For instance, Dr Martyn Davies, Chief Executive Officer of the South African based Frontier Advisory (Pty) Ltd, does not think that the Chinese model of financing various infrastructure and construction projects in Africa is replicable considering the current structure/nature of the Chinese policy banking system, adding that Russia's banking sector operates quite differently.
There are now approximately 50 leading Chinese state-owned enterprises that are all Fortune 500 firms that are present in Africa, with the majority of these active in infrastructure and construction in Africa, he explained to Buziness Africa.
Explaining further, he said although the rapidity of and pervasiveness of their market entry into Africa has taken many by surprise, and the main factor that has assisted this speedy market engagement was that the projects were largely "de-risked" from a financial perspective.
Arguably the single greatest risk of contracting (with governments) in Africa is ultimately getting paid. In the case of the Chinese contracted projects, the Chinese state's so-called policy banks have provided finance and have underwritten the infrastructure roll-out very often supported by sovereign guarantees from the recipient African state. No other (even development) banks have been willing to absorb such financial risks on infrastructure projects in Africa. This accounts for China's "success" in building infrastructure in Africa in recent years, according to the academic professor.
"It is almost impossible for the model to be replicated in a true commercial sense. The only likelihood of similar financial structures arising is in the case of tied-aid for commercial purposes. I would argue that the strategy of China Inc. is resulting in a rethinking of how aid/developmental capital is being allocated or spent in Africa by other partners. This is especially the case with Japanese aid to Africa, with the Fifth Tokyo International Conference on African Development (TICAD) meeting and the commercial outcomes from it evidence of this," Davies concluded assertively.
When the former Chinese President Hu Jintao delivered a speech at the opening ceremony of the Fifth Ministerial Conference of the Forum on China-Africa Cooperation (FOCAC), he indicated explicitly that "China will expand cooperation in investment and financing to support sustainable development in Africa. China provided $20 billion dollars of credit line to African countries to assist them in developing infrastructure, agriculture, manufacturing and small and medium-sized enterprises."
Japan made a five-year commitment of $32 billion dollars in public and private funding to Africa, and the money to be used in areas prioritized as necessary for growth by the Fifth Tokyo International Conference on African Development (TICAD).
Japan's new pledge is nearly four times larger than its last commitment to the group. The plan of action is ambitious. Japanese funds will help in a number of areas, including trade, infrastructure, private sector development, health and education, good governance and food production
Suffice to say that the United States, Britain, Brazil and India have followed concretely Chinese footsteps with financial commitment towards sustainable development projects in Africa. These steps have, indeed, made competition keen for bidding for available infrastructural projects on the continent.
During the official working meeting with Barack Obama, South African President Jacob Zuma told his colleague: "The United States' strategy towards sub-Saharan Africa that you launched is well-timed to take advantage of this growing market. We look forward to strengthening the US-Africa partnership and we are pleased with the growing bilateral trade and investment."
For example, there are 600 US companies operating in South Africa which have created in excess 150,000 jobs for local people. Many experts still believe that Russian authorities have to provide incentives.
Charles Robertson, Global Chief Economist at Renaissance Capital, thinks that the major problem is incentives. China has two major incentives to invest in Africa. First, China needs to buy resources, while Russia does not. Second, Chinese exports are suitable for Africa – whether it is textiles or iPads, goods made in China can be sold in Africa. Russia exports little except oil and has (roughly 2/3 of exports), steel and metals (which is either not cost effective to sell in Africa, or again is the same as Africa is selling) and military weapons.
"Most importantly, Chinese firms see African growth as benefiting China, while Russia has less to gain from this. There is little incentive for Russian firms to operate in Africa…though Renaissance Capital sees opportunities, as does Rusal, and a few others. The problem is not investment credits or guarantees," Robertson pointed out.
In his objective views, Russia has a northern hemisphere focus. And that explains why Russia has shown low financial commitment in its foregn policy implementation in Africa as compared to countries such as Japan, India and China.
According to Jimmy Saruchera, a Director at Schmooze Frontier Markets, an investment fund that works to support small-and-medium sized businesses in new emerging markets, suggested that both Russia and Africa needed work on a good trade policy, stable and transparent institutions are the fundamental ingredients, then tools such as credits and export guarantees can be more effective.
Dr Scott Firsing, a visiting Bradlow fellow at the South African Institute for International Affairs (SAIIA) and a senior lecturer in international studies at Monash University in Johannesburg, said "the absence of export credit guarantees can be a real obstacle to some in countries such as Russia because there are businesses and policy holders that look for these guarantees to help alleviate the fear of doing business in high risk markets like Africa."
Export credit guarantees show the exporter protection against the main risks, which include political and commercial risks, in places such as Africa. This has been very successful for countries like South Africa, which even manage to stockpile cash over time due to the premiums being more than the payouts. Moreover, one can deduce that without such cover or this 'safety net', South African companies might have never taken such risks or would have been unable to bid or win contracts in developing economics, according to his explanation to Buziness Africa.
"I would suggest such a move that Russia has to design a policy strategy. One of China's policy banks, the Chinese Development Bank (CDB) is the country's largest lender for funding acquisitions and investments overseas, totaling more than its four main commericial banks. This has helped expand the overseas presence of Chinese companies like ZTE Corp and Huawei that wouldn't have been previously unlikely without the assistance from such a policy bank," he added.
According to Dr Firsing: a similar statement can be made of the importance of American institutions like their Export-Import Bank that supports American companies and their expansion into African markets. Obama's latest African Power Initiative sees the Export-Import Bank granting up to US$5 billion in support of U.S. exports for the development of power projects across sub-Saharan Africa. Russia can learn a lot from the approach of these countries.
Professor David H. Shinn, an Adjunct Professor at the Elliott School of International Affairs George, Washington University, suspects that Russia's problem goes well beyond investment credits and export credit guarantees. Just look at Russian trade with Africa. It is embarrassingly low. Turkey has twice as much trade with Africa as Russia. Most Russian investment in Africa goes into large energy and mineral projects. China is investing in just about everything.
Professor Shinn, who was a former U.S. ambassador to Ethiopia (1996-99) and Burkina Faso (1987-90), wrote in an email interview to Buziness Africa, that lack of or weakness of Russian government incentives for investing outside Russia seems to be the significant part of its African policy problem, that compared, China does a lot of project financing in Africa.
He argued that western countries are also at a disadvantage because there is much more separation between the government and the private sector and there is no equivalent government state-owned sector, at least, not in the United States. Most Chinese investment in Africa occurs with the large state-owned companies, which work closely with the government. President Barack Obama recently tried to energize the US private sector in Africa during his recent visit, especially with the Power Africa initiative.
Interestingly, Russian policy experts have repeatedly called for state support for corporate investment initiatives as well as helping systematically private entrepreneurs to make strong strategic inroads into mutually viable investment sectors and to raise economic presence in Africa.
"Until recently, Africa was poorly represented in macro-economic forecasting and research, especially in terms of Russian-African relations," wrote Professor Aleksei Vasiliev and Evgeny Korendiasov both from the Russian Academy of Sciences, Institute of African Studies (IAS). Vasiliev is the current Director of the IAS and former Special Presidential Envoy to African Countries while Korendiasov retired Russian Ambassador and now the Head of the Department for Russian-African Research at the IAS.
They both authored an article published in June that Russia has officially declared promoting relations with Africa a priority goal. Assurances made by Russian officials in their statements that Africa is "in the mainstream of Russia's foreign policy" have not been substantiated by systematic practical activities, and the development of relations between Russia and Africa has so far nothing to boast about.
According to the academic researchers, currently the scope for Russian-African partnership is significantly expanding and of the 48 countries in Sub-Saharan Africa, Western experts consider 24 to be democratic countries.They both argued that "through large-scale and purposeful participation in the international development assistance, Russia strives to advance its foreign policy priorities and strengthen the positions of Russian business in the African economic space."
But, they pointed out unreservedly that the situation in Russian-African foreign trade will change for the better, if Russian industry undergoes technological modernization, the state provides Russian businessmen systematic and meaningful support, and small and medium businesses receive wider access to foreign economic cooperation with Africa.
Among other policy recommendations, they stressed "defining clear guidelines and priorities of Russian policy towards Africa, creating conditions for the promotion of Russian goods and investments in African markets, setting up mechanisms of financial support by the state of export and investment projects which is a compulsory condition for successful Russian business activity on the African continent and introducing tariff preferences for trade with African partners."
Suez Canal Shutdown revealed the importance of the Middle Corridor
On March 23 of 2021, a container ship called the "Ever Given" ran aground in Suez Canal, one of the most important waterways in the world, and blocked other vessels from using it. This human-made waterway is one of the world's most heavily used shipping lanes, carrying over 12% of world trade. This canal is also responsible for the transportation of 7% of the world's oil and 30% of daily container shipments. Therefore, the blockage of the canal has considerably affected global trade. According to Lloyd's List, a London-based shipping news journal, the estimated daily value of cargos passing through the canal is $9.7 billion, with $5.1 billion traveling westward and $4.6 billion traveling to eastward directions. The incident forced some ships to use the alternative route around Africa's southern tip, which is dangerous and increases the transportation costs and time.
Shipment delays because of the incident in the Suez Canal also negatively affected the already-disrupted global supply chain. Since the start of the pandemic, shipping delays and shortages have considerably strained the global supply chain. As the commodities become increasingly difficult to obtain and produce for the companies, customers face limited options and higher prices. Several big companies such as Nike, Honda, and Samsung have already expressed that supply-chain issueshavesignificantly impeded production volumes. Thus, the blockage of the canal made the supply chain crisis even worse.
Almost a week after the "Ever Given" halted the canal, on March 29, it became possible to free the vessel and the Suez Canal opened for business again; tugboats managed to refloat the stuck vessel away from the canal's sandy bank. During the blockage, at least 367 vessels were left waiting for the canal to be unblocked. However, it remains unclear when the traffic in the canal will return to normal, as it will take a couple of days to clear the backlog of ships. Some experts have estimated that it could take more than 10 days.
Despite the fact that the canal was freed, it has raised questions on the risks of the world's overreliance on this route. The economic damage of the blockade of the Suez Canal proved the fragility of global transportation architecture. This in turn brought up the issue of the development of alternative land or maritime transport routes. Hence, after the incident, Russia and Iran have called for the need to find alternative shipping routes, especially recalling potentials of the Northern Sea Route (NSR) and International North-South Transport Corridor (INST).By explaining the reasons for considering the NSR, on its official social media account Russian state company Rosatomflot declared that rapid melting of the Arctic and the existence of powerful Russian icebreakers improve the accessibility of the North Sea, which could become an alternative to the Suez Canal. Iranian officials, on other hand, called for the activation of the INSTC as a reliable and "low risk" alternative.
The other alternative route that has the potential to become one of the mainland routes for the transportation of goods between Asia and Europe is the Trans-Caspian East-West-Middle Corridor Initiative, shortly called "The Middle Corridor". This corridor is considered as one of the most important routes in reviving the ancient Silk Road. The Middle Corridor begins in Turkey, passes through the territories of Azerbaijan and Georgia, crosses the Caspian Sea, reaches Central Asia, and extends to China through the Turkmenistan-Uzbekistan-Kyrgyzstan or Kazakhstan routes.
The formation and development of the Middle Corridor began after the November of2013, when as a part of the II International Transport and Logistics Business Forum "New Silk Road" in Astana, the leaders of JSC "National Company" of Kazakhstan, CJSC "Azerbaijan Railways" and JSC "Georgian Railway" signed the agreement on the establishment of Coordination Committee for the development of the Trans-Caspian International Transport Route. In December 2016, the participants of the Coordinating Committee decided to establish the International Association"Trans-Caspian International Transport Route", which started its activities in the following year. The main goal of this project is to increase the volume of freight transportation between East Asia, Central Asia, the Caspian and Black Sea basins and European countries by creating alternative or complement to the traditional land routes that go through the territory of Russia.
Middle Corridor has several advantages in comparison to traditional transportation routes. Compared with the Trans-Siberian Railway, which is also called the "Northern Corridor", it is 2 thousand km shorter and has more favorable climate conditions. Compared with the traditional sea route, it shortens the travel time of goods between Europe and China by about three times, making it only 15 days. In 2015, the first pilot shipment took place and a container train, which started its trip from Western China reached Baku through Kazakhstan and the Caspian Sea in 6 days. Besides, the Middle Corridor creates great opportunities for cargo transportation within Asia and to Africa. Using this corridor, cargos from east and south-east Asia could be easily transported to the Middle East, North Africa and the Mediterranean regions using port infrastructures of participating states.
The Middle Corridor initiative is also supported by Afghanistan and Tajikistan as this route creates new transportation opportunities for them. By integrating the "Lapis Lazuli" corridor, an international transit route that links Afghanistan to Turkey, to the Middle Corridor, these countries could easily transport their goods in all directions in Asia. Integration of these corridors is also advantageous for the participating countries of the Middle Corridor. The agreement on the establishment of the Lapis Lazuli corridor was signed by Georgia, Afghanistan, Turkmenistan, Azerbaijan and Turkey in November 2017, which added a new artery to the Middle Corridor in the southern direction.
Along with the mentioned advantages, the Middle Corridor also holds precedence in comparison to other proposed alternatives, which have obvious shortcomings. In the case of NSR, most of the year it is covered in snow and for transportation of goods through this road ships of special nature and capabilities are required. So, the competition of NSR with the Suez Canal could only be of seasonal nature. The INSTR on the other hand, despite its advantages, cannot become the direct competitor to the Suez Canal as it serves for the connection of the Indian Ocean and the Persian Gulf with Northern Europe, not for the connection of east and south-east Asia like the Suez Canal. It could compete with the Suez Canal only if it is integrated into the Middle Corridor. Hence, the advantages of the Middle Corridor and shortcomings of other alternatives reveal the importance of the Middle Corridor and make it the best alternative for the transportation route that goes through the Suez Canal.
Connectivity now. Boosting flows of people, information, energy, goods and services
On April 8, St Petersburg hosted the 12th Northern Dimension Forum. This forum, established in 2007, is a major annual corporate business event for cooperative policy and brings business directors and potential investors from Russia and the European Union including the Baltics, and Scandinavia.
The forum was organized by the Northern Dimension Business Council in cooperation with the Association of European Businesses, the Graduate School of Management at St Petersburg State University and the Skolkovo Moscow School of Management.
This forum was devoted to the theme: "Connectivity now. Boosting flows of people, information, energy, goods and services." It was attended by over 400 representatives of Russian and foreign business circles, government agencies and scientific, education and non-governmental organizations.
Leading business experts of the partnerships of the Northern Dimension, the Institute and the Association of European Businesses discussed topical issues and opportunities for promoting cooperation in environmental protection, the circular economy, energy efficiency, transport and logistics, healthcare digitization, efforts to overcome the aftereffects of the coronavirus pandemic and creative industries.
As expected, the forum helps to take another major step forward in discussing many strategic spheres of business between Russia and those regions. There were plenary meetings as well as sessions working groups. Despite the contradictory signals between Russia and the European Union, it was another opportunity to have some fruitful dialogue, especially in the current difficult conditions, – develop solutions on a wide range of cooperation issues in the North of Europe.
On the other hand, business institutions and the entire system of economic relations are still evolving for these years, indicating that there is no alternative to reasonable cooperation. It is however necessary to find common business language in the fields and other spheres of crucial importance for international cooperation.
Russian Foreign Ministry's report pointed out to a diversified and multifaceted nature of regional cooperation in Northern Europe. It said the important components include the programs of cross-border and interregional cooperation between Russia and EU countries (Poland, Lithuania, Latvia, Estonia, Finland and Sweden), plus Norway.
There are programs underway within the framework of the current budget cycle that involves over 500 Russian project partners, and new programs are being prepared for the next seven-year period.
They reaffirmed their willingness to broaden versatile and mutually beneficial cooperation for the sustainable development of Europe. It emerged from a number of reports during the forum that trade and economic relations are now remarkably expanding between the European Union and Russia.
Over the years, the business growth has been driven by the efforts of the business community. This has also to do with the quality of economic exchanges and investment, businesses' interest in expanding to new markets, and their confidence that these markets provide drivers for economic growth. Admittedly, trade decreased for various reasons since 2013, it then reached $417 billion, but later shrank to a mere $200 billion.
North Macedonia's Journey to the EU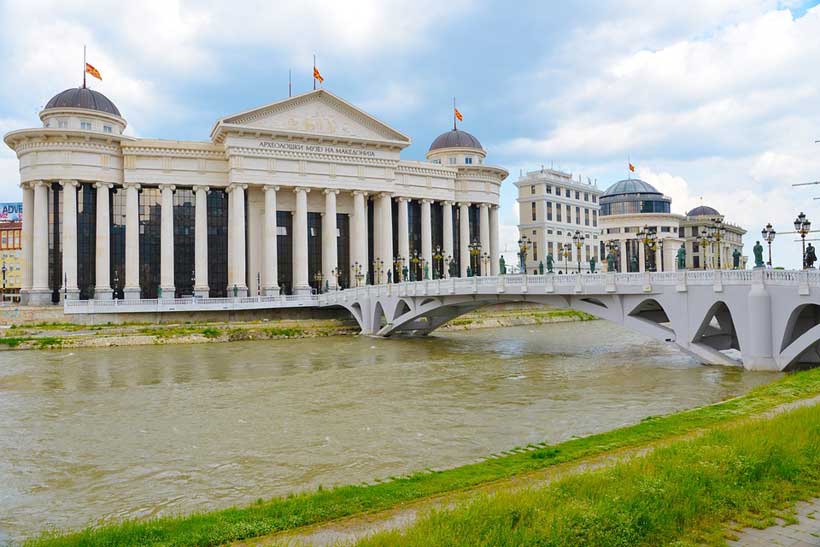 Prime Minister Zoran Zaev's new cabinet is confronted with a number of economic challenges, exacerbated by the economic hit to the global economy caused by the pandemic In 2021, North Macedonia will take economic decisions that will shape the course of the country's future.
The issues Skopje faces
Despite a modest population of 2-million, North Macedonia repeatedly makes headlines, often due to apparently intractable disputes with neighbouring countries. Athens's trade embargo imposed on North Macedonia in the 1990s marked the start of a 27 year deadlock between the two countries, which ultimately stalled North Macedonia's accession to the EU. Only recently did Skopje resolve the dispute with neighbouring Greece over its official name which Greece had previously taken issue with due to the fact that 'Macedonia' is also a region of Greece, and the use of this name was interpreted by Greece to be an assertion of territorial ambitions in the region.
This dispute affected the country's other diplomatic ventures. In 1999, North Macedonia was one of the first post-Yugoslav signatories of the NATO membership action plan, only to have its accession vetoed by Greece in 2008. Ultimately, North Macedonia's Stabilization and Association Agreement with the EU has not been the diplomatic catalyst that Skopje hoped would ease localised tensions and draw it into a closer relationship with Brussels.
Under the leadership of Nikola Gruveski (2006-2016), corruption and state capture were endemic in North Macedonia. Gruveksi was averse to opening negotiations with mainstream governments in Greece and it was not until the centre-left Social Democratic Union of Macedonia ousted Gruveski out of power, that there was a breakthrough. Gruveski's successor, Zoran Zaev, capitalised on Greek Prime Minister Tsipras's reformism to broker the controversial Prespa Agreement which settled the name dispute. Two years later, North Macedonia was finally admitted to NATO, demonstrating that Greece was the final hurdle to NATO membership.
A tamed economy
However, North Macedonia soon found that NATO membership was not a passport to joining the EU. Internal ethnic tensions have created friction with EU member states. Relations with Bulgaria soured during the election campaign for July 2020 during which the campaigns of both main political parties played on anti-Bulgarian sentiment..Zaev managed to gain power by agreeing to a coalition with the main part of the Albanian minority. The new cabinet's economic hurdles, specifically fiscal redistribution, could be exacerbated by renewed ethnic tensions between the Slav majority and the Albanian minority. Should tensions reach the levels of the 2001 civil conflict, the deepening of this fracture would slow down reforms and deter investments.
Bouncing back after the fall
The Balkan countries suffered greatly during the Great Recession due to their proximity to the Greek economy at a time when Athens navigated the worst slowdown of recent history. As Greece's second largest export partner, the RNM was particularly hard hit(Figure 3a). The region had barely entered recovery before lockdown measures crippled world economic growth. In addition, North Macedonia's small internal market is heavily reliant on external demand which the crisis has depleted. In Q1-Q2 2020, exports fell by 22.3% and industrial production by 14.6% compared to the same period of the previous year. Thus, GDP fell by 14.9% in Q2 of 2020 and another 3.3% in Q3 contrary to the projected 3.2 percent growth (Figure 7). Whilst forecasts suggest growth of 5.5% in 2021, the unpredictability of the pandemic's economic influence may yet compromise this figure.
Meanwhile, rating agencies downgraded North Macedonia's national debt, in turn raising financing costs. the RNM's debt was downgraded by some rating agencies, raising financing costs. Fitch, the American credit rating agency, as well as Moody's, another US-based credit rating agency, both value North Macedonia's debt as a non-recommended investment asset to be reserved for short-term gain. Since May 2020 the outlook has been negative, suggesting the situation will worsen. Yet, with one of the comparatively smallest debt-GDPs of the region, these ratings are still the best in South-Eastern Europe after Bulgaria meaning the RNM has a relatively solid economic base (Figure 4).
The country's effective response to the pandemic is in part the reason that North Macedonia is economically stronger than some of its neighbours. The caretaker government introduced a furlough scheme, worth approximately 5.5 percent of GDP, as well as a helicopter money initiative. Going forward, the government is prioritising policies that will stimulate economic growth such as slashing parafiscal charges and cutting VAT. Yet, since North Macedonia lacks the economic resources to commit to long-term reform, recovery will be slow.
North Macedonia's Shifting Demographics
North Macedonia is contending with mass emigration in tandem with declining fertility rates (Figure 5) — both of which reduce human capital. The official estimate of two-million residents is dubitable, with some experts hypothesising an actual figure of approximately 1.5 million. Inaccurate projections of a state's total population jeopardises effective government decision making. In the RNM, where the resources are redistributed amongst ethnic groups pro quota, this makes fiscal management particularly difficult. If, for example, the proportion of Albanians of the total population was lower than estimated, then this group will be receiving more public resources that they are entitled to.
Given that the EU acts in a starkly-protectionist way by restricting trade with third countries, greater cooperation is in the RNM's interest. In fact, Brussels could reduce trade barriers in the context of a stronger association with Skopje even before the latter formally joins the Union.
There are steps the government can take to encourage citizens not to emigrate . The first and most crucial step would be to improve the education system. Overall, North Macedonia spends much less of its GDP than the average EU country on education. As a result, few people complete their secondary-level education, and therefore either end up in low-paying jobs or unemployed, andare forced to emigrate. Another step would be investment in the underfunded Research and Development (R&D) sector. In fact, North Macedonia's budget allocates only 0.36% of GDP to R&D, compared to an EU average of 2.2% and neighbouring Bulgaria's 0.77%. Research and development is essential to creating high-paying jobs, driving productivity, and boosting the economy through innovation and market competition.
Infrastructures as the drive for future growth
The silver lining in North Macedonia's economic strategy is infrastructure development. This especially true for roads and highways. Grueveski's administration was instrumental in the investment into road infrastructure, starting works for two new highways in 2014.
Still, roads can be rather useless if they do lead nowhere. Thus come trade infrastructures. In addition to new road, the building of new border checkpoints and crossing points with Greece and Bulgaria, will bolster the trade infrastructure that North Macedonia shares with the EU, thereby driving trade with a global economic powerhouse. These investments will also reduce the RNM's dependence on the Yugoslav-time north-south arteries, which currently present a barrier for the development of the "functioning market economy" that is a requirement for EU membership. To achieve this goal, the RNM needs to improve, road connections towards the west (with Albania) and the east (with Bulgaria, an important trading partner). Building better connections within the country and with non-Yugoslav neighbours will boost the country's internal cohesion by making it easier to move from one part of the country to another proving supplemental infrastructures to foster international trade.
Figure 6 Highways represent a key segment of the RNM's investments.
A secondary and related benefit of improving connectedness with EU trade routes is reduced economic dependence on Russia. This should reduce Moscow's potential diplomatic leverage in future disputes in the region. As a matter of fact, pulling out of Moscow's orbit is almost a precondition to full membership in the EU — which would bring in more funding opportunity and increase financial stability. Yet, Russia's main asset is not trade tout court, but energy. In fact, the Balkans serve as a strategic crossroad for oil and gas coming from Moscow and Baku through Bucharest and Ankara. Thus, North Macedonia should also consider developing its energy infrastructure as a route to closer integration with the EU. In order to reduce the Western Balkan's dependence on Russian fossil fuels, the region needs investments. For cash-strapped countries, like North Macedonia, the opportunity to make real progress in this field may come from 'green' funds the EU has earmarked for energy projects in both current member states and candidate countries . In addition, Greece has established an LNG terminal on the Aegean to which links the RNM is planning to adjoin its grid. There are also talks of an electric-grid link to Albania, through which the RNM could import as much as needed and even export eventual surpluses.
Forecast: The RNM can make it… with some help
Without radical reform, the extant corruption, bureaucracy and public-sector inefficiency will stymy growth in the coming years. Luckily, the EU might be the answer to Skopje's economic woes. The Union is expected to grant €3.3 billion to Western-Balkan countries to kickstart economic recovery following the pandemic. The package does however come with strings attached: the country will have to accelerate progress towards regulatory harmonisation with the EU. This is a notoriously difficult and resource-consuming task, which may hinder other reforms.
Furthermore, North Macedonia must confront pre-pandemic economic struggles. The government could revert to coalition infightings and therefore prolong the process of economic reform. For investors, a cautious approach is recommended, in preparation for positive economic developments.
Acknowledgments The Author thanks Charlotte Millington, parliamentary researcher at the UK House of Commons specialising in European politics and international security for her suggestions.