The DAESH Civil Governance Blackhole: Iraq, Iran, Quds, and Kurds
The push to take back Ramadi has recently highlighted a litany of convoluted policy and societal sectarian concerns that have created pathways for DAESH to increase their territory and hold new positions.
Additionally, there's little direction and confidence in US policy regarding Iraq as the Iraq Interior Ministry has heavily relied on Iranian Quds Forces. This alliance, and the Shia-dominated government, has alienated many Sunni Iraqis, who see offensives against DAESH as fulfilling Shiite sectarian governmental goals and affirming long-term control from Iran. Even with these difficult circumstances, DAESH is finally showing signs of exhaustion.
Iraqi political integration has been painfully elusive and mostly illusory. The Shiite-dominated government has been accused of pursuing its own interests in the war against DAESH, such as not defending Sunni-majority cities and failing to mount attacks to retake fallen ones. Four months ago Ramadi fell to brutal and swift DAESH forces, creating a need for the Iraqi government to organize and show that it was not defenseless against DAESH advances. However, squabbling within the government and a complete lack of trust in those tasked with such missions left Ramadi in DAESH hands. Conspiracy theories abound as to whether this is some master Shiite strategy engineered from Tehran.
In addition to a non-unified government, Iraq's military operations are organized as a patchwork of Sunni and Shiite militias, national security forces, and Iranian-backed Shiite paramilitaries. The Iraqi Interior Ministry is said to be under the command of Qassem Suleimani, the regionally venerated Iranian Quds Force Commander. This has not only further isolated Sunni militias in Iraq, but has created divisions within the Iraqi command hierarchy, as the Prime Minister is seen as losing control of his own military to Iranian influence. Notably, the most effective force acting against DAESH has been Iraqi and Syrian Kurds, which muddies the territorial integrity waters further as their successes push advocates who ultimately see an independent Kurdistan as a globally-recognized state.
While Iraqi authority struggles with sectarian divides within their government and military, US policy has largely focused on containing DAESH. Containment was thought to be a losing strategy at the beginning of the offensive, but the extremists' fight has largely stood still in the past year compared to its initial campaigns. Since the Clinton administration, counterterrorism units have largely believed that the global terror threat cannot be solved in any definite way, but only 'managed.' Terrorism is largely seen as permanent fixture in a modern world of advanced globalism and high technology. DAESH has not only condensed terrorism into one large territory of contested dominion, but has escalated brutality beyond what the world had previously witnessed. This has not only discredited all political and religious motivation behind its movement, but has allowed the worst of terrorism to permeate into the local culture and conscience. Unfortunately this has, for some, only affirmed the idea that containment is the only real possibility, not obliteration. The internal disharmony within Iraq, fueled by the various sectarian groups and a reinvigorated strategic Iran, certainly does not create hope for an internal Iraqi solution to the DAESH problem.
A microcosm of US and international policy against DAESH has been the long struggle for Kobane, Syria. Strategically important, the US used Kobane as the Ottomans used the Dardanelles against the British in the First World War, letting the enemy pierce themselves again and again in a strategic dead end. It is estimated that over 2,000 DAESH members, mostly foreigners, have died at Kobane. Coalition partners used air strikes again and again for a large part of a year to stop all DAESH advances in Kobane. This strategy, however, must contend with DAESH stories of indiscriminate killing, rape, huge desertion numbers, murders of doctors and scientists, and brutality toward homosexuals and non-DAESH religion. As a result, 2015 has seen a large decrease in recruitment numbers into Syria and Iraq. Additionally, as Syrian Kurds secure Jarabulus, said to be the last undefended city for allowing DAESH recruits passage deeper into the area, those numbers are projected to fall even further. Thus, while DAESH was the largest modern terrorist movement to gain control of large swaths of state territory, it was always going to be faced with dead ends in transforming that small rule into an offensive that could challenge the formal rule of large powers long-term. By allowing them to operate in a constrained territory, perhaps accidentally or unintentionally, US and international policy has effectively allowed DAESH terrorism to somewhat exhaust itself into a strategic dead end.
Since DAESH will not be 'defeated' in the near future, it allows them some freedom to operate and create a black hole of terrorism inside of a de facto Iraqi civil governance war. As with most terrorist movements, DAESH was born in a power vacuum. Much like the Taliban, DAESH gained prominence at a time when the government was either discredited or transitional, leaving little home power to stop such movements. Without a strong legitimate home rule to use effective power to control civil unrest, the ethnic diversity among Sunni, Shias, and Kurds has led to a mismanaged government and weak security state. Even if DAESH was to be defeated in the near term, these complications will not go away any time soon. With Syria becoming further destabilized, Iraq will continue to have a strong element of disruption along its Western border. With the new nuclear accord and lifting of sanctions, Iran will have sustained influence inside the Iraqi government, further alienating Sunni Iraqis and perhaps allowing a violent DAESH legacy to remain to facilitate its own objectives.
While DAESH continues its brutality and human rights abuses, the inability of the Iraqi government to function adequately in the wake of its advances creates a dire security problem in the Middle East. These problems will certainly not disappear with the elimination of DAESH, as that might not be truly possible, but only highlight the debilitating sectarian divides within Iraq and Syria. A unified government will need to include a strong Sunni presence and formal Kurd involvement for any future stability to be present within Iraq. However, with Sunnis generally frustrated with their minority involvement in the democratic process and Kurds pushing for autonomy, all apparently approved of and designed by strings being pulled from Iran, the instability may continue unabated with or without DAESH presence. As has occurred in Syria, a black hole of civil governance unrest in Iraq with multiple proxy players may spell doom for long-term peace and stability. While US policy has largely discredited DAESH, there's little recognition of the underlying societal problems in the area. As long as the US and others do not address the effects of political disunity and sectarian divides, then DAESH in the long-term might be the region's smallest problem.
What will happen to the Central Asian jihadists in Idlib after the Sochi Memorandum?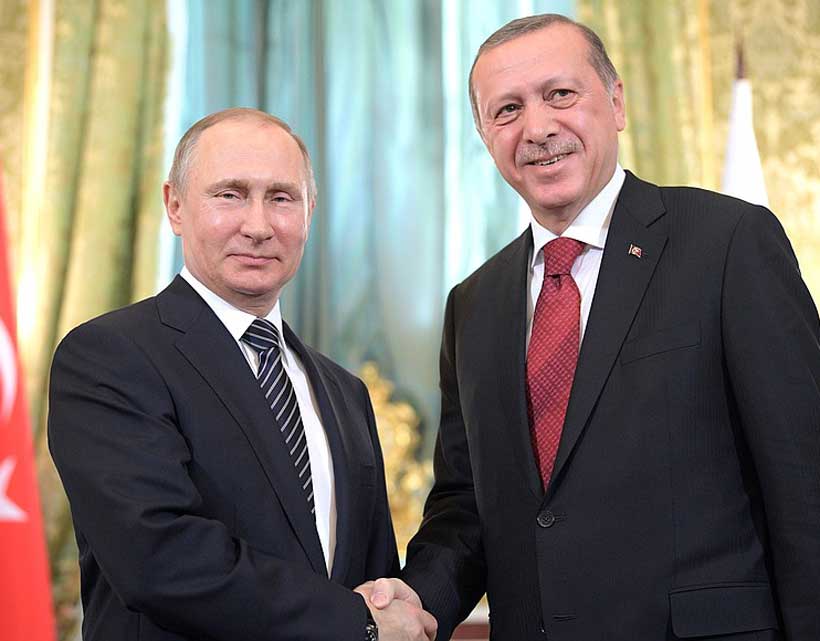 It became obvious that, the persistent calls and strict warnings from the UN, the United States, the EU and Turkey about the inevitability of a catastrophe and mass casualties in the event of a military operation on the Idlib Province, the last major rebel holdout in western Syria and home to about four million people, has begun to bear fruit. A military operation in Idlib was cancelled and the world sighed with relief.
The Price of Peace in Idlib
On September 17, 2018, in the Black Sea resort of Sochi, Ankara and Moscow signed a memorandum to create a demilitarized buffer zone in Syria's Idlib region to separate government and rebel forces, in which acts of aggression are prohibited. The memorandum provides for a "withdrawal of all radical fighters" from Idlib including Hayat Tahrir al-Sham. Moscow and Ankara also agreed on the withdrawal of "heavy weaponry from this zone," including tanks, multiple-launch rocket systems, and rocket launchers belonging to all armed opposition groups by October 10. The demilitarized buffer zone will extend between 15 to 20 kilometers (9-12 miles) deep into Idlib.Russia and Turkey will conduct joint patrols along the zone's perimeter.
Ankara's diplomatic victory is that the National Liberation Front (NLF) — a rebel coalition in Syria formed in May 2018 under Turkey's auspices — will remain in Idlib as a "new owner". The NLF includes Sunni groups Ahrar al-Sham, Nur al-Din al-Zenki as well as several factions battling under the banner of the Free Syrian Army, which Western countries consider "moderate armed opposition. According to The Sochi Memorandum, Moscow, Damascus and Tehran have practically recognized NLF as the only moderate armed opposition in Syria.
The Sochi Memorandum, which at the last minute stopped the bombing of Idlib, completely suits Ankara. De facto, Turkey is expanding its presence deep into Syria, and takes the political and economic management of Idlib into its own hands, as was done in Afrin.In the past Turkey conducted a military operation, code-named Olive Branch, against the Kurdish-led Democratic Union Party (PYD) in Syria for more than two months,in order to achieve the conquest of Afrin. However,in contrast, Ankara has now seized Idlib as a result of its diplomatic initiatives. It should be expected that in the near future Ankara will immediately begin to establish pro-Turkish self-government by Idlib province.
Today more than 60 percent of the Idlib province is controlled by Hayat Tahrir al-Sham, former al Qaeda linked Al Nusrah Front. According to The Washington Institute, HTS has 30,000 combatants. It should be noted that in order to turn Al Nusrah Front into a serious political player in the intra-Syrian conflict and in order to avoid international sanctions, the group's leader of Abu Muhammad al Julani in July 2016 announced that he would break off their ties from al Qaeda. HTS has managed to expand its political and governance efforts, coordinating them through a civilian-run "Salvation Government" in Idlib. The group has expanded and energized initiatives to provide core services, from education and healthcare to electricity and water.
Now Turkey will seek the transfer of the reins of political, military and economic government by the province from HTS to NLF. But a clear mechanism for the transfer of power has not yet been developed. It is not excluded that a new redistribution of spheres of influence in the province may be accompanied by armed conflicts between "new" and "old" owners. A significant share of the HTS budget came from customs and tax collections in the territory of "Salvation Government", arms smuggling and human trafficking along the border with Turkey.
But the most difficult challenge for Turkey is cleaning radical jihadists out of Idlib, first of all, from HTS. Ankara has taken on an excessive responsibility for separating the moderate opposition from the Islamist extremists in Idlib which is not easy to implement. If Turkey manages to withdraw weapons from armed members of al Qaeda, HTS, Uyghur, Uzbek and Chechen Salafi-jihadi militants, and drive them all out of Idlib, then a new impulse will be given to the world struggle against Islamist radicalism. Then Erdogan, who positions himself as a defender of Sunni Islam in the world, would strike a tangible blow to the ideology of ISIS and al Qaeda.
On the other hand, if Ankara is able to include all foreign terrorists and jihadists from Central Asia and China in Idlib into the National Liberation Front and the NLF becomes for them a new "amir", then the Sochi memorandum would become the next survival tool for these al Qaeda linked radical groups.
Foreign fighters from the former Soviet Union and China in Idlib
Syria's northwest, long a hotbed of armed resistance and the heartland of al-Qaeda-linked operations, has become a real-life shelter for Uyghur, Uzbek, Tajik and Kyrgyz militants and their families from Central Asia. The militants from the former Soviet Union and Chinese Xinjiang are the largest foreign jihadists in Idlib Province.
Which Russian-Speaking Foreign Salafi- jihadi groups operating in Idlib were ready to defend the "Sham's Liberated Lands" (Hayat Tahrir al-Sham calls these lands his possession) from attacks by the Assad army and pro-Iranian Shia militant formations?
The Turkestan Islamic Party is one such group, mainly consisting of Uyghur Islamic fighters from the Chinese province of Xinjiang. The Islamic Movement of Eastern Turkestan established in the 80s of last century in Chinese Xingjian was later renamed into the Turkestan Islamic Party and since 1997 it has been known to be based in Afghanistan. Since then, TIP is actively cooperating with the terrorist groups al Qaeda and Taliban. The amir of TIP is Abd al-Haqq al Turkistani. In February 2012 Uyghur militants moved to Idlib province and together with Al Nusrah Front are fighting against government forces of Bashar al-Assad. The al Qaeda's jihadi doctrine is the basis of the TIP's ideological platform. From 8 to 10 thousand Uyghur militants with their families are concentrated in Jisr al-Shughur.
Katibat al Tawhid wal Jihad is affiliated with the Al Nusrah Front and its ancestor al Qaeda. The Salafi-jihadi group includes citizens of Uzbekistan, Kyrgyzstan and Tajikistan. Abu Saloh (Sirojiddin Mukhtarov) is the amir of the group whowas born in the Osh region of Kyrgyzstan. He speaks emotionally, confidently and often quotes the Quran. Abu Saloh is a faithful and aggressive propagandist of the al Qaeda's ideology. He organized jointly with the Uyghur terrorists from the Turkestan Islamic Party the explosion in the Bishkek-based Chinese embassy in August 2016 in Kyrgyzstan. Also, the Federal Security Service of Russia has accused him of organizing an explosion in the metro of St. Petersburg on April 3, 2017. The approximate number of the KTJ militants is about 400 people, mostly Uzbek jihadists.
The Katibat Imam al-Bukhari detachment was created in Afghanistan on the basis of the Islamic Movement of Uzbekistan and pledged loyalty to the Taliban. After the outbreak of the civil war in Syria in 2012 KIB moved to Syrian Idlib Province and distinguished itself as one of the major rebel groups fighting against the regime of Bashar Assad. Today one group of the KIB's jihadists is based in Afghanistan and fighting together with the Taliban. Abu Yusuf Muhojir, the Uzbek militant from Tajikistan, is the amir of the group. About 300-350 militants are known to fight in the KIB. The US State Department designated KIB as global terrorist organizations on March 22, 2018. KIB takes a close position by its military and ideological views to the al Qaeda linked Al Nusrah Front and Ahrar al-Sham. Later both groups formally announced the break in their relations with al Qaeda, although their ideological jihadi platforms did not change. Despite the fact that KIB claims to be an "independent" faction, al Qaeda's radical Salafism and militant Takfirism are the fundamental basis of the jihadi ideology of the KIB. During the bloody conflict between Hayat Tahrir al-Sham led by Al Nusrah Front and the Syrian Liberation Front headed by Ahrar al-Sham in February 2018, KIB took a neutral stance and tried to play an intermediary role in their reconciliation.
4.The so-called "Chechen groups", which have been formed from the inhabitants of the North Caucasus of Russia and Georgiaare also involved in this conflict.Today in Idlib there are groups from the North Caucasus calling themselves "independent" factions Ajnad al Kavkaz (lider – RustamAzhiev), Junud al-Sham (lider – Murad Margoshvili), Jaish al-Usrah (lider – Peizulla Margoshvili), Jamaat Katibat Ibadar-Rahman (lider – Tarkhan Gaziyev) and Liwa al Muhajireen wal Ansar, which are part of the Hayat Tahrir al-Sham. The number of militants in these Russian-speaking groups from the North Caucasus are much less than the Turkic-speaking Salafi-jihadi groups from Central Asia. Unlike the Uzbek and Uygur jihadist groups, there is no singular identical ideological doctrine among the "Chechen groups". As a result, they did not always enter into a coalition with Syrian opposition groups of local Arabs and did not accept the ideology of the global players of the world jihad.
After analyzing ideological platforms, it can be concluded that all these foreign Salafi-jihadi groups from Central Asia, Western China and the North Caucasus, which are stationed today in Idlib, have two factors in common.
First, they all have close cooperation with Al Qaeda and consider his leader Ayman al-Zawahiri their ideological leader.
Secondly, they coordinate all their military operations in Syria and conduct them under the leadership of the HTS. Practically Uzbek and Uighur militants became an integral part of Hayat Tahrir al-Sham. The jihadists of Central Asia became the link between Al Qaeda and HTS after their quarrels.
So far, neither the HTS, nor the Central Asian jihadists, nor the militants from the North Caucasus have expressed their opinion on the Sochi Memorandum
Where will the Central Asian jihadists go, if they leave Idlib?
After the signing of the Sochi Memorandum, the fate of the foreign jihadist groups in Idlib became dependent on Turkey. Now, the Turkish armed forces will apply pressure on foreign radical groups to leave the territory of Idlib for the creation of a 15-20 kilometer demilitarized belt by October 15, 2018, in order to fulfill the provisions of the memorandum.North Caucasus and Central Asian jihadist groups will react to Turkish pressure based on the positions of HTS. That is, they will follow the example of the HTS, the largest and well-armed group in Idlib.
First option. HTS surrenders its heavy weapons, dissolves itself and integrates into the Turkish backed National Liberation Front. In this case, Chechen, Uzbek, Tajik and Kyrgyz jihadists will look for ways to stay in Idlib and join the NLF. But Russia and China will be opposed to this path and will likely present an ultimatum to Ankara for their detention and transfer.
The second option. If the HTS does not agree to disarm, then the intervention of the Turkish Armed Forces in Idlib will become inevitable. If conflict flares up between the HTS and the Turkish military, the North Caucasus and Central Asian jihadists will likely not interfere in it and will try, as far as possible, to leave Syria and move to Afghanistan to join the Taliban.It is unlikely that the kinship of Uzbeks and Uyghurs to the Turks will prevail over their religious-political jihadi ideology and cause them to disarm.
The third option. After the establishment of the pro-Turkish government in Idlib, led by the moderate opposition of the NLF, Russia and Turkey would jointly conduct military operations to eliminate Chechen and Central Asian Islamists.
In conclusion, it is likely that a decision about the future of the foreign Salafi-jihadi groups in Syria is drawing closer to a resolution each passing day.
Afghanistan: A Global Game of Musical Chairs
Afghanistan's history is replete with wars and other violent conflicts. Throughout its long and turbulent history, Afghanistan has looked more like a tribal confederacy than a cohesive nation-state. Afghanistan's emerging outlook remains uncertain due to competing interests of the stakeholders and internal political dynamics. The land locked country is facing complex internal situation with serious ramifications for the region in general and its neighbors in particular. Ongoing peace process and efforts to create reconciliation amongst various factions are critical challenges meriting well thought out response by the key players through intelligent scenario forecasting and response initiation.
It is rather an unfortunate fact that the war torn Afghanistan has been an area of gaining self interests for multiple global players, used by each player involved in accordance to the player's benefits.
Already dysfunctional governments, interest of multiple internal and external groups, dwelling of various terrorist organizations and the inclusion of multiple countries in the state affairs have resulted in painting a bleak outlook of the country. From the use as a factor towards Soviet defeat to the War on Terror and the indulging of U.S. in war for almost two decades has resulted into what today Afghanistan is.
Certain global players have exploited the country for their own interests while others seeking for opportunity to derive their stated and unstated interests from the war torn country.  Afghanistan has always been a game of musical chairs globally with the players contesting for influence, leaving and coming into the affairs of the country turn by turn, whenever possible.
In the current scenario, the US finally after 17 years has decided to quit Afghanistan while initiating a peace process within the country.  US wish to hold peace talks with the Afghan Taliban and conclude the war on terror. One round of talks has already occurred, whereas the other is being expected soon. Kabul has long been a factor to showcase the US hegemony in the region. With the US exiting, change in Kabul's fate is being observed. Emerging stated and unstated interests following the US exit of some regional players are as follows:
China
China has drastically increased its influence in Afghanistan. China will reportedly train Afghan troops for deployment in the Wakhan Corridor, which links the Afghan province of Badakshan with western China. It is also considering Afghanistan's request for combat aircraft. These are the latest developments in a growing military relationship: Beijing has granted $70 million in military aid to Kabul over the past three years. China has also held meetings with Afghan Taliban representatives over the past year, and was rumored (alongside Pakistan) to have brokered and guaranteed the Eidul Fitr ceasefire. China is seeking the opportunity of entering Afghanistan by its diplomatic efforts after observing the US exit. China's role in Afghanistan is focused on exploiting so said economic opportunities rather than getting entangled in a deteriorating social or security environment. Why China is doing so can be summed up under a few points
Stated Interests 
China has stated that it believes that only an inclusive reconciliation process that is "Afghan-led and Afghan-owned" can provide the ultimate solution to the Afghanistan issue. China wishes to forge strategic and cooperative partnership with Afghanistan, curtailing the spread of extremism into Chinese territory and counterterrorism issues, engaging Afghanistan in Road and Belt Initiative and revival of Silk Road, stable and peaceful Afghanistan for regional stability and economic integration, large scale investments to explore untapped mineral resources of Afghanistan and check extremism posing threat to western provinces.
Unstated Interests
The main is protecting Chinese interests vis-a-vis US. China has already acquired a 30 years' lease for the Aynak Copper mines, and is interested to secure further rights to mine precious metals and earth. Assist Pakistan in an effort to contain Indian growing influence in Afghanistan. China also wishes to end the long lasting US hegemony in Kabul and the South Asian region by indulging in diplomacy with the region.
Russia
Russia is a resurging power and is averse to any potential trouble / challenge emanating from its immediate neighborhood. At present, Russia's interests in Afghanistan including:-
Stated Interests
The interest are: curtailing the growing influence of non-state actors in Afghanistan, such as ISIS and its spread into Russian territories, reducing the inflow of narcotics into Russia emanating from Afghanistan and establishing a stable Afghanistan as a buffer between the Greater Middle East and Central Asia.
Unstated Interests 
Pursuance of President Vladimir Putin's expansionist ideas to restore Russia's position as a geopolitical player, Accomplish her desire to reach warm waters as part of grand strategic design and Counter or limit US presence in the region.
India
Indian regional strategy is mainly driven by Chanakya Kautilya's philosophy of "your neighbor is your natural enemy and the neighbor's neighbor is your friend". With the Taliban ousted and pro Indian government installed in Kabul, India is pursuing a forward looking policy and perceives its interests not only in terms of the rivalry with Pakistan but also in regional context. Indian interests in Afghanistan are:-
Stated Interests
To exercise a greater role in Afghanistan as a key regional player influencing political, social, economic and military developments in Afghanistan, to prevent the flow of battle hardened Taliban to IHK and oppose any power sharing by the Afghan Government with Taliban[1] and to capture potential Afghan market for export of cheaper Indian goods.
Unstated Interests
Isolation and destabilization of Pakistan, to create political disharmony between Pakistan and Afghanistan by giving fillip to controversial issues, to create a two front war sit for Pakistan and destabilize its western frontiers, to secure transit corridors that connects the oil and gas rich Central and West Asian region through Iran, to play a key role in CARs as well as in world affairs by exploiting international anti-terrorism sentiments to its advantage, to limit China in gaining access to the entire mineral and energy resources in Central Asia and Afghanistan[2] and to exploit Afghan untapped energy and mineral resources and utilize those for own economic gains.
Pakistan 
Primary interest of Pakistan is to have peaceful and stable Afghanistan with inclusive government in Kabul giving due share and power to all factions of society. Edge-out dominant Indian influence in Afghanistan, which could evolve into an alliance between the two countries and trap Pakistan in a two-front war sit. Counter / deter TTP / BLA and anti-government militants seeking refuge in Afghanistan. Greater trade opportunities with CARs as well as with Afghanistan and optimizing benefits of CPEC, Repatriation of over 1.7 million registered and equal number of un-registered Afghan refugees which have negatively impacted the Pakistan economy and deterioration in law and order sit and elaborate border security mechanism to control terrorism, drug trafficking and trans-national smuggling through Afghanistan.
After analysing the strategic culture, conflict history, complexity of prevailing environment and even far more complex interests of external as well as internal players in Afghanistan. Moreover, there are more uncountable irritants than enablers which restrict clearer scenario building and correspondingly arriving at set of policy for stable and peaceful Afghanistan in shorter to longer time frame.
Afghanistan is perceived as an area of competing global players for their interests.  Whereas a peace process in Afghanistan and the rebuilding efforts seem void. Afghanistan may not even have a functional government keeping in mind the scenario in short term time frame. The contesting players make the state affairs of Afghanistan look more like a game of musical chairs rather a sovereign, functional, self decisive and independent state.
[1] Ganguly, Sumit, and Nicholas Howenstein, "India-Pakistan Rivalry in Afghanistan", Journal of International Affairs 63.1 (2009), page 127.
[2] Lt Col Zia Riaz, "Pak Army Green Book 2014", Afghanistan Beyond 2014, 11.
Staged Gas Attack "Eyes on Idlib" Ready to Start on 8 of September
Washington and its allies pursue their geopolitical interests under the pretext of humanitarian concerns, while apparently trying to prevent the destruction of the last terrorist enclave in Syria, said the Russian envoy to the UN.
The U.S. and its allies have done virtually nothing to contribute to the real peace process in Idlib, said Vassily Nebenzia, adding that the U.S., in particular, has not kept its promise to separate "moderate opposition" groups from terrorist organizations.
Created in Washington in January 2018, under the presidency of David Satterfield, the « little group » was tasked with relaunching the Rumsfeld-Cebrowski project for the destruction of State structures in the Middle East in general and Syria in particular. It initially included Saudi Arabia, the United States, France, Jordan and the United Kingdom (on the understanding that the Arab member states would not be destroyed in the short term).
The entity was secret at its inception but progressively became more public as Germany and Egypt joined. It seems to have become more reasonable and is now seeking an honorable exit from the crisis. It has made contact with the Astana group (Iran, Russia, and Turkey).
And yet the United Kingdom relaunched the project against Syria by preparing a false flag operation in the Idlib province. For this purpose, specialists were sent to the area, and chemical weapons were moved to the governorate of Idlib. The White Helmets abducted 44 children, whom MI6 planned to sacrifice and blame their murder on a chemical attack by the Syrian Arab Army against the « rebels ».
MI6 organized the dissemination of this fake news in advance via the false witness testimony of a small child, Hala. They created a Twitter account in her name on 29 July, and about thirty media immediately joined up, waiting for the signal (operation « Eyes on Idlib »). Among them are the BBC, Radio Free Europe/Radio Liberty, BuzzFeed, and The Huffington Post  – these are media which knowingly participate in British war propaganda. The preliminary propaganda operation preparing the false flag of a gas attack appears in parallel with an info operation relaunching the Skripal case, according to a script well known from the past, suggesting Russia were involved in chemical attacks.
While the responsibility of British Prime Minister Theresa May is clearly established concerning the actions of MI6, we do not know who ordered the US military deployment.
Always paddling in the wake of London, French President Emmanuel Macron has already put forward the idea of relaunching the war, speaking before a meeting of his ambassadors in Paris. Thus, with contempt for the Syrian People, who had democratically elected their President, he proposed to choose in their place – « Let us respect the sovereignty of Syria, but let us truly respect it, by allowing the people to express themselves and to incarnate this sovereignty », he declared.
The authors of this plan know perfectly well that they have already lost the war if we look at it only from the Syrian point of view. Their new objective seems to go even further. It is their intention to provoke a conflict with Russia – in other words, a war which would quickly become global.
Syria and Russia reacted by revealing the facts. Then Russia sent a quantity of military material to Tartus via the container-carrier Sparta-3. Moscow also reinforced its presence off the coast of Syria (currently ten ships and two submarines) by planning vast military maneuvers, which engage twenty-five ships and about thirty aircraft.
Frightened, the US State Department has just sent Ambassador James Jeffrey to calm the countries in the region. He is expected in Israel, Jordan, and Turkey. He is accompanied by David Satterfield's assistant, Colonel Joel Rayburn from Military Intelligence. The US delegation will assure all its interlocutors that Washington is not planning to bomb Syria under false pretenses.
The Russian army has obtained "irrefutable" data that terrorist groups, including Jabhat an-Nusra, and the notorious white helmets met on Sunday in Idlib province, according to ministry spokesman Igor Konashenkov. Militants have outlined the final scenarios for the chemical attacks that the Syrian army should carry out in the cities of Jisr ash-Shugur, Serakab, Taftanaz, and Sarmin, revealed the Russian army.
"Full availability of all participants involved in the staging of provocations is guaranteed from the evening of September 8," said Konashenkov. He added that terrorists must receive a "special" signal from some "foreign friends of the Syrian Revolution" to launch the operation.
The statement comes after previous warnings in Moscow that militants are preparing to stage a chemical attack in the Syrian province to give the Western coalition a pretext to hit Syria. In August, the Ministry of Defense declared that eight chlorine canisters had been delivered to a village near the city of Jisr al-Shughur and that a group of foreign-trained militants had arrived in the area to simulate a rescue operation after the attack on stage.
The United States and its allies have repeatedly underlined their readiness to strike Syria in the event of an attack, ignoring all warnings from Russia. Washington's UN envoy Nikki Haley recently said he already knew who was responsible in the event of a chemical incident in Syria.
At the end of August, American forces deployed the USS missile destroyer 'Ross' in the Mediterranean and USS 'The Sullivans' in the Persian Gulf. The preparation of U.S. military forces has been condemned by Russia, with its Ministry of Defense describing the move as "the last proof of U.S. intention" to take advantage of a false-flag attack.
Last Friday, the leaders of the three countries involved in the so-called "Astana process", Turkish Recep Tayyip Erdogan, Russian Vladimir Putin, and Iranian Hassan Rouhani, met in Tehran to discuss the situation in Idlib and the rest of Syria. All three agreed that radical Islamists pose a threat to Syria, but there was no unanimous support for a major offensive in the last terrorist stronghold. The final document of the summit called on all armed groups in Idlib to lay down their arms and seek a political transition in the country.
Seven years after the beginning of the war against Syria, fought by proxy jihadist forces, the partisans of its destruction want to start again. And yet they have suffered a definite defeat on the ground, where the population, after a momentary hesitation, massively chose to support the Republic.